Discover the perfect oven roasted turkey breast recipe for any occasion! Whether you're craving a juicy turkey feast or a quick family dinner, my step-by-step guide will show you how!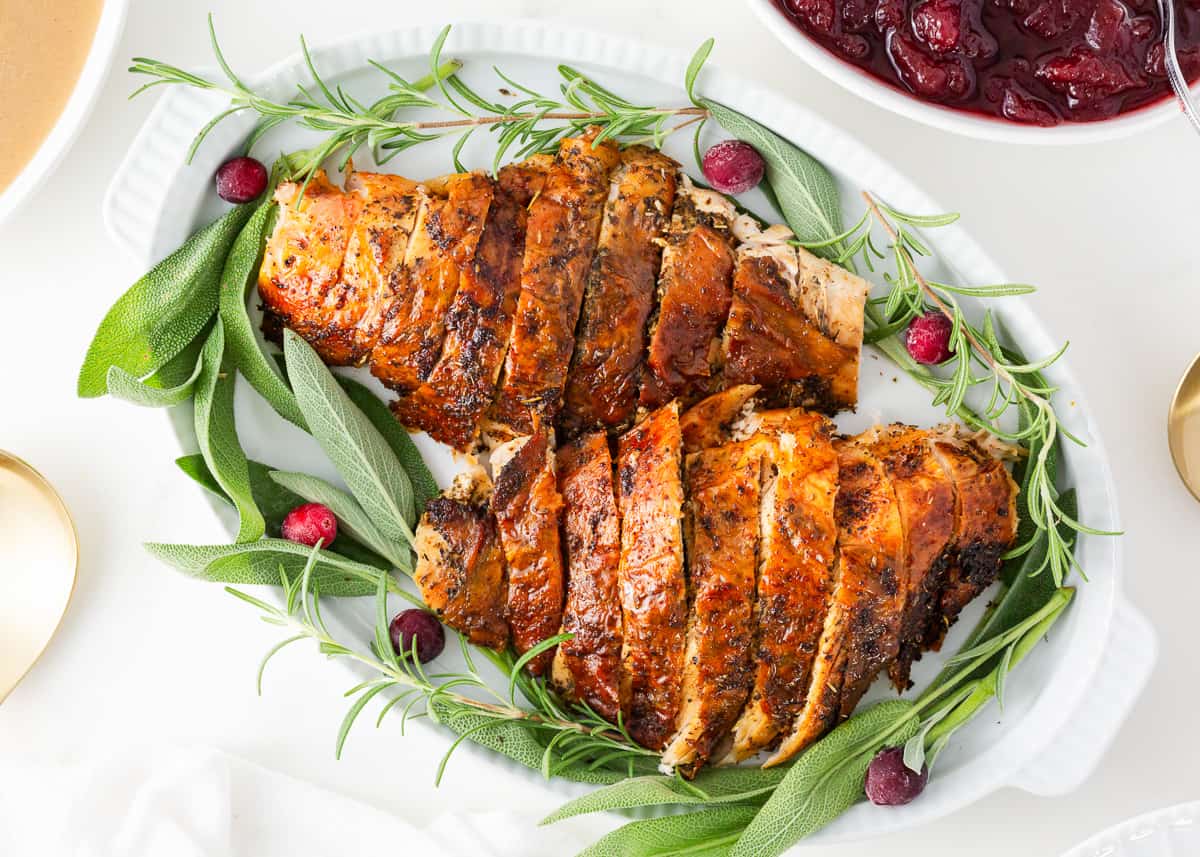 Easy Oven Roasted Turkey Breast
I'm thrilled to share a treasured family recipe that's perfect for any occasion! Whether you're planning a special Christmas dinner, Thanksgiving menu or simply craving some juicy, flavorful turkey, this recipe has got you covered.
Roasting a whole bird is a real showstopper that often defines special occasions or large family gatherings. However, when you're looking for a quicker, more manageable option that still delivers all the festive flavors, a beautiful turkey breast roast can be an amazing alternative.
For those times when you need to roast a whole turkey, don't forget to check out my recipes for whole oven roasted turkey and smoked turkey!
Turkey Breast Recipe Ingredients
Sometimes, simple is best! All you need is a breast of turkey and a handful of spices and seasonings to make this easy oven roasted turkey breast. Here are a couple of things to consider when choosing your ingredients: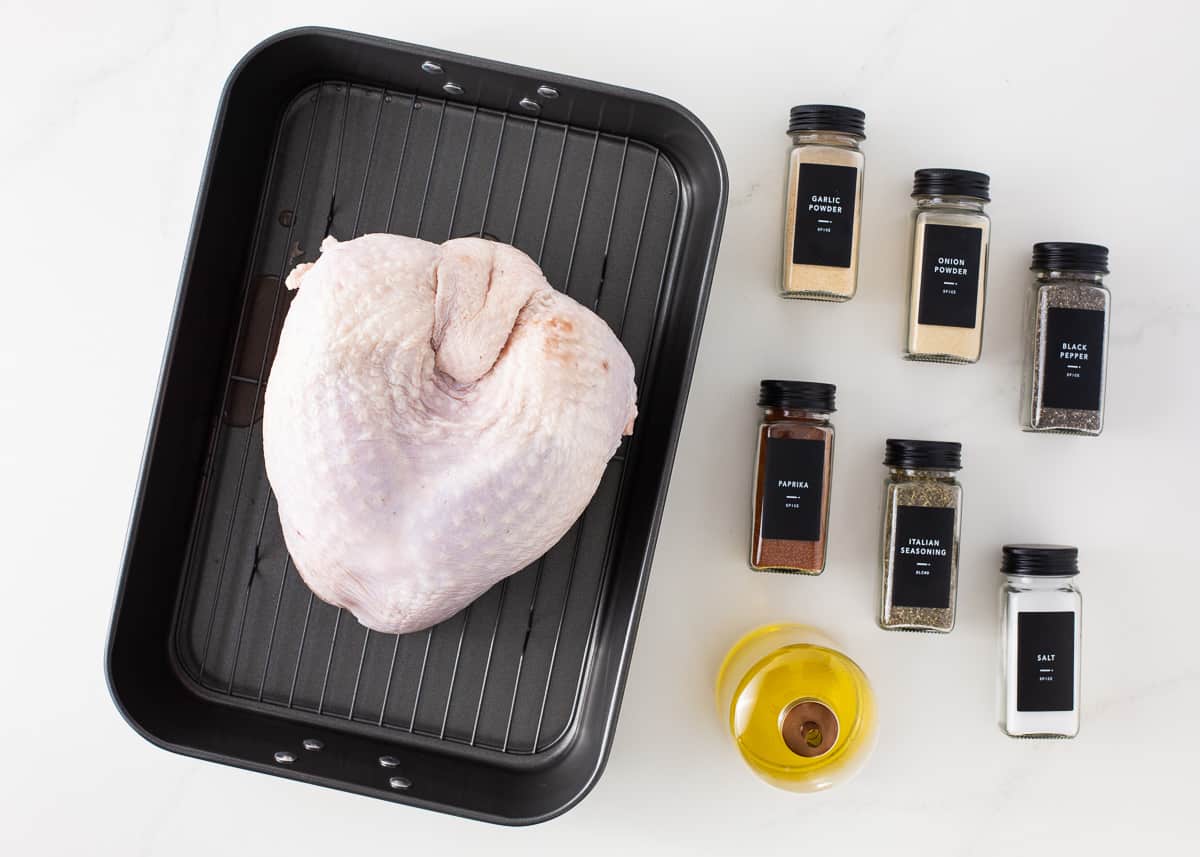 Find the full printable recipe with specific measurements below.
Olive oil: The oil is what will help to keep the meat moist during roasting. You can use extra virgin olive oil for a richer flavor or a lighter olive oil if you prefer a milder taste.
Italian seasoning: I like to use my own blend of Italian seasoning or you can use store-bought.
Kosher salt: I prefer to use Kosher salt when seasoning meats because the larger grains stick well to the surface. You can substitute fine sea salt or table salt, just be sure to use only half the amount called for in the recipe.
Spices: I use a blend of paprika, garlic powder, and onion powder to give the turkey a subtle smokey and aromatic flavor.
Turkey breast: The star of the show! When choosing your cut of meat, you can opt for boneless or bone-in, depending on preference. Consider the size of your turkey breast when calculating cooking times.
Boneless vs. Bone-In Turkey Breast
You can go with either a bone-in or boneless turkey breast for this recipe. It's up to you!
Boneless breasts cook quicker and are easier to slice than bone-in; however, many people think that roasting turkey on the bone results in more tender and flavorful meat.
No matter if you choose boneless or bone-in, just remember to roast it for 20 minutes per pound and you'll be ok.
Variations
While this roasted turkey breast recipe is a family favorite, don't hesitate to get creative. You can experiment with different herb blends, marinades or even stuff the turkey breast. The possibilities are endless, and it's all about making it your own!
Herb variations: Try rosemary and thyme or go with sage and fresh parsley for classic holiday flavors.
Citrus zest: Add the zest of one lemon or orange to the oil paste for a bright citrusy flavor.
Spicy kick: If you like a bit of heat, sprinkle a pinch of cayenne pepper or red pepper flakes into the paste.
Bacon-wrapped turkey: Lay strips of bacon over the turkey breast before roasting. The bacon not only adds a smoky flavor but also helps to keep the meat moist.
How to Cook a Turkey Breast
This is a straightforward, mostly hands-off recipe. Once you put the turkey breast in the oven, all you have to do is leave it to roast to perfection!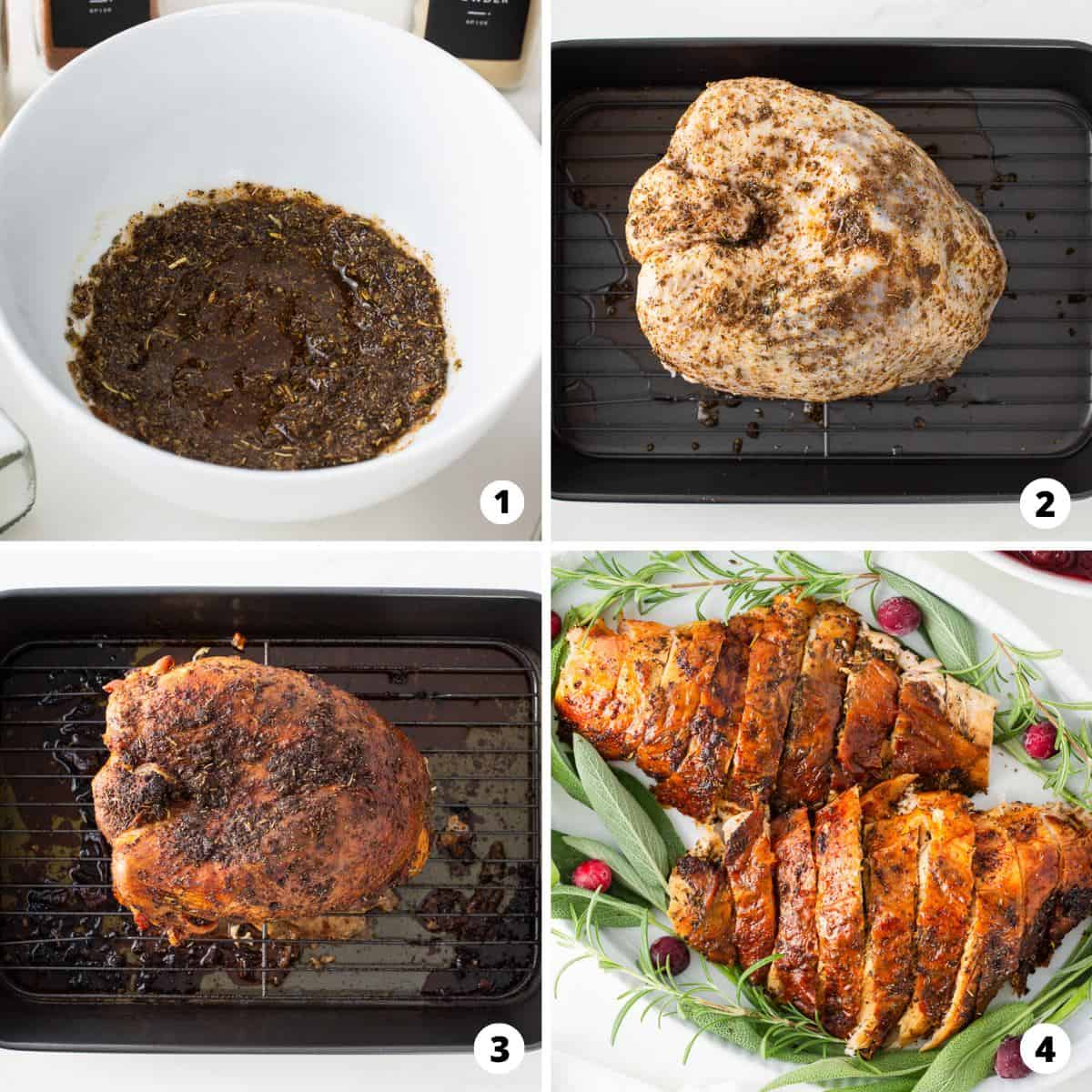 Mix paste. Stir together the olive oil, spices, herbs, and seasoning to form a paste.
Coat the breast. Gently loosen the skin and spread some of the spice paste underneath the skin to coat the meat. Rub the remaining paste on top of the skin.
Roast. Place the turkey in the oven and roast for 20 minutes per pound.
Rest, slice and serve. Remove the breast from the oven and tent it loosely with aluminum foil. Let the meat rest so the juices don't run dry for 15 minutes until it reaches 165°F. Slice and serve with all your favovrite sides!
Expert Tips
Cooking time: Keep in mind that the actual cooking time may vary based on the size of your turkey breast. Boneless turkey breasts tend to cook faster, so be sure to check the internal temperature with your meat thermometer.
Turkey gravy: Don't let those flavorful pan drippings go to waste! Use them to whip up a delicious turkey gravy that pairs perfectly with your roasted breast.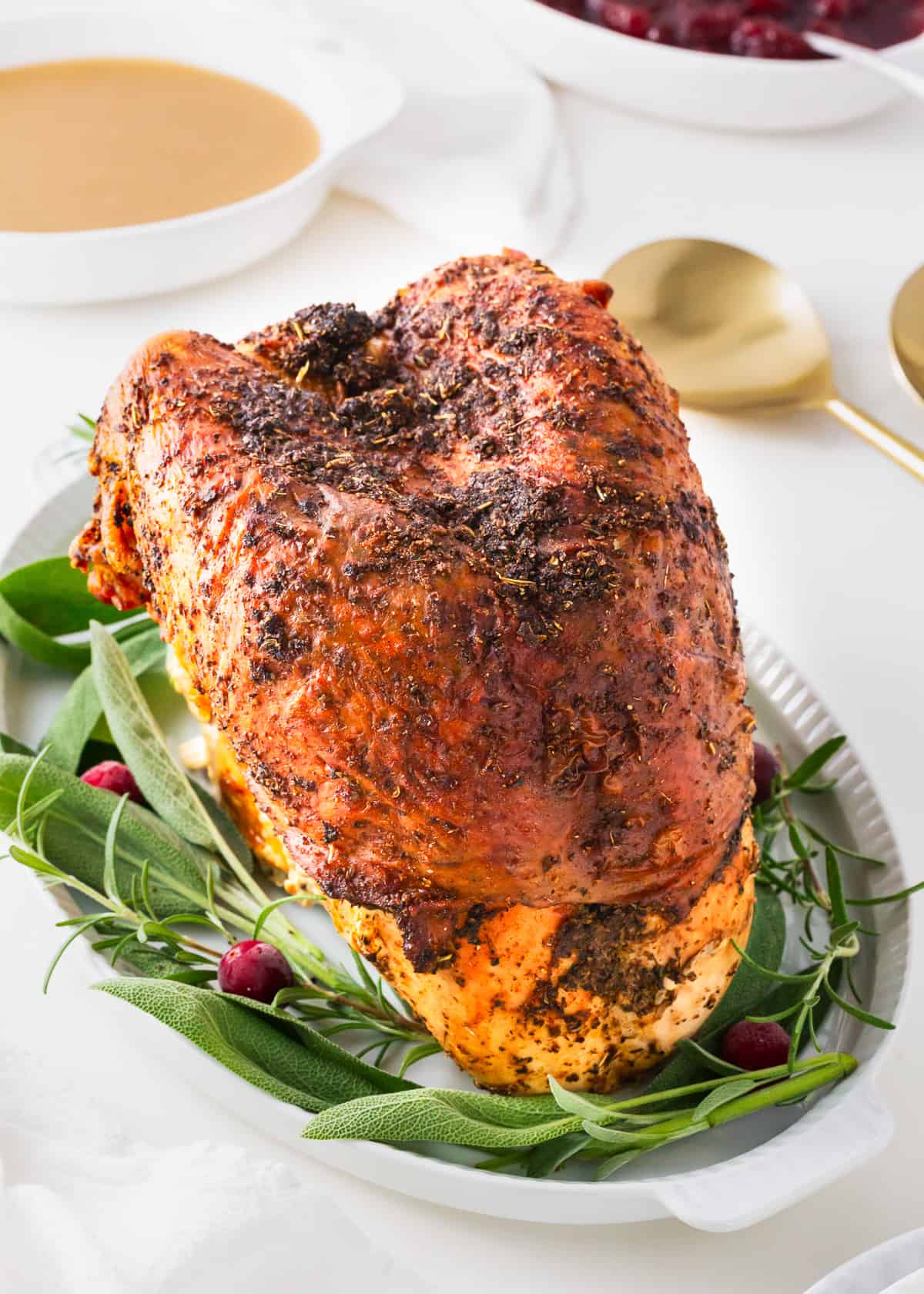 Recipe FAQs
How long does it take to cook a turkey breast?
The cooking time in the oven is typically around 20 minutes per pound. However, it's essential to use an instant read thermometer to ensure it reaches an internal temperature of 160℉ before removing it from the oven, letting it rest until it reaches 165℉.
How do you cook a turkey breast so it doesn't dry out?
The olive oil and seasoning paste under the skin will help to keep the meat moist as it cooks. Make sure you keep an eye on the internal temperature of the turkey and remove it once it reaches 160°F.

It will come to full temperature as it rests. It's also important to slice the meat against the grain. This helps maintain the meat's tenderness and prevents it from drying out when you cut it.
Should you cover turkey breast while cooking?
I like the skin to get crispy and golden brown, so I leave the breast uncovered during roasting. If you find the skin is browning too quickly, then you can tent it with foil during the last few minutes of cooking.
Should you baste the turkey?
I don't call for basting in this recipe as I find the olive oil and seasoning keep the meat moist and I like crispy skin. If you want to baste with turkey drippings or melted butter, just make sure you are quick when you open the oven door so the temperature doesn't drop significantly. Keep in mind that basting might cause the skin to be a bit softer.
What's the best way to carve a roasted turkey breast?
To carve a turkey, start by slicing horizontally across the breast. This will give you uniform, juicy slices. If the breast has skin, you can remove it before carving, or leave it on for added flavor and presentation.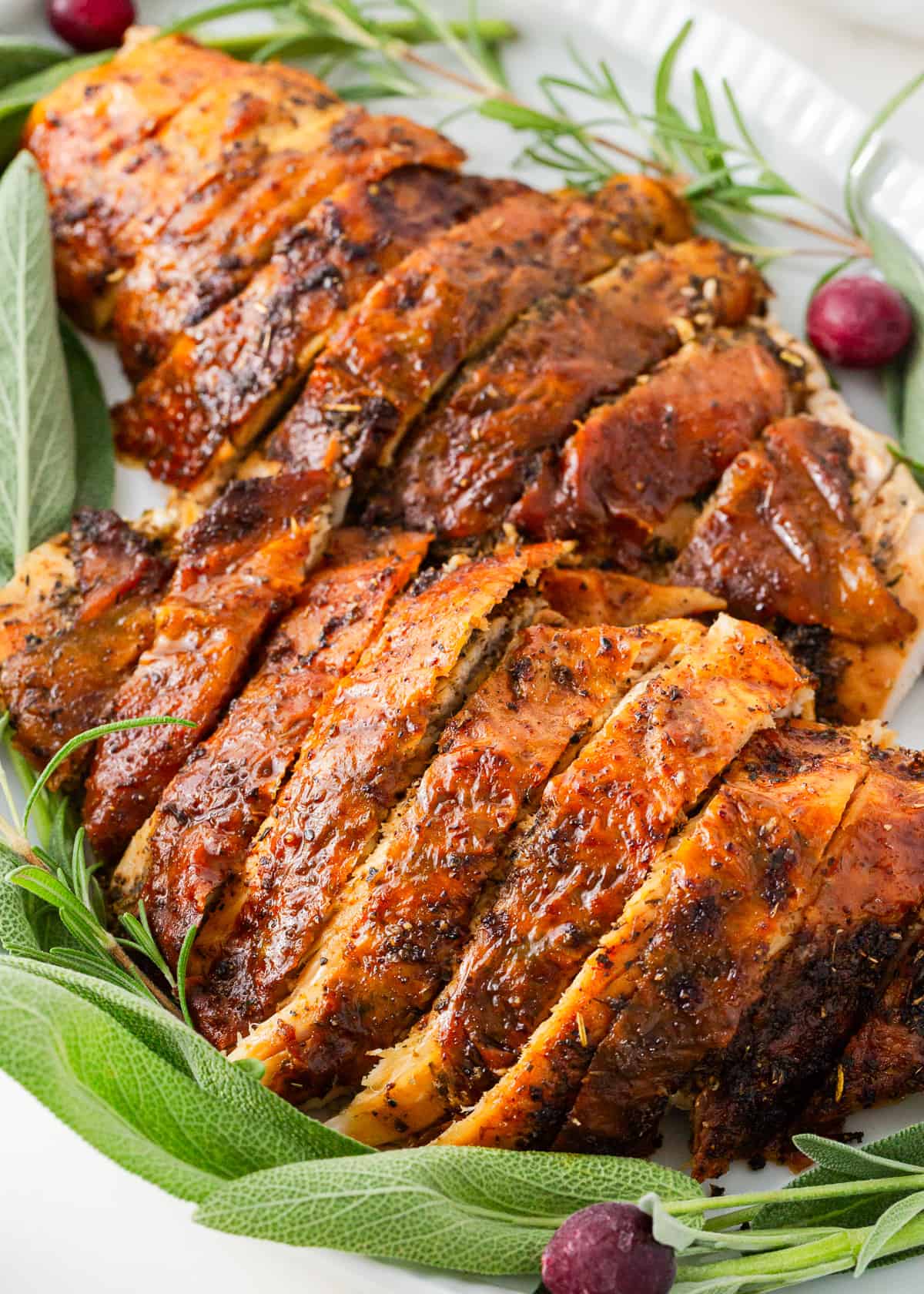 Storing
If you have leftovers (which you might not because this turkey breast is irresistible!), here's how to store and reheat them:
Storage: Wrap leftover turkey tightly in plastic wrap and place it in an airtight container. Store turkey in the refrigerator for up to 3-4 days.
Reheating: To reheat, preheat your oven to 350℉ (175℃). Place turkey slices in an oven-safe dish, add a splash of chicken broth or gravy to keep them moist, cover with foil, and heat for about 15-20 minutes.
Alternatively, you can use the microwave, but be careful not to overheat, as turkey breast can dry out quickly.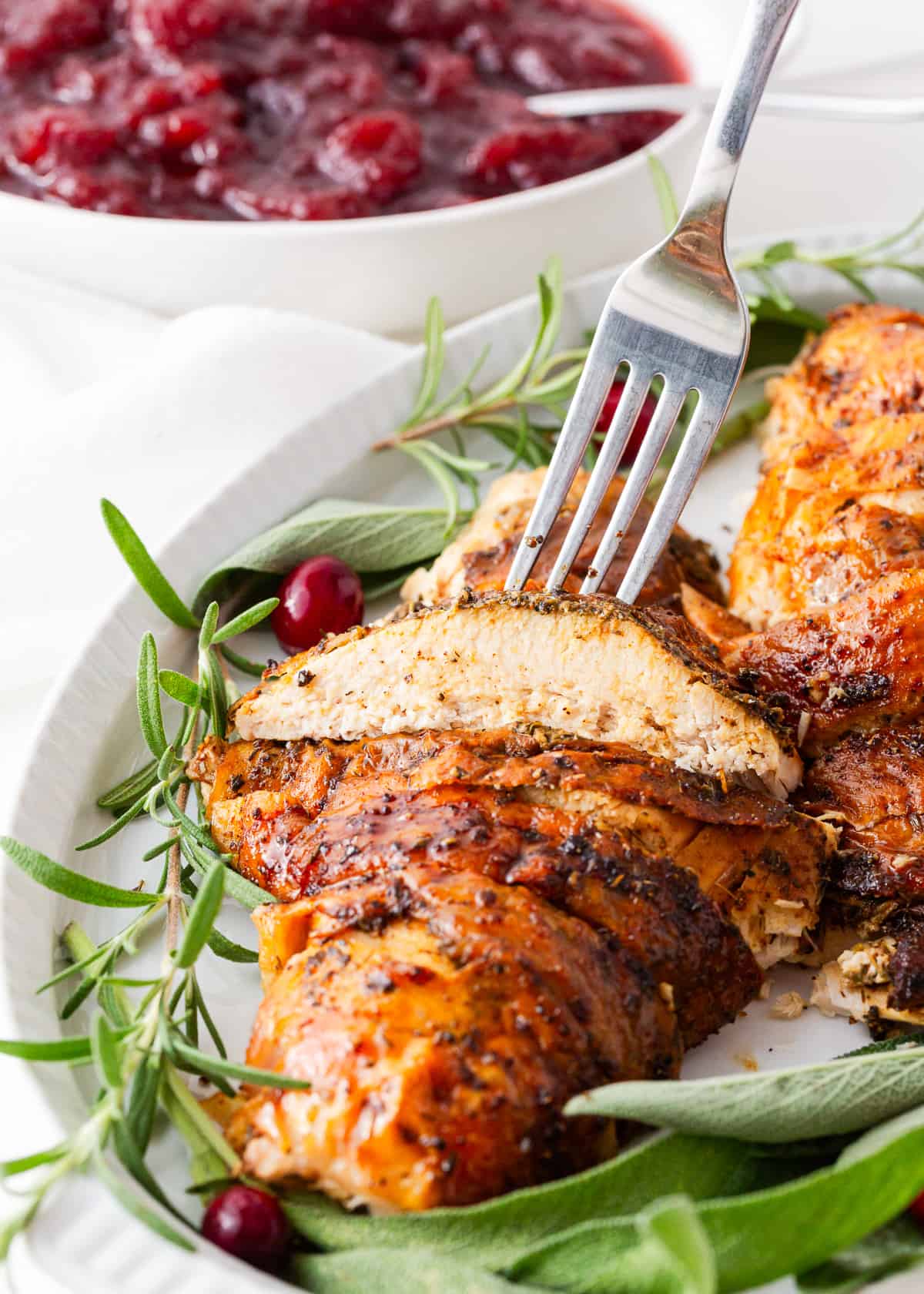 HUNGRY FOR MORE? Subscribe to my newsletter and follow on Facebook, Pinterest and Instagram for all the newest recipes!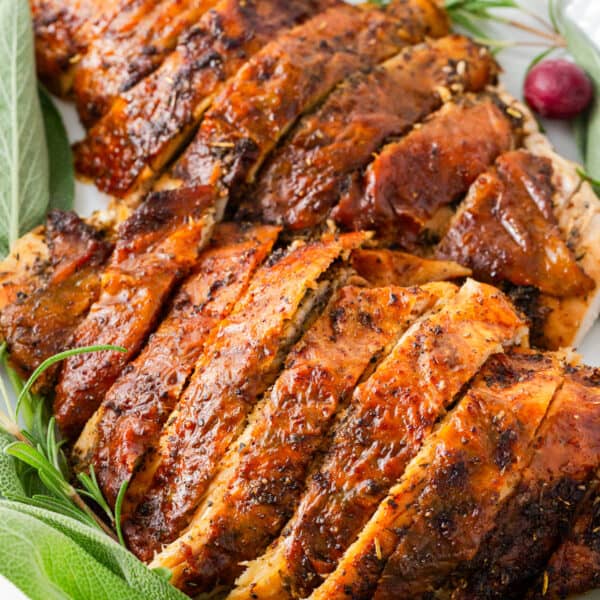 Roasted Turkey Breast Recipe
Discover the perfect oven roasted turkey breast recipe for any occasion! Whether you're craving a juicy turkey feast or a quick family dinner, my step-by-step guide will show you how!
Equipment
Non-metallic container or roasting pan
Ingredients
2 Tablespoons olive oil
1 ½ Tablespoons Italian seasoning
2 teaspoons Kosher salt
1 teaspoon paprika
1 teaspoon garlic powder
1 teaspoon onion powder
½ teaspoon ground black pepper
3-8 pound turkey breast
Instructions
Preheat the oven to 375℉.

In a small bowl, stir together olive oil, paprika, Italian seasoning, salt, onion powder, garlic powder, and pepper to form a paste.

On the wire rack of a roasting pan, place turkey breast skin side up. Using your finger and a spoon, loosen the skin and spread some of the spice mixture underneath the skin, covering as much of the meat as possible. Rub the remaining spice mixture on top of the skin.

Roast 20 minutes per pound, or until the thickest part of the breast reads 160℉ on a digital thermometer.

Remove from the oven and cover loosely with aluminum foil. Let rest 15 minutes, or until the thickest part of the breast reads 165℉ on a digital thermometer Slice and serve.
---
Notes
Cook time: Actual cooking time will depend on the size of your turkey breast. Boneless turkey breasts will cook faster.
Turkey gravy: Use the drippings to make my favorite turkey gravy recipe.
Nutrition
Calories: 208kcal | Carbohydrates: 1g | Protein: 37g | Fat: 6g | Saturated Fat: 1g | Polyunsaturated Fat: 1g | Monounsaturated Fat: 3g | Trans Fat: 0.02g | Cholesterol: 92mg | Sodium: 933mg | Potassium: 438mg | Fiber: 1g | Sugar: 0.2g | Vitamin A: 174IU | Vitamin C: 0.1mg | Calcium: 42mg | Iron: 1mg
Nutrition provided is an estimate. It will vary based on specific ingredients used.
Did you make this recipe? Don't forget to give it a star rating below!