The best smoked turkey recipe to impressive holiday guests this Thanksgiving! It's seasoned with a garlic herb butter and results in juicy, tender, moist meat with subtle smoky flavor that is restaurant quality!
No Thanksgiving feast is complete without serving turkey! Whether you decide to smoke it, make oven-roasted turkey or make a roasted turkey breast for a smaller crowd.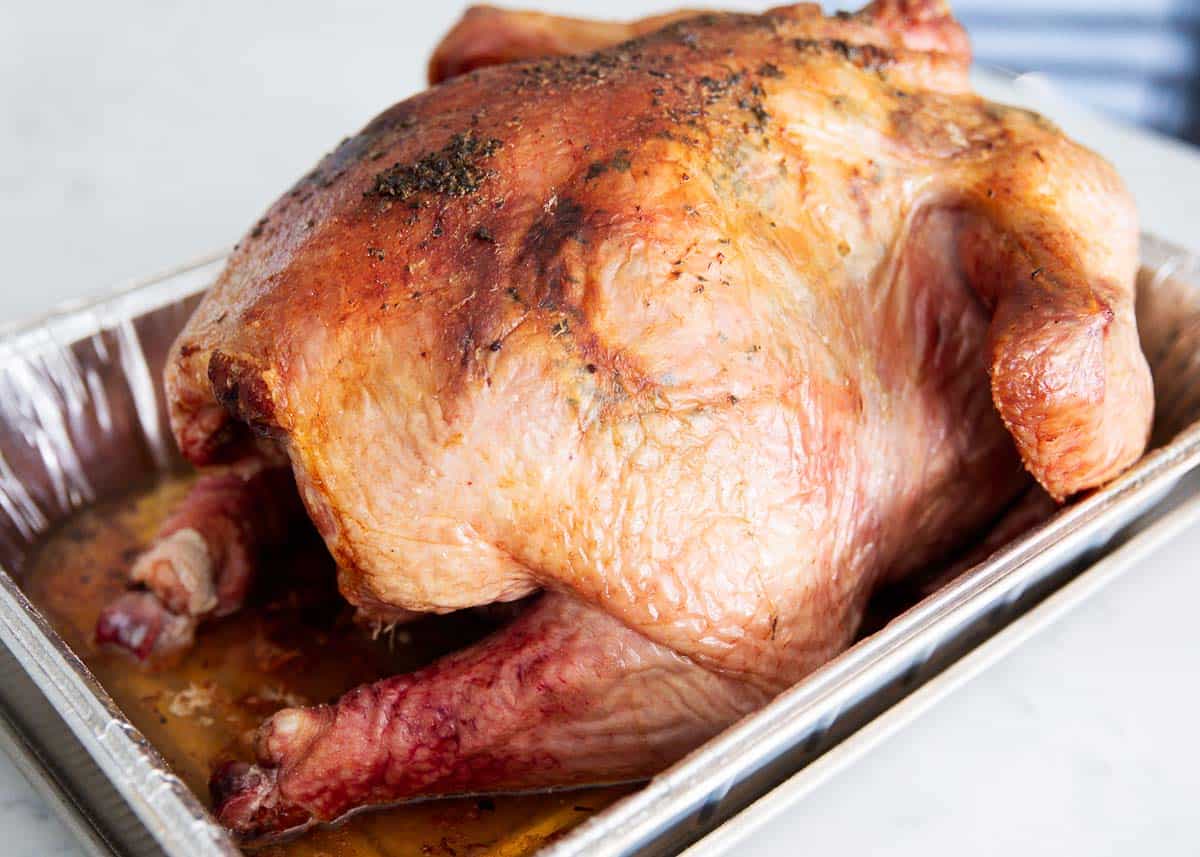 Smoked Thanksgiving Turkey
This smoked turkey recipe is perfect if you're looking for something other than a traditional turkey! It's filled with lemons and herbs and coated with garlic herb butter and then it's smoked until perfectly brown and crispy on the outside with incredible flavor that you just can't get from the oven!
You'll notice it tastes and looks a bit like ham, and it has that same smoky-sweet flavor to it. It takes no room in the oven which makes making all your Thanksgiving side dishes even easier.
If you want to impress your crowd with a little something different on your Thanksgiving menu or Christmas dinner this year, this smoked whole turkey is amazing!
Recipe Ingredients
Making a turkey for the holidays is always an endeavor! Baked in the oven or even a roasted turkey breast is always fun to make. But trying this smoked turkey recipe is going to "Wow" your family and friends this year!
Find the full printable recipe with specific measurements below.
Turkey: I usually prefer to find a Butterball or Norbest brand turkey. If you are feeding a family of 4 to 6 people a 12 to 15 pound turkey is best.
Onion: Red or white onion has the most flavor. Cut into quarters to hold in the flavor.
Lemon: Quarter and place the
Herb butter: You can make a homemade herb butter or find one that you love at your local grocery store.
Thawing Your Turkey
Before you smoke your turkey, make sure to let it thaw completely. This does call for some planning ahead, so definitely give yourself enough time so that the meat isn't still frozen on the big day. Check out these tips for how long to thaw a turkey and use the free thawing chart as an easy guide!
Tips for How to Smoke a Turkey
Make the best smoked turkey with these simple tips! First, have a dry turkey to help start the process. Placing the ingredients in the turkey cavity and then using a smoker to cook the turkey. This process is easy and will turn out perfect every time!
Size. Use a fresh or thawed frozen turkey. I used a 12-15 pound turkey for this recipe.
Giblets. Clean out the cavity, including the neck and body. I discard the giblets because my easy turkey gravy just uses the juices from turkey drippings, but if you like to add them to yours for flavor, by all means.
Brine. If you want to make sure your turkey is extra juicy, use my easy turkey brine recipe.
Garlic butter. Rub 1/4 cup of garlic herb butter in between the skin and the meat before smoking.
Room temperature. Allow the turkey to sit for up to 1 hour before smoking it.
Breast side down. Smoke with the breast side down, and make sure to tie the legs with twine in closer to the body. Doing this will help prevent the legs from being exposed to the heat so much so that they burn.
Pat dry. Make sure the meat is pat dry before being placed inside the smoker. This way you'll get a nice crispy exterior.
Turkey. If your turkey is done early, cover it with foil then kitchen towels on top to keep in the heat.
How Long to Smoke a Turkey
Smoking a turkey is very similar to roasting in the oven. The timeframe is the same amount of time just using a different procedure. The results are amazing and will be the way you make your turkey each year!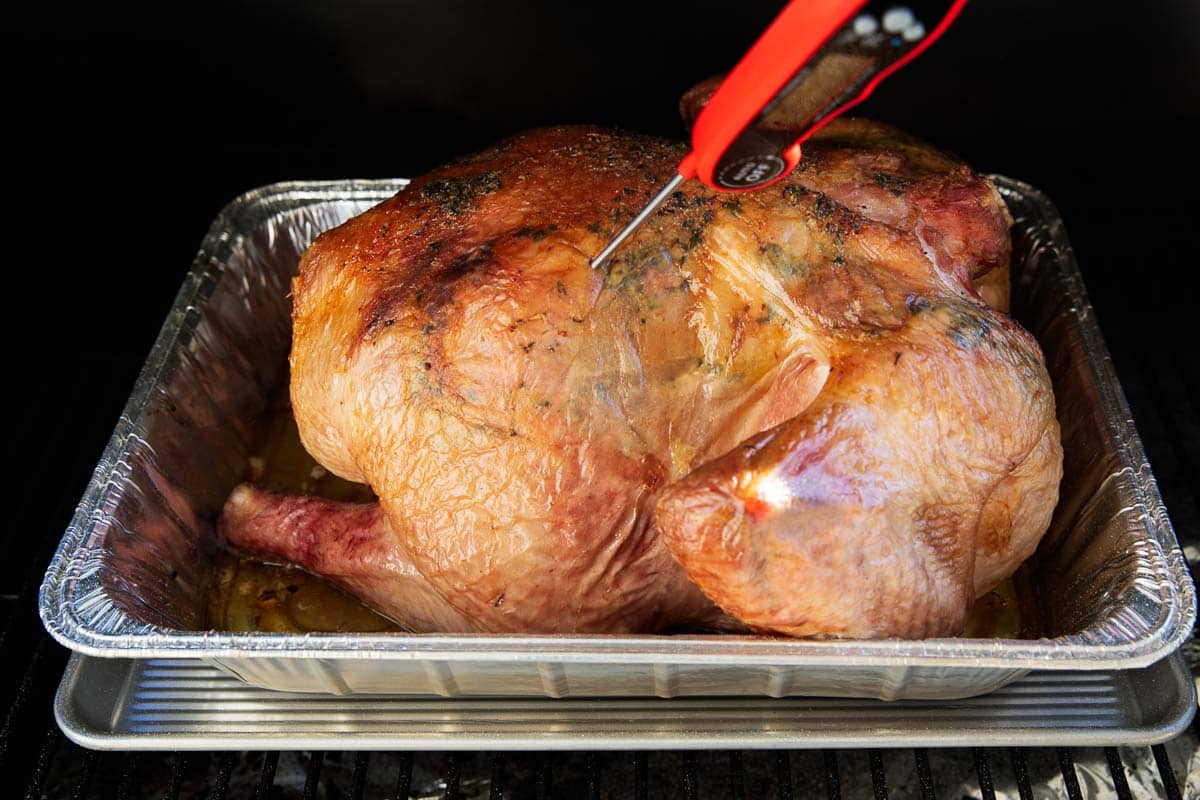 For the first roast in the smoker, you'll want it at 225 degrees for 2 1/2 hours or until the internal temperature reaches 110 degrees. Check at the thickest part of the thigh.
For the second roast, turn up the heat to 350 degrees and smoke for another 1 1/2 – 2 hours or until the internal temperature reads 160 degrees F.
Check the meat every 30 minutes and give yourself an extra 30 minutes of cook time just in case.
Once removed from the smoker and tented with foil, the temperature will continue to rise to 165 degrees which is where you want it!
Best Wood to Use for Smoked Turkey
Applewood wood chips are most common and add a lovely apple-smoked flavor, however, if you're more of a cherry, hickory, or maple-type person, then use what you've got. Mesquite is an option, however, it is intense and used a lot on the grill when grilling red meats.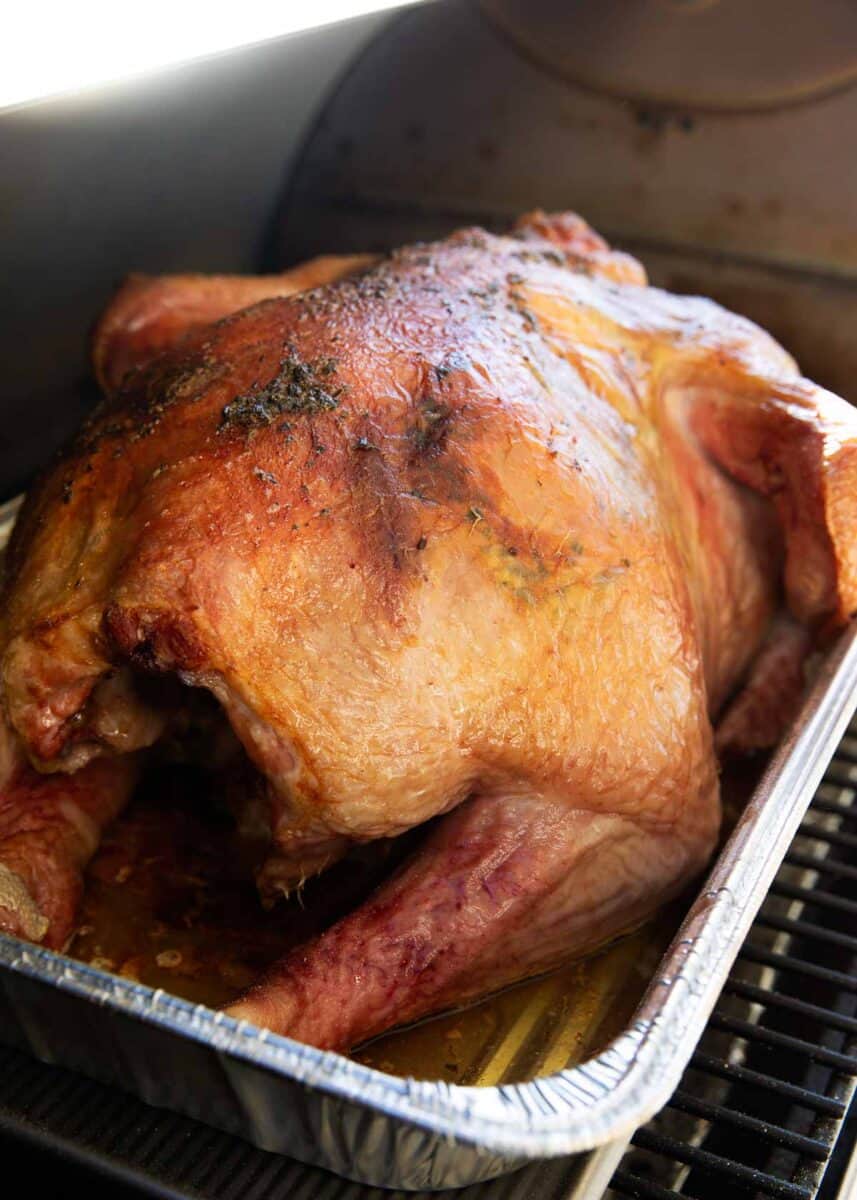 Save the Carcass!
Once you've had all the leftovers you can handle, use the carcass to make this delicious turkey stock and another meal with this turkey tetrazzini. It has a fantastic robust flavor that comes from the smokiness of the meat!
Other Seasoning Options
The smoker itself imparts incredible flavors that permeate right into the meat, so I always think simple garlic and herb melted butter is perfect. However, if you're looking for something a little bit extra, try some of these:
Brown sugar
Garlic powder
Paprika
Smoked paprika
Fresh thyme, rosemary, or parsley
Freshly minced garlic
An apple for the cavity
Recipe FAQs
How long does it take to smoke a turkey?
Set your roast in the smoker for 225 degrees. You will want to cook for 2 1/2 hours or until the internal temperature reaches 110 degrees. It is best to check the thickest part of the meat.
How do you keep a turkey moist when smoking?
Brining the turkey ahead of time will help keep the turkey juicy and moist. This will help it from drying out and still be full of flavor.
Do you baste a turkey while smoking it?
This is totally an optional! You can baste the turkey with the extra juices at the bottom of the smoker. Just make sure to not over baste that you have soggy skin.
Do you wrap turkey in foil when smoking?
I don't usually wrap the turkey with foil when it is smoking, but I do wrap it at the end to hold in the juices while it is resting before it is sliced.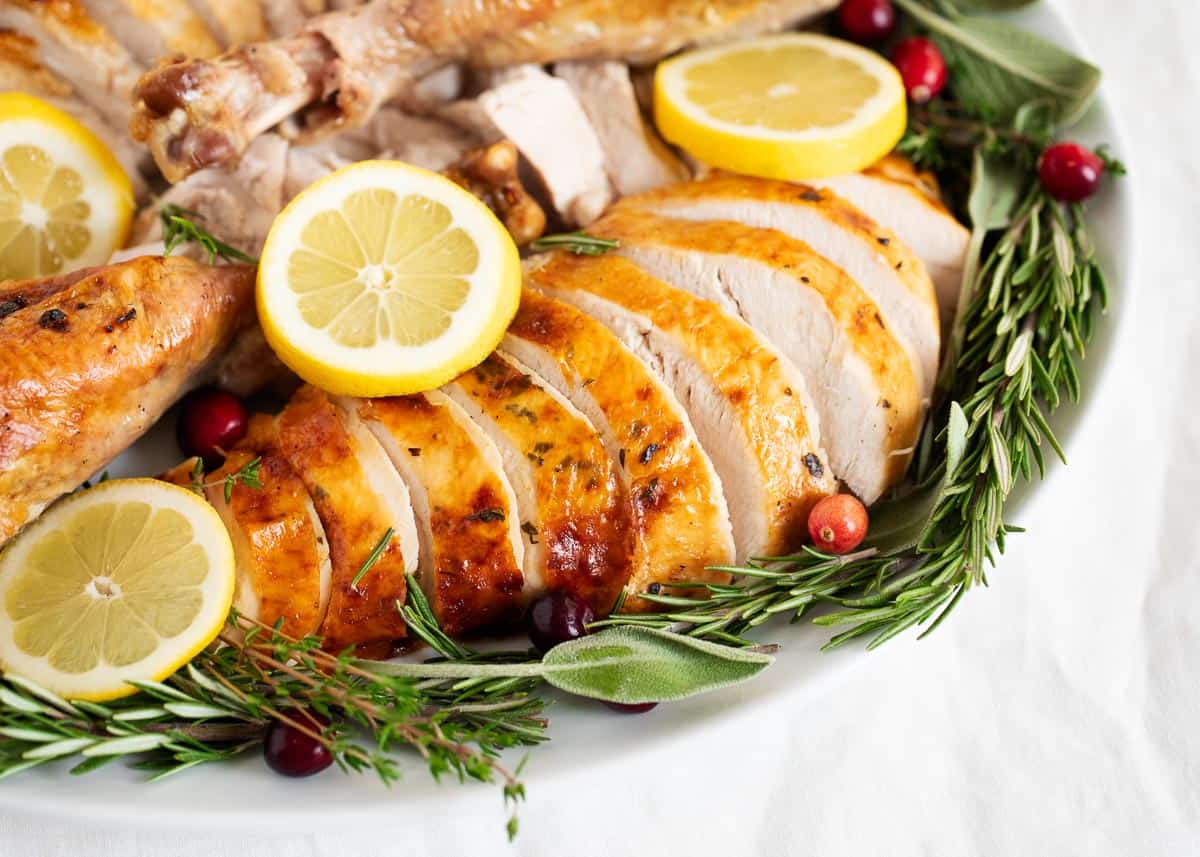 5 star review
Absolutely perfect! We did a smaller Thanksgiving dinner with one side of the family a few days ago and this was such a hit. Thank you!

-Donna
Favorite Sides for Smoked Turkey
HUNGRY FOR MORE? Subscribe to my newsletter and follow on Facebook, Pinterest and Instagram for all the newest recipes!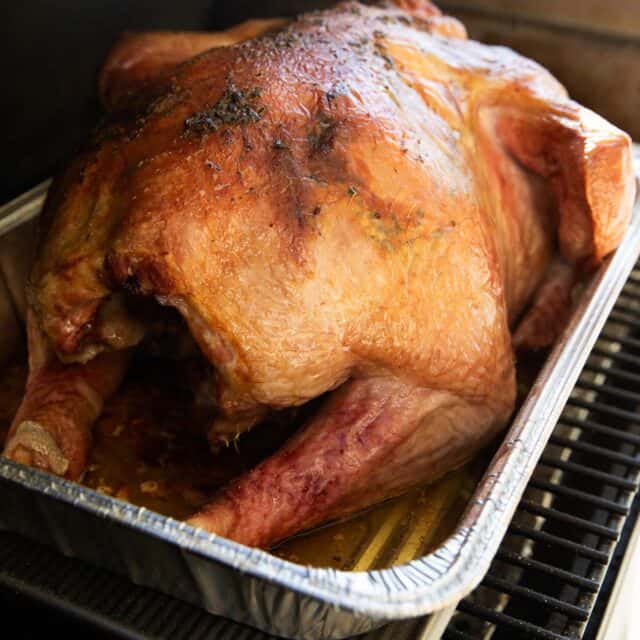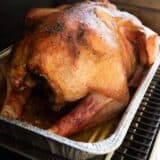 Smoked Turkey
A delicious smoked turkey is an easy way to present something a little different this holiday season. Crispy skin, moist meat and brilliant smoky flavors are done without a brine or an oven!
Equipment
Non-metallic container or roasting pan
Ingredients
12-15 pound turkey (I prefer Butterball or Norbest)
1 onion , quartered
1 lemon , quartered
½ cup softened herb butter , see notes
salt and pepper to taste
Instructions
Thaw turkey (plan on about 4 days in the refrigerator or 8-10 hours in cold water).

Remove neck and giblets from body and neck cavities, discard. Place breast side down in a roasting pan. Cross the legs and tie with baking twine if they aren't already tied. Pat dry with paper towels. Then sprinkle with a thin layer of salt. Let rest 30-60 minutes before preparing to bake.

Pat the turkey with paper towels to dry the turkey. Salt and pepper the inside of the cavity and then fill with onions, lemons and herbs. Create a pocket using the dowel of a spoon on the top and then rub the butter under the skin. Then rub the remaining butter all over the top of the turkey.

Preheat your smoker to 225°F. Roast for 2 1/2 hours, or until the internal temperature reaches 110°F.

Then turn the temperature to 350°F and cook an additional 1 1/2 – 2 hours, or until an instant read thermometer reaches 160°F. Check the temperature every 30 minutes at this point. Make sure to test all sides of the turkey to make sure it is completely cooked all the way through. Always give yourself an extra 30 minutes cooking time, just in case.

Remove from the oven and tent with foil. The temperature will reach 165°F while resting. Let rest for 15-20 minutes before carving.

Reserve any drippings to make turkey gravy. Then slice and serve.
---
Notes
Garlic butter: Rub about 1/4 cup garlic herb butter in between the meat and the skin before smoking.
Turkey: If it is done ahead of time, cover with foil and then place towels over the foil to hold in the heat. Slice just before serving.
Carving: Check out this post for my tips on how to carve a turkey.
Turkey gravy: Use the drippings to make my favorite turkey gravy recipe.
Nutrition
Calories: 345kcal | Carbohydrates: 1g | Protein: 52g | Fat: 14g | Saturated Fat: 4g | Cholesterol: 174mg | Sodium: 271mg | Potassium: 560mg | Fiber: 1g | Sugar: 1g | Vitamin A: 135IU | Vitamin C: 4mg | Calcium: 30mg | Iron: 2mg
Nutrition provided is an estimate. It will vary based on specific ingredients used.
Did you make this recipe? Don't forget to give it a star rating below!