Moist and fluffy banana zucchini muffins are made with coconut oil, honey, mashed bananas and flecked with freshly grated zucchini. Both kids and adults love this snack that is soft, flavorful and just the right amount of sweet!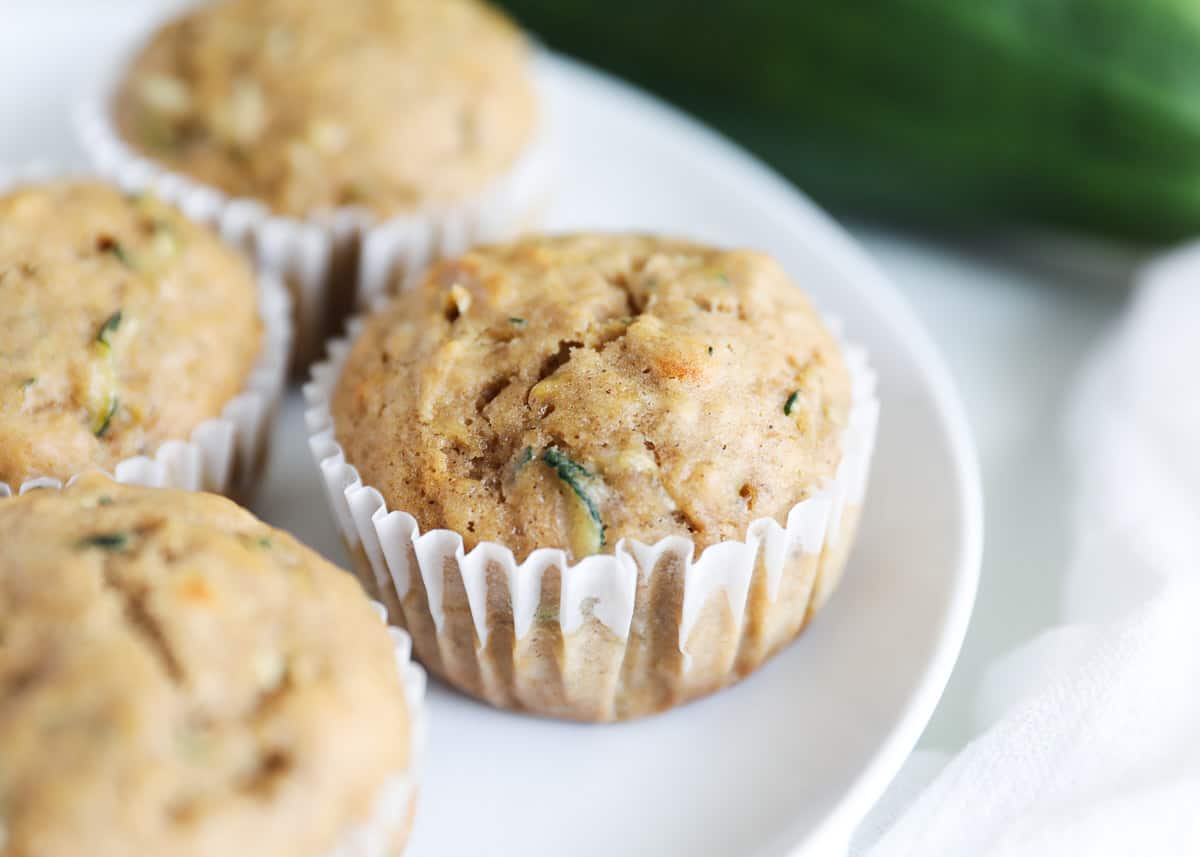 Healthy Zucchini Banana Muffins
If you love my easy banana bread and zucchini bread, these banana zucchini muffins are the perfect combination of both and the best way to use up zucchini from your garden! They are a healthier version of my banana bread muffins and use coconut oil for healthy fats and honey helps cut down on refined sugar.
My kids absolutely love them and can't even taste the zucchini. If you've ever had my zucchini muffins, zucchini chocolate bread or my zucchini chocolate chip muffins, you'll know how mild zucchini is in flavor but it adds a ton of moisture to any baked good. It's a great way to sneak in some extra veggies into muffins or even my zucchini brownie recipe!
Take these banana zucchini muffins on the go as a portable breakfast, or have a warm basket on the table for brunch. I love to rotate them with my chocolate chip banana bread muffins for healthy snack ideas after school, just watch how quickly they disappear!
Whatever you've got leftover, wrap them up, freeze them, then warm them whenever you get a craving. So easy and so delicious!
Why This Recipe Works
So moist and soft. There's nothing better than breaking open a freshly baked muffin and revealing the pillowy softness. Except maybe watching butter melt all over it!
Packed with nutrients. These healthier muffins taste amazing and have a ton of nutritious benefits. The zucchini provides a ton of fiber, vitamins, and minerals. The honey delivers antioxidant properties as well as anti-inflammatory properties. The eggs give us Omega 3s and protein, while the cinnamon helps to control blood sugar levels.
Make ahead and freezer friendly. Banana zucchini muffins are always great to make ahead and have at the ready for a quick snack.
Customizable. There are plenty of ways to make this muffin recipe your own. Keep reading for delicious add-ins and easy ingredient swaps.
Ingredients Needed
You may already have on hand what you need to make these easy muffins!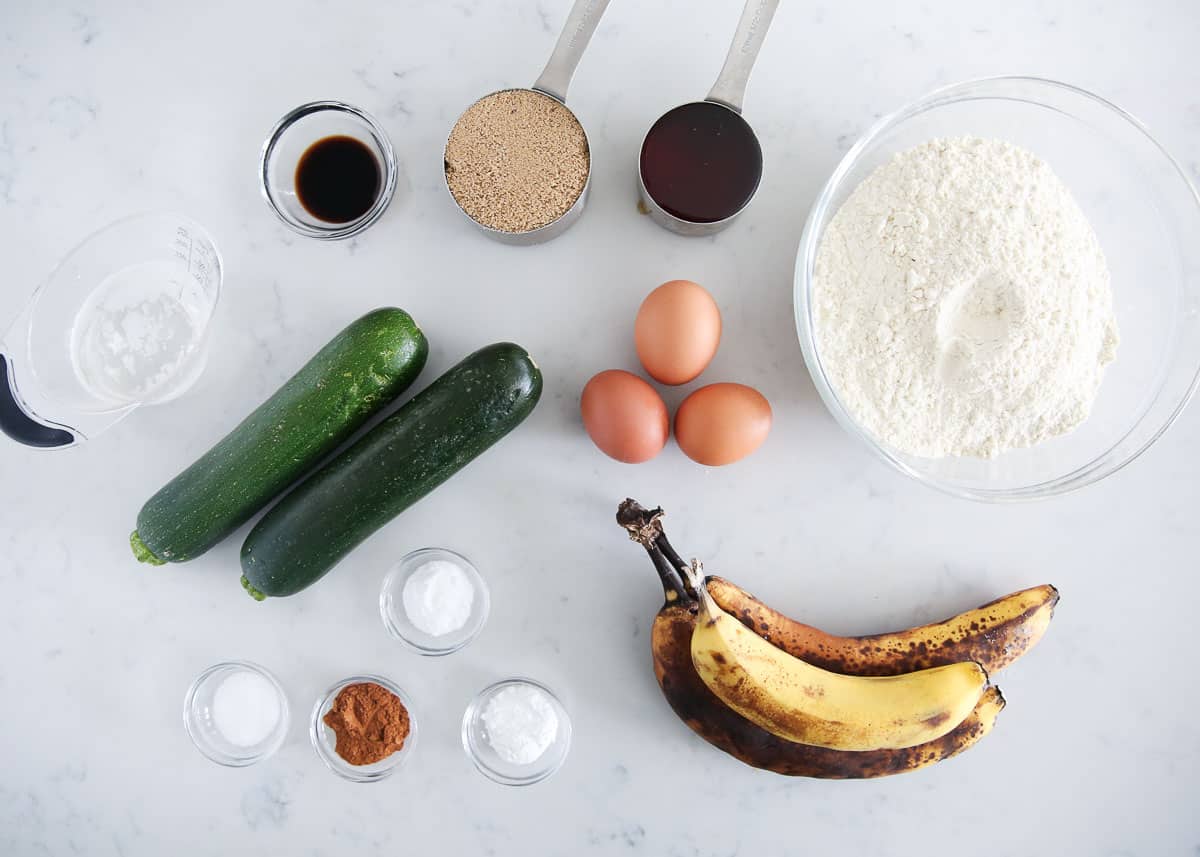 Find the full printable recipe with specific measurements below.
Shredded zucchini, unpeeled: Zucchini skin is very delicate, thin, and easy to digest. It adds a ton of fiber and we love the dark green flecks throughout the muffin! Learn how to shred zucchini easily!
Coconut oil, melted and cooled: Coconut oil is solid at room temperature, so you'll want to melt far enough ahead of time so you allow it to cool, but not too far that it hardens.
Light brown sugar: Pack it into the measuring cup, leaving little space for air. This will be the correct amount needed.
Honey: Adds a delicious sweetness to the muffin batter and also helps to keep the wet to dry ratio in balance. Maple syrup is an easy substitute.
Eggs, at room temperature: Starting with room temperature eggs, make for even baking and great results. The eggs are meant to bind the ingredients together and they also add to the texture of the muffin.
Mashed bananas: The riper the better! Ripe bananas add a natural sweetness and great banana flavor.
Ground cinnamon: A warm spice that pairs well with zucchini and banana flavor. Towards the end of summer leading into fall, I like to add a bit of nutmeg as well.
Remaining baking staples: All-purpose flour, baking powder, baking soda, fine sea salt, or table salt.
Variations
A different flour. Swapping flours can get a bit tricky when you're trying to replace one for another, as they all have different properties and tastes. If you're going to replace all-purpose flour, you can use white whole wheat flour or Kamut flour. Since they are a bit thicker, I would use 1/4 cup less than what the recipe states.
Oats: Replace 1 cup of the flour with 1 cup of old fashioned rolled oats for a healthy dose of fiber.
Banana: Bananas and zucchini are an amazing flavor combination, but if you do not like bananas, you can make these plain zucchini muffins and use applesauce in place of bananas.
Oil. Applesauce is a great oil replacement. It adds moisture, it's naturally sweet and it tastes like apples! You can also use very light mild-tasting olive oil or canola oil. Unsalted butter can be used as a 1:1 substitute but your muffins will not be as moist.
Add-ins. My kids love it when I add chocolate chips! You can also add in dried fruit including raisins or cranberries, or try chopped walnuts like I do in my banana nut bread recipe. Fresh blueberries would be a delicious just like in my lemon blueberry zucchini bread.
How to Make Banana Zucchini Muffins
Making these easy zucchini banana muffins is simple to follow in only a few steps!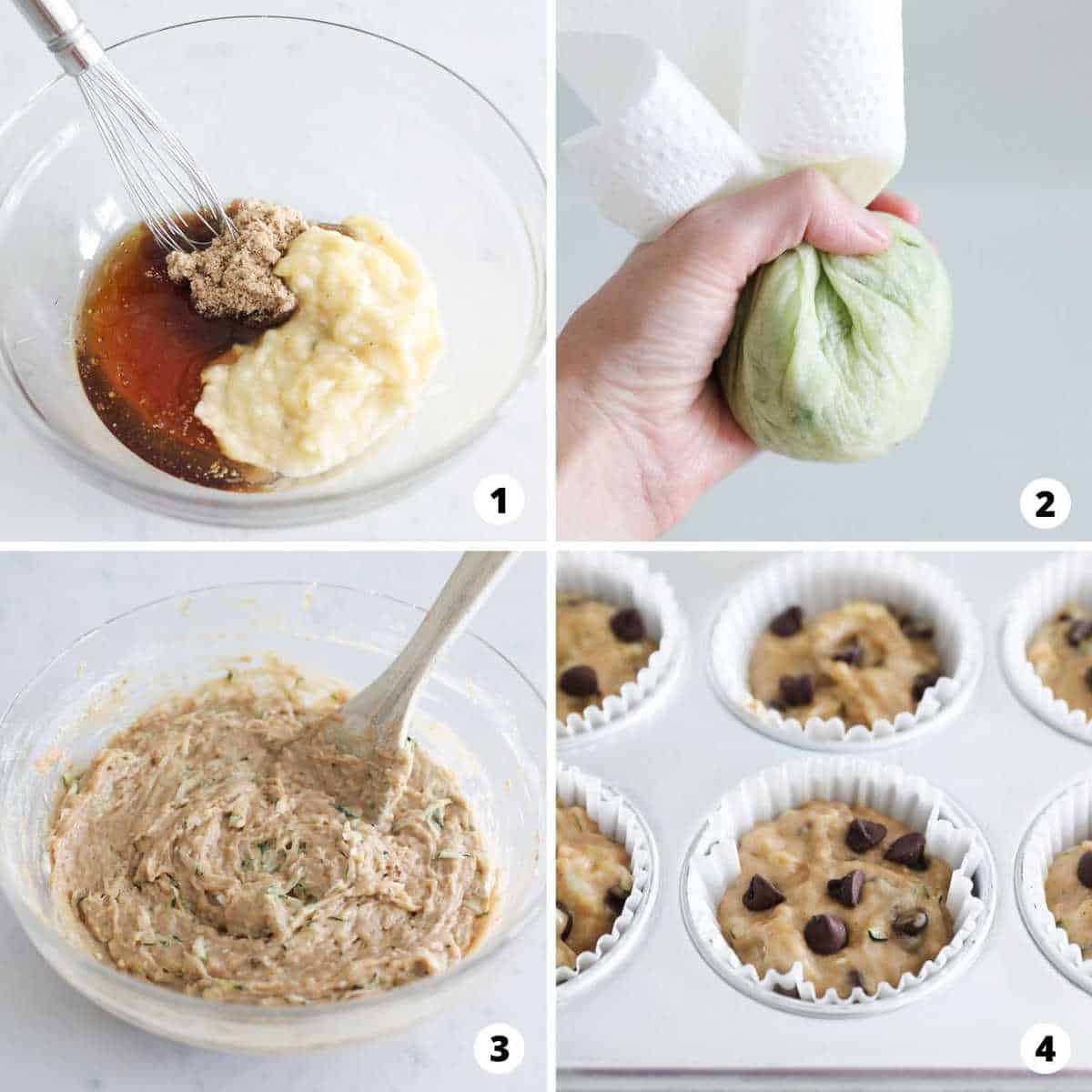 Whisk together wet and dry ingredients: In a large bowl, whisk together your melted and cooled coconut oil, brown sugar, eggs and vanilla. In another bowl, combine your flour, cinnamon, baking powder, baking soda to remove any lumps.
Prep zucchini. Place the grated zucchini into a paper towel or cheesecloth, wrap it up and use your hands to squeeze out as much water as you can. Any excess moisture will affect the consistency of the batter.
Make muffin batter. Carefully add the dry ingredients to the wet ingredients and use a wooden spoon to stir until combined. Be careful not to overmix. Next, fold in the zucchini and chocolate chips if you're adding those in.
Bake. Fill prepared muffins tins with muffin liners 2/3 of the way full. If using chocolate chips, I like to sprinkle some extra overtop the muffins so that they stick out once baked and they're not all hidden. Bake for 18-20 minutes at 375°F degrees until lightly brown and a toothpick comes out clean. Cool then enjoy!
Expert Tips
Measure flour correctly: Too much flour and your muffins will be dense, too little flour and your muffins will be too wet. Check here for tips on how to measure flour to guarantee amazing texture.
Ripe bananas: The best type of bananas to use are ripe ones with brown spots. They will add the best natural sweet flavor. To use frozen bananas, thaw first at room temperature for about an hour and then drain excess liquid before adding them.
Filling your muffin tin: An ice cream scoop is a great way to fill your muffin tin with less mess!
Mini muffins: Start checking for doneness at 10 minutes.
Bakery style muffin tops: If you love when muffins have a domed top, bake initially at a high heat of 425°F degrees for five minutes, then reduce the heat to 350°F degrees for 10-15 minutes.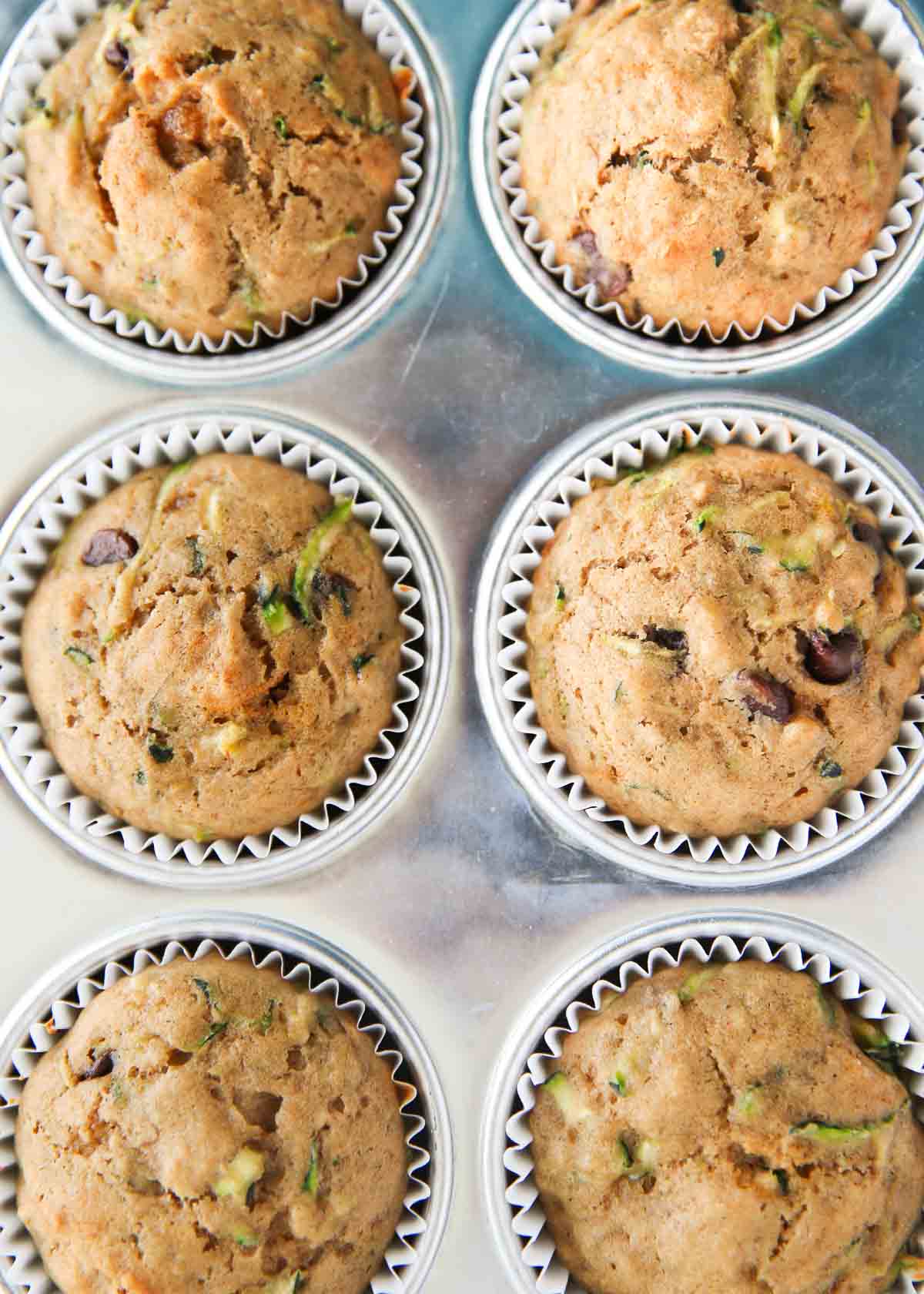 FAQs
Can I make these gluten-free?
Gluten-free flour is a tricky one to use as a 1:1 replacement for all-purpose flour without altering the other ingredients. I haven't tried it myself, but you could give it a shot using fine almond flour (not almond meal), or oat flour. You could also try gluten-free 1:1 all-purpose flour.

The taste and texture will differ slightly and you may get a different texture in the end. If you do try a gluten-free alternative, let me know!
Is this a healthy muffin recipe?
Absolutely! The great thing about these banana zucchini muffins is you can tweak things to make them as healthy as you need them. Add some chia seeds or flax seeds to the batter. Sprinkle a bit of hemp hearts on top before baking. Swap the chocolate chips for cacao nibs or use dark chocolate chips.

Should I peel my zucchini before using it in baked goods?
You don't need to peel the zucchini for these zucchini banana bread muffins! Zucchini skin is thin, edible and has a high concentration of antioxidants. Just grate it with the skin to save a step and reap the health benefits. Of course, if you have picky eaters who might turn their nose up at any fleck of green, that is up to your discretion.
Do these banana zucchini muffins freeze well?
You bet. Once completely cooled, you can store them in the freezer for up to 2 months. Thaw on the counter or pop them in the microwave for 15-30 seconds to warm up.
Storing and Freezing Banana Zucchini Muffins
To keep these banana zucchini muffins moist, store muffins in a Ziploc bag for up to 4 days. A trick to keeping them from getting soggy is to place a few folded paper towels in the bag to absorb the moisture.
No need to store them in the fridge, on your counter at room temperature is just fine. Easy access!
To freeze your zucchini muffins, cool completely then wrap them tightly with plastic wrap and place them in a freezer safe bag to prevent freezer burn. Label with the date and freeze up to two months for best taste. Thaw at room temp before unwrapping as this will help retain their moisture.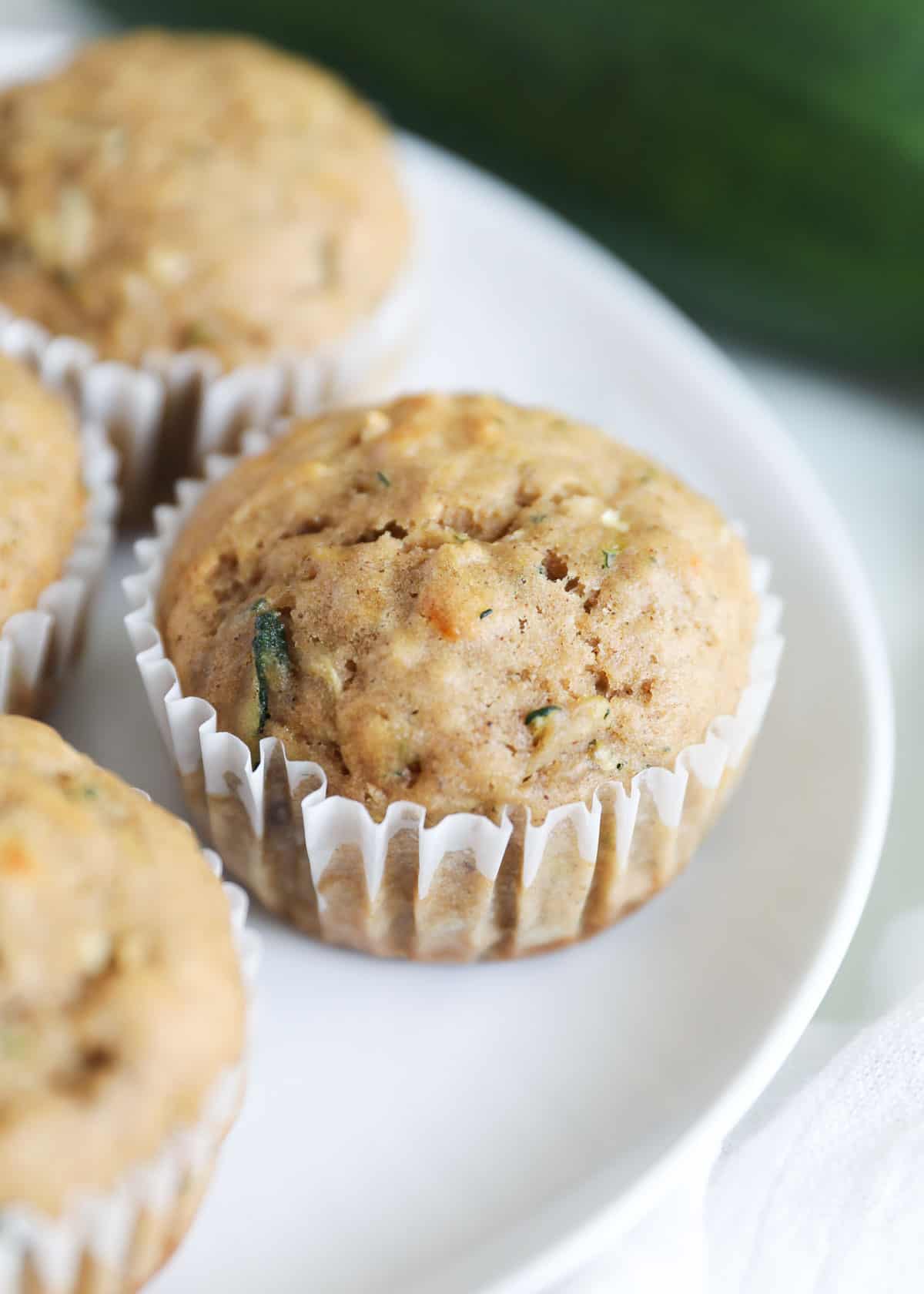 HUNGRY FOR MORE? Subscribe to my newsletter and follow on Facebook, Pinterest and Instagram for all the newest recipes!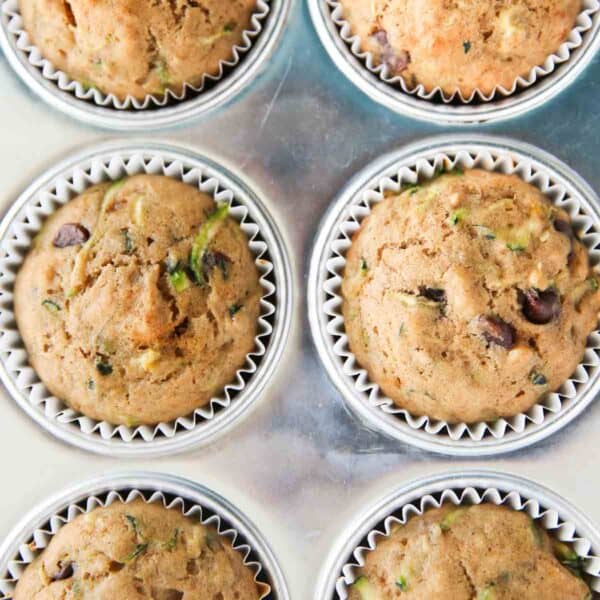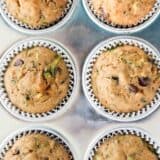 Banana Zucchini Muffins
Moist and fluffy banana zucchini muffins are made with coconut oil, honey, mashed bananas and flecked with freshly grated zucchini. Both kids and adults love this snack that is soft, flavorful and just the right amount of sweet!
Ingredients
3 ½ cups shredded unpeeled zucchini (about 2 small or 1 large zucchini)
½ cup coconut oil , melted and cooled
¾ cup light brown sugar , packed
½ cup honey
3 large eggs , at room temperature
1 Tablespoon vanilla extract
4 cups all-purpose flour *see notes
2 teaspoons ground cinnamon
1 teaspoon baking powder
1 teaspoon baking soda
1 teaspoon fine sea salt , or table salt
1 cup mashed banana (about 3 medium brown bananas)
1 cup chocolate chips , optional
Instructions
Preheat the oven to 375°F. Line 2 muffin tins with paper liners. Spray with nonstick spray.

Place the zucchini in a cheese cloth or a paper towel. Squeeze out as much water as possible.

In a large bowl, whisk together the coconut oil, brown sugar, honey, eggs, and vanilla.

In a separate bowl, whisk together the flour, cinnamon, baking powder, baking soda, and salt. Slowly add the dry ingredients to the wet ingredients and stir with a wooden spoon just until combined, being careful not to overmix. Fold in the zucchini, mashed bananas, and chocolate chips, if using.

Fill the muffin liners 2/3 of the way full. If adding chocolate chips, you can also sprinkle some evenly over the top of the muffins.

Bake 18 to 20 minutes, or until lightly browned and a toothpick inserted in the center comes out clean. Transfer muffins to a wire rack to cool completely.
---
Notes
Measuring flour: For amazing texture, you need to know how to measure flour properly.
Substitutions + Variations
Flour: In place of all-purpose flour you can use a white whole wheat flour or kamut flour (I would use 1/4 cup less flour for these as they are thicker). I've also replaced 1 cup flour with 1 cup of old fashioned oats with success.
Oil: In place of coconut oil, use applesauce, very light olive oil, or canola oil.
Extras: My kids love when I add chocolate chips, you can can also add in extras like dried fruit, chopped nuts and coconut.
Storage: Store in a zip-top bag at room temperature up to 3 to 4 days. To avoid the muffins getting soggy, add in a few folded paper towels to absorb moisture.
Freezing: Add to a freezer bag or container and store in freezer up to 2 months. To reheat, place muffin in microwave 15 to 30 seconds, or until warm.
Nutrition
Serving: 1muffin | Calories: 221kcal | Carbohydrates: 37g | Protein: 4g | Fat: 7g | Saturated Fat: 5g | Polyunsaturated Fat: 0.3g | Monounsaturated Fat: 1g | Trans Fat: 0.02g | Cholesterol: 24mg | Sodium: 161mg | Potassium: 143mg | Fiber: 1g | Sugar: 19g | Vitamin A: 93IU | Vitamin C: 4mg | Calcium: 34mg | Iron: 1mg
Nutrition provided is an estimate. It will vary based on specific ingredients used.
Did you make this recipe? Don't forget to give it a star rating below!