Two pieces of thick, buttery crisp bread filled with creamy, tangy tuna salad topped with a slice of melted cheddar cheese is what goes into the ultimate tuna melt. It's a simple way of bringing classic comfort food to your table that everyone will love!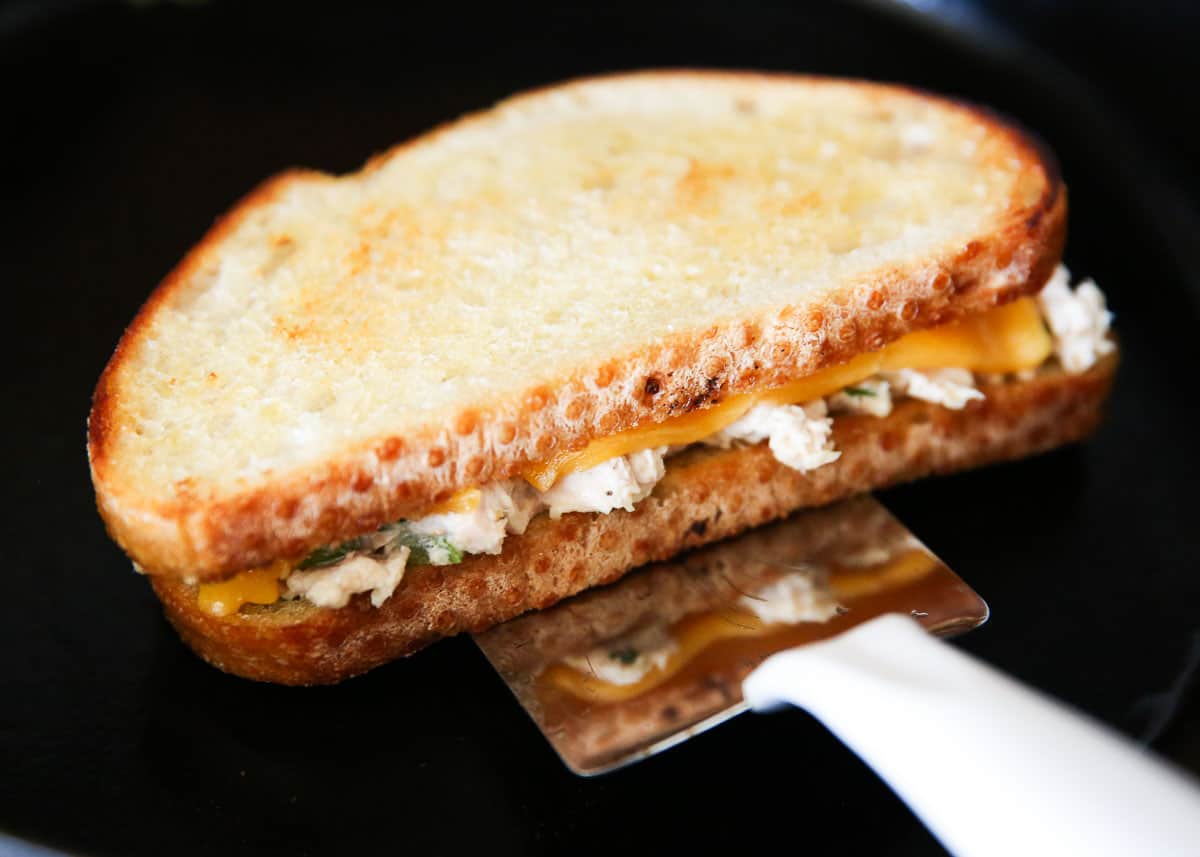 No Wonder it's a Classic
Whether you think a tuna melt is a grilled cheese sandwich with tuna or a tuna sandwich with melted cheese, the beauty of the ultimate tuna melt, is that it's both!
I have a scrumptious tuna salad recipe I make a lot for healthy light meals, and one of my favorite ways to use it is to make a deliciously crispy and creamy classic tuna melt sandwich!
It's easy to make, comes together quickly, and is great for a light lunch or easy dinners throughout the week.
First, we make an easy tuna salad recipe with creamy mayonnaise, tangy Dijon, crisp celery, and crunchy relish. Then we load that on top of griddle-toasted artisan bread until the bread is crispy golden, and the cheese has melted in with the tuna.
Why This Recipe Works
It's easy and filling. A hearty sandwich that is so easy to make and keeps you satisfied until your next meal. You can even make the tuna salad ahead to save time and make it even easier.
Comfort food. A classic tuna melt never goes out of style and probably brings back memories of your childhood.
Customizable. This healthy sandwich can be made to your liking. Choose your favorite bread, use just one slice of bread instead of two for an open faced sandwich, or add extra layers of veggies.
Ingredients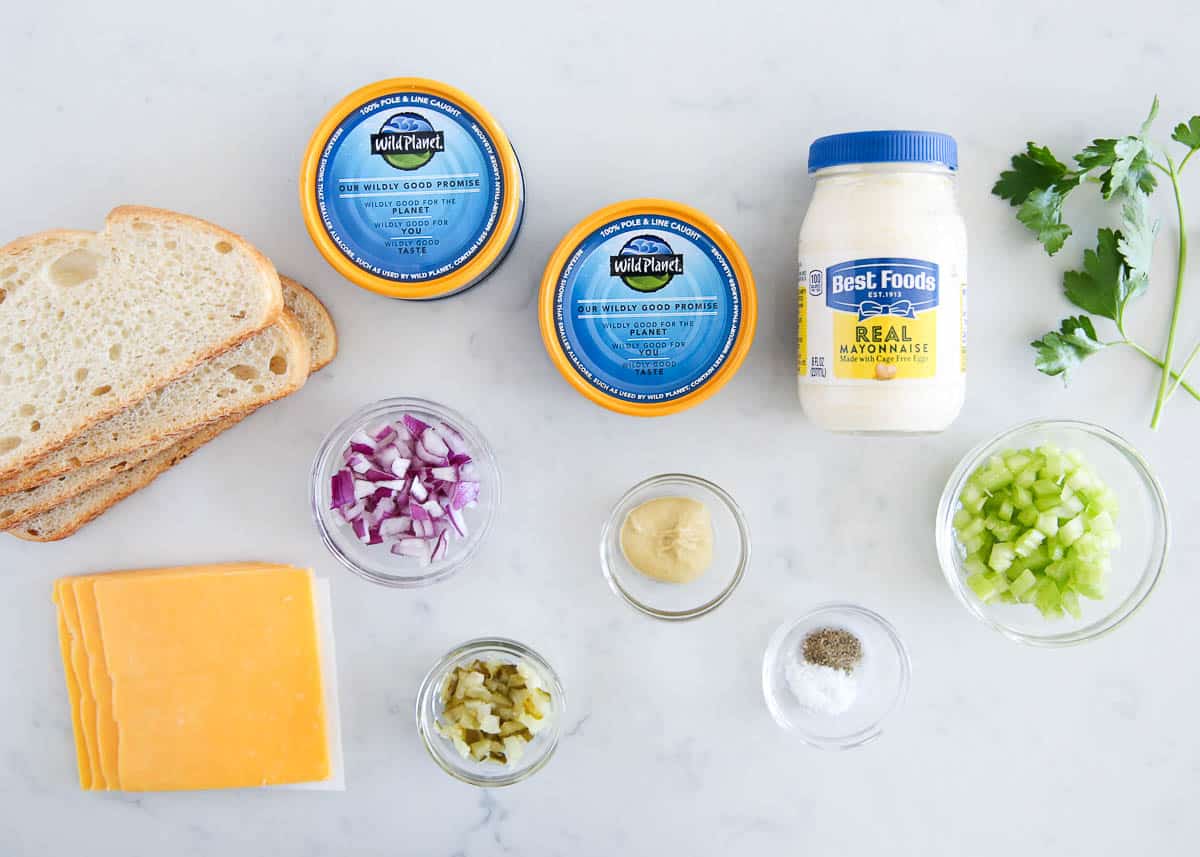 Find the full printable recipe with specific measurements below.
Tuna salad: You'll need a couple of cans of tuna, mayo, Dijon mustard, pickle relish, celery, red onion, parsley, and salt and pepper. I have a fantastic published tuna salad recipe with all the detailed instructions that I use for this recipe.
Bread: Use a nice thick crusty bread, like sourdough or French bread, sliced into 1/2" slices. I use 8 for a closed sandwich, but if you're making open faced tuna melts, you'll need only 4.
Cheese: Cheddar cheese, provolone, or Swiss cheese. Any cheese that melts easily is great.
Salted butter: A bit of salted butter on the bread just before adding it to the skillet or griddle helps get the bread nice and golden and crispy. The salty buttery flavor is also a benefit of buttering the bread first.
How to Make a Tuna Melt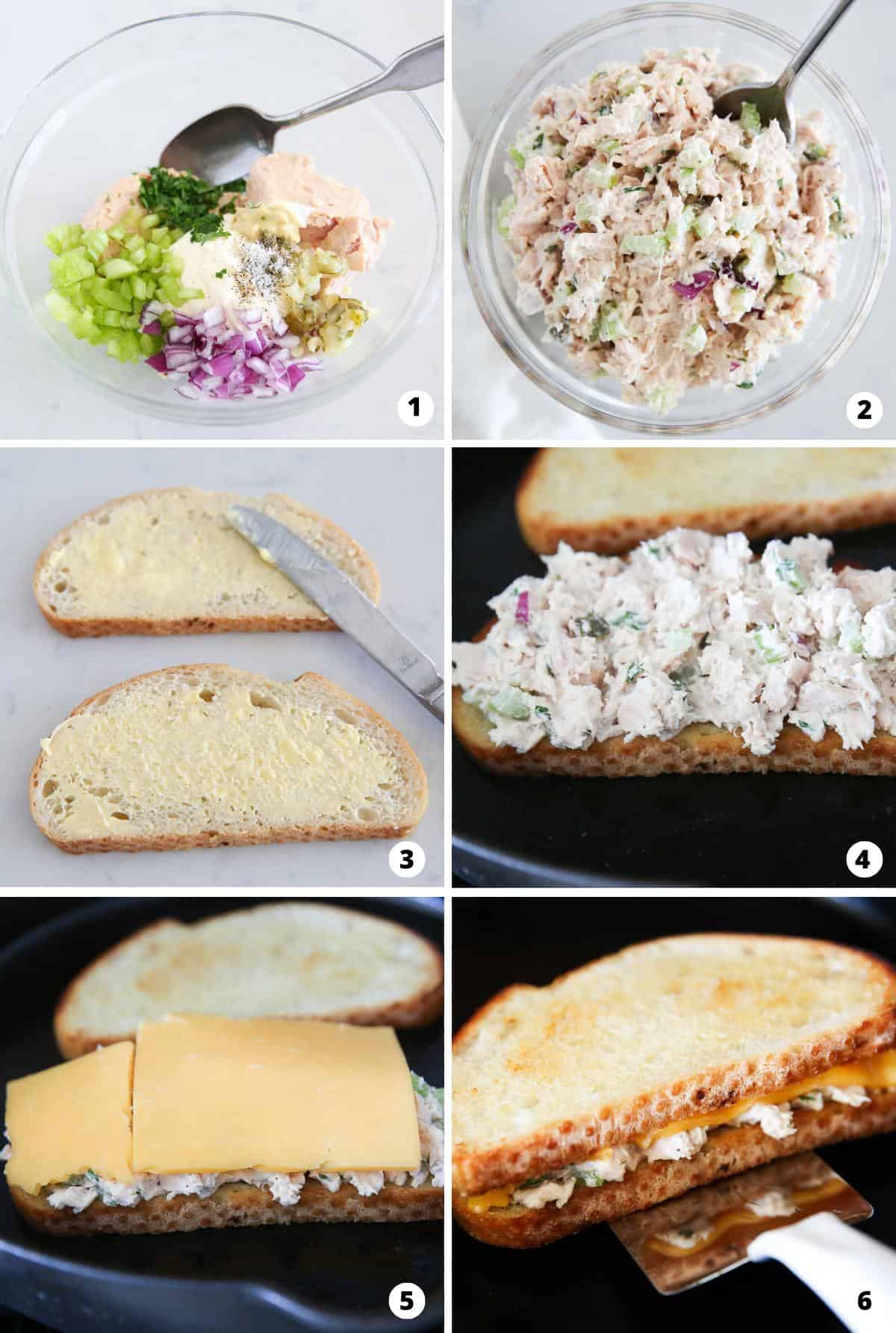 Make tuna salad. Combine all of the tuna salad ingredients into a large mixing bowl. Break up any large chunks with a fork.
Chill the salad. Mix to combine, season with salt and pepper, and chill in the fridge for 15 minutes. Keep it there overnight if you're not making the tuna melt until tomorrow.
Toast the bread. Lay the sliced bread on a clean flat surface and butter both sides of the bread. Place the bread onto a preheated griddle or cast iron over medium heat and cook until one side is golden brown. Flip each piece of bread over and turn off the heat.
The tuna layer. Add some of the tuna mixture onto the bread and use a knife to spread it out.
The cheese layer. Then, top that with a slice of cheese. Add the second slice of bread (toasted side facing the tuna) on top of the cheese.
Flip, melt, and serve. Use a metal spatula to gently flip the sandwiches over and cook for an additional 3 minutes. The bread will be toasted and golden on both sides and the cheese nice and melty. Serve your tuna melt while it's hot!
Variations
A tuna melt, like most sandwiches, has flexible ingredients and ways to adjust the flavors to your liking. Here are just a few ways to make this sandwich your own.
To brighten the flavor of your tuna salad, squirt it with a bit of lemon juice before chilling it in the fridge.
Substitute the mayo with Greek yogurt or mashed avocado for a lighter version.
Spice it up. Red pepper flakes will add some heat, and so will some hot sauce or diced jalapeno!
Chop up some hard boiled eggs and add those to the tuna mixture for extra flavor and protein.
Use whatever bread you prefer. White homemade bread, Texas toast, whole wheat bread, sourdough, French bread, bagels, English muffins, or any gluten-free bread you love.
Expert Tips
Drain canned tuna well. You don't want too much excess liquid in your salad, otherwise, it'll water down the mayo making the mixture quite runny.
Avoid burning your bread. Do not turn the temperature any higher than medium heat. You don't want to rush toasting your bread because, by the time the cheese melts, your bread will be overdone. You might even end up with a burnt tuna melt.
Butter not soft? If you've forgotten to take your butter out to bring it to room temperature, it's probably going to be too hard to spread. In this case, melt it directly onto the skillet or griddle and place the bread overtop the melted butter.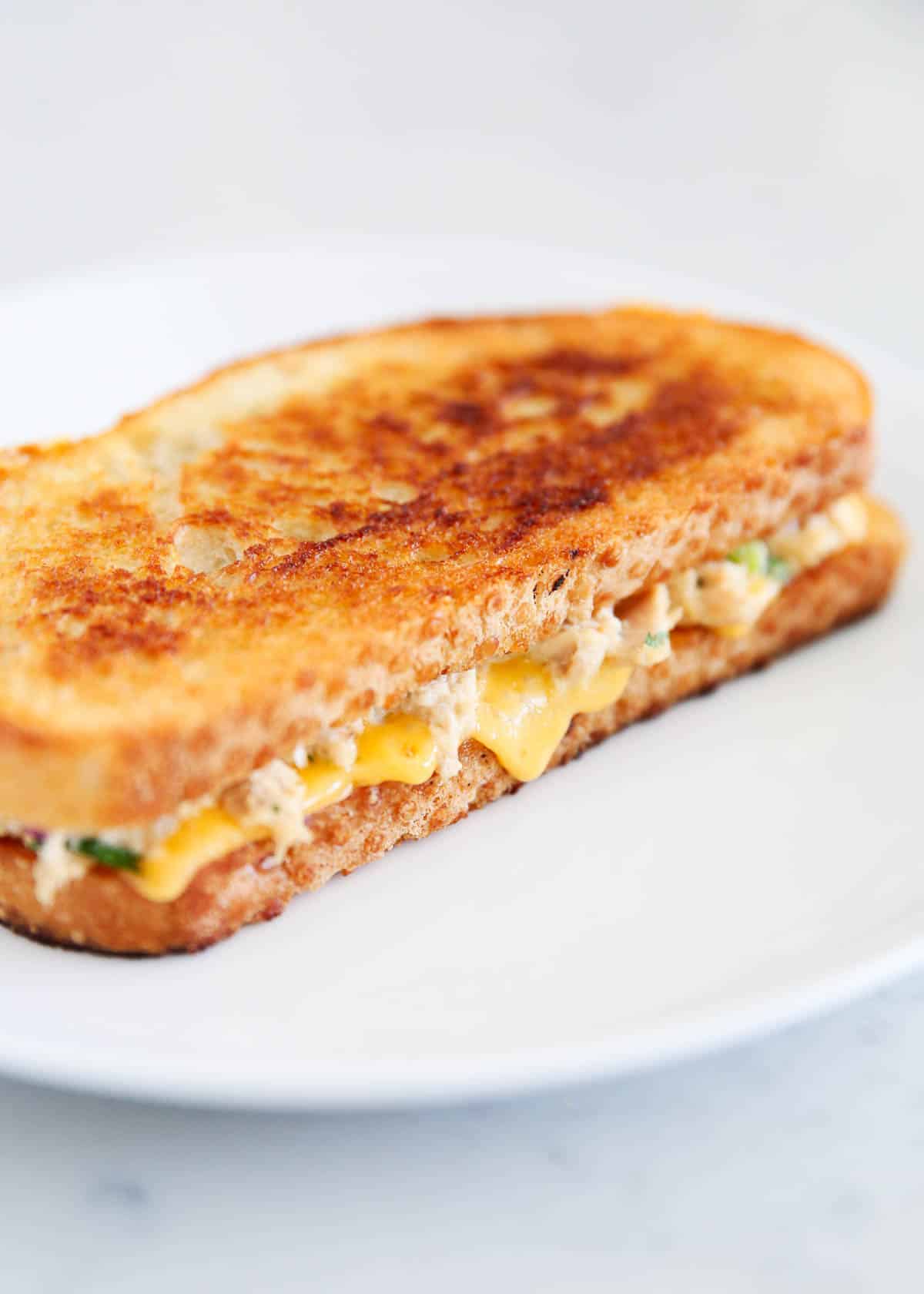 Recipe FAQs
Can I make it an open faced tuna melt instead?
Absolutely! Just use 4 slices of bread instead of 8. Layer the ingredients the same way, with the cheese on top and then place them on a foil-lined baking sheet and let them sit under the broiler for a few minutes until the cheese melts.
Can I make this tuna melt in the air fryer?
You'll need to make 2 sandwiches at a time, but yes, you can make air fryer tuna melts! Cook for 3 minutes per side at 370°F until golden.
How to make ahead?
You can make the tuna salad the night before. Cover it and keep it in the fridge until you assemble your ultimate tuna melt!
How long will a tuna melt last?
I do recommend you enjoy it right away, but it will keep for up to 3 days in an airtight container.
You'll notice the longer it sits the soggier it will be. I would reheat it in a skillet or the air fryer to get the bread crispy again.
Serving Suggestions
This tuna melt doesn't need much! It's a complete meal on its own. A simple coleslaw, potato salad, or tossed salad would suffice.
Maybe a side of fresh fruit or a rainbow honey lime fruit salad would be great if your sandwich has the veggies covered.
If you're wanting a restaurant-style presentation, serve it with a side of French fries or potato chips.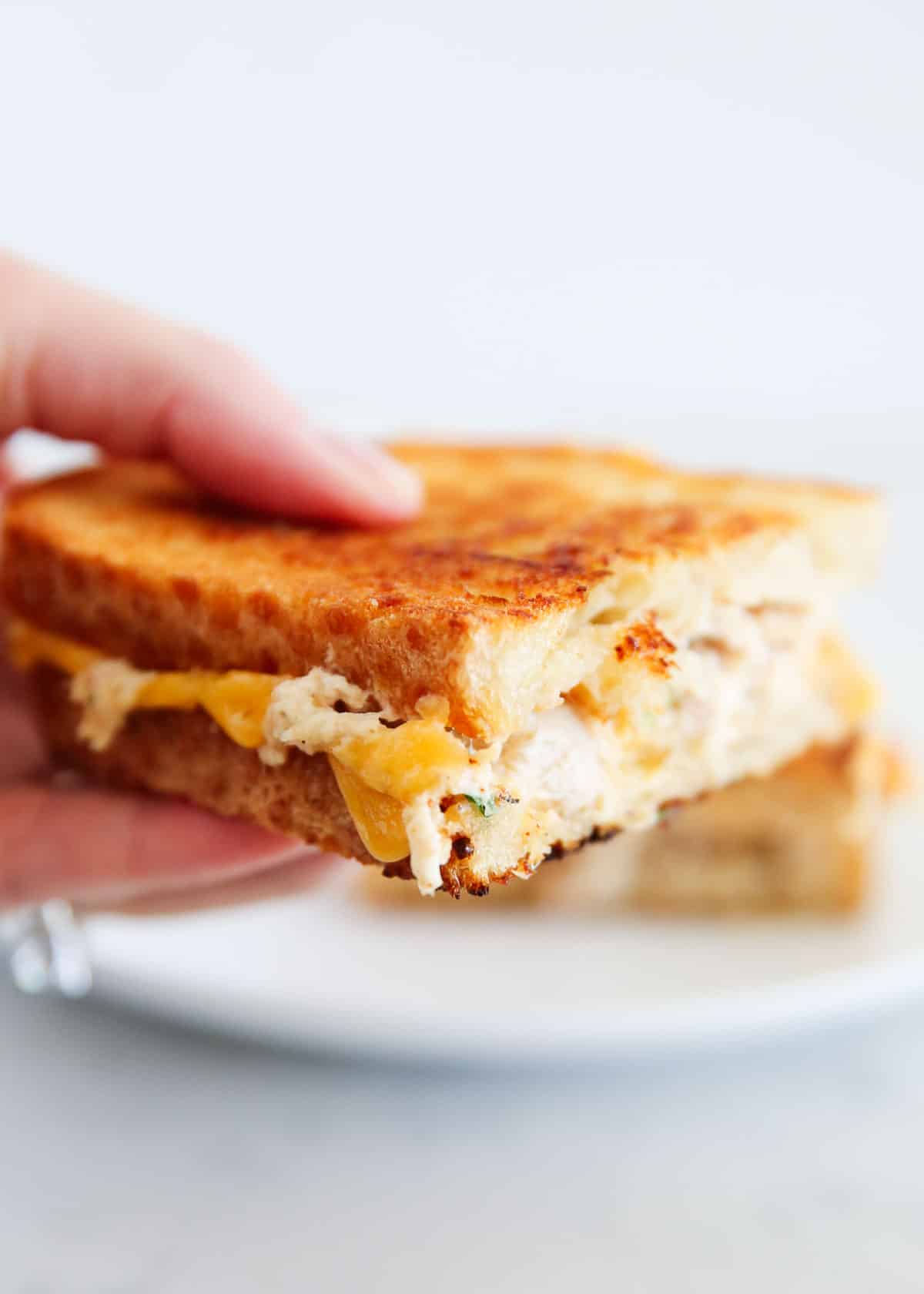 HUNGRY FOR MORE? Subscribe to my newsletter and follow on Facebook, Pinterest and Instagram for all the newest recipes!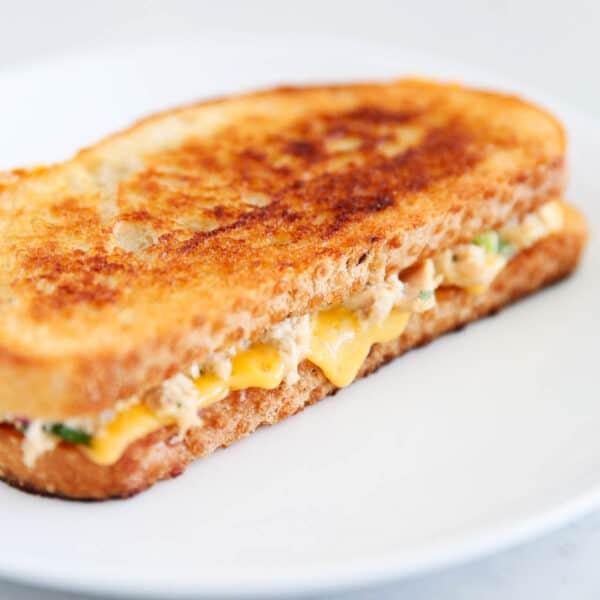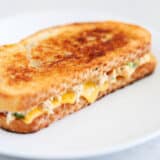 Tuna Melt Recipe
Two pieces of thick, buttery crisp bread filled with creamy, tangy tuna salad topped with a slice of melted cheddar cheese is what goes into the ultimate tuna melt. It's a simple way of bringing classic comfort food to your table that everyone will love!
Ingredients
Tuna Salad
2 (5-ounce) cans tuna , drained
⅓ cup mayonnaise
1-2 teaspoons Dijon mustard
1 Tablespoon relish
1 stalk celery , diced
2 Tablespoons finely chopped red onion
1-2 Tablespoons chopped parsley , chives, or dill, optional
¾ Kosher salt , more to taste
¼ Ground black pepper , more to taste
Melt
8 (1/2" thick) slices sour dough or French bread
4 slices cheddar cheese , provolone, or Swiss cheese
2-3 Tablespoons salted butter , softened
Optional toppings: sliced tomato, butter lettuce
Instructions
Tuna Salad
In a large bowl, stir together the tuna, mayonnaise, mustard, relish, celery, onion, and parsley, if using, until well combined. Season with salt and pepper. Chill 15 minutes.
Melt
Lay 4 bread slices flat on a work surface. Butter each side of the bread.

Heat a large griddle or cast iron pan over medium heat. Place the bread onto the griddle and cook until one side is golden brown. Flip the bread and turn off the heat.

Top each with tuna salad and a slice of cheese. Add the golden bottom on top of the tuna. Add the top piece of bread (toasted part facing tuna).

Using a metal spatula, gently flip the sandwiches over. Cook an additional 3 minutes, or until the bread is toasted and cheese is melted. Serve while hot.
---
Notes
Open face: You only need 4 slices for an open-face tuna melt. Layer the ingredients with cheese on top. Broil in the oven a few minutes until the cheese is melted. Air fryer: Instead of cooking on the griddle, air the sandwiches in batches at 370°F 2 to 3 minutes each side, until the cheese is melted. Substitutions: You can swap the mayonnaise in the tuna salad for Greek yogurt or mashed avocado, if you like. Toppings: Add avocado, bacon, sprouts, jalapeños or hot sauce to kick it up a notch. Make ahead: The tuna salad can be made the day before and kept in the fridge. This makes for an even quicker lunch! Storage: This tastes best eaten fresh, but it can be stored in an airtight container in the refrigerator up to 3 days.
Nutrition
Calories: 266kcal | Carbohydrates: 4g | Protein: 5g | Fat: 26g | Saturated Fat: 9g | Polyunsaturated Fat: 9g | Monounsaturated Fat: 6g | Trans Fat: 0.3g | Cholesterol: 40mg | Sodium: 357mg | Potassium: 140mg | Fiber: 1g | Sugar: 1g | Vitamin A: 751IU | Vitamin C: 6mg | Calcium: 137mg | Iron: 0.4mg
Nutrition provided is an estimate. It will vary based on specific ingredients used.
Did you make this recipe? Don't forget to give it a star rating below!