Firm, tender, and flaky white fish coated in a crispy golden carbonated batter served with fresh cut fries, this British fish and chips recipe is the perfect way to bring this classic dish to your kitchen!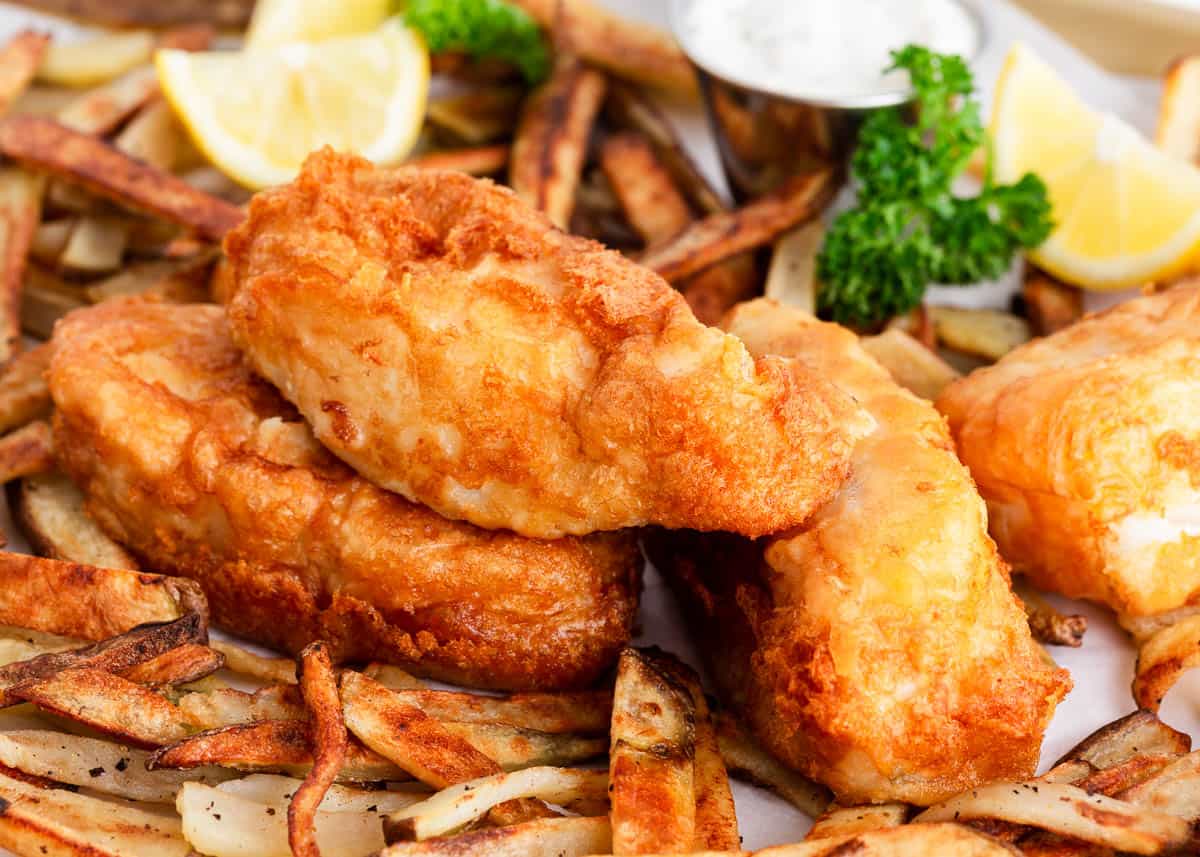 Traditional Pub Fare at Home!
I start with thick, tender, and flaky white fish, coating it in a delightful, light, and crispy batter. The result is perfect flavors, complemented by a side of freshly-cut, homemade French fries. This traditional British dish can be easily recreated at home using only a handful of simple ingredients and a fine piece of fish!
To get that crunch you can hear from across the table, the secret is carbonation in the batter and the proper frying technique. I'm going to show you my tips and tricks on making the BEST fish and chips your whole family will love.
Lemon baked fish and baked tilapia are my go-to fish recipes for lighter everyday options, but sometimes we just need a batch of good old-fashioned, restaurant-style fish n chips!
Why You'll Love This Recipe
A crispy batter that stays crispy. No need to worry about soggy fish! The batter is perfectly light and crunchy and when fried at just the right temperature for the right amount of time, it won't absorb too much grease.
Can use the fish for tacos! You can also use fried fish to make fish tacos topped with quick pickled onions and classic coleslaw for a completely different meal.
No alcohol is necessary. You can make beer-battered fish but you can also have equal results using carbonated water. Either way, there will be no alcohol content once the fish is cooked.
Fish and Chips Recipe Ingredients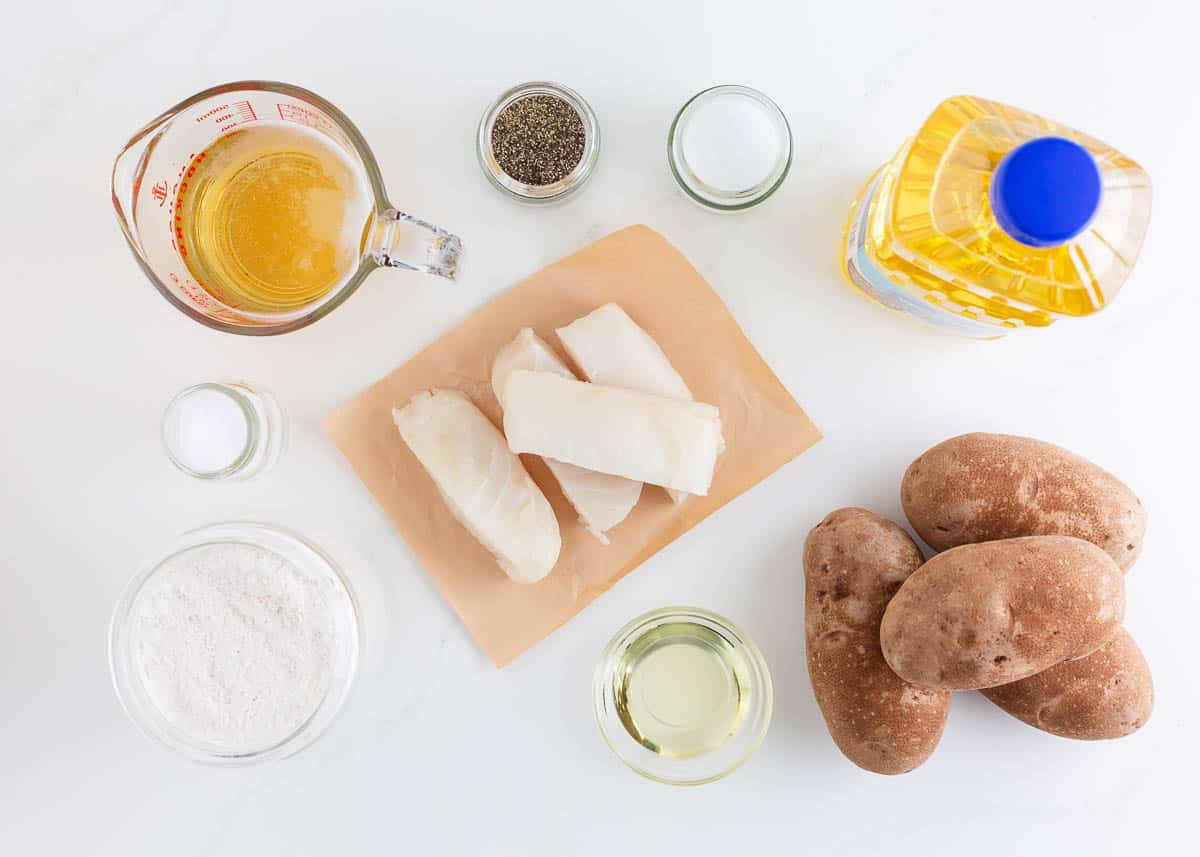 Find the full printable recipe with specific measurements below.
For the Fries
Russet potatoes: I don't peel mine because I like the rustic look. In this case, it's important to scrub them clean and pat them dry.
Canola oil or vegetable oil: Use either one to coat the fries to help them turn a golden color and crisp up nicely. It also helps the seasoning to stick.
Salt & pepper: A generous seasoning of salt and pepper is all these french fries need! You can certainly jazz them up with extra seasoning if you'd like.
For the Fish
Oil for frying: Vegetable oil is great for frying in larger amounts of oil because it's relatively inexpensive. It has a high smoke point and is neutral-tasting so it won't alter the taste of the fish.
All-purpose flour: This is what makes up most of the batter. It's what coats the fish.
Baking soda: When baking soda and carbonation react, they create oxygen bubbles that help to create a light, airy, and super crispy coating!
Salt: You can add other seasonings if you'd like, but I just keep my fish and chips simple with a generous amount of salt.
Cold light beer or sparkling water: The key is cold carbonation! Perrier or club soda are great choices, but you can also use your own soda stream as long as it's cold and unflavored.
Whitefish: Cod, haddock, or halibut can be used. Whatever is on sale or whatever you've got on hand. All are sturdy white fish that will hold up to the frying.
For serving: homemade tartar sauce, homemade ranch, and/or malt vinegar.
Variations
Fish & chips is a simple dish that requires just a simple seasoning to make it amazing. However, there are definitely ways to add even more flavor like kicking it up a notch with a bit of cayenne pepper in the batter.
Old bay seasoning or garlic powder can also be added either in the batter or to season the fish itself.
You can make gluten-free fish and chips by using gluten-free flour and making sure to use gluten-free beer if not using fizzy water.
How to Make Fish and Chips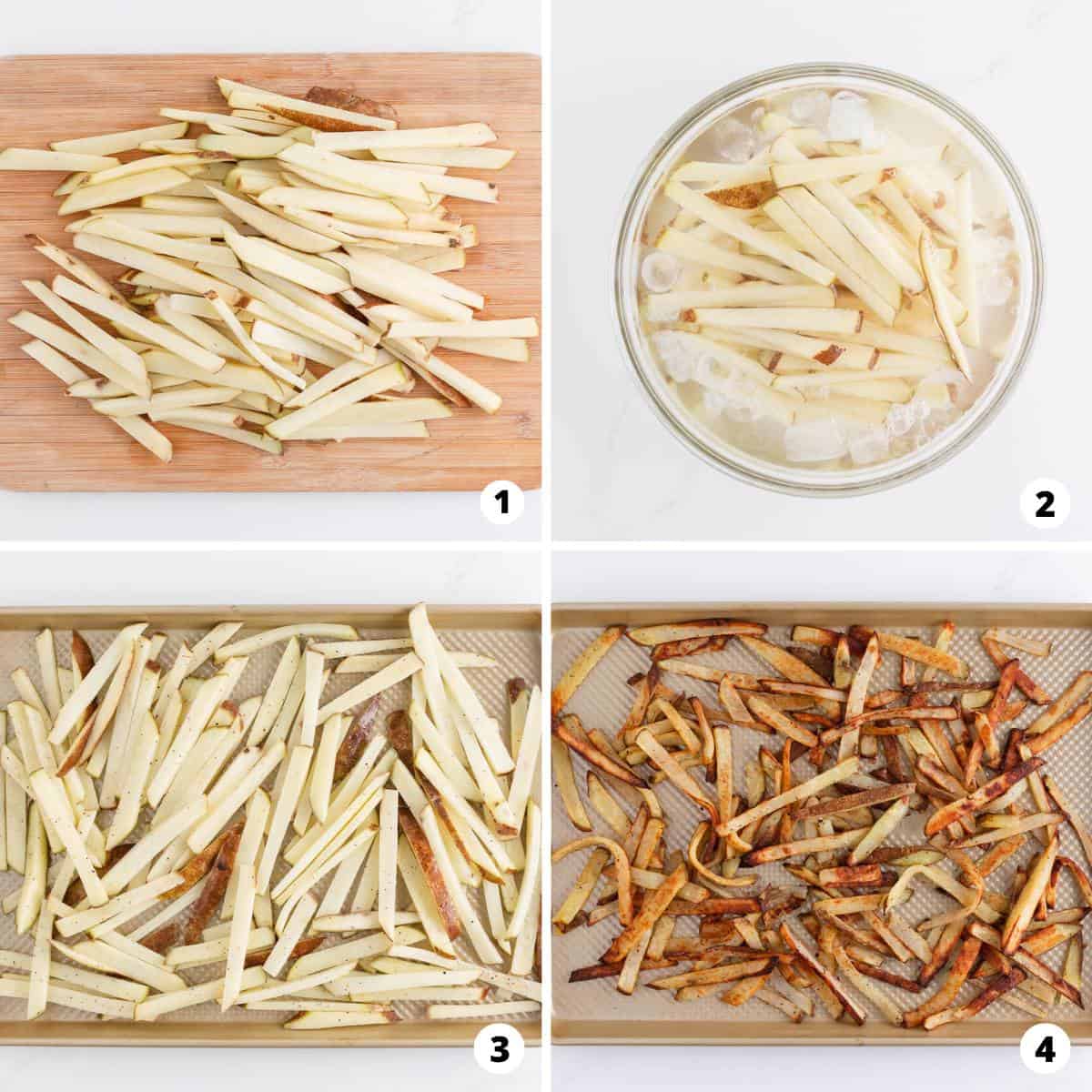 Cut the potatoes into fries. Use a sharp kitchen knife to cut the potatoes lengthwise, first in half, and then into quarters. Slice each quarter into sticks, about 1/4" thick. You can also use a mandolin for this or a gadget for cutting fries if you have one.
Soak them. Transfer the cut fries to a large bowl of ice water. Allow them to soak for a minimum of 1 hour or up to 12 hours. This will draw out the starch which will help to crisp up the fries. Once they're done soaking, drain them and lay them on a paper towel-lined plate to air dry. You may still need to pat them dry as you don't want any remaining moisture.
Arrange them on a baking sheet. Toss them in oil, salt, and pepper until generously and evenly seasoned, and lay them out on a large prepared baking sheet in a single layer. Make sure they are not overlapping so the heat circulates each fry evenly.
Bake until crispy. Bake in a preheated 450°F oven for 25-30 minutes, flipping halfway. At the halfway mark, start preparing to cook your fish. Once crisp and tender, remove them from the oven and season to taste.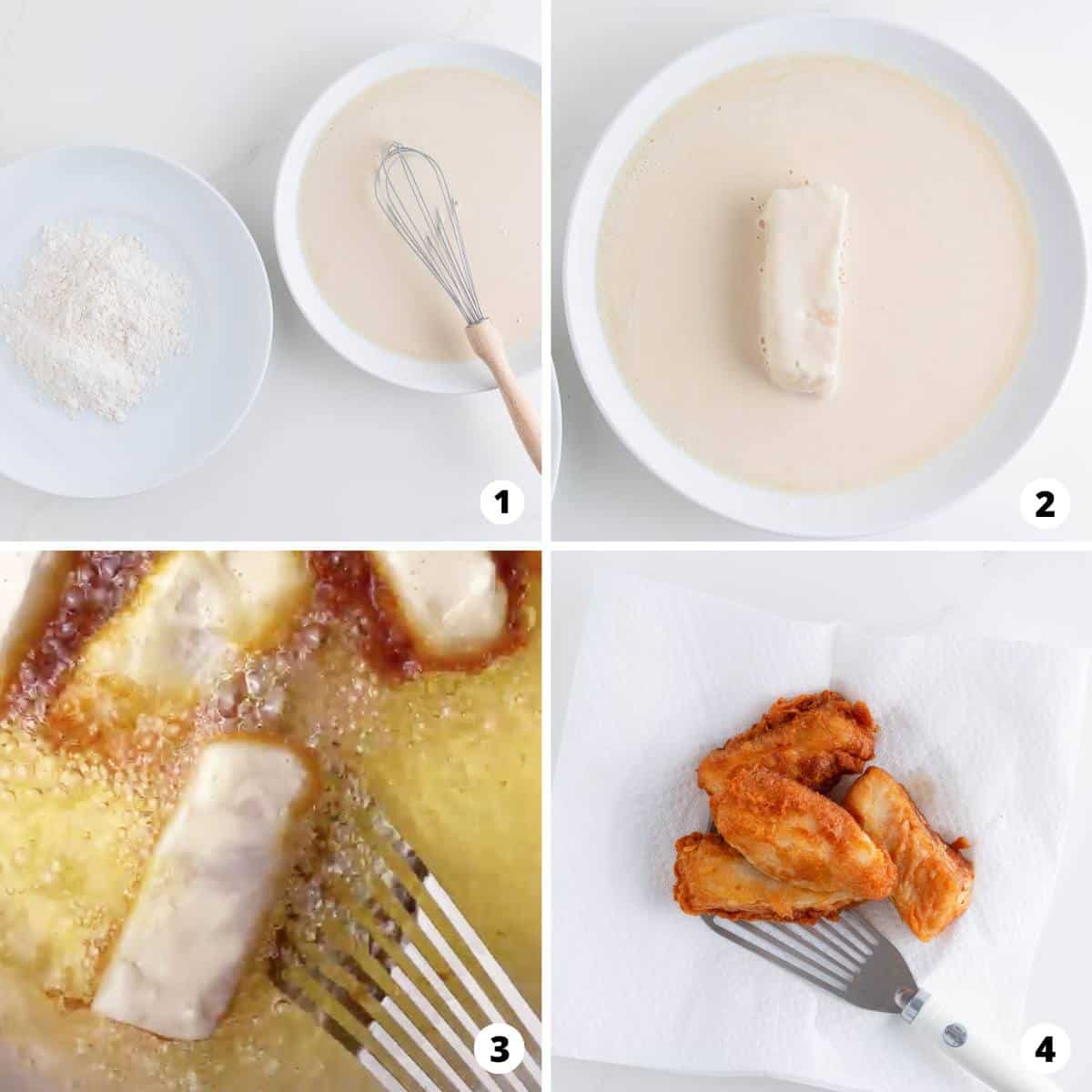 Make the batter. While the oil is heating up, make the batter in a large shallow bowl by combining flour, baking soda, and salt. Whisk in the beer until smooth and no lumps remain. Do not make this in advance. In a separate dish, add the remaining flour.
Coat the fish. Pat the fish dry to remove excess moisture and dredge it in flour then dip it into the batter to coat. Shake off the excess dripping.
Fry them. Carefully add the fish to the hot oil and fry for 2 minutes on one side and flip it over to fry for another 2 minutes. Once golden brown on all sides, remove the fish to a paper towel-lined plate. Repeat with the remaining pieces.
Serve. Best served immediately with the chips that should be ready now and a side of tartar sauce, vinegar, or ranch dressing.
Expert Tips
Always maintain the right oil heat. The temperature should remain at 350℉ to 375℉ at all times. Use a candy thermometer to keep an eye on it.
Work in small batches. Do not overcrowd the pan. If necessary, fry one fish fillet at a time. Overcrowding will decrease the temperature of the oil.
Do not let the batter sit for too long. Once the carbonation has been added to the flour mixture, use it relatively quickly. If it sits for too long it will start to become flat.
Keep the fish warm. Fish and chips is best enjoyed right away, but if you need to keep them warm, lay them on a wire rack overtop a baking sheet. Place them in the oven at 200℉ until you're ready to serve them.
Serve immediately. I do not recommend storing this fish. As it cools and sits, it will get soggy.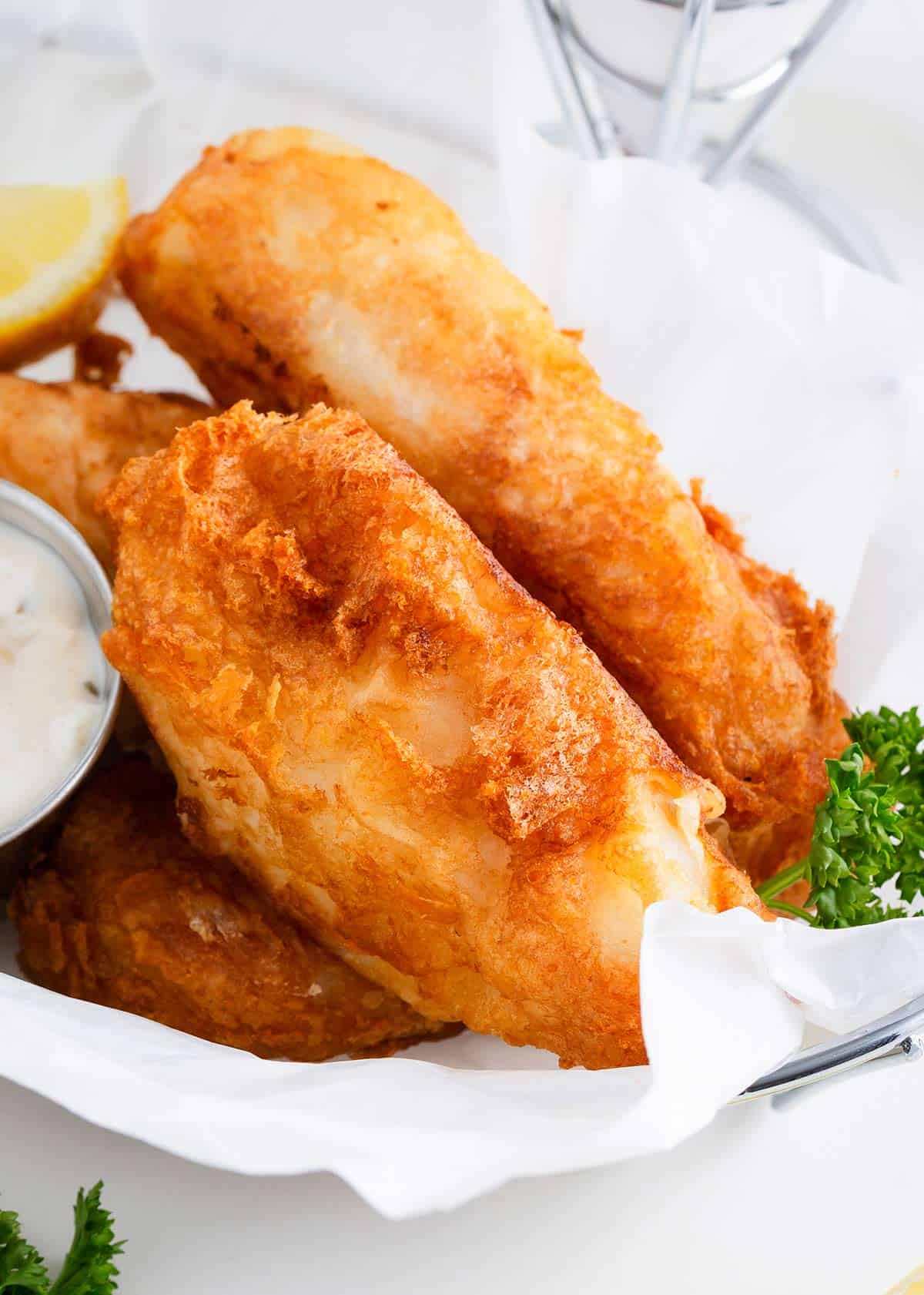 Recipe FAQs
What is the best fish for fish and chips?
You want to avoid fatty, oily fish when frying. Any white fish that is lean, and neutral tasting are good choices so that it doesn't give off an overpowering fishy smell.

Cod is a great choice and very popular for fish and chips. Tilapia is also great, as is Haddock, but that is the pricier option.
Do I have to use a beer batter?
No! It does add great flavor and you can't taste it in the end, but it's not necessary. As long as you're using cold carbonated water, it will still work.
Can I make my fries in the air fryer instead?
You can! Keep in mind the air fryer requires you to cook in batches because it has less space than the oven.

You can also fry your fries in oil on the stove, however, then you have to keep an eye on two things frying at once!
Why is my fish soggy?
This is usually due to not having the correct oil temperature. If it's too hot you risk burning it, but if it's too low, this is where you risk soggy fish!

It'll absorb too much oil by the time it heats up and cooks properly.
Serving Suggestions
Have a little extra fun with this fish and chips recipe and serve them wrapped in newspaper!
Instead of traditional french fries, you could easily swap them for baked sweet potato fries, potato wedges, or even an air fryer baked potato.
A refreshing cucumber tomato salad or creamy coleslaw would be a nice pairing. Don't forget the extra lemon wedges along with your tarter sauce and vinegar!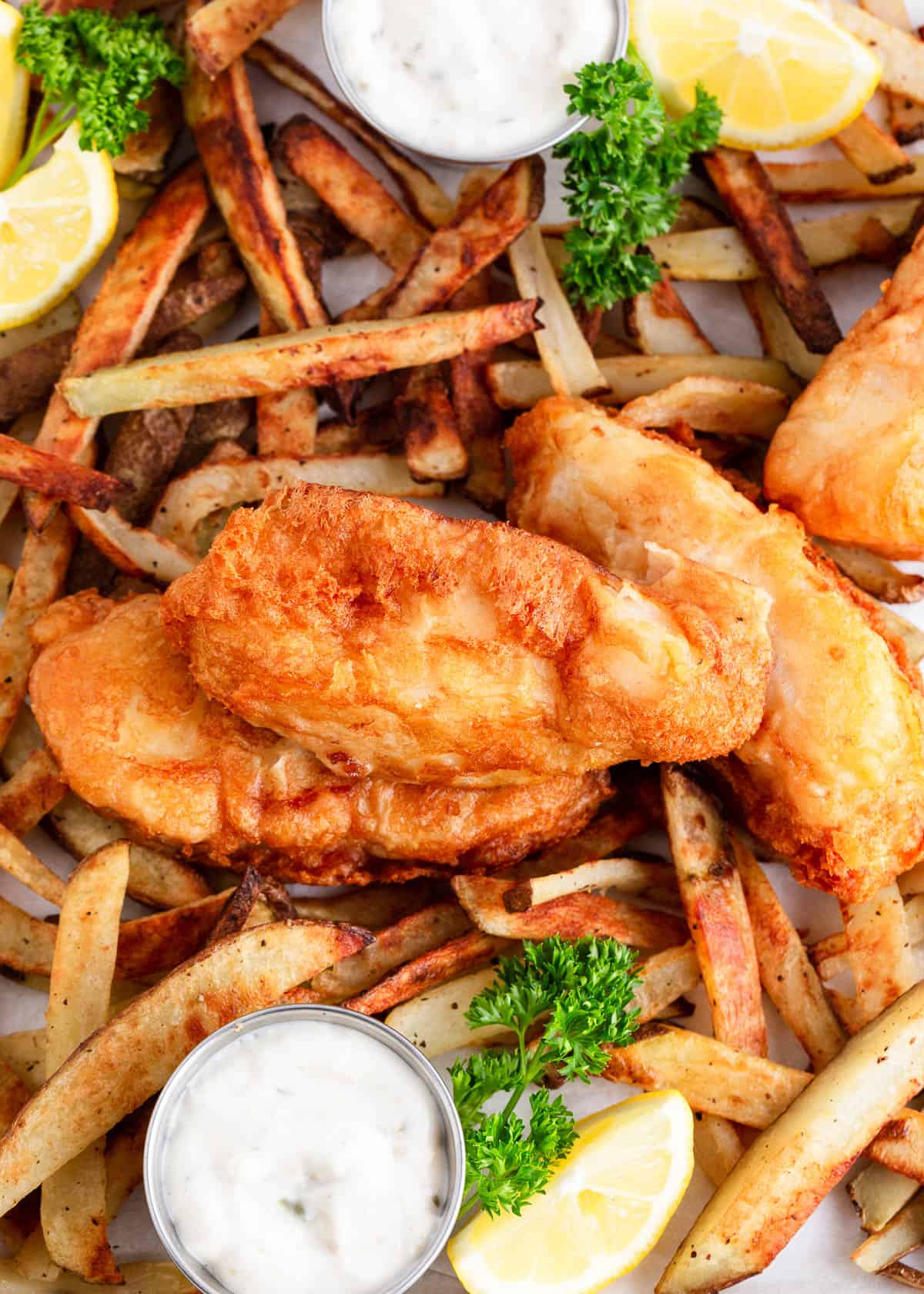 More Seafood Recipes
HUNGRY FOR MORE? Subscribe to my newsletter and follow on Facebook, Pinterest and Instagram for all the newest recipes!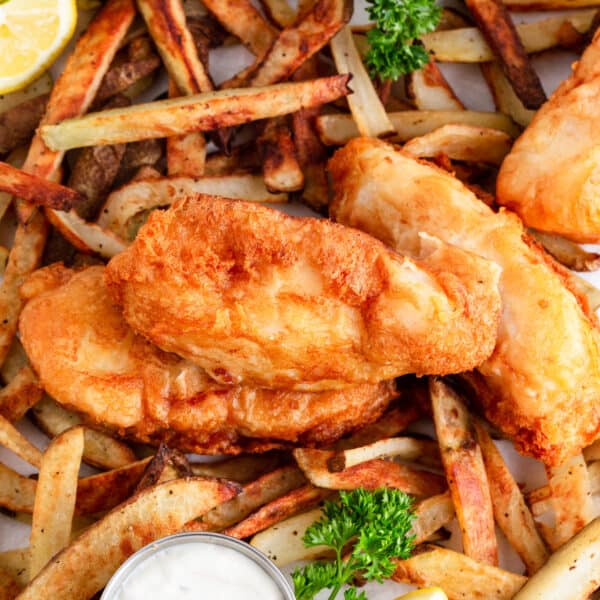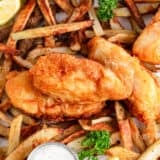 Fish and Chips Recipe
Firm, tender, and flaky white fish coated in a crispy golden carbonated batter served with fresh cut fries, this fish and chips recipe is the perfect way to bring this classic British eats to your kitchen!
Equipment
1 6 qt enameled cast iron dutch oven
Ingredients
Chips
4 russet potatoes , unpeeled, scrubbed, and dried
2-3 Tablespoons canola or vegetable oil
¾ teaspoon Kosher or fine sea salt , plus more to taste
¼ teaspoon ground black pepper
Fish
Vegetable oil , for frying
1 ½ cups all-purpose flour , divided
1 teaspoon baking soda
1 teaspoon fine sea salt
1 ¼ cups cold light beer , or Perrier sparkling water
1 ½ pounds white fish (cod, haddock, or halibut), cut into 4 pieces
Tartar sauce , malt vinegar, or ranch dressing, for serving
Instructions
Chips
Quarter the potatoes lengthwise and cut into 1/4-inch thick sticks. If you have a mandoline slicer, you can use that.

Soak the potatoes in ice cold water at least 1 hour or up to 12 hours to remove starch. Lay on paper towel-lined plates to air dry. You want them very dry and may need to pat them down.

In a large bowl, stir together the oil, salt, and pepper. Toss the potatoes until well coated.

Preheat the oven to 450°F. Spray a large baking sheet with nonstick cooking spray. Spread the potatoes in a single layer. Bake 15 minutes. Flip with a spatula and bake 10 to 15 minutes more, or until crisp and tender. Season to taste.
Fish
After you flip the fries at 15 minutes, start making the fish. In the bottom of a deep skillet, add 1 inch oil. Heat over medium low until a candy thermometer reads 350℉ to 375℉.

While the oil is heating, prepare the fish. In a large shallow bowl, stir together 1 cup flour, baking soda, and salt. Whisk in the beer until smooth and no clumps remain. Do not let batter sit too long before using. In another large, shallow bowl, add the remaining 1/2 cup flour.

Using a paper towel, pat the fish to remove any excess moisture. Dredge in flour and then dip in the batter to coat, shaking off any excess drips.

Carefully place the fish in the oil. Fry 2 minutes. Flip over. Fry 2 minutes more, or until golden on all sides. Using a slotted spoon, transfer to a paper towel-lined plate.

Serve hot with chips and a side of tartar sauce, malt vinegar, or ranch dressing. Enjoy!
---
Notes
Beer or sparkling water: Carbonation is key to a really great batter and makes the fish crunchy. Beer adds a little bit of flavor, but you can use any sparkling water. I would just avoid any flavored water, because it might alter the taste of the fish.
Chips (french fries): If you don't want to bake your chips, you make homemade french fries by frying in a skillet or an air fryer. I find baking to be the easiest when frying the fish because it doesn't require frying two things on the stove top or doing the fries in batches.
Storage: Fish and chips is best eaten right away, and I wouldn't really recommend storing leftovers.
Nutrition
Calories: 524kcal | Carbohydrates: 76g | Protein: 44g | Fat: 4g | Saturated Fat: 1g | Polyunsaturated Fat: 1g | Monounsaturated Fat: 1g | Cholesterol: 85mg | Sodium: 1394mg | Potassium: 1469mg | Fiber: 4g | Sugar: 2g | Vitamin A: 3IU | Vitamin C: 12mg | Calcium: 56mg | Iron: 5mg
Nutrition provided is an estimate. It will vary based on specific ingredients used.
Did you make this recipe? Don't forget to give it a star rating below!