A delicious and easy 30 minute meal that delivers big flavor is what this baked tilapia recipe provides! Fresh seasoned fillets are drizzled with butter and oil, baked until flaky and golden, then finished with a squirt of fresh lemon juice!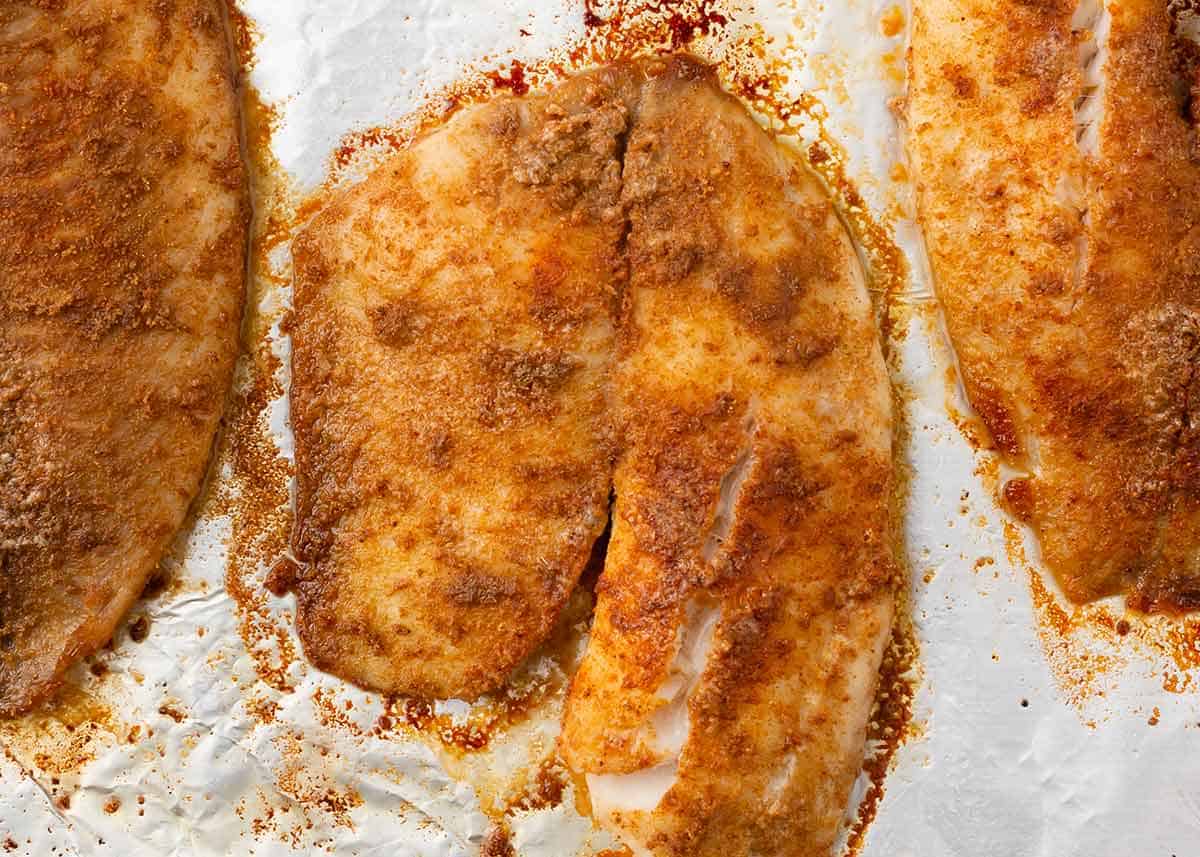 Healthy, Flavorful, and Fast!
Our baked tilapia recipe is a must-try! With our simple yet flavorful seasoning, this baked tilapia dish is sure to be a family favorite. Discover the ultimate way to enjoy tilapia with our mouthwatering baked tilapia recipe.
This baked tilapia recipe makes the best tilapia fish tacos and makes a healthy 30 minute meal easy. All it takes is for you to dredge your fillets in seasoning, dot them with butter, and bake until flaky. Fish is way easier to cook than most people think!
Once done you can serve them with an easy rice pilaf or smashed potatoes and some oven roasted vegetables for a quick and easy weeknight dinner or casual weekend meal. Or, use them to make tilapia fish tacos. So good either way!
Why This Recipe Works
Ready in 30 minutes. I love a recipe that I know is fast but not fast food. It's filling, nutritious, and isn't heavy, so it's great to have just before evening sports or activities.
Pairs well with so many sides. This flavorful fish can be seasoned any which way, which means it can be served with everything from rice, fish, pasta, veggies, and more.
Light and healthy. It's gluten-free, can be dairy free if using oil instead of butter, and low carb. Full of omega's and protein, and a ton of vitamins and minerals, you can't go wrong with a crispy baked tilapia.
All About Tilapia
After tuna, salmon, and pollock, tilapia is the next most popular fish that you'd find on the dinner table across America. For good reason!
It's a freshwater white fish that is no longer available wild-caught. Therefore, the tilapia you'd find in your grocery store is most likely farmed fish. This practice allows for the cost to remain relatively inexpensive and it still contains essential vitamins, omega-3 fatty acids, and protein.
The fillets are usually cut thin and are quite delicate and flaky once cooked.
Recipe Ingredients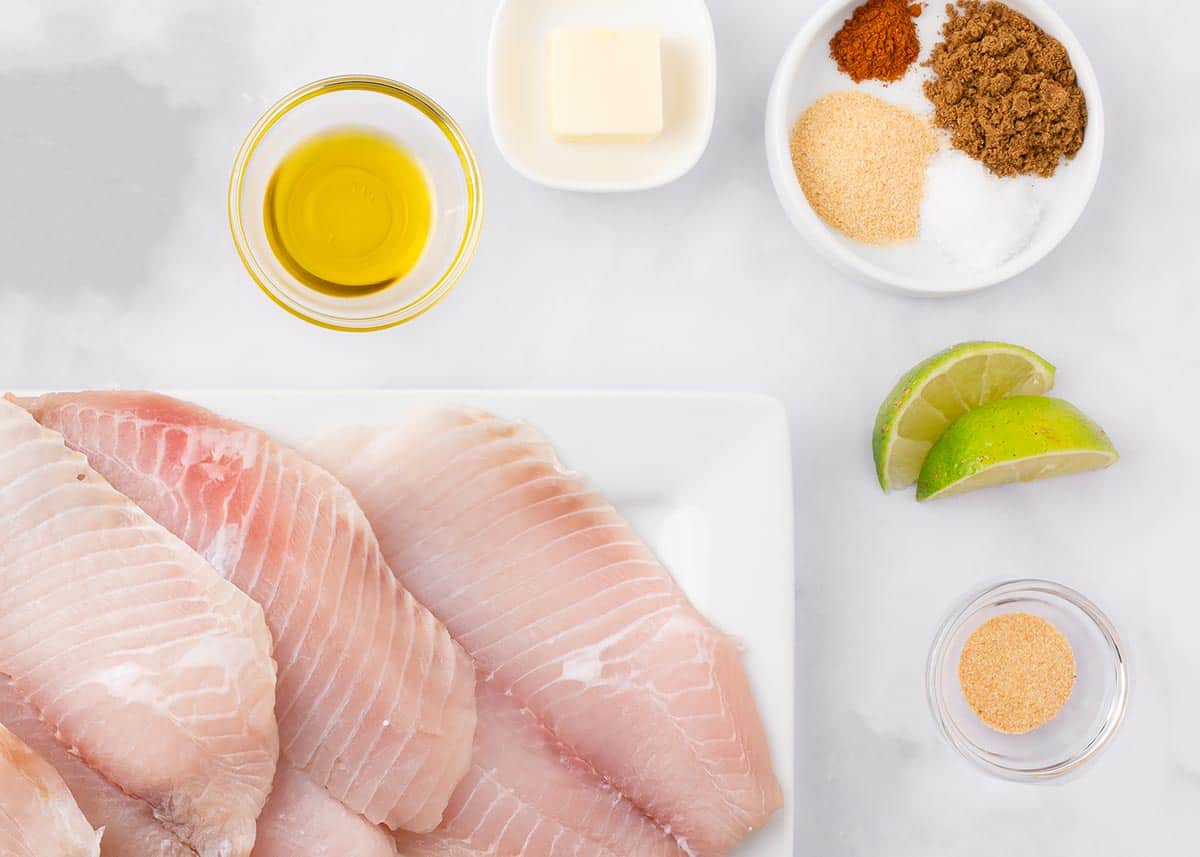 Find the full printable recipe with specific measurements below.
Tilapia filets: You'll need about 2 pounds of fish with the bones removed. Trim and pat dry with a paper towel. This recipe works well with other whitefish such as cod, rockfish, or halibut.
Seasoning: Salt, garlic powder, cumin, and cayenne pepper combined to give the fish a caramelized outer crust, and delicious flavor with a bit of a spicy kick. If you prefer paprika over cayenne for a milder flavor, you can use it instead.
Olive oil & butter: I like to use both to help brown and crisp up the outside of the fish. The butter gives it a delicious buttery flavor too.
Fresh lime or lemon: A squirt of fresh lemon juice is the perfect finishing touch. Citrus is a great way to brighten up any fish!
How to Bake Tilapia Fillets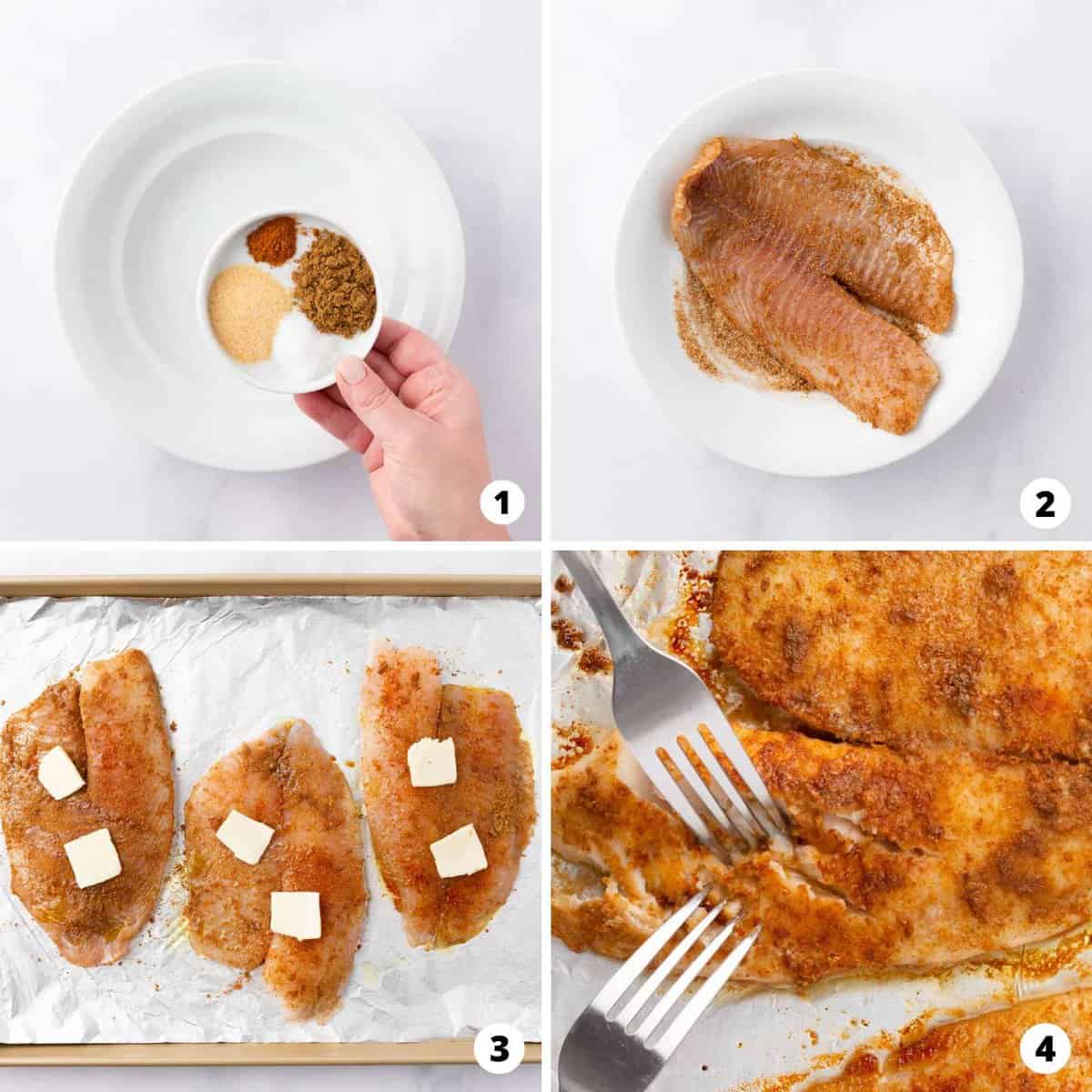 Combine seasoning. In a shallow bowl, stir cumin, salt, garlic powder, and cayenne until combined and blended.
Dredge the fillets. Coat both sides of the fish with the seasoning blend. Transfer them to a prepared baking sheet lined with aluminum foil or parchment paper and sprayed with nonstick spray.
Bake. Drizzle each piece with olive oil and dot with butter. Bake in a preheated 375°F oven for 20-25 minutes until the fish is no longer translucent and it flakes easily.
Serve. Remove the baked tilapia from the oven and allow it to rest for a few minutes before serving. Squeeze some fresh lemon or lime juice if desired. Enjoy!
Other Cooking Methods
The grill is a great way to cook these fillets in the summer! Preheat the grill to medium-high heat, lightly grease the grill, then cook for 2-3 minutes per side.
Use the air fryer to cook a smaller batch or multiple batches. Preheat the air fryer to 370°F and lightly grease the baskets. Add fillets to the air fryer basket and cook for 6-7 minutes.
Enjoy pan-seared tilapia fillets over medium heat on the stovetop. Heat oil and cook the fish for 3-4 minutes, being careful not to overcrowd the pan.
Expert Tips
To brown the edges, broil the baked tilapia for an extra 2-3 minutes.
Do not overcrowd the pan. It's ok if the fillets are touching, just make sure they don't overlap. Otherwise, some parts of them may not cook properly.
Switch up the seasoning. Baked tilapia works well with all kinds of wonderful seasoning blends. Try Italian seasoning, Cajun seasoning, Greek seasoning, or lemon pepper seasoning.
Add a crust. Use breadcrumbs and parmesan cheese to coat the fish for a baked tilapia similar to this crispy lemon baked fish. It has a nice crunch to it!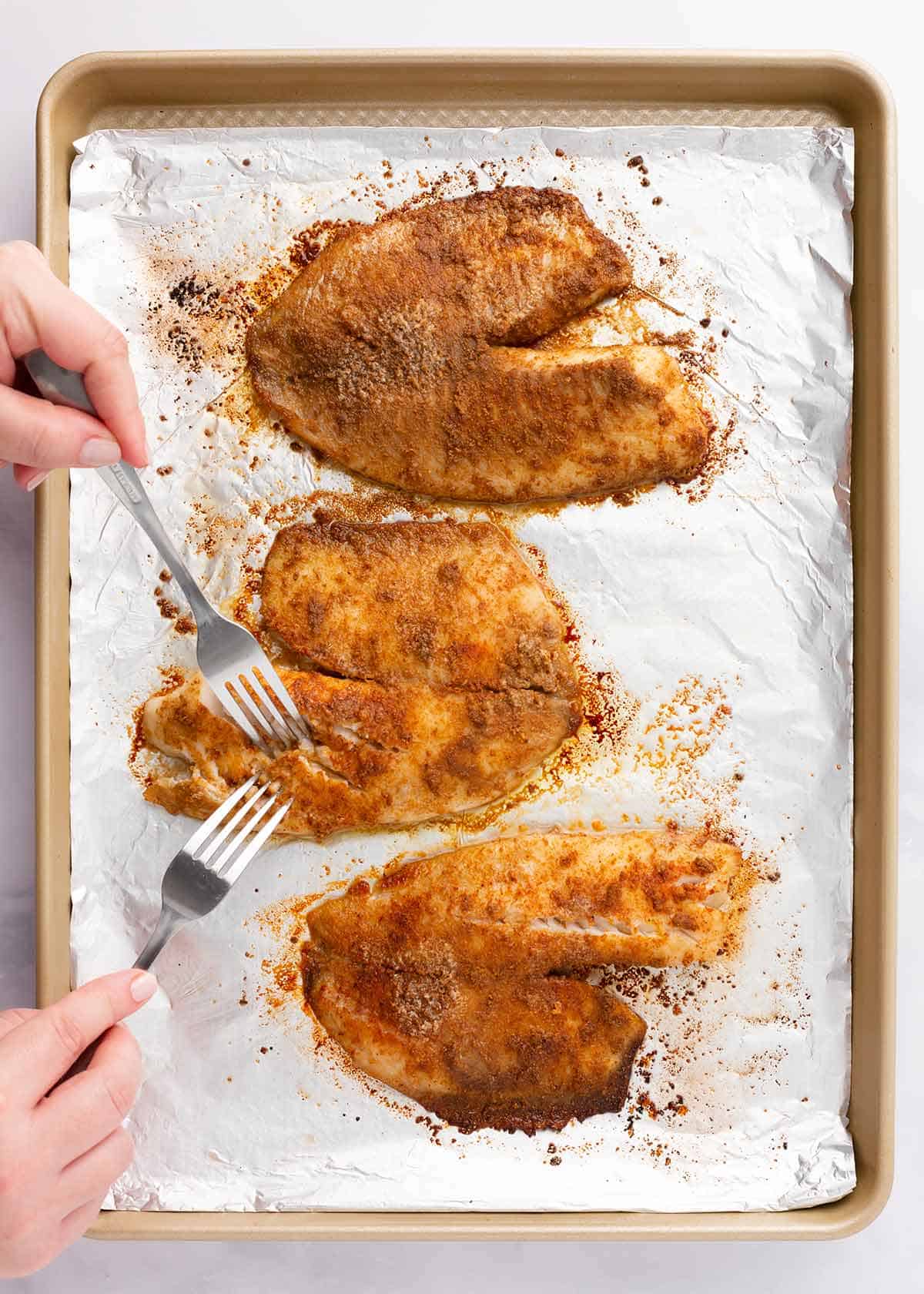 Recipe FAQs
Do you have to flip tilapia when baking it?
You don't have to, but there's no rule against it. If you do prefer to flip it, make sure to use a thin metal spatula as it can break easily if the fillet is really thin.
What temp should tilapia be baked at?
For this baked tilapia recipe, 375 degrees F is the optimal temperature. Cooking at a higher temperature ensures a flaky fish that your family will love.
What temperature should baked tilapia be when it's ready?
When you test your baked tilapia with a digital thermometer, at the thickest part it should have an internal temperature of 140°F.
Can I prepare the fillets ahead of time?
Sure! Just season them but don't bake them. Lay them on a plate and cover with plastic wrap and keep them refrigerated overnight until you're ready to make this baked tilapia recipe the next day.

You can also freeze them for up to 2 months, but only if they have not been previously frozen.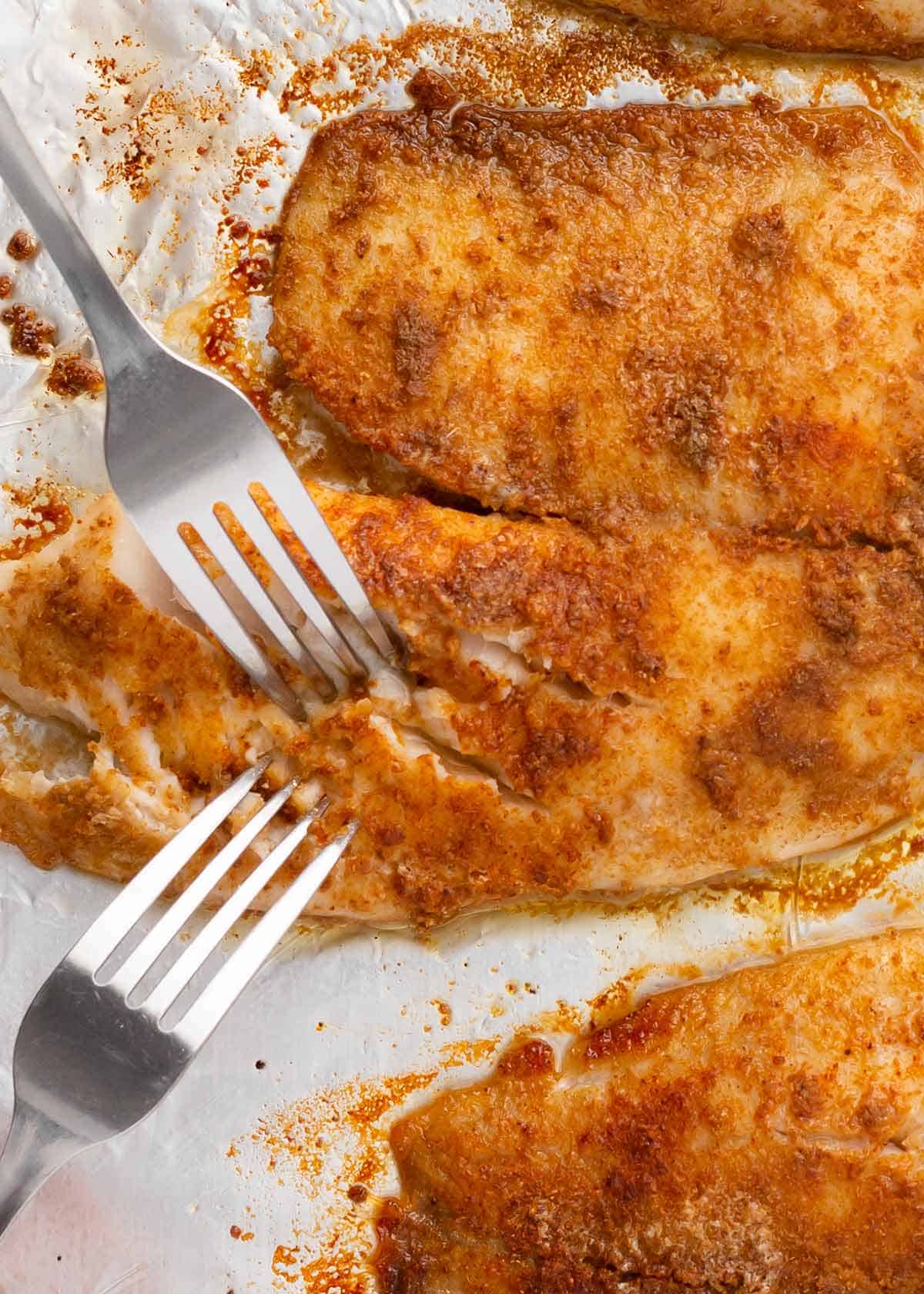 HUNGRY FOR MORE? Subscribe to my newsletter and follow on Facebook, Pinterest and Instagram for all the newest recipes!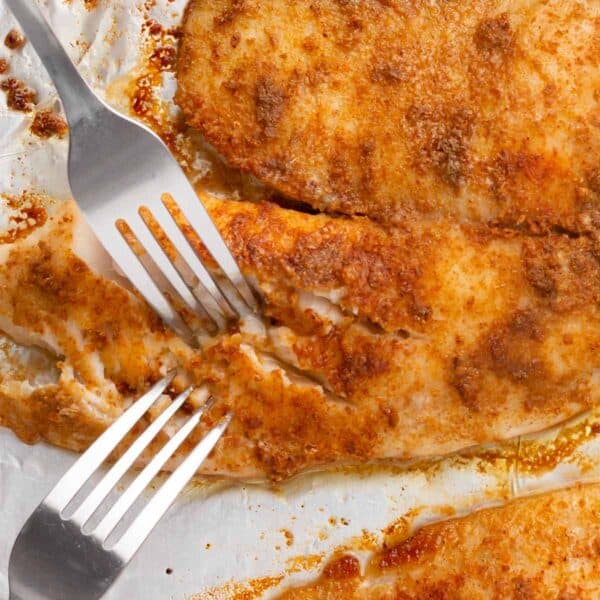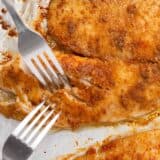 Baked Tilapia Recipe
A delicious and easy 30 minute meal that delivers big flavor is what this baked tilapia recipe provides! Fresh seasoned fillets are drizzled with butter and oil, baked until flaky and golden, then finished with a squirt of fresh lemon juice!
Ingredients
2 pounds tilapia fillets , bones removed, or other white fish *see notes
1 teaspoon Kosher salt
1 teaspoon garlic powder
1 teaspoon ground cumin
¼ teaspoon cayenne pepper
1 Tablespoon olive oil
1 Tablespoon unsalted butter , cut into small slices
fresh lime or lemon , optional
Instructions
Preheat the oven to 375°F. Line a baking sheet with aluminum foil or parchment paper and spray with non-stick cooking spray. Place tilapia on the pan or a cutting board to trim.

In a shallow bowl, stir together cumin, salt, garlic powder, and cayenne.

Dredge the tilapia in the spice mixture until well coated on each side. Place on baking sheet.

Drizzle tilapia with olive oil and dot with butter. Cook 20 to 25 minutes, or until flakes easily with a fork and is no longer translucent in the center. A digital thermometer should read 140°F at the thickest part. To brown the edges, broil an additional 2 to 3 minutes.

Allow to rest for a few minutes before serving. Squeeze fresh lime or lemon on top if desired.
---
Notes
White fish: This recipe also works well with cod, rockfish or halibut.
Other ways of cooking:
Grill. Preheat a grill to medium-high, lightly oil the grates (or use a grill basket), and cook 2 to 3 minutes per side.
Air Fryer. Preheat an air fryer to 370°F. Lightly grease basket. Add fish in a single layer and cook 6 to 7 minutes. You may have to do this in batches.
Stovetop. Heat 1 to 2 tablespoons olive oil in a large nonstick skillet over medium heat. Add the fish in a single layer, and cook 3 to 4 minutes per side. Be careful not to crowd the pan. You may need to do this in batches.
Nutrition
Calories: 186kcal | Carbohydrates: 1g | Protein: 31g | Fat: 7g | Saturated Fat: 2g | Polyunsaturated Fat: 1g | Monounsaturated Fat: 3g | Trans Fat: 0.1g | Cholesterol: 81mg | Sodium: 467mg | Potassium: 471mg | Fiber: 0.1g | Sugar: 0.03g | Vitamin A: 97IU | Vitamin C: 0.1mg | Calcium: 20mg | Iron: 1mg
Nutrition provided is an estimate. It will vary based on specific ingredients used.
Did you make this recipe? Don't forget to give it a star rating below!