Baked parmesan potato wedges – Crispy, salty and tender on the inside. So easy to make and are sure to be a crowd pleaser. My family absolutely loves this potato wedges recipe!
These roasted potato wedges are so delicious and make the perfect side dish. We love to serve them with chicken, steak, burgers…you name it. So easy and tasty!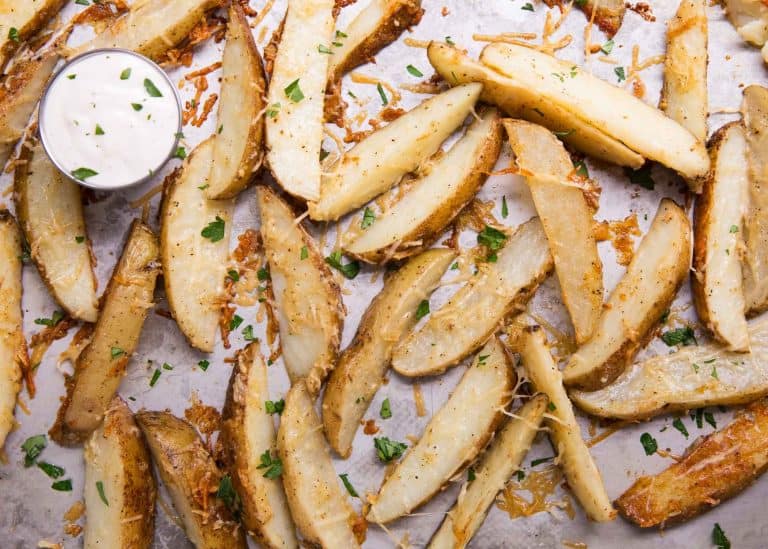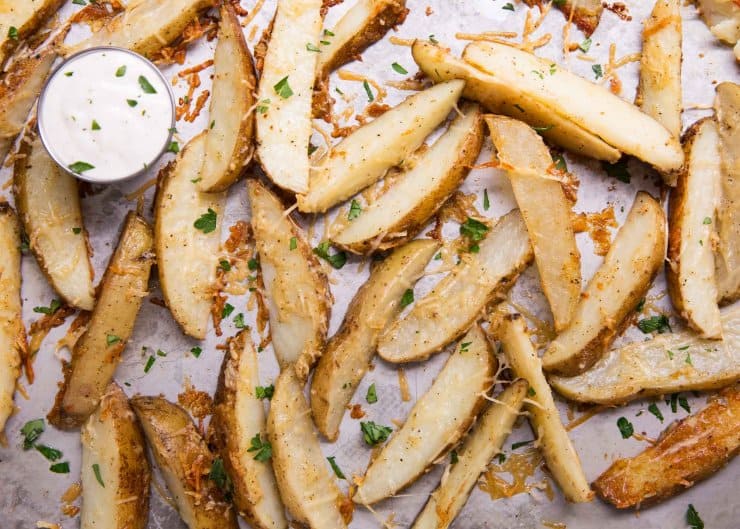 Potato wedges
Growing up, when someone asked me what my favorite food was…it was always potatoes! Now don't get me wrong, they are still one of my favorite foods, but I don't know that I would say that anymore. However, I love pretty much ANY kind of potato (besides potato salad), and could eat them every day and not get sick of them! One of my favorite ways to make them is to bake them in the oven! Baked potato wedges taste just as good as regular wedges, but you don't have to fry them.
These potato wedges really are so easy to make and we love making them to go with just about anything we're grilling. Recently, we've been making parmesan potato wedges and the added layer of cheese really takes them over the top! My family loves to eat the potato wedges plain, but they also taste amazing dipped in ranch. Definitely add these oven roasted potato wedges to your menu. You will thank me later!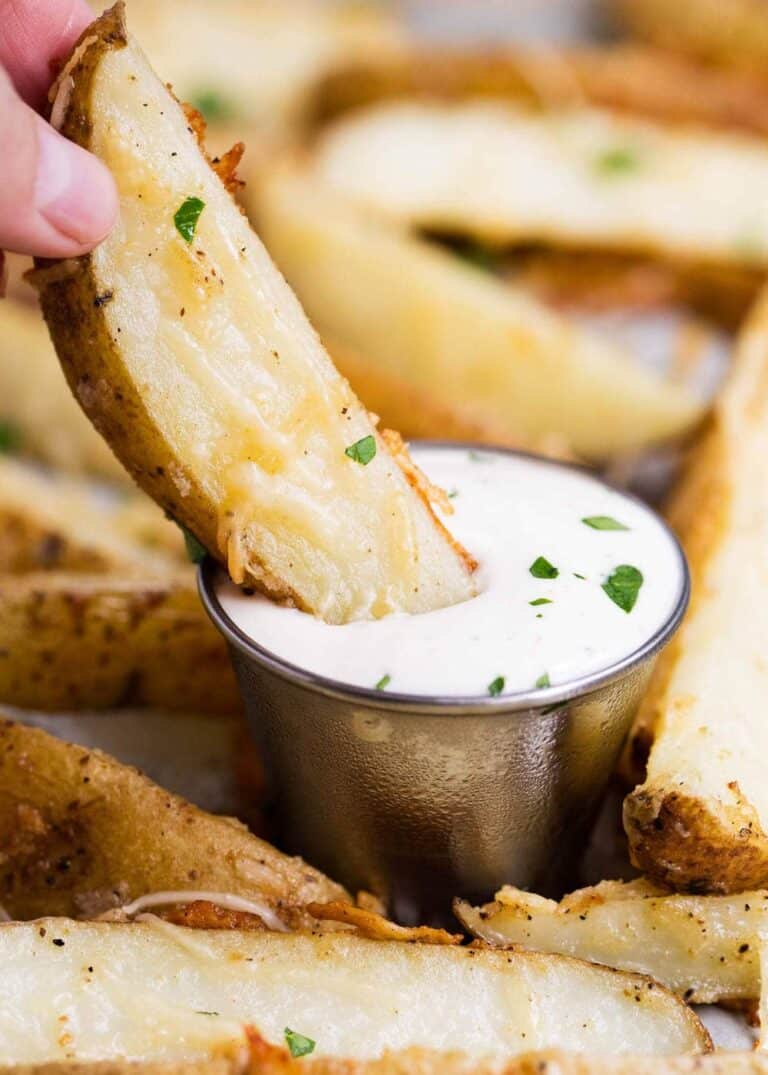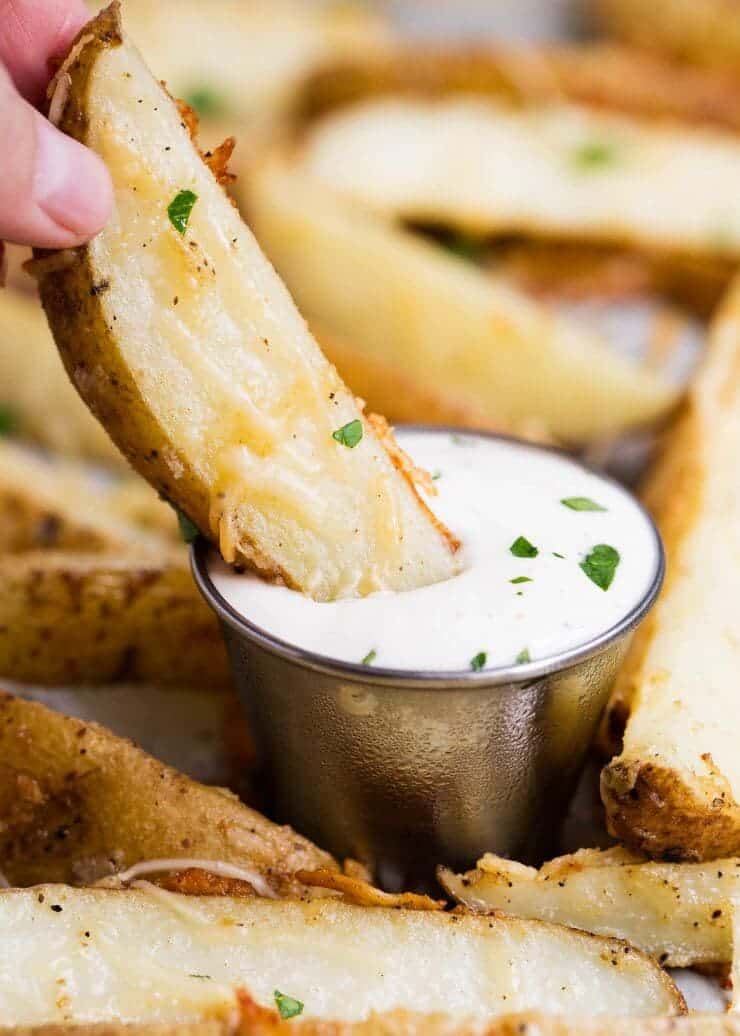 How to make potato wedges
These baked potato wedges are quick, easy and taste absolutely delicious. Just follow these simple steps to get started. Scroll down for the printable potato wedges recipe.
First you want to wash your potatoes and then let them dry. You'll leave the skin on them, so no need to peel.
Then you'll cut your potato wedges. The best way to cut your potato is to cut it in half length wise. Place the flat side down and cut it in half again. Depending on how thick that piece is, you'll cut it into 2-3 slices. Each potato should give you 8-10 potato wedges.
Next you'll mix up the seasonings and then toss them with the potato wedges and bake until perfection.

How long do I bake potato wedges?
I typically like to bake my parmesan potato wedges for about 25-35 minutes at 400°F. The baking time will vary depending on your oven and how crispy you like your potato wedges, so just be sure to keep an eye on them once they hit the 20 minute mark.
How do you make potato wedges crispy?
I find these homemade potato wedges perfectly crispy just by baking them in the oven. The parmesan coating adds an extra crunch and the potato wedges turn out crispy on the outside but tender on the inside. If you want EXTRA crispy potato wedges, the trick is to soak them in hot water before baking. Once the potato wedges are cut, place them in a bowl with warm water for about 10 minutes. This helps release some of the starch, making it easier for them to absorb moisture.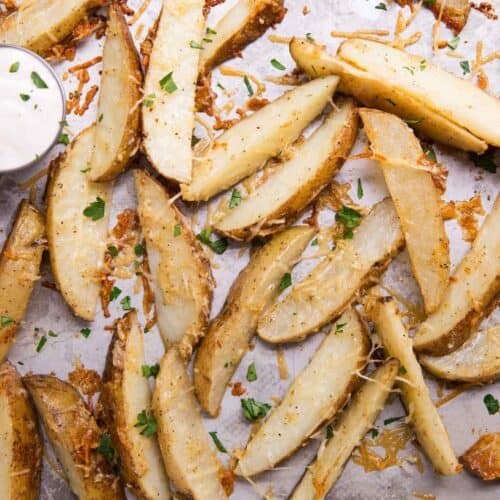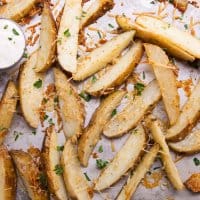 Baked Parmesan Potato Wedges
Baked parmesan potato wedges - Crispy, salty and tender on the inside. So easy to make and are sure to be a crowd pleaser. My family absolutely loves this potato wedges recipe!
Ingredients
4

russet potatoes

(unpeeled, washed and dried)

1/4

cup

olive oil

1/2

cup

shredded parmesan cheese

1 1/2

teaspoons

kosher salt

(more to taste)

1 1/2

teaspoons

garlic powder

1/4

teaspoon

black pepper

(more to taste)
Instructions
Preheat the oven to 400°F. Line a large rimmed baking sheet with foil for easy clean up and spray with non-stick spray.

Slice potatoes in half. Then slice each half into 4-5 wedges. Place in a zip top bag. Pour the olive oil, parmesan cheese, salt, garlic powder, pepper into the bag and shake until well coated. Spread the potato wedges out onto the pan, skin facing down. Bake for 25-35 minutes or until tender. Remove wedges from oven and season with more salt and pepper if desired. Enjoy potato wedges while they're hot!
Nutrition
Calories:
227
kcal
|
Carbohydrates:
26
g
|
Protein:
6
g
|
Fat:
11
g
|
Saturated Fat:
2
g
|
Cholesterol:
5
mg
|
Sodium:
722
mg
|
Potassium:
608
mg
|
Fiber:
1
g
|
Vitamin A:
65
IU
|
Vitamin C:
8.1
mg
|
Calcium:
117
mg
|
Iron:
1.4
mg
PIN THIS RECIPE