These baked parmesan potato wedges are crispy, salty and tender on the inside. So easy to make and are sure to be a crowd pleaser!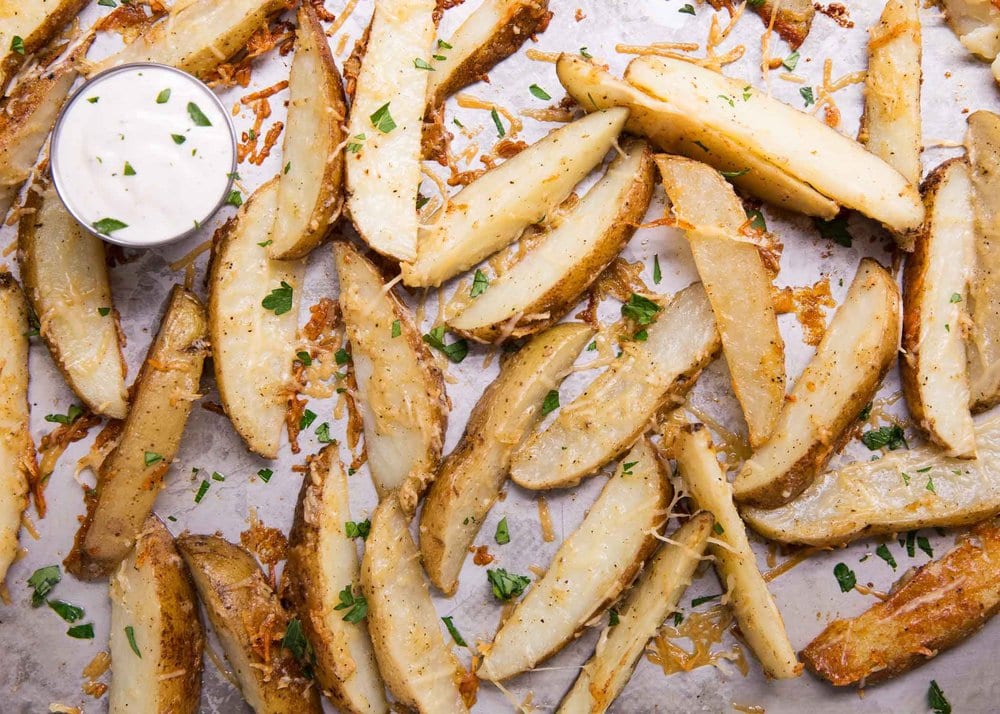 Best Ever Baked Parmesan Potato Wedges
This is one of our absolute favorite side dishes. We make them to go with just about anything we're grilling, like chicken, steak, or my hamburger patty recipe…you name it. So easy and tasty!
Growing up, when someone asked me what my favorite food was…it was always potatoes! Now don't get me wrong, they are still one of my favorite foods, but I don't know that I would say that anymore, although I have recently discovered a new found love for baked sweet potato fries.
However, I love pretty much ANY kind of potato (besides potato salad), and could eat them every day and not get sick of them!
One of my favorite ways to make them is to bake them in the oven! Baked potato wedges taste just as good as regular wedges, but you don't have to fry them. Recently, we've been making this parmesan version and the added layer of cheese really takes them over the top! It adds great flavor and makes them extra crispy.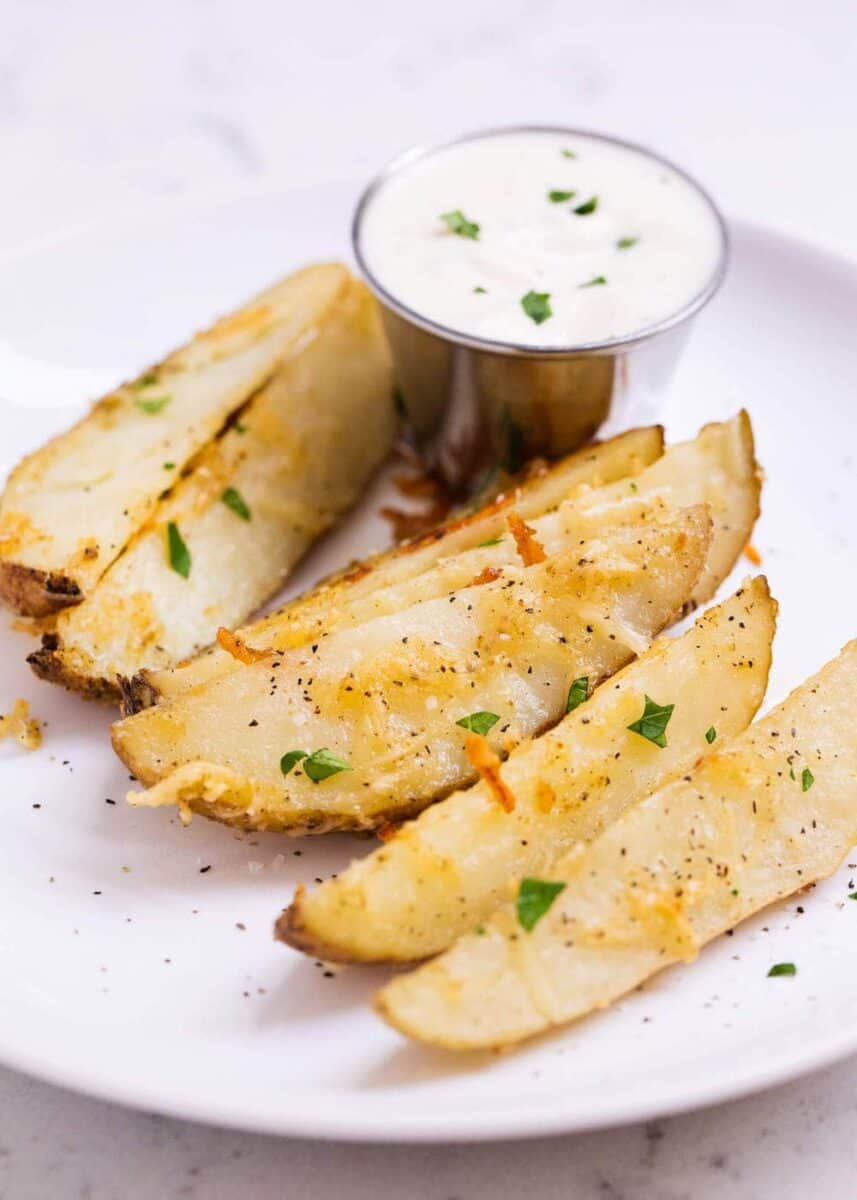 Cutting Potatoes into Wedges
Achieving that perfect wedge shape is easier than you think. Simply follow these steps:
Cut the potato in half length wise.
Place flat side down and cut in half again. You should now have 4 pieces.
Cut each piece into 2-3 slices depending on how thick it is. Each potato will give you about 8-10 wedges.
The Key to Crispy Potato Wedges
I find these potato wedges perfectly crispy just by baking them in the oven. The parmesan coating adds an extra crunch and leaves them crispy on the outside but tender on the inside.
If you want extra crispy potato wedges, the trick is to soak them in hot water before baking. Once you've sliced them, place the wedges in a bowl with warm water to soak for about 10 minutes. This helps release some of the starch, making it easier to absorb moisture. Then dry them off before baking.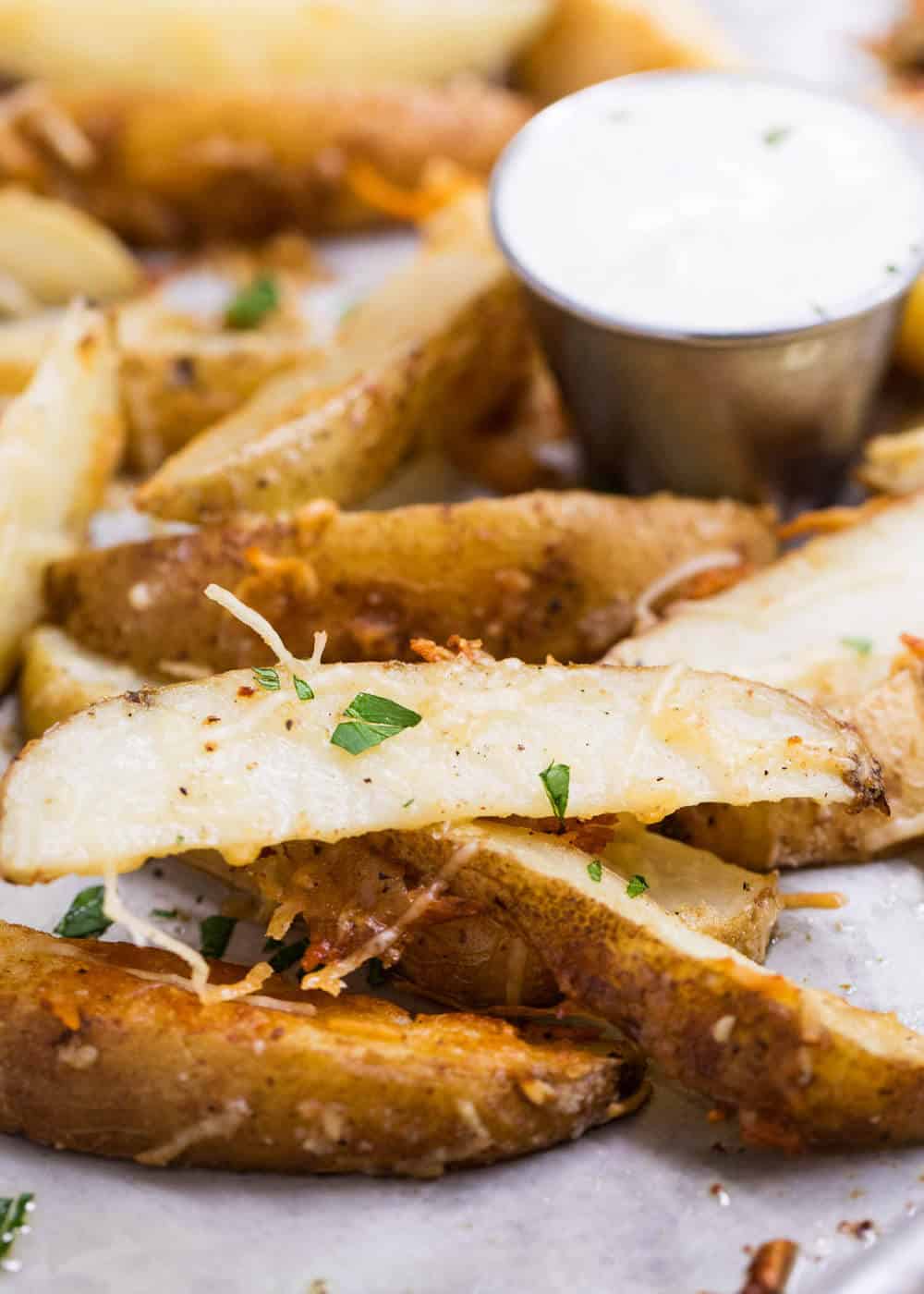 How Long Do you Bake Them?
Once you've seasoned the wedges, place them on a baking sheet and bake at 400°F for about 25-35 minutes. The baking time will vary depending on your oven and how crispy you like them. Just be sure to keep an eye on them once they hit the 20 minute mark.
Dipping Sauce
While they taste amazing on their own, I never miss an opportunity to dip my potato wedges in a yummy sauce. My absolute favorite dipping sauce is ranch. It pairs perfectly with the garlic and parmesan flavors. Regular ketchup, honey mustard sauce and garlic aioli also taste great.
Sometimes I'll even make an easy fry sauce with a combination of mayo and ketchup (1/4 cup mayo, 1 1/2 Tablespoons ketchup and a dash of seasoned salt). May sound strange, but it is so yummy!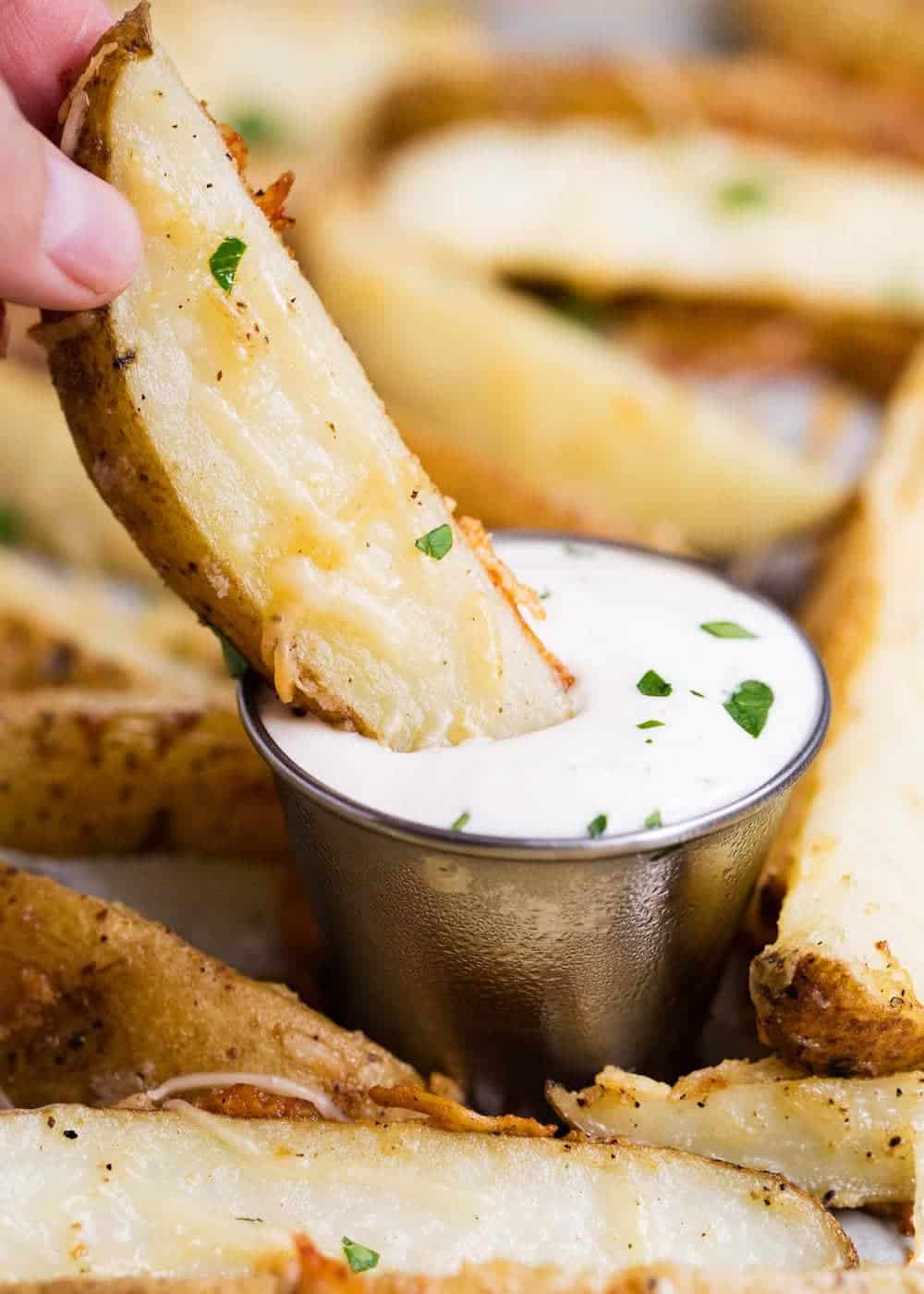 More Vegetable Side Dishes
HUNGRY FOR MORE? Subscribe to my newsletter and follow on Facebook, Pinterest and Instagram for all the newest recipes!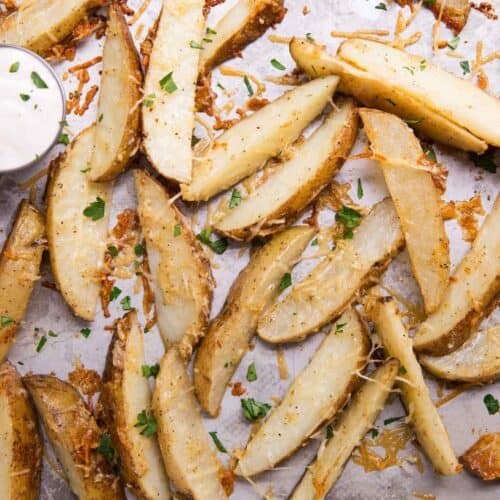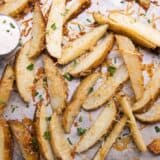 Parmesan Potato Wedges Recipe
These baked parmesan potato wedges are crispy, salty and tender on the inside. So easy to make and are sure to be a crowd pleaser!
Ingredients
4 russet potatoes (unpeeled, washed and dried)
¼ cup olive oil
½ cup shredded parmesan cheese
1 ½ teaspoons Kosher salt (more to taste)
1 ½ teaspoons garlic powder
¼ teaspoon ground black pepper (more to taste)
Optional: Ranch for serving
Instructions
Preheat the oven to 400°F. Line a large rimmed baking sheet with foil for easy clean up and spray with non-stick spray.

Slice potatoes in half. Then slice each half into 4-5 wedges. Place in a zip top bag. Pour the olive oil, parmesan cheese, salt, garlic powder, pepper into the bag and shake until well coated. Spread out onto the pan, skin facing down.

Bake for 25-35 minutes, or until tender. Remove from oven and season with more salt and pepper if desired. Enjoy while hot!
---
Notes
For extra crispy wedges, soak in a bowl with warm water for about 10 minutes before baking.
Nutrition
Calories: 227kcal | Carbohydrates: 26g | Protein: 6g | Fat: 11g | Saturated Fat: 2g | Cholesterol: 5mg | Sodium: 722mg | Potassium: 608mg | Fiber: 1g | Vitamin A: 65IU | Vitamin C: 8.1mg | Calcium: 117mg | Iron: 1.4mg
Nutrition provided is an estimate. It will vary based on specific ingredients used.
Did you make this recipe? Don't forget to give it a star rating below!