This easy recipe for grilled salmon is one of the best ways to enjoy this delightfully tender fillet of fish! With a simple seasoning and just 20 minutes, the results are flaky, flavorful, and beautifully charred!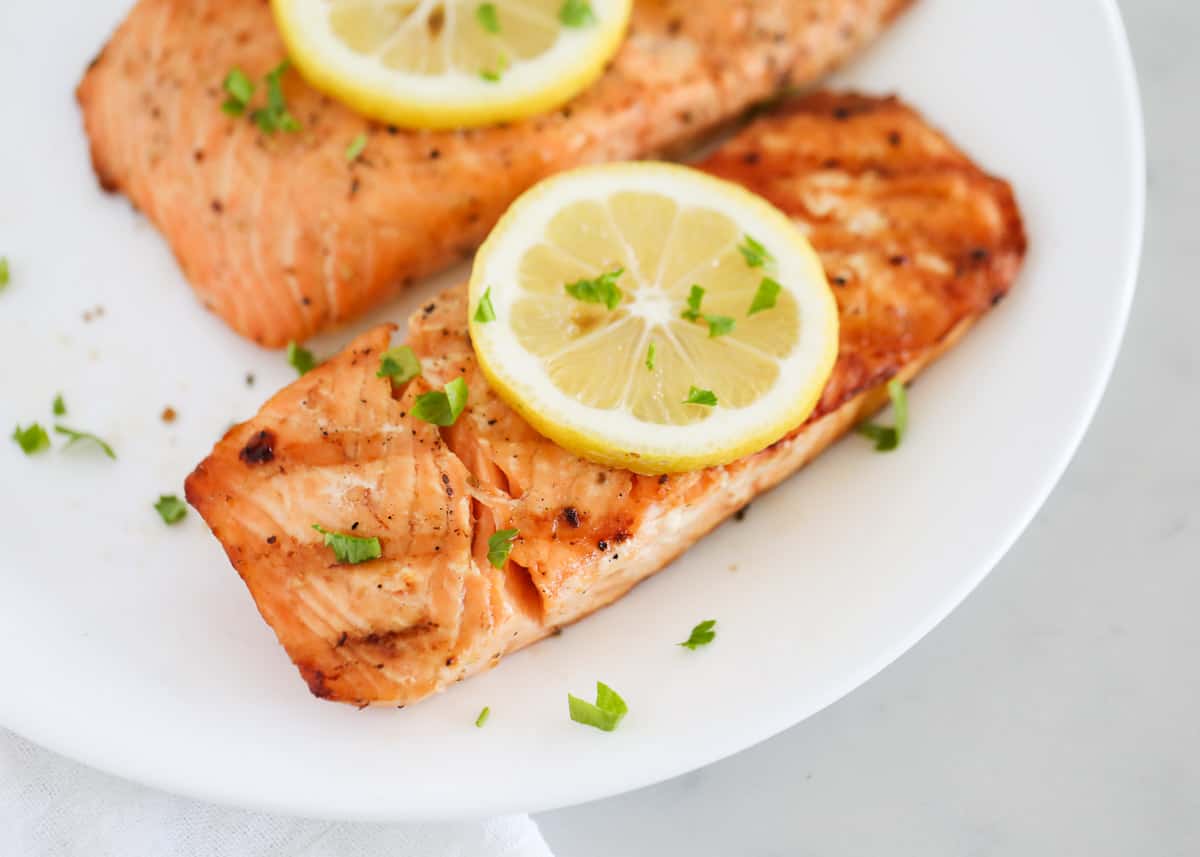 Easy Lemon Grilled Salmon
A nice juicy piece of grilled salmon is one of my favorite things to eat during BBQ season! It's an easy way to prepare a light and healthy dinner quickly and effortlessly. A simple seasoning, crispy skin, and beautiful char marks are all of the best things about a tender piece of flaky salmon right off the grill.
Of course, a good steak or hamburger has its moments, but when you don't feel like eating red meat or are in the mood for something easy breezy and not so heavy, a grilled salmon fillet is the perfect answer.
The nice part is, you don't need to be a grill master. This easy grilled salmon recipe includes simple steps that will result in a beautiful fork-tender fish, a caramelized exterior, and a citrusy finish. It keeps well in the fridge for a couple of days, which means leftovers! Reheat to enjoy all over again, or break up some pieces cold into a salad for a delicious lunch.
Tips for Buying Salmon
Salmon is known for its high level of protein, lower levels of mercury (relative to other fish), an abundance of Vitamins B12 and D, as well as Omega 3's which we all need. However, not all salmon are created equal, and figuring out which type to buy can feel overwhelming. Below are a few things to consider when making the best choice for you and your family.
Alaskan vs Atlantic: Wild Alaskan salmon is usually a guarantee that your fish wasn't farmed, since Alaska has banned salmon farming. Atlantic Salmon (very available in grocery stores) is usually always farmed, as catching wild Atlantic salmon has also been banned.
Organic: Very expensive, and usually farmed, because you can't guarantee organic wild salmon. It's been farmed and fed organic feed.
Size & color: Fattier salmons, like king salmon, have higher levels of Omega 3's. The darker red or deep orange colors are usually higher in antioxidants when looking at wild salmon. Farmed salmon with these colors could be due to added pigment.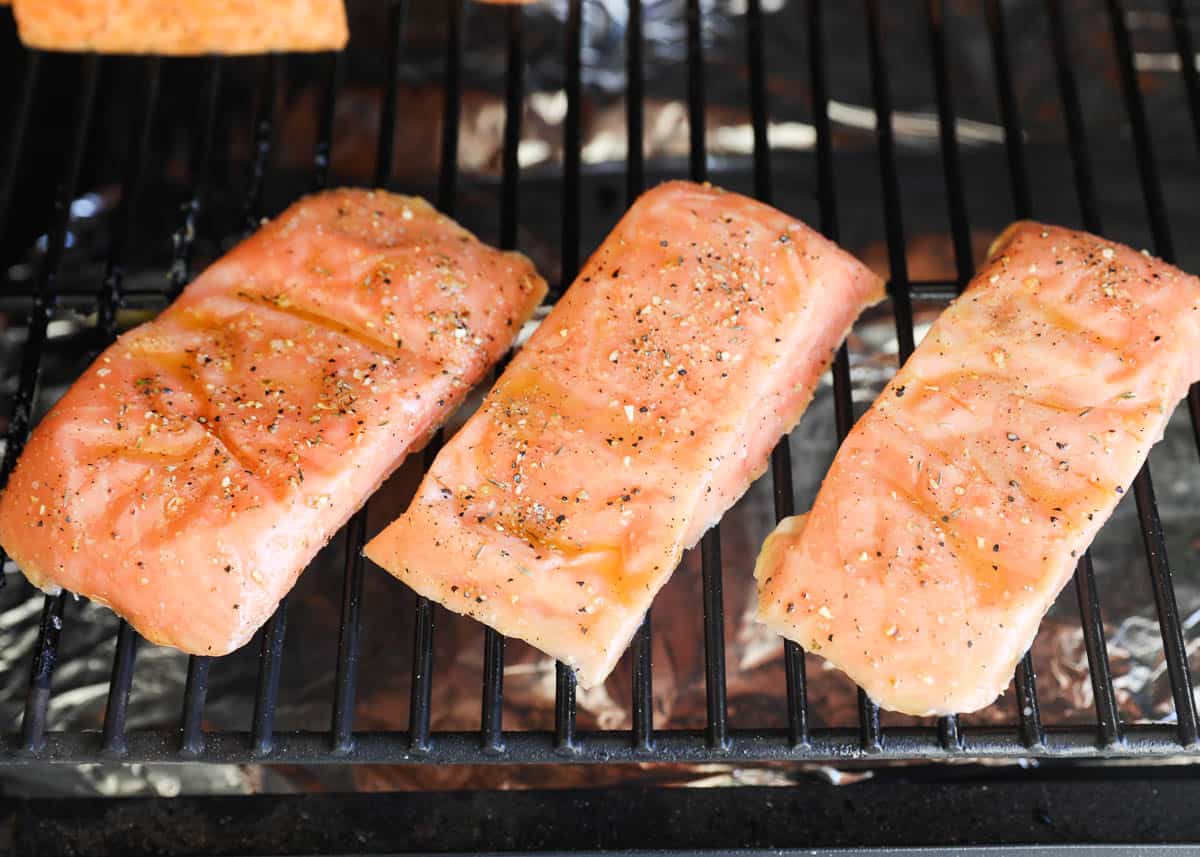 How to Grill Salmon – Tips & Tricks
Bring your salmon to room temperature before grilling. Trim if necessary and remove any bones.
Always clean your grill before you begin. Even if you cleaned it at the end of your last grill session.
Wait until the grill is hot before adding the salmon. You will help avoid it sticking to the grill.
Keep an eye on it as to not overcook it. It should become opaque and no longer as dark. It should also flake easily with a fork.
You can grill smaller fillets, or one big fillet and cut before serving.
Keep the skin on. Not only does it make for yummy crispy goodness, but it also helps keep the salmon intact while it grills. You can remove the skin afterward if you don't want to eat it.
Coat the salmon with oil, salt, and pepper and place on the grill skin-side down.
Close the lid to your grill so the fish gets a nice even heat through.
Squeeze lemon over top just before serving, along with any fresh herbs.
Grill in foil if you'd prefer. It's a great way to not have to worry about your fish fillet falling apart, it traps steam so it keeps everything moist, and you never have to worry about it sticking to the grill.
How Long to Grill Salmon
You know your grill best. Depending on the brand, or even how old it is, or how hot it gets, that will determine how long it needs to on the grill. So keep an eye on it! However, there are some things to think about. Salmon will continue to cook off the grill as the internal temperature will continue to rise for a while. So, I like to take it off just a few minutes early as to not overcook it.
Some people enjoy cooking salmon at high heat for an instant char, but there's more of a chance to start seeing those white deposits on the salmon which actually means it's starting to overcook. I like to cook salmon at 350°F to an internal temperature of 145°F.
You don't need to flip salmon unless you want to see those gorgeous marks on both sides. I find anywhere from 6-8 minutes per side gives me perfectly cooked salmon that is still tender and flaky. Depending on the thickness of your fillet and the heat of your grill, you could be grilling for as little as 2 to 3 minutes per side.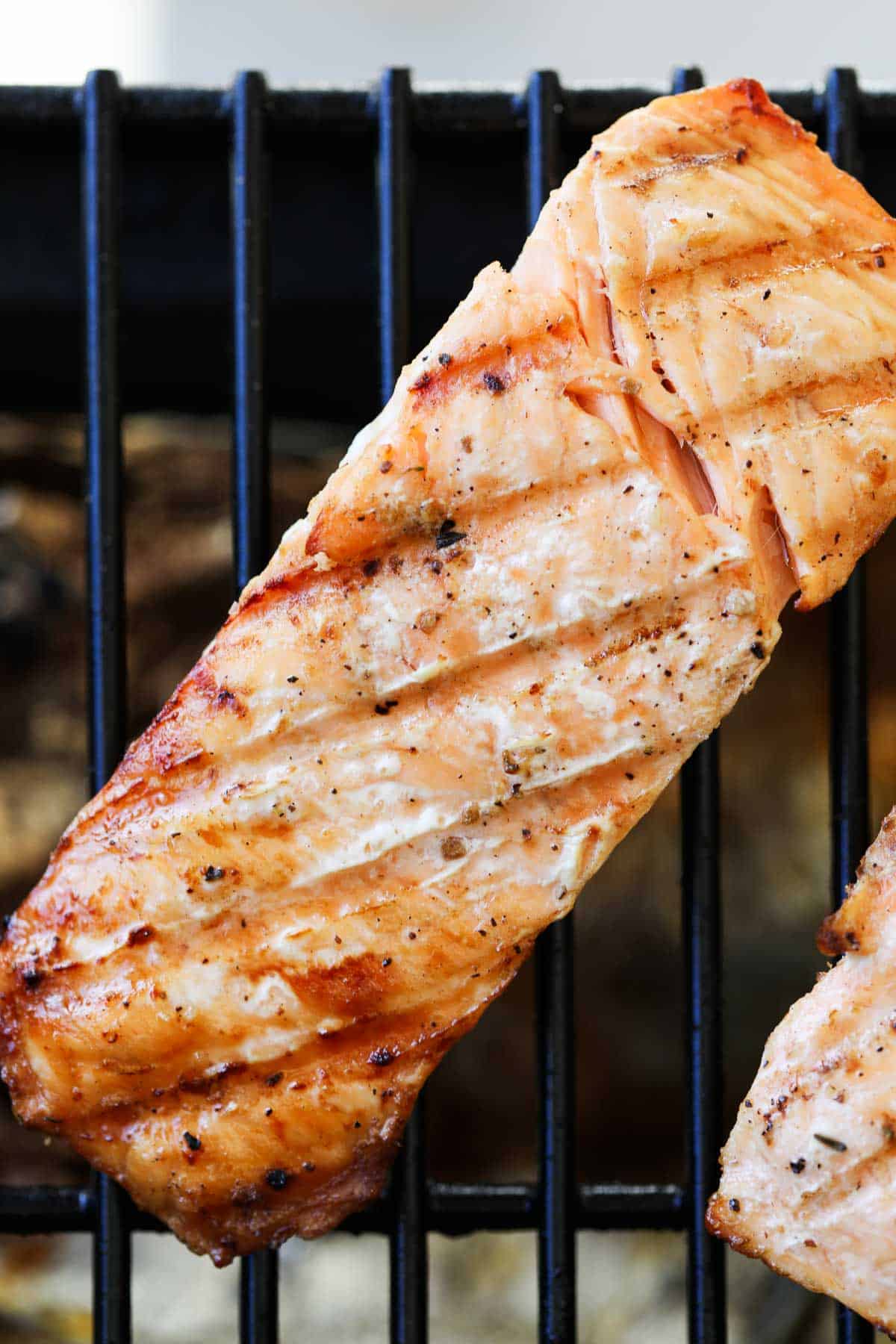 Ways to Serve Grilled Salmon
Marinade & Seasoning Variations
All of these seasoning and marinade variations are great for any method. Baked, broiled, grilled, pan-seared, you name it.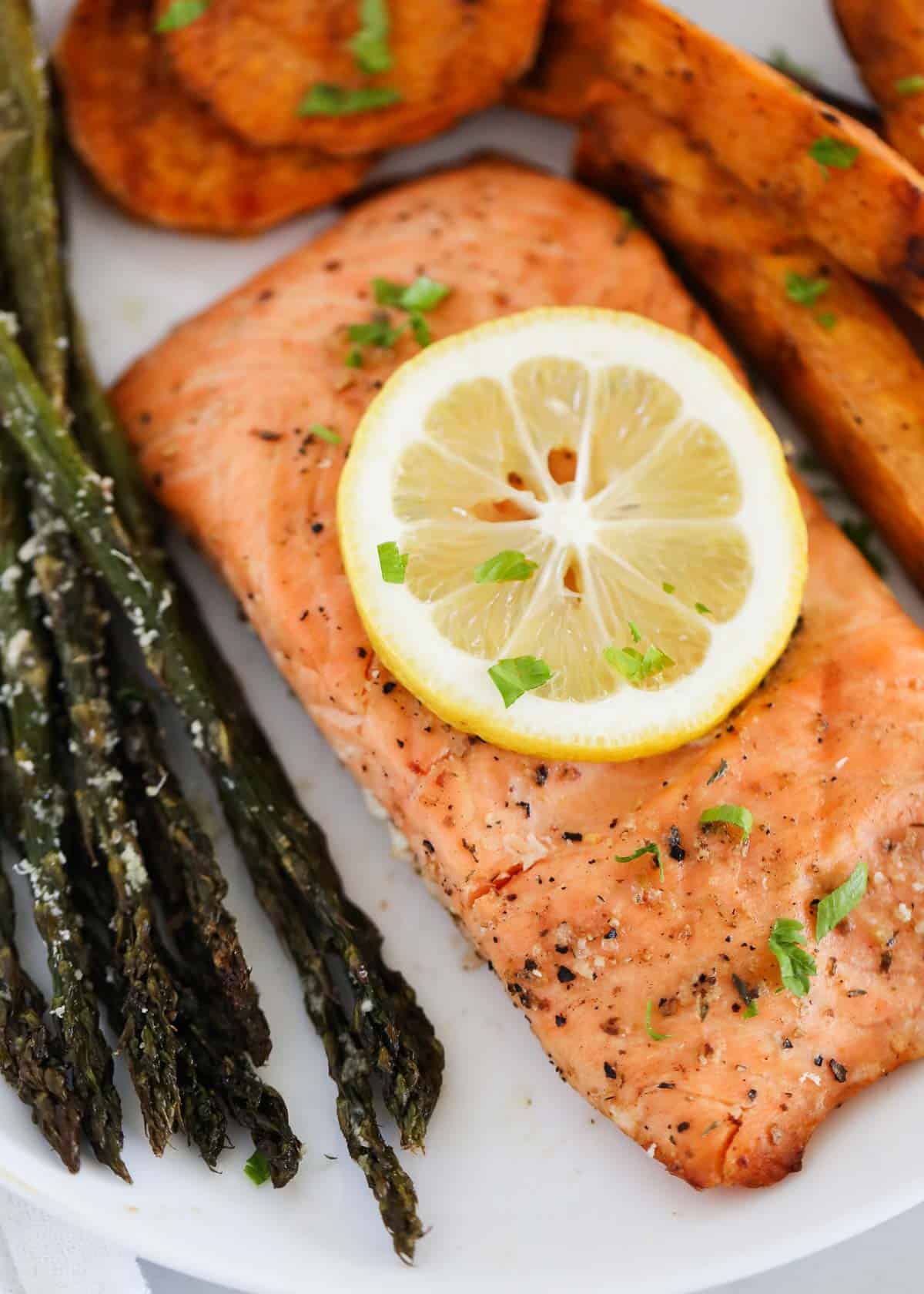 Storing & Reheating
To store: Leftovers of this grilled salmon can be kept in the fridge for up to 2 days in an airtight container.
To reheat: You can reheat in the microwave, especially if you've just got a piece or two to heat up. Otherwise, if you want to get the best taste and texture back, you may want to consider reheating on the grill, in an air fryer, or in the oven. Cook at 300°F for 5 minutes.
More Grilled Favorites
HUNGRY FOR MORE? Subscribe to my newsletter and follow on Facebook, Pinterest and Instagram for all the newest recipes!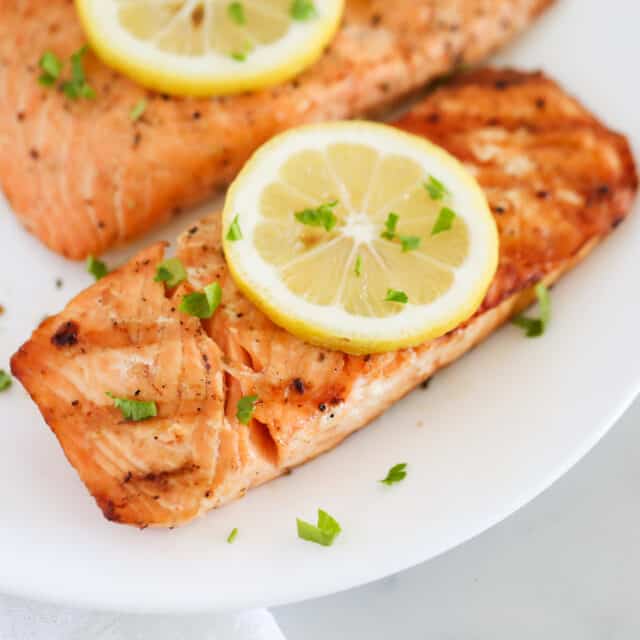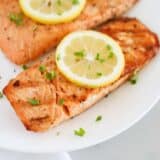 Grilled Salmon Recipe
This easy recipe for grilled salmon is one of the best ways to enjoy this delightfully tender fillet of fish! With a simple seasoning and just 20 minutes, the results are flaky, flavorful, and beautifully charred!
Ingredients
24 ounces boneless skinless salmon fillets , 4 pieces about 1-inch thick
2 to 3 Tablespoons olive oil
1 ½ teaspoon Kosher salt
1 teaspoon ground black pepper
1 lemon , cut into wedges
For serving (optional): Freshly chopped parsley
Instructions
Clean your grill and preheat to 350°F or medium heat. Trim the salmon if needed.

Coat the salmon evenly with olive oil, salt and pepper.

Place on the grill grates using tongs. Close the grill lid and cook about 6 to 8 minutes per side, or it becomes lighter in color and flakes easily with a fork.

Transfer to a serving platter and serve while warm. Squeeze fresh lemon over the top. Add fresh herbs if desired.
---
Notes
Storage: Store leftovers in a covered container for up to 2 days. Reheating: You can reheat in the microwave, however these taste best reheated on the grill, in an airfryer or the oven. Simply cook at 300°F for 5 minutes or until warm.
Nutrition
Calories: 313kcal | Carbohydrates: 3g | Protein: 34g | Fat: 18g | Saturated Fat: 3g | Cholesterol: 94mg | Sodium: 948mg | Potassium: 878mg | Fiber: 1g | Sugar: 1g | Vitamin A: 77IU | Vitamin C: 14mg | Calcium: 30mg | Iron: 2mg
Nutrition provided is an estimate. It will vary based on specific ingredients used.
Did you make this recipe? Don't forget to give it a star rating below!