This easy French baguette recipe is a delicious loaf of bread with a golden crust and a soft yet sturdy crumb. There is nothing better than having a basket of crusty bread on your dinner table, except maybe knowing you made it yourself!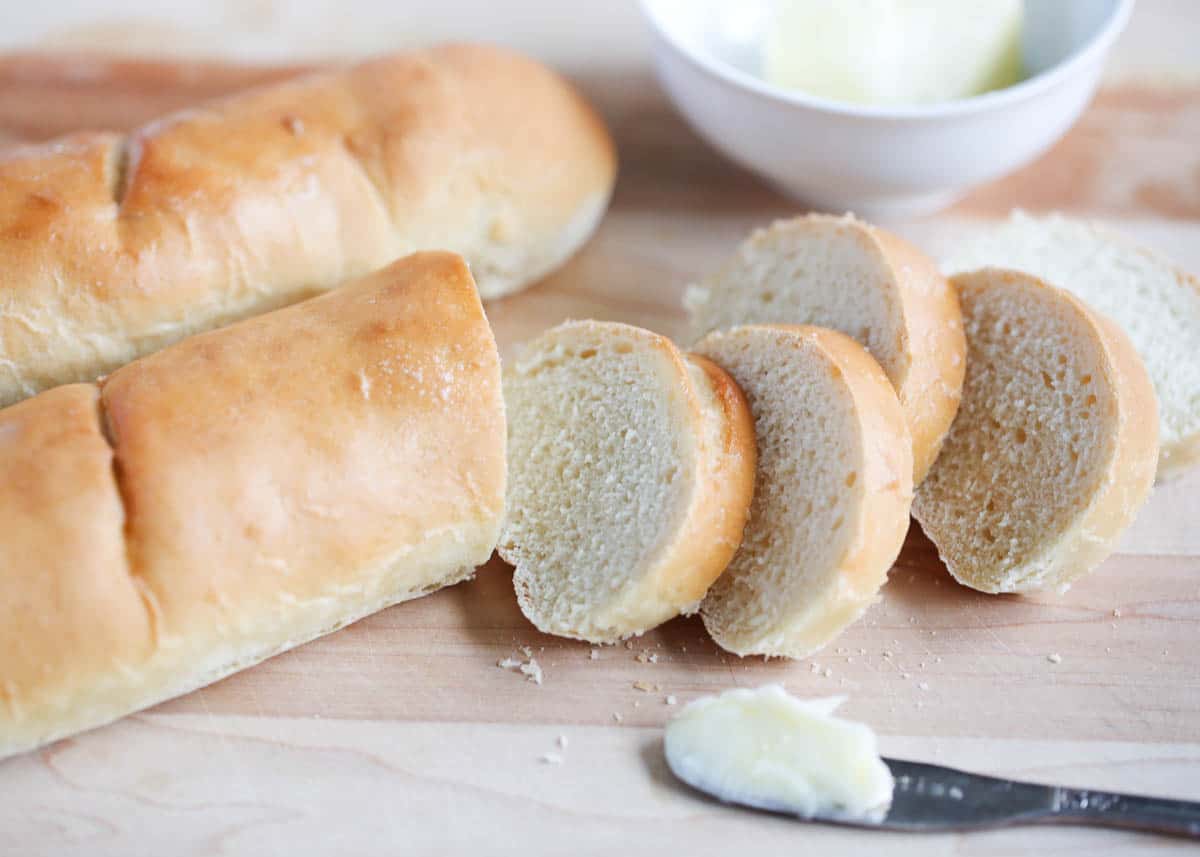 French Baguette Recipe
Fresh homemade bread is something everyone should make at least once! Believe me, it'll be way more than once when you realize just how easy it is without the need for a Dutch oven or bread maker!
Making an authentic French baguette recipe sounds all kinds of fancy, but once you know how to proof yeast and how to measure flour there's nothing more to it! Just a little bit of rising time and in under 2 hours you'll have your house smelling like a bakery!
French Bread vs Baguette
The ingredients in both of these recipes are the same. The measurements are slightly different which in turn changes the texture of the bread as well as the shape. A baguette is long and thin loaf with a sturdier crust. French bread is a wider loaf with a softer crust and is more often used to make sandwiches whereas baguettes are more often used for things like bruschetta or dipping with spinach artichoke dip.
With that being said, you can use them interchangeably for basically anything! Even just to have a loaf of bread to break apart to sop up remaining sauce or to serve on the side of soups and stews.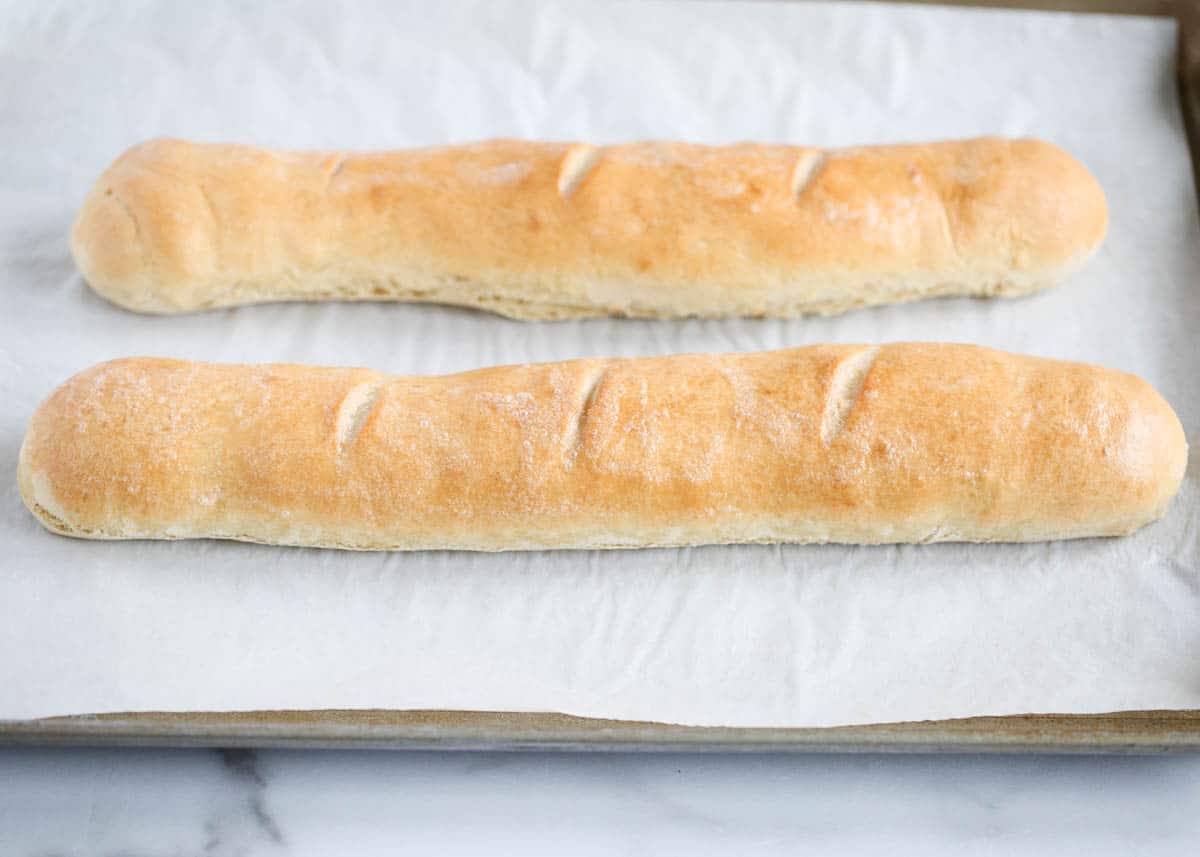 How to Make French Baguette
This recipe is adapted from my homemade French bread recipe with just a couple of minor tweaks. So once you know how to make one, you know how to make the other. Let's call it a 2 for 1 recipe deal too good to pass up! It's a great recipe for beginner bakers and every simple step is laid out for anyone just starting their bread-making journey.
Add flour, salt, and yeast mixture to a large bowl and begin kneading the dough. Add half a cup of remaining flour at a time until dough is formed. It should be smooth, not sticky.
Preheat the oven and line a sheet pan with parchment paper. Happen to have a baguette pan? Now's the time to break it out!
Transfer dough to a floured surface and divide it in half. Roll each half into a rectangle and roll each rectangle into a cylinder. With each half, form dough into a baguette shape about 12 inches long.
Fold in the ends and pinch the seams. Round the edges and place on the prepared baking sheet, seam side down.
Make 3 2-inch diagonal cuts crosswise on top of the loaf. Cover loosely with a towel or plastic wrap and let the dough rest at room temperature for 20-30 minutes.
Bake for 15-18 minutes until the tops are golden brown.
TIP: You'll know your bread is done baking when you knock on it, it sounds hollow. Sometimes I like to brush mine with melted butter before serving. So good.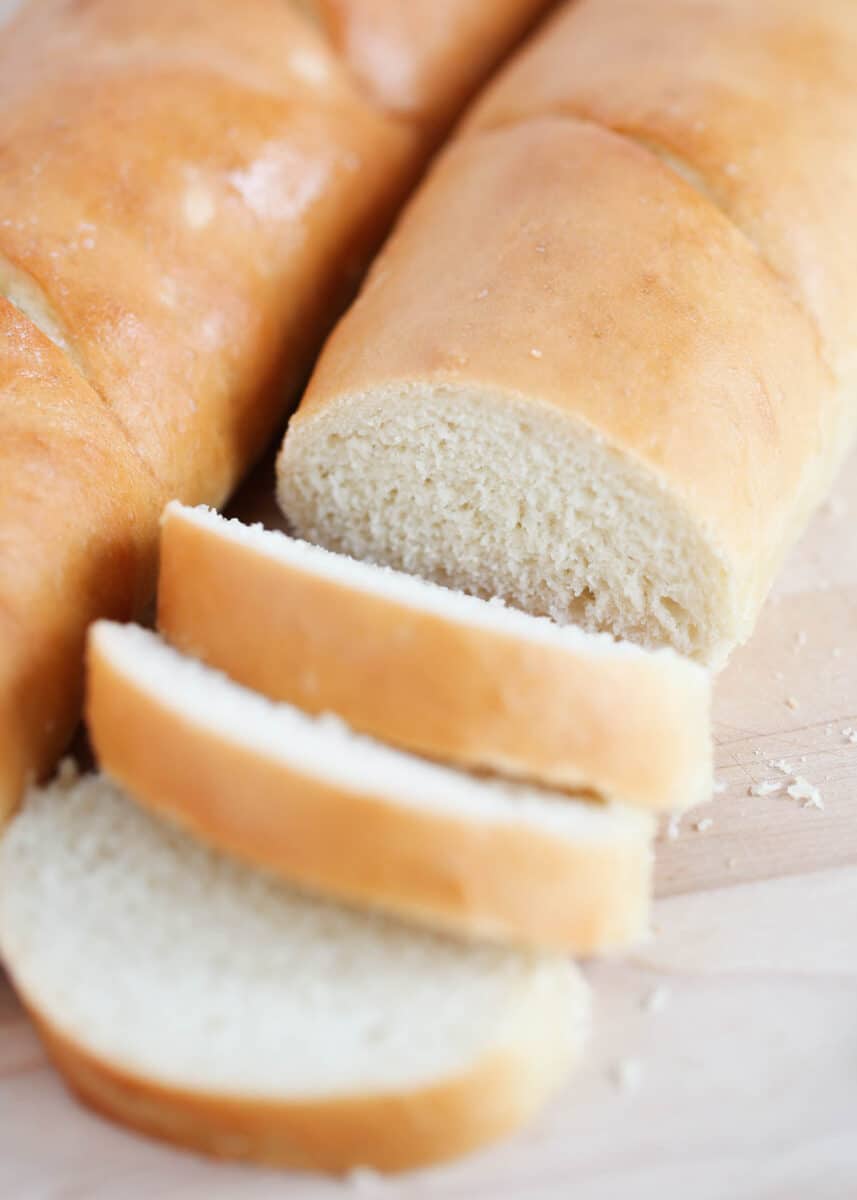 What Makes a Good Baguette?
A beautiful outer crust, whether it's ultra crusty and crispy, or thin and chewy, for starters! It should sound hollow with a glorious crackle sound when you press on it. You want it to have a soft interior crumb, but sturdy enough that it won't fall apart when using it as a sandwich or to sop up marinara sauce.
Bread Making Tips
Test your yeast! There's nothing worse than realizing too late that your yeast is no longer active. Proof your yeast by taking a small portion of it and allowing it to sit in warm water. If it bubbles and starts to foam, it's good. If it does absolutely nothing after 10 minutes, discard it and get some fresh yeast.
Properly measure your flour. I can't stress enough how important it is to measure flour properly. This means using the spoon and level method so you're not adding more flour than necessary which leads to dense bread.
Score the bread. Make a few slashes on the tops of the loaves, using a lame, a sharp knife, or a clean razor blade. Don't skip this step! Although it's pretty it does serve a purpose. It gives the crust room to expand while maintaining its appearance. If you don't score the bread, it will expand anywhere it pleases!
Avoid overbaking. Cover the bread with foil if you notice it browning too quickly.
Crispy crust. If you prefer a nice crispy crust, brush the loaf with an egg wash (whisked egg white and water) before baking and keep it in a little longer.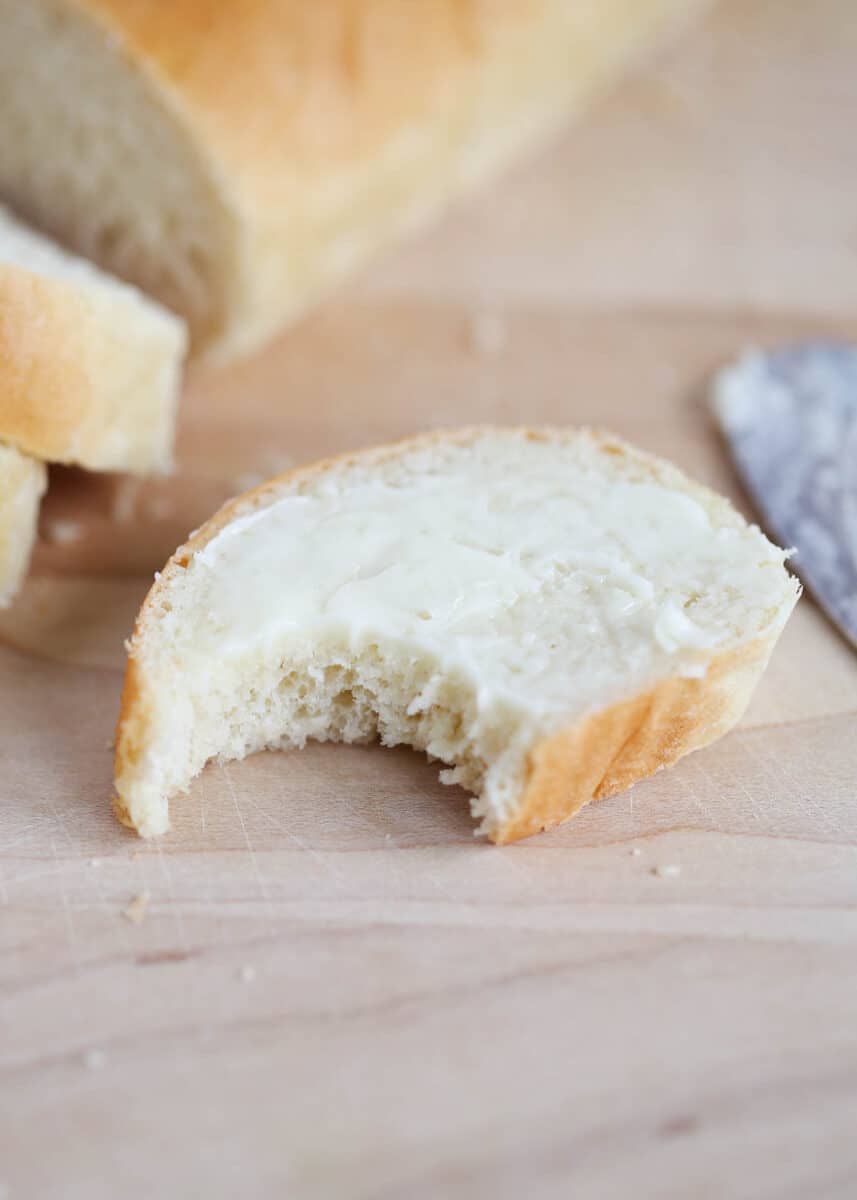 Ways to Use Fresh Baguette
There are endless ways to use a baguette. My kids love a slice on their plate of spaghetti and meatballs but below are some more exciting ways to enjoy your very own loaf of homemade bread.
What to do with Leftover Baguette
Still have some not-so-fresh baguette leftover? Good because it makes the most amazing homemade croutons or breadcrumbs!
FAQs
How can I make an even crustier crust?

If you like an even crustier crust, place a metal baking dish or cast-iron skillet containing boiling water on the lowest rack. Place the loaf on the middle oven rack and shut the oven door immediately. Creating steam allows the outside crust to expand as the bread rises and forms a nice outer layer that settles into a nice crust once the bread stops rising.
Can I make it a chewy crust instead?

If you like the chewier texture of bread, and a slight difference in taste, swap the all-purpose for bread flour.
What is the difference between instant yeast and dry active yeast?

Instant yeast doesn't require the initial proofing with water and sugar/honey to activate it. It activates on its own when incorporated into the other ingredients. I prefer to use dry active yeast and proof it first just to make sure it's still alive. Plus, it's just a few extra minutes I don't mind taking!
Can I use whole wheat flour?

You can, but whole wheat flour is heavier and denser. It will change not only the flavor of the bread but also the texture. If possible, use a combination of whole wheat flour and bread flour to balance it out.
Storing, Freezing, & Reheating
To store: To maintain optimal freshness, this bread is best kept at room temperature in a brown bag.
To freeze: If possible, freeze the whole loaf before slicing. Once completely cooled, place in an airtight freezer-friendly bag. Seal the bag, remove as much air as possible and freeze for up to 3 months. Thaw overnight on the counter.
To reheat: Place in a 300-degree oven for 5 minutes.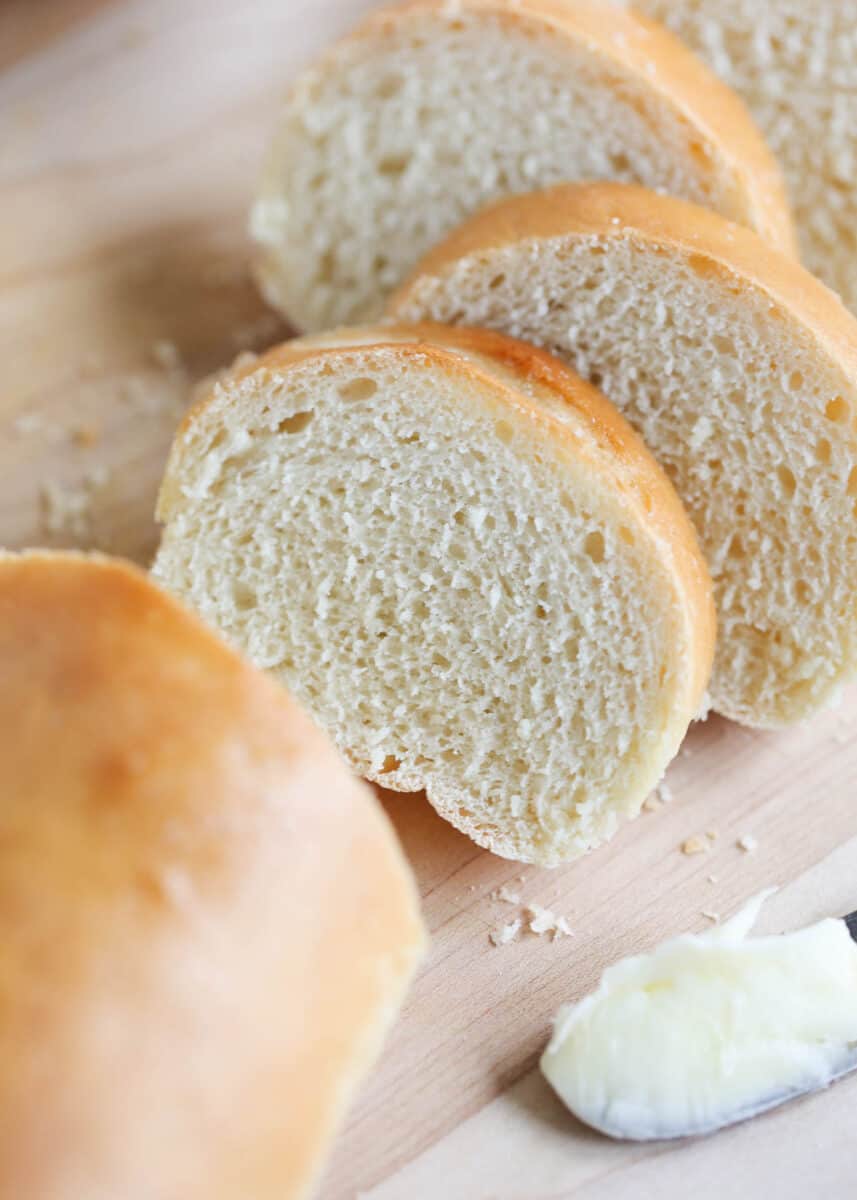 More Homemade Bread Recipes:
HUNGRY FOR MORE? Subscribe to my newsletter and follow on Facebook, Pinterest and Instagram for all the newest recipes!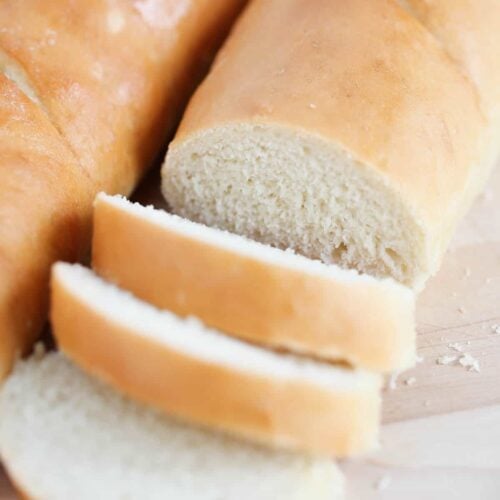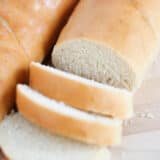 Easy French Baguette Recipe
This easy French baguette recipe is a delicious loaf of bread with a golden crust and a soft yet sturdy crumb. There is nothing better than having a basket of crusty bread on your dinner table, except maybe knowing you made it yourself!
Ingredients
1 ¼ cups warm water (about 105°F)
1 Tablespoon active dry yeast
2 teaspoons granulated sugar , or honey
3 cups (390 g) all-purpose flour
2 teaspoons table salt or fine sea salt
butter , for serving
Instructions
In a small bowl, combine the warm water, yeast and honey. Let sit for 5 minutes, or until it has begin to foam.

Place 2 cups of flour into a large mixing bowl with the salt. Stir in the yeast mixture and begin to knead by hand or using a dough hook and stand mixer. Add 1/2 cup of the remaining flour at a time until the dough is smooth but not sticky.

Preheat the oven to 450°F. Line a baking sheet with parchment paper. Turn the dough onto a floured surface and divide it in half. Roll one half into a 6×12" rectangle. Starting from the long side, roll the dough into a cylinder. Shape each half into a baguette, about 12 inches long.

Turn both ends in and pinch the seams closed. Round the edges and place onto a baking sheet. Repeat with the second dough ball. Make three diagonal cuts across the top of each loaf. Cover loves lightly with a towel. Let rise for 20-30 minutes.

Bake for 15-18 minutes or until the tops are golden brown. When you knock on it, it should sound hollow. If it's browning too fast, lightly cover with foil.

Remove from the oven and brush the top with melted butter if desired. Slice and enjoy! :)
---
Notes
Crispy crust: I prefer a soft crust, but for a crispier/shinier crust, brush 1 egg white (whisked) with a teaspoon of water before baking French baguette You can also cook a few minutes longer. Storing: This bread stores best in a brown paper bag on the counter. Freezer instructions: Allow to cool and then place in a large zip top bag to freeze (preferably before slicing). Remove all the air from the bag and then freeze up to 3 months. Thaw overnight on the counter. Reheat in the oven at 300°F for 5 minutes.
Nutrition
Calories: 82kcal | Carbohydrates: 17g | Protein: 2g | Fat: 1g | Saturated Fat: 1g | Polyunsaturated Fat: 1g | Monounsaturated Fat: 1g | Sodium: 146mg | Potassium: 25mg | Fiber: 1g | Sugar: 1g | Vitamin C: 1mg | Calcium: 4mg | Iron: 1mg
Nutrition provided is an estimate. It will vary based on specific ingredients used.
Did you make this recipe? Don't forget to give it a star rating below!