Learn how to use this easy egg wash recipe to create beautiful finishes on your bakes! This technique works for pastry dough, and so much more! The results are an irresistible golden brown color and shiny crust.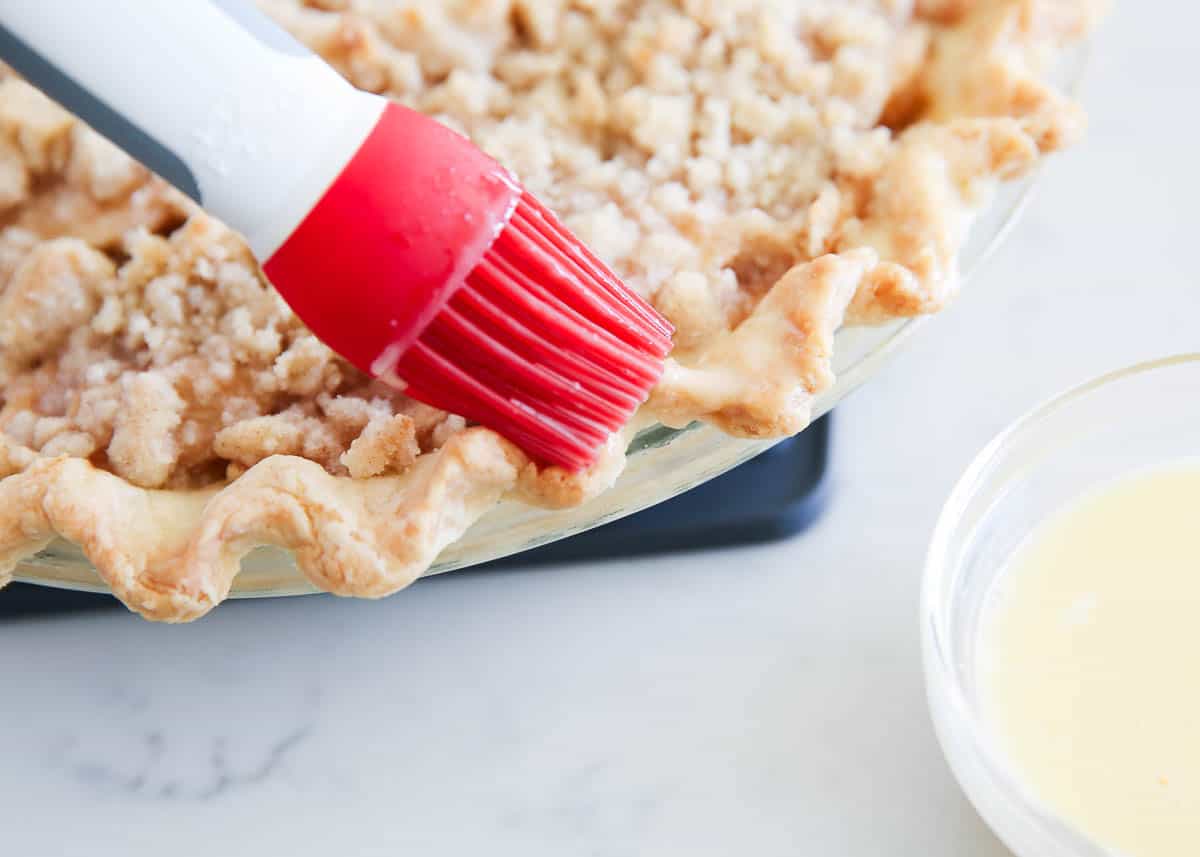 Leveling Up Your Bakes
Have you just created the most amazing all-butter pie crust or lattice pie crust and you want to make sure it bakes up to perfection? Consider adding a light egg wash before popping your pie in the oven to take your crust to the next level!
I don't know about you, but for the longest time, I couldn't figure out why my pies, croissants, and biscuits didn't look the same as the ones I see in cookbooks or bakeries. They looked so sad and pale by comparison!
Then one day someone told me about using an easy egg wash recipe and my life was changed!
Since I've discovered the magic, I use it on pie crusts, biscuits, and Irish scones. And I don't stop there! I also use it on things like my pigs in a blanket, homemade stromboli, and mini pretzel bites.
Let me teach you more about this culinary secret to getting a golden shine!
What is an Egg Wash?
It's a mixture of egg and water or sometimes milk. When brushed onto the surface of the dough, it helps to create a beautiful golden-brown sheen on baked goods. Using a basic egg wash recipe to achieve this look couldn't be easier.
It's a way to make every home cook feel like a professional pastry chef!
Why This Recipe Works
It will enhance the appearance. You know when you see a pie with a beautiful golden crust that has a slight gloss to it? Well, it's because it's been bathed with a mixture of egg and liquid before baking! Without it, your pastry can look dull and pale.
It can act as a seal or glue. You can also use a wash as a seal to attach a top crust to a bottom crust of a pie or 'glue' decorative pastry cut-outs onto your pie. It also comes in handy to get things to stick to pastry or bread like sesame or poppy seeds, a pinch of salt, or raw sugar. Or you can even use it to make breadcrumbs adhere to the chicken.
Recipe Ingredients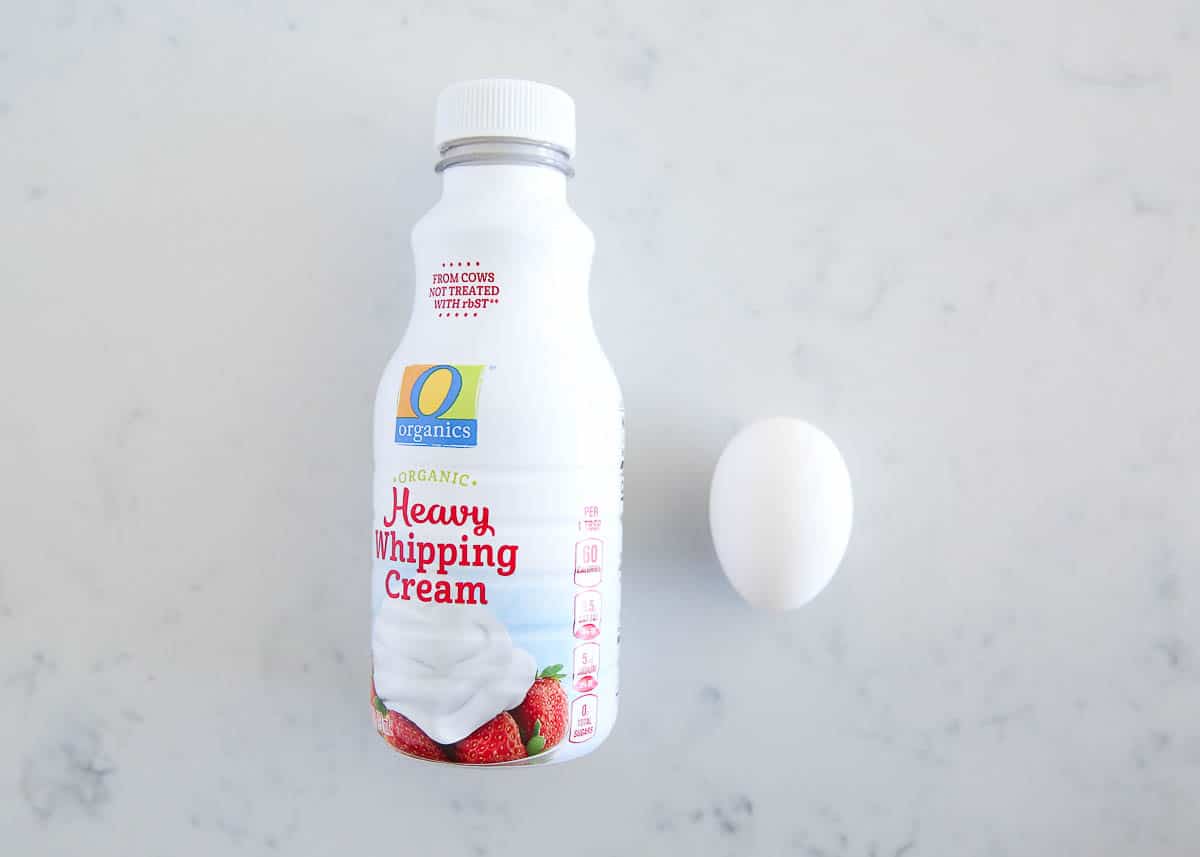 Find the full printable recipe with specific measurements below.
The basic ingredients typically follow a 1:1 ratio. So that means 1 whole egg to 1 tablespoon of liquid. I usually go with either heavy cream or water.
Variations
So, what if you don't eat eggs or you don't have any at home? Are there some good substitutes for this easy egg wash recipe that encourage either browning, shine, or both? You bet!
Heavy cream or milk: If you want to skip the egg, you can just brush over some heavy cream or milk. This wash works well for biscuit and scone recipes. The sugar in the cream or milk encourages browning which will give your bakes a nice finish. There will be less shine this way.
Almond milk: This is a good dairy-free substitute. It helps to give your bakes a golden color and adds a slight nuttiness to the top.
Honey or maple syrup: These sweeteners will give your bakes a nice shiny look and also help them to brown. Because they're high in sugars, they will burn quicker than other options, so these washes are best used on things that don't spend a long time in the oven. Keep an eye on it as it bakes.
Oil: Choose a flavorless oil like canola or vegetable oils to create shine on your bakes. There will be less color than if you use one of the other options. This makes another good option if you're avoiding eggs and dairy.
How to Make Egg Wash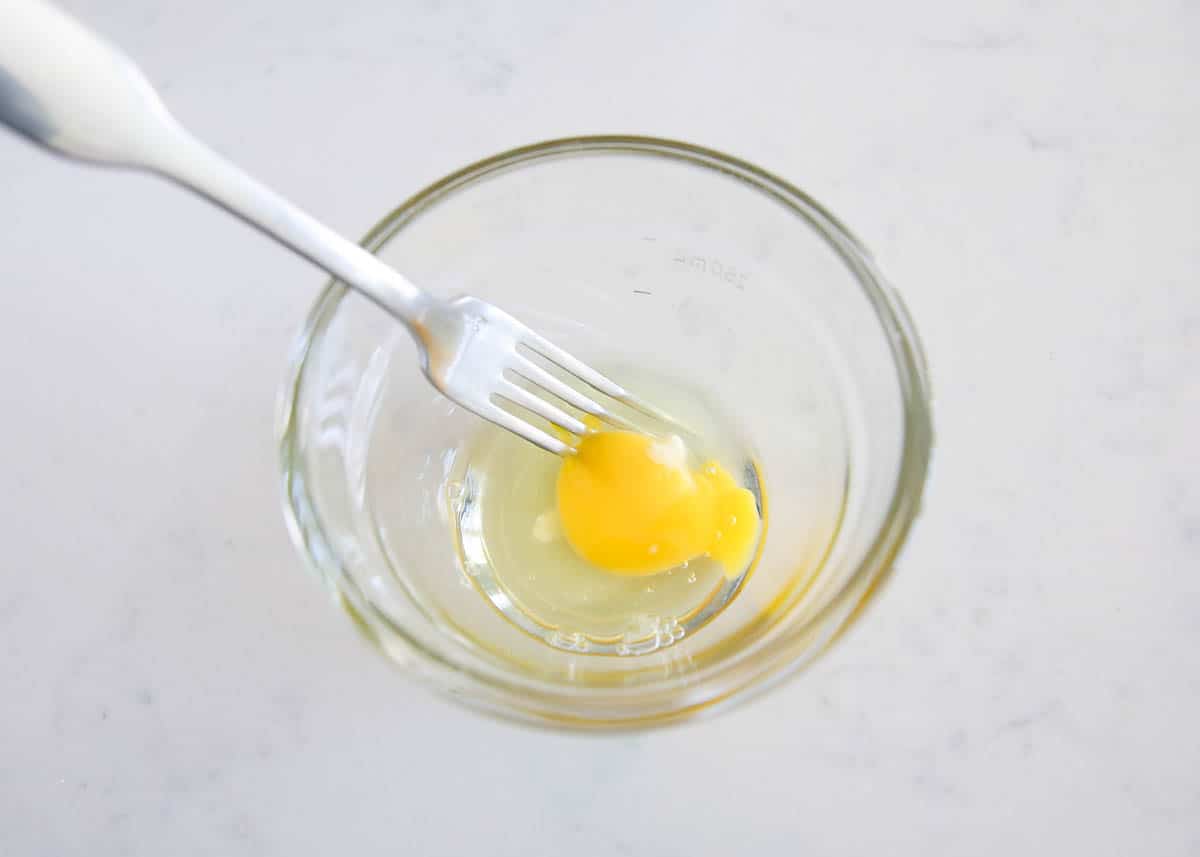 Crack the egg in a small bowl, add in the cream or water and whisk together.
That's it! You are now ready to brush on your mixture with a pastry brush.
What Kind of Pastry Brush is Best?
You really need a pastry brush to paint a thin coating on your pastry and bread which is what you're looking for.
I prefer to use silicone pastry brushes because they are so easy to clean. Most of them can even be put into the dishwasher, which can be helpful when it comes to getting rid of raw egg smells.
You can also use a natural bristle brush if you have one. They need a little bit more care when it comes to cleaning and should only be washed by hand.
Expert Tips
Here are a few tips that will help you get the best results when using it.
Whisk completely. Use a fork or a small whisk to combine the egg and cream or water until the yolk and whites are fully mixed. If you rush and try to brush on a wash that isn't fully mixed, you can end up with egg yolk on one part of your pastry and white on another which will create an uneven look when baked.
Brush before you cut slits in a pie crust. If you brush it on after cutting the slits, the egg may seal the cut closed and the steam will have nowhere to escape when baking.
Use a light touch. A little goes a long way! Take your time to paint on a thin even layer and avoid puddles of wash on top of your bakes. A light layer will help you achieve that beautiful golden color.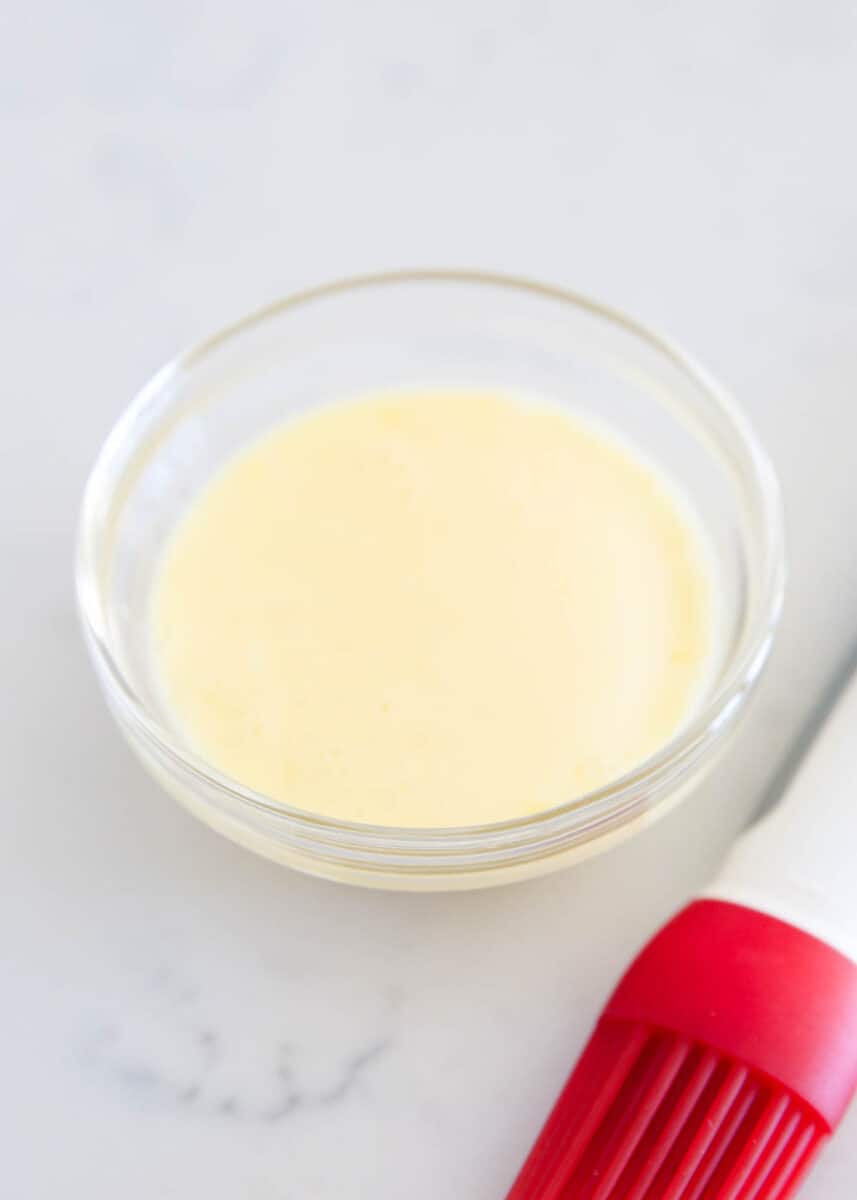 Recipe FAQs
Is egg wash necessary?
No, it's not necessary, but without it, your pastry or bread can look dull and pale. It's not the end of the world if you don't use one, but a nice brown color with a bit of shine always looks more appetizing!
What is the purpose of it?
It improves both the color and shine of your finished bakes, and it can also help to seal up pastry edges.
When do you apply it?
The best time to apply it is right before your pastry goes in the oven. If you brush it on too far in advance, it could make it soggy. And the easy egg wash recipe should only be applied before baking and not after.
Storing
Once you make it, I would try to use it as soon as possible. If you have leftover egg wash, you can store it in an airtight container in the fridge for up to 3 days. I typically will just toss the leftovers into scrambled eggs.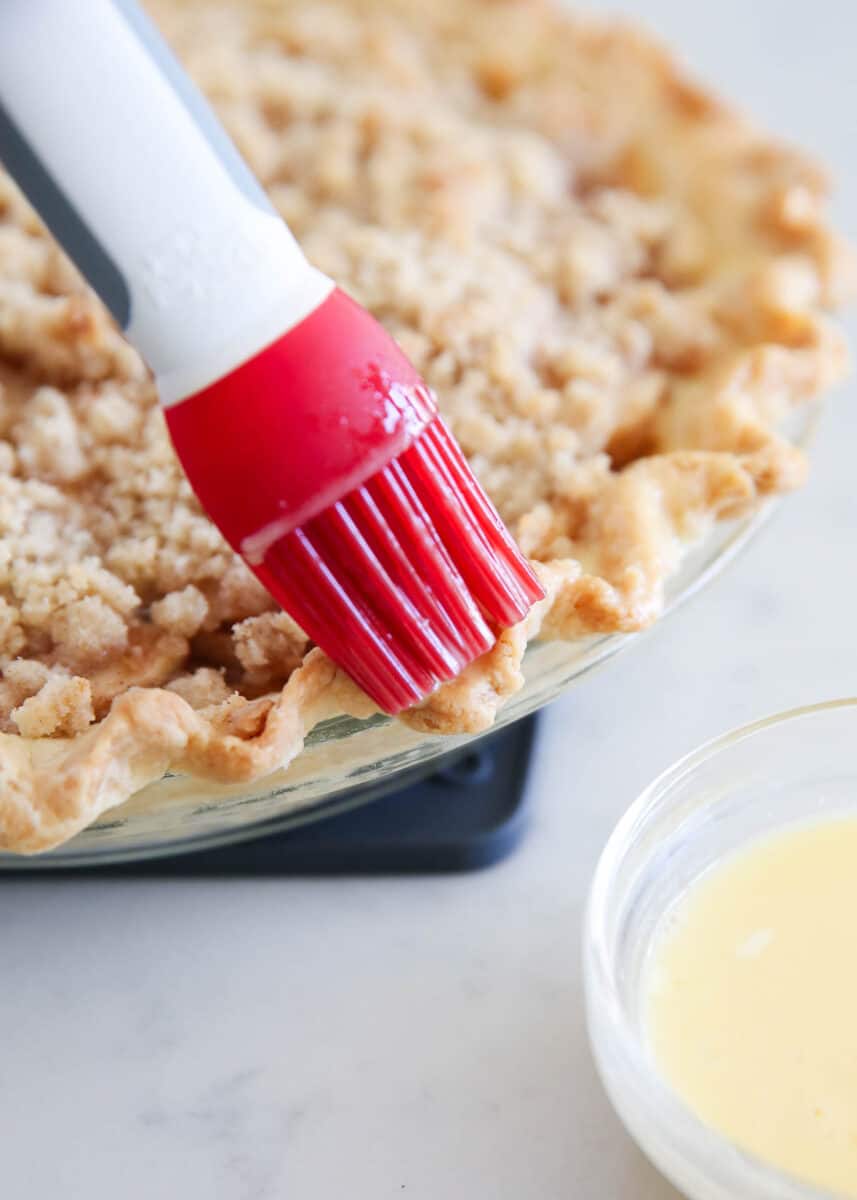 More Ways to Use It
HUNGRY FOR MORE? Subscribe to my newsletter and follow on Facebook, Pinterest and Instagram for all the newest recipes!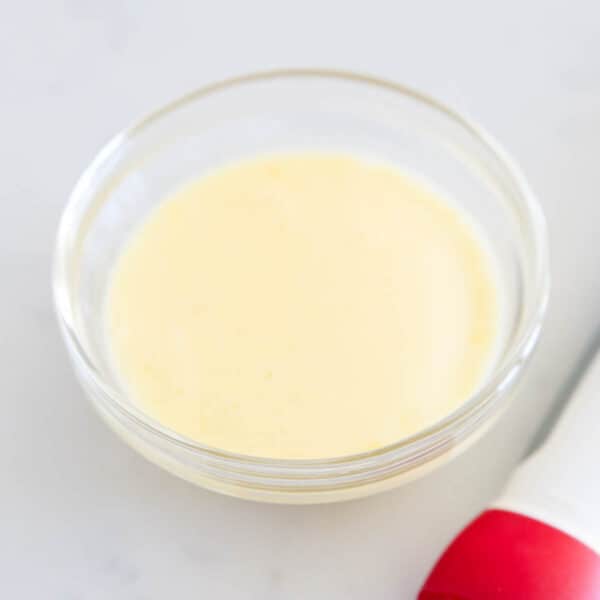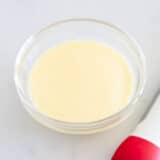 Egg Wash Recipe
Learn how to use this easy egg wash recipe to create beautiful finishes on your bakes! This technique works for pastry dough, and so much more! The results are an irresistible golden brown color and shiny crust.
Ingredients
1 large egg
1 Tablespoon heavy cream , or water
Instructions
In a medium bowl, whisk the egg and cream until fully combined.

Brush on top of raw dough before baking.
---
Notes
Baked goods: Here are a few things I love to brush this egg wash on top of before baking. Storage: Store in a covered container in the refrigerator up to 3 days. Discard after that.
Nutrition
Calories: 123kcal | Carbohydrates: 1g | Protein: 7g | Fat: 10g | Saturated Fat: 5g | Polyunsaturated Fat: 1g | Monounsaturated Fat: 3g | Trans Fat: 0.02g | Cholesterol: 203mg | Sodium: 75mg | Potassium: 83mg | Sugar: 1g | Vitamin A: 491IU | Vitamin C: 0.1mg | Calcium: 38mg | Iron: 1mg
Nutrition provided is an estimate. It will vary based on specific ingredients used.
Did you make this recipe? Don't forget to give it a star rating below!