Learn how to assemble a fruit and cheese platter for your next celebration. Combine your favorite fruits, cheeses and crackers to turn into the best appetizer.
Love a charcuterie board? Don't miss my Italian antipasto platter, my Christmas Charcuterie board and charcuterie board ideas.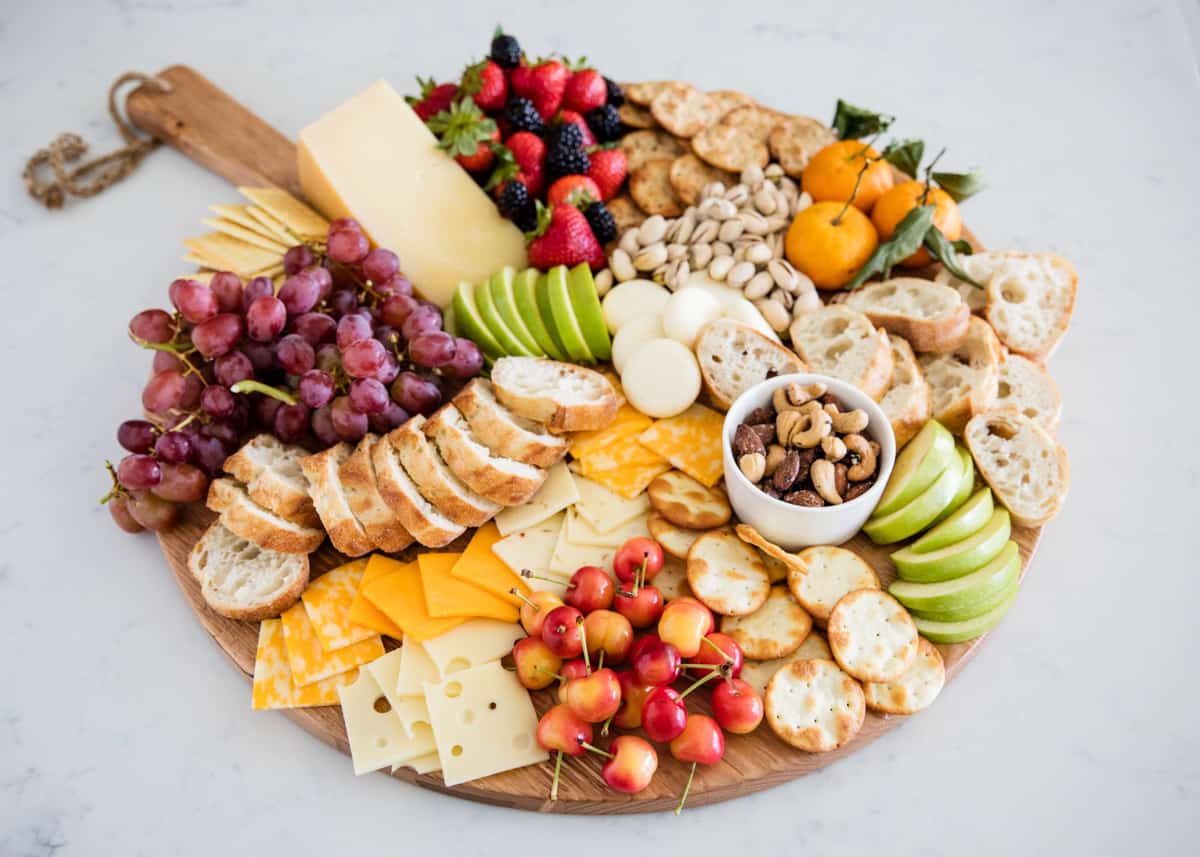 How to Assemble a Cheese Board
Creating your own fruit and cheese platter is so fun and you can really make it anything you'd like.
Start with your platter or board. You can use a variety of boards. I love to use this round wooden board from Amazon, as well as trays, cutting boards, marble boards or even cookie trays.
Arrange the large items and cheese. You can see below that I like to add the cheese and crackers to the board first. Try to add one to each corner.
Add in the fruits and spreads. Separate by color and texture to add variety to the platter.
Fill in the gaps. Use nuts and other fruits or crackers to fill in any empty gaps or unused space.
You can see below there is a gap around the oranges, so I decided to fill that space by adding pistachios. You could also fill it in with more fruit or crackers. You want the board to be totally full by the time that you're done. That's the key to an amazing cheese and fruit board.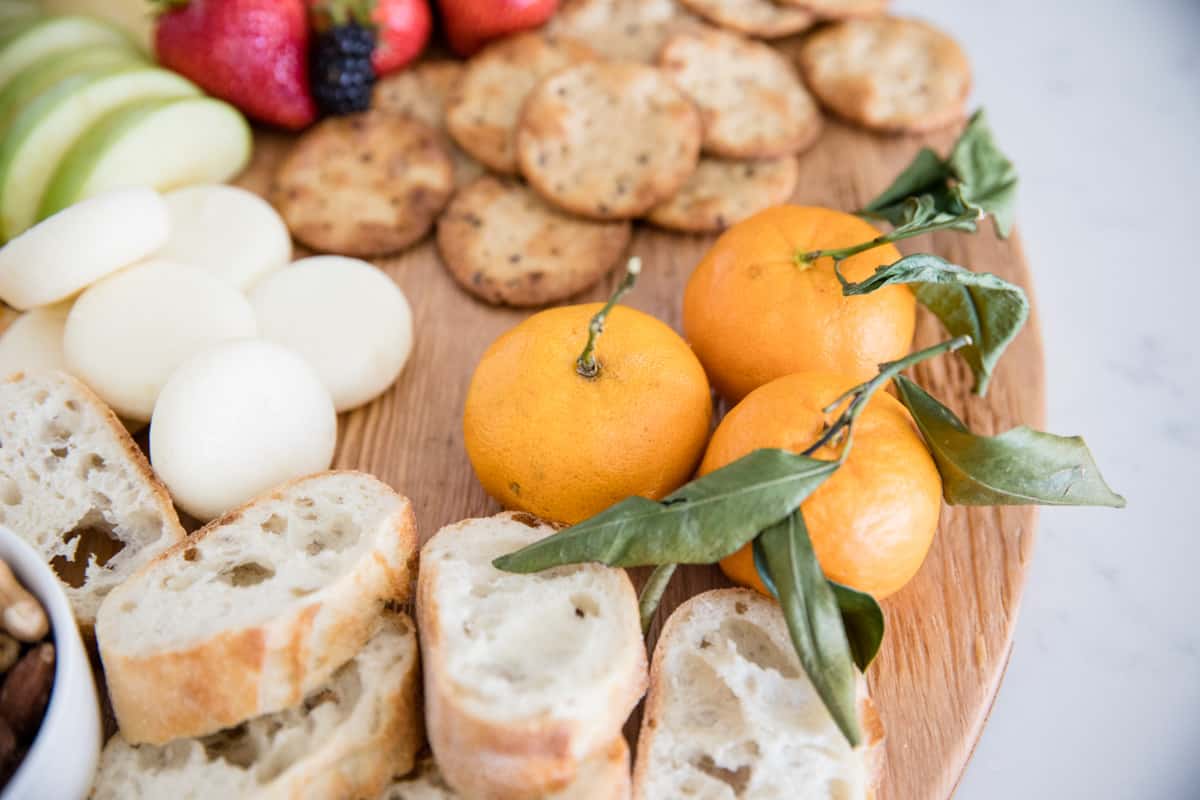 Best Cheese to Use
When choosing my cheese, I like to aim for a variety of soft cheeses, semi-hard cheeses, and hard cheeses. As well as focus on the colors, shapes, strengths and textures. I tend to not choose too many crumbly varieties, but you can definitely add those.
Parmesan reggiano – I love the shape this adds to the board as well as the flavor. It's usually a hit with everyone. Asiago is also a popular choice.
Gouda – Gouda has a sweet and nutty flavor. It's always a great addition. If you can't find Gouda, you can always try gruyere or manchego.
Aged cheddar – Cheddar is always a safe option and has such a great flavor.
Baked brie with honey – This is a soft variety that I love to add. I love to warm it before adding a little honey on top. If you don't want to use the oven, you can also opt for camembert or goat cheese.
Blue cheese – Gorgonzola and Saint Agure add a different flavor addition. While blue cheese isn't my favorite, I know some love it. Other good options are Roquefort or stilton.
Fresh mozzarella or burrata – I love to serve the small mozzarella balls or fresh burrata in bowls.
Family friendly – Sliced cheddar, sliced colby jack, sliced swiss, Babybel cheese and mozzarella cheese sticks (cut in half) are usually all a safe bet for the whole family.
Fruits to Add
Fruits add the perfect sweetness and color to any platter. Here are some of my favorites to add. You just want to make sure not to add a juicy fruit such as pineapple or watermelon as it will make the crackers and bread soggy.
Grapes – Red grapes are a classic and add good flavor and dimension to your platter.
Green apples – One of my favorite combos is a slice of baguette with cheese, apple and a drizzle of honey.
Berries – Fresh berries always add great color and texture. The sweetness they add is the perfect pairing.
Pears or peaches – Sliced pears or peaches are super yummy with a slice of cheese and bread. I love all stone fruits, to be honest. Plums work well, too.
Cantaloupe – I love this melon wrapped in prosciutto (you can find it at your deli counter).
Mandarin oranges – These are a great option for winter boards especially.
Cherries – These are a fun addition to add to a summer cheese and fruit board.
Figs – I find these don't get eaten as often, but they add such a pretty element.
Dried fruit – Dried fruit is also a great option to add. I love adding dried apricots, dried cherries, dates and cranberries.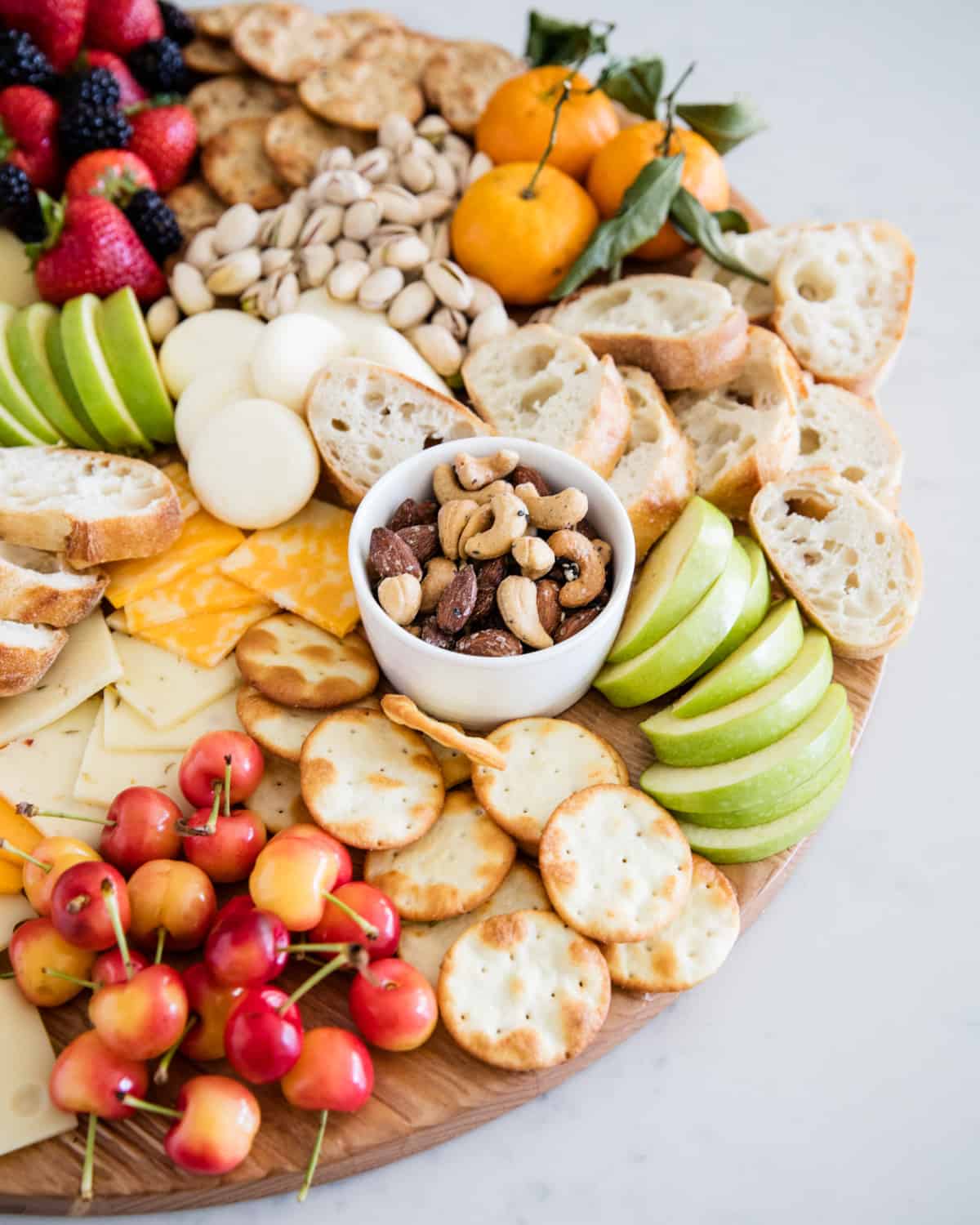 Favorite Fillers to Add
I always love including fresh bread, as well as a couple varieties of crackers and nuts on my platters. They're great fillers for any empty spots.
Bread – I love buying a French baguette or making this French bread into smaller, skinnier loaves. Crunchy thin bread sticks are also a nice addition.
Crackers – Club crackers, multi grain crackers, pita crackers (from Trader Joe's), Triscuit thin crisps and wheat thins are some of my favorites to add.
Nuts – Pistachios, cashews, almonds and macadamia nuts are always great options. Beware of any allergies from guests before adding. I like to add nuts to a bowl just to be safe.
Olives – The brininess of olives works really well with cheese.
Pickles. Cornichons are a favorite, but any pickled veggie can work.
Honey – This is a great option to add for a little sweetness and flavor.
Jam – A fig spread, pepper jelly or jam always adds a nice touch.
Dark chocolate – Chocolate is always a good idea and pairs nicely with both fruit and cheese.
Garnishes – To take your platter up a notch or add some additional color, try adding some rosemary sprigs, mint leaves or fresh flowers.
Recipe FAQs
Can I add meat to this fruit and cheese platter?
Of course! Feel free to add whatever you like to make this board your very own. If you need some ideas, take a look at how to make the charcuterie board.
Can I make this fruit and cheese platter ahead of time?
Yes! You can add everything you want to the board and keep it covered until ready to serve. Or put everything in the bowls and figure out where the cheese, crackers, and other fruit will go and then assemble 30 minutes before a party to let the cheese come to room temperature.
More Appetizer Ideas for Entertaining
HUNGRY FOR MORE? Subscribe to my newsletter and follow on Facebook, Pinterest and Instagram for all the newest recipes!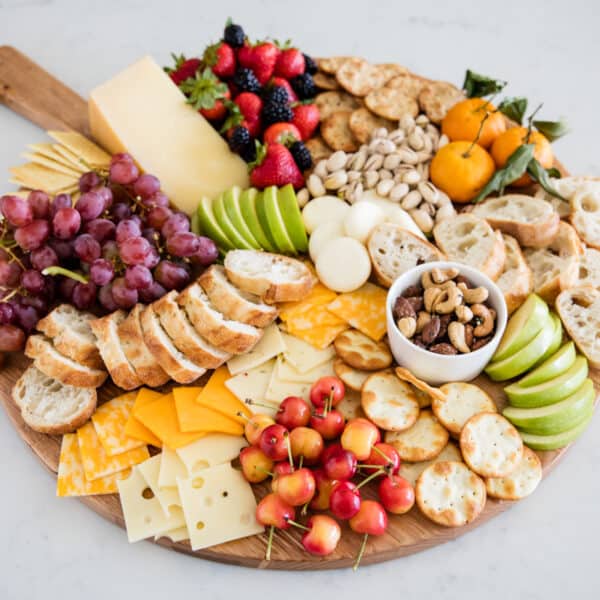 Fruit and Cheese Platter
Learn how to assemble an amazing fruit and cheese platter for your next party. Pick your favorite fruits, cheeses and fillers to make your platter the star of the show!
Ingredients
1 pint berries (blueberries, raspberries, strawberries, blackberries)
1 granny smith apple , sliced
½ pound grapes
1 cup cherries , optional
3-5 mandarin oranges , optional
1 cup pistachios , optional
1 cup mixed nuts , optional
8 ounces parmesan reggiano cheese
8 ounces sliced cheese , I love using the Trader Joe's Party Tray with a mix of colby jack, cheddar cheese and swiss cheese
6 mini babybel cheese , unwrapped, or other desired cheese
25-40 crackers , plus more as needed to fill in
Optional dips: Honey, Jam or Fig spread
Instructions
Place several small bowls onto a board or platter. Place honey or any dips in the bowls. Place smaller berries, fruits and nuts into the remaining bowls, if desired.

Start by arranging any larger items onto the board first. I like to start with the cheese. Add in bread and crackers. Fill in the empty space with the fruit. Add more of any other fruit, crackers, or nuts to fill in the gaps. The key to a great platter is to make it look full.

Add spoons, tongs, cheese knife, or toothpicks for serving. Serve immediately or cover until ready to serve.
---
Notes
Variations
Cheese: Feel free to add your favorite cheese such as: gouda, aged cheddar, brie, blue cheese.
Fruit: Pears, figs and dried fruit such as apricots, figs and cranberries also make a great addition.
Spread: Honey, a fig spread, pepper jelly or jam always adds a nice touch.
Chocolate: Dark chocolate is always a good idea and pairs nicely with fruit and cheese.
Garnishes: To take your platter up a notch or add some additional color, try adding some rosemary sprigs, mint leaves, or fresh flowers.
Nutrition
Calories: 348kcal | Carbohydrates: 25g | Protein: 19g | Fat: 20g | Saturated Fat: 11g | Cholesterol: 48mg | Sodium: 780mg | Potassium: 154mg | Fiber: 2g | Sugar: 10g | Vitamin A: 451IU | Vitamin C: 3mg | Calcium: 472mg | Iron: 1mg
Nutrition provided is an estimate. It will vary based on specific ingredients used.
Did you make this recipe? Don't forget to give it a star rating below!