From savory to sweet, these effortlessly impressive and delicious charcuterie board ideas will help you celebrate any event in style!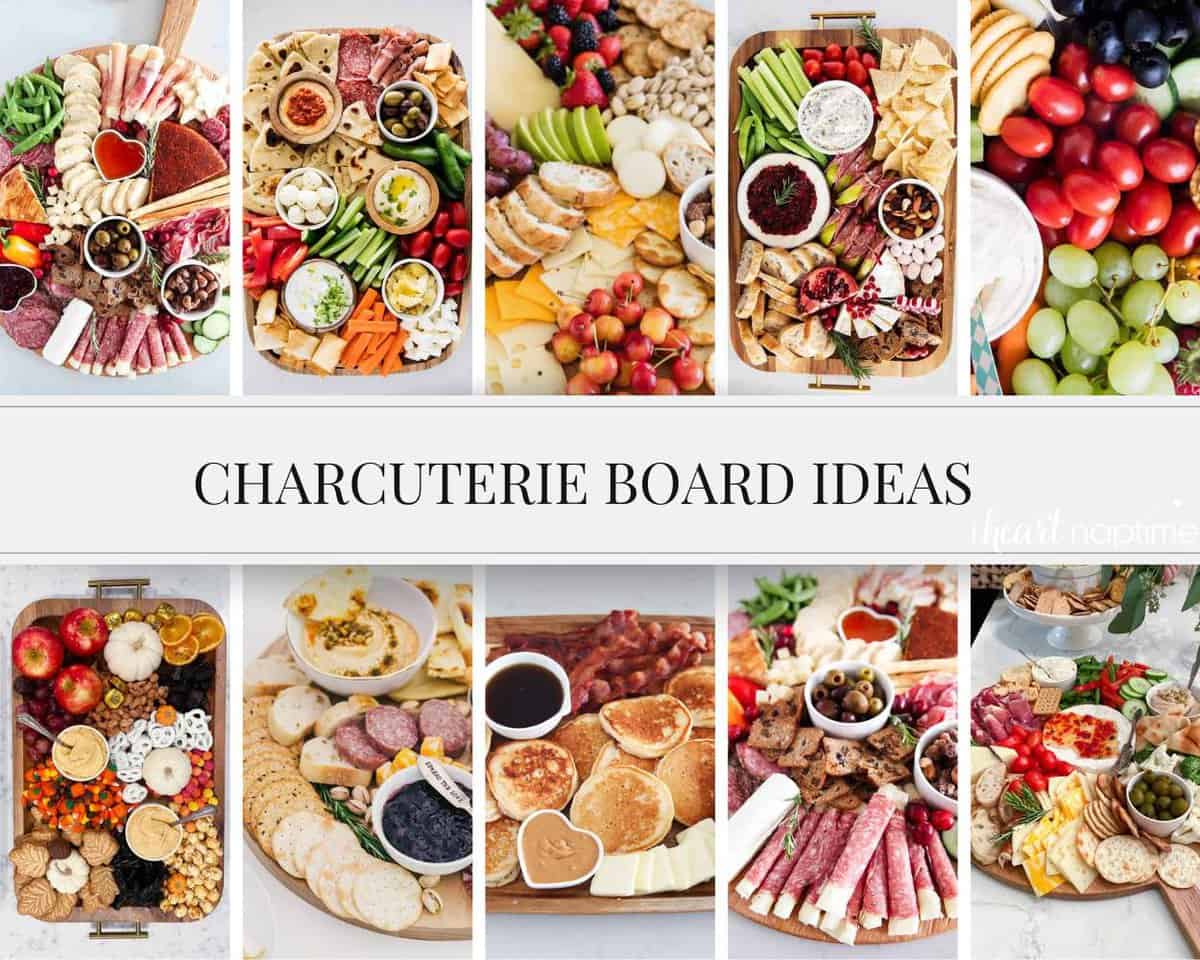 Time to Get on "Board"
Excuse the pun, but charcuterie (pronounced "shahr-kyu-tuh-ree") boards have become increasingly popular over the last few years, and for good reason. They make it so easy to serve an array of items to a lot of people without a lot of work.
Plus, you can design your charcuterie platter around a theme of colors, seasonal fruits and veggies, or decorative items to celebrate any holiday or event.
They really are the perfect dish for any party and with the charcuterie board ideas below you can create your own festive and unique tray!
What is a Charcuterie Board?
Most people think of charcuterie boards as a platter of meat and cheese (and many are just that), but there are so many other ways to make a board these days. You can make it sweet, savory, spicy, or simple.
There are some things I like to consider when planning a charcuterie board for a party.
Type of board. Will I use round, rectangular, square, or a fun shape? I typically like a wooden board, but marble or ceramic work well, too, for any charcuterie board ideas.
Small bowls. It is nice to have small bowls to offer separation, even when you are not serving a dip. I like to keep the focus on the food so I choose white bowls, but use whatever looks good to you and fits on the board.
Serving utensils. Small spoons and cheese knives can range from decorative to simple.
Color. I like to consider what colors are the foods I am using and if I need to add anything to break up monotone items.
Variety. How can I vary the ingredients so anyone can find something to enjoy? I also want to be sure that everything goes well together and nothing feels too out of place. See my categories below when trying to choose things.
Textures. This is often overlooked but really important to a well-made charcuterie board. Is there enough crunch against the soft cheeses and meats?
How to Make a Charcuterie Board
Now that you know what you need for a charcuterie board, it is time to pull one together. I have gathered my best tips and tricks on how to make a charcuterie board and
how to make a fruit platter to help you get started.
When making one of these simple charcuterie board ideas, I like to choose a variety of items that will work well together. I usually pick a few from these categories and I always start in the pantry before I buy extra items. You can create an entire platter from items you have at home.
Cured meats
Various cheeses (including my favorite cheese ball)
Olives and/or other pickled veggies
Roasted or candied nuts
Fruit (grapes, figs, strawberries, blueberries, gooseberries, or anything else that goes well with cheese)
Veggies (cherry tomatoes, sweet peppers, celery, snap peas, cucumbers, etc.)
Dried fruits
Crackers, bread, or chips
Jelly or jam
Dips (hummus, olive tapenade, guacamole, spinach dip, etc.)
Dark chocolate
Fresh herbs for decoration
Savory Charcuterie Board Ideas
Meat. Cheese. Pickled. Crunchy. Fresh. Here are a few of my favorite ways to make savory boards for any get together.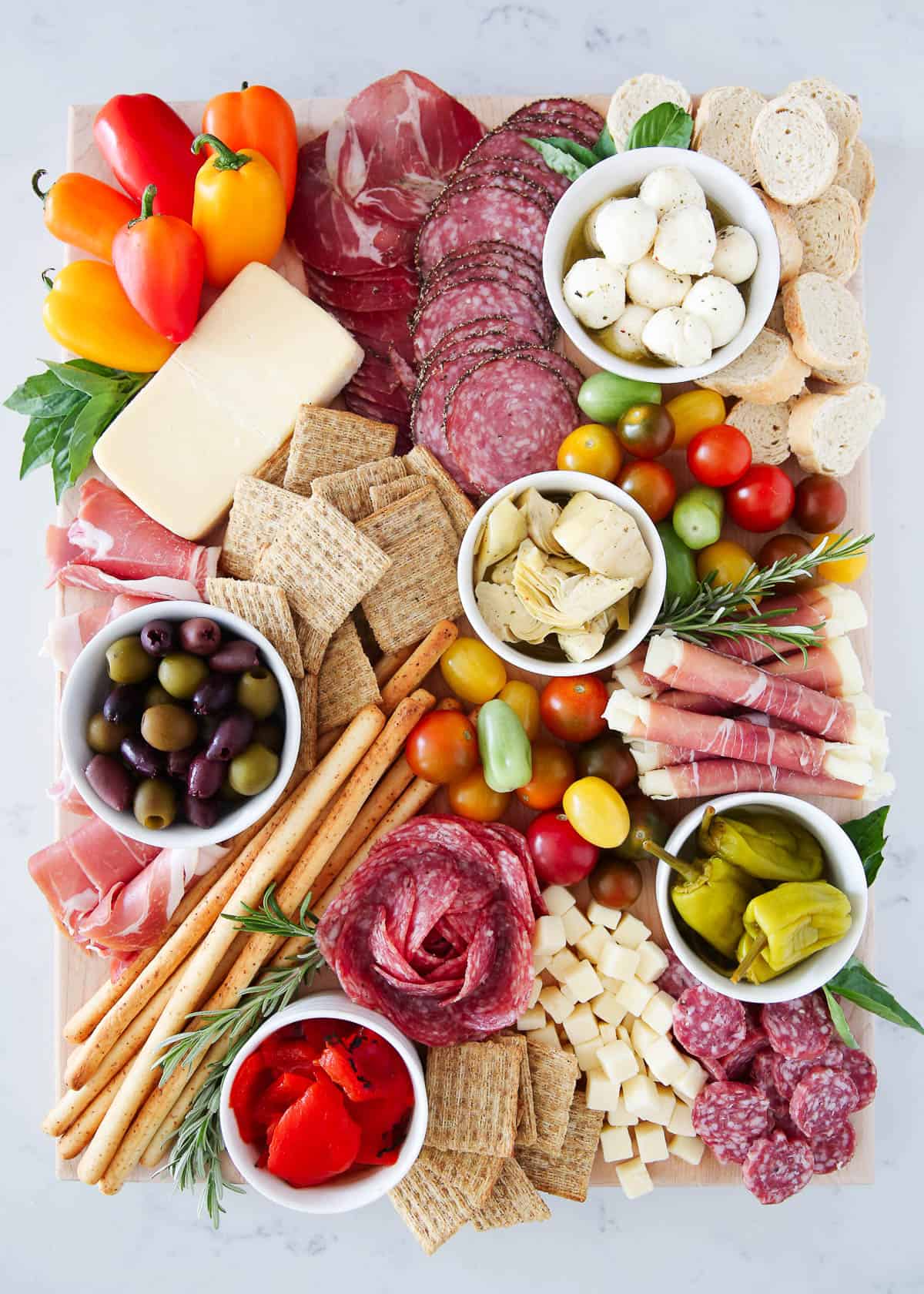 Charcuterie Cheese Board Ideas
Who doesn't love a board featuring cheese? Get creative with adding all your favorite soft and hard cheeses. Here are a few charcuterie board recipe to get you started!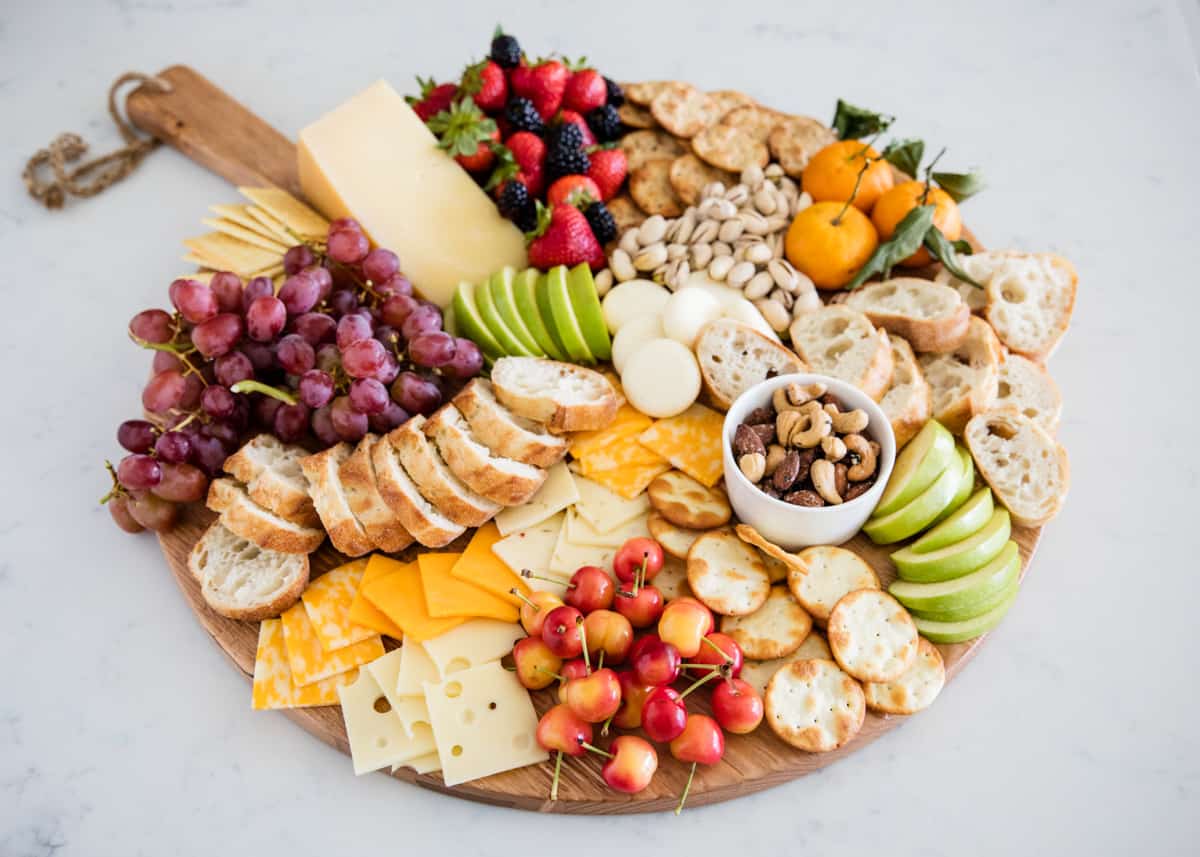 Sweet Charcuterie Ideas
Who doesn't love choices when it comes to dessert or breakfast? These boards are such a fun way to display a variety of treats or create a fun activity for the entire family.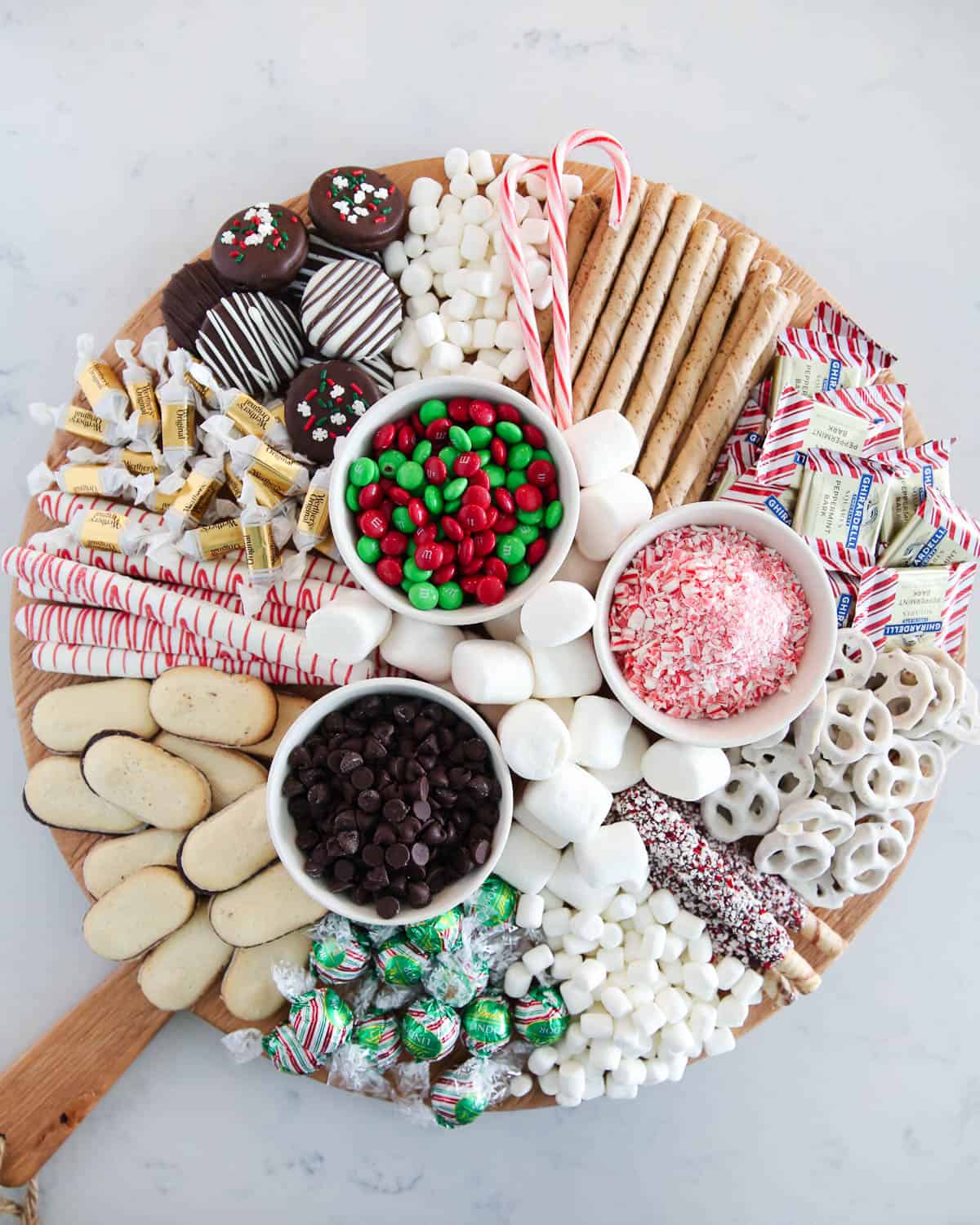 HUNGRY FOR MORE? Subscribe to my newsletter and follow on Facebook, Pinterest and Instagram for all the newest recipes!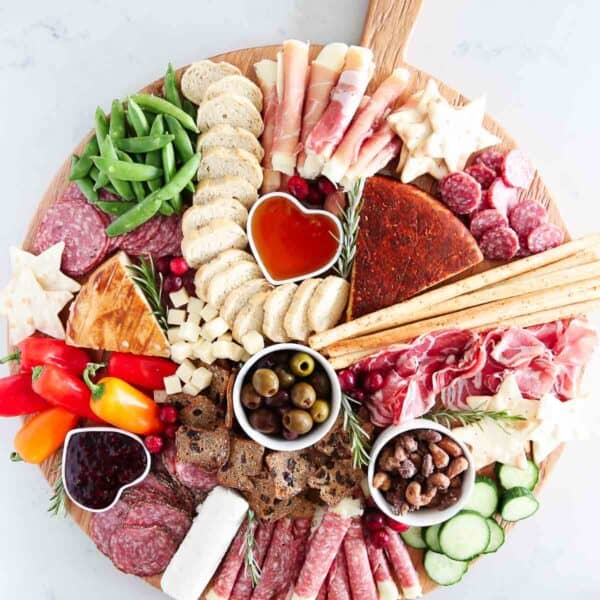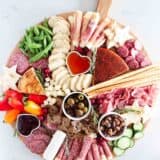 Charcuterie Board Ideas
From savory to sweet, these effortlessly impressive and delicious charcuterie board ideas will help you celebrate any event in style!
Equipment
Large wooden board or platter
Ingredients
Meats (choose 3-5)
4-6 ounces salami variety
4-6 ounces prosciutto
soppressata
Cheeses (choose 3-5)
4 ounces cheddar cheese
4 ounces gouda cheese
brie cheese rind
goat cheese
mozzarella balls
Fruit and Veggies
mini bell peppers
sliced cucumber
fried fruit
pears
Extras
jam
vegetable dip
nuts
rosemary sprigs
Instructions
Decide which charcuterie board idea you'd like to try. Then find a large board or platter you'd like to use.

Place the largest cheese and mini bowls onto a large board or platter. In individual small serving bowls, add anything that has juices.

To make the board, start by thinking how you want it to look before placing anything. Then arrange each bowl.

Place the meat on opposite ends of the platter. Add remaining meat, either folded or in piles, away from the other meat. Position the cheese around the meat.

Arrange the fruits and veggies in individual piles between the meat and cheese. Finally, add the crackers and bread (or on another serving board if there isn't enough room).

Add the smaller ingredients last to fill in any empty spaces. For some color and texture add some fresh sprigs of rosemary.
---
Notes
Where to shop: I love to find my ingredients at specialty shops such as Trader Joes, Whole foods and Costco. Make it yours: This recipe card is simply a guide to start. Make it yours by using your favorite snack foods. Try to get a variety of sizes, color, texture and flavors. Make-ahead: You can assemble the board and cover in plastic wrap. I like to add crackers and bread just before serving. Refrigerate for up to 24 hours. Remove 20 minutes before serving.
Nutrition
Calories: 217kcal | Carbohydrates: 18g | Protein: 8g | Fat: 12g | Saturated Fat: 5g | Cholesterol: 26mg | Sodium: 480mg | Potassium: 100mg | Fiber: 1g | Sugar: 3g | Vitamin A: 135IU | Vitamin C: 0.5mg | Calcium: 115mg | Iron: 0.9mg
Nutrition provided is an estimate. It will vary based on specific ingredients used.
Did you make this recipe? Don't forget to give it a star rating below!
Full List of Charcuterie Boards Ideas
Click on the links below to find the recipes for all of the easy New Year's Eve charcuterie boards mentioned above.