Learn how to build the ultimate Mezze platter filled with dips, flat bread, cheese, fresh veggies and more. This is the perfect appetizer for entertaining and includes all of your Mediterranean favorites!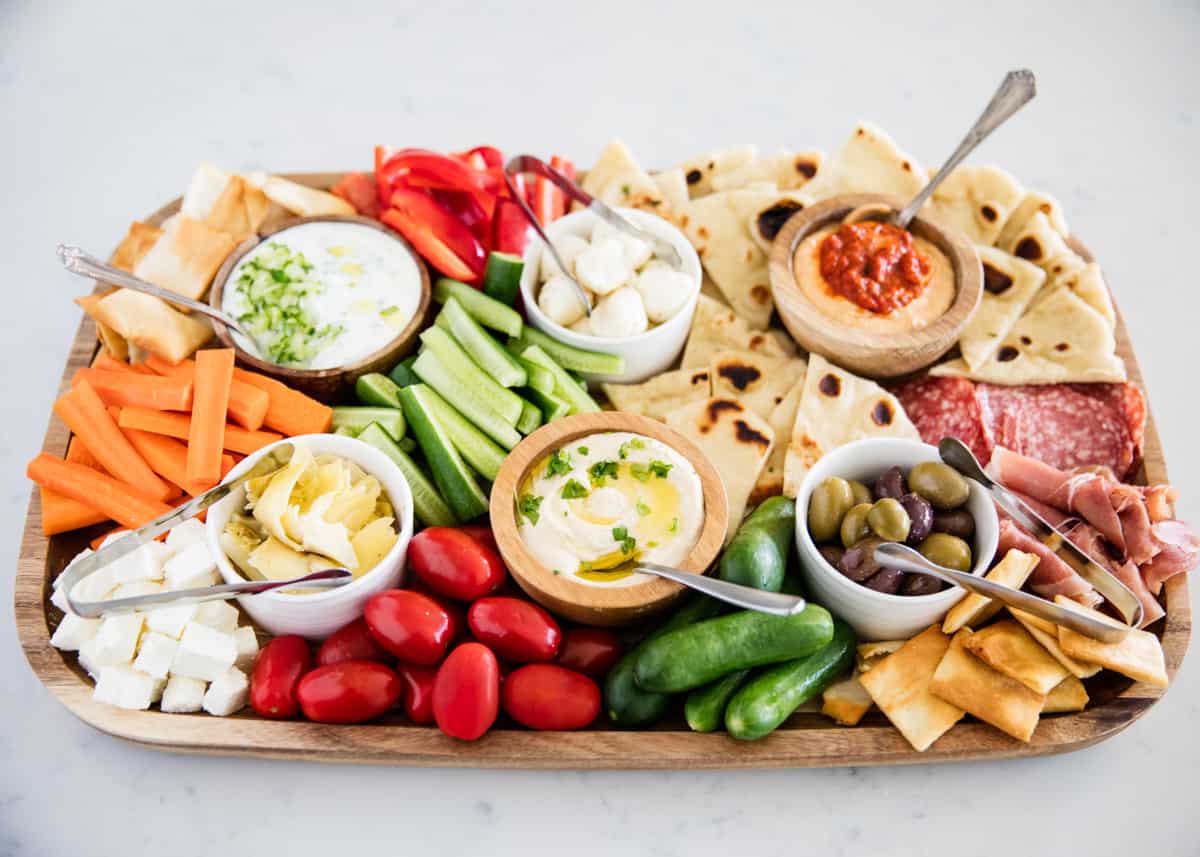 Mediterranean Mezze Platter
You all know my love for platters. They are the perfect appetizer for an intimate dinner party. I love to have friends and family gather around a board and enjoy snacking, laughter and great conversation.
If you're a fan of Mediterranean food, you're going to love this mezze platter. It's loaded with all of the crowd pleasers like hummus, tzatziki, flat bread, fresh veggies, meats, cheeses and more. Not only does it taste amazing, but it looks so pretty too. I love all of the different colors and textures. This platter is actually easier than you would think to put together. It takes just 10 minutes to build and is super easy to customize with your favorite ingredients.
What is a Mezze?
A mezze platter, meze AKA Mediterranean platter is a collection of small dishes served as an appetizer that is popular in parts of the Middle East and countries in the Mediterranean. A mezze platter is very similar to a charcuterie board. The food contents will vary by country, however it usually is an assortment of savory dips and spreads.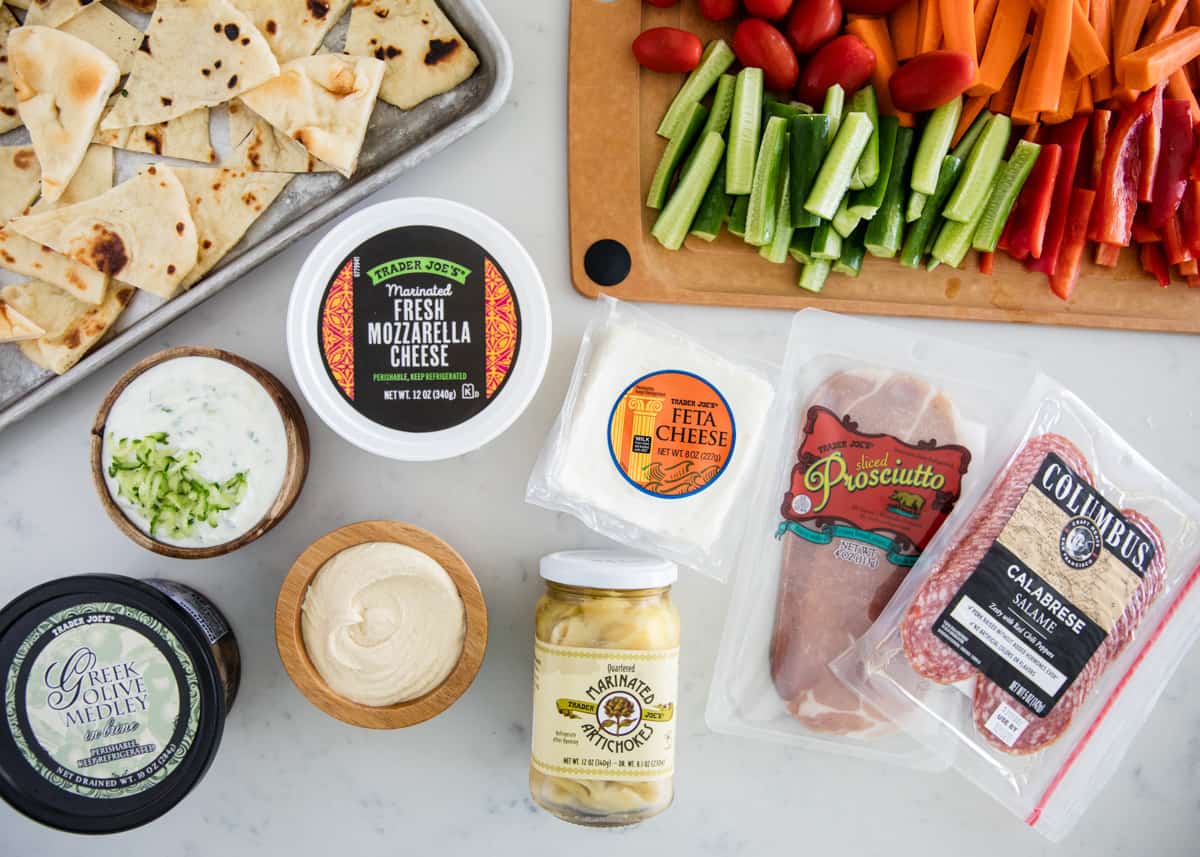 How to make a Mezze Platter
You can use these ingredients as a starting point and build from there. Swap in your family favorites or what is in season at the time. I aim to have a couple dips, a flat bread, cheese, fresh vegetables and a combination of colors and textures.
Start with your platter. You can use a variety of cutting boards. I love to use this round wooden board from Amazon, as well as trays, marble boards or even a metal cookie sheet.
Arrange the large items. You can see below that I like to add the bowls with the dips to the board first. Then add in the larger items next.
Add in the vegetables and bread. Separate them by color and texture to add variety to the platter.
Fill in the gaps. Use the pita chips, cheese or smaller vegetables to fill in any empty gaps.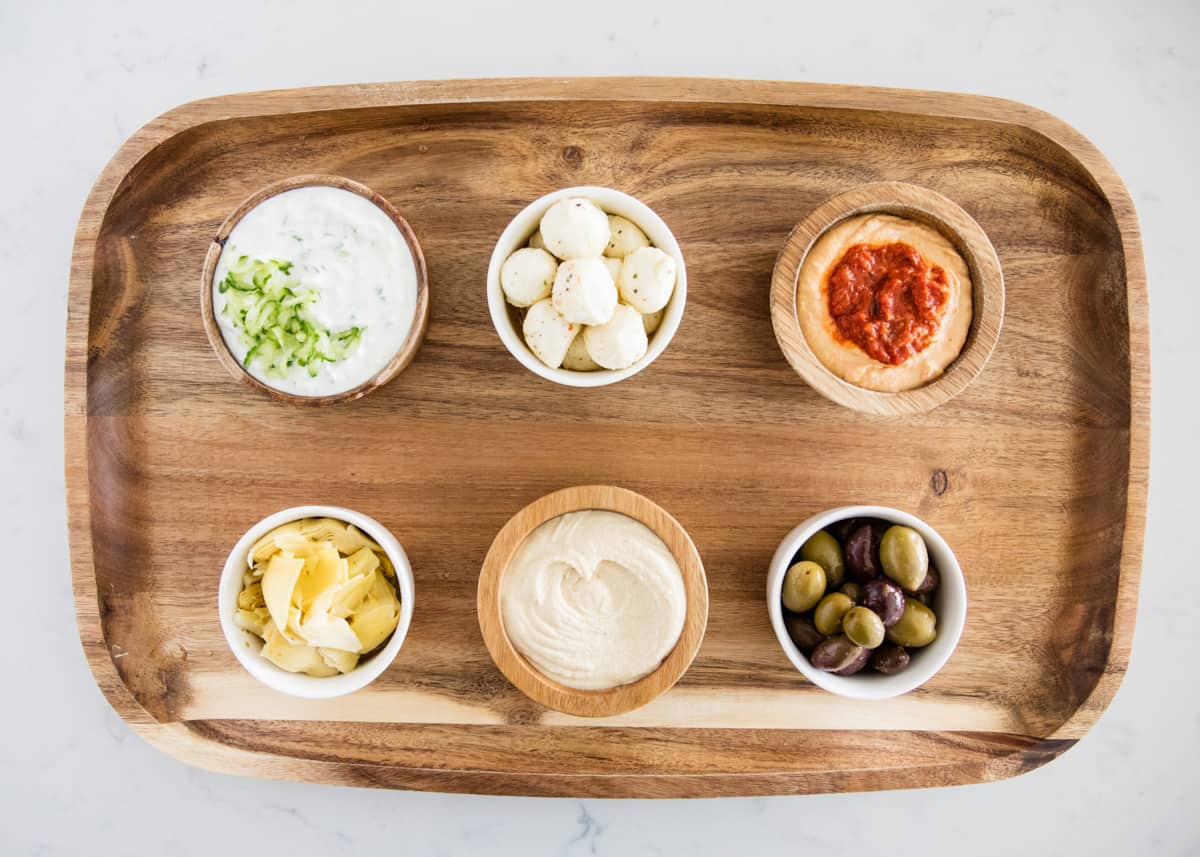 Favorite Snacks to Add
Dips: I like to include tzatziki sauce, dill dip and a few variations of hummus (classic, red pepper hummus, white bean hummus).
Flat bread: Naan or pita bread are great options. Cut them into triangles for easy dipping. I also added pita chips for a crunchier option.
Meats: I keep it simple and add a few ounces of salami and prosciutto that I found at Trader Joe's.
Cheese: Mozzarella pearls and cubed feta cheese are our favorites.
Veggies: We love adding sliced cucumber, carrots, red bell pepper and cherry tomatoes. Feel free to add in your favorite fresh veggies.
Olives: Not everyone loves olives, but they're nice to include for those that do. I usually stick to a medley of different Greek olives.
Others: Feel free to add in extras like marinated artichokes, egg plant, figs, baba ganoush, tabbouleh, grape leaves, grapes and nuts.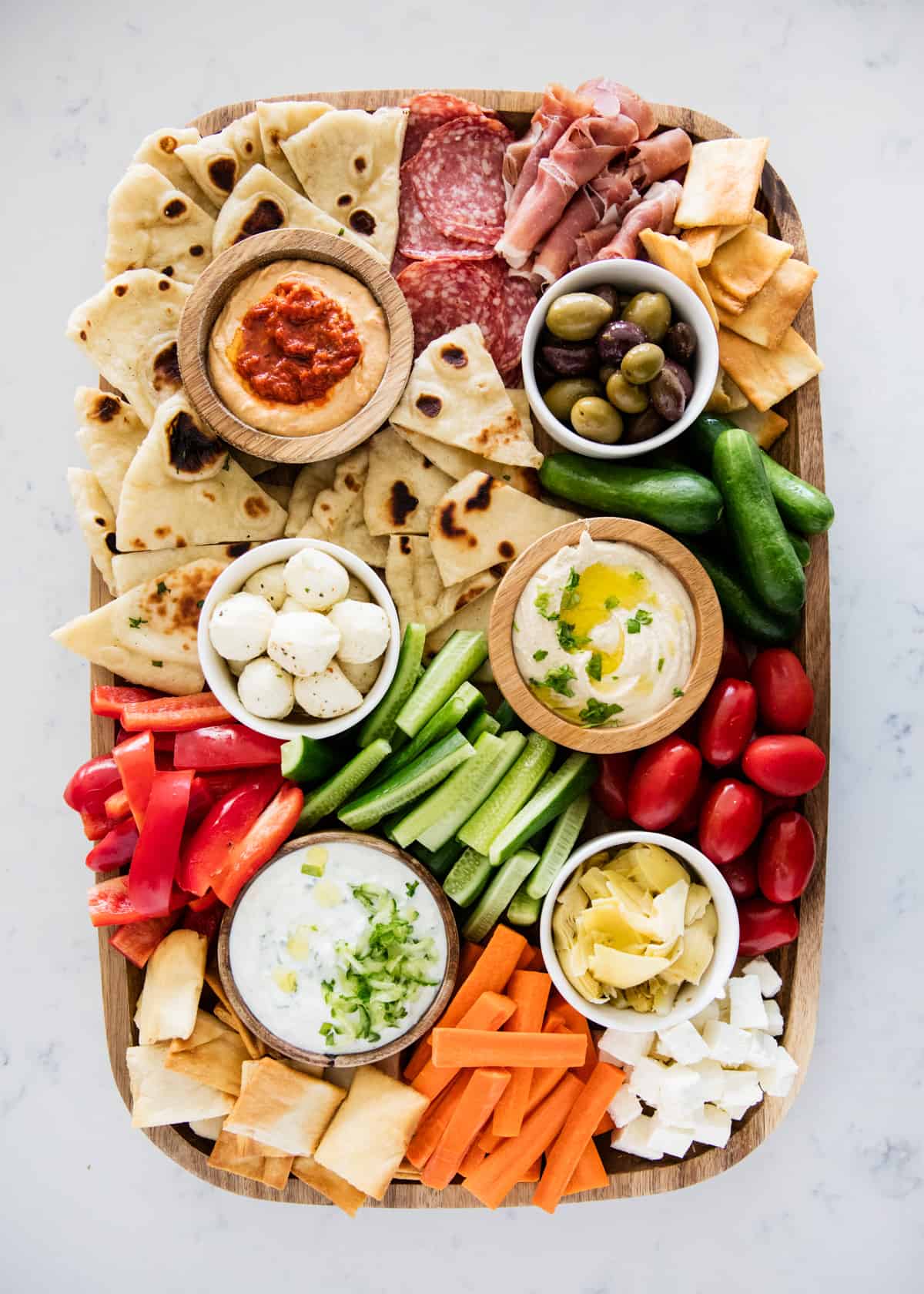 More Platters for Entertaining
HUNGRY FOR MORE? Subscribe to my newsletter and follow on Facebook, Pinterest and Instagram for all the newest recipes!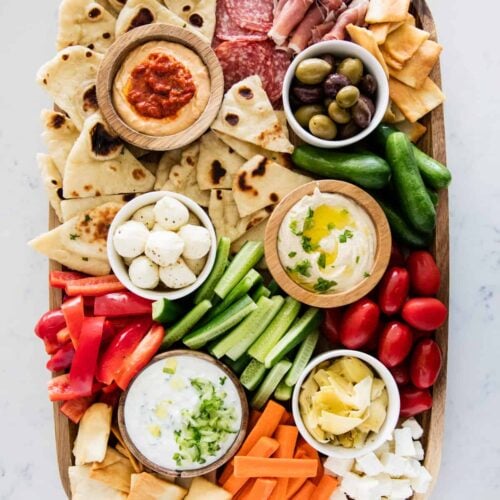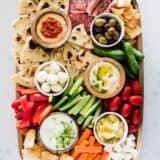 Mezze Platter
Learn how to build the ultimate Mezze platter filled with dips, flat bread, cheese, fresh veggies and more. This is the perfect appetizer for entertaining and includes all of your Mediterranean favorites!
Ingredients
6 flat bread (cut into triangles)
1-2 cups pita chips
4 ounces salami
4 ounces prosciutto
8 ounces mozzarella pearls
4 ounces feta cheese (cut into cubes)
½ cup Greek olives
1 cup hummus (1-2 variations)
½ cup tzatziki sauce
8 ounces cherry tomatoes
8 ounces cucumber (sliced)
8 ounces carrots (sliced)
1 red bell pepper (sliced)
Optional items: extra vegetables, egg plant, artichokes, figs, tabbouleh, grapes, nuts, salt & olive oil
Instructions
Wash vegetables, slice and allow to air dry. Gather a large platter or cutting board.

Slice cheese and flatbread. Add hummus, tzatziki and olives into small bowls. Then place onto the board.

Add all remaining ingredients around the bowls on the board. Start with your larger items first and then add the smaller items last. Assemble by separating colors and textures to create the perfect board.
---
Nutrition
Calories: 302kcal | Carbohydrates: 22g | Protein: 14g | Fat: 18g | Saturated Fat: 7g | Cholesterol: 39mg | Sodium: 865mg | Potassium: 298mg | Fiber: 3g | Sugar: 3g | Vitamin A: 3803IU | Vitamin C: 19mg | Calcium: 195mg | Iron: 2mg
Nutrition provided is an estimate. It will vary based on specific ingredients used.
Did you make this recipe? Don't forget to give it a star rating below!