Wow your guests this year with a stunning Christmas charcuterie board. Displaying all your yummy sampling items on one beautiful platter is what I like to call easy entertaining!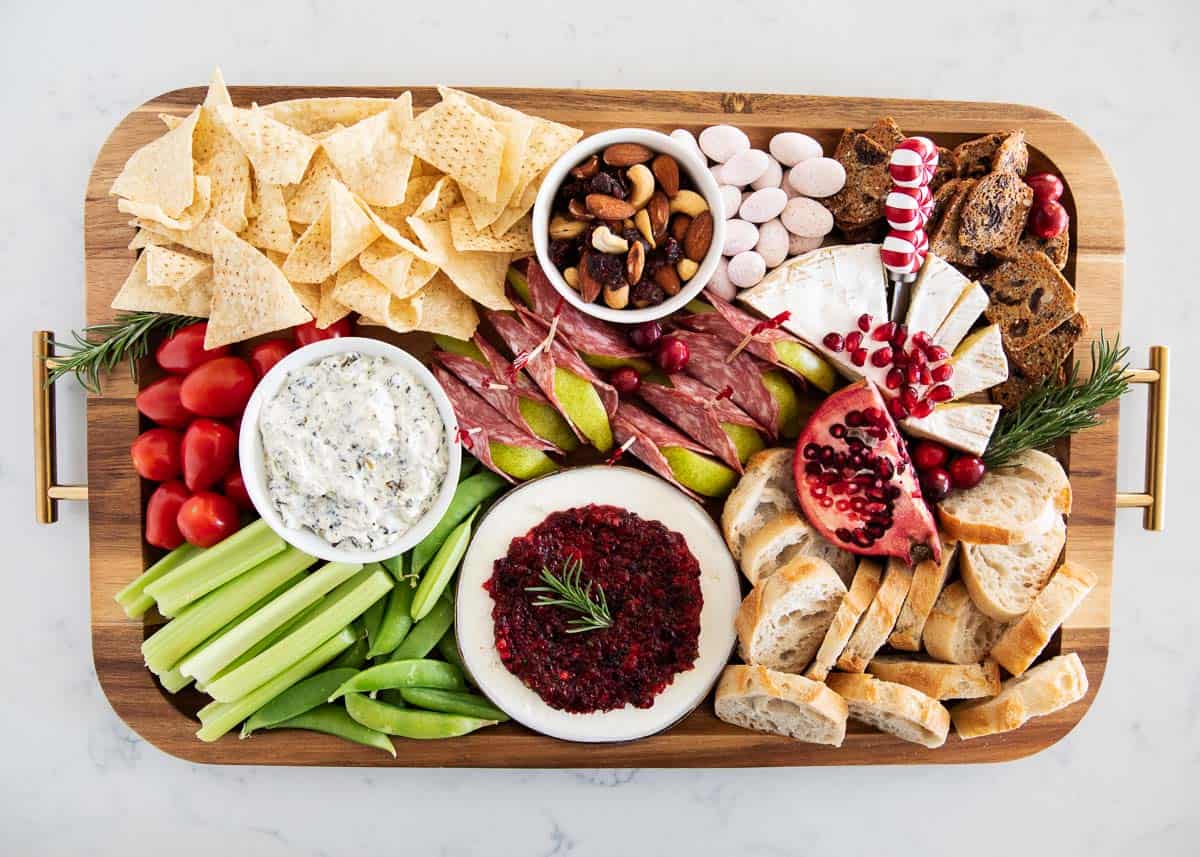 An Assortment of Appetizers
Planning and assembling a Christmas charcuterie board is so much easier than you might think! Platters, like this fall charcuterie board, are all about presentation, but that doesn't mean you can't take shortcuts. I love adding in homemade aspects like cranberry salsa and baked brie with honey, but you can also use a ton of store-bought ingredients and decor items too!
This Christmas-themed charcuterie board can be as festive as you make it. No matter what, it'll be a wonderful introduction to the delicious Christmas dinner menu or holiday dinner party you've got planned. This easy-to-follow guide lays it all out for you and soon you'll be wanting to make a charcuterie board for every occasion!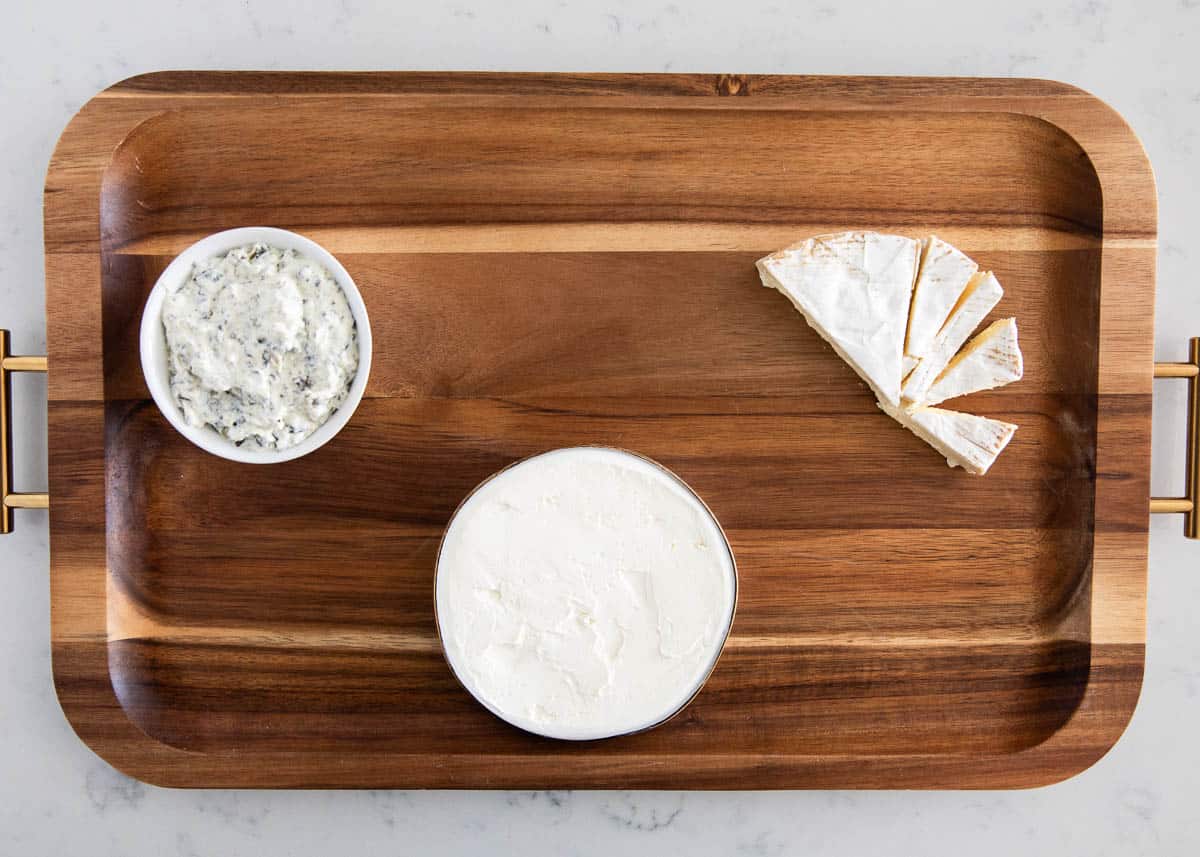 Questions to Ask Yourself Before You Begin
Feel free to use my Christmas board as a guide. Follow it to the letter or adjust as needed to make it your own Christmas appetizer idea!
How many people am I feeding?
Do I want to make a sweet dessert board? Or a savory snack board? or both?
Do I want to hit up Trader Joe's for most of it? Or are there some things I can make at home?
Is there a color scheme I want? Do my ingredients match this theme?
Do I want to have people use their hands? toothpicks? tongs? Do I have enough napkins?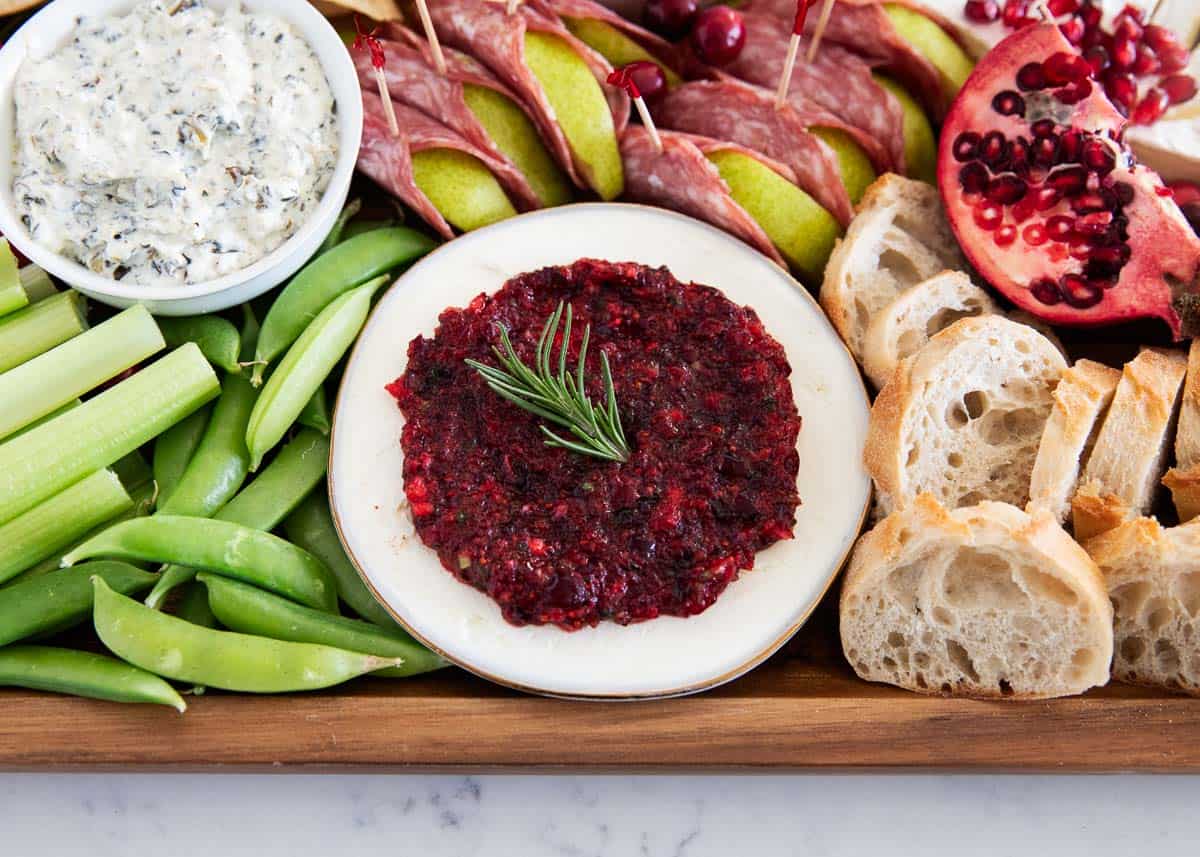 Christmas Charcuterie Board Ideas
A beautiful wood board or platter. This round reclaimed wood board and wood serving tray are two of my favorites.
3 small bowls or ramekins for the dip and nuts.
Serving toothpicks, cocktail forks, tongs, a cheese knife, and napkins (Christmas napkins perhaps!).
Dips and sauces – Cranberry salsa, spinach dip, or you could substitute homemade hummus, skinny dill dip.
Cheese – Round of brie (rind on), sliced cheddar, blue cheese, swiss, goat cheese, Havarti, or gouda. If you use baked brie, you'll need an extra ramekin for that and maybe one more for the jam or spicy jelly, you could also just make cranberry brie bites!
Things to dip – Tortilla chips, crackers, sliced French baguette. Other ideas are naan bread and pretzels.
Fruits and veggies – Snap peas, olives, pickles, cherry tomatoes, sliced pears. You could also use sliced apples or apple slices, figs, orange slices, raspberries, strawberries, blueberries, and grapes.
Sliced salami – I like to wrap it around the pear but you can use whatever cured deli meat you prefer.
Mixed nuts – Use a combination of your favorites. For a sweet touch, use mixed candied nuts instead.
Garnish – Sprigs of rosemary or other fresh herbs, sliced pomegranate. You could also use dried fruits and chocolates as garnish.
Put the Extra Items to Use!
If you find you've got a LOT of one thing, you can either set some aside for snacking later on or make a completely separate board. For example, if you have way too much cheese, make a completely separate cheese board. If you have a ton of fruit, chocolate, and other sweets, consider making a separate sweet board. Your guests will enjoy a bit of everything!
Assembly
Arrange your bowls on the board, evenly spaced out anywhere you'd like. Place the wedge (or whole round) of brie down. Wash and slice your fruits and veggies.
Add your items around the bowls, a bunch at a time. There is no rhyme or reason but you may need to play around with it a bit before you find what works.
Fill in the gaps with smaller items like bread, crackers, nuts, fruit, chocolate, or candy.
Tips!
Larger items will naturally become the focal point. Spread them out. Corners work well as does the center.
If you're going for a traditional Christmas color scheme, use more red and green items.
Leave no bare spaces. The charm of the best charcuterie board ideas are that they are a feast for the eyes. A little sampling of a lot!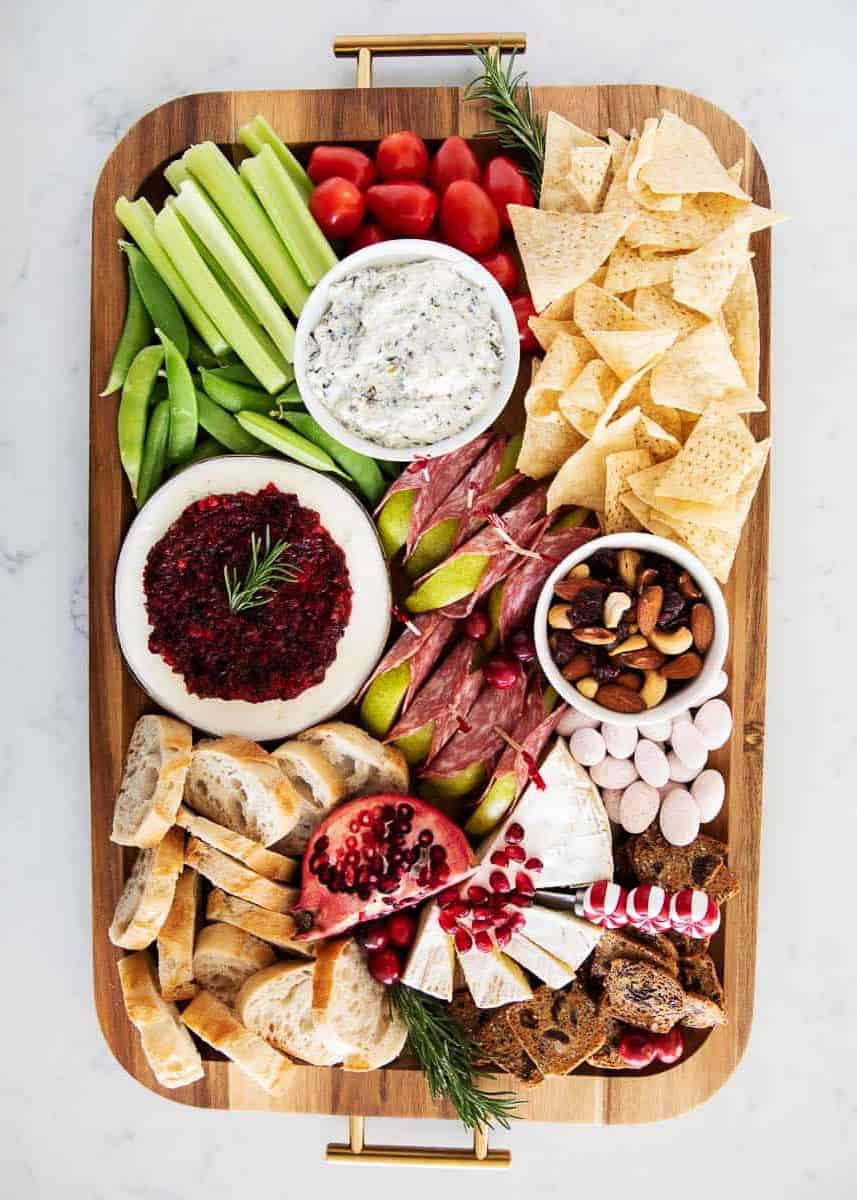 More Christmas Favorites:
HUNGRY FOR MORE? Subscribe to my newsletter and follow on Facebook, Pinterest and Instagram for all the newest recipes!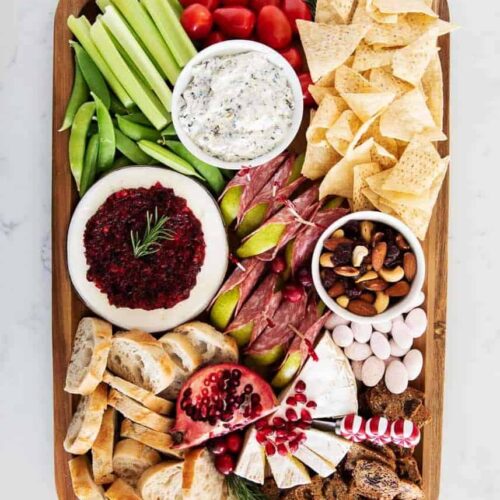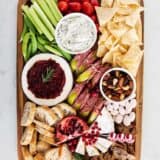 Christmas Charcuterie Board
Wow your guests this year with a stunning Christmas charcuterie board. Displaying all your yummy sampling items on one beautiful platter is what I like to call easy entertaining!
Ingredients
½ Brie cheese rind
½ cup spinach dip , see note
2 cups tortilla chips , more as needed
2 cups crackers
½ french baguette , sliced
1 cup snap peas
½ pint cherry tomatoes
1 pear , sliced
10 pieces salami
½ cup mixed nuts
For decoration (optional): sliced pomegranate, rosemary sprigs
Instructions
Lay 3 bowls on top of the board. Wash fruit, vegetables and slice. Place dip in bowls and cheese rind in corner. Then start arranging ingredients around the bowls.

Add remaining ingredients to charcuterie board and assemble as desired. Fill in any gaps with nuts or more bread and crackers.

Serve immediately or cover and store in the fridge until ready to serve.
---
Notes
Variations:
This board is easy to make sweet or savory. Feel free to swap in your favorites.
Cranberry salsa: For this board I made half a batch of this cranberry salsa.
Delicious dips like these this homemade hummus and skinny dill dip can be substituted.
Fruit – Fresh apple slices, or dried apple chips, orange slices, grapes, or figs.
Cheeses – Slices of cheddar, blue cheese, swiss, Havarti, or gouda can be used. You could also make the centerpiece a cheese ball or a baked brie with spicy jelly.
Bread and crackers– Naan bread, pita bread, Ritz, pretzels, tortilla chips, multi-grain crackers, or french bread could all work.
Nuts like almonds, walnuts, pecans, cashews, pistachios etc. Mixed candied nuts are always a great idea.
Meats – Feel free to add your favorite cured meats like salami, prosciutto, ham, pepperoni, etc.
Nutrition
Calories: 349kcal | Carbohydrates: 34g | Protein: 10g | Fat: 20g | Saturated Fat: 6g | Polyunsaturated Fat: 5g | Monounsaturated Fat: 7g | Trans Fat: 0.1g | Cholesterol: 18mg | Sodium: 604mg | Potassium: 237mg | Fiber: 3g | Sugar: 4g | Vitamin A: 291IU | Vitamin C: 11mg | Calcium: 106mg | Iron: 2mg
Nutrition provided is an estimate. It will vary based on specific ingredients used.
Did you make this recipe? Don't forget to give it a star rating below!