Baked brie with honey is a simple and delicious appetizer recipe that's always a crowd-pleaser! This baked brie is so creamy, and rich and tastes amazing paired with the sweetness of the honey.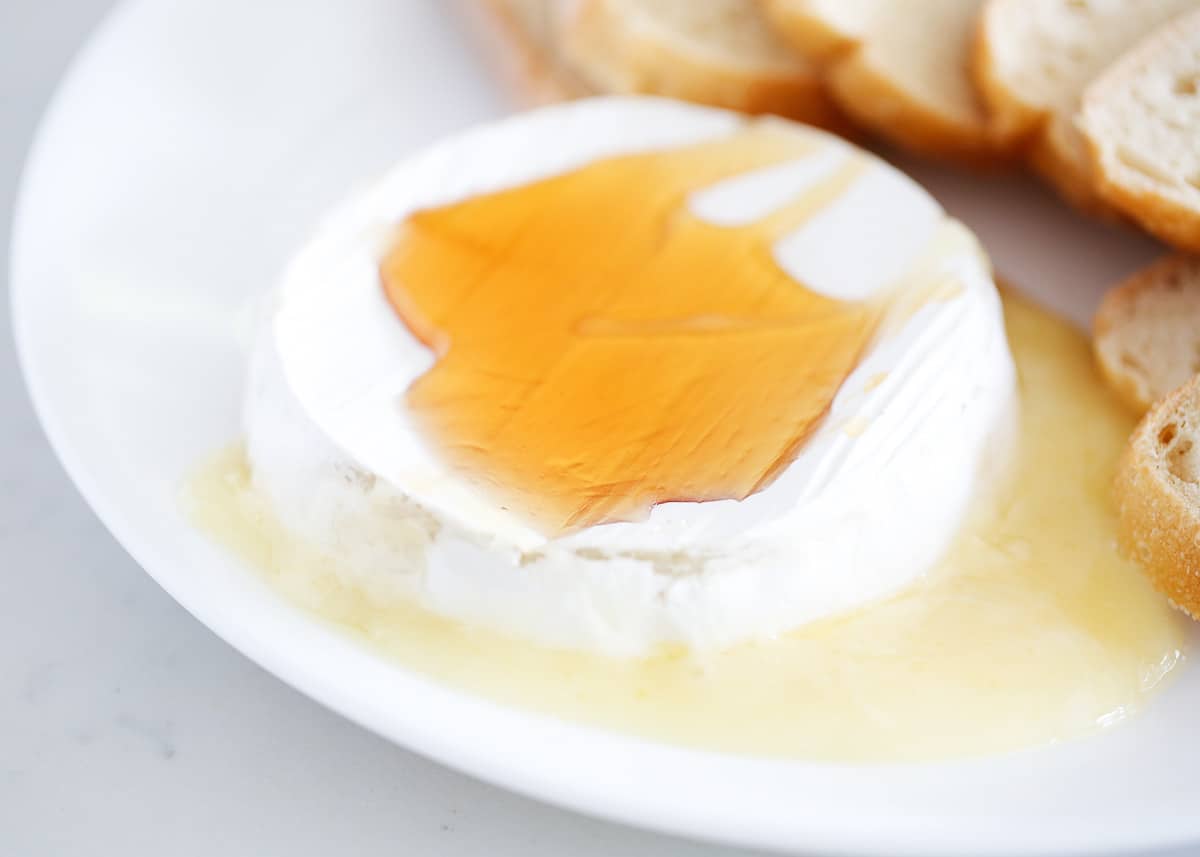 Easy Baked Brie with Honey
Whenever I make a big charcuterie board or fruit and cheese platter, I love to include baked brie. It tastes amazing with a little honey drizzled on top and is perfect for snacking.
There's something about baked brie that makes it seem like such an elevated appetizer, but the truth is – it is SO easy to make! Just drizzle the rind with honey and pop it in the oven for 5-7 minutes. And there you have it – a creamy and rich appetizer that has the perfect sweet and savory combination of flavors.
So yummy and always a big crowd-pleaser just like when I make these spinach puffs!
Only 2 Ingredient Baked Brie Recipe
Looking for an appetizer recipe that's easy, tastes delicious, and comes together in less than 10 minutes? This baked brie with honey is perfect for you! Two ingredients to begin with then jazz up your baked brie just the way you like it!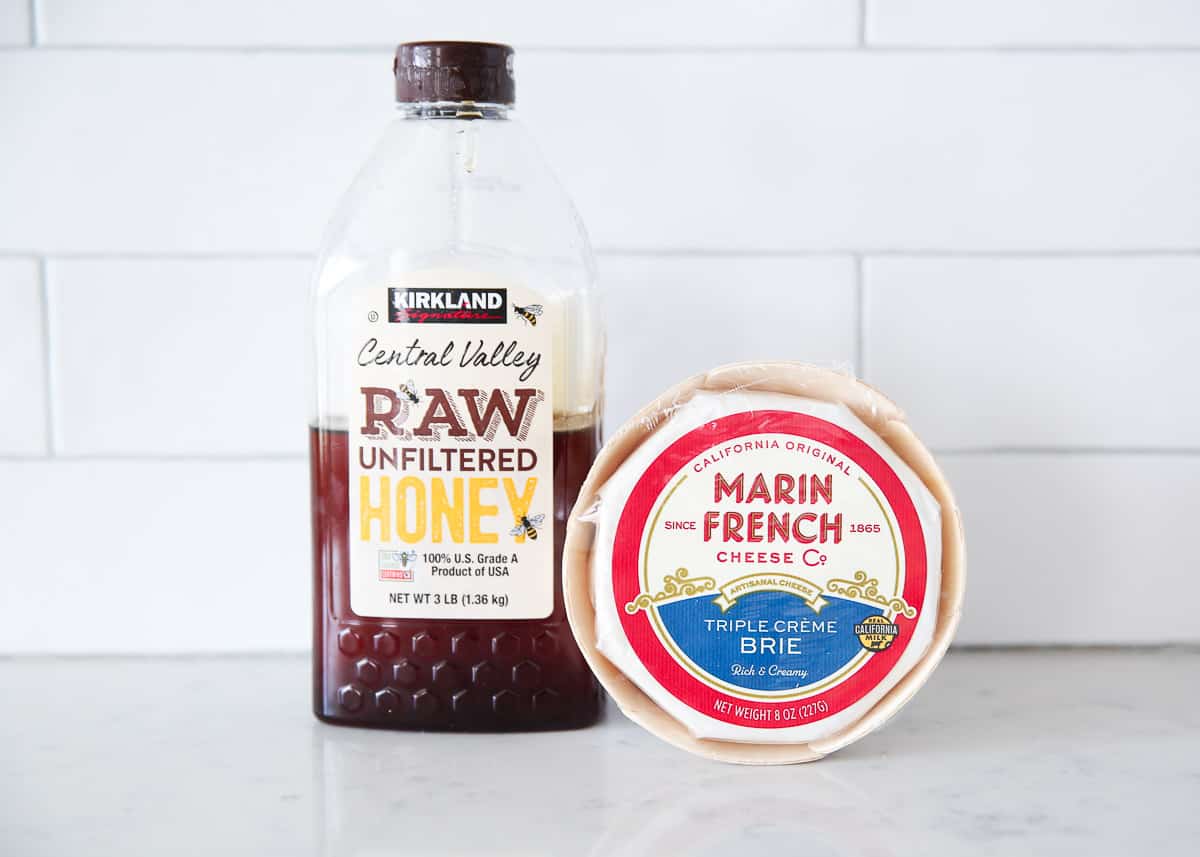 Find the full printable recipe with specific measurements below.
Brie: Pick your favorite wheel of brie and cut it in half. Brie is a soft, creamy cheese that is best warmed up.
Honey: Any type of honey is great! Add as little or as much honey as you desire.
How to Bake Brie
Baking brie might sound intimidating, but it is so so easy! Only two ingredients and an easy way to bake it. Just follow the simple steps below to get started.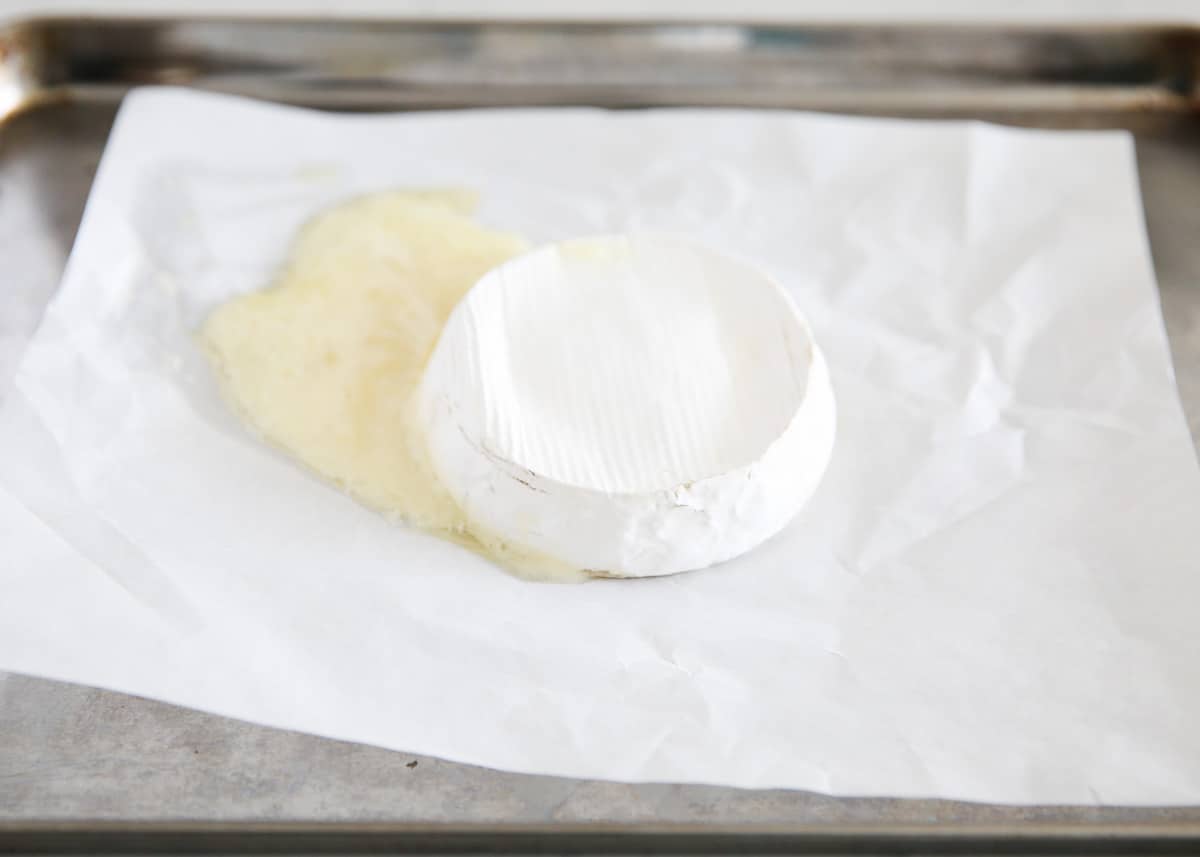 Cut brie and add honey. Slice the brie in half. Line a baking sheet with parchment paper and place the brie rind on it. Then drizzle the honey on top.
Bake and serve! Bake in oven at 350°F for 5 to 7 minutes, or until the cheese starts to melt out. Enjoy with French baguettes or crackers.
Modifications + Toppings
What I love about baked brie is that there are so many different pairings that taste delicious! Try it with fruit-filled jam, add nuts on the side or on top, and even make it into a dessert by using a puff pastry. Enjoy these fun and delicious ways to change your baked brie every time you make it!
Jam or jelly. If you don't have honey on hand or would prefer a different topping, try using fig jam, apricot jam, strawberry jam, or raspberry preserves. You can even use spicy pepper jelly.
Nuts. For an extra crunch, try topping it with pecans or walnuts. You can either top the brie with fresh pecans once it's out of the oven or you can even bake the pecans so that they get crispy as well. If baking, I would mix the pecans with a little brown sugar and butter…it makes them taste super yummy.
Dessert. If you're looking to turn this recipe into more of a dessert, try topping it with Nutella or chocolate and strawberries. Both make a delicious sweet and savory combination.
Puff pastry. If you really want to wow the crowd, try wrapping the brie in a puff pastry. I like this recipe, but you can also buy a premade baked brie puff pastry at the store. Cranberry brie bites in puff pastry are another great option!
Larger crowd. If you're serving a larger crowd, you can easily use a whole brie rind to make this recipe. Just double the amount of honey used.
Serving Baked Brie
Have fun with this easy-baked brie recipe! Create a charcuterie board with it or serve it in a baking dish with all your favorite sliced bread and crackers. Present this baked brie fancy or low-key but still make it look delicious and beautiful all at the same time.
Fruit: Add grapes, sliced peaches, apple slices, and fresh strawberries. Even dried fruit like raisins or craisins look pretty and are edible.
Veggies: Try it with cut-up celery or long-sliced carrots are the perfect presentation and color to this delicious baked brie recipe.
Grains: Sliced artisan bread and delicious wheat and whole-grain crackers are perfect for spreading creamy baked brie over top.
Serving platter: Use a small baking dish to serve and drizzle the honey and nuts over top. Place the baked brie on a cutting board filled with fruit, veggies, and sliced bread.
Garnish: Top with fresh rosemary or thyme laid right on top of the baked brie and honey.
Recipe FAQs
Do you take the rind off the brie before baking?
You don't have to! I usually don't because it's just one extra step. If you leave the rind on, the brie will ooze out of the sides and you can use a knife to spread it on the French baguette slices or crackers.
How do you take the rind off the brie before baking?
If you'd like to remove the rind, simply scrape it off of the top before adding the cheese to the baking sheet. Just know that without the rind, it will likely spread more because there's nothing holding it together.
Why is my baked brie rubbery?
This can be two things. If you left the rind of the cheese on, the baked brie may seem like it is rubbery once heated, or the brie was overcooked by leaving it in the oven too long. To avoid the rubbery texture, remove the rind of the cheese and make sure to not overbake the brie in the oven.
How do you know when brie is done baking?
Once the baked brie begins to ooze out but not melt, your baked brie is ready to take out of the oven. Depending on the size of the brie wheel, it usually takes about 5 to 7 minutes.
5 star review
"This is one of my favorite things!"

-Annie
Other Easy Appetizers
HUNGRY FOR MORE? Subscribe to my newsletter and follow on Facebook, Pinterest and Instagram for all the newest recipes!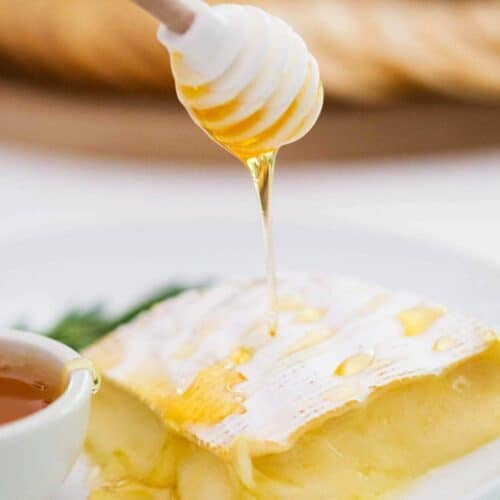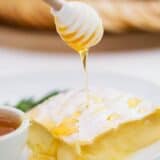 Baked Brie with Honey
Baked brie with honey – A simple and delicious appetizer recipe that's always a crowd pleaser! This baked brie is so creamy, rich and tastes amazing paired with the sweetness of the honey.
Ingredients
4 ounces Brie cheese rind (1/2 of rind)
2-3 Tablespoons honey , more to taste
For serving: french baguette, crackers and or vegetables
Instructions
Preheat the oven to 350°F. Cut the brie in half. Wrap a baking sheet with foil and then place the brie rind on the foil. Drizzle the honey over the top.

Bake for 5 to 7 minutes, or until the cheese has started to melt out. Enjoy with french baguettes or crackers.
---
Notes
This recipe can easily be doubled for a crowd!
Nutrition
Calories: 114kcal | Carbohydrates: 10g | Protein: 4g | Fat: 6g | Saturated Fat: 3g | Cholesterol: 22mg | Sodium: 143mg | Potassium: 34mg | Sugar: 10g | Vitamin A: 135IU | Calcium: 42mg | Iron: 0.2mg
Nutrition provided is an estimate. It will vary based on specific ingredients used.
Did you make this recipe? Don't forget to give it a star rating below!