A charcuterie board is a simple way to make the BEST spread for a large crowd! Just throw together your favorite meats, cheeses, crackers and more. This cheese board has tons of snacking options for everyone and will definitely be a hit!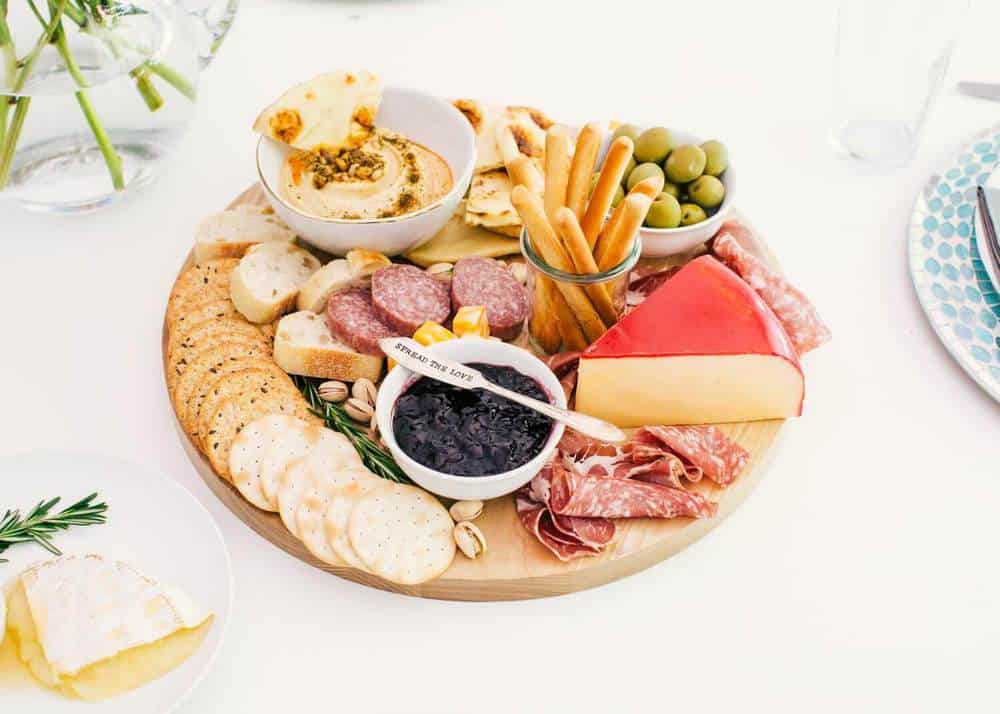 The Perfect Charcuterie Board
Charcuteries are my all-time favorite appetizer to make. Whether I'm hosting guests or bringing a dish to a get-together, it's almost always a meat and cheese board. They're delicious and super easy and fun to make. Plus there's a little something for everyone!
This delicious meat and cheese board, commonly known as "charcuterie," is one of the easiest appetizers ever and looks so gorgeous! When we're having a big dinner party or get-together, I almost always make a charcuterie board.
I love that you can add basically anything to the cheese board and it turns out perfect. Sometimes I won't even need to go to the store because I already have most of the ingredients on hand. I like to add lots of meats, cheeses and crackers, but there are so many other snacks that can be included. You can even make a dessert board full of your favorite sweets!
What is Charcuterie?
Charcuterie is a French word that stands for the art of preparing meats that are cured or smoked, such as salami, bacon, ham and more. Charcuterie boards have become super popular and are commonly paired with different types of cheeses, crackers, nuts, dips or snacks of choice. They are a great appetizer to prepare for a large crowd and include lots of options for everyone!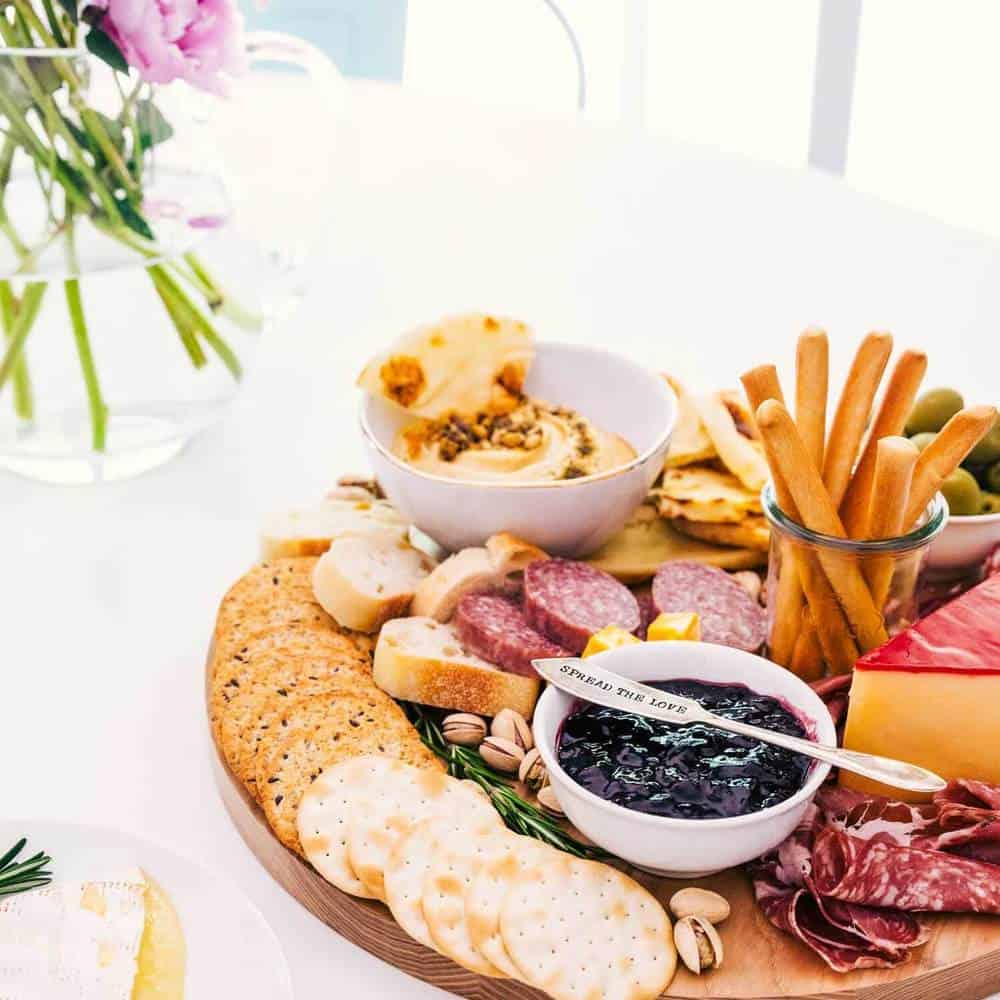 Snacks to Add to Charcuterie
Fresh veggies like mini bell peppers, broccoli, cucumber, celery, carrots, grape tomatoes, cauliflower
Cheeses like brie, cheddar, gouda or manchego. You could even add pre-cut cheese slices or make a cheese ball.
Cured meats like prosciutto, salami, pepperoni and more.
Crackers or bread like pita, naan, multigrain crackers, French baguette, pretzels, tortilla chips, etc.
Nuts like almonds, cashews, walnuts, pistachios, etc.
Olives or pickled vegetables
Favorite Boards to Use
I have two favorite boards when making a charcuterie. The first is this round reclaimed wood board. It's an investment, but I use it ALL the time. It's pretty big (picture below) and holds a lot of snacks! Whenever we're entertaining for a large crowd, this board is my go-to.
I also love this rectangular wood serving tray. I actually have two of them and will often make both a sweet and savory board. This board is a great price and I've even found it cheaper in stores at Walmart.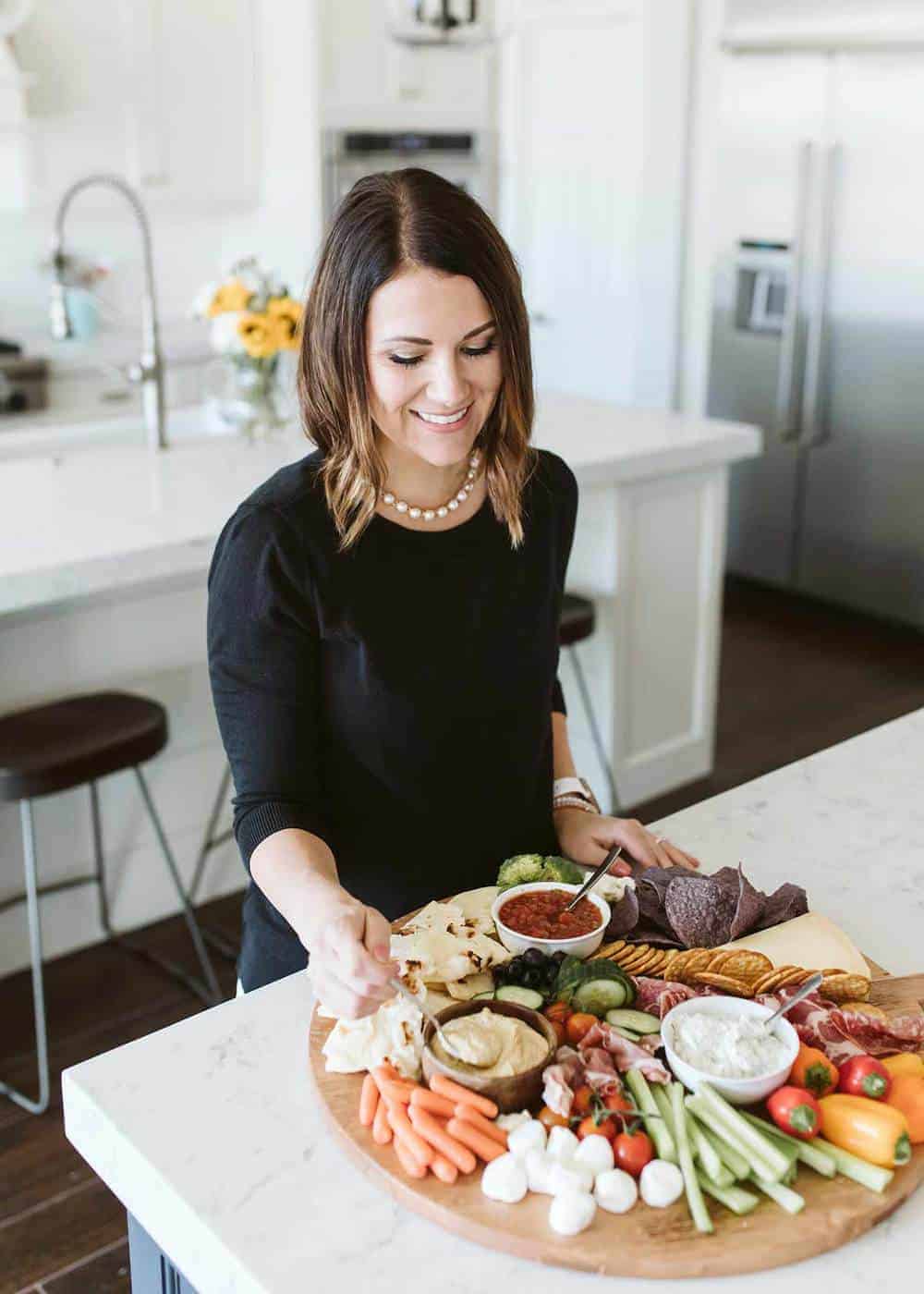 How to Make a Charcuterie Board
Here are 5 tips to keep in mind when building your board:
1. Choose about 8-10 food items per board. Pick things based on taste, texture and color. I always like to choose a few unique items. My go to shop for charcuterie boards is Trader Joes. I usually do a mix with a few things homemade and the rest I buy at the store.
2. Start with 3 small bowls or 3 focal points. I usually add a few bowls for dips or hummus and a block or two of cheese. I'll sometimes even include a decorative focal point around the holidays, like a mini pumpkin or gourd.
3. Start with bigger items first and build around those focal points, splitting up color and texture. I'll usually add in veggies, cheeses, meats, etc. first.
4. Layer in smaller items to fill the gaps. Next comes the smaller items, like nuts, crackers, etc. Layer them in between the bigger items to fill in any blank space.
5. Add something with color to break up any spots with muted color (ie: add a rosemary sprig, dried orange slices or candy cane). It's fun to have a few decorative items that guests won't necessarily eat, but it makes the charcuterie look extra pretty!
And just remember, have fun! They don't have to be perfect! Another fun way to build a charcuterie is to have your guests each bring their favorite item and build it together. I've done this for a friend's birthday and it was so fun!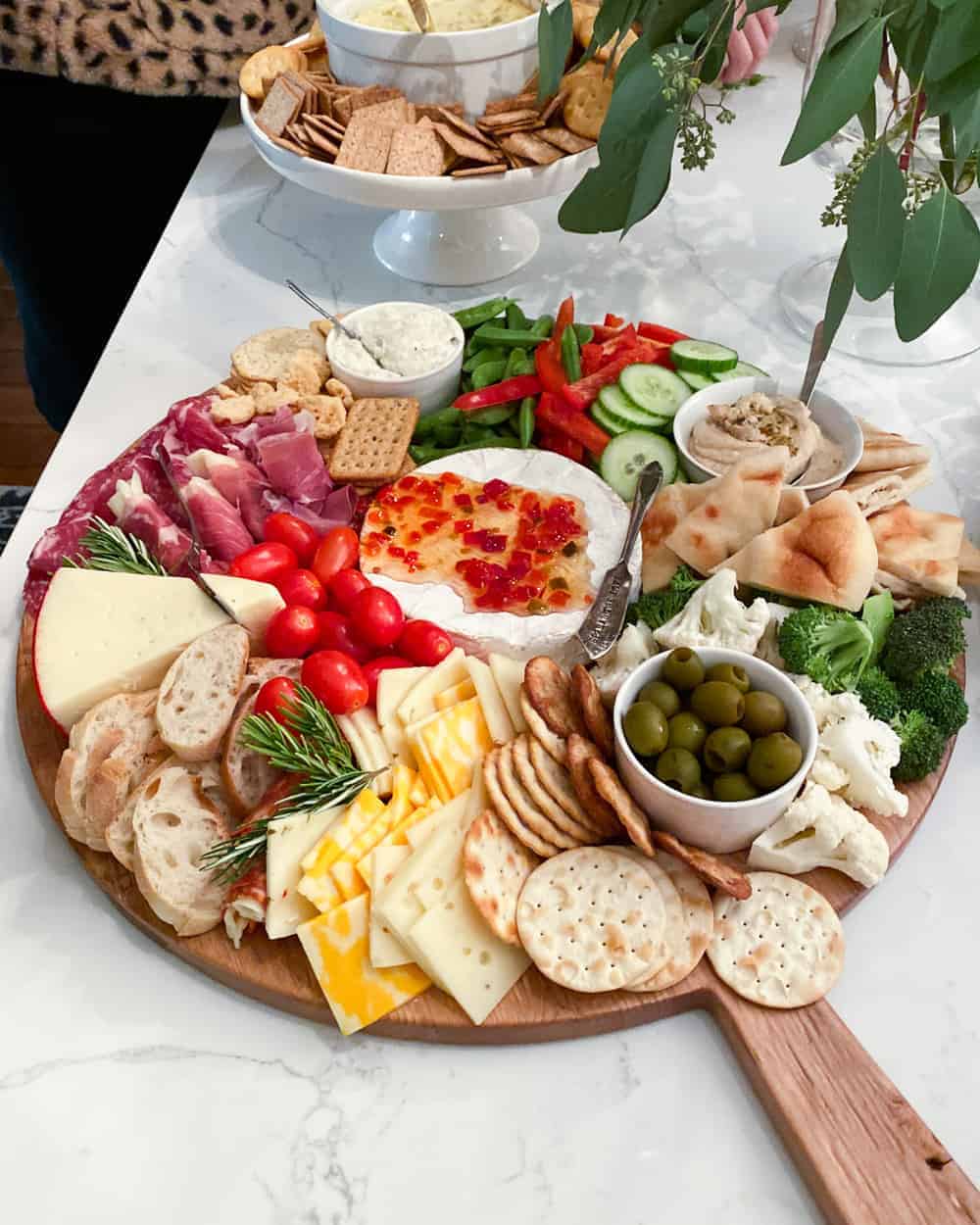 Things to Remember
You don't need to make everything homemade! Make it easy on yourself and pick up some pre-made dips and unique store bought finds. My go-to store for all things charcuterie is Trader Joes.
Add the dips right before serving. You want them to stay fresh for your guests. I always add the bowls to the board, but wait to fill them until right before guests arrive.
Repurpose your leftovers! I usually end up with a decent amount of leftovers that didn't originally fit on my board, so I'll make another snack platter for my family to enjoy. We love to do this on the weekends!
When traveling with a charcuterie board, I like to put plastic food wrap around the edges and tuck it underneath the board. This way your snacks won't spill off the sides.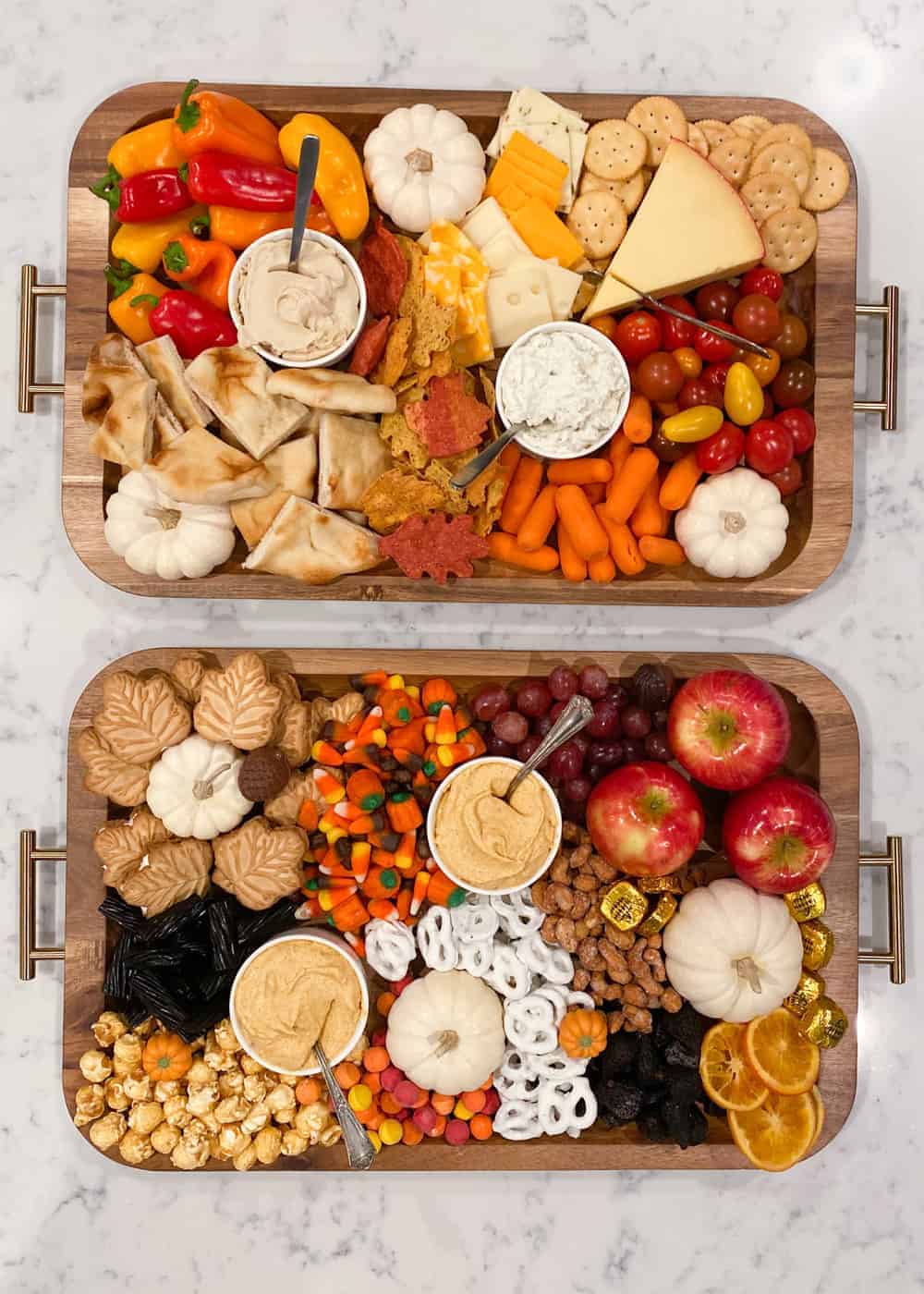 Make a Sweet Version!
One of my favorite things to do when entertaining is make a savory and sweet charcuterie board! Everyone always goes crazy over this idea. I especially love making dessert boards with all of my favorite holiday treats. Check out this fun Christmas dessert board, hot chocolate charcuterie or this easy fall charcuterie board.
Dessert Board Snacks:
Candies
Cookies
Fresh fruit
Dried fruit
Chocolate covered pretzels
Waffle crisps
Graham crackers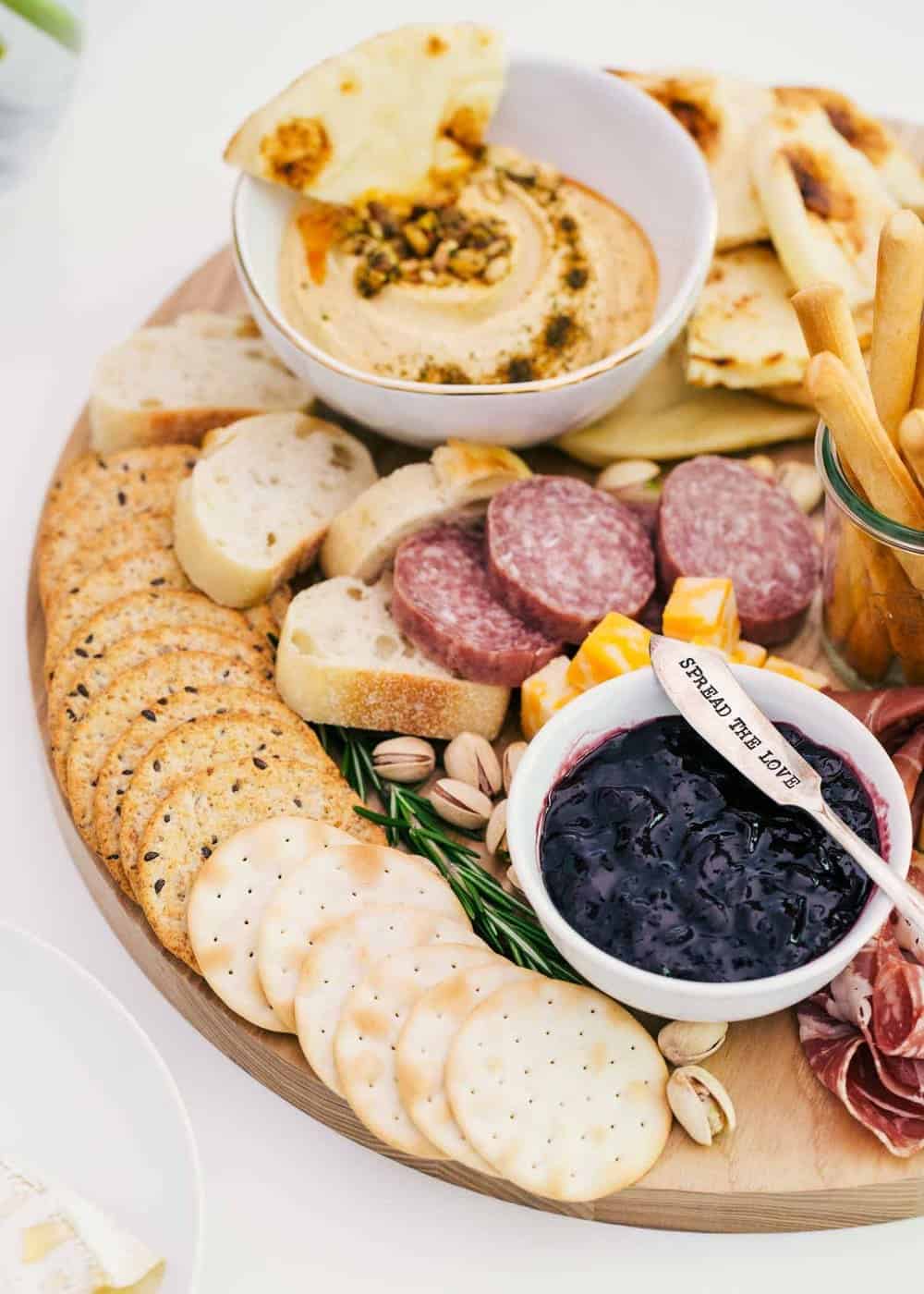 HUNGRY FOR MORE? Subscribe to my newsletter and follow on Facebook, Pinterest and Instagram for all the newest recipes!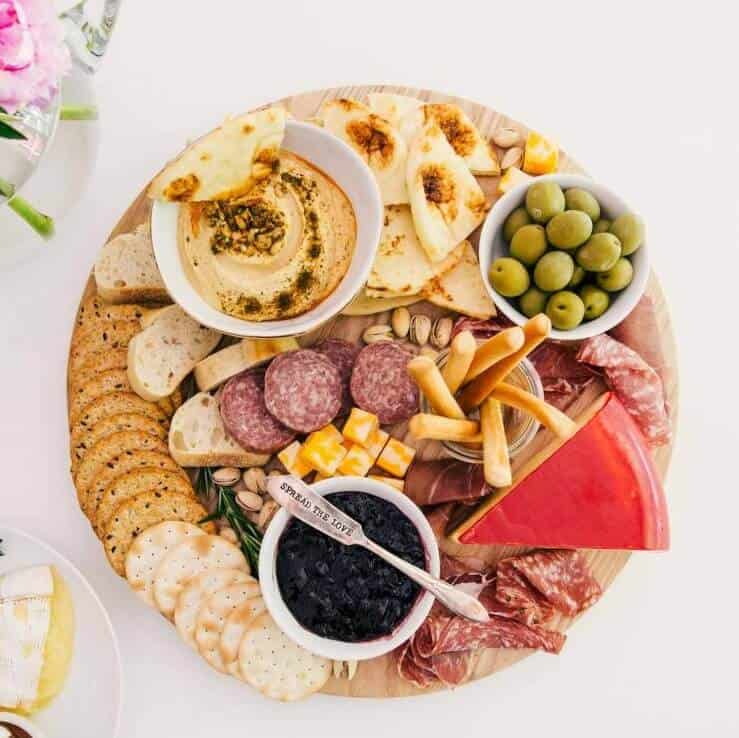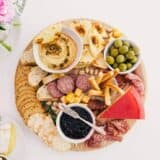 Charcuterie Board Recipe
A charcuterie board is a simple way to make the BEST spread for a large crowd! Just throw together your favorite meats, cheeses, crackers and more. This cheese board has tons of snacking options for everyone and will definitely be a hit!
Ingredients
½ cup multigrain crackers
1 french baguette (sliced)
2 pita bread (cut into triangles)
4 ounces salami
4 ounces prosciutto
¼ cup pistachios
4 ounces cheddar cheese (cut into cubes)
4 ounces gouda cheese
4 ounces brie cheese rind (see brie recipe below)
¼ cup green olives
¼ cup hummus
¼ cup jam
Instructions
Wash fruit and slice cheese and bread. Pour hummus, jam and olives into small bowls.

Add all ingredients to charcuterie board and assemble as desired.
---
Notes
Baked brie with honey recipe: https://www.iheartnaptime.net/baked-brie/
Nutrition
Calories: 217kcal | Carbohydrates: 18g | Protein: 8g | Fat: 12g | Saturated Fat: 5g | Cholesterol: 26mg | Sodium: 480mg | Potassium: 100mg | Fiber: 1g | Sugar: 3g | Vitamin A: 135IU | Vitamin C: 0.5mg | Calcium: 115mg | Iron: 0.9mg
Nutrition provided is an estimate. It will vary based on specific ingredients used.
Did you make this recipe? Don't forget to give it a star rating below!