A charcuterie board is a simple way to make the BEST spread for a large crowd! Add your favorite meats, cheeses, crackers and more. This cheese board makes the perfect appetizer and will definitely be a hit at your next party!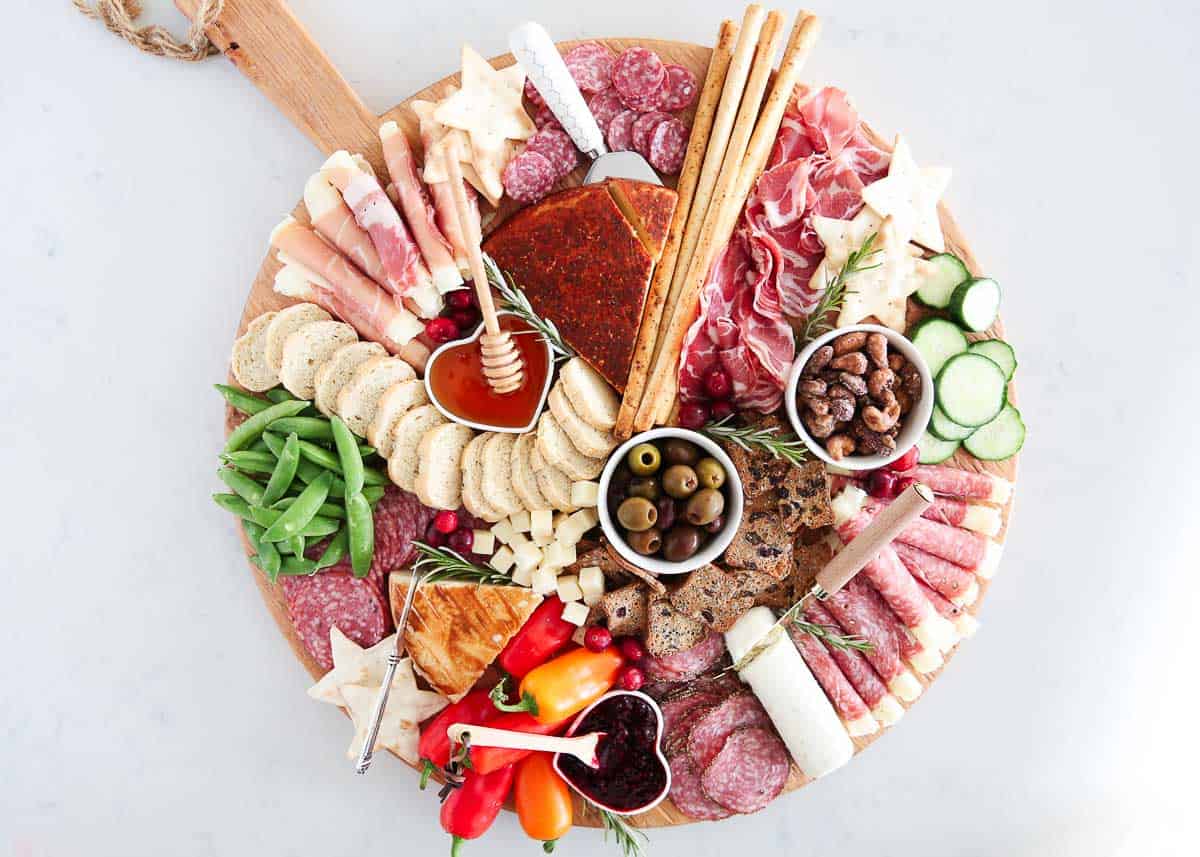 The Perfect Charcuterie Board
Charcuteries are my all-time favorite appetizer to make. Whether I'm hosting guests or bringing a dish, it's almost always a one of these charcuterie board ideas. They're delicious, super easy, fun and there's a little something for everyone!
This delicious meat and cheese board, commonly known as "charcuterie," is one of the easiest antipasto appetizers ever and looks so gorgeous! I like to add a variety of meats, cheeses and crackers, but there are so many other snacks that can be included.
You can add basically anything to a fruit and cheese platter and it turns into a perfect charcuterie board. For brunch I love to make this pancake charcuterie board and at the holidays I love to make a Christmas charcuterie board.
What is Charcuterie?
Charcuterie is a French word that stands for the art of preparing meats that are cured or smoked, such as salami, bacon, ham and more. You'll pronounce it shahr-koo-tuh.
Charcuterie boards are popular as the board pairs different types of cheeses, meats, crackers, nuts, dips and snacks of choice.
They are a great appetizer to prepare for a large crowd and include lots of options for everyone!
And just remember, have fun and make it colorful! It doesn't have to be perfect. Another fun way to build a charcuterie is to have your guests each bring their favorite item and build your DIY edible work of art together.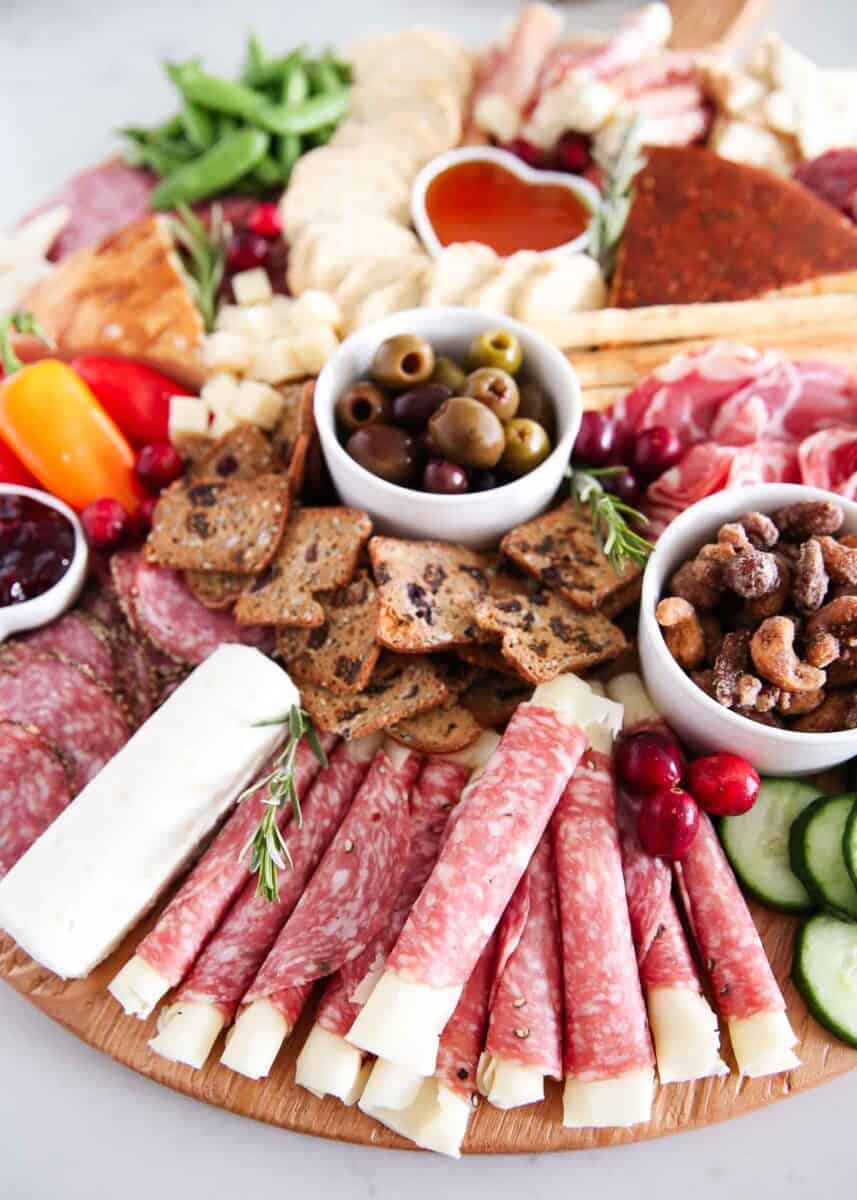 Typical Ingredients For a Charcuterie Board
Cheeses like brie, goat cheese, cheddar, gouda or manchego. You could even add pre-cut cheese slices, soft cheeses, blue cheese or make a cheese ball.
Cured meats like prosciutto, salami, pepperoni and more.
Crackers or bread like pita, naan, multigrain crackers, baguette slices, pretzels, tortilla chips, etc.
Fresh veggies like mini bell peppers, broccoli, cucumber, celery, carrots, grape tomatoes, cauliflower.
Dips like hummus, dill dip, honey mustard or salsa.
Nuts like marcona almonds, cashews, walnuts, pistachios or candied nuts.
Olives or pickled vegetables.
Fruit such as pears, raspberries, strawberries, dried apricots, apples and grapes.
Fresh herbs always finish the board. I love to use rosemary or thyme.
How to Make a Charcuterie Board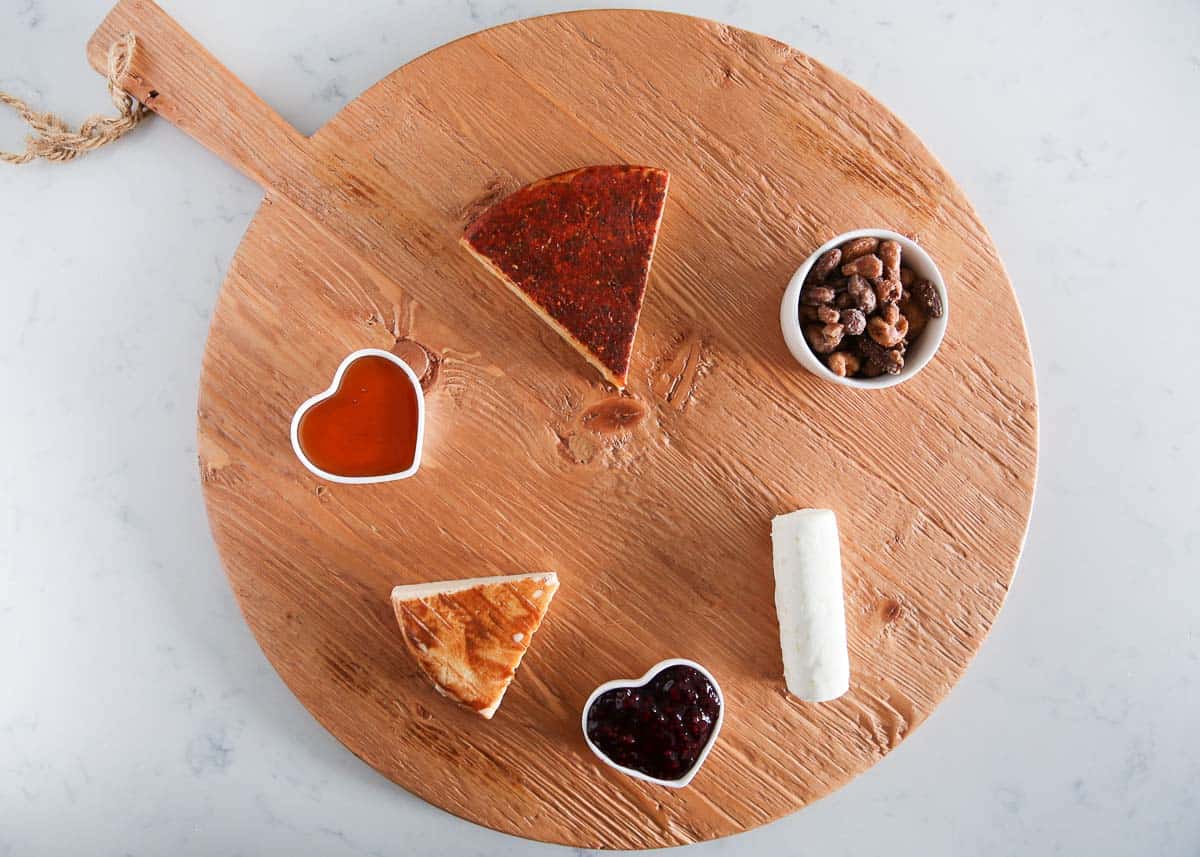 Here are 5 tips to keep in mind when building your board:
Choose about 8-10 food items per board. Pick things based on taste, flavors, texture and color. I always like to choose a few unique items. My go to shop for charcuterie boards is Trader Joes. I usually do a mix with a few things homemade and store bought.
Start with 3 small bowls or 3 focal points. I usually add a few bowls for dips or hummus and a block or two of cheese. I sometimes even include a decorative focal point around the holidays, like a mini pumpkin or gourd.
Start with bigger items first. Build around those focal points, splitting up color and texture. I'll usually add in veggies, cheeses, meats, fresh fruits, etc. first.
Layer in smaller items to fill the gaps. Next comes the smaller items, like nuts, dried fruit, crackers, etc. Layer them in between the bigger items to fill in any blank space.
Add something with color to break up any spots with muted color. Add a rosemary sprig, pomegranate or dried orange slices. It's fun to have a few decorative items that guests won't necessarily eat, but it makes the charcuterie look extra pretty!
Expert Tips
You don't need to make everything homemade! Make it easy on yourself and pick up some pre-made dips and unique store bought finds. My go-to store for all things charcuterie is Trader Joes.
Add the dips right before serving. You want them to stay fresh for your guests. I always add the bowls to the board, but wait to fill them until right before guests arrive.
Repurpose your leftovers! I usually end up with a decent amount of leftovers that didn't originally fit on my board, so I'll make another snack platter for my family to enjoy. We love to do this on the weekends!
When traveling with a charcuterie board, I like to put plastic food wrap around the edges and tuck it underneath the board. This way your snacks won't spill off the sides.
Favorite Boards to Use
I have two favorite boards when making a charcuterie. The first is this round reclaimed wood board. It's an investment, but I use it ALL the time. It's pretty big (picture below) and holds a lot of snacks! Whenever we're entertaining for a large crowd, this board is my go-to.
I also love this rectangular wood serving tray. I actually have two of them and will often make both a sweet and savory board. This board is a great price and I've even found it cheaper in stores at Walmart. Don't forget mini forks or cheese knives.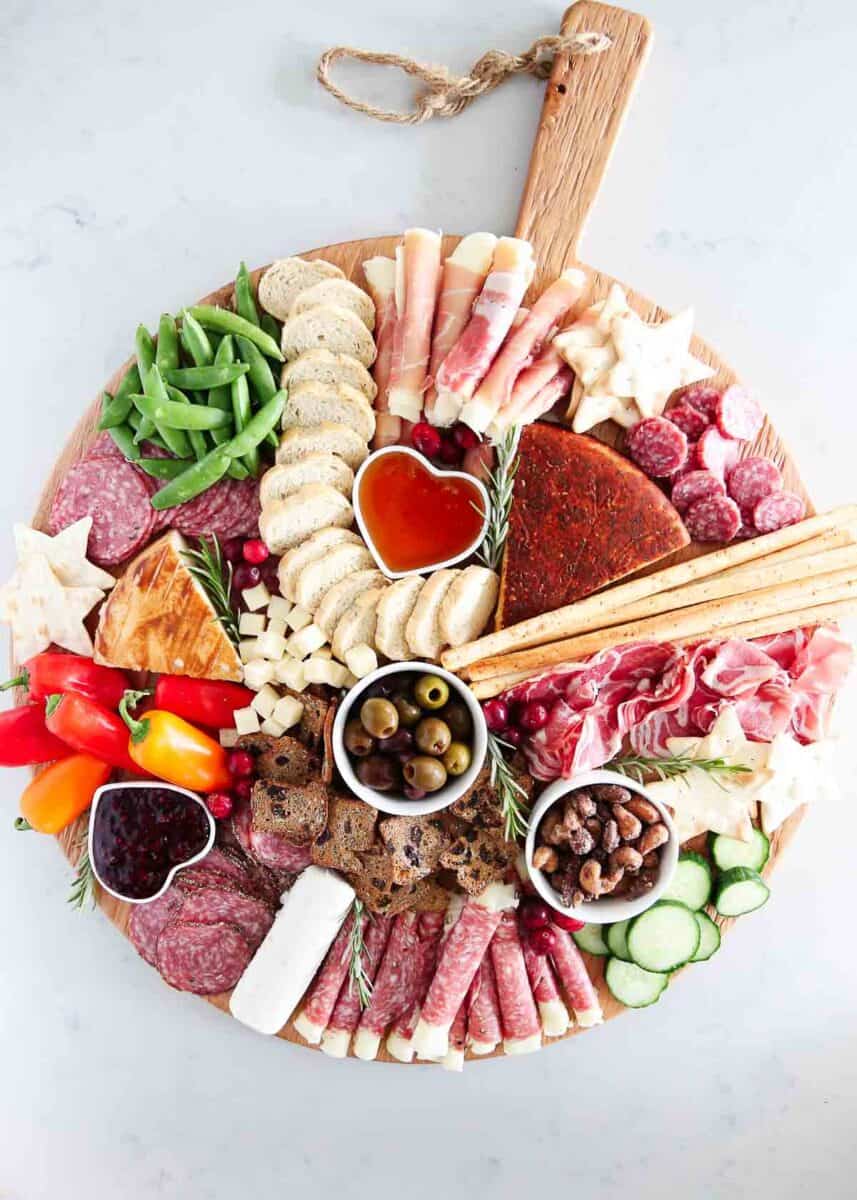 Frequently Asked Questions
What defines a charcuterie board?
While you can get creative with different platters, it's an appetizer usually served on a wooden board or stone slab eaten straight from the board. It will typically feature a variety of meats, hard cheeses and finger foods.
What does charcuterie mean literally?
Charcuterie (pronounced SHAR-KOO-ta-REE) origins reaching back to the 15th century in Europe. It means the products of a fancy pork butcher. In our modern day the definitely has broadened to include much more than meats.
What meats do you put on a charcuterie board?
The most common meats include: prosciutto, salami, good quality pepperoni, sliced sausage, rillettes, saucisson, soppressata and Spanish chorizo.
What are 3 kinds of charcuterie?
There are many different variations now days but the most popular kinds would be meats and cheeses, fruit and cheese, toasted bread and meat.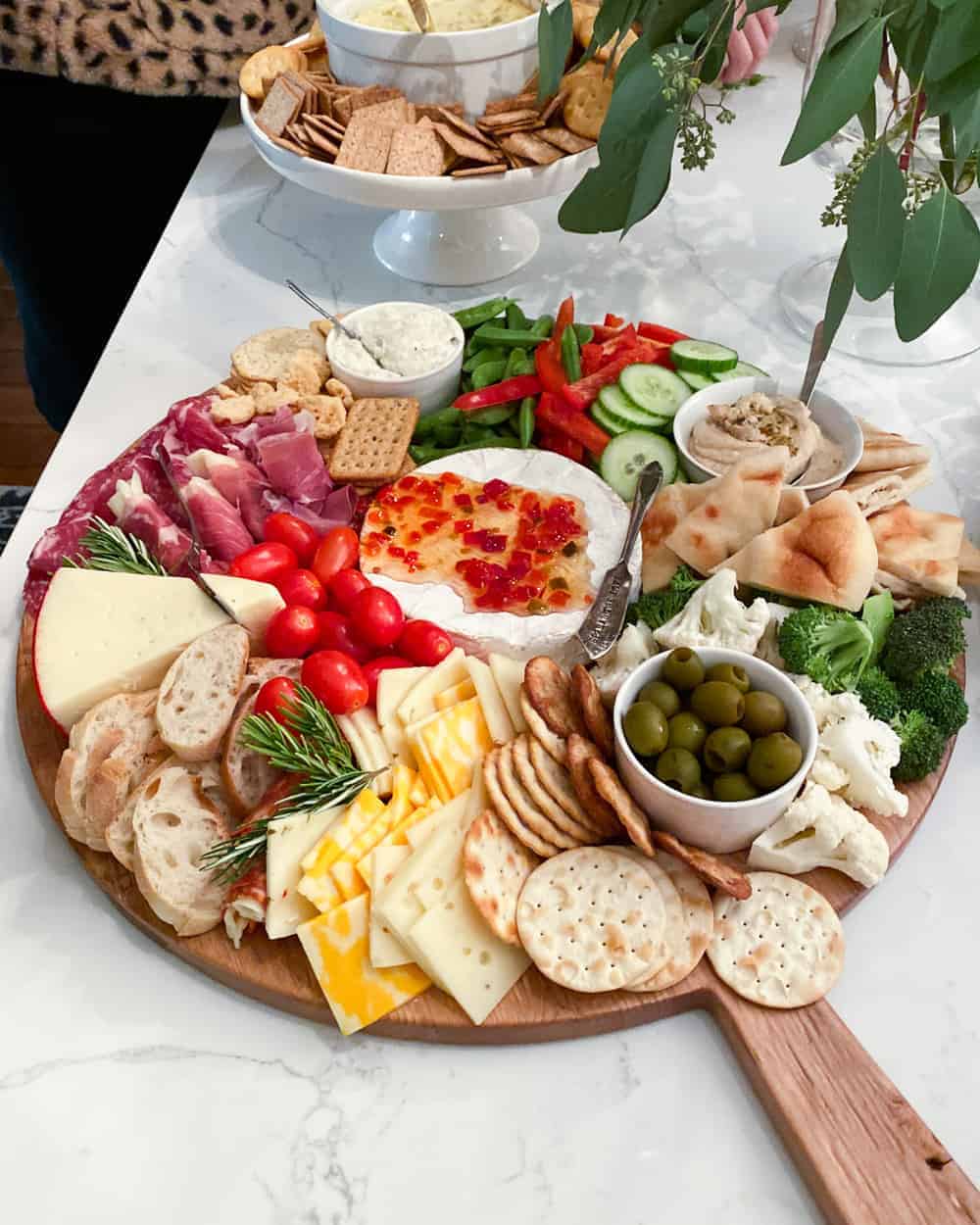 HUNGRY FOR MORE? Subscribe to my newsletter and follow on Facebook, Pinterest and Instagram for all the newest recipes!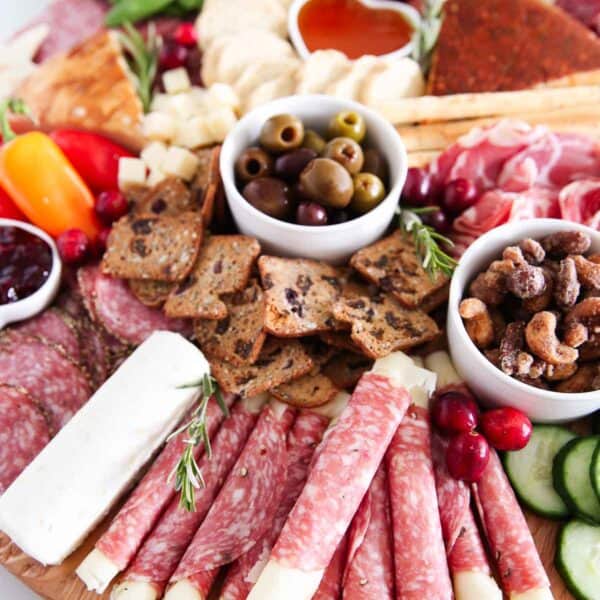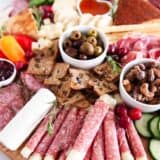 Charcuterie Board Recipe
A charcuterie board is a simple way to make the BEST spread for a large crowd! Add your favorite meats, cheeses, crackers and more. This cheese board makes the perfect appetizer and will definitely be a hit at your next party!
Equipment
Large wooden board or platter
Ingredients
Meats (choose 3-5)
4 ounces salami variety
4 ounces prosciutto
soppressata
Cheeses (choose 3-5)
4 ounces cheddar cheese
4 ounces gouda cheese
4 ounces manchego
brie cheese rind
goat cheese
mozzarella balls
Fruit and Vegetables
mini bell peppers
sliced cucumber
snap peas
fried fruit
berries
pears
Dips and Extras
jam
vegetable dip
green olives
candied nuts
pistachios
rosemary sprigs
Instructions
Place the largest cheese and mini bowls onto a large board or platter. In individual small serving bowls, add the olives, red peppers, mozzarella balls or anything that has juices.

To make the board, start by thinking how you want it to look before placing anything. Then arrange each bowl, allowing enough space for meat, cheese, and vegetables to surround them, on a large platter.

Place the meat and salami on opposite ends of the platter, fanning the slices slightly outward (if space allows). Add the mortadella and prosciutto, either folded or in piles, away from the other meat. Position the cheese around the meat.

Arrange the fruits and vegetables in individual piles between the meat and cheese. Finally, add the crackers and bread (or on another serving board if there isn't enough room). Add the smallest ingredients last to fill in any empty spaces. Finish it off by adding some fresh sprigs of rosemary. Serve immediately.
---
Notes
Where to shop: I love to find my ingredients at specialty shops such as Whole foods, Trader Joes. Costco also has a great selection of meat and cheese packs, especially around the holidays. Make it yours: This recipe card is simply a guide to start. Make it yours by adding all of your favorite foods you like to graze on. Just remember to grab a variety of sizes, color, texture and flavors. Make-ahead: Assemble the board (minus the bread and crackers) and cover in plastic wrap. Refrigerate for up to 24 hours. Remove 20 minutes before serving. Add bread and crackers. Storage: Cover the board (minus bread or crackers) with plastic wrap and store in the fridge up to 2 days.
Nutrition
Calories: 217kcal | Carbohydrates: 18g | Protein: 8g | Fat: 12g | Saturated Fat: 5g | Cholesterol: 26mg | Sodium: 480mg | Potassium: 100mg | Fiber: 1g | Sugar: 3g | Vitamin A: 135IU | Vitamin C: 0.5mg | Calcium: 115mg | Iron: 0.9mg
Nutrition provided is an estimate. It will vary based on specific ingredients used.
Did you make this recipe? Don't forget to give it a star rating below!