A rich German chocolate cake with a smooth, sweet and nutty caramel-like frosting. This decadent cake is the ultimate treat!
I am obsessed with this dessert! It's moist, fluffy and is coated in the absolute best coconut pecan frosting. It's the perfect dessert for chocolate lovers, along with my chocolate turtle poke cake, better than anything cake, Texas sheet cake and Neapolitan chocolate cake.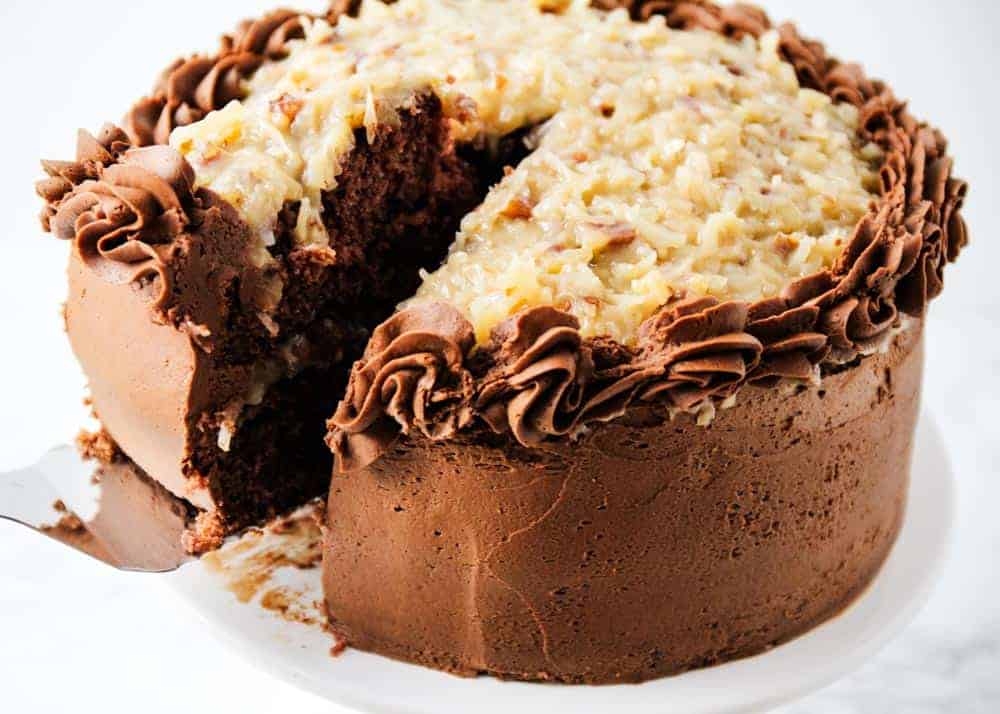 One of my family's all time favorite cakes is German chocolate cake. My mom would make it for every birthday and it brings back some really fun memories growing up. We made this recipe for my Dad's birthday about a month ago and it was loved by all! I LOVE, love, love the coconut pecan frosting! I could eat it by the spoonful! Literally. I love it so much I even found an excuse to make German chocolate brownies and cookies too. :)
For this recipe, I bought the cake mix instead of making a chocolate cake from scratch (shhh)!! I didn't have all the ingredients and honestly find the mix to be quite tasty. The frosting is the real show stopper. DO NOT skip on making it! It's definitely the best part and the canned stuff just doesn't compare.
What Makes German Chocolate Cake Different?
You might be wondering how this cake is different than regular chocolate cake or devil's food cake. The main differences are the sweetness, texture and type of frosting used.
German cake is made with German chocolate, which has a sweeter flavor, while chocolate or devil's food cake is typically made with unsweetened chocolate. It also has a fluffier and less dense texture than other chocolate cakes.
The biggest difference is the frosting. It's has a distinct coconut pecan flavor, while the frosting on chocolate cakes typically vary anywhere from a meringue to a chocolate buttercream.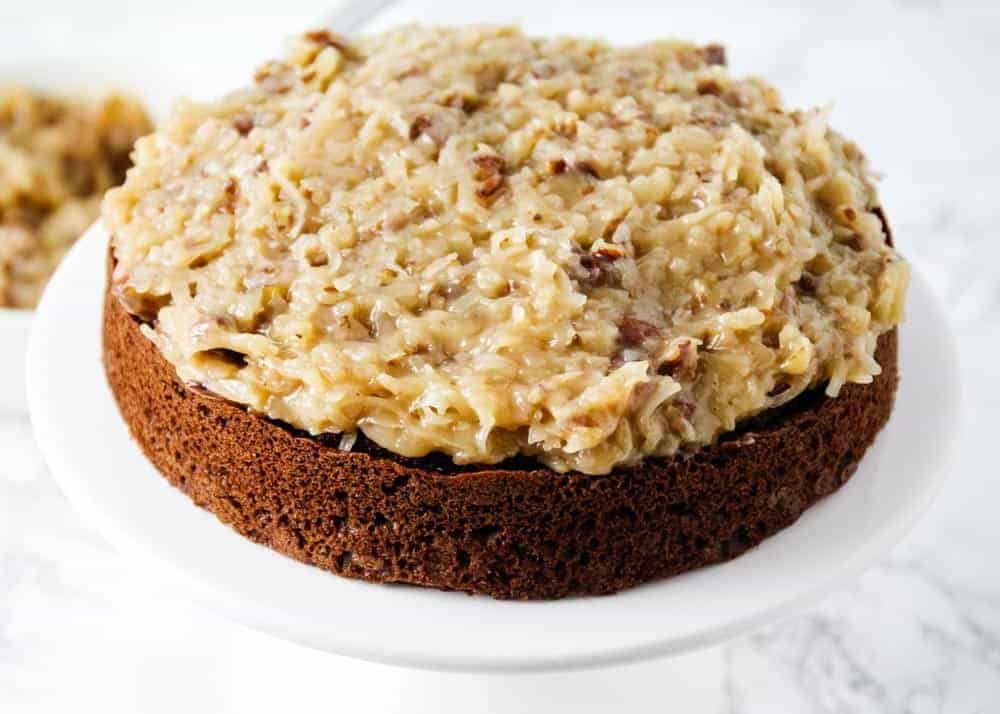 Frosting
The coconut pecan frosting is the best part of this recipe! There are two different types used: 1.) a coconut pecan frosting and 2.) a chocolate buttercream frosting. Don't skimp on making either…they seriously take this dessert to the next level!
Coconut pecan frosting:
Egg yolks
Sugar
Evaporated milk
Butter
Vanilla
Fresh flaked coconut
Pecans
Chocolate buttercream frosting:
Butter
Sugar
Unsweetened cocoa powder
Semisweet or bittersweet chocolate
Vanilla
Heavy cream or milk
Salt
TIP: I piped on some of the chocolate buttercream around the edges to make it look a little more festive. I used a 1M frosting tip to make the design. Haven't frosted a cake or cupcake before? Check out this tutorial.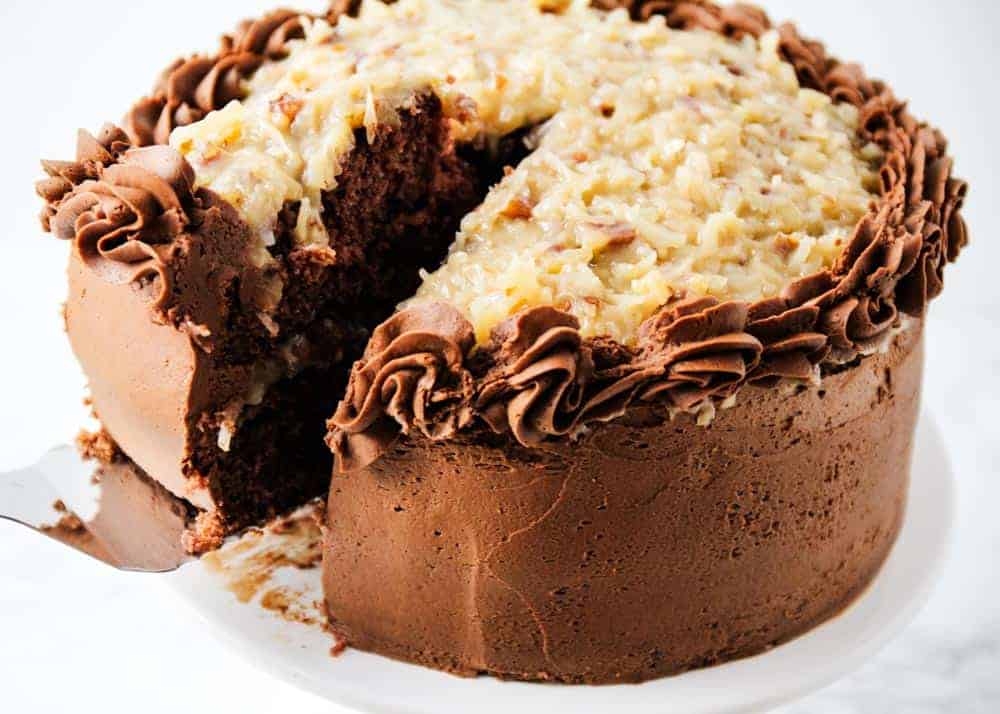 Does it Need to be Refrigerated?
You can store at temperature if preferred. I used a glass cake stand (with a lid) to store mine. Just make sure you're storing it in some sort of airtight container. It will keep at room temp for a couple of days. You can also refrigerate it to extend it's shelf life. It'll last about 3-5 days in the fridge.
Can it be Frozen?
If you are planning on making this dessert in advance and freezing, I'd recommend only freezing the baked cake layers. Just make sure the layers have cooled completely, then wrap tightly in plastic wrap and place in a freezer bag. It will keep in the freezer for up to 3 months.
When you're ready to enjoy, simply thaw in the fridge overnight. You can make your frostings the day of, or a couple of days in advance and store in the fridge until ready to frost.
HUNGRY FOR MORE? Subscribe to my newsletter and follow on Facebook, Pinterest and Instagram for all the newest recipes!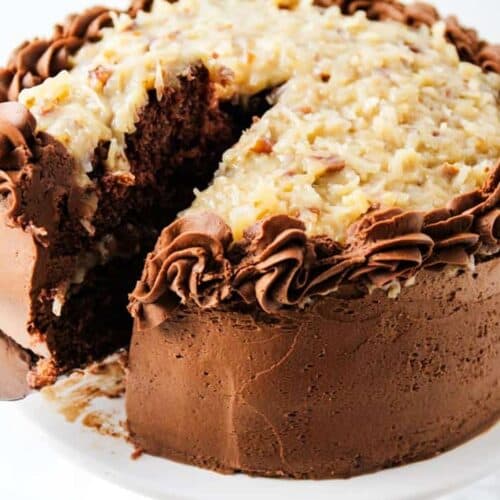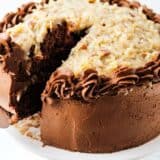 German Chocolate Cake
A rich German chocolate cake with a smooth, sweet and nutty caramel-like frosting. This decadent cake is the ultimate treat!
Ingredients
1 box German Chocolate Cake (plus ingredients listed on box)
Coconut Pecan Frosting:
3 egg yolks
1 cup granulated sugar
1 cup evaporated milk
1/2 cup butter or margarine
1 teaspoon vanilla extract
1 1/2 cups flaked coconut (make sure it's fresh)
1 cup pecans (chopped)
Chocolate Buttercream Frosting:
1/2 cup unsalted butter
2 cups powdered sugar
2 Tablespoons unsweetened cocoa powder
4 ounce bar semisweet or bittersweet chocolate (melted)
1 teaspoon vanilla extract
1 to 2 Tablespoons heavy cream or milk
Pinch salt
Instructions
Make cake according to directions and allow to cool.

For the coconut frosting: Combine egg yolks, sugar, milk, butter and vanilla in a large saucepan over medium heat. Stir constantly until it has began to thicken, about 12 minutes. Add in coconut and pecans and stir until thick enough to spread. Remove from heat and allow to cool slightly.

For the chocolate buttercream: Place the butter in a large bowl and beat with an electric mixer. Slowly add the powdered sugar, cocoa powder, melted chocolate, vanilla and salt. Add heavy cream as needed to thin.

Frost the center of the cake with the coconut frosting and the sides with the chocolate buttercream frosting. Enjoy with a cold glass of milk!
---
Nutrition
Calories: 662kcal | Carbohydrates: 73g | Protein: 6g | Fat: 40g | Saturated Fat: 21g | Cholesterol: 95mg | Sodium: 396mg | Potassium: 360mg | Fiber: 4g | Sugar: 55g | Vitamin A: 595IU | Vitamin C: 0.7mg | Calcium: 137mg | Iron: 3.6mg
Nutrition provided is an estimate. It will vary based on specific ingredients used.
Did you make this recipe? Don't forget to give it a star rating below!