How to make the best chocolate buttercream frosting in only 10 minutes that's perfect for cakes, cupcakes, or cookies. It's creamy, smooth, and decadent!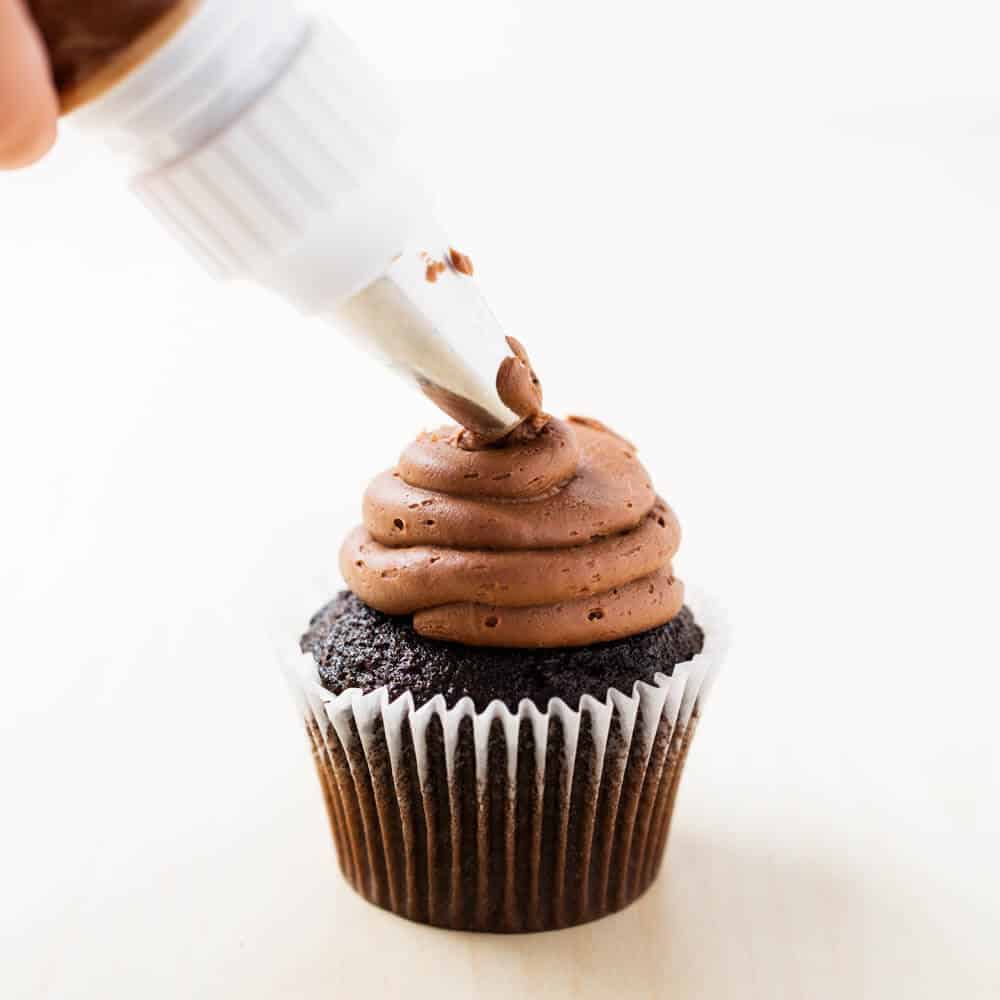 Chocolate Buttercream Recipe
This really is the best chocolate buttercream frosting! It's so decadent and has the perfect balance of sugar and butter. I love to use it when making chocolate cupcakes, chocolate poke cake or German chocolate cake.
I don't know about you, but I am ALL about the frosting. I'm going to be honest. I'm not a huge cake fan. But top it with lots of frosting and I'm golden.
While I absolutely love my classic buttercream, I have to say that this chocolate frosting is a close second. It's become one of my go-to recipes.
It is everything a chocolate lover's dreams are made of. Silky smooth, fluffy and has the best chocolate touch. It's perfect for piping and decorating chocolate cake, vanilla cupcakes or M&M cookie cake.
My daughter and I had a hard time resisting eating the whole bowl of this chocolate buttercream! It has such a rich chocolate flavor that we each took a beater and licked it clean.
Why This Recipe Works
Decadent. With butter, powdered sugar, and cream, it's rich and delicious.
Easy. Only 10 minutes are needed to make this perfect chocolate buttercream frosting recipe!
Perfect. The whipped texture is perfect for piping and decorating all your baked goods.
Ingredients
Rich, creamy, and loaded with chocolate flavor, this homemade chocolate buttercream frosting only requires a few key ingredients.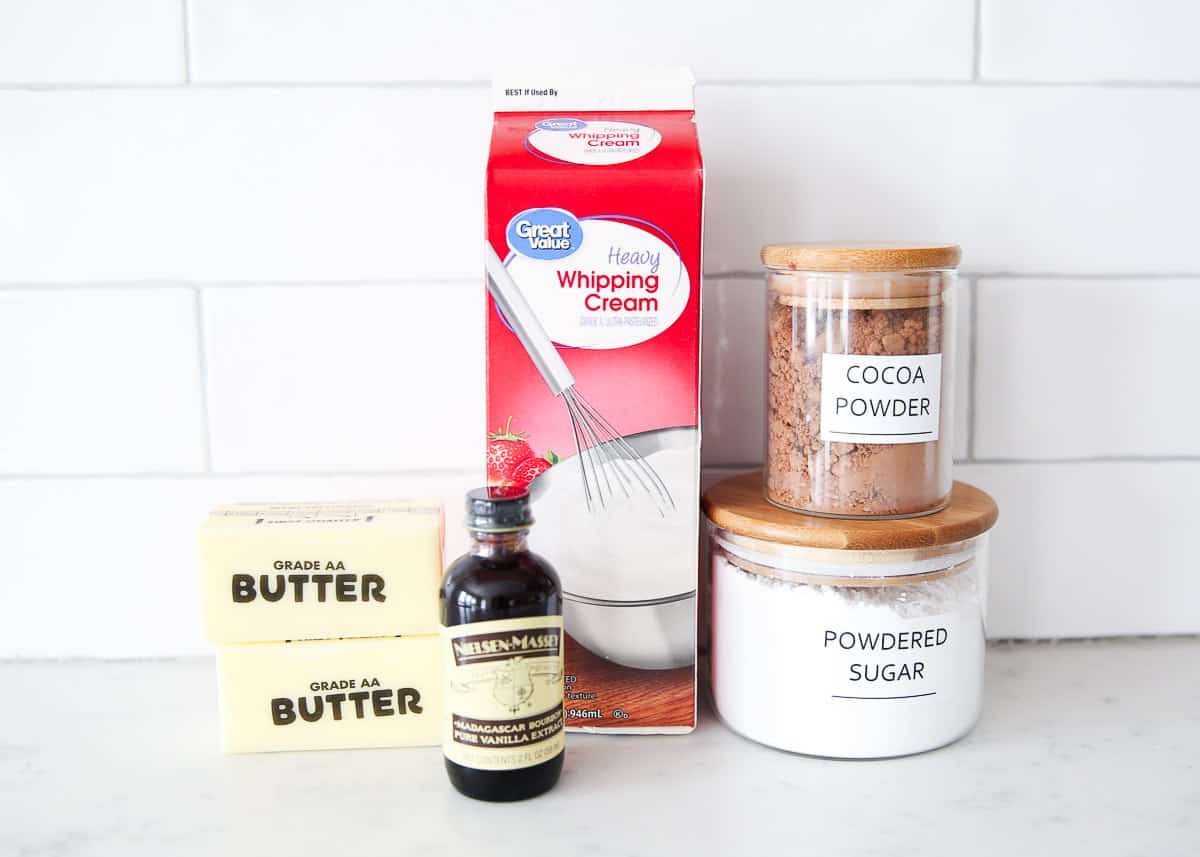 Find the full printable recipe with specific measurements below.
Butter: Unsalted butter that has been softened to room temperature.
Confectioners sugar: Also known as powdered sugar. No need to sift before adding.
Cocoa powder: Natural unsweetened cocoa powder found in the baking aisle.
Heavy whipping cream: Or half and half, this lightens and thins your frosting.
Vanilla extract: The real deal, pure vanilla extract for best taste.
Salt: Just a pinch for taste. You will love how it balances the sweetness of the buttercream!
How to Make Chocolate Buttercream Frosting
This chocolate buttercream frosting recipe is really easy to make and takes less time than you think!
Beat butter: Whisk softened butter for 30 seconds in a large bowl. Then mix in 1 cup powdered sugar, cocoa, 1 Tablespoon half and half and vanilla. Beat with an electric mixer on medium speed until smooth.
Add sugar and milk: Next add another cup of powdered sugar and 1 more Tablespoon of half and half. Beat until smooth.
Remaining powdered sugar: Repeat until all 4 cups of powdered sugar have been added. Add more cream as needed to thin frosting.
Beat together: Finishing mixing until your chocolate buttercream frosting is smooth and creamy.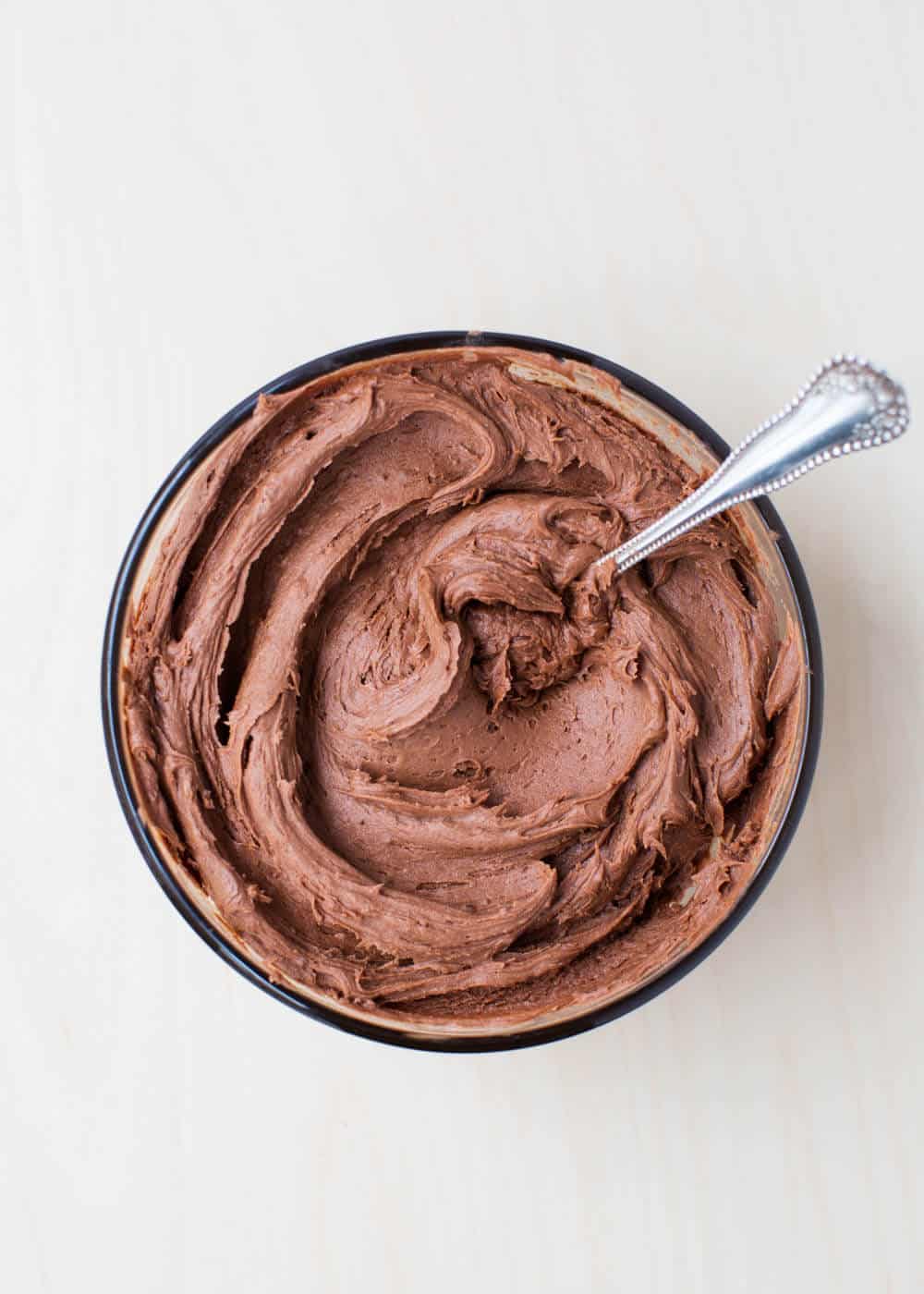 Expert Tips
Scrape down the bowl. As your beating your frosting in the mixer stop and scrape the bowl occasionally so it's evenly blended and even in color.
Softened butter. This is the key to great buttercream! Butter must be at room temperature. Your butter should be cool when pressed yet should leave an indent of your fingerprint. Learn how to soften butter for the best results.
Too thin or too thick: Too thin of chocolate buttercream means your butter was too soft. Place frosting in the fridge and check in an hour if it has thickened. If not, add 1/2 cup powdered sugar. Too thick of frosting is an easy fix by adding a teaspoon of cream at a time.
Frost like a pro. Wondering how to frost the perfect cupcakes? Check out my tutorial for step by step photos. I was using a 2A frosting tip.
Frequently Asked Questions
How much frosting does this make?
This recipe should generously frost 12 cupcakes or lightly frost 24 cupcakes. To frost a 2-layer cake, you will need to increase the recipe by 50% (so 1 1/2 times the recipe) or just double it to have extra!
Can I double this chocolate frosting recipe?
Yes, you can easily double the recipe for a large batch. You may need to increase your mixing times. Also, make sure you have a large enough bowl.
Can I use milk instead of heavy cream?
Yes, frosting may not be as rich tasting, but this does work to thin your frosting. You may need less, add the milk until it reaches your desired consistency.
What cocoa powder should I use?
Unsweetened cocoa powder is best for this frosting, although dutch process cocoa could be used. You can find either in the baking aisle by hershey's brand or Nestle.
What is the difference between frosting and buttercream?
Buttercream's base is whipped butter, making it a sturdy frosting for piping. A frosting typically has a thinner consistency and may have cream cheese as the base or simply a heavy cream mixed in with the powdered sugar.
Make-Ahead and Store
Make ahead: If I'm using my frosting within the first 48 hours of making it, then I let it sit out at room temperature. If not, that's when I'll refrigerate it. And don't worry, it won't melt if sitting out at room temp! Just make sure the temperature inside your house isn't too warm or humid.
Freeze: Yes, you can freeze this chocolate frosting. I prefer to add it to a freezer bag and store in the freezer. Then when you're ready to use it, just stick in the fridge overnight to thaw!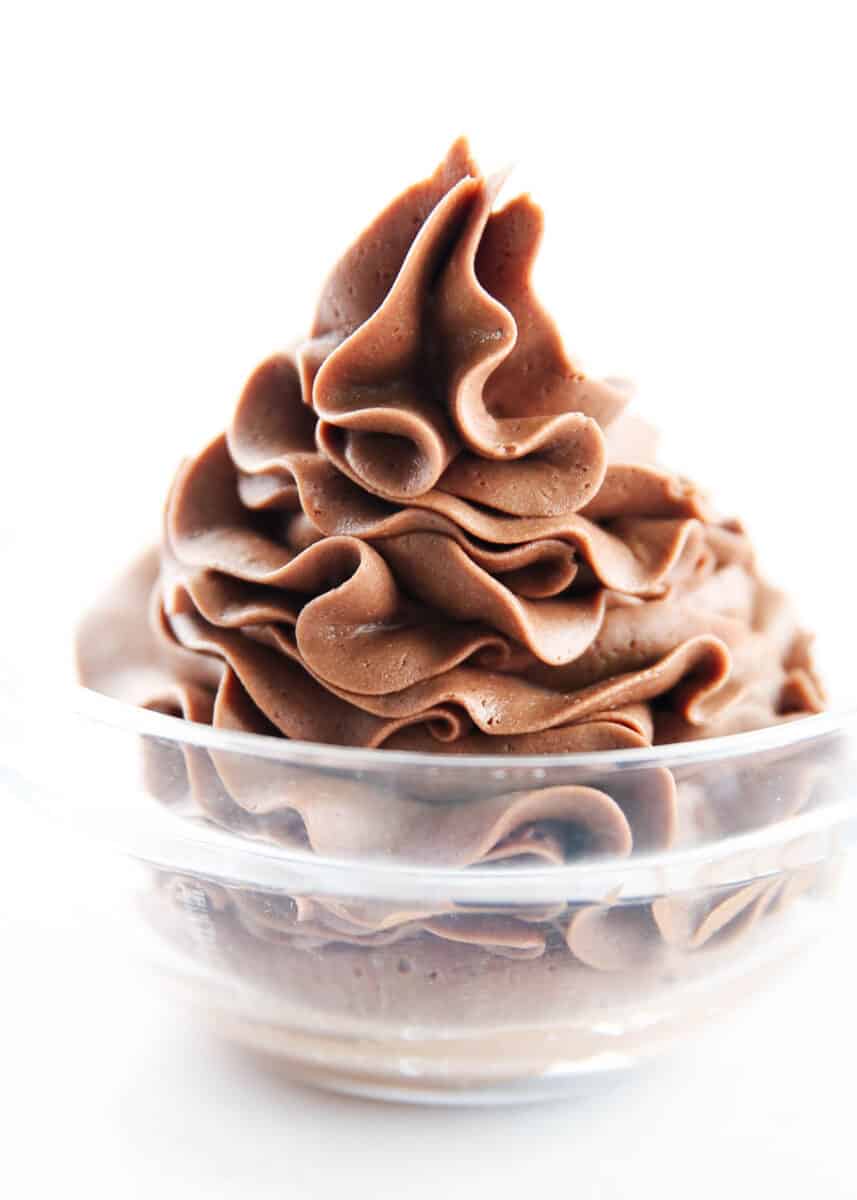 How to Use
This frosting is so delicious on top of your favorite cakes, brownies, cupcakes, or sweet breads. You name it, you can probably frost it! Here are a few favorite ways I use this easy chocolate buttercream frosting:
HUNGRY FOR MORE? Subscribe to my newsletter and follow on Facebook, Pinterest and Instagram for all the newest recipes!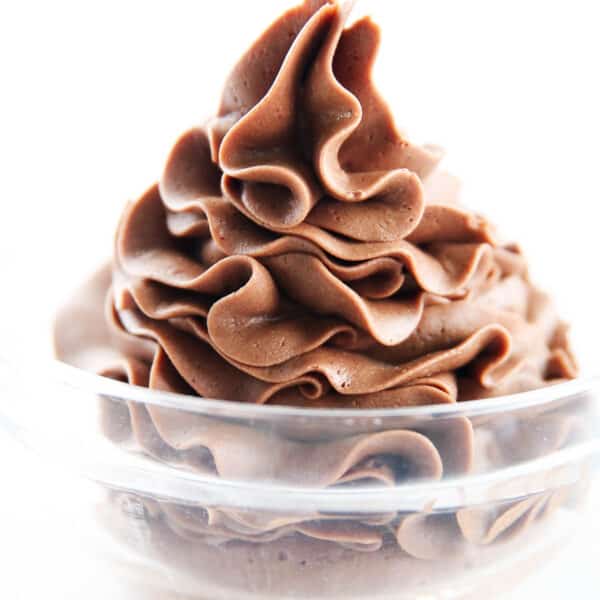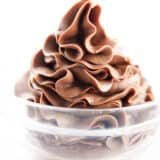 Chocolate Buttercream Frosting
How to make the best chocolate buttercream frosting that's perfect for cakes, cupcakes, or brownies in only 10 minutes. It's creamy, smooth, and decadent!
Ingredients
1 cup unsalted butter (softened, 2 sticks butter)
4-5 cups powdered sugar
5 Tablespoons natural unsweetened cocoa powder
3 Tablespoons half-and-half , or heavy cream (more if needed)
1 ½ teaspoons vanilla extract
Pinch salt
Instructions
In a large bowl, beat the butter for 30 seconds with an electric mixer.

Mix in 1 cup of powdered sugar, cocoa, 1 Tablespoon of half and half and vanilla and beat with an electric mixer on medium speed until smooth. Add another cup of powdered sugar along with 1 Tablespoon of half and half and beat until smooth.

Repeat until all 4 cups of powdered sugar have been added. Mix until the the frosting is smooth and creamy. Taste and add more salt or vanilla if needed.
---
Notes
If needed, add more powdered sugar to thicken or more half and half to thin it out.
Nutrition
Calories: 151kcal | Carbohydrates: 20g | Fat: 8g | Saturated Fat: 5g | Cholesterol: 21mg | Sodium: 2mg | Potassium: 20mg | Sugar: 19g | Vitamin A: 245IU | Calcium: 6mg | Iron: 0.2mg
Nutrition provided is an estimate. It will vary based on specific ingredients used.
Did you make this recipe? Don't forget to give it a star rating below!