Jump to Recipe⌄
The best chocolate cupcakes ever!
Today I am sharing with you the BEST chocolate cupcakes ever! They are super soft, rich and topped with a lush buttercream frosting! You won't believe how easy these chocolate cupcakes are to make.
My husband has claimed (on more than one occasion) that these are the BEST chocolate cupcakes he's ever had. My friend brought them over a couple months ago and we literally both gasped! They were so soft and full of chocolate goodness, we couldn't just stop at one! Since that day we've made this recipe about 3 times and plan to make it many more! And to tell you the truth I'm usually not a chocolate cake fan. I mean, I LOVE chocolate, but for some reason I'm just not a huge cake lover. These cupcakes definitely changed my mind! I'm telling you… they are that good! The secret ingredients are the pudding mix and sour cream! The flavor is fantastic.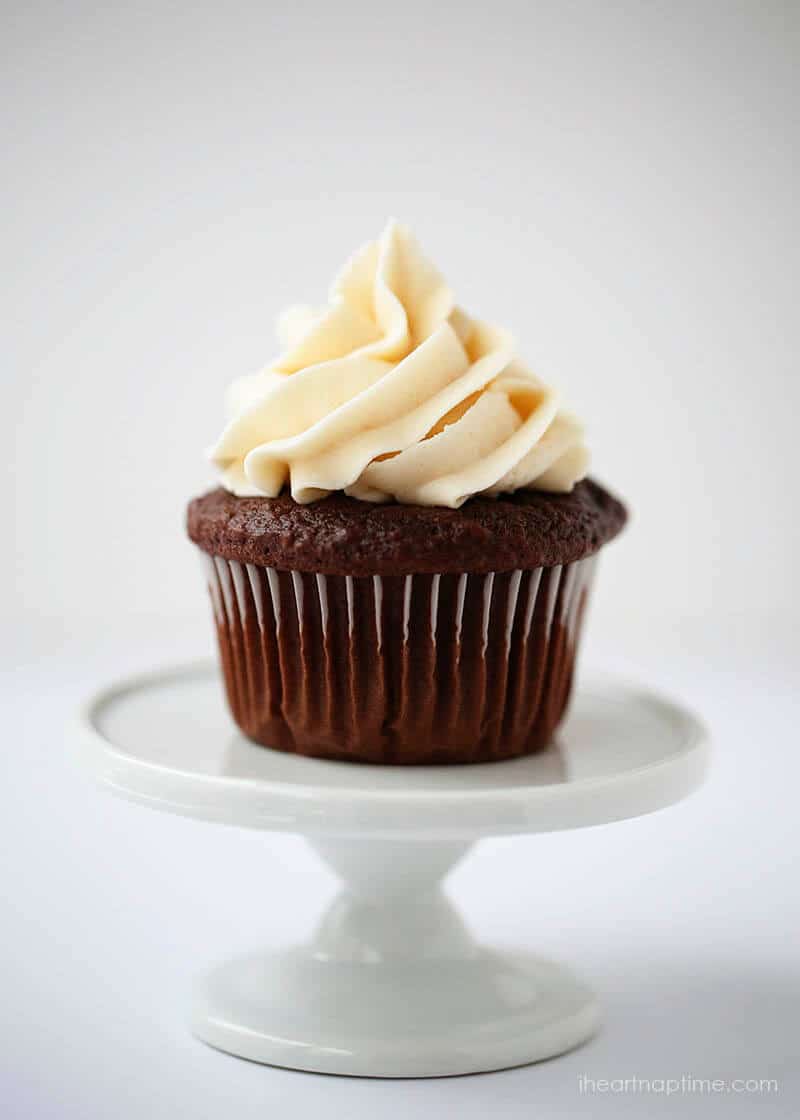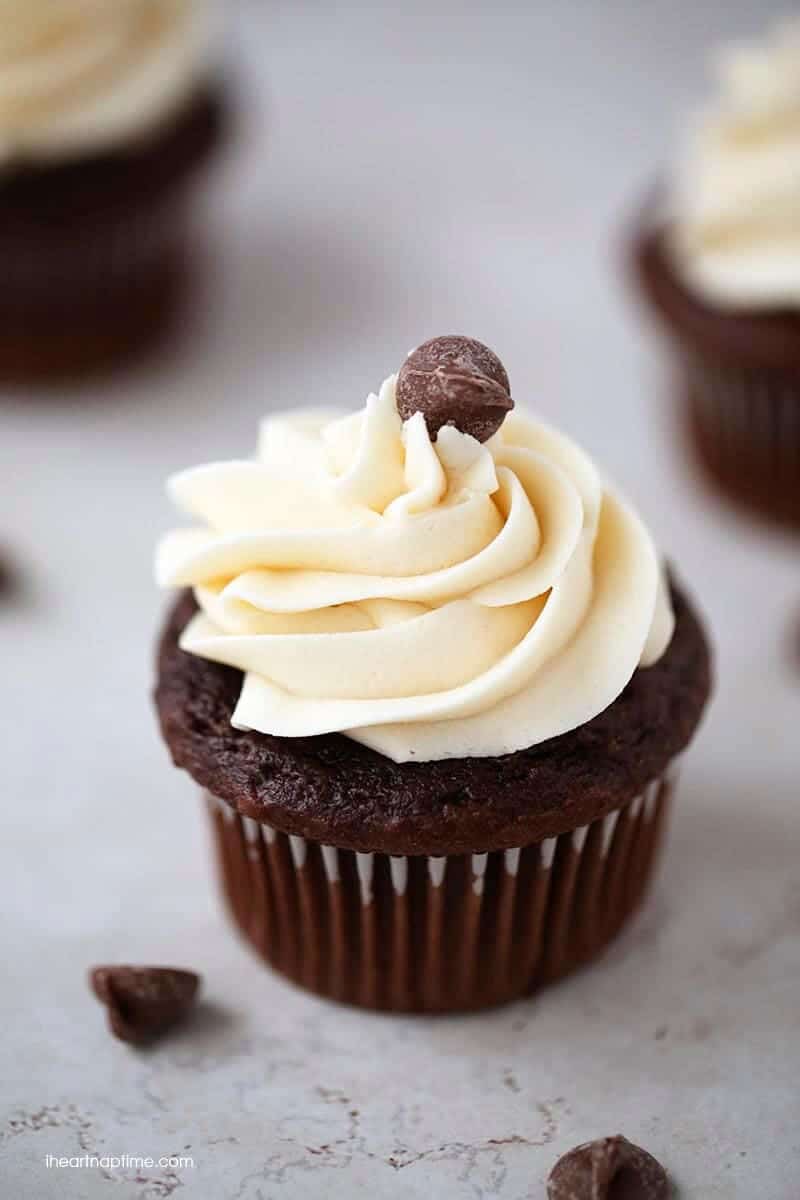 MY OTHER RECIPES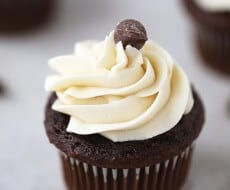 The BEST chocolate cupcakes ever!
Ingredients:
1 box (15 ounce) devils food cake mix
1 (5.9 ounce) box instant chocolate pudding (dry)
4 eggs
3/4 cup canola oil
3/4 cup hot water
8 oz sour cream
1 1/2 cups chocolate chips
Directions:
Preheat oven to 325°.
In a large bowl combine the cake mix and chocolate pudding.. Stir until combined. Next mix in the eggs, canola oil and water. Stir in the sour cream and then chocolate chips.
Pour cake mix into the cupcake liners (about 3/4 the way full). Bake for 20-25 minutes or until they Spring back when touched. Do not over cook. You can also test with a tooth pick to make sure the centers are cooked all the way through.
Remove from oven and allow cupcakes to cool on a cooling rack.
Frost with buttercream frosting (recipe below).
Buttercream frosting
Find the perfect buttercream frosting to go with these chocolate cupcakes HERE.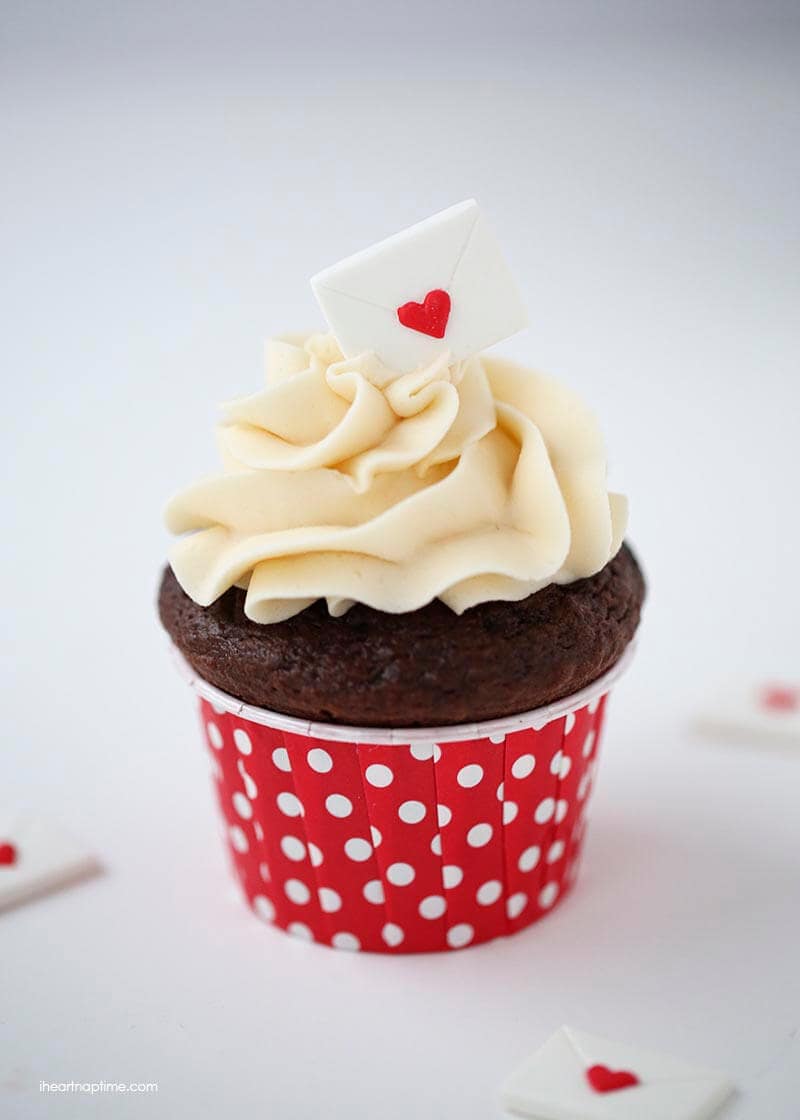 Here's a little Valentine version you can make for your sweetheart. I found the cute candy envelopes and baking cups at Michaels. :D

Enjoy!!
So let's hear it… are you a chocolate cake lover?!
Looking for more cupcake recipes? You'll love these too: