This is simply the BEST chocolate cupcake recipe that you can make from a cake mix. They are super soft, rich and topped with a lush buttercream frosting. You won't believe how easy these are to make!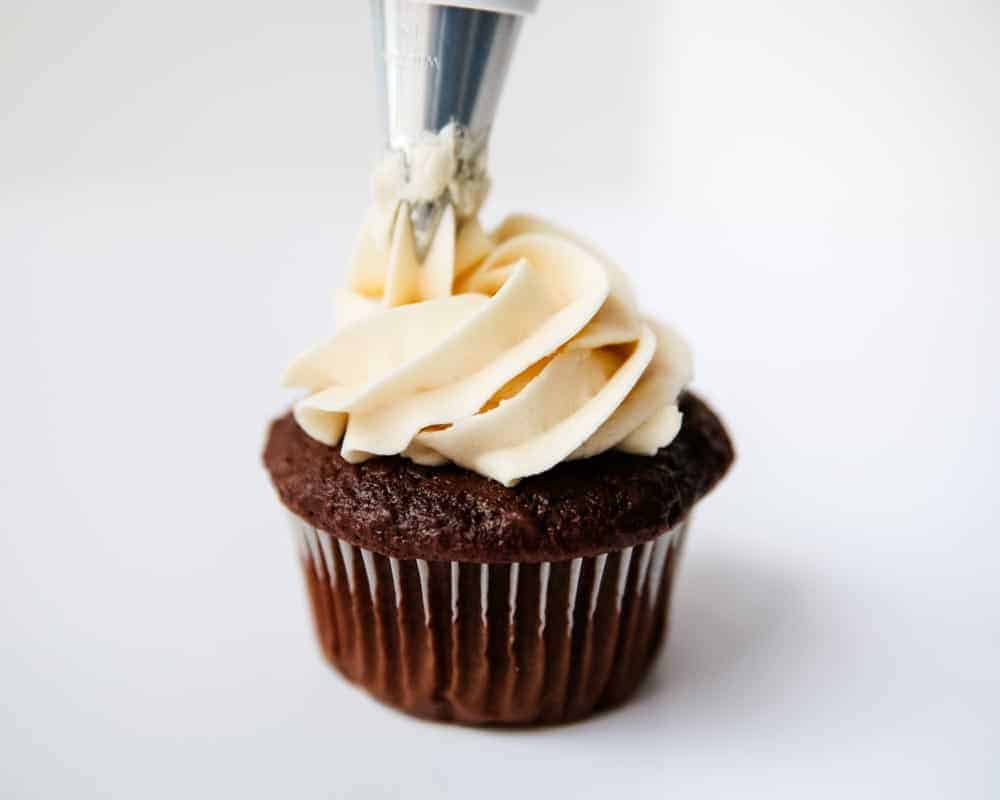 Easy Chocolate Cake Mix Cupcakes
Although I love a classic vanilla cupcake, nothing beats chocolate in my opinion. Between the super soft texture, bold rich flavor and bites of semi-sweet chocolate chips throughout, these mouth-watering cake mix cupcakes are a chocolate lover's dream!
My husband has claimed (on more than one occasion) that these are the BEST chocolate cupcakes he's ever had. My friend brought them over a couple months ago and we literally both gasped! They were so soft, moist and full of chocolate goodness, we couldn't just stop at one. Since that day, we've made this recipe about 3 times and plan to make it many more!
And to tell you the truth, I'm usually not a chocolate cake fan. I mean, I LOVE chocolate, but for some reason I'm just not a huge cake lover. These chocolate cupcakes definitely changed my mind though. The secret ingredients are the pudding mix and sour cream!
Why This Recipe Works
An easy shortcut. Chocolate cupcakes from scratch are great when you have the time, but this easy shortcut is a quicker alternative and just as delicious. No one will ever guess you made the best chocolate cupcakes from cake mix!
Great for all occasions. Serve these at birthday parties, baby showers, family gatherings, holiday celebrations and so much more. These chocolate cupcakes are so versatile and can be decorated for any occasion.
Perfect texture. A few secret ingredients are all that's needed to make this the best chocolate cupcake recipe that's super moist, tender and fluffy. They have the absolute perfect texture every time!
Ingredients Needed
These cupcakes are so easy and flavorful…you would never know that they are made with a box cake mix base! No fancy ingredients like buttermilk or unsweetened cocoa powder needed. The secret ingredients that makes them SO delicious are the dry pudding mix and sour cream…they both help to make them so moist and soft!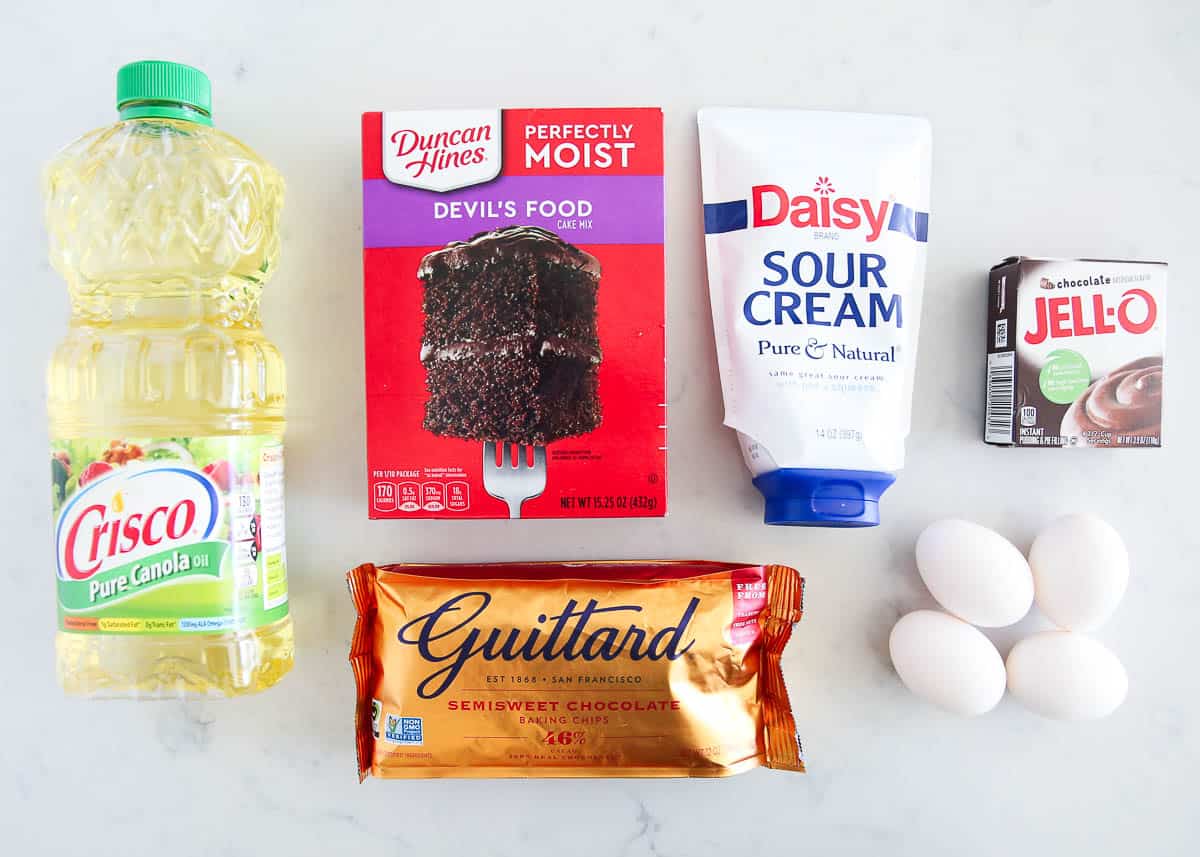 Find the full printable recipe at the bottom of this post.
Cake mix: Grab a box of your favorite Devil's food cake mix. A classic chocolate cake mix would also work, although Devil's food has a bolder, more rich chocolate flavor.
Chocolate pudding: You'll need a box of instant chocolate pudding. No need to make the actual pudding…you'll just use the dry mix. The pudding mix helps to make the texture irresistibly soft.
Chocolate chips: Semi sweet are my favorite, but milk or dark chocolate chips also taste great.
Eggs: You'll need 4 large eggs.
Oil: I use canola oil, but vegetable oil will also work if you only have that on hand. I like to use oil instead of butter, because it has a higher fat content which makes for a moister texture.
Sour cream: This is one of the secret ingredients in this recipe. The acidity in the sour cream adds more moisture and makes them super delicious.
How to Make Chocolate Cupcakes with Cake Mix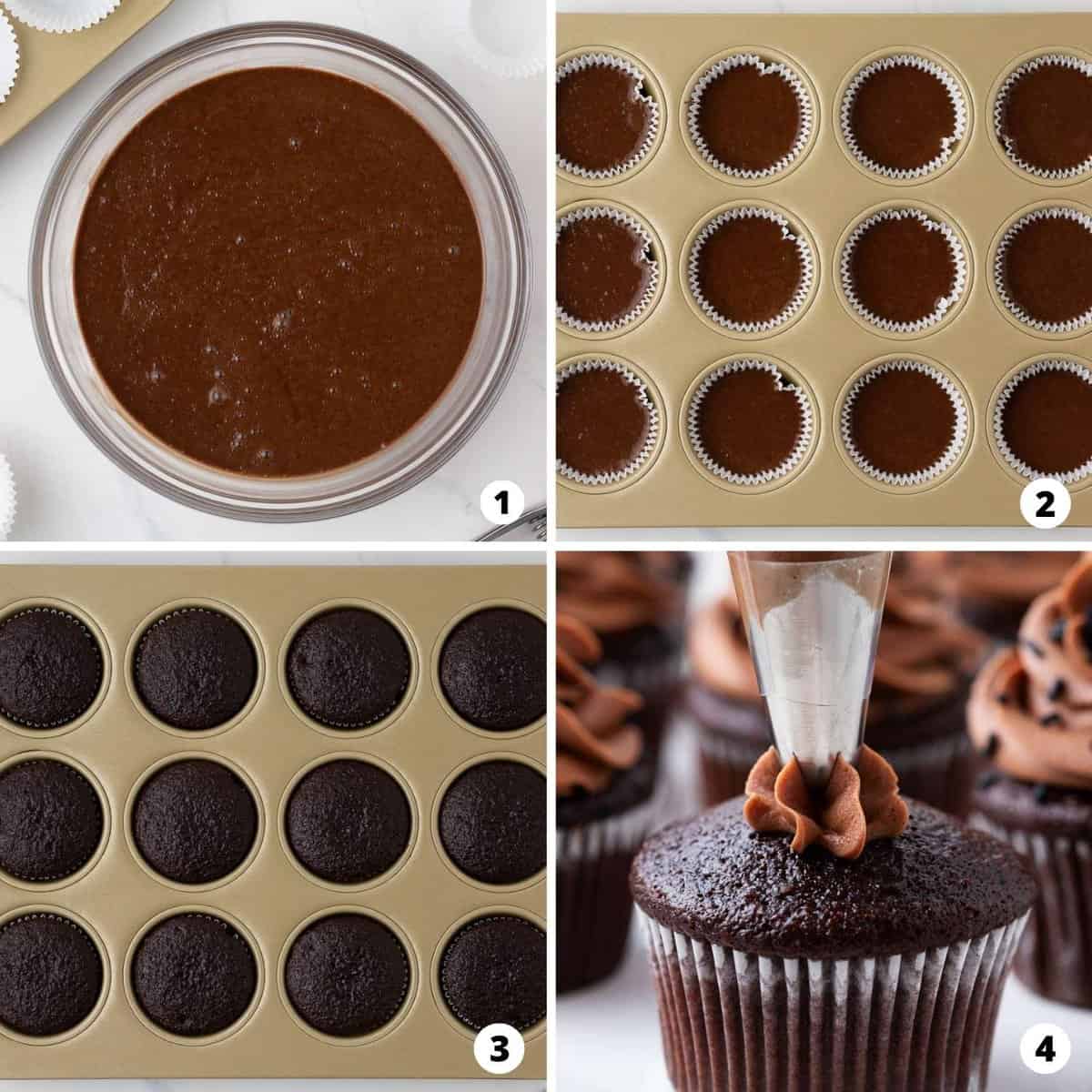 Mix. Combine cake mix and pudding mix in large bowl. Then add in the chocolate chips (this prevents them from sinking) and stir until combined. Next whisk in the wet ingredients (eggs, canola oil and hot water) with the dry ingredients. Then stir in sour cream.
Fill. Pour the batter into a 12-cup muffin tin (this recipe will make enough to fill 2 tins) with cupcake liners about 3/4 of the way full.
Bake. Bake at 325°F for 20-25 minutes, or until a toothpick comes out clean. Remove from oven and allow to cool on cooling rack. Wait to frost until cooled completely.
Expert Tips for the Best Chocolate Cupcakes
Avoid sinking. The culprit behind sinking cupcakes is overmixing the batter (which let's in too much air). Make sure to stir the mixture just until combined. You can also try mixing the chocolate chips in with a little bit of flour so they don't sink to the bottom.
Let cool before frosting. Make sure to cool your cupcakes completely before frosting. Sometimes even though the tops have cooled, the insides are still a bit warm. It usually takes about an hour for them to cool completely. If you frost them while they are still warm, the frosting can melt and won't hold it's shape.
Mini cupcakes. You can use a mini muffin pan if you prefer. I would check them after 10 minutes and do the toothpick test until they seem done.
Make ahead. If making this recipe in advance, hold off on adding the frosting. Make according to directions, let cool then store overnight at room temperature in an airtight container. You can also make your frosting ahead of time and store in a zip top bag in the fridge. Then frost the next day when ready to enjoy.
Recipe FAQs
How full should you fill cupcake liners?
Fill the cupcake liners about 3/4 of the way full. If you fill any higher, the cupcakes will overflow and have muffin tops.
What makes cupcakes moist and dense?
In this case, the secret to good cupcakes that are moist and dense is both the sour cream and pudding mix. They add moisture to the crumb, while still remaining soft and tender. Adding these two ingredients are the perfect way to level up your box of cake mix!
Why are my chocolate cupcakes dry?
Overmixing the batter can cause a dry texture, so make sure to stir lightly just until all of the ingredients are combined.
Is cupcake mix and cake mix the same?
In general, yes they are the mostly same. Both contain similar ingredients such as flour, sugar, eggs and oil or butter, however the major difference is the type of pan used and the total baking time required. Cakes are baked in a cake pan, while cupcakes often bake quicker in a muffin pan.
How many cupcakes does a box of cake mix make?
One box of cake mix in this recipe will make 24 cupcakes.
Can I use this same recipe to make a cake?
I haven't tried this myself, although others have had success converting into a chocolate cake recipe. I'd recommend baking in a cake pan at 350°F for about 25 to 30 minutes. Check for doneness at the 25 minute mark, then bake another 5 or so minutes if needed.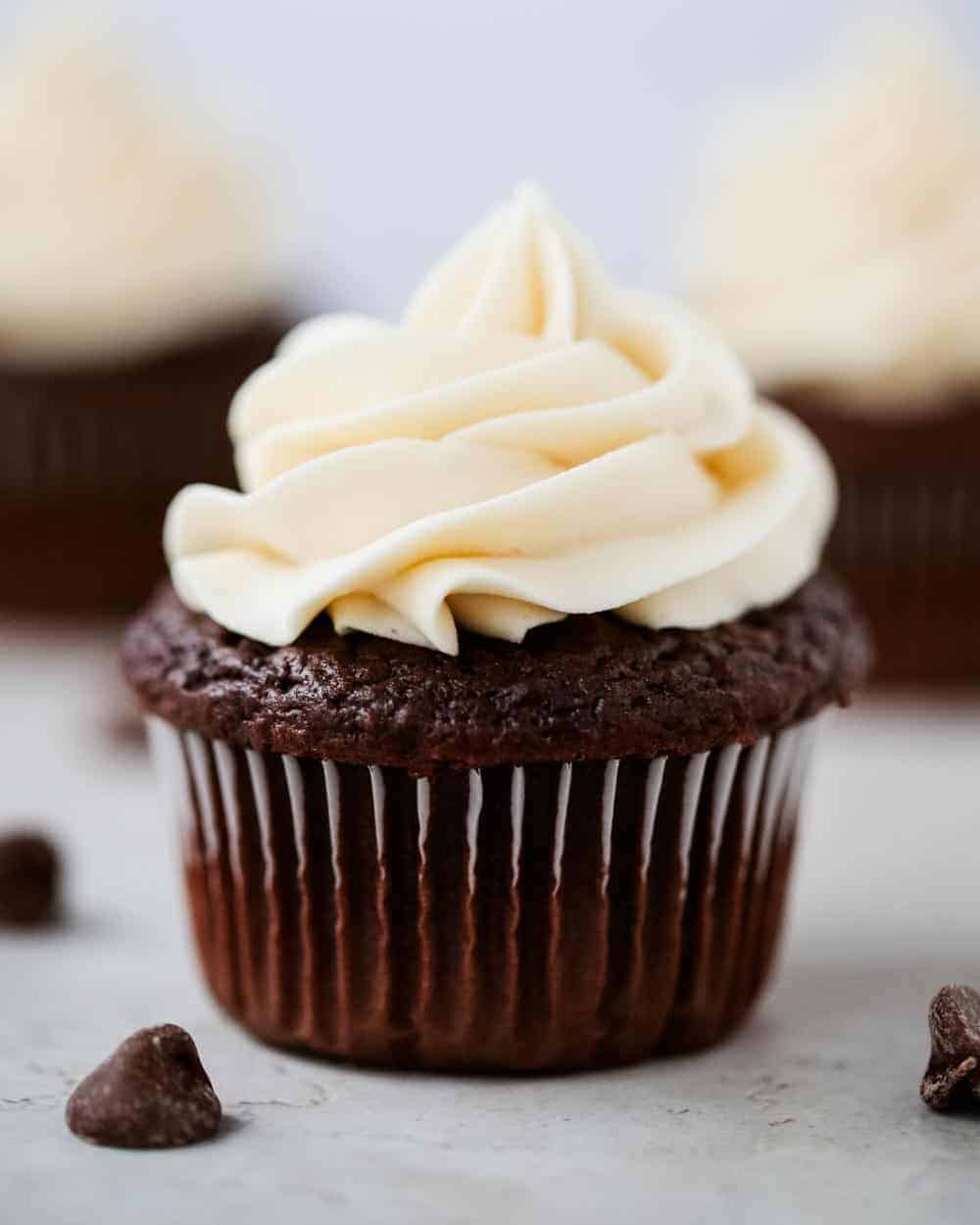 Frosting for Chocolate Cupcakes
My favorite frosting to use is my classic buttercream. The creamy and sweet flavors pair wonderfully with the rich chocolate cupcake flavor. There are plenty of other frostings that taste delicious too. Even a simple chocolate ganache would taste incredible.
Below are a few ideas:
Storing + Freezing
If you've frosted your cupcakes, you'll need to store them in an airtight container in the refrigerator. If unfrosted, they can be stored at room temperature in an airtight container. Both ways should keep for about 1 to 2 days. If freezing, I like to freeze the cupcakes separately from the frosting. You can place the frosting in a ziptop bag and freeze it too.
5 star review
These ARE the best chocolate cupcakes ever, and the frosting is fantastic. I've served these three times now, and EVERYONE raves and wants the recipe. I'll always use this recipe whenever I need a chocolate fix for myself of anyone I love!

– Francie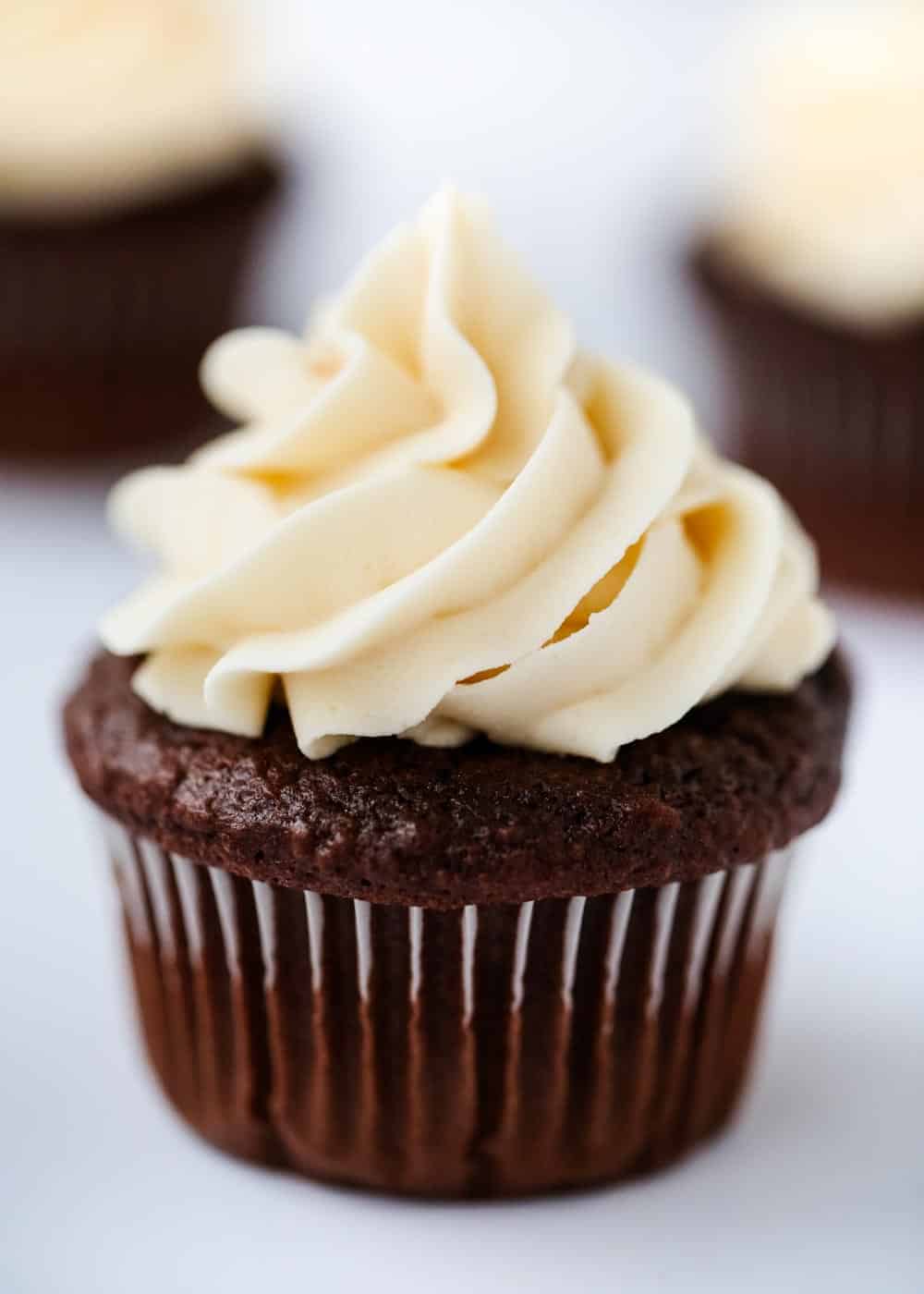 HUNGRY FOR MORE? Subscribe to my newsletter and follow on Facebook, Pinterest and Instagram for all the newest recipes!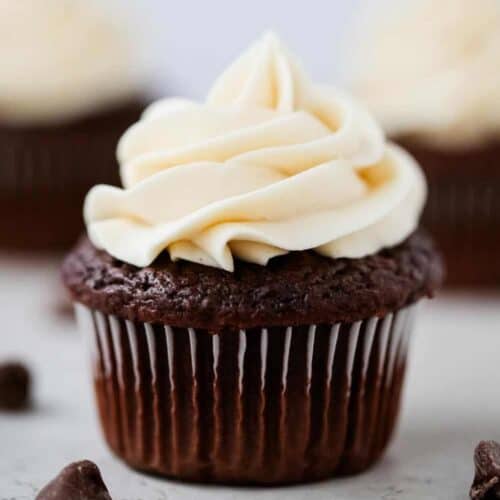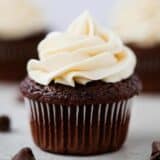 Best Chocolate Cupcake Recipe
This is simply the BEST chocolate cupcake recipe that you can make from a cake mix. They are super soft, rich and topped with a lush buttercream frosting! You won't believe how easy these are to make!
Ingredients
15 ounce box devil's food cake mix
3.9 ounce box instant chocolate pudding , dry
1 ¼ cups chocolate chips , I prefer semi-sweet
4 eggs
¾ cup canola oil
¾ cup warm water
8 ounces sour cream
Instructions
Preheat oven to 325°F. Line cupcake liners in 2 muffin pans.

In a large bowl, combine the cake mix and chocolate pudding. Add the chocolate chips in now (this will prevent them from sinking) and stir until combined. Next mix in the eggs, canola oil and water. Then stir in the sour cream.

Pour cupcake mixture into the liners (about 3/4 the way full). Bake for 20-25 minutes or until a toothpick comes clean. Do not overcook.

Remove from oven and allow to cool on a cooling rack. Wait to frost until cooled completely. Then frost as desired.
---
Notes
Favorite frosting recipes here:
Storage: Store leftovers in an airtight container for 3 days.
Recipe adapted from The Food Nanny Cookbook
Nutrition
Serving: 1cupcake | Calories: 231kcal | Carbohydrates: 24g | Protein: 3g | Fat: 15g | Saturated Fat: 4g | Cholesterol: 34mg | Sodium: 237mg | Potassium: 93mg | Fiber: 1g | Sugar: 16g | Vitamin A: 120IU | Vitamin C: 0.2mg | Calcium: 53mg | Iron: 1.1mg
Nutrition provided is an estimate. It will vary based on specific ingredients used.
Did you make this recipe? Don't forget to give it a star rating below!