Juicy, tender and perfectly caramelized grilled pork chops have delicious char marks and a sweet and smoky flavor that'll keep you coming back to the grill all summer long!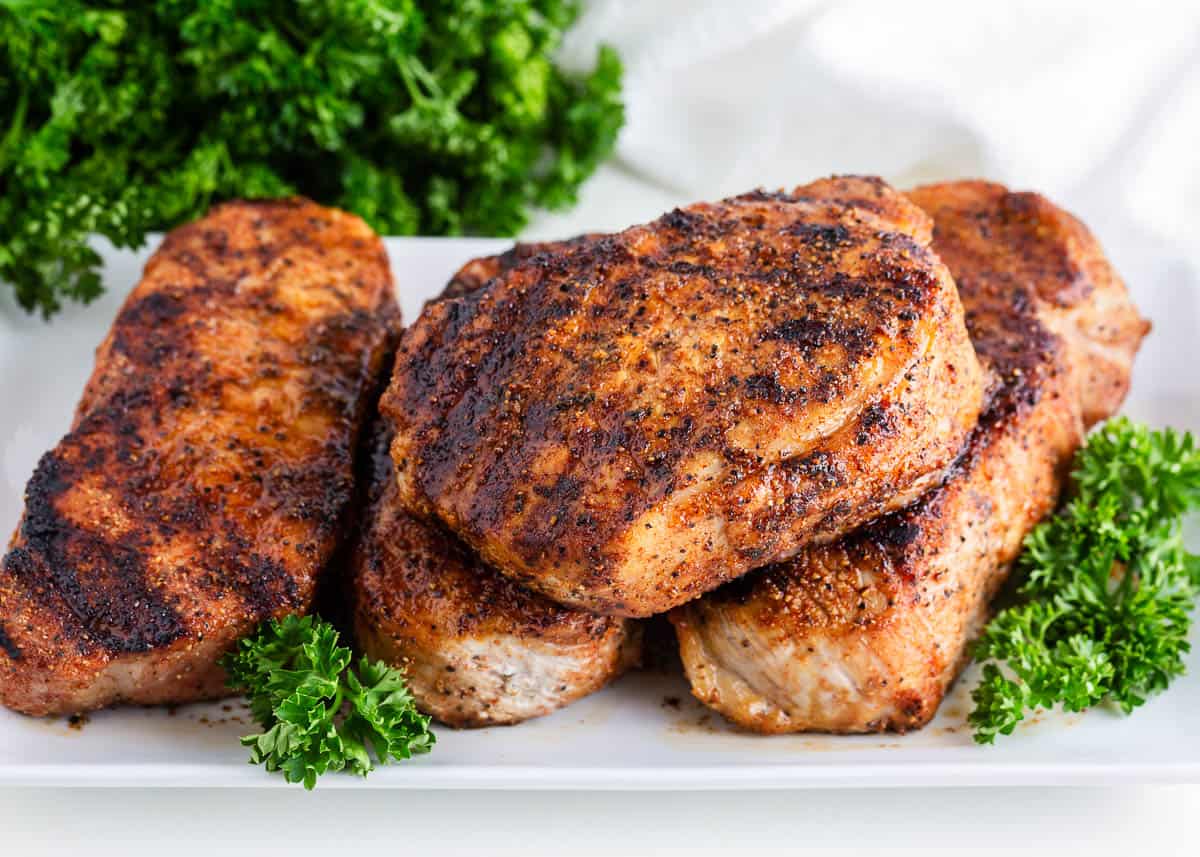 The Best Pork Chop Recipe
I just love grilling season! The smoky aromas coming from the backyard BBQ are enough to make my mouth water. Whether we're firing up some grilled chicken, grilled corn, or grilled salmon, I'm happy to cook outside all day long!
This grilled pork chop recipe is one of my favorites. It's a switch up from our usual chicken recipes and it's much more budget-friendly than a fancy porterhouse. It's quick and easy to make and has so much flavor without the need to marinate anything ahead of time.
Pair it with coleslaw and a side of crockpot baked beans for a delicious backyard meal idea your whole family will love!
Why This Recipe Works
No need for a marinade. Grilled pork chop seasoning is all you need for immense flavor. The dry rub is made with 5 simple pantry ingredients, but you can also play around with the seasoning to suit your tastes.
Ready in under 30 minutes. Without any marinade, basting, brushing, or sauces to deal with, this super simple recipe is ready in no time.
Easily double or triple the recipe. Make as many as you need to feed a backyard gathering. It's a crowd-pleaser that pairs well with almost any side dish!
Recipe Ingredients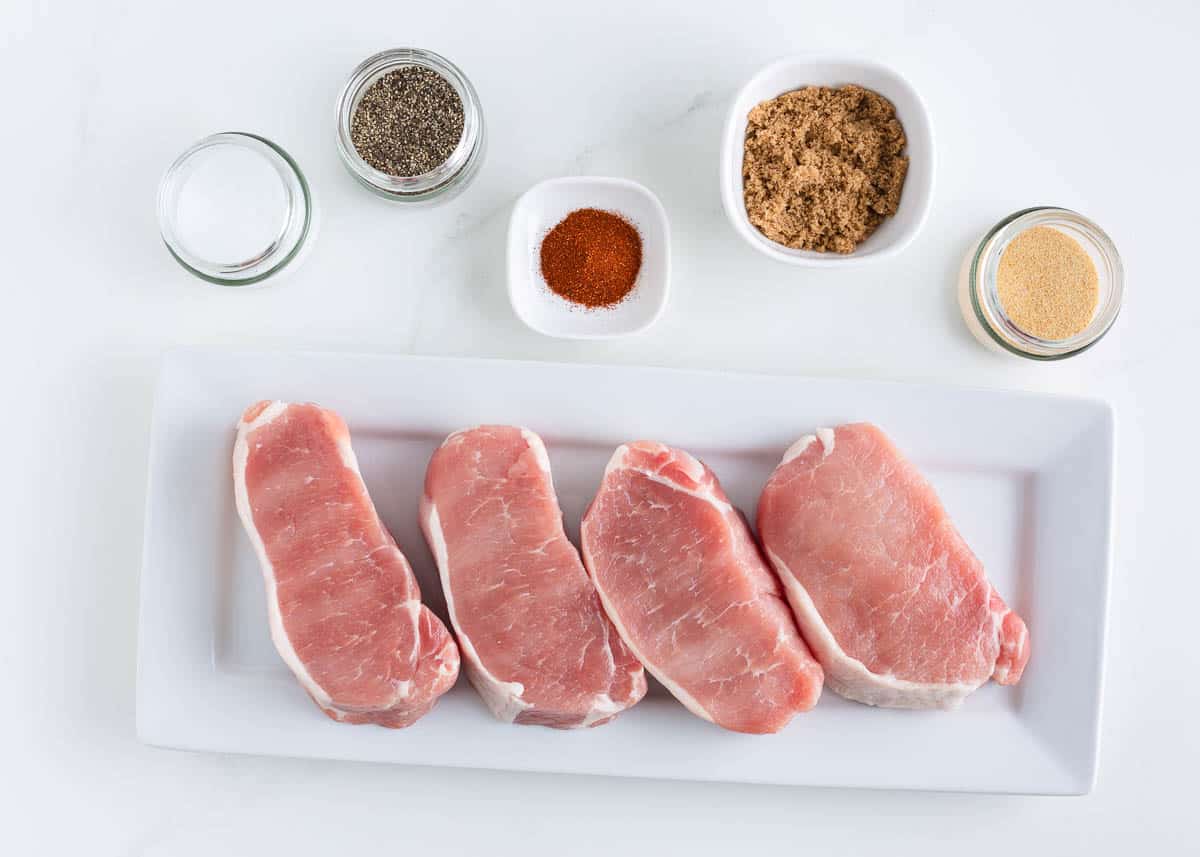 Find the full printable recipe with specific measurements below.
Dry rub: Dark brown sugar, smoked paprika, garlic powder, kosher salt, and cracked black pepper. The sugar will caramelize giving the outside some crispy caramelization and the smoked paprika will provide a smokiness as well as some color.
Pork chops: Use boneless pork loin chops. Trim the excess fat and pat them dry.
Variations
The seasoning blend I use for this recipe is just a jumping-off point. I have another pork rub that I use for a pork tenderloin that would be just as great.
You can also add red pepper flakes for heat if you like your grilled pork chops a little spicy.
If you have a bit of extra time and you want to marinate the meat you can! Use anyone of my marinades or whip up your own using things like soy sauce, ginger, garlic, honey, brown sugar, etc.
You could even slather them in sauce like I do with my BBQ chicken on the grill!
How to Grill Pork Chops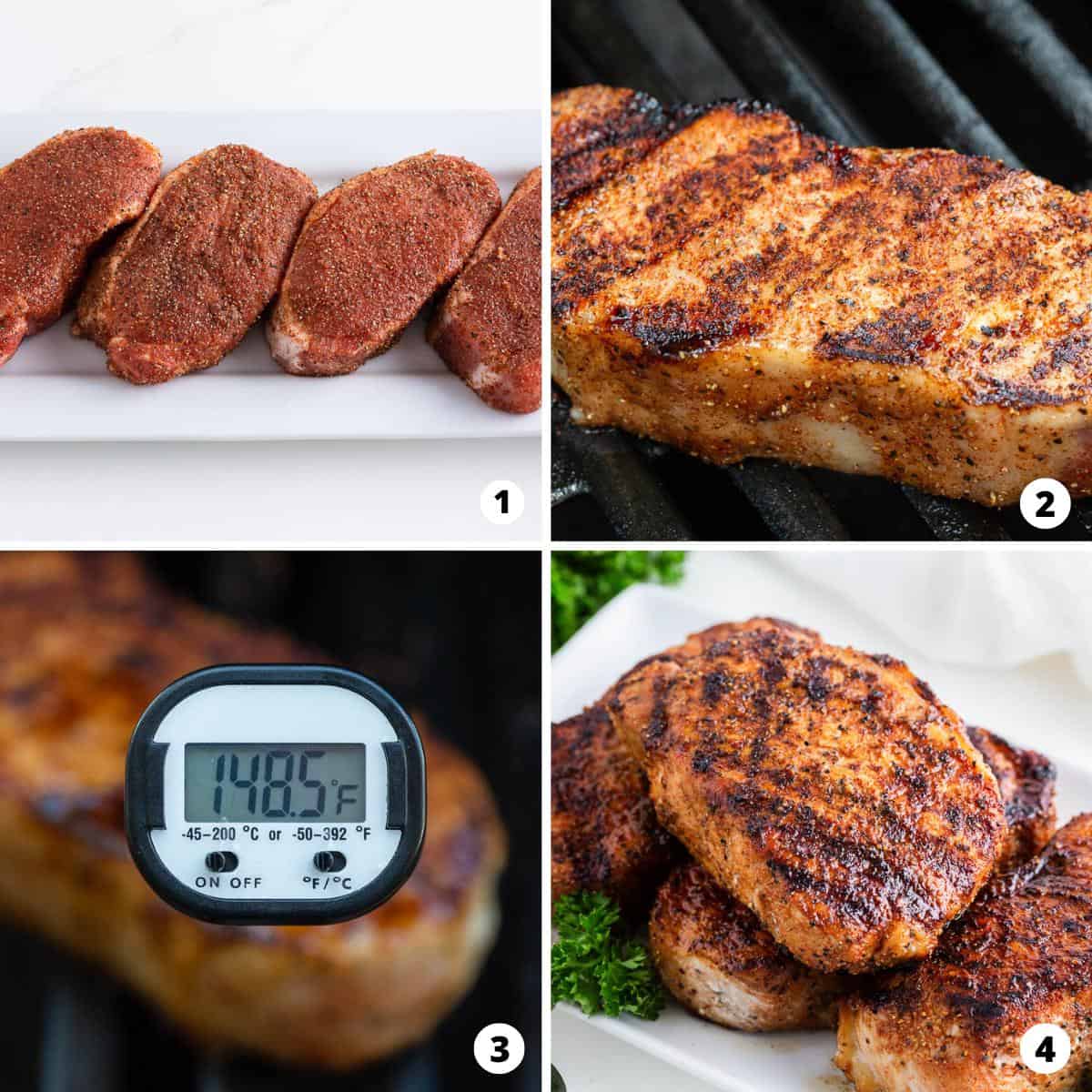 Season the pork chops. Combine brown sugar, paprika, garlic powder, salt, and pepper. Use your hands to rub it into the meat, making sure it's evenly coated.
Sear the meat over high heat. Preheat one side of the grill to medium-high heat and place the pork on the hot grill to sear for 2-3 minutes per side.
Cook through using indirect heat. Move the pork chops to the side that is off and continue cooking for an additional 5-6 minutes per side. An instant-read thermometer should have an internal temperature of 145℉ when the meat is ready to eat.
Allow the juices to settle. Transfer your grilled pork chops to a serving plate and allow them to sit and rest so the juices can settle for 5 minutes before serving. Enjoy!
How Long to Cook Pork Chops on Grill
I enjoy boneless pork chops but you can certainly use bone-in pork chops if you prefer. They are harder to overcook and the bone gives them added flavor and moisture, but they do take longer.
Either way, you'll start off by forming a nice crust by placing the pieces on direct heat for a few minutes on each side and then moving them to indirect heat for a juicy inside. Grilled boneless pork chops should take around 14-18 minutes total cooking time. Bone-in will take a few minutes longer.
As long as the internal temperature reaches 145℉, they're safe to eat.
Expert Tips
Bring the meat to room temperature ahead of time. You don't want to add cold meat to a hot grill.
When preparing your grill, wait for it to heat up then brush the grate with a bit of olive oil to prevent anything from sticking.
Take the meat off the grill slightly before it reaches optimal temperature, around 10 degrees less (135℉). If you don't, it will continue to cook as it sits and may be overcooked by the time you eat it.
To keep the heat in and your grilled pork chops moist, cover the pieces with foil as they sit and rest.
Weather not playing nicely to grill? Try baked pork chops instead.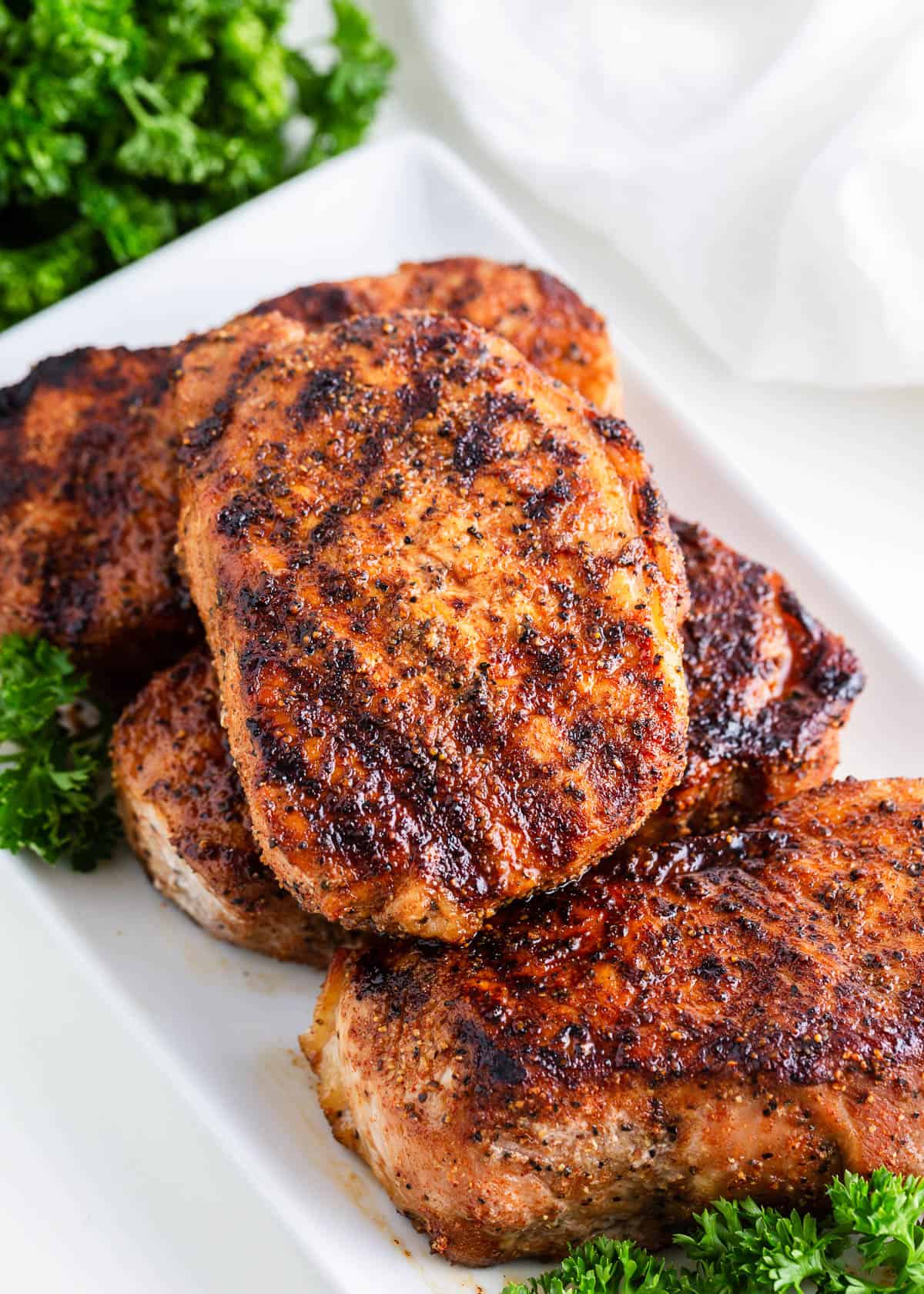 Recipe FAQs
How do you grill pork chops without drying them out?
The first thing is that you need to preheat your grill and make sure it's hot enough. You want to sear the outside to lock in the moisture and then move the pork to indirect heat so the insides can catch up. Otherwise, if your grill isn't hot enough the meat will dry out from overcooking waiting for it to heat up!

You can also marinate the meat ahead of time, but that's not necessary, just a bonus.
What is the best cut of pork for grilling?
Depending on who you ask, some say bone-in is a must. Granted it's harder to overcook, but as long as the pieces are at least 1″ thick and you're watching your grill, it will be fine.
How to store leftovers?
Once cooled, keep them stored in an airtight container in the fridge for up to 4 days. Reheat in the oven or the grill.
What to Serve with Grilled Pork Chops
There are so many tasty sides you can pair with this lean meat. From classic side dishes you can make ahead of time to others you can throw on the grill while it's hot!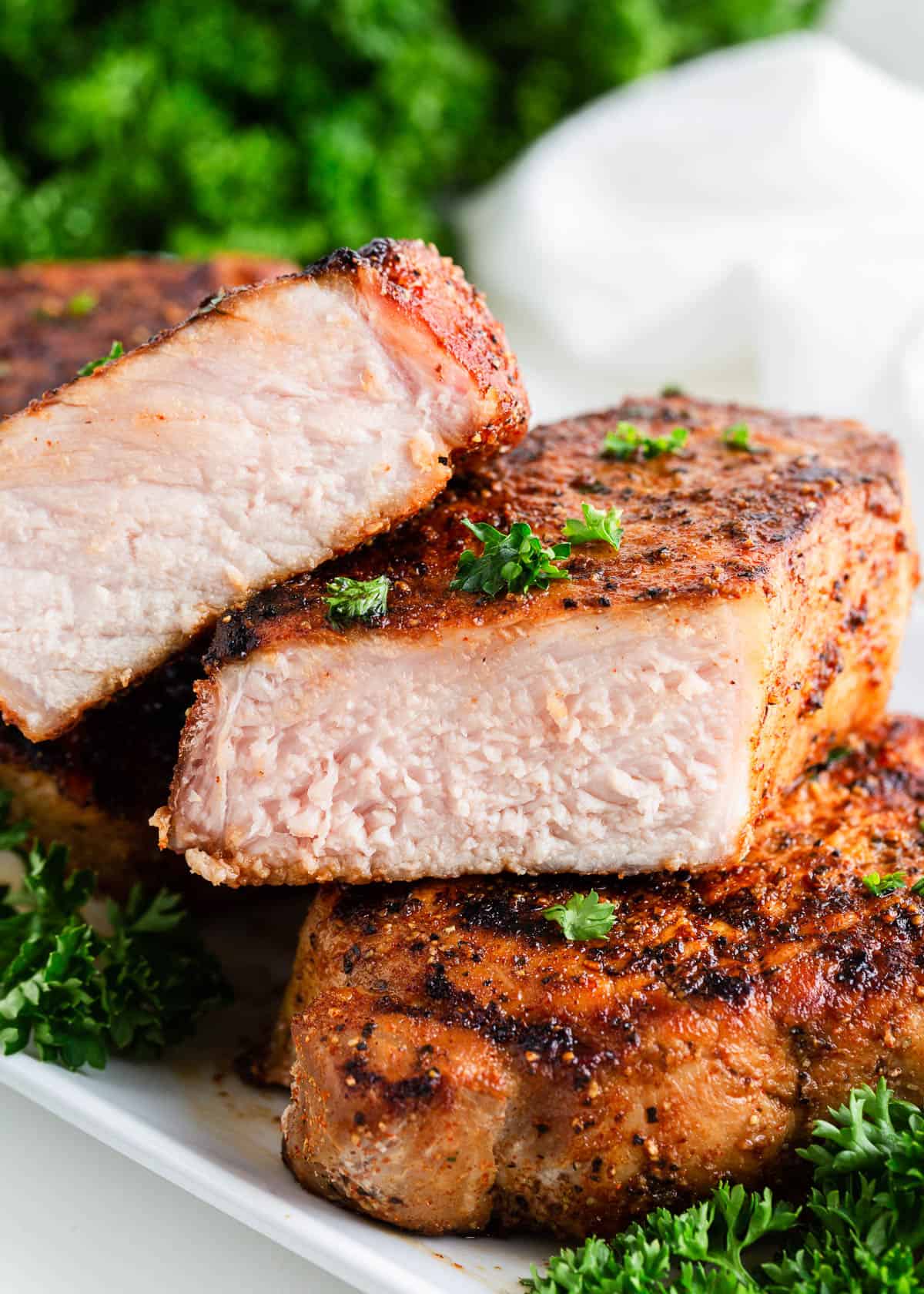 HUNGRY FOR MORE? Subscribe to my newsletter and follow on Facebook, Pinterest and Instagram for all the newest recipes!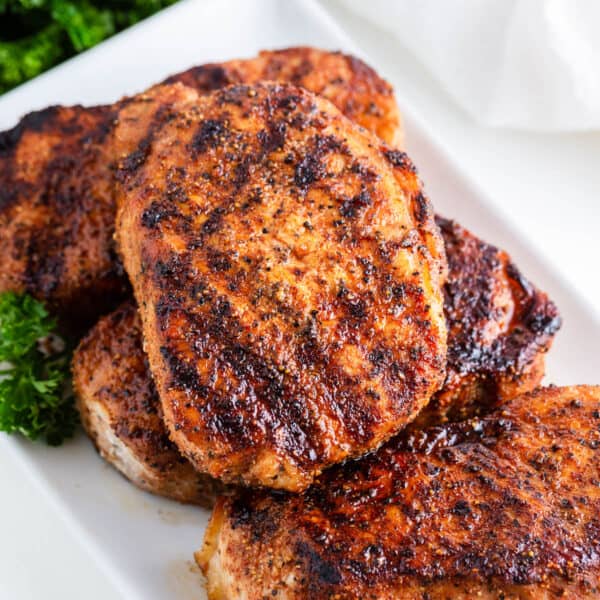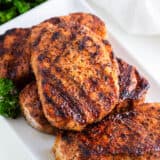 Grilled Pork Chops
Juicy, tender and perfectly caramelized grilled pork chops have delicious char marks and a sweet and smoky flavor that'll keep you coming back to the grill all summer long!
Ingredients
2 Tablespoons dark brown sugar
1 teaspoon smoked paprika
1 teaspoon garlic powder
½ Tablespoon Kosher salt
1 teaspoon cracked black pepper
4 boneless pork loin chops , trimmed and patted dry
Instructions
In a small bowl, stir together the brown sugar, paprika, garlic powder, salt, and pepper. Rub the mixture all over the pork chops.

Preheat the grill to medium-high heat (about 400℉), turning on only on one side of the burners.

Place pork chops directly the side that is on and sear 2 to 3 minutes on each side.

Move the pork chops over to the side that is off and continue cooking an additional 5 to 6 minutes per side, or until a digital thermometer inserted in the center reads 145℉. Remove and let rest 5 minutes before serving.
---
Nutrition
Calories: 236kcal | Carbohydrates: 7g | Protein: 29g | Fat: 9g | Saturated Fat: 3g | Polyunsaturated Fat: 1g | Monounsaturated Fat: 4g | Trans Fat: 0.1g | Cholesterol: 90mg | Sodium: 939mg | Potassium: 535mg | Fiber: 0.4g | Sugar: 6g | Vitamin A: 254IU | Vitamin C: 0.01mg | Calcium: 19mg | Iron: 1mg
Nutrition provided is an estimate. It will vary based on specific ingredients used.
Did you make this recipe? Don't forget to give it a star rating below!