Delicious herbs are rubbed into the meat to make this herb crusted pork tenderloin so delicious and flavorful. Beautifully seared on the outside, with a tender and juicy inside.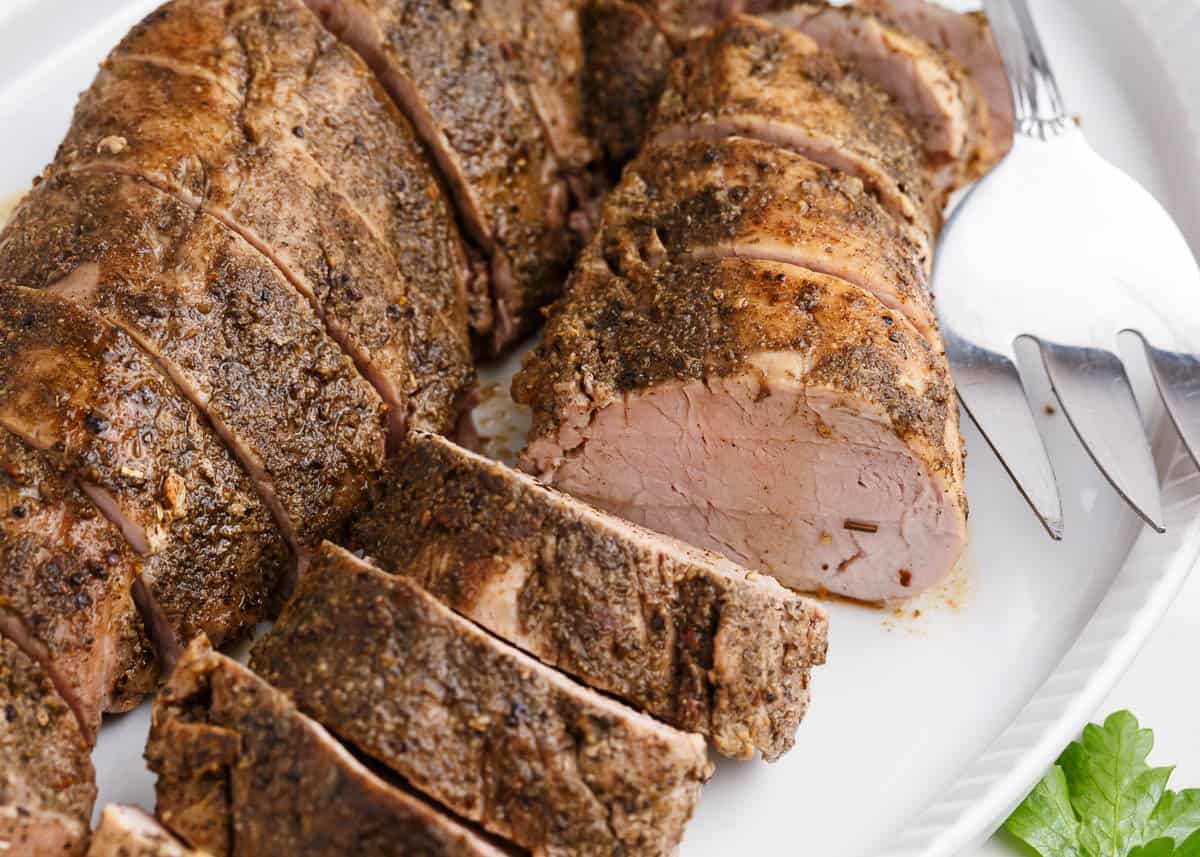 Easy Herb Pork Tenderloin
Roasted pork tenderloin has been a long time favorite at our house. It's a simple comfort meal that the whole family can always agree on. In this recipe I used this dry rub for pork tenderloin, which gave the meat a flavorful herb crusted exterior while keeping the inside moist and tender. It was so delicious!
This dish looks beautiful yet it's quite easy to make in under an hour. It's truly one of my absolute favorite meals and is easy enough for a family weeknight meal, and fancy enough for company.
If you're not one to want to roast a whole turkey or serve a huge baked ham for Christmas dinner or any holiday meal, try this recipe for herb roasted pork tenderloin. It would be the perfect star of your meal served alongside creamy mashed potatoes, green beans and fresh homemade dinner rolls. Yum!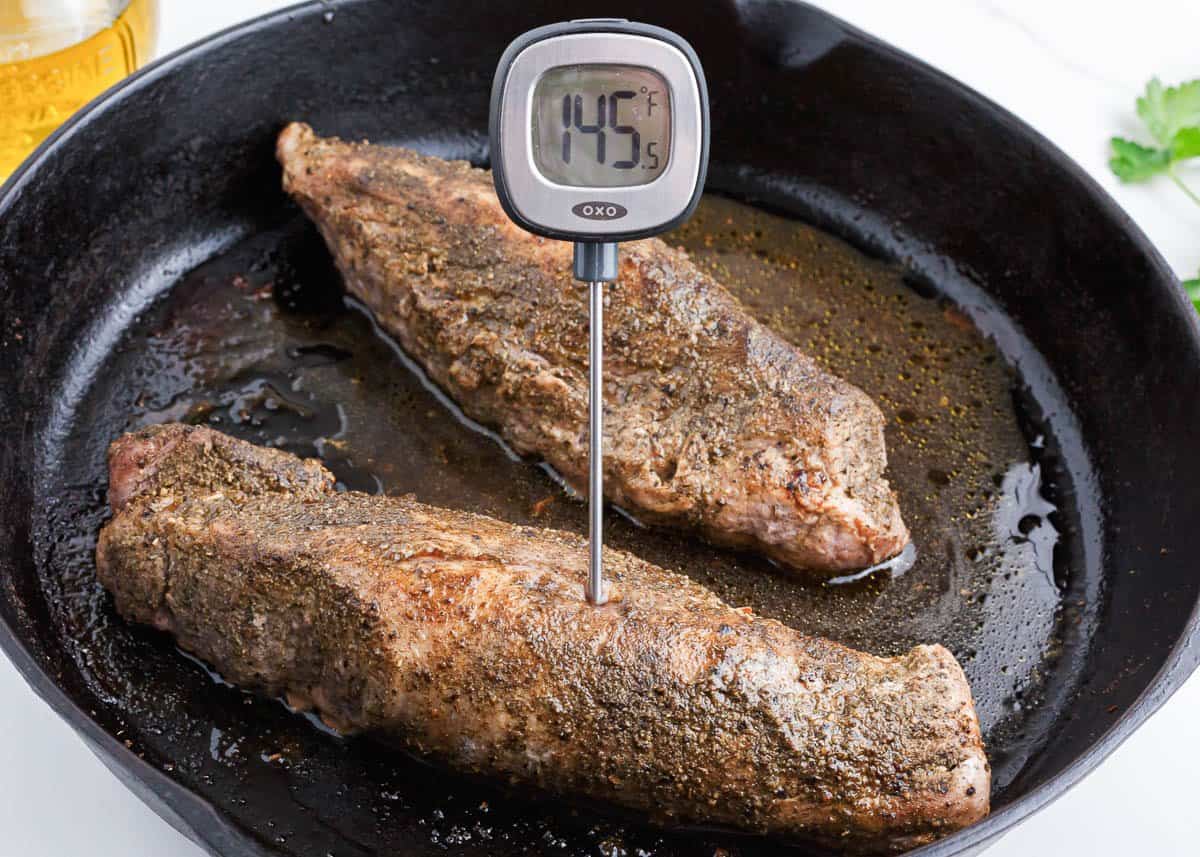 What are the Best Herbs for Pork?
Rubbing herbs on the meat before searing is a quick way to permeate immense flavor into the pork tenderloin, while keeping it super tender and delicious. I like using this dry rub for pork tenderloin that's made with a simple mixture of 4 ingredients: garlic powder, poultry seasoning, salt and pepper.
However feel free to get creative with the herbs and spices you use. Italian seasoning, fresh parsley, fresh thyme, fennel seed and fresh rosemary are just a few flavorful options that would add tremendous flavor to the pork.
Let the Dry Rub Sit
After rubbing the herbs into the meat, I like to let the meat rest for at least 15 minutes before searing (or longer in the refrigerator). The longer the rub rests on the meat, the more flavor the meat will have.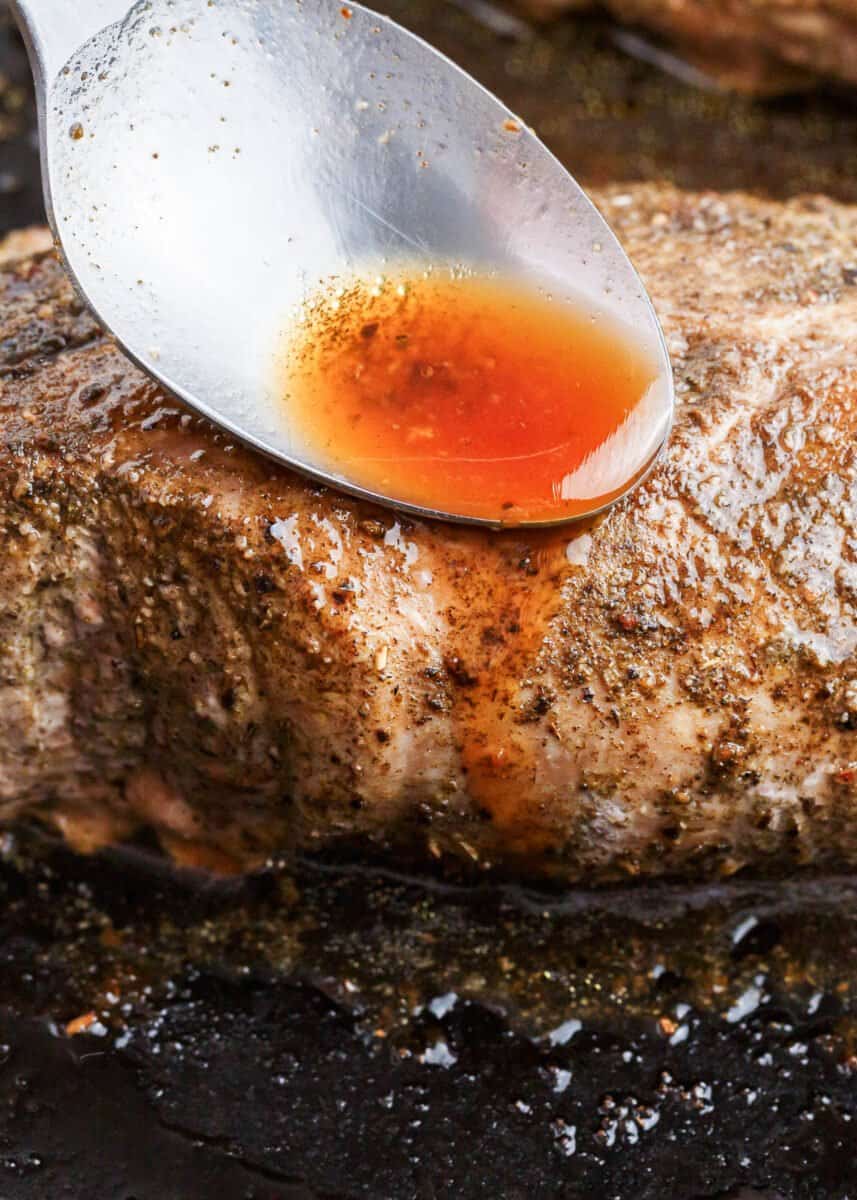 Tips for Roasting Pork Tenderloin
Trim the meat. Pork tenderloin is naturally a very low-fat meat, so there isn't much to trim. But there is a thin, silvery looking skin that you want to find and trim off, because it tends to get a bit tough when it cooks.
Sear the tenderloin. A cast iron skillet isn't a must, but it definitely gives the best sear. If you don't have a cast iron, stainless steel would be my next choice. Just be sure to use an oven-safe skillet since we'll be transferring the meat from the stove to the oven after the exterior is seared in olive oil.
Use a meat thermometer. A meat thermometer is the most accurate way to tell if the pork is cooked through. Once the internal temperature reads 145°F, the pork is ready.
Let rest before slicing. After roasting the pork, remove the pan from the oven and tent with foil to give the meat time to rest (about 5-10 minutes). Tenting is just lightly covering with foil, in essence, making a "tent" shape with the foil so the steam can escape. This will keep the pork nice and juicy. Then slice into 1/2 inch medallions.
Favorite Sides for Serving
As with any comfort meal, a few comfort sides are a must for serving! Whether you choose potatoes, vegetables, rice or rolls, any of the below would taste amazing.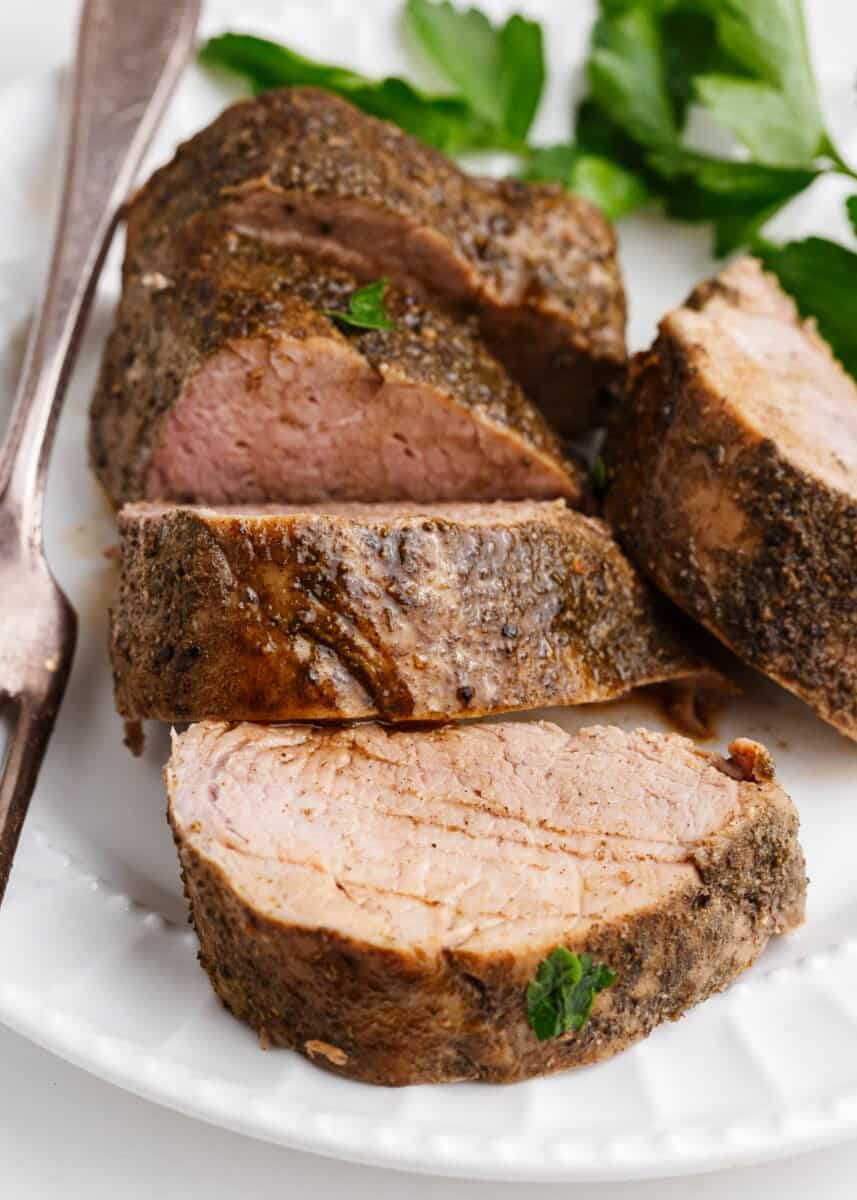 More Easy Dinner Ideas
HUNGRY FOR MORE? Subscribe to my newsletter and follow on Facebook, Pinterest and Instagram for all the newest recipes!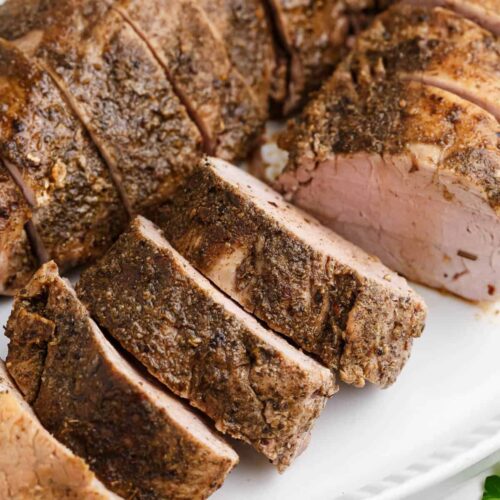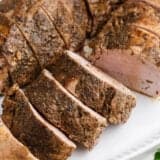 Herb Crusted Pork Tenderloin
Delicious herbs are rubbed into the meat to make this herb crusted pork tenderloin so delicious and flavorful. Beautifully seared on the outside, with a tender and juicy inside.
Ingredients
2 pounds pork tenderloin
1-2 teaspoons poultry seasoning , or dry rub of choice
1 teaspoon Kosher salt
½ teaspoon garlic powder
½ teaspoon ground black pepper
1 Tablespoon olive oil
Instructions
Preheat oven to 425°F. Trim silvery skin from pork. Pat dry with paper towels.

Mix seasonings together in a small dish.

Rub seasonings into the meat. Then heat olive oil in a large, oven-safe skillet. Sear tenderloin for two minutes per side, then slide the skillet into the oven.

Roast for 18 minutes, or until the internal temperature reaches 145°F. Remove from the oven and spoon some of the juice over top. Tent with foil and allow to rest for 5 minutes.

Slice into 1/2 inch thick slices. Serve while hot.
---
Nutrition
Calories: 124kcal | Carbohydrates: 1g | Protein: 19g | Fat: 5g | Saturated Fat: 1g | Polyunsaturated Fat: 1g | Monounsaturated Fat: 2g | Trans Fat: 1g | Cholesterol: 59mg | Sodium: 164mg | Potassium: 366mg | Fiber: 1g | Sugar: 1g | Vitamin A: 13IU | Vitamin C: 1mg | Calcium: 11mg | Iron: 1mg
Nutrition provided is an estimate. It will vary based on specific ingredients used.
Did you make this recipe? Don't forget to give it a star rating below!