This is a simple dry rub for pork tenderloin that delivers big on savory flavor! It's quick to make with just 4 ingredients. The perfect choice to enhance your favorite pork recipe!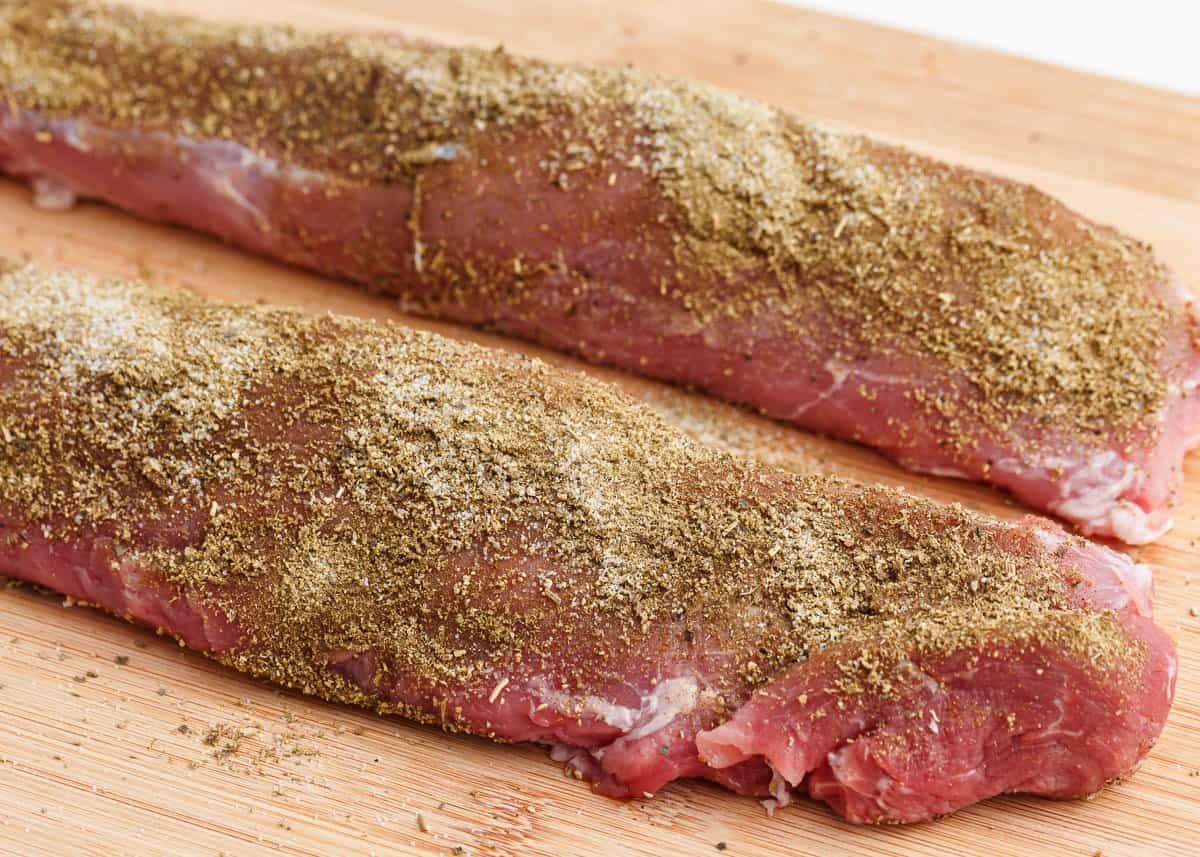 Best Pork Rub Recipe
I like to keep the seasonings simple on my pork and this dry rub is the perfect fit. Not only can you use it for tenderloin, but it also tastes amazing on ribs, pork loin, this baked pork chop recipe, and even chicken! My family can't get enough of these flavors on my herb crusted pork tenderloin and roasted pork tenderloin.
It's a blend of poultry seasoning, salt, pepper, and garlic powder. This combination not only gives the meat amazing flavor, but it also makes it super tender!
This rub is a savory one and it is easily customizable to your preferences much like my steak rub and dry rub for ribs. If you like more of a sweet and salty flavor, then you could add some brown sugar. If heat is more your thing, you can throw in some red pepper flakes. Experiment to find your perfect blend!
What is a Dry Rub?
A dry rub is a mix of herbs and spices that are used to enhance the flavor of meats. Because everything is dry, it helps to encourage a crust to form on the surface of your pork as it cooks and spicy crust = amazing flavor!
Pork Tenderloin Rub Ingredients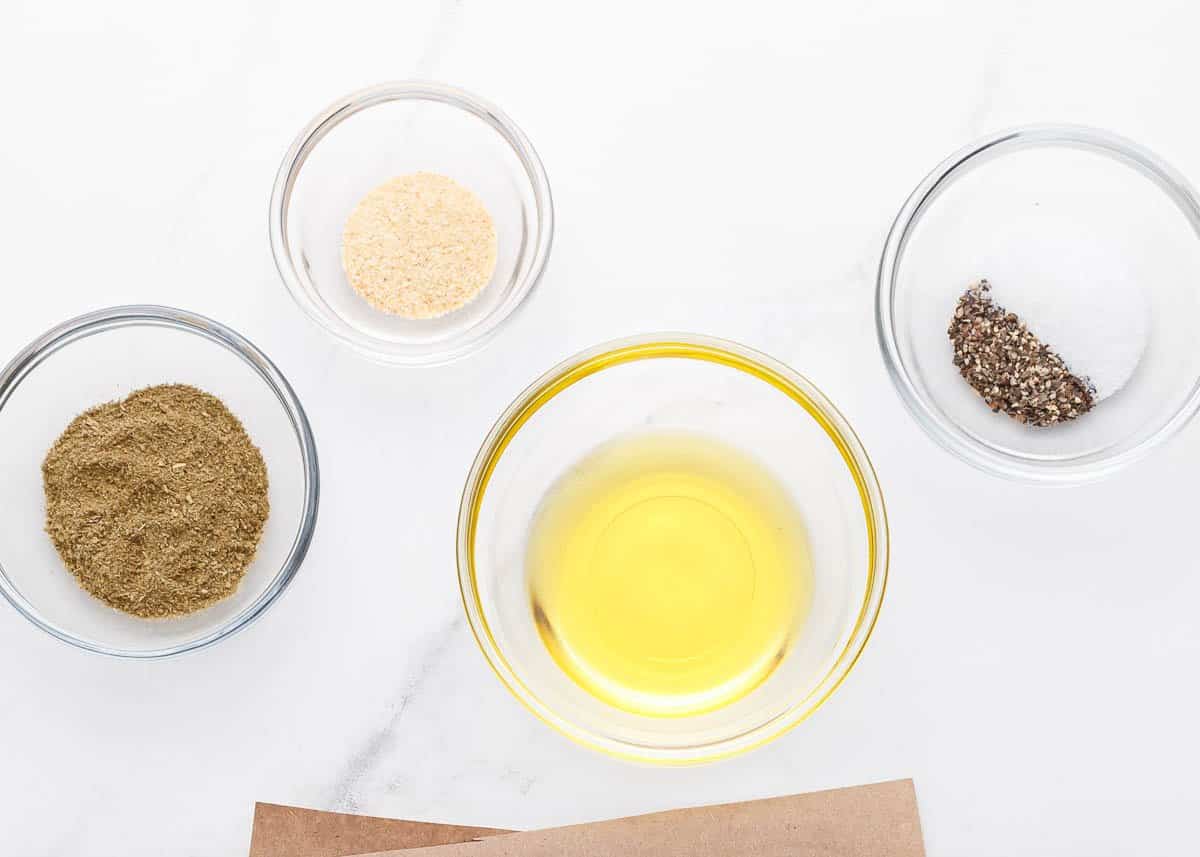 I use just 4 ingredients in my pork tenderloin dry seasoning rub; most of which you probably already have in your pantry! Here's what you'll need:
Poultry seasoning – A mix of spices with sage and thyme usually as the primary flavors. It can also contain rosemary, marjoram, and black pepper. Also, despite the name, it's not just used for seasoning chicken!
Kosher salt – These are large flakes of salt that have a gentler saltiness than table salt. If you are going to substitute with table salt, you'll want to use less. Generally, you would use ¾ teaspoon of table salt to replace 1 tablespoon of kosher salt. Salt is great for tenderizing meat.
Garlic powder – This powder has a milder and sweeter taste than raw garlic.
Black pepper – Gives the rub a hint of spiciness.
How to Make Dry Rub for Pork Tenderloin
Making this rub takes only a couple of quick minutes!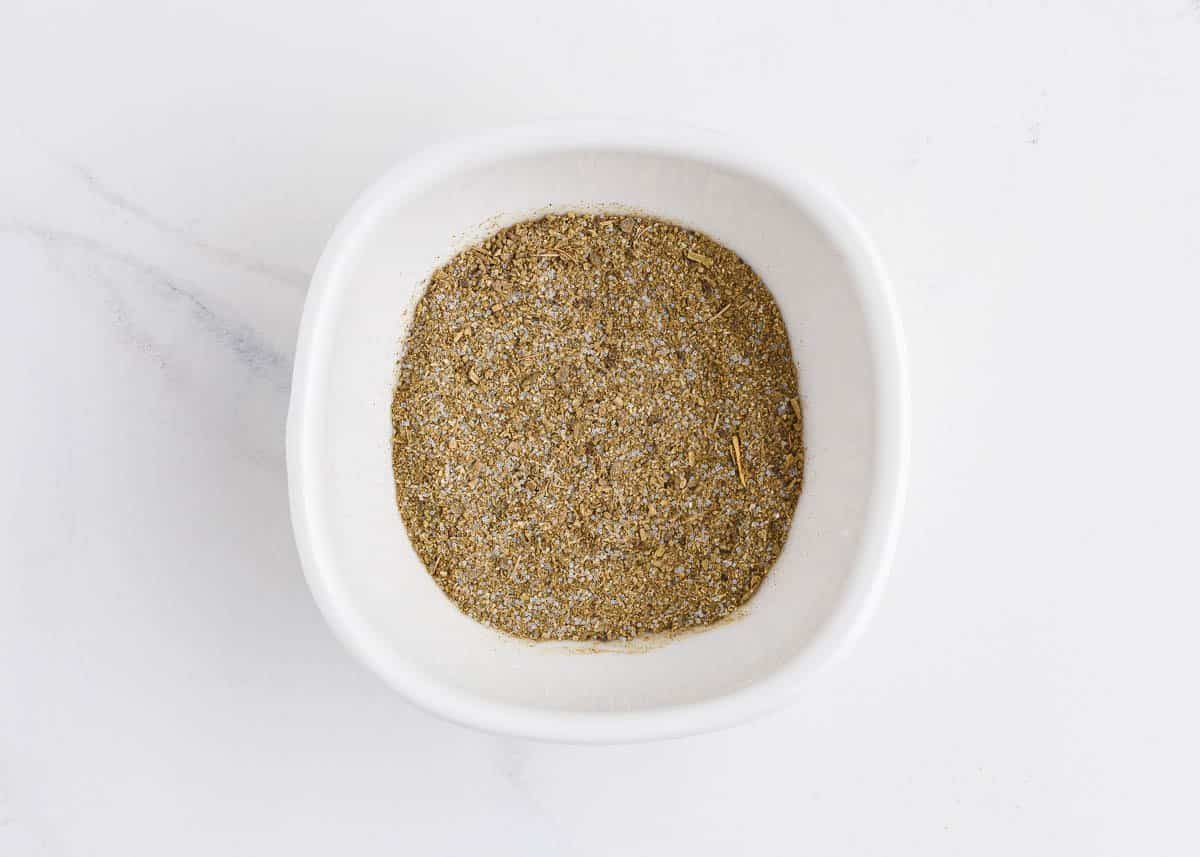 Measure: Measure out all the ingredients into a small bowl.
Combine: Whisk them together using either a whisk or a fork. That's it! So simple.
How to Apply Dry Rub
Dry your pork tenderloin with paper towels then sprinkle the spice mixture all over the pork. Massage it in, gently pressing the rub into the meat as you go. At this stage, you can cook the tenderloin right away, or you can put it in the fridge and leave the flavors to develop for at least 30 minutes and up to 24 hours.
Cook the pork tenderloin according to your favorite recipe instructions.
FAQs
How much spice rub should I use?
You'll find that using 1 tablespoon of rub per 1 pound of pork is a good ratio.
How long can you leave dry rub on pork?
At least 30 minutes and no longer than 24 hours. The long the rub sits on the meat the more flavorful it will be.
Is this dry rub just for pork tenderloin roast?
My family loves this dry rub on pork tenderloin. It's a long thin cut of pork that's low in fat and rich in protein which makes it a great option for family dinners.

You're not limited in what you use this dry rub for! You can use this rub on other cuts of pork like my grilled pork chops recipe, ribs, loin and it also tastes delicious on a whole chicken.
What other spices can I use in my dry rub?
This simple combination used in this recipe is my favorite but there are plenty of ways to switch it up to suit your tastes. Try onion powder instead of garlic powder, or both. Cumin and coriander will bring earthy flavors and smoked paprika, chili powder, and cayenne pepper will bring the heat!
Storage
The best way to store dry rub is in a sealed container in a cool dry place. I keep mine in a cupboard.
The rub will keep for a long time, but I recommend making a new batch after 6 months as the spices will lose their potency over time.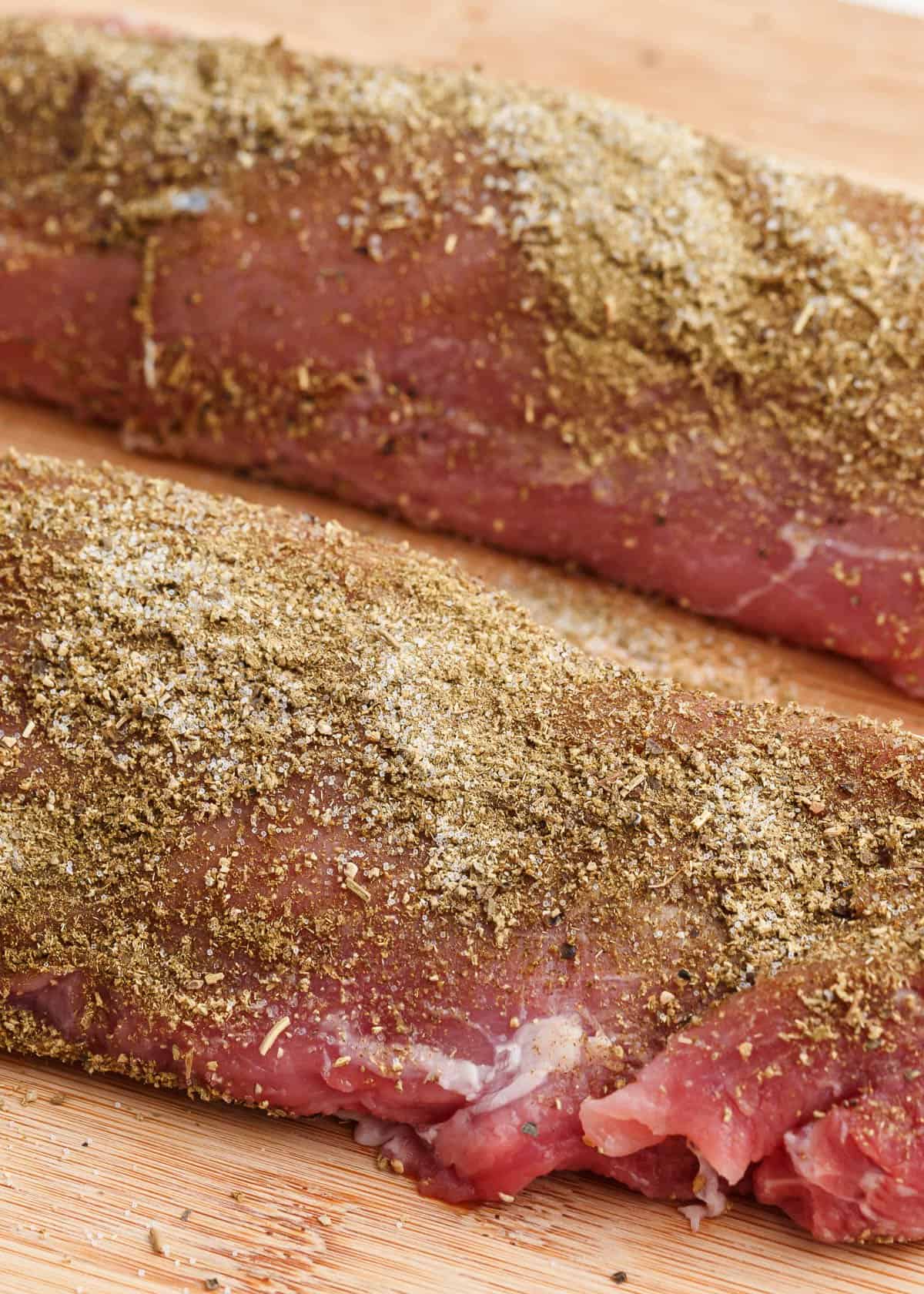 HUNGRY FOR MORE? Subscribe to my newsletter and follow on Facebook, Pinterest and Instagram for all the newest recipes!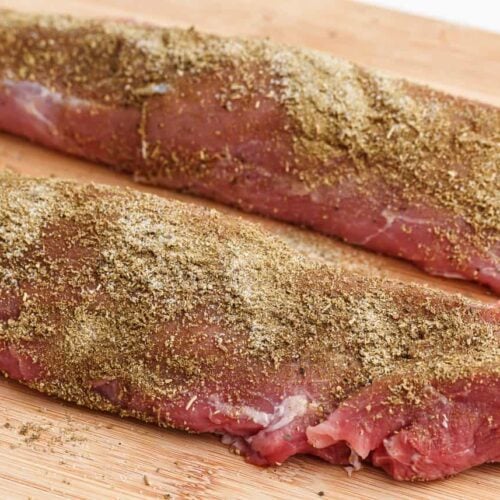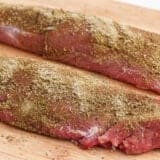 Dry Rub for Pork Tenderloin
This is a simple dry rub for pork tenderloin that delivers big on savory flavor! It's quick to make with just 4 ingredients. The perfect choice to enhance your favorite pork recipe!
Ingredients
1-2 teaspoons poultry seasoning
1 teaspoon Kosher salt
½ teaspoon garlic powder
½ teaspoon ground black pepper
Instructions
In a small bowl, whisk together poultry seasoning, salt, garlic powder, and pepper.

Rub seasonings into the meat. Cook according to pork tenderloin recipe directions.
---
Notes
We love using this dry rub to make this easy herbed pork tenderloin recipe.
Storing: Store in a sealed container in a cool dry place up to 6 months.
Nutrition
Calories: 1kcal | Carbohydrates: 1g | Protein: 1g | Fat: 1g | Saturated Fat: 1g | Polyunsaturated Fat: 1g | Monounsaturated Fat: 1g | Sodium: 233mg | Potassium: 5mg | Fiber: 1g | Sugar: 1g | Vitamin A: 6IU | Vitamin C: 1mg | Calcium: 3mg | Iron: 1mg
Nutrition provided is an estimate. It will vary based on specific ingredients used.
Did you make this recipe? Don't forget to give it a star rating below!