Tender, juicy, and seasoned with a sweet and savory spice rub, this easy baked pork chops recipe will save your dinner rut time and again! Made with simple ingredients, this dish is ready to serve in 25 minutes with all your favorite sides!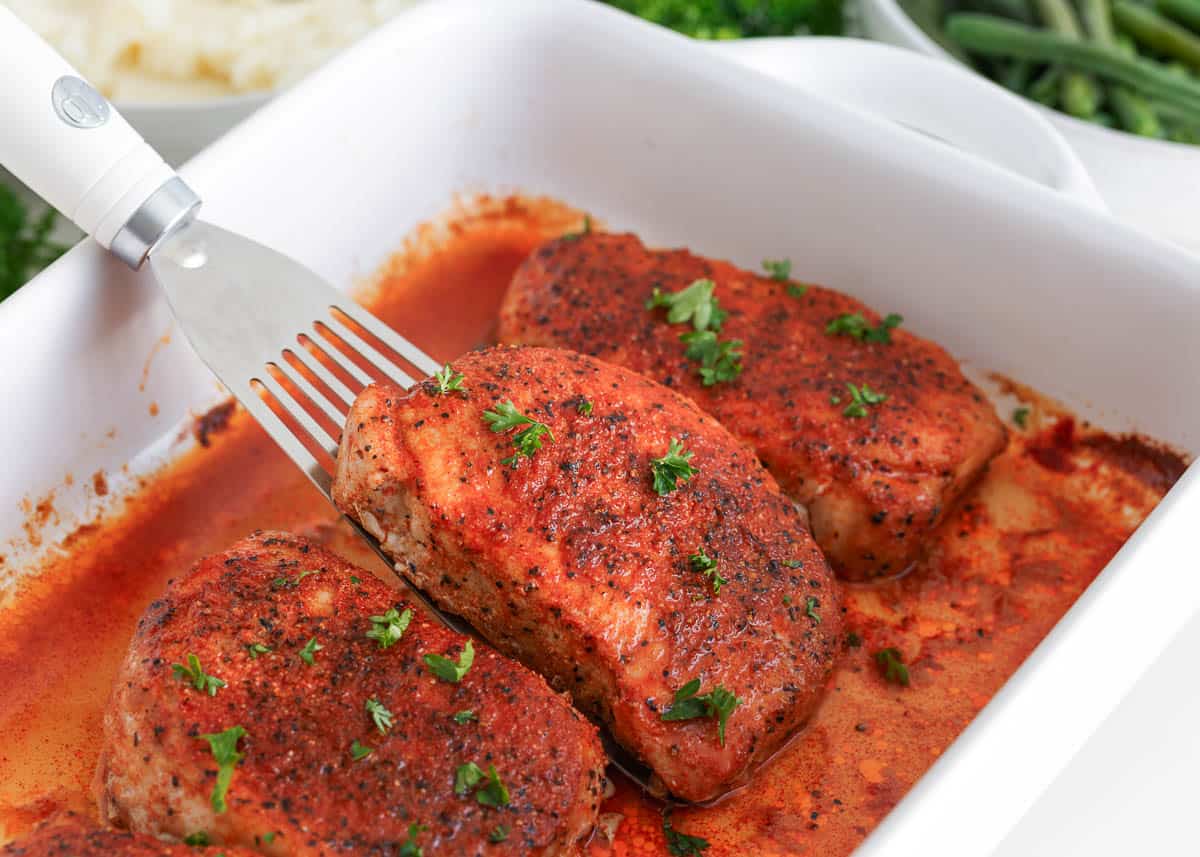 Juicy Baked Pork Chops
This baked pork chop recipe is by far one of the easiest dinner recipes that work just as well for a quick weeknight meal as it does for Sunday dinner.
While I do love grilled pork chops, sheet pan pork chops, and this herb crusted pork tenderloin, there comes a time when I need a simple no-fuss recipe where the oven does most of the work!
With no need for marinating ahead of time or searing the outside first, all you need is to coat them in a dry rub and it's straight into the oven they go. The results are juicy tender pieces of pork so full of flavor that pair well with all kinds of side dishes!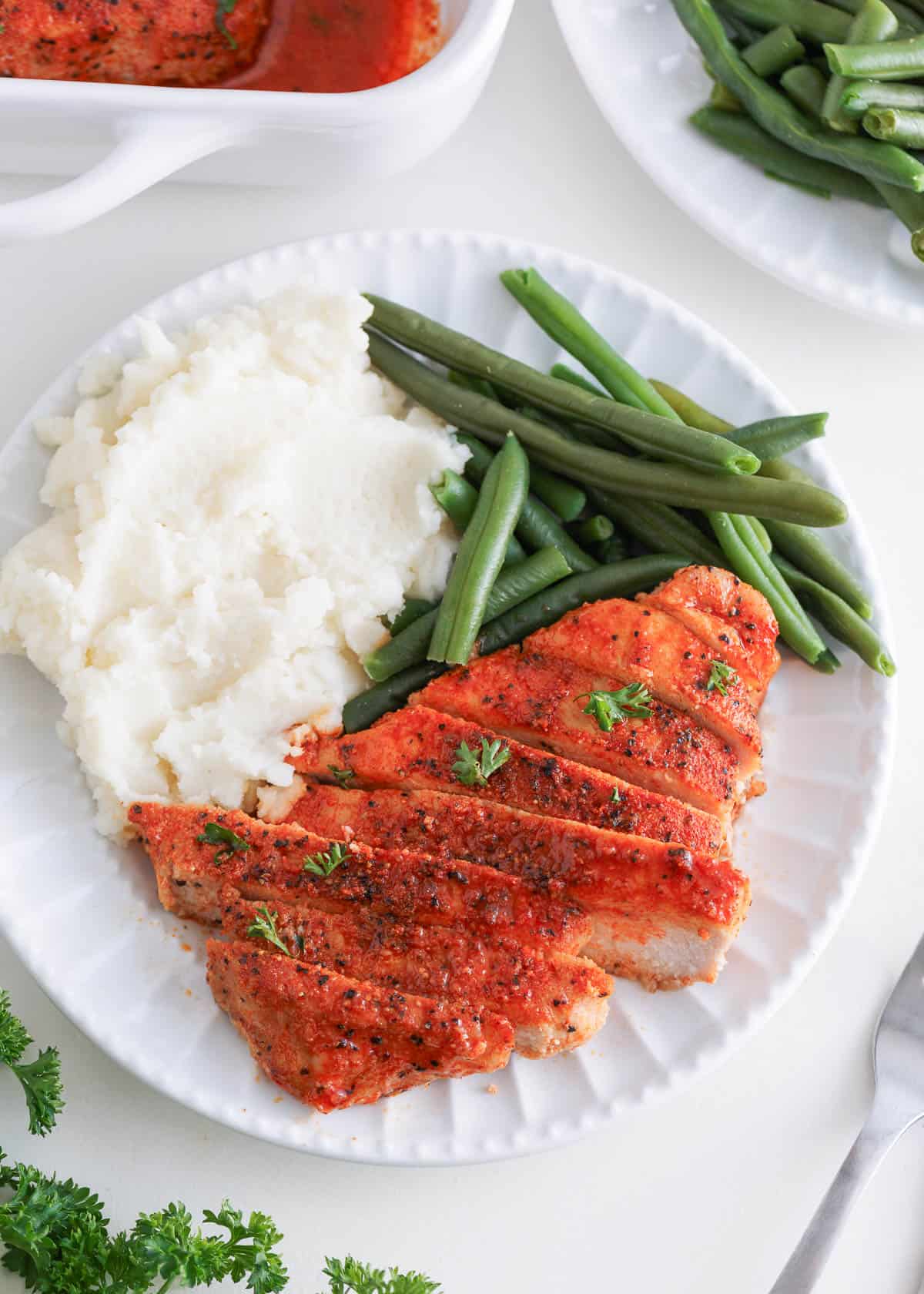 Why This Recipe Works
Ready in 25 minutes. Or in other words, in the time it takes you to watch a quick show or make some side dishes!
Tender and juicy. No need to worry about dry or overcooked chops, these turn out beautifully caramelized on the outside and juicy on the inside every time.
Bone-in or boneless pork chops. These can be made boneless or with bone, depending on what you have.
Recipe Ingredients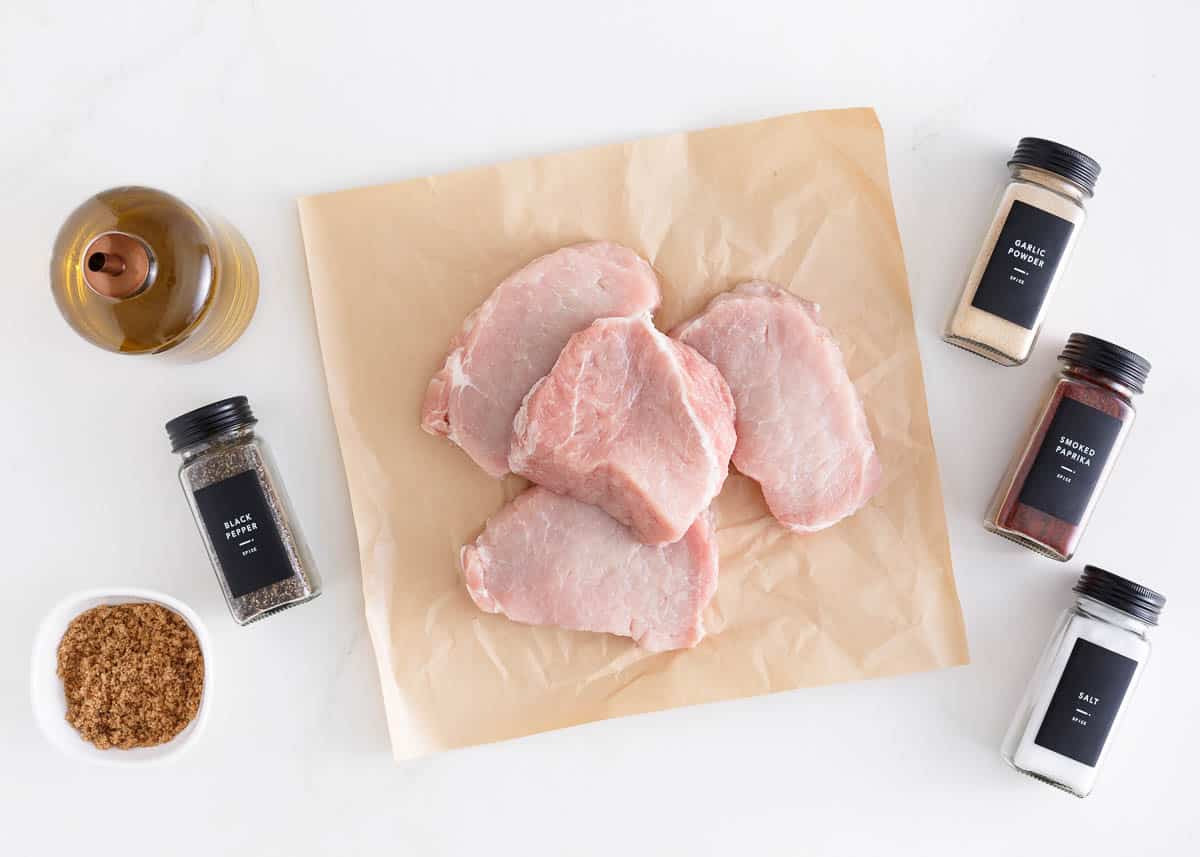 Find the full printable recipe with specific measurements below.
Pork loin chops: I use boneless pork loin chops that are about 1 1/2" thick. Trim them of the excess fat and pat dry with paper towels so that they get a nice crust on the outside.
Olive oil, divided: This will help brown the chops in the oven and distribute the dry rub evenly over the meat.
Seasoning: Brown sugar, smoked paprika, garlic powder, salt, and pepper are combined to provide a sweet, smoky, and savory flavor combination.
Variations
If you'd prefer something a little different than the sweet and smoky seasoning, I have a great homemade dry rub for pork made with Italian seasoning that I sometimes will use instead. It's a bit more similar in seasoning to my baked chicken thighs recipe.
Add some onion powder along with the garlic powder for an extra layer of flavor.
Roast some veggies in the same dish. Broccoli, cauliflower, green beans, brussels sprouts, onions, or even roast potatoes or sweet potatoes are great options.
How to Bake Pork Chops
Season the chops. Rub both sides of the meat with oil followed by the spice rub mixture. Make sure to coat all pieces evenly.
Arrange them in the dish. Place all of the pork in a 9 x 13 baking dish and drizzle the remaining oil overtop.
Bake uncovered. You want to keep them uncovered to get a nice crust. Since we're using high heat the outside will brown quicker than the inside. If you were to cover them, you'd trap the heat and create moisture. Bake for 18 minutes or until the Instant Read thermometer reads an internal temperature of 145℉.
Rest and serve. Allow the meat to rest for 5 minutes before serving. This will help to settle and redistribute the juices before serving so they don't run out and leave you with dry meat.
How Long to Bake Pork Chops
This will always depend on how thick your chops are and what temperature you're baking them. The rule of thumb is 7 minutes for every 1/2″ thickness for boneless pork chops or 8 minutes for 1/2″ thickness for bone-in chops.
Keep an eye on them and for accuracy use a digital meat thermometer to properly gauge the internal temperature of the pork chops.
Expert Tips
Thickness. Make sure your chops are at least 1-inch thick to withstand high heat and avoid dry, overcooked pork.
Bring meat to room temperature. This helps them to cook evenly and brown quickly.
Let the chops rest. The internal temperature of the meat will continue to rise as the baked pork chops rest. To prevent overcooking, make sure to take them out no earlier than when they reach 145℉ but no later than 150℉. Otherwise, they will overcook.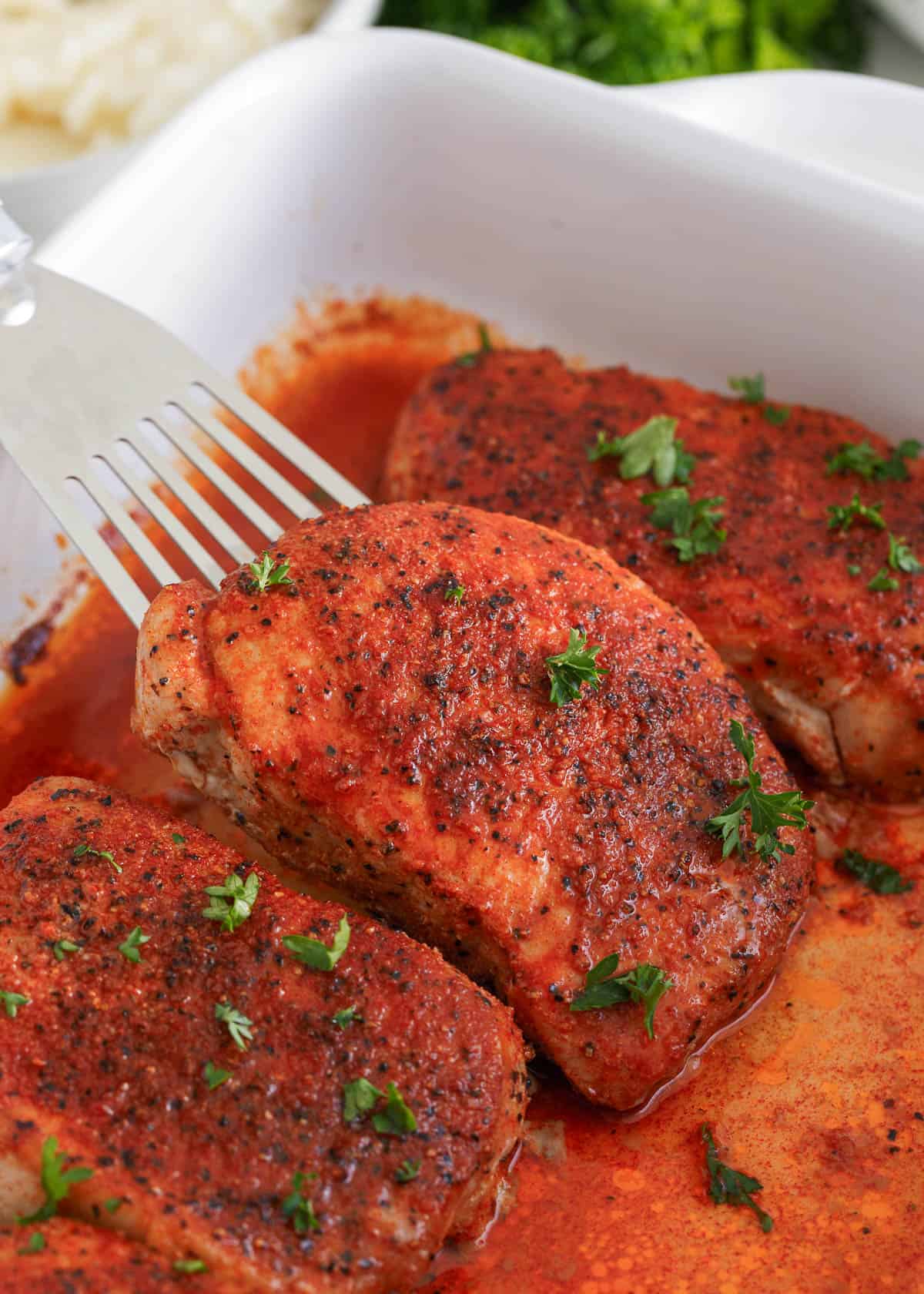 Recipe FAQs
Do you bake pork chops covered or uncovered?
Uncovered is the way to get the direct high heat onto the outside to give them great caramelization. Since we don't sear them in a skillet first, we need that extra dry heat. Covering with foil would trap too much of the moisture.
Are pork chops healthy?
They are certainly a great way to pack in protein. Pork loin chops are lean meat that provides vitamins and minerals, and when trimmed of excess fat, it's even better!
How long to cook my pork chops if they are under 1 inch?
This is where it can be very easy to overcook your baked pork chops. As best as you can, avoid anything less than 1″, however, if that's what you're using, make sure to check at the 10-minute mark.
Pork Chops Serving Suggestions
The options for side dishes are virtually endless! Here are just some suggestions for easy sides for a comforting meal:
Storage Tips
Keep any leftovers in an airtight container in the fridge for up to 5 days. To reheat I recommend using the oven to heat through. If you have just a piece or two the microwave is the way to go, just be careful not to dry them out by heating them too much.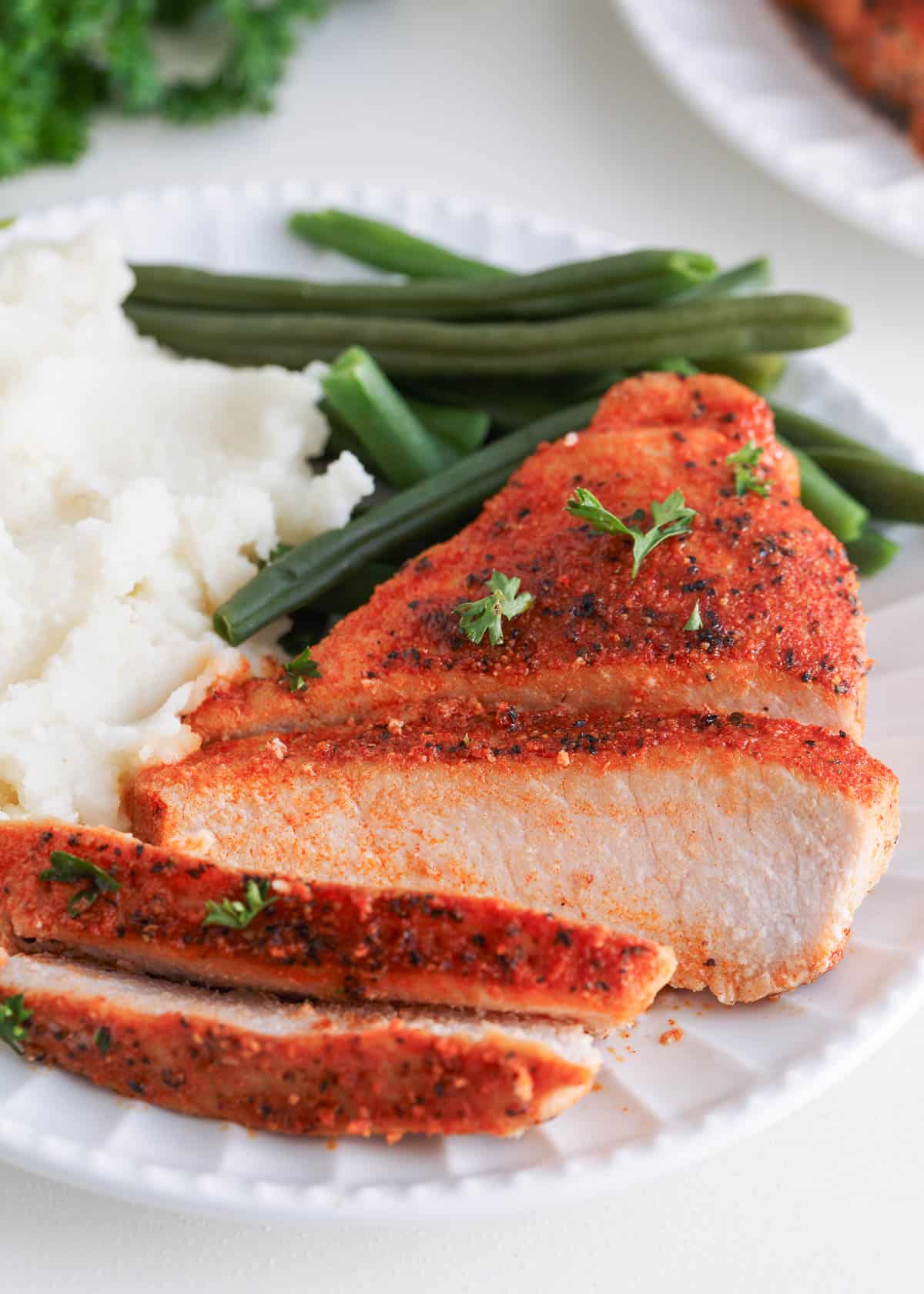 HUNGRY FOR MORE? Subscribe to my newsletter and follow on Facebook, Pinterest and Instagram for all the newest recipes!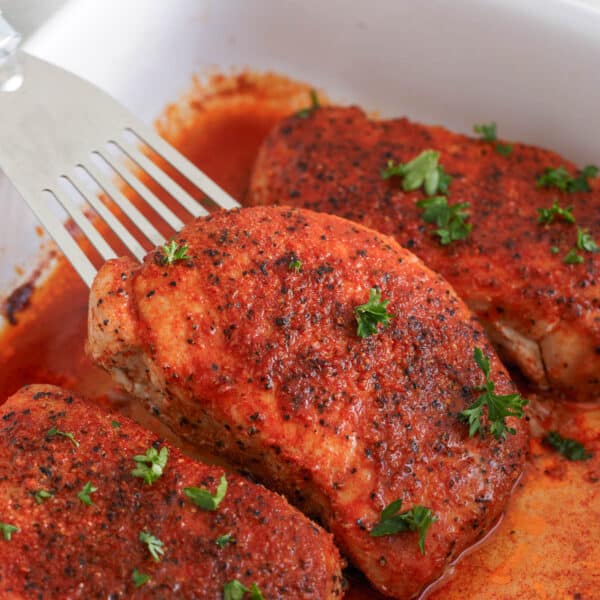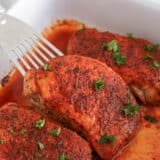 Baked Pork Chops Recipe
Tender, juicy, and seasoned with a sweet and savory spice rub, this easy baked pork chops recipe will save your dinner rut time and again! Made with simple ingredients, this dish is ready to serve in 25 minutes with all your favorite sides!
Ingredients
2 Tablespoons dark brown sugar
1 teaspoon smoked paprika
1 teaspoon garlic powder
½ Tablespoon Kosher salt
1 teaspoon cracked black pepper
2 Tablespoons olive oil , divided
4 boneless, pork loin chops (about 1 1/2-inch thick), trimmed and patted dry
Instructions
Preheat the oven to 400℉.

In a small bowl, stir together the brown sugar, paprika, garlic powder, salt, and pepper.

Drizzle 1 Tablespoon olive oil over both sides of the pork chops. Rub the spice mixture all over the pork chops and place them in a 9×13-inch baking dish. Drizzle the remaining 1 Tablespoon olive oil over the top.

Bake uncovered 18 minutes, depending on thickness, or until center reaches an internal temperature of 145℉.

Remove from oven and let rest 5 minutes before serving.
---
Notes
Baking times: Depending on the thickness of the pork chops, the baking time may vary. Start with 7 minutes per 1/2-inch thickness and go from there, keeping an eye on the internal temperature. Bone-in: If using bone-in pork chops, add an extra minute for each 1/2-inch.
Nutrition
Calories: 298kcal | Carbohydrates: 7g | Protein: 29g | Fat: 16g | Saturated Fat: 4g | Polyunsaturated Fat: 2g | Monounsaturated Fat: 9g | Trans Fat: 0.1g | Cholesterol: 90mg | Sodium: 939mg | Potassium: 535mg | Fiber: 0.4g | Sugar: 6g | Vitamin A: 254IU | Vitamin C: 0.01mg | Calcium: 19mg | Iron: 1mg
Nutrition provided is an estimate. It will vary based on specific ingredients used.
Did you make this recipe? Don't forget to give it a star rating below!