Learn the best technique for grilled BBQ chicken that delivers seasoned juicy chicken with crispy skin basted in mouthwatering barbecue sauce. It's perfect for an easy weeknight dinner or to serve at all your summer gatherings!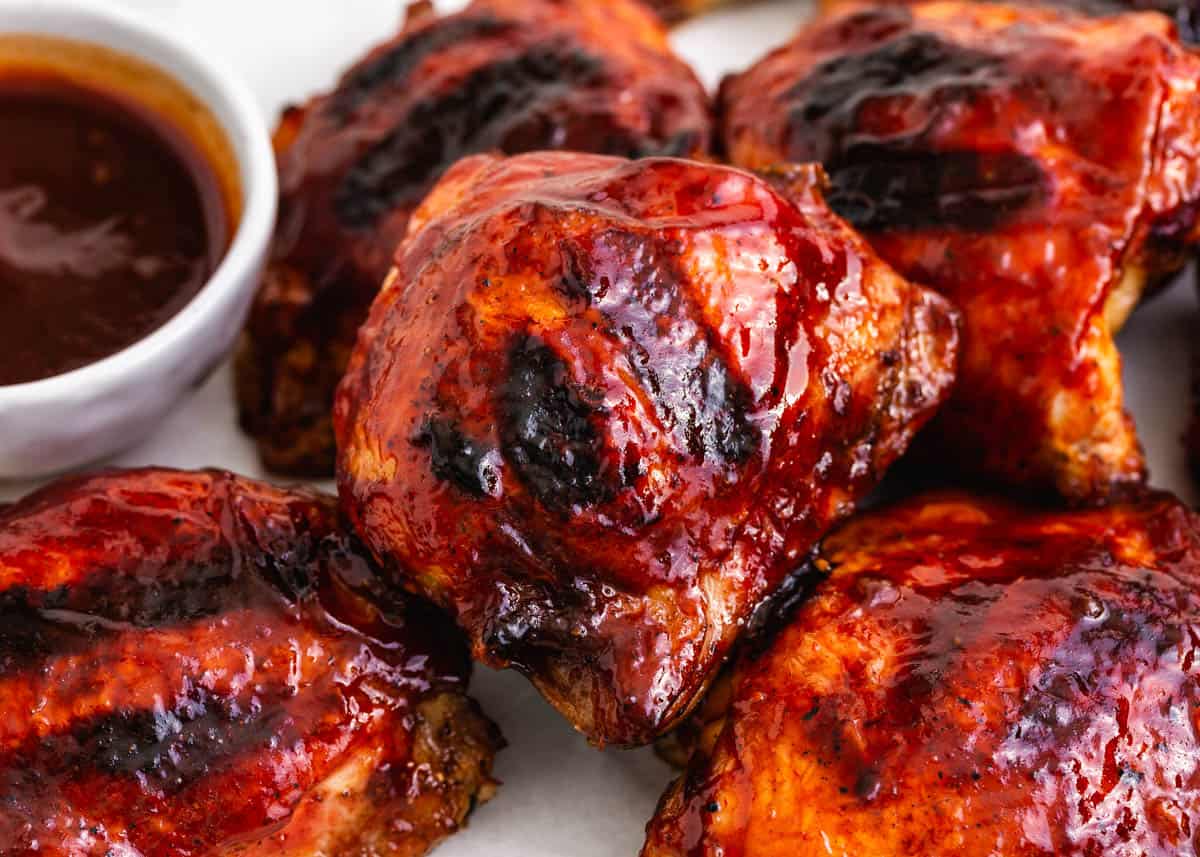 Best Barbecue Chicken Recipe
This BBQ chicken recipe makes it easy to cook chicken on the grill! It's all about the technique and it couldn't be easier to get perfectly grilled chicken every time.
We start with high heat to sear the outside crisping up the seasoned skin, then we baste it with sweet, tangy, and smokey sauce and allow those sugars to caramelize. Then we place the chicken on indirect heat so the inside cooks until perfectly juicy.
There is so much flavor from the BBQ sauce and it's completely customizable to use whichever kind you want, even if it's not my tasty homemade BBQ sauce!
It pairs well with all the best pasta salad recipes, grilled vegetables, and potato salad making it a complete feast for all your summer gatherings! Add it to your rotation along with these grilled pork chops for BBQs, cookouts, and nights you don't want to heat your kitchen.
Why This Recipe Works
Simple ingredients. With a simple dry rub that penetrates the meat to the finger-licking BBQ sauce that coats it all, these flavors are created with just a few simple pantry staples.
Quick and easy. Just 5 minutes of prep time is all it takes and then the grill does the rest.
Tender and juicy. If you're looking for the juiciest bbq chicken on the grill, this is it.
Recipe Ingredients
Find the full printable recipe with specific measurements below.
Chicken: For this recipe, I like using bone-in, skin-on chicken pieces. Depending on what I've got, it's either legs, thighs, wings, or breasts. If you're using a combination of pieces, make sure to grill similar pieces at the same time to cook evenly.
Olive oil: The oil coats the meat to help keep it moist and to allow the seasonings to stick and evenly distribute around the entire piece of chicken.
Seasoning: Smoked paprika, salt, and pepper. The smoked paprika is optional, as salt and pepper are enough to give the chicken flavor. It's the BBQ sauce that shines in this recipe!
BBQ sauce: Use whatever your favorite BBQ sauce is. Make sure to have enough to slather it on and keep some extra for dipping! If you're down to a quarter of a jar, go grab some more!
Variations
Feel free to play around with the seasonings. I find the simpler the better for this particular recipe, but there's no rule against adding extra flavor!
Garlic powder, onion powder, chili powder, and other spices could be a great addition to your spice rub.
If you want to brine your chicken ahead of time, you can soak the pieces in buttermilk or try the marinade from my grilled chicken thighs recipe!
You can even make this recipe by skipping the barbecue sauce! Season it how you like, and grill it with just the seasoning like I do with my easy grilled chicken. And if the weather isn't conducive to grilling, make baked BBQ chicken instead!
How to Grill BBQ Chicken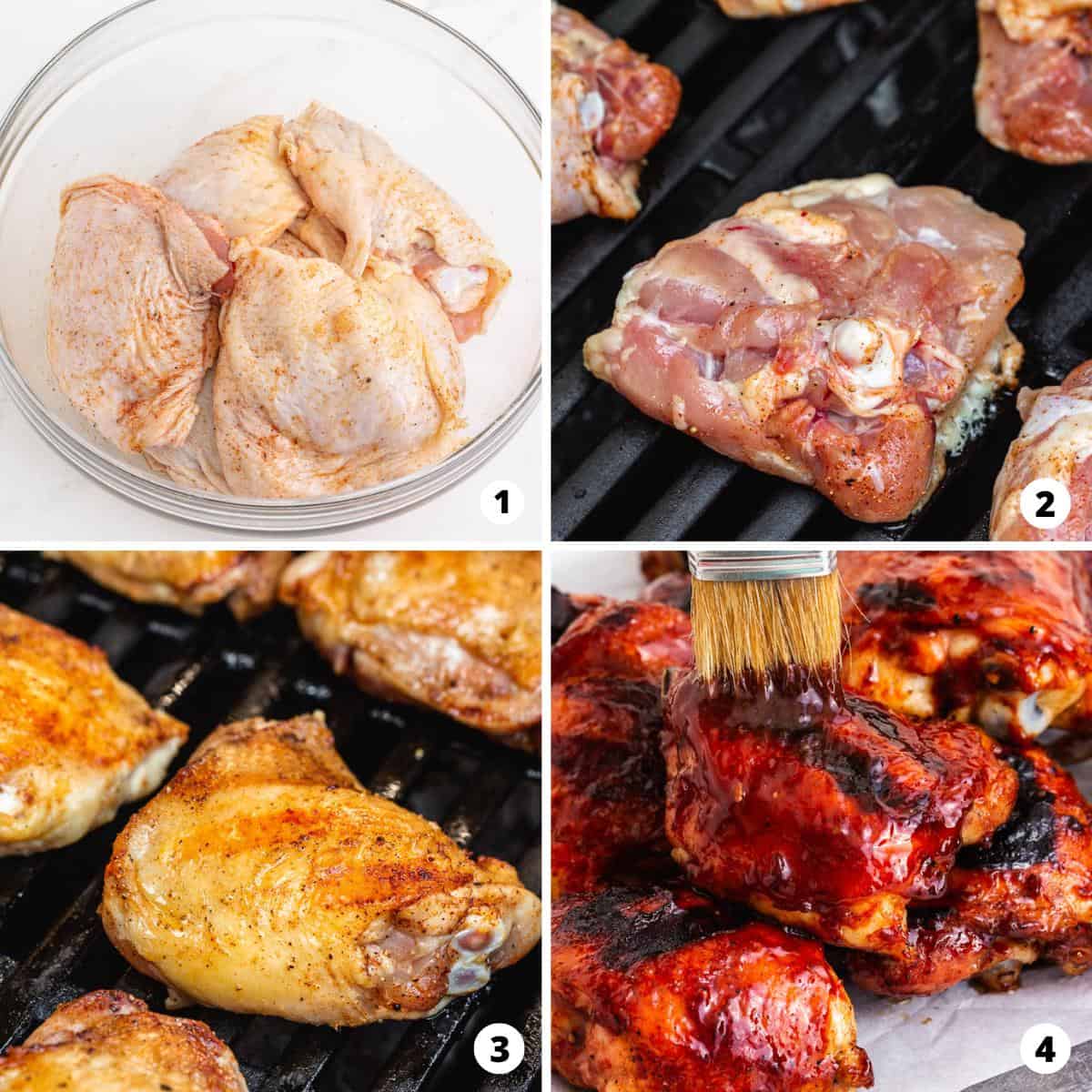 Season the chicken. Pat the chicken dry with a paper towel and add the pieces to a large bowl. Coat the olive oil and seasoning and toss the chicken until completely coated. If you prefer to use your hands to rub, go for it.
Sear the chicken skin. Place pieces of chicken, skin side down, over direct heat (where the flame is) of a preheated grill. Grill uncovered for 5-10 minutes until the skin is well seared. Flip them over and place them back on the grill over indirect heat (the cooler side of the grill). Reduce the heat to low or medium-low. Cover and grill for 20-30 minutes.
Baste the chicken. Flip the chicken over and baste with the BBQ sauce. Cover and grill for another 15-20 minutes.
Finish cooking. Flip the chicken over once more and baste the other side. Cover and cook for the last 10-30 minutes. For the last couple of minutes, move the pieces, skin side down to the hot side of the grill to get that last delicious sear and charred grill marks.
Before serving, coat the grilled BBQ chicken with one more brush of BBQ sauce!
Grilled BBQ Chicken Time and Temperature
Grilled BBQ chicken cooks at different times based on the temperature set and the size of the chicken pieces. The bone-in chicken will take longer than boneless, and larger thighs and breasts will take longer than chicken drumsticks and chicken wings. This is why the instructions say to cook for 10-30 minutes. It all depends!
As long as you use a meat thermometer to check the internal temperature, the USDA says it is safe to eat once it reaches 165℉.
Expert Tips
Start with a clean grill. If it wasn't done at the end of the last grill, make sure to scrape the grill once it gets hot. Scrape off any residual char from previous cooks so those flavors don't transfer over.
To avoid dry chicken. Take the chicken off the grill once it reaches 160℉. It will continue to cook as it rests.
Skin-on. I recommend keeping the skin on for bbq chicken on the grill. Seasoned crispy skin is amazing and adds tons of flavor. Plus it helps keep the meat underneath nice and moist.
Follow instructions. As basic as this sounds, it's important to follow instructions as written. Cover when needed, move the pieces when needed, and baste when necessary. There is a method to getting perfectly juicy grilled BBQ chicken!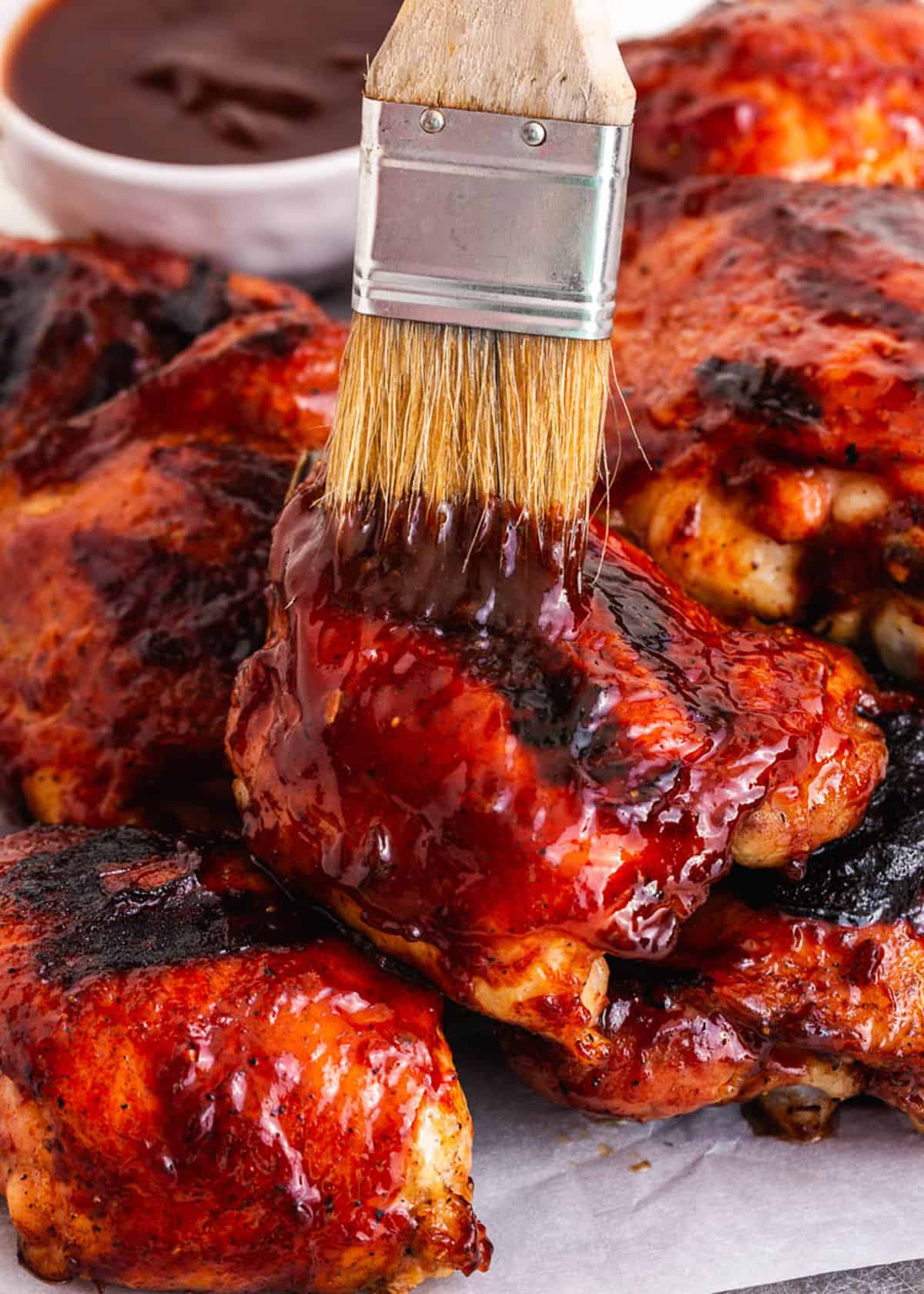 Recipe FAQs
Do you put BBQ sauce on the chicken before grilling?
You put it on before and after. Brushing the meat before allows the sugars to caramelize and form a bit of a crispy outer crust. Basting it after as well, just makes it extra saucy!
What temperature do you grill BBQ chicken?
Start with a preheated grill at a high temperature. This initial high heat gives the outside skin a head start by crisping up the outside. The heat is then reduced to no higher than 300℉ and the grilled BBQ chicken is cooked over indirect heat for a longer period so that it cooks without overcooking.
Can I freeze leftovers?
Sure you can freeze leftover thighs! Once the thighs have completely cooled, wrap each piece individually in plastic wrap then transfer to a freezer bag. Keep frozen for up to 3 months. Thaw overnight before reheating.
Storing
Keep leftovers in an airtight container in the fridge for up to 3 days. When reheating, avoid drying out the meat, so low and slow is the way to go. Cover with foil and pop them in the oven to reheat. You can even baste them a bit more if you'd like.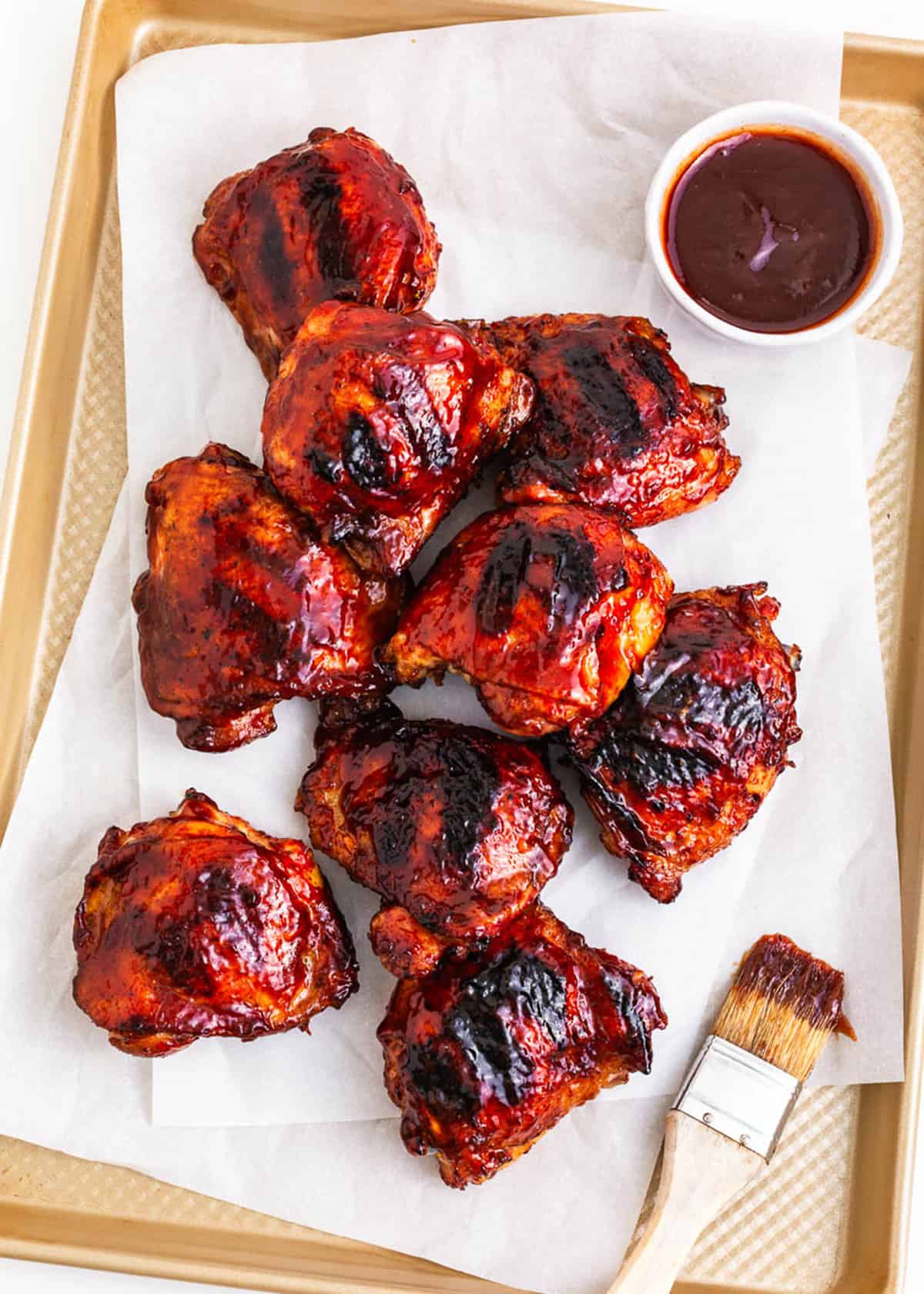 More Grilled Chicken Recipes
HUNGRY FOR MORE? Subscribe to my newsletter and follow on Facebook, Pinterest and Instagram for all the newest recipes!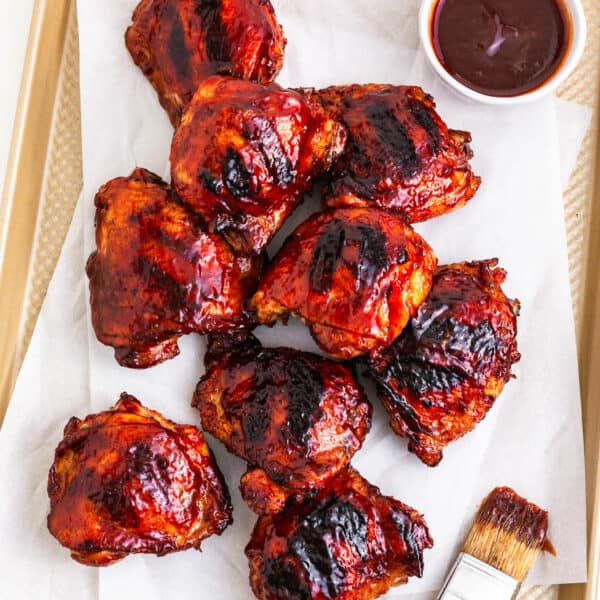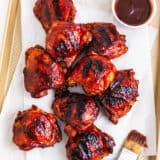 Grilled BBQ Chicken
Learn the best technique for grilled BBQ chicken that delivers seasoned juicy chicken with crispy skin basted in mouthwatering barbecue sauce. It's perfect for an easy weeknight dinner or to serve at all your summer gatherings!
Ingredients
Instructions
Toss chicken pieces with oil, paprika, salt, and pepper until completely coated.

Preheat one side of the grill to high heat.

Place the chicken pieces, skin-side down, over the direct heat. Grill uncovered 5 to 10 minutes, or until well seared. Flip pieces over and place over the side with no heat. Reduce the side with heat to low or medium low, no higher than 300℉.

Transfer the pieces, skin side down, to the hot side of the grill. Sear and blacken slightly 1 to 2 minutes more.

Using a clean brush, coat the chicken with BBQ sauce to serve.
---
Notes
Chicken pieces: This recipe is for larger chicken pieces, so your time may be shorter if cooking with smaller pieces. Wings, for instance, will be much quicker than other pieces. Chicken skin: I recommend grilling with the skin on, as it helps protect the meat and can add great flavor. Storing: It will stay fresh in the fridge in an airtight container or bag for up to 3 days. Freezing: Wrap each whole chicken breast (do not slice) in plastic wrap, then place in an airtight container or bag. Store in the freezer for up to 3 months. Thaw in the refrigerator over night when ready to enjoy.
Nutrition
Calories: 566kcal | Carbohydrates: 20g | Protein: 39g | Fat: 36g | Saturated Fat: 10g | Polyunsaturated Fat: 7g | Monounsaturated Fat: 16g | Trans Fat: 0.2g | Cholesterol: 154mg | Sodium: 926mg | Potassium: 502mg | Fiber: 0.5g | Sugar: 16g | Vitamin A: 436IU | Vitamin C: 4mg | Calcium: 39mg | Iron: 2mg
Nutrition provided is an estimate. It will vary based on specific ingredients used.
Did you make this recipe? Don't forget to give it a star rating below!