Pork enchiladas are a delicious, filling, and flavorful Mexican-inspired dish! They're filled with seasoned pulled pork, beans, cheese, and a smoky enchilada sauce. Baked to perfection, this dish has been a longtime family favorite for a reason!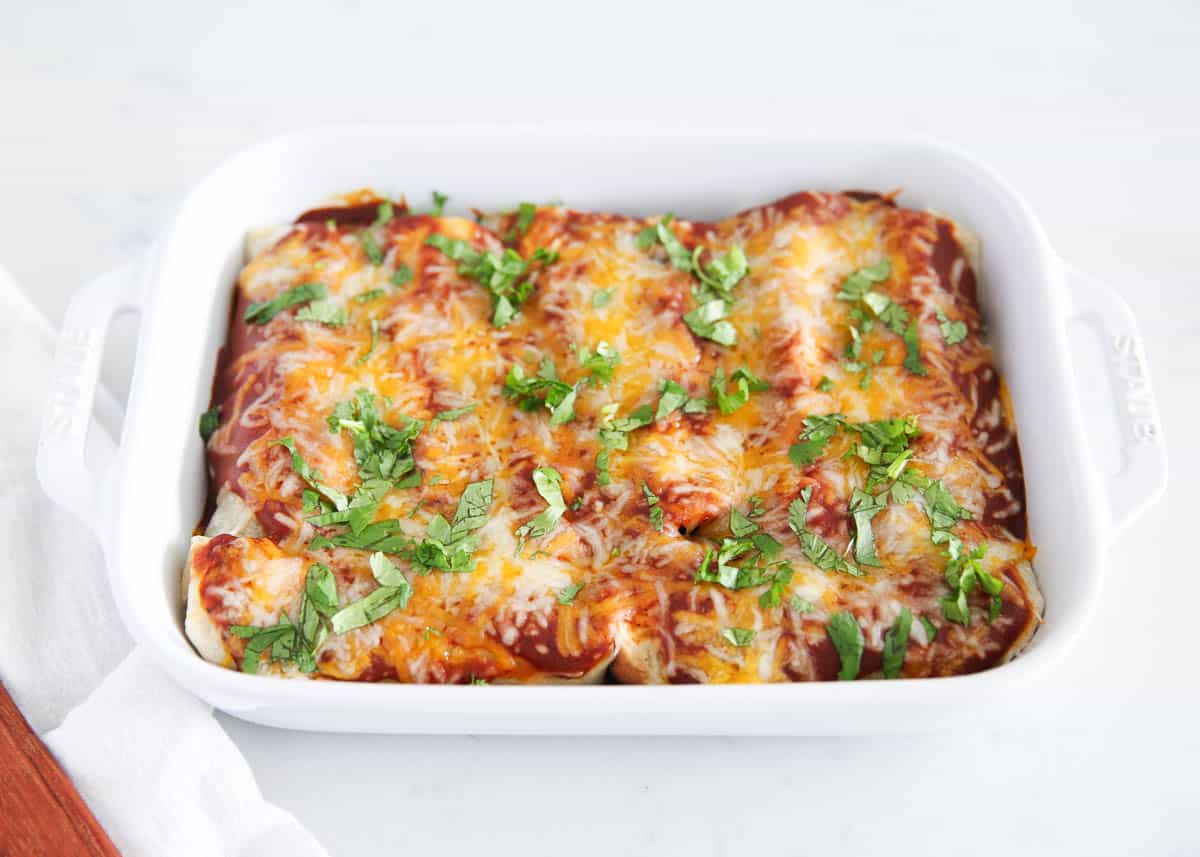 A Hearty Weeknight Meal
Pork enchiladas are cheesy, saucy, and satisfying comfort food loaded with Mexican flavors. Much like beef enchiladas or creamy chicken enchiladas they are flexible and can be customized to your tastes.
They're filled with tender, fall-apart pork, beans, and cheese, and topped with a thick smoky red enchilada sauce. It's such a fun dish to serve a crowd and is easy to stretch out the filling by doubling the recipe.
Making enchiladas with pork is something I look forward to making so when I make any type of pulled pork, usually slow cooker carnitas, I make more and use leftover pulled pork to make this pork enchiladas recipe even easier!
What Are Enchiladas Anyway?
They're usually made with corn tortillas which are wrapped around a filling of some type of meat, cheese, veggies, beans, and seasonings. For this recipe, we'll be using flour tortillas as they are much easier to work with. They're softer, pliable, and usually larger.
They can be fried or baked and topped with a delicious sauce. Sometimes a mole sauce, sometimes a cheese sauce, and in our case a tasty enchilada sauce.
There are a variety of ways to make them, a lot of it depends on where you live!
Difference Between Enchiladas and Chimichangas
A chimichanga is a deep-fried burrito! They are both stuffed with all the yummy ingredients, usually including rice. It is then fried and served without any signature sauce on top, but rather toppings on the side.
The main difference is that a chimichanga is made with a flour tortilla and enchiladas are usually made with corn tortillas.
Why We Love Pulled Pork Enchiladas
These pulled pork enchiladas are the perfect family dinner that everyone loves! They are delicious, easy to make, and so customizable in a few ways. It is the best main dish that can feed a crowd!
So good! If you love Mexican food, you're going to love pork enchiladas. Stuffed with flavorful ingredients, melty cheese, and a delicious smoky sauce to boot!
Easy. You can make as much of it from scratch as you like or take a few shortcuts for busy weeknights. This simple recipe could not be any easier!
Customizable. There are plenty of ways to fill up your enchiladas and although I like to keep mine pretty simple, I'm also including all the ways you can add to it.
Freezer-friendly. These keep for months in the freezer! You can freeze them baked or unbaked and pop them in the oven to heat up when you're ready.
Ingredients Needed
Simple ingredients that are easy to have on a weekly basis! Make these easy pork enchiladas any day of the week for a simple meal that everyone will eat. My kids love this recipe and it is easy to make on those busy week nights!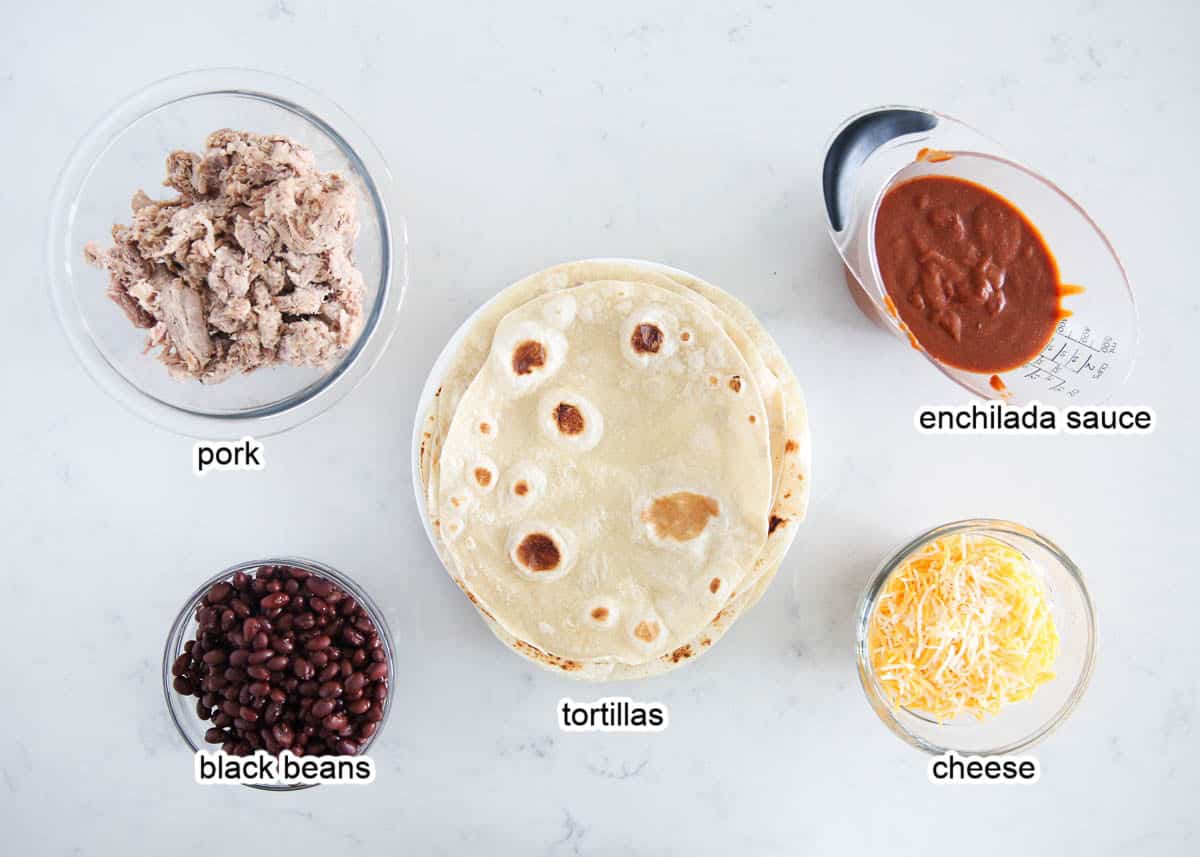 Find the full printable recipe with specific measurements below.
Pork carnitas: I love the crispy outer bits that the pork carnitas have, but you can use whatever type of pulled pork you like. If you have leftover pork from a pork roast, use that!
Black beans: Canned beans, drained and rinsed, are easy and convenient.
Red enchilada sauce: Homemade or store-bought, it's up to you. It's made with chili powder, cumin, oregano, chicken broth, and tomato paste to name a few ingredients.
Flour tortillas: You'll need about 8 for this recipe. Enough to fill a baking dish so that they fit nicely side by side in a single layer.
Shredded cheese: Monterey Jack cheese, cheddar cheese, Mexican blend, whatever you prefer. I always aim for freshly grated from a block, I find it melts better and tastes fresher.
Using Unseasoned Pulled Pork?
Add in cumin, oregano, garlic powder, onion powder, salt, and pepper to the pork enchiladas mixture for maximum flavor!
How to Make Pork Enchiladas
These homemade pork enchiladas are simple to assemble and bake in minutes! Add your favorite toppings for a complete meal. It is the perfect combination!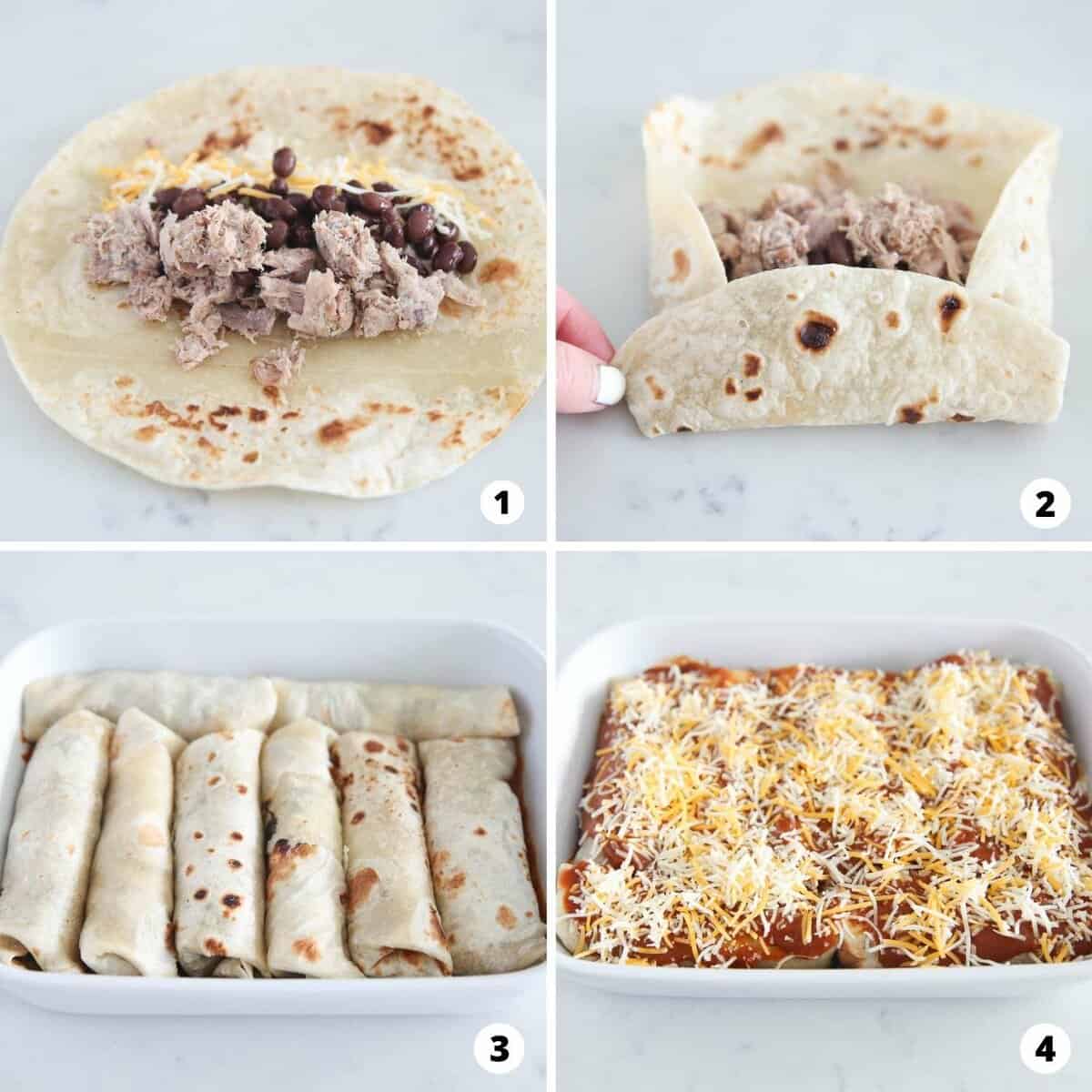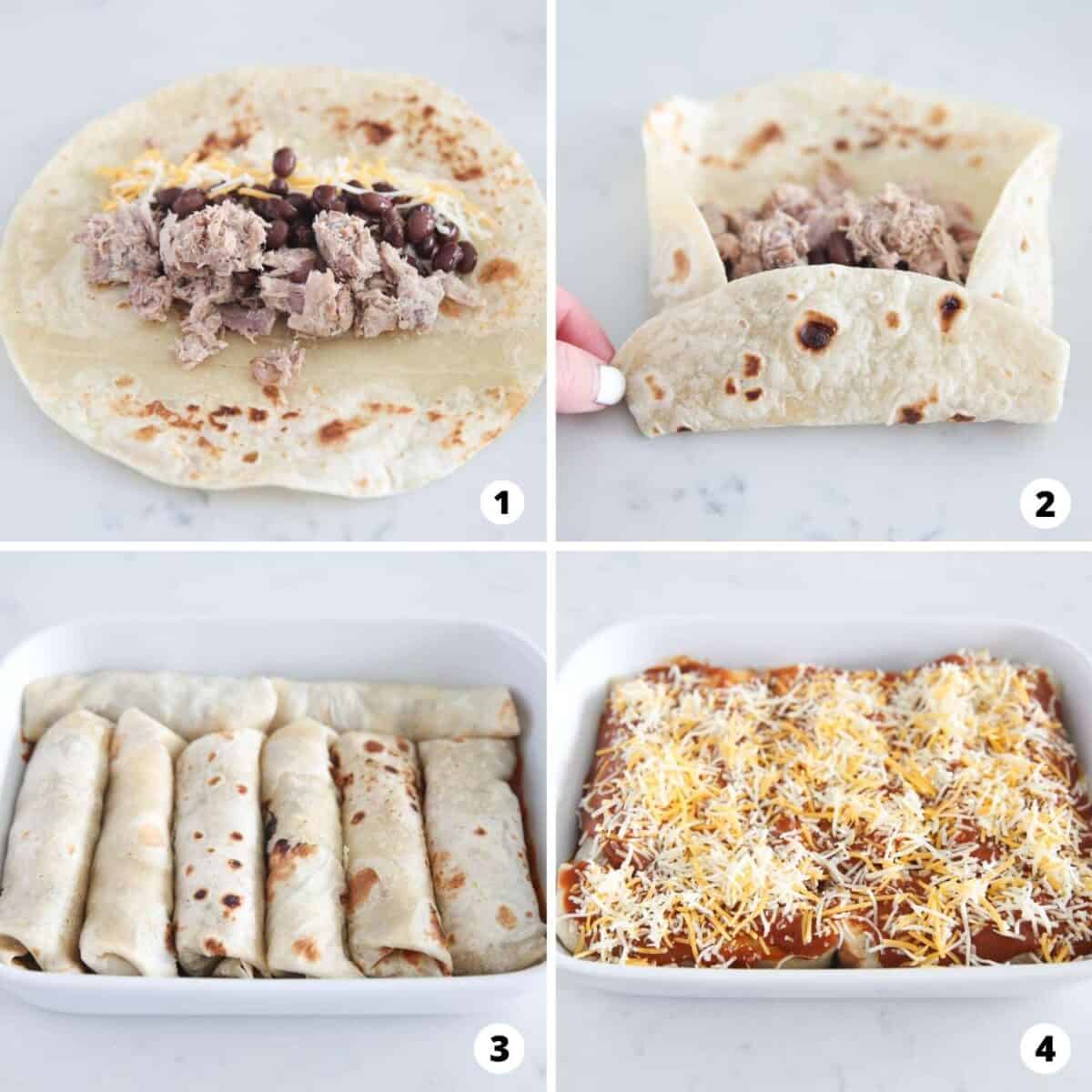 Fill tortillas. Add about 1/2 cup of pork, beans, and enchilada sauce mixture into the center of a tortilla and sprinkle with cheese.
Roll tightly. Fold in two opposite sides first, then roll up from the bottom.
Arrange in the dish. Place the rolled-up tortilla seam side down into the casserole dish that has been spread with enchilada sauce. This way the pork mixture won't fall out. Repeat with remaining tortillas, filling the dish.
Add sauce and bake. Pour the remaining enchilada sauce over top of all of the enchiladas and bake for 10 minutes. Spread the remaining cheese over top and continue baking for another 15-20 minutes until the cheese is bubbly and golden. Allow cooling before serving.
Variations
Make this family dinner just the way to like it! Here are a few variations that can take your enchiladas with pork to the next level. We love to change these enchiladas from time to time!
Cooking Tips
Follow these quick tips to make your pork enchiladas even better and easier to make! Use more seasoning, sauce, and even homemade tortillas to create the best family dinner from scratch!
Extra seasoning. If your pork isn't seasoned, season it! The more the better!
Sauce it. Add enchilada sauce to the bottom of the dish before the rolls so that they don't stick.
Tortillas. Place them seam-side down. This will help the tortillas not fall apart when baking.
Filling. Do not overfill or overstuff them. 1/2 cup of the mixture is good!
Cheese. Use freshly grated cheese if possible. Preshredded cheese in a bag has an extra coating of flour on top that holds back that melty cheese appearance when baked.
Homemade. Homemade flour tortillas and red enchilada sauce take this dish to another level.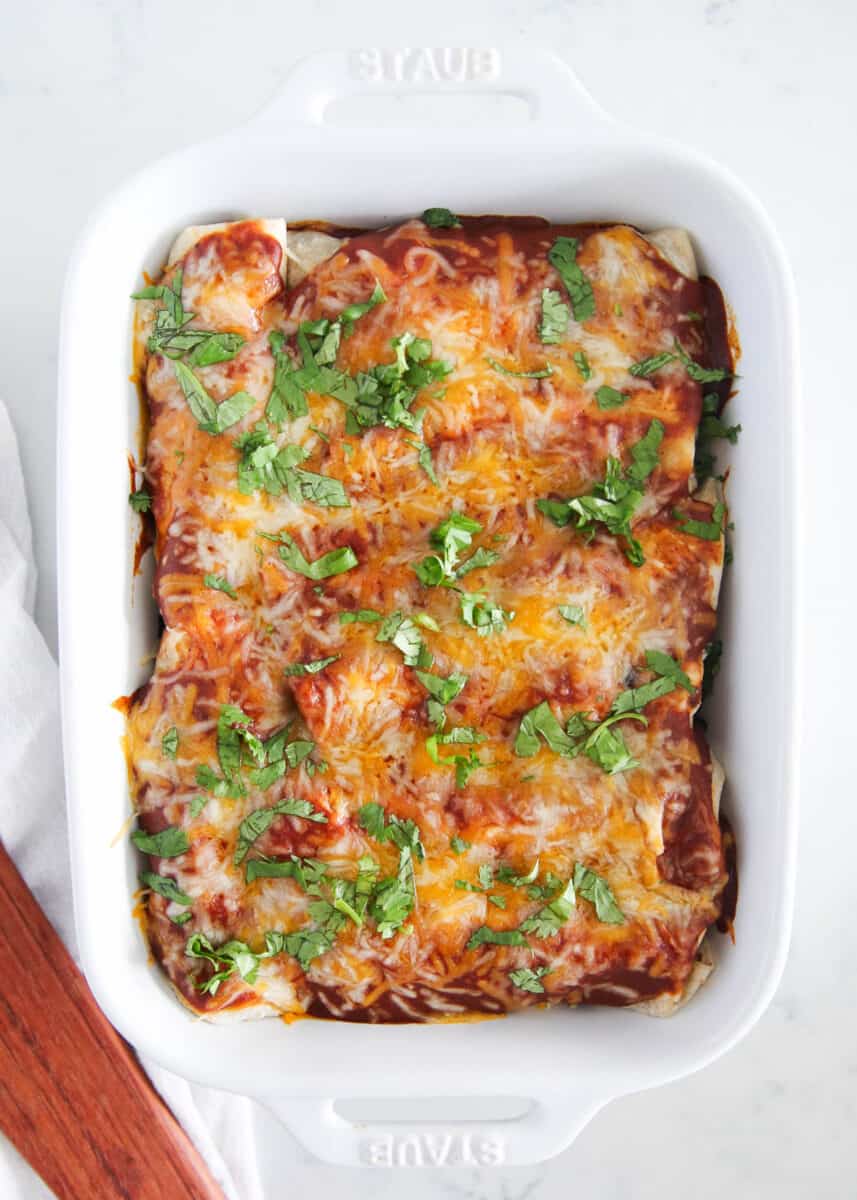 What to Serve With Pork Enchiladas
These fully loaded enchiladas are lacking nothing! They are a complete, filling, and satisfying meal on their own. If you want to add a little side of something extra, here are a few ideas:
Black bean salsa is a refreshing, light side dish! Sometimes I will even make this southwest egg roll recipe for an appetizer while the enchiladas are baking.
Rice is a common pairing, so Spanish rice, easy Mexican rice, or cilantro lime rice would be great.
You could also aim for a chopped salad and call it a day!
Recipe FAQs
What is the secret to good enchiladas?
The secret to good enchiladas is avoiding them becoming soggy. You can fry the tortillas ahead of time before filling them and rolling them. This will allow a barrier so the tortillas don't soak up too much of the sauce.
Are corn or flour tortillas better for enchiladas?
Either type of tortilla is great! Corn tortillas are traditional but for this recipe, we used flour tortillas.
Do you bake enchiladas covered or not?
For this recipe, we baked the enchiladas without a cover because the cheese will melt and be ooey gooey. You can cover the baked enchiladas with foil and uncover the remaining 15 to 20 minutes to melt the cheese.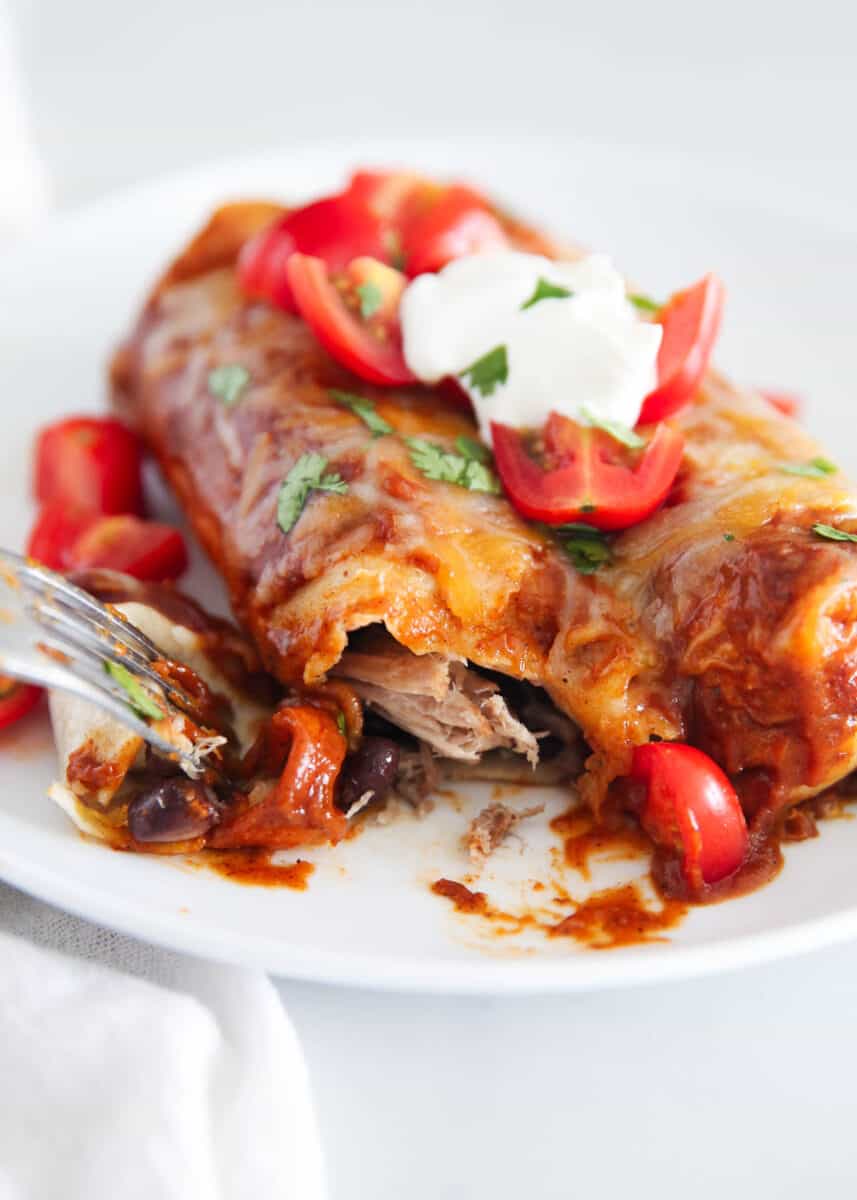 5 star review
"This Pork Enchilada Recipe is absolutely the BEST and it's also a great make-ahead meal. I didn't change anything in the recipe and we loved the taste, it turned out so delicious!"

-Natasha
Make-Ahead & Storage Tips
Pork enchiladas are perfect for making ahead, storing, and even freezing for another time. Double the recipe and have a meal ready for next week or even a month. These options are great for sharing with a neighbor or having when you need a quick meal out of the freezer!
Make ahead: Assemble enchiladas up until just before baking. Place them in a freezer-friendly dish and wrap tightly in foil. Keep it frozen for up to 3 months. You can heat straight from frozen just remember to add on extra baking time.
To store: Keep any leftovers in an airtight container in the fridge for up to 3 days. Reheat in the oven or microwave.
To freeze: You can also freeze already baked enchiladas for up to 3 months. Thaw in the fridge overnight and reheat in the oven to warm through.
HUNGRY FOR MORE? Subscribe to my newsletter and follow on Facebook, Pinterest and Instagram for all the newest recipes!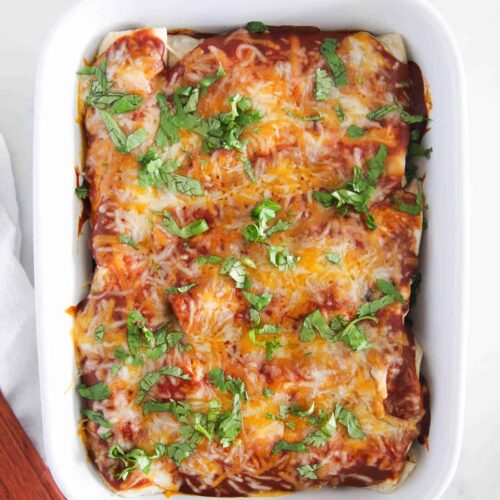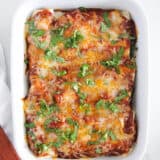 Pork Enchiladas
Pork enchiladas are a delicious, filling, and flavorful Mexican-inspired dish! They're filled with seasoned pulled pork, beans, cheese, and a smoky enchilada sauce. Baked to perfection, this dish has been a longtime family favorite for a reason!
Ingredients
2 cups packed pork carnitas (or Mexican pulled pork) , or other shredded meat (see notes)
1 cup canned black beans , drained and rinsed
2 cups store-bought or homemade red enchilada sauce
1 ½ cups shredded cheese
Optional toppings: chopped cilantro, sliced olives, sliced green onions, sour cream, guacamole, hot sauce
Instructions
Preheat the oven to 350°F.

In a medium bowl, combine the pork, beans, and 1/4 cup enchilada sauce.

Spread half of the remaining enchilada sauce over the bottom of a 9×13-inch pan. Place about 1/2 cup meat mixture into the center of a tortilla. Sprinkle with cheese and roll tightly together. Place seam side down inside the pan. Repeat with remaining tortillas and filling. Top all 8 enchiladas with remaining enchilada sauce.

Bake 10 minutes. Spread remaining cheese evenly over the top. Bake an additional 15-20 minutes, or until the cheese is bubbly and golden.

Remove from the oven and let cool 5 minutes. Top with your favorite toppings to serve. Enjoy!
---
Notes
Seasoning: If using pre-seasoned pork carnitas for this recipe, no need to add any additional flavor. If, however, you are using unseasoned shredded pork, feel free to add ground cumin, oregano, garlic powder, onion powder, salt, and pepper. Variations: This recipe is really flexible and works really well with different types of meat, beans, or veggies. Try it with shredded chicken or beef, if you prefer. We also like to swap the black beans for refried beans. Storage: The enchiladas can be stored in an airtight container up to 3 days in the refrigerator and 3 months in the freezer. Make-ahead: The enchiladas can be made in advance. Follow the steps up until baking. Wrap tightly with tin foil and keep in the freezer up to 3 months. Be sure to add additional time when baking straight from the freezer.
Nutrition
Serving: 1enchilada | Calories: 616kcal | Carbohydrates: 69g | Protein: 34g | Fat: 23g | Saturated Fat: 10g | Polyunsaturated Fat: 2g | Monounsaturated Fat: 4g | Cholesterol: 84mg | Sodium: 2615mg | Potassium: 239mg | Fiber: 7g | Sugar: 28g | Vitamin A: 1263IU | Vitamin C: 6mg | Calcium: 374mg | Iron: 5mg
Nutrition provided is an estimate. It will vary based on specific ingredients used.
Did you make this recipe? Don't forget to give it a star rating below!