Our favorite Halloween snack ideas for school …cute, easy, non-candy ideas that kids will love!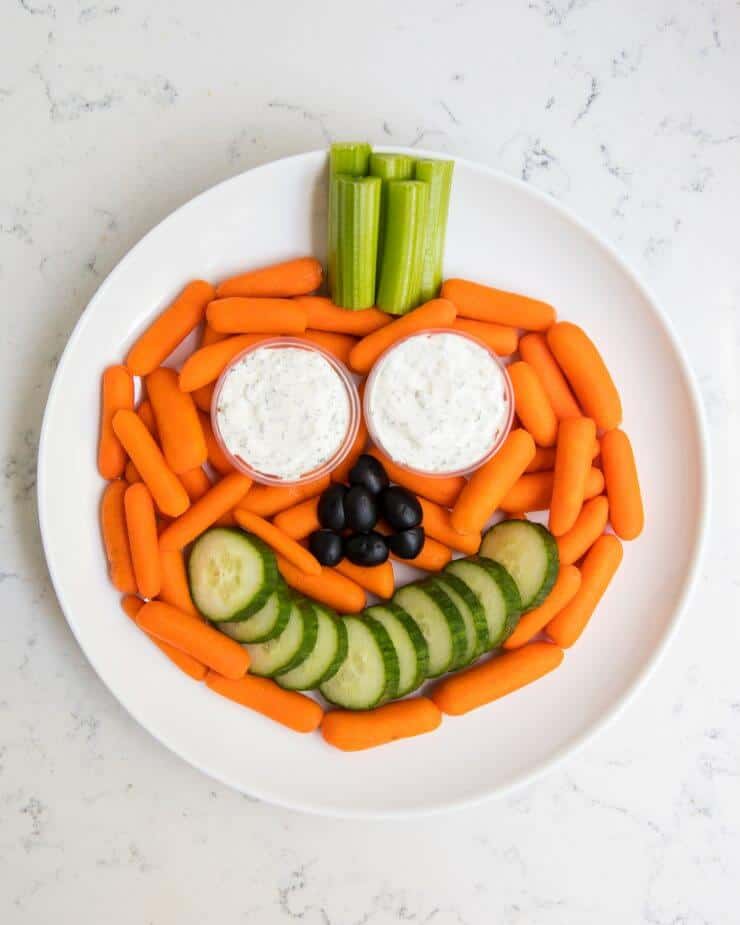 Pumpkin vegetable platter +our favorite Halloween snack ideas for school …cute, easy, non-candy ideas that kids will love!How did Halloween already sneak up on us? This month is flying by! Such a busy and fun month. I just love this time of year! If you're looking for a few Halloween snack ideas for school party that are a little more nutritious, here are some below.
For the pumpkin vegetable tray, you'll simply place a dill dip into two small containers for the eyes and set those on a large plate. Then make a circle out of carrots. For the stem you will place cut celery sticks, olives for the nose and cut cucumbers for the mouth. You could also add in a variation of vegetables (or more olives) around the edge of the plate, but I find most kids prefer carrots.
Orange pumpkins and ghost bananas – For the oranges simply peel the orange and then place a tiny piece of celery on top for the stem. Then for the ghost, simply peel the banana, cut into thirds and place two mini chocolate chips on the top for the eyes. If you wanted to leave the skin on, you could draw a jack-o-lantern face onto the orange and a ghost face onto the banana.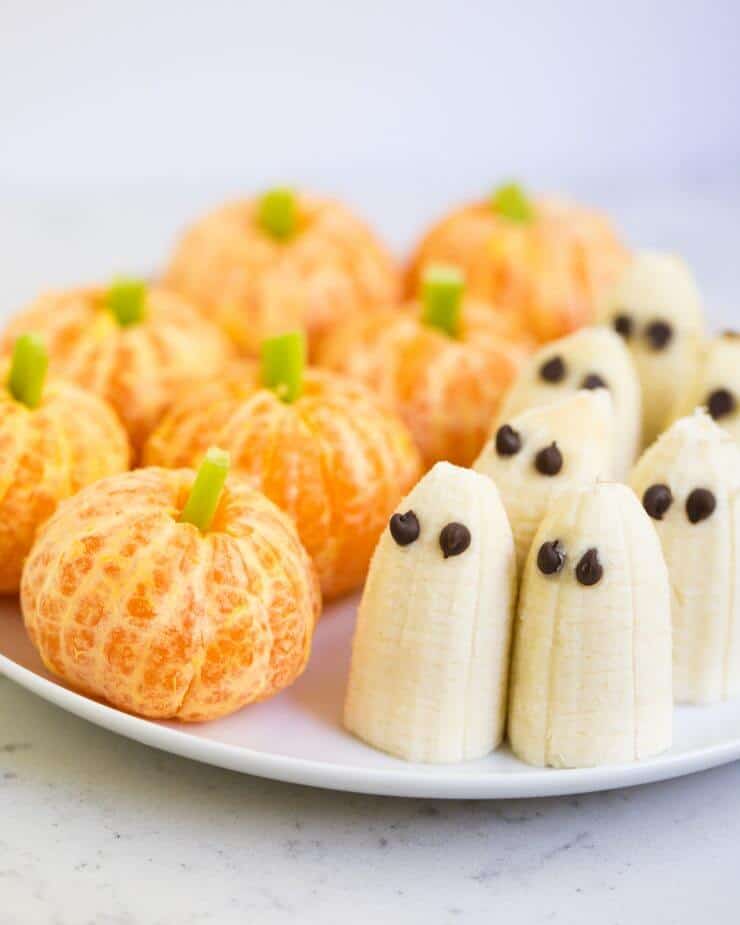 Halloween cracker and cheese – For these you will need crackers, cheese slices and a small cookie cutter. Simply cut out Halloween shapes (like a pumpkin or ghost) and place on the cracker.
If you're looking for a fun treat, these spider suckers are always a hit with my kids' friends as well.
Here are a couple more kids' Halloween snack ideas. These are a little harder to bring into a school party, but I love to do these for an after school snack or play date around Halloween.
Spider pizza bites -to make these you can use pre-made mini pizza bites or make your own with mini bagels, pizza sauce and cheese. Then you will cut an olive in half and place one half in the center of the pizza and cut the other half into the legs.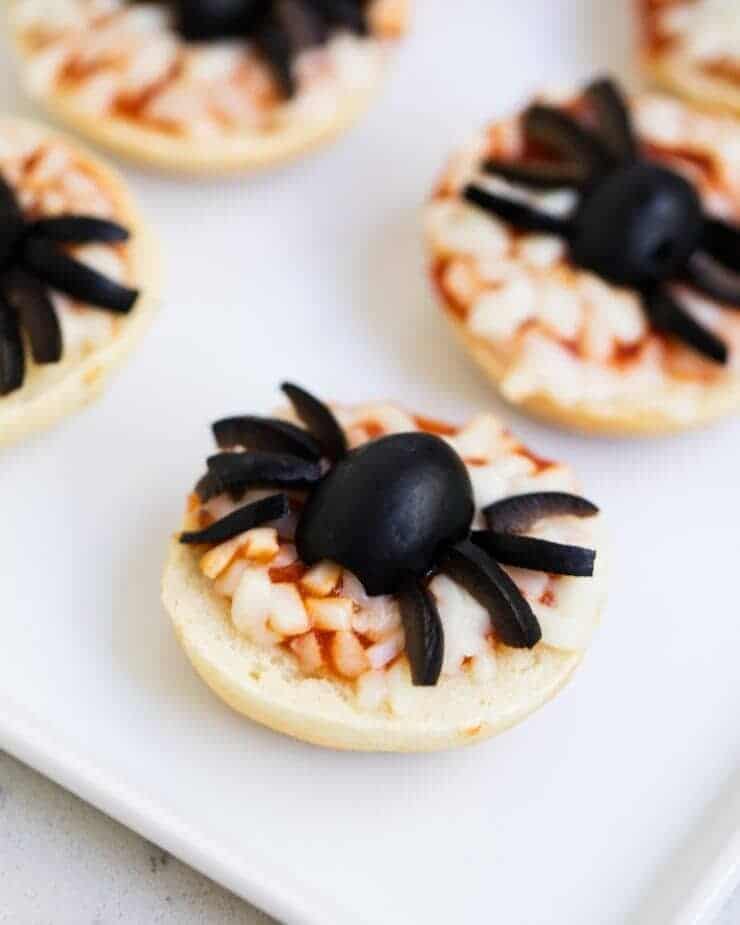 Apple monster teeth-
For these you will you slice an apple pieces and then spread peanut butter or chocolate spread onto both sides of the apple. Then place mini marshmallows sandwiches between the two slices. Hold together with a toothpick if needed.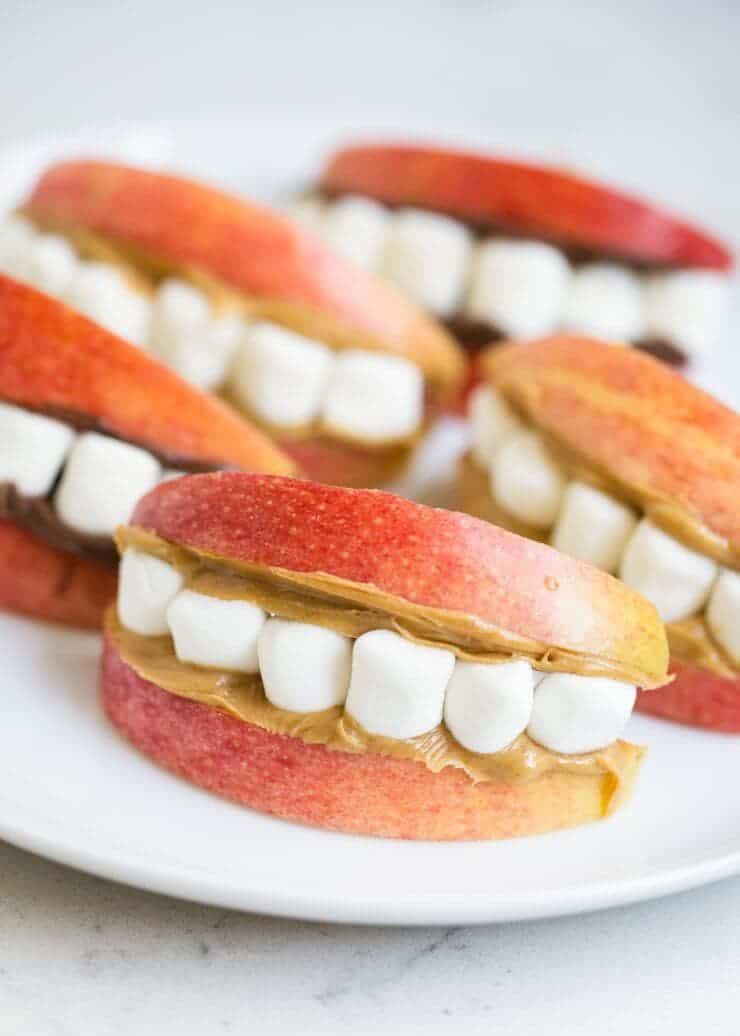 My kids sure loved all these snacks, I hope yours do too.
ENJOY! :)