These healthy Halloween snack ideas are cute and easy non-candy options that both kids and adults will love!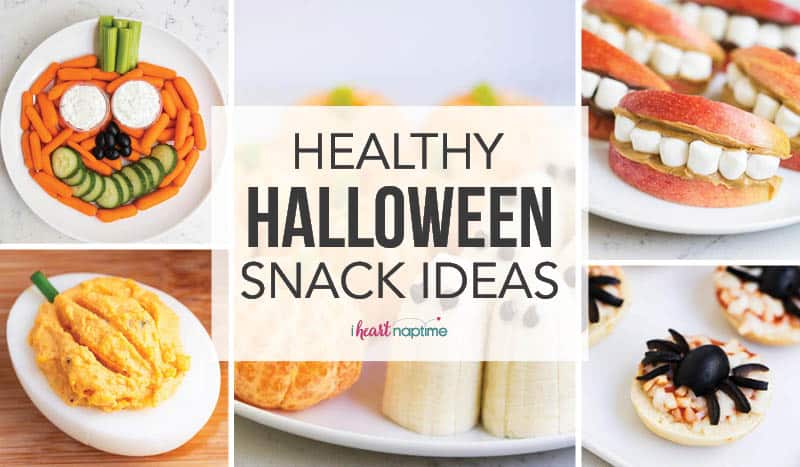 Kid-Friendly Halloween Snacks
Halloween is almost here and my kids are so excited! It's such a fun time of year and is the perfect way to kick off the holiday season.
Although part of the fun about Halloween is celebrating with your favorite candy and Halloween desserts, it's nice to have some healthy options too.
If you're looking for a few Halloween snack ideas that are a little more nutritious, you've come to the right place! These easy Halloween recipes are decorative, super cute and taste delicious as well. They would be perfect to bring to a school or neighborhood party, add to a fall charcuterie board or enjoy as an afternoon snack.
Halloween Veggie Tray
For the pumpkin Halloween veggie tray, you'll simply place a ranch or dill dip into two small containers for the eyes and set those on a large plate. Then make a circle out of carrots. Use chopped celery sticks for the stem, olives for the nose and cut cucumbers for the mouth. You could also add in a variation of vegetables (or more olives) around the edge of the plate, but I find most kids prefer carrots.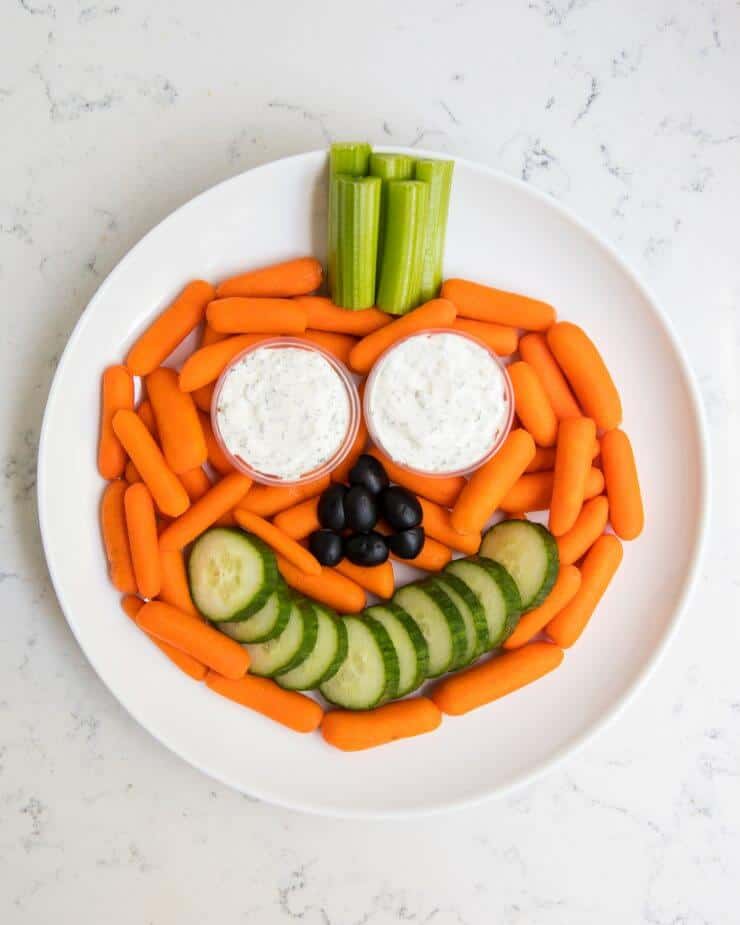 Mini Orange Pumpkins and Ghost Bananas
For the oranges, simply peel the orange and then place a tiny piece of celery on top for the stem. Then for the ghost, simply peel the banana, cut into thirds and place two mini chocolate chips on the top for the eyes. If you wanted to leave the skin on, you could draw a jack-o-lantern face onto the orange and a ghost face onto the banana.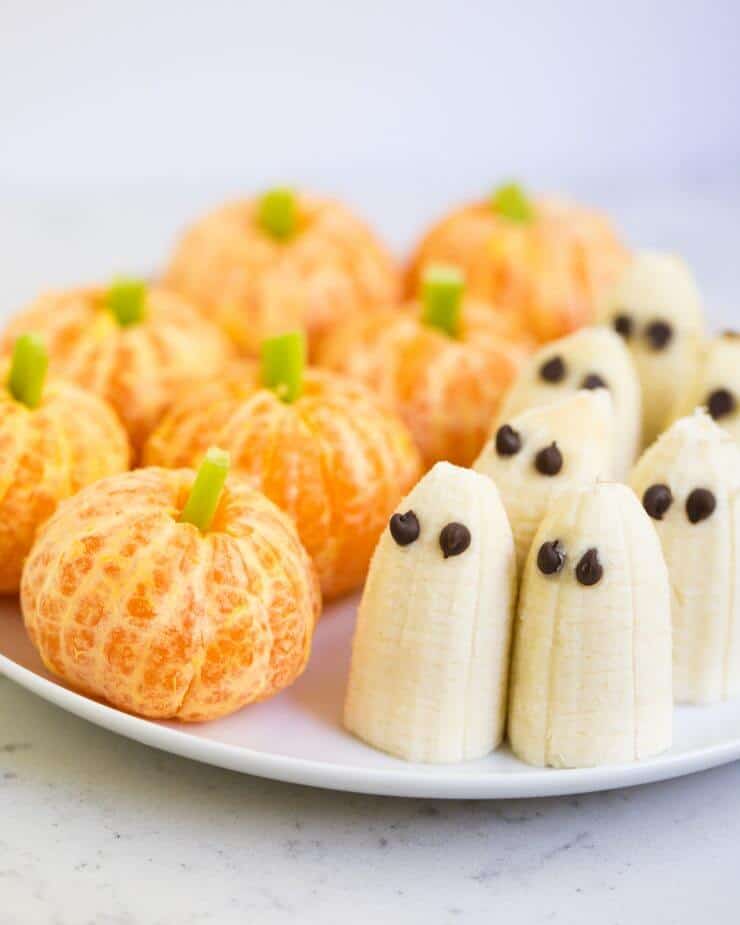 Apple Monster Teeth
For these you will you slice an apple into wedges and then spread peanut butter or chocolate spread onto both sides of the apple. Then place mini marshmallows sandwiches between the two slices. Hold together with a toothpick if needed.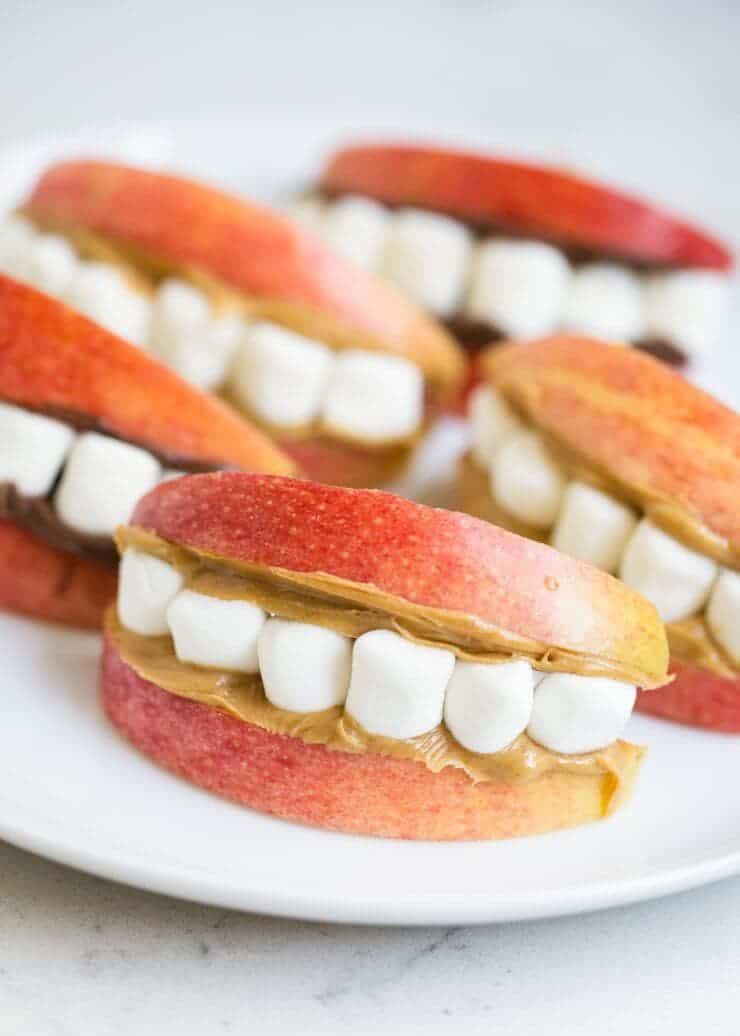 Halloween Cheese and Crackers
For these you will need crackers, cheese slices and a small cookie cutter. Simply cut out Halloween shapes (like a pumpkin or ghost) and place on the cracker.
Puking Pumpkin with Guacamole
Your kids will love this guacamole puking pumpkin, that is if they can contain their giggles! Transform your smiling jack-o-lantern into a silly vomiting pumpkin with an easy guacamole recipe, chips and add a few veggies for dipping, too!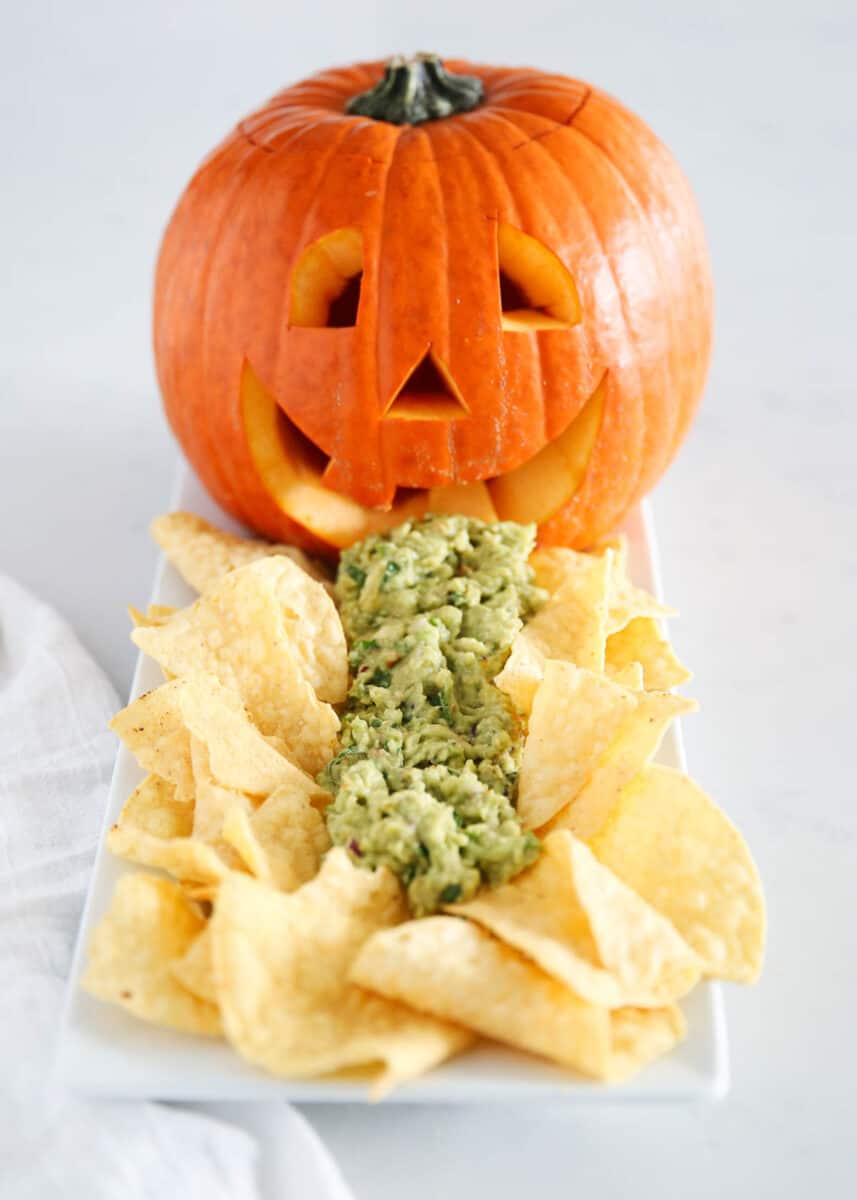 Halloween Deviled Eggs
These Halloween deviled eggs taste just like the classic deviled eggs, but with a fun Halloween twist! Make your own hard boiled eggs, or buy them premade for convenience. Scoop out the yolks, then mix them with mayo, mustard, pickle relish and a little bit of smoked paprika to give it that orange color. Pipe the mixture back into the eggs, then use a toothpick to create vertical lines for a pumpkin. Then add a small chopped chive at the top for the pumpkin stem!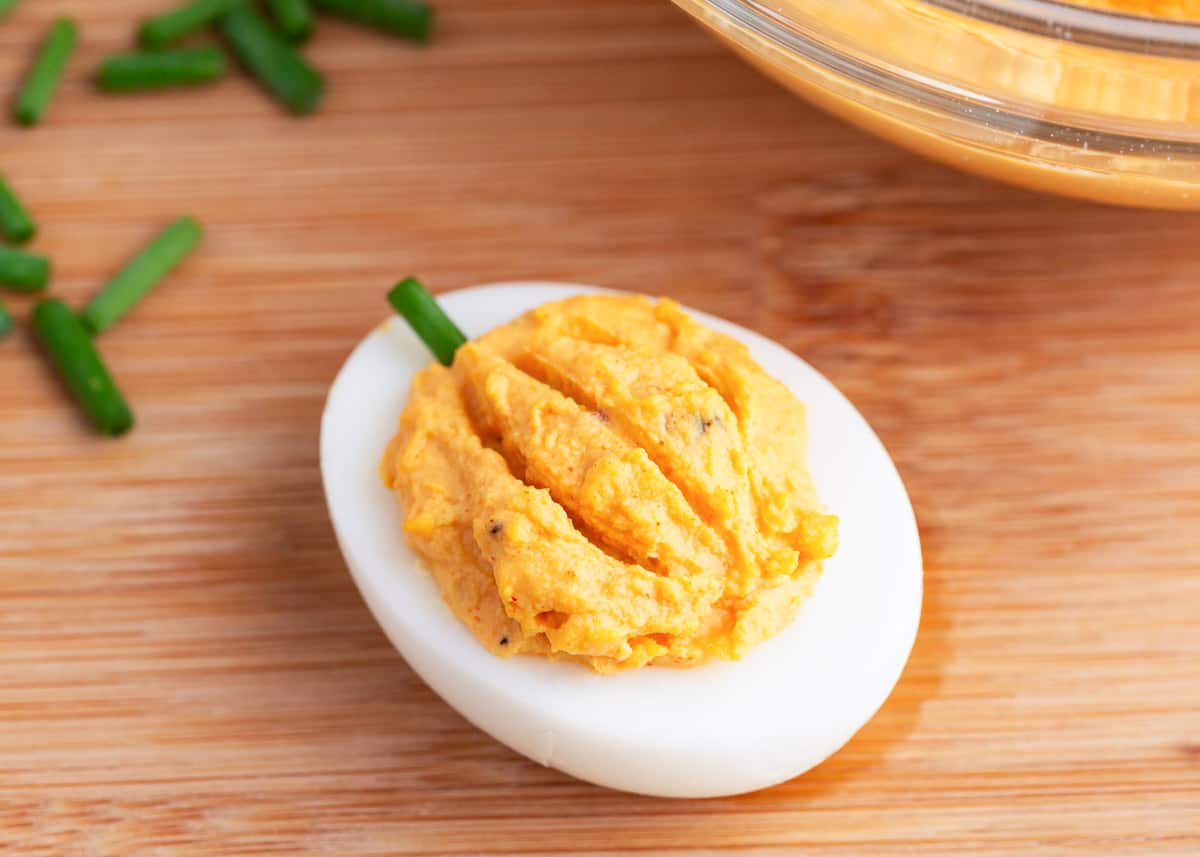 Spider Pizza Bites
Although pizza isn't always considered the healthiest option, these bites are way healthier than a big cheesy slice! You can use mini bagels (whole wheat for a healthier version), pizza sauce and a sprinkle of cheese. Or you can even use pre-made mini pizza bites for convenience.
Then you will cut an olive in half and place one half in the center of the pizza and cut the other half into the legs. My kids love these as an after school snack!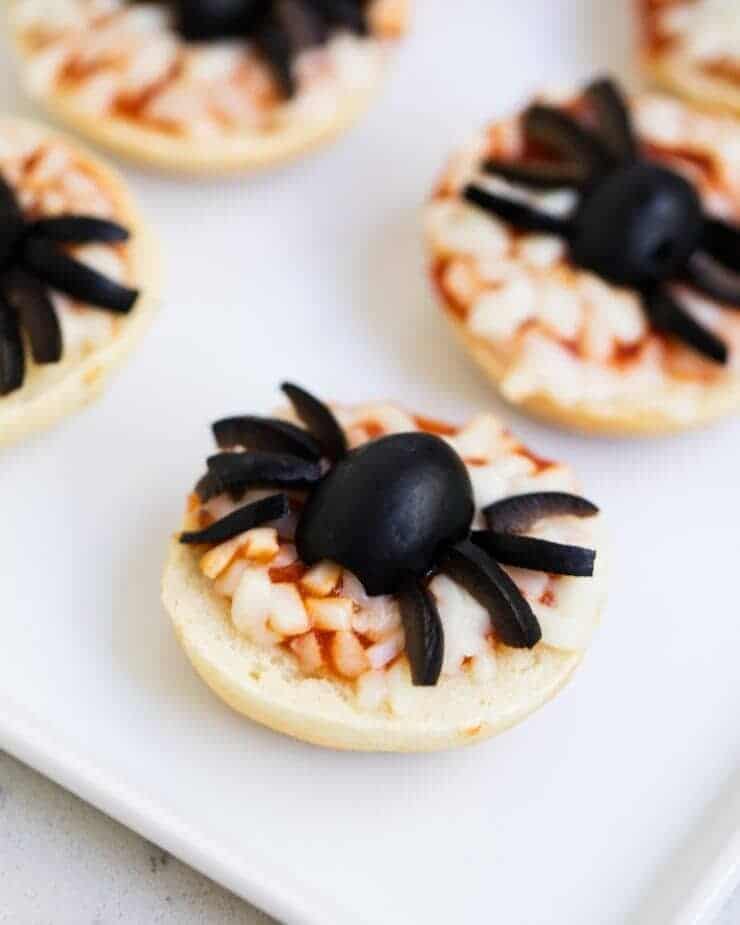 My kids sure loved all these snacks, I hope yours do too!
ENJOY! :)