Chill out this summer with this frozen hot chocolate recipe made with 5 ingredients and a blender! In minutes you'll be sipping on a deliciously chilled homemade chocolatey treat that rivals any popular restaurant version!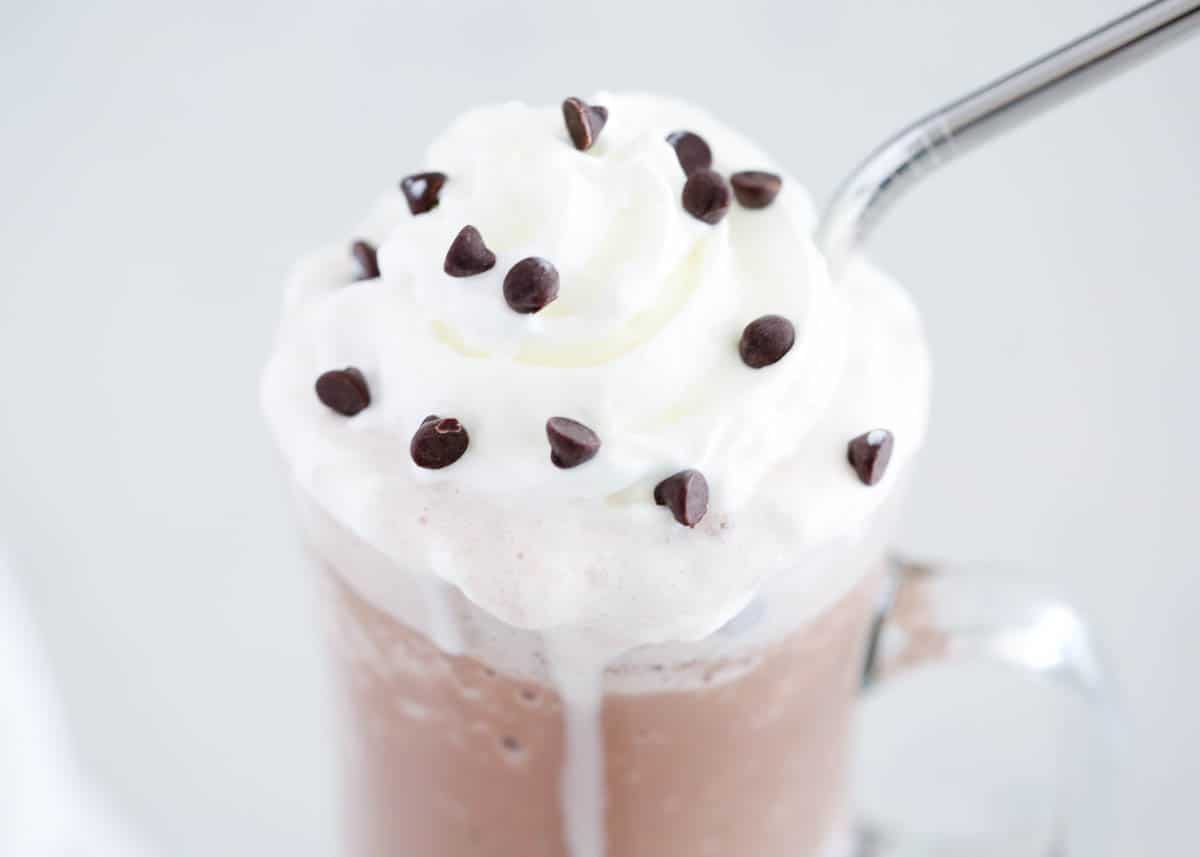 A Quick and Easy Summer Treat
There are so many ways to enjoy hot cocoa including white hot chocolate, snickerdoodle hot chocolate and now this frozen hot chocolate! It combines the rich flavor of homemade hot chocolate with the coolness of a frozen dessert and is the perfect way to enjoy the classic comfort of hot chocolate in a chilled and creamy form.
This easy treat contains only 5 ingredients and simply involves blending milk, ready-made cocoa powder, vanilla, and ice until smooth. It can then be topped with homemade whipped cream and mini chocolate chips for added indulgence. It's fun and comes together with nothing more than a blender and smile!
It's a no-fuss refreshing summer treat that has the classic taste that everyone loves and can be customized with different flavors and toppings! Serve cold hot chocolate at your next pool party or backyard BBQ and enjoy this rich chocolatey classic all year round!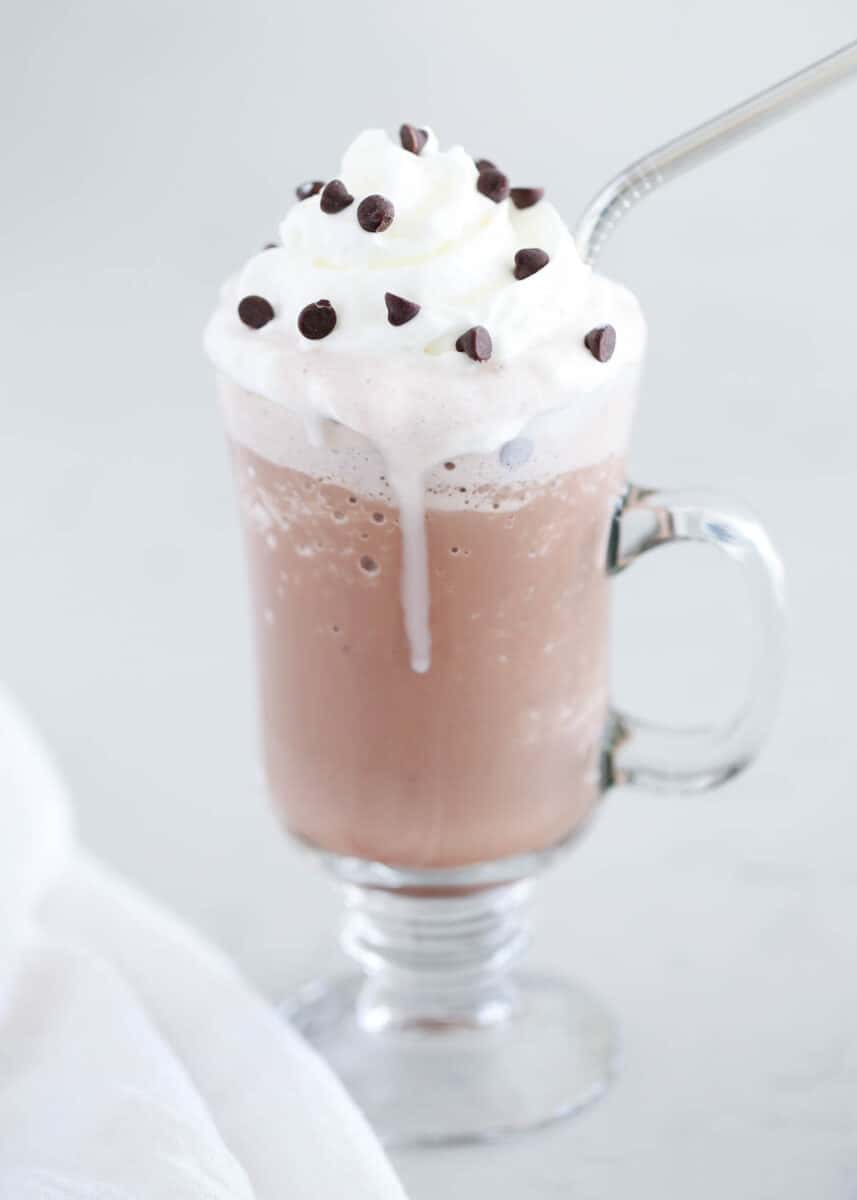 What is Frozen Hot Chocolate?
Whether you've traveled to the famous Serendipity restaurant in NYC to enjoy one, or you've picked one up at your local Dunkin' Donuts or Starbucks, frozen hot chocolate is a real treat no matter what!
There is no one right way to make this delicious treat, but I'll always have a soft spot for anything homemade! It's made by tweaking your favorite hot cocoa recipe by using cold milk instead of hot! When we blend it with ice cubes, it goes from cold hot cocoa to chilled, almost slushy-like, and it's amazing!
It's not thick and creamy like a milkshake. It's thinner, and icier almost like a chocolate popsicle if you've ever had one.
How to Make Frozen Hot Chocolate
Blend: Add the milk, cocoa, ice, and vanilla to a high-power blender and blend until smooth.
Pour: Grab 2 glasses and pour the beverage evenly into each one.
Stir: Into both glasses, stir 1-2 Tablespoons of whipped cream to create the foam effect on top.
Top: Top with remaining whipped cream and garnish with a sprinkle of mini chocolate chips. Serve immediately with a straw, and enjoy!
A Fun Twist!
Pour the chocolate mix into popsicle molds and pop them into the freezer for a delicious summer treat for the kids!
Variations
To deepen the chocolate flavor, use chocolate milk instead of white milk.
For a thicker richer texture, stick with whole milk.
If you want more of a milkshake consistency add a scoop of vanilla ice cream!
The sweetness comes from the hot cocoa mix, but feel free to add a couple of tablespoons of sugar if you prefer it even sweeter.
Swap the mini chocolate chips for chocolate curls, dark chocolate shavings, or mini marshmallows.
Drizzle caramel sauce, or hot fudge for a beautiful finish!
For a mint chocolate flavor, add some of the mint extract you have leftover from making this shamrock shake!
Recipe FAQs
Can you make it dairy-free?

There is usually dairy in most conventional hot cocoa packets, so first thing's first, you want to find a dairy-free hot cocoa mix. You could also make this recipe by using a double boiler or microwave to melt chocolate chips and add that to the blender instead. Then use chocolate or vanilla-flavored almond milk, oat milk, or coconut milk.
Can you make cold hot chocolate with water?

Technically you can, but it will be very thin and watery and not as rich. The ice cubes will only contribute to that, especially as they melt. I have never tried it with water, if you decide to, let me know what you think.
How to make frozen hot chocolate without a blender?

The blender is mostly to crush the ice, so you can make this drink without one. Vigorously whisk all ingredients except the ice in a pot or bowl. We're using cold milk so the cocoa mix will take longer to dissolve. Add ice cubes to the glasses and pour the milk overtop. Then top with whipped cream!
How to store leftover frozen hot cocoa?

The amazing thing about this frozen drink is it can be kept frozen as is, in popsicle molds or an airtight container and then blended back up again when ready to enjoy!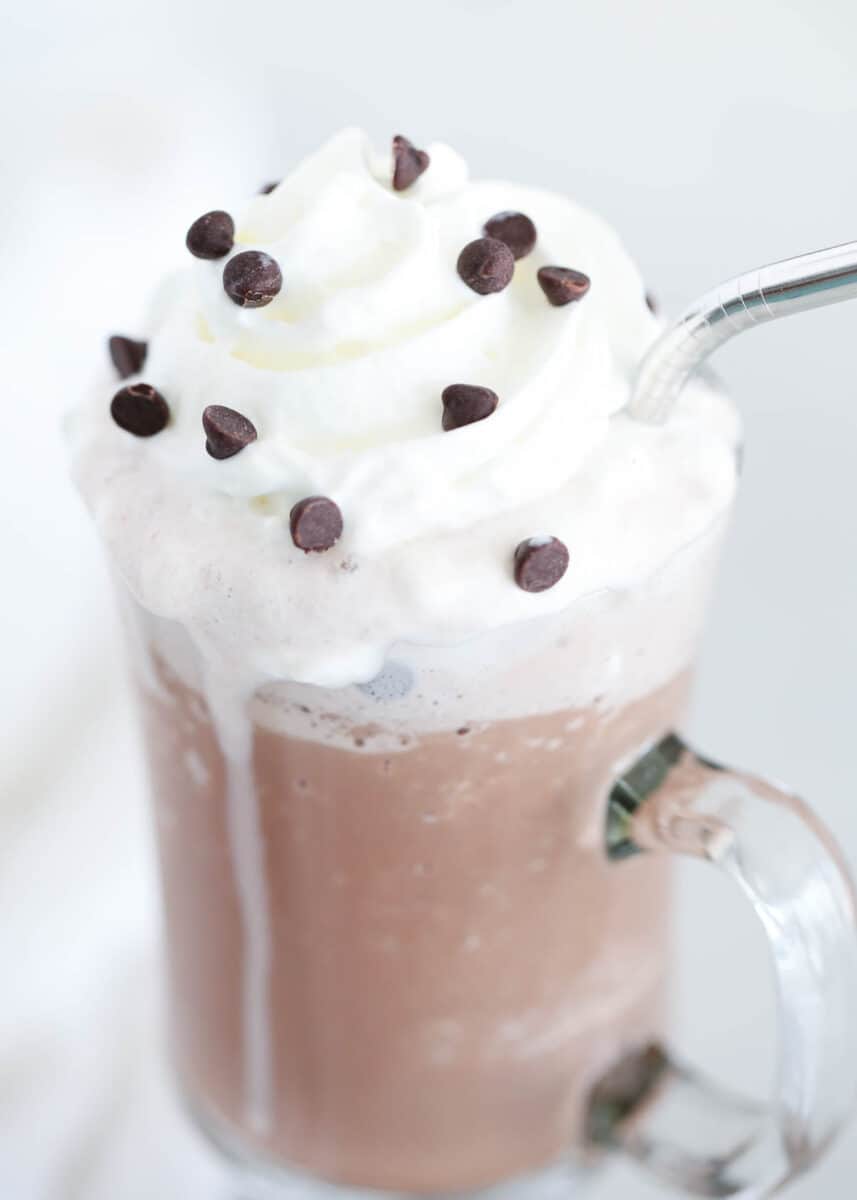 More Frozen Beverages
HUNGRY FOR MORE? Subscribe to my newsletter and follow on Facebook, Pinterest and Instagram for all the newest recipes!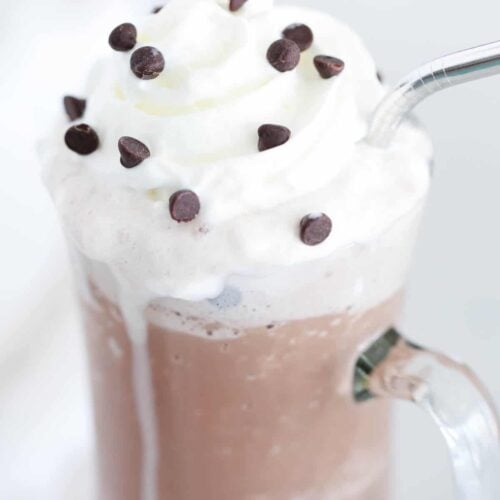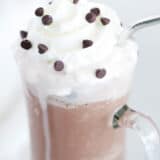 Frozen Hot Chocolate Recipe
Chill out this summer with this frozen hot chocolate recipe made with 5 ingredients and a blender! In minutes you'll be sipping on a deliciously chilled homemade chocolatey treat that rivals any popular restaurant version!
Ingredients
1 cup milk
6-8 Tablespoons hot cocoa powder , just the powder, more if desired
1 1/2-2 cups ice , more as needed
½ teaspoon vanilla extract , optional
½ cup whipped cream
For serving: mini chocolate chips or chocolate shavings
Instructions
In a high power blender, blend milk, cocoa powder, ice, and vanilla, if desired, until smooth.

Pour into 2 glasses. Top with 1 to 2 Tablespoons whipped cream. Stir the whipped cream into the top of the drink. Add more whipped cream on top.

Sprinkle mini chocolate chips over the top and add a straw. Serve immediately.
---
Notes
Variations:
Use chocolate milk if you'd prefer double chocolate flavor. You could also use a chocolate almond or coconut milk.
For an extra rich flavor use whole milk or add a scoop of vanilla ice cream.
If you'd like this drink sweeter, add a Tablespoon or two of sugar.
Nutrition
Calories: 171kcal | Carbohydrates: 27g | Protein: 5g | Fat: 7g | Saturated Fat: 7g | Polyunsaturated Fat: 1g | Monounsaturated Fat: 1g | Trans Fat: 1g | Cholesterol: 17mg | Sodium: 262mg | Potassium: 201mg | Fiber: 1g | Sugar: 20g | Vitamin A: 336IU | Calcium: 193mg | Iron: 1mg
Nutrition provided is an estimate. It will vary based on specific ingredients used.
Did you make this recipe? Don't forget to give it a star rating below!