Serving a hot chocolate charcuterie board is a fun way to serve hot chocolate at your next holiday party! Share a delicious array of toppings and treats for your guests to enjoy as a topping or a dessert!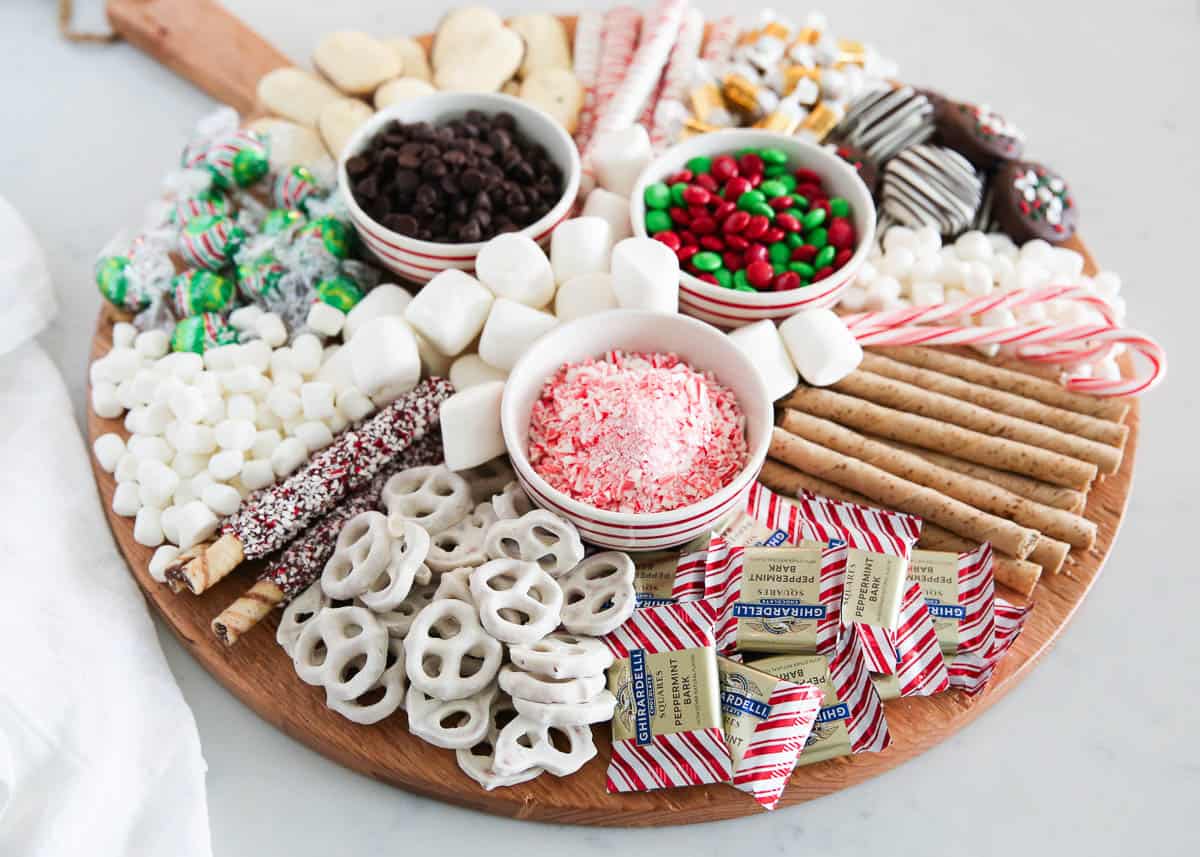 Holiday Hot Chocolate Board
When it comes to holiday desserts, this year I'm all about charcuterie boards. I just think they are so much fun to put together and there are always so many eye-catching treats on display. This hot chocolate charcuterie board is like a fun variation of a Christmas dessert board except it all revolves around homemade hot chocolate!
For this year's holiday party, make a batch of crockpot hot chocolate for your guests to enjoy and a hot chocolate board on the side to feast on. Load it up with candy, chocolate, marshmallows, peppermint, cookies, and more. It's no longer just hot fudge and whipped cream, friends!
What Items You'll Need
Besides having a great classic hot chocolate recipe, you'll need the following fun and delicious treats for this simple charcuterie board idea. Use bowls to help contain some of the smaller toppings.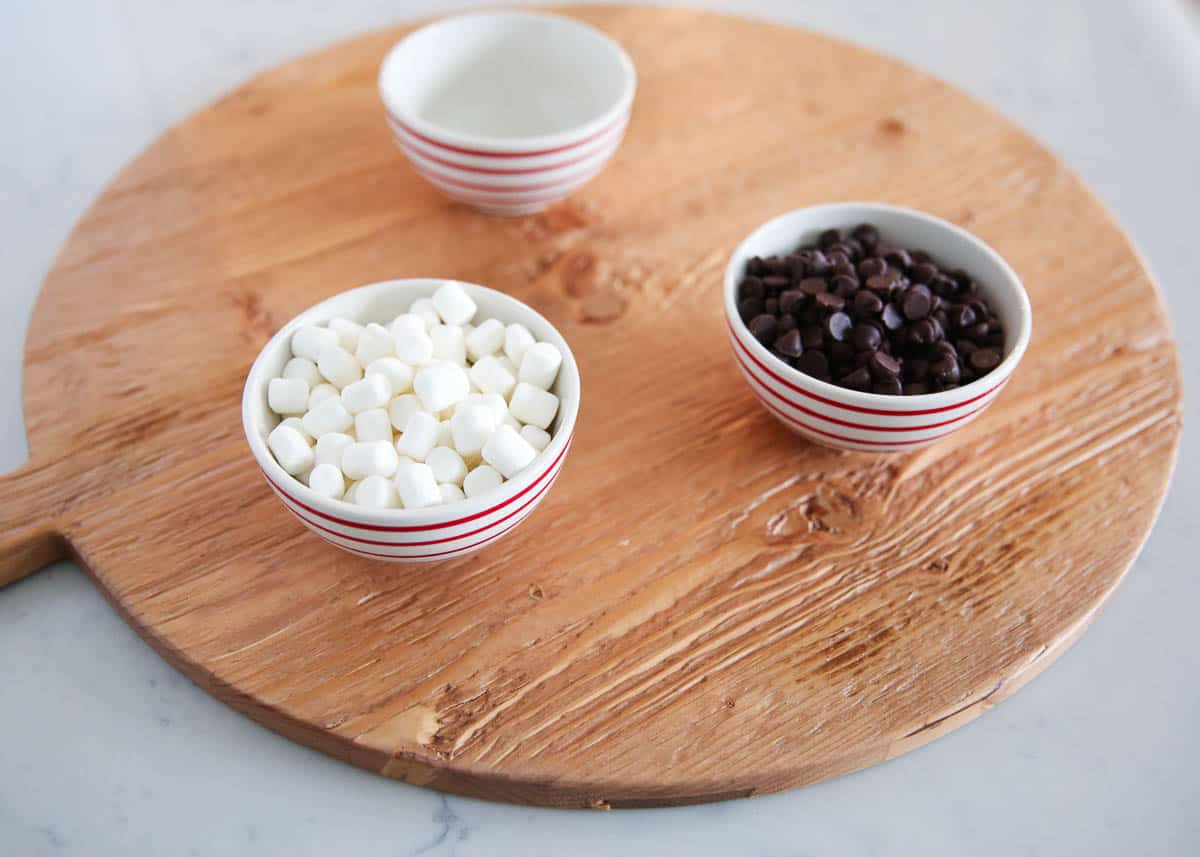 Find the full printable recipe with specific measurements below.
A board. A wooden board (this reclaimed round wood board is my favorite) or a serving platter.
Small bowls. In this case, you could also use mugs! If you have a cappuccino or any coffee cups they'd be a great size.
Small serving spoons. You'll need these for the smaller items in the bowls, so people aren't putting their hands directly in them.
How to Build a Hot Chocolate Dessert Board
Take your time and create shapes on the board using the candy and treats. If you have a circle use triangle shapes to connect all the treats if you are using a rectangle or square use long lines or circles throughout the board.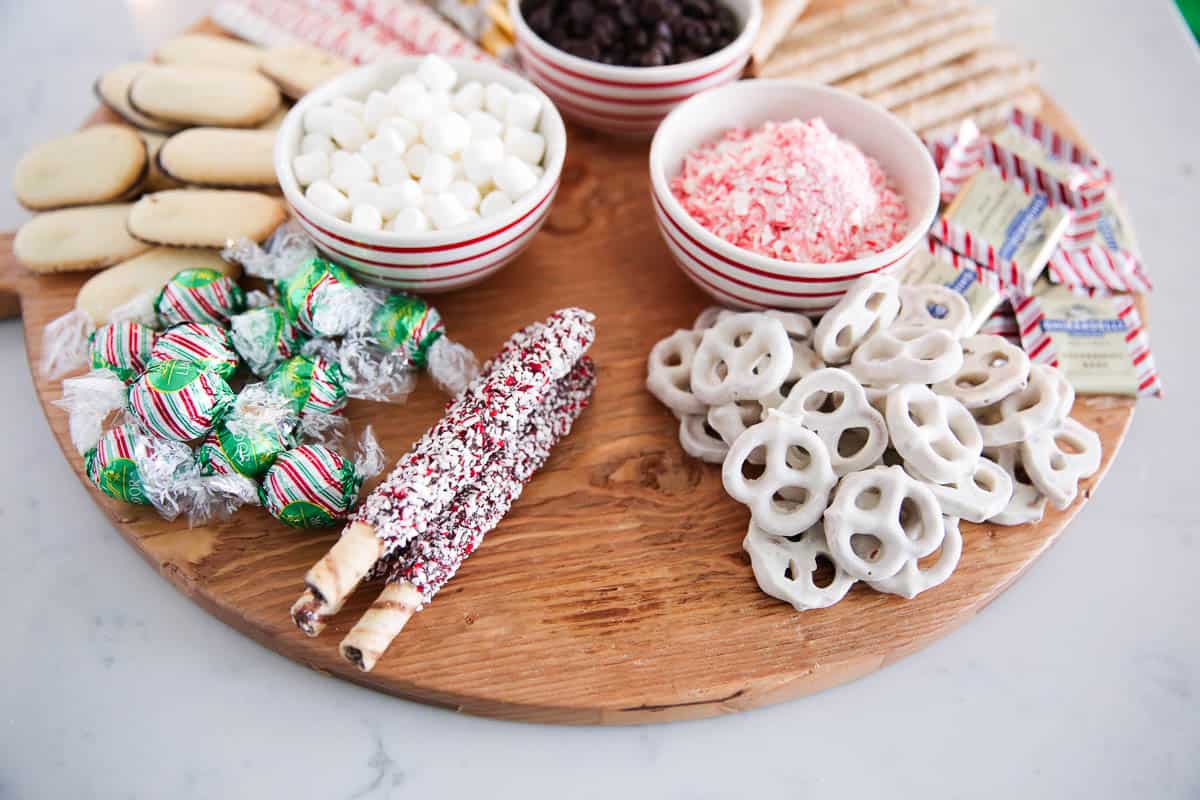 Place 3 bowls on the board. I say 3 to leave room for other items, but you use your judgment as to what you think looks good. It will also depend on how many smaller items you've got.
Fill them up with small candies (M&M's, marshmallows, crushed candy canes, chocolate chips) and anything that would need to be contained, like chocolate sauce, peanut butter, Biscoff, or Nutella.
Around the bowls, arrange the remaining items on the board. Fill spaces with smaller items, like extra marshmallows, pieces of chocolate, and little caramels.
Fill in spots with cookies, candy canes, pretzels, and any other items you've picked out.
Make Ahead Tip
If you're not serving it right away, cover it with plastic wrap so the marshmallows don't dry out and become stale.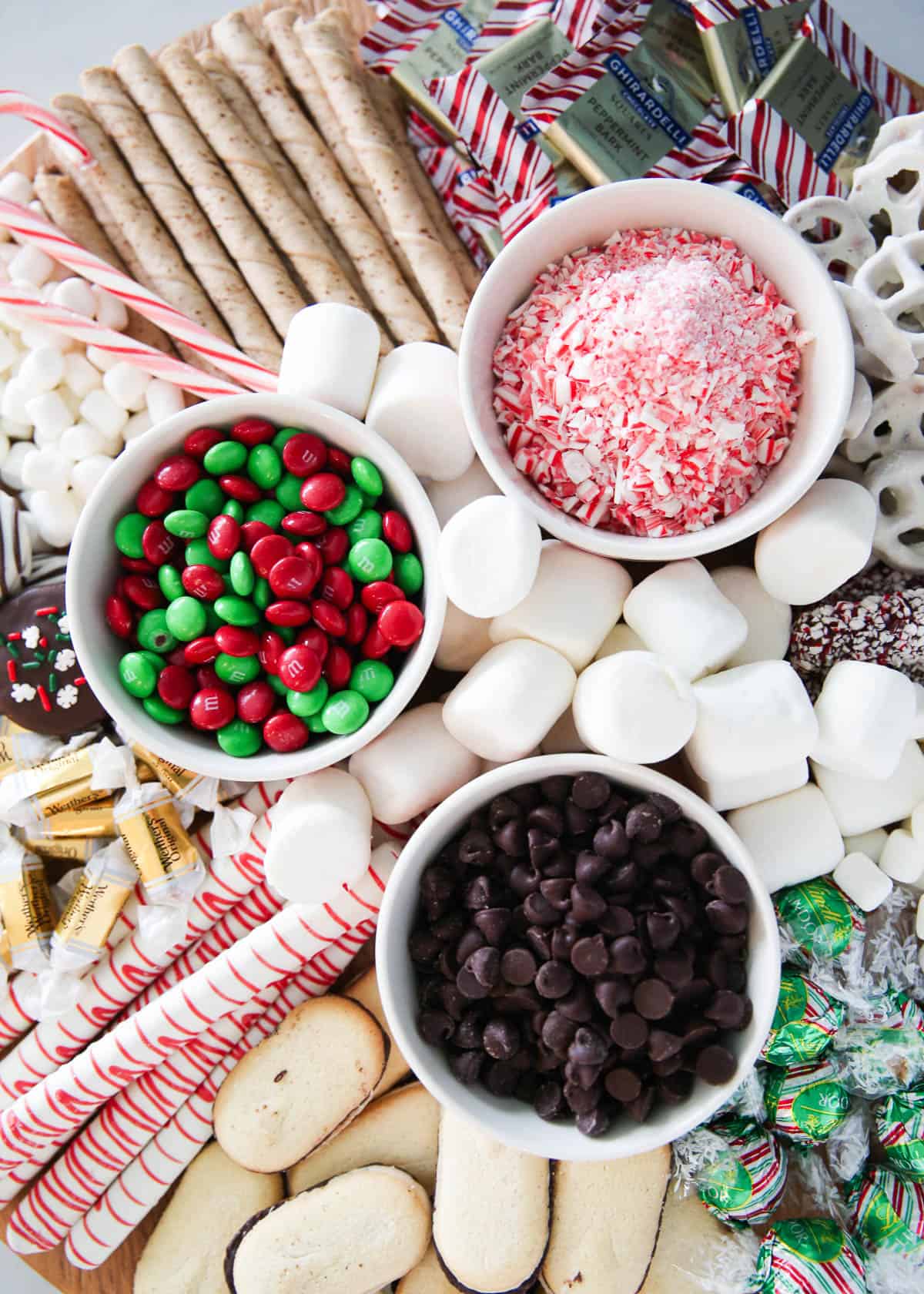 Don't Go Overboard
You may not be able to fit all of the above on one board unless you've got a super large platter. Just pick and choose what you like, keeping in mind some for topping and some for straight-up eating! If you've got plenty of hot chocolate to go around and have a ton of treats, make two boards!
Hot Cocoa Board Ideas
Some of the items on your board will be for garnishing your hot chocolate, some will be to eat on their own and some can be used for both!
Toppings for Hot Chocolate
Whipped cream
Crushed candy canes
Peppermint sticks
Sprinkles
Chocolate chips (dark chocolate, milk, semi-sweet, or white chocolate chips)
Fun Additions
Cream-filled wafers
Lindor Truffles
Milano cookies
Caramels
Ghirardelli peppermint squares
Red and black Twizzlers
Recipe FAQs
Is hot chocolate better with milk or water?
This is totally up to you! If you are more of a chocolate lover then you will want water. This really brings out the flavor of chocolate. If you love the creamy texture then use milk with your hot chocolate.

Is it healthy to drink hot chocolate every morning?
Hot chocolate is known to improve blood flow which can help reduce the chances of blood clots, lower blood pressure, and improves heart health. Which all together helps you think better! You also have to remember the sugar content is very high though.

How do you make hot chocolate taste better?
Hot chocolate is delicious on its own but adding some spices can help. Sprinkle cinnamon, ginger, and nutmeg, or to spice it up use cayenne. These are all delicious in your warm hot chocolate mix.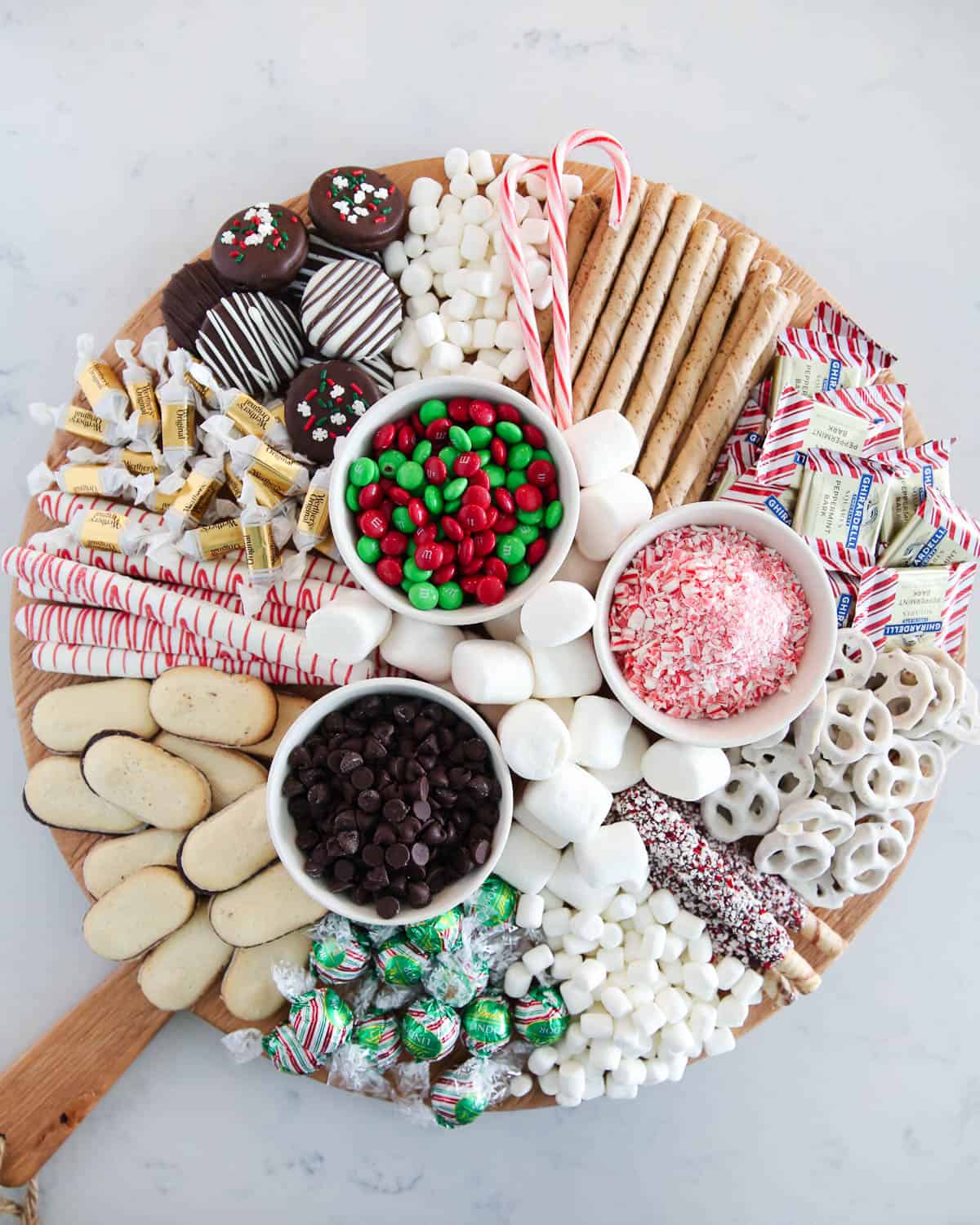 5-star review
"I need to keep this out all month long!! We are making hot chocolate multiple times a week & my kids love adding little surprises!"

-Kristyn
More Holiday Recipes
HUNGRY FOR MORE? Subscribe to my newsletter and follow on Facebook, Pinterest and Instagram for all the newest recipes!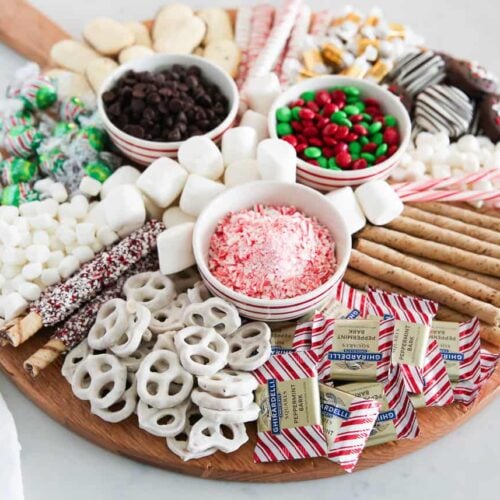 Hot Chocolate Charcuterie Board
Serving a hot chocolate charcuterie board is a fun way to serve hot chocolate at your next holiday party! Share a delicious array of toppings and treats for your guests to enjoy as a topping or a dessert!
Ingredients
Optional additions
Lindor truffles
Ghirardelli peppermint squares
Caramels
Milano cookies
Chocolate dipped Oreos
Cream filled wafers
Instructions
Place 3 mini bowls on top of a wooden board. Fill each with smaller ingredients like crushed candy canes, chocolate chips, and mini marshmallows.

Start arranging desired ingredients around the 3 bowls.

Add cookies or additional chocolate and marshmallows to fill in spots on the board.
---
Notes
Variations:
Spreads: Feel free to add your favorite spreads like peanut butter, nutella, and biscoff.
Treats: Oreos, caramel corn, chocolate covered pretzel rods, red or black Twizzlers and chocolate variations are always fun additions to a board.
Make ahead: If not serving right away, make sure to cover the board with plastic wrap so the marshmallows do not get stale.
Nutrition
Calories: 61kcal | Carbohydrates: 13g | Protein: 0.4g | Fat: 1g | Saturated Fat: 1g | Polyunsaturated Fat: 0.01g | Monounsaturated Fat: 0.01g | Trans Fat: 0.01g | Cholesterol: 1mg | Sodium: 13mg | Potassium: 1mg | Fiber: 0.1g | Sugar: 10g | Vitamin A: 10IU | Vitamin C: 0.03mg | Calcium: 6mg | Iron: 0.1mg
Nutrition provided is an estimate. It will vary based on specific ingredients used.
Did you make this recipe? Don't forget to give it a star rating below!