These hot chocolate cookies have all the flavors you love in a mug of hot chocolate, rolled up into one delicious baked good. Add these to your baking list this season—just don't forget the melty, gooey, roasted marshmallow topping.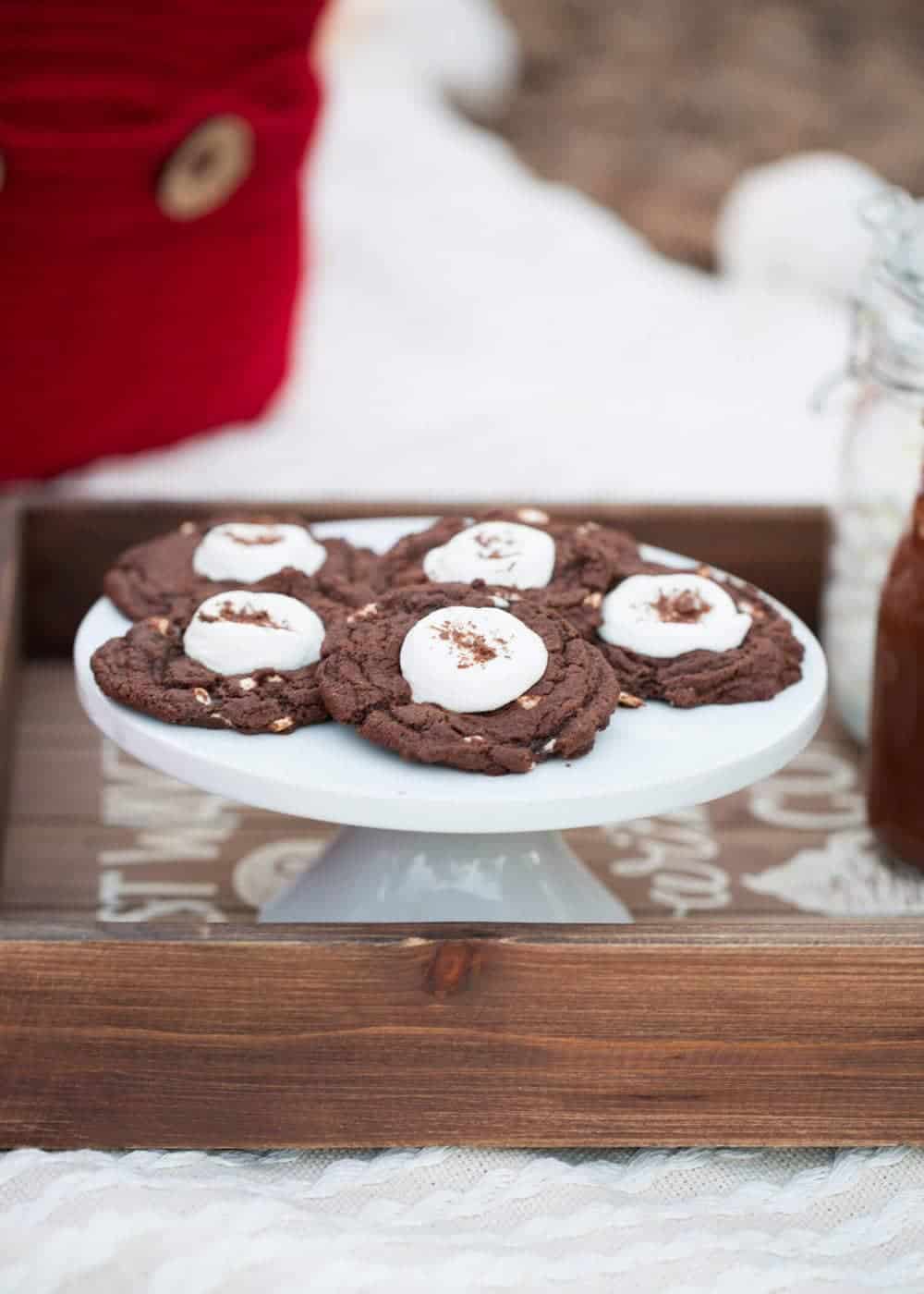 Hot Cocoa Cookie Recipe
It's practically impossible to pick a favorite cookie recipe, but when I'm craving something sweet this is definitely a favorite. If you want to try some more fantastic desserts, you'll love these german chocolate cookies, these fudgy M&M cookies and this rich chocolate crinkle cookie recipe.
There are few things that paint a cozy scene more than sitting by the fire, sipping on hot chocolate. Add in a good book and some sweats, and you basically have described my ideal afternoon! If you're a fellow hot chocolate lover, you have got to try these!
The cocoa cookies combine all the rich, chocolatey goodness of my favorite warm drink into a warm, freshly-baked package. These treats are super soft with rich flavor—they are really, really good.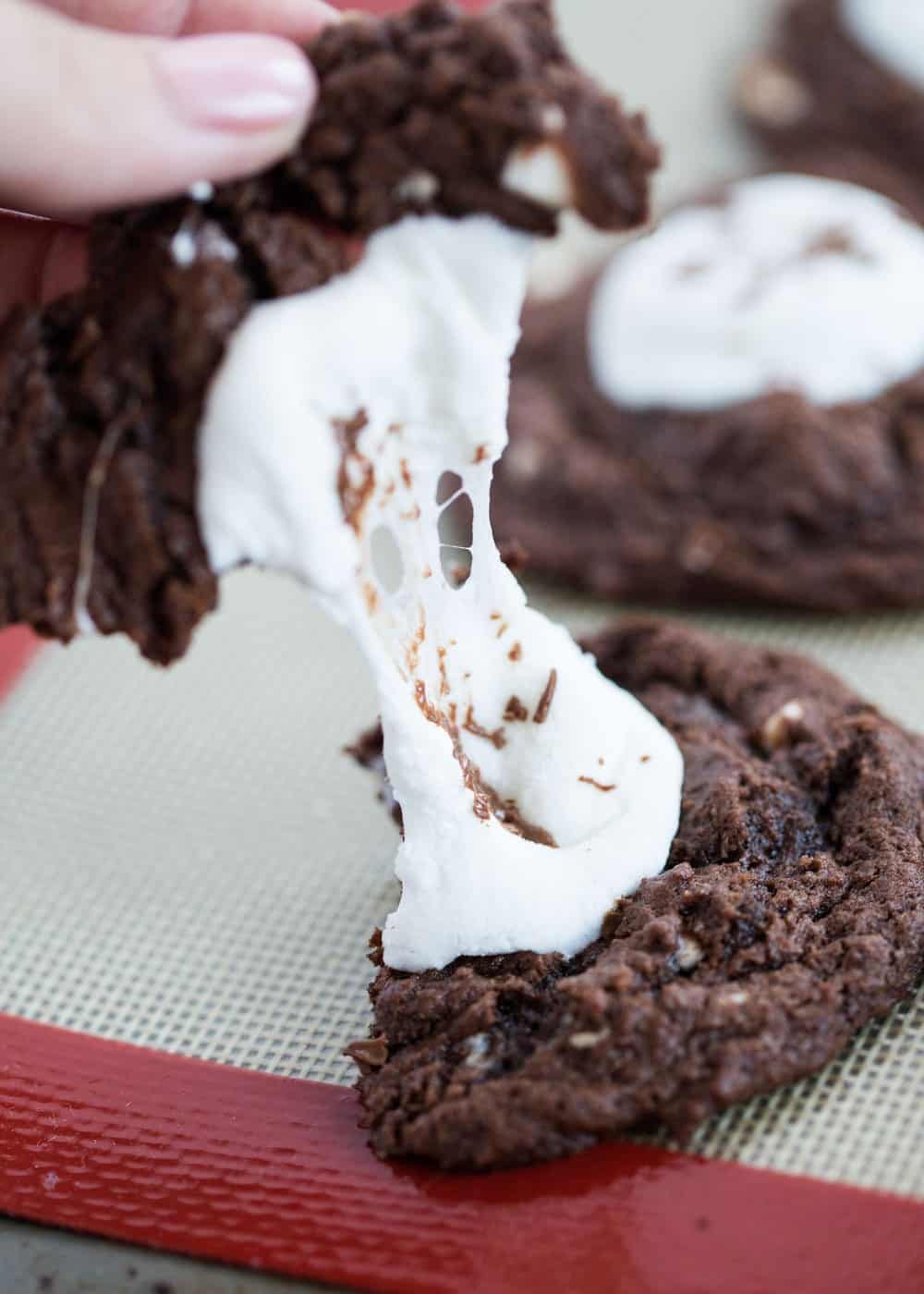 Marshmallow Cookies
What makes these hot chocolate cookie recipe even more special is the topping. Just like it's liquid counterpart, these are topped with gooey, melted marshmallows. In fact, if you're looking for a dessert your kids will literally cheer for every single time, this is the one. My kids literally dance around the oven while these bake!
They are always so excited when the marshmallows get added to the tops. Maybe because they are just a teeny bit marshmallow obsessed. Now, I don't love plain marshmallows…but a toasted marshmallow that's perfectly crisp on the outside and gooey on the inside? That is definitely one I can get behind.
How to Roast the Marshmallow
Adding the roasted marshmallow on top is super simple. You don't need to build a campfire to enjoy the perfect marshmallow, thankfully!
Once they are done baking, take the baking sheet out of the oven, then set it to broil. Take some jumbo marshmallows that have been sliced in half (to make them thinner), and set one on top of each cookie.
Place the baking sheet back into the oven and keep a close eye on them. You'll want to remove from the oven once they are lightly toasted. About a minute or two is ideal—do not let the marshmallow get too brown.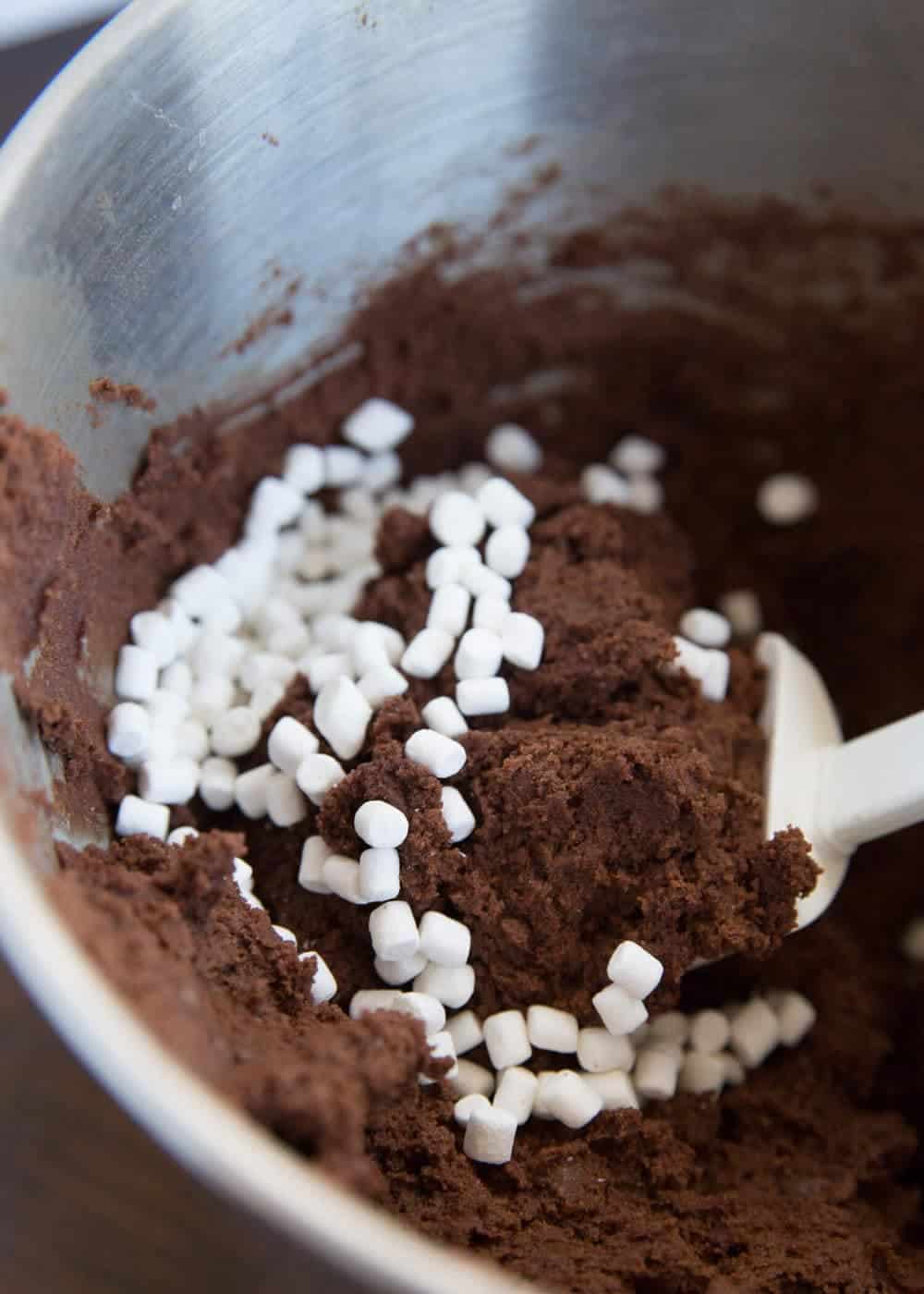 Variations to Try
This cookie recipe allows for some liberties to be taken to truly make it your own. Here are some of my favorite variations.
Add extra marshmallows: If you are making these for a marshmallow lover (like my kids!) you can add even more of that marshmallow flavor. Try folding in an extra 1/4 cup of mini marshmallows to the batter once it's mixed. It will puff up slightly and melt, giving them even more marshmallowy goodness.
Add more chocolate: Additionally, if you prefer the taste of chocolate, add a subtle layer of richness by shaving some chocolate on top of the marshmallows right after you pull the cookies out of the oven.
Add a S'mores flavor: S'more lovers will enjoy this fun twist! Try adding a mini Hershey's bar to the top and 1/4 cup chopped graham crackers to the batter. It's SO good.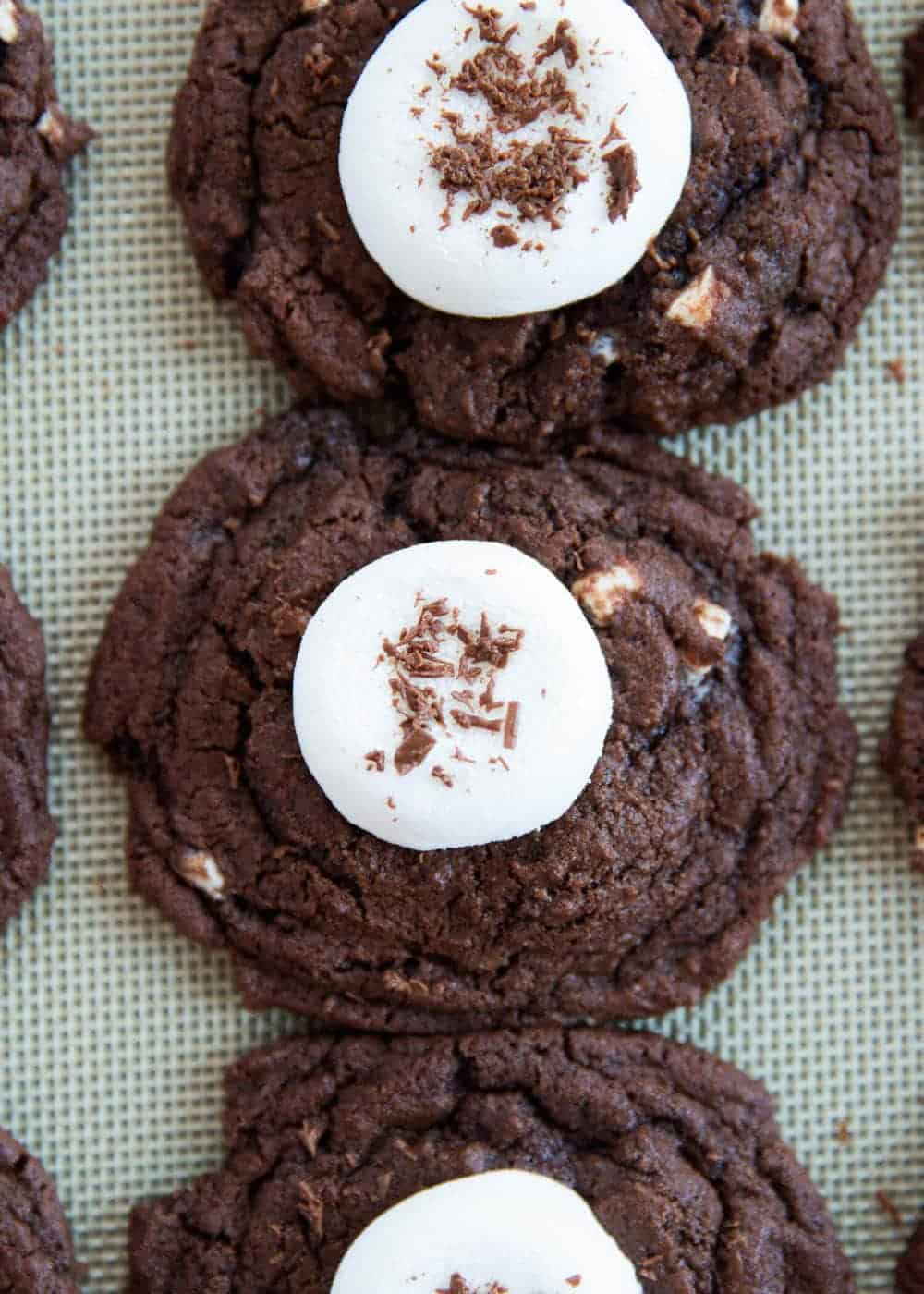 Enjoy Your Cookie Hot
The hardest part about baking is often the wait time while waiting for your cookies to cool. It seems unfair to just have them sitting there on the counter! Thankfully, that's not the case with this dessert, however.
Make sure to enjoy your hot chocolate cookie fresh out of the oven while it's hot—no annoying wait time required. This will give you the best flavor and ensure you get to really enjoy all the yummy gooeyness!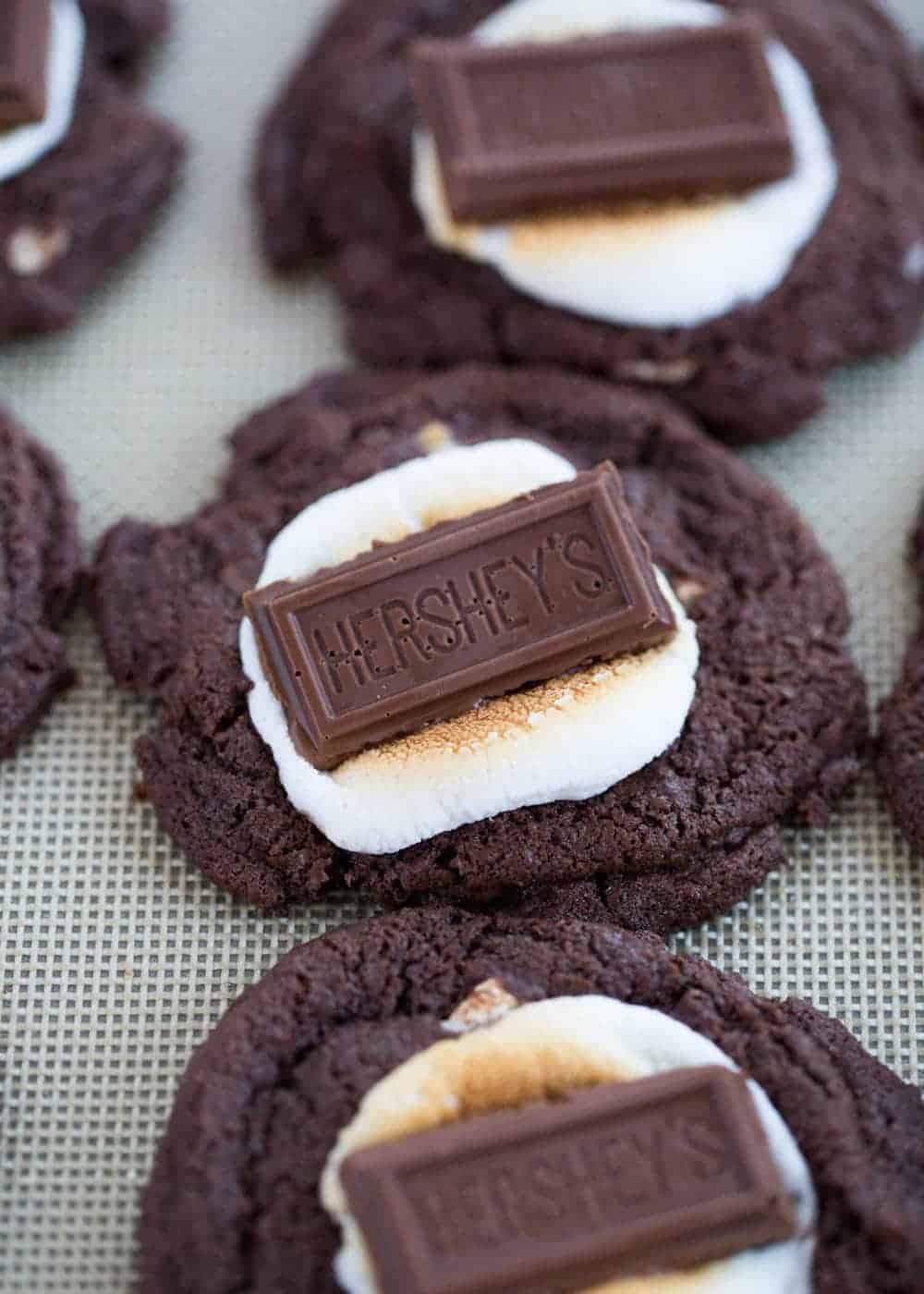 More Cookie Recipes: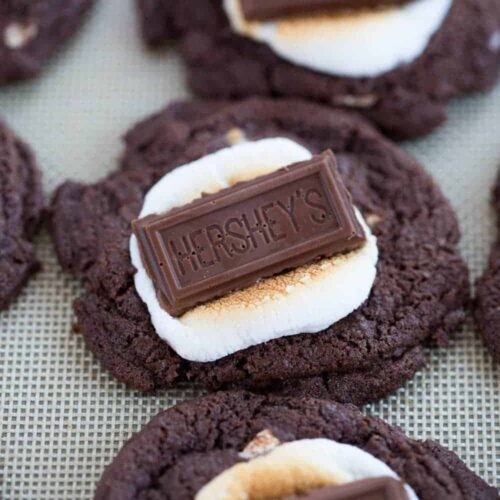 Hot Chocolate Cookies
These hot chocolate cookies have all the flavors you love in a mug of hot chocolate, rolled up into one delicious baked good. Add these to your baking list this season—just don't forget the melty, gooey, roasted marshmallow topping. It's my favorite part!
Ingredients
1 cup unsalted butter (2 sticks) , softened
2 cups granulated sugar
2 large eggs
2 1/2 teaspoons vanilla extract
2 cups all-purpose flour
3/4 cup cocoa powder
1 1/2 teaspoons baking soda
1 1/2 teaspoons baking powder
1 teaspoon fine sea salt
1 1/2 cups semi-sweet chocolate chips
18 marshmallows , cut in half
Optional: Hershey bars for topping
Instructions
Cream the butter and sugar in a large bowl with an electric mixer. Add in eggs and vanilla and mix until well combined.

Whisk together flour, cocoa powder, baking soda, baking powder and salt in a separate bowl. Slowly pour the flour mixture into the sugar mixture and stir until well combined.

Add in the chocolate chips and then chill the dough in the refrigerator for 15 to 30 minutes.

Preheat the oven to 350°F. Shape dough into 1 1/2-inch balls, or use a medium cookie scoop.

Place cookies onto a baking sheet lined with parchment paper. Bake 7 to 8 minutes, or until the cookies are slightly crisp around the edges and soft in the middle. Remove from oven and turn to broil. Place the marshmallows on top and then place back in the oven and broil for 30 seconds to 1 minute, just until the marshmallows are slightly toasted.

You don't want them to get too brown. Add a piece of Hershey bar on top if desired. Allow to cool on the pan for 2 minutes, then transfer to a cooling rack.
---
Notes
Variation: For marshmallow lovers, try adding 1/4 cup extra mini marshmallows to the batter. For chocolate lovers, try adding shaved chocolate to the tops of the marshmallows. For s'more lovers, try adding a Hershey's kiss and 1/4 cup chopped graham crackers to the batter. To store: Store cookies in an airtight container or bag at room temperature for up to 3 days. To freeze baked cookies: Let cool completely, then add to a freezer bag or container. Store in freezer for up to 3 months. Let sit at room temperature to thaw or heat in microwave or oven until warm.
Calories: 174kcal | Carbohydrates: 23g | Protein: 2g | Fat: 9g | Saturated Fat: 5g | Cholesterol: 26mg | Sodium: 119mg | Potassium: 100mg | Fiber: 1g | Sugar: 15g | Vitamin A: 178IU | Calcium: 18mg | Iron: 1mg
Nutrition provided is an estimate. It will vary based on specific ingredients used.
Did you make this recipe? Don't forget to give it a star rating below!