This saltine cracker toffee recipe is made with just 3 simple ingredients in 15 minutes! A seriously addicting treat that's super easy to make.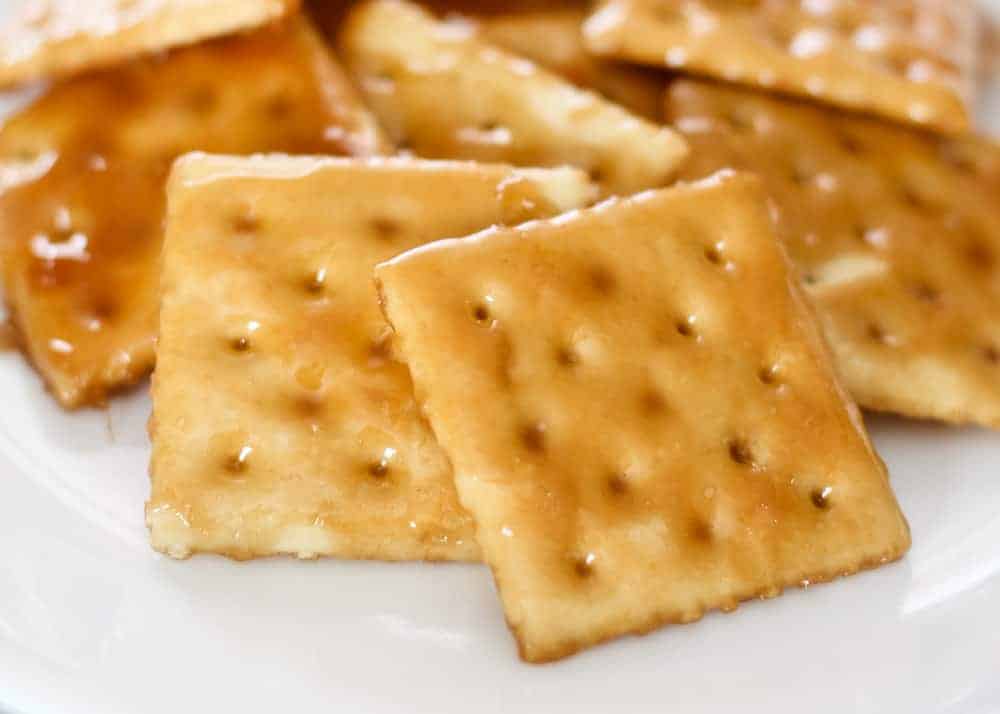 Grandma's Saltine Cracker Toffee
Toffee is one of my favorite types of candy. I love the rich, buttery caramel flavor it has. Although my homemade toffee recipe is pretty simple to make – this saltine toffee is even more simple! And super delicious. :)
My gramma is one of my biggest influences in the kitchen, so I thought I would share one of my grandma's favorite treats. There are three things you could always find at her house: Tang, homemade caramels and saltine cracker toffee.
This recipe is so simple to make with just 3 ingredients. It's such a super easy and yummy recipe. It will soon be one of your favorites too!
3 Simple Ingredients
You can't go wrong with these three ingredient saltine cracker toffee treats! This is a single layer dessert that is made easily and eaten in minutes. Try these three ingredients together for a magical sweetness!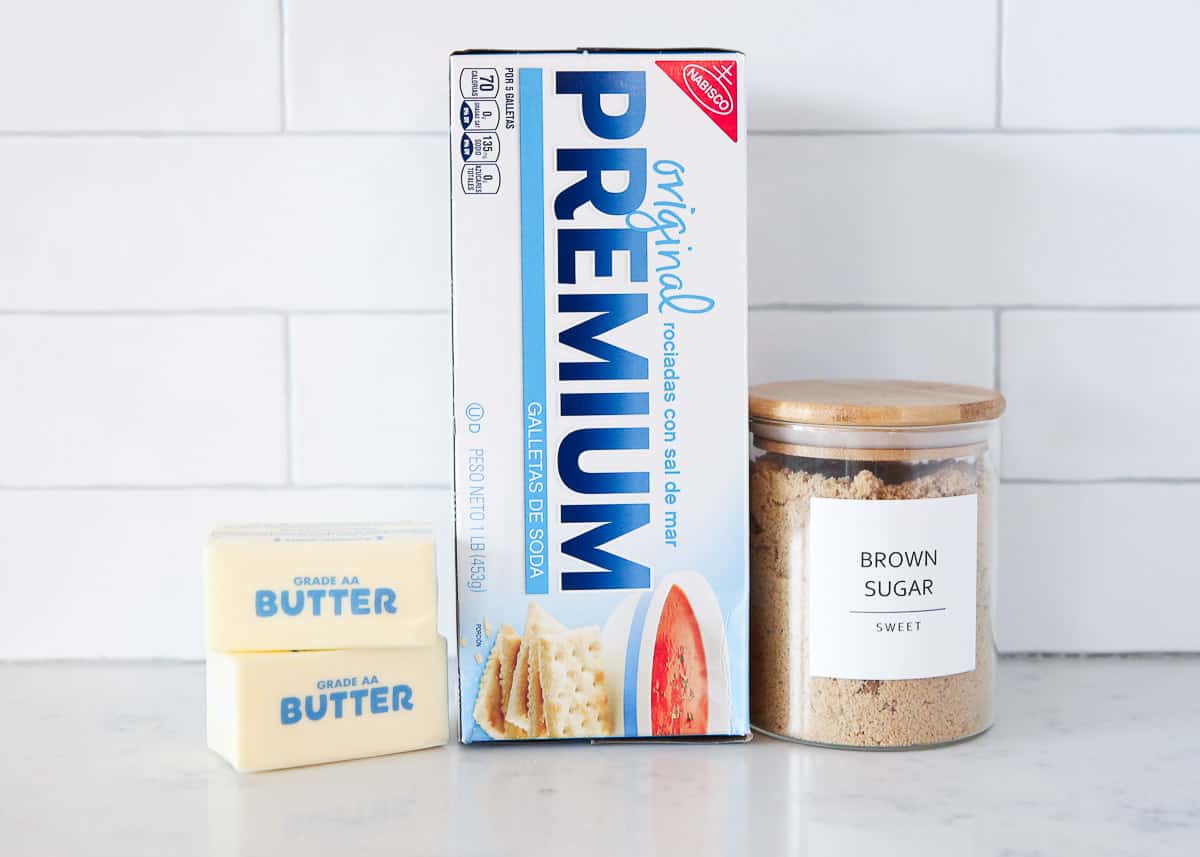 Saltine crackers: The base of the toffee is made with a layer of saltine crackers. The salty flavor from the crackers tastes amazing with the sweet caramel. Make sure to line the crackers in the pan so that there isn't any open space in between them.
Butter: This adds a rich flavor to the caramel toffee mixture and helps balance out the sweetness from the brown sugar.
Brown sugar: Make sure to use light brown sugar and pack it tightly into your measuring cup.
Toppings to Add
You can take this cracker toffee up a notch by topping it with extras like chocolate, nuts and M&M's.
Melted chocolate (milk, semi-sweet chocolate, dark, or white)
Chopped Nuts (sliced almonds and chopped pecans are my favorite)
M&M's
Sprinkles
Pretzels
Crushed peppermint or candy canes
Variations
There are plenty of ways to make this toffee your own! Swap the saltines with graham crackers to make an easy graham cracker toffee. This recipe would also work with pretzel thins or Ritz crackers too. Check out my Christmas crack post, where I show you how to make this saltine toffee recipe into 4 different versions.
How to Make Saltine Cracker Toffee
Layer your crackers on a baking sheet and melt together the brown sugar mixture in a saucepan. It is that simple to make saltine cracker toffee! When you need a quick and easy treat, these are your go-to toffee treat.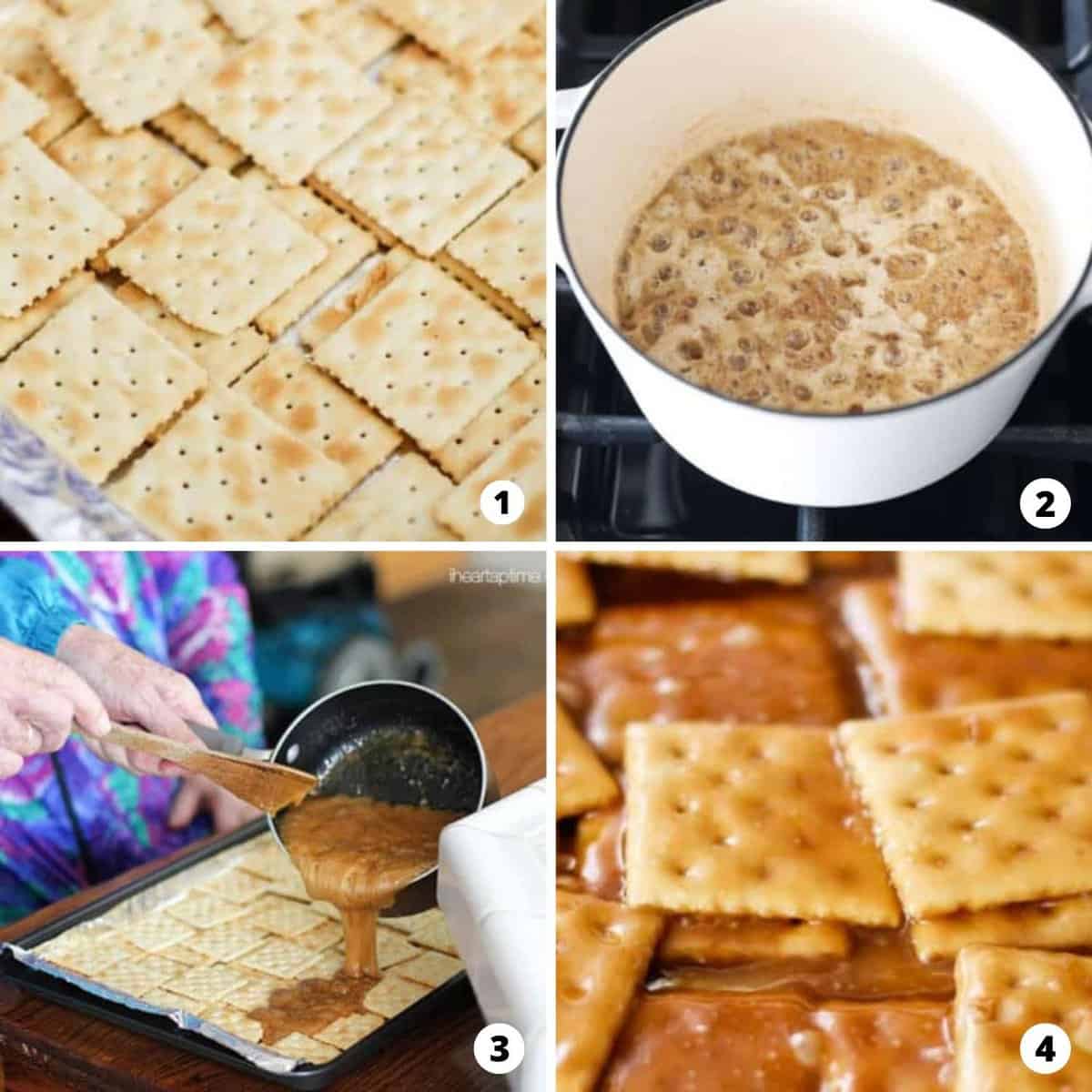 Line pan with crackers. Cover a 9×13″ jelly roll pan with aluminum foil and spray with cooking spray. Then fully line the pan with saltine crackers.
Cook caramel mixture. Cook butter in a pot over low heat until slightly melted. Then add in brown sugar and stir until butter is completely melted. Turn heat to medium and bring mixture to a boil for about 3 minutes, or until it thickens and has turned an amber caramel color. Remember to stir constantly.
Pour caramel over crackers. Remove pan from heat after 3 minutes and pour the caramel over the saltines. Then spread it out evenly with a knife.
Bake the toffee. Bake at 350°F in oven until lightly golden, about 7 to 8 minutes. Don't over bake!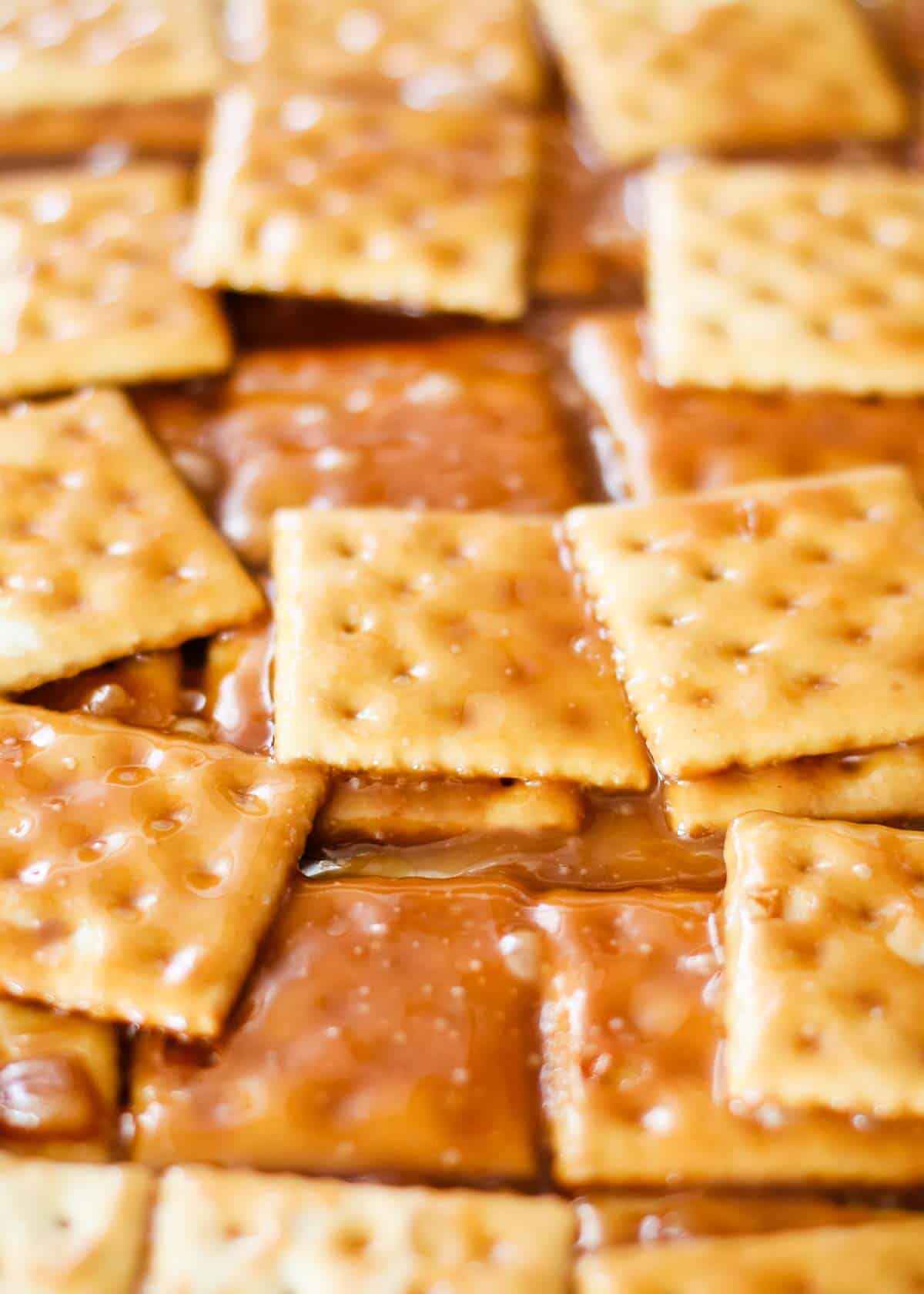 Recipe FAQs
What can I substitute saltine crackers with?
Graham crackers or ritz crackers will work instead of saltine crackers.
What temperature does the brown sugar mixture need to reach?
Set your stove top to medium heat and stir together the three ingredients. Slowly watch it blend and melt together. Once it starts to boil, your mixture is ready to pour.
Do you spray the cookie sheet?
You can either spray the cookie sheet, place parchment paper, or aluminum foil down to help keep the saltine crackers from sticking to the pan.
How Long Will it Last?
One of my favorite things about this saltine crack is that it will keep for up to 2 weeks! Just make sure to store it in an airtight container so that it stays fresh. It makes the perfect treat to gift during the holidays!
Can you freeze cracker toffee?
Yes, you can! Simply place in a covered container and freeze up to 3 months. Let it sit at room temperature about 20 minutes before serving or enjoy cold.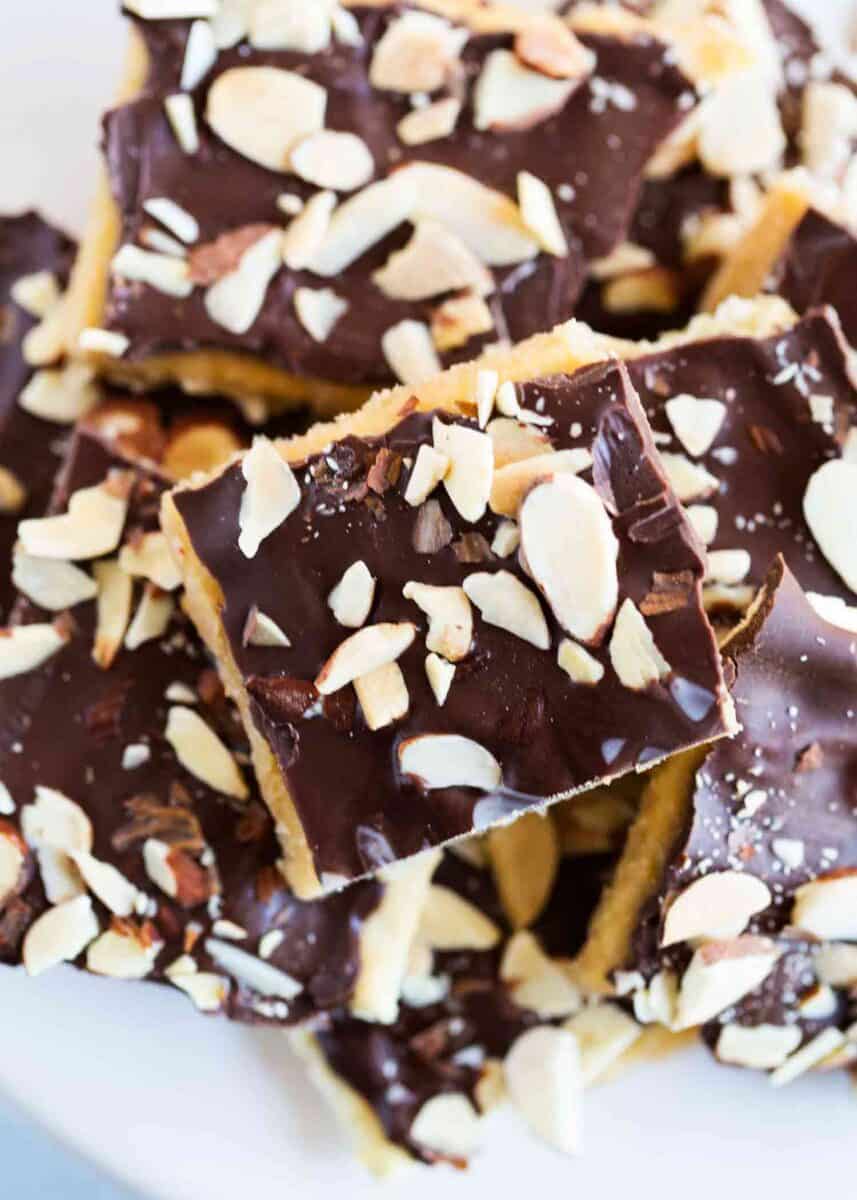 5 star review
I've been making this for a few years now. I love the simplicity of the recipe, I can throw it together quickly! Every time I make this people rave about it!

– Melissa
More Easy Candy Recipes
HUNGRY FOR MORE? Subscribe to my newsletter and follow on Facebook, Pinterest and Instagram for all the newest recipes!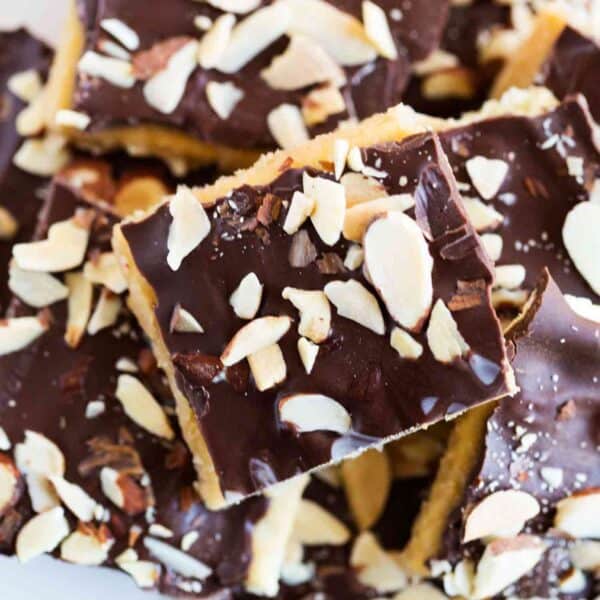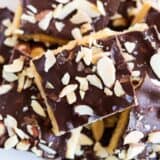 Saltine Cracker Toffee Recipe
This saltine cracker toffee recipe is made with just 3 simple ingredients in 15 minutes! A seriously addicting treat that's super easy to make.
Ingredients
50 saltine crackers
2 sticks butter (cubed)
1 cup light brown sugar (packed)
Optional toppings
chocolate chips , I use about 2 cups
sliced almonds , about 1/2 cup
chopped pecans , about 1/2 cup
Instructions
Preheat oven to 350°F. Line 9×13" jelly roll pan with aluminum foil. Spray foil with cooking spray and then line pan with saltine crackers.

Place butter in a medium-sized pot over low medium/low heat. Stir until butter is slightly melted, then add sugar. Once butter is melted, bring to a boil over medium-heat for 3 minutes, or until it thickens and sugar has dissolved. Stir constantly. You want the butter and sugar to be combined and turn an amber caramel color.

After 3 minutes, remove pan from heat and pour evenly over the saltine crackers. Spread mixture with a knife. Place pan in oven and bake for 7-8 minutes or until lightly golden brown. The mixture will spread evenly over the crackers as it bakes.

Remove pan from oven. If you're adding chocolate sprinkle the chocolate chips over top and allow to sit for 5 minutes (or place back in the oven for 1 minute). Then spread with a spatula and sprinkle with nuts if desired. Allow to cool.

Allow the toffee to cool and then break pieces off of foil or use a sharp knife to cut.
---
Notes
Storage: Store in a covered container at room temperature or in the fridge for up to 2 weeks. Freezer instructions: Store in a covered container and freeze up to 3 months.
Nutrition
Calories: 61kcal | Carbohydrates: 6g | Fat: 3g | Saturated Fat: 2g | Cholesterol: 9mg | Sodium: 64mg | Potassium: 11mg | Sugar: 4g | Vitamin A: 115IU | Calcium: 5mg | Iron: 0.2mg
Nutrition provided is an estimate. It will vary based on specific ingredients used.
Did you make this recipe? Don't forget to give it a star rating below!