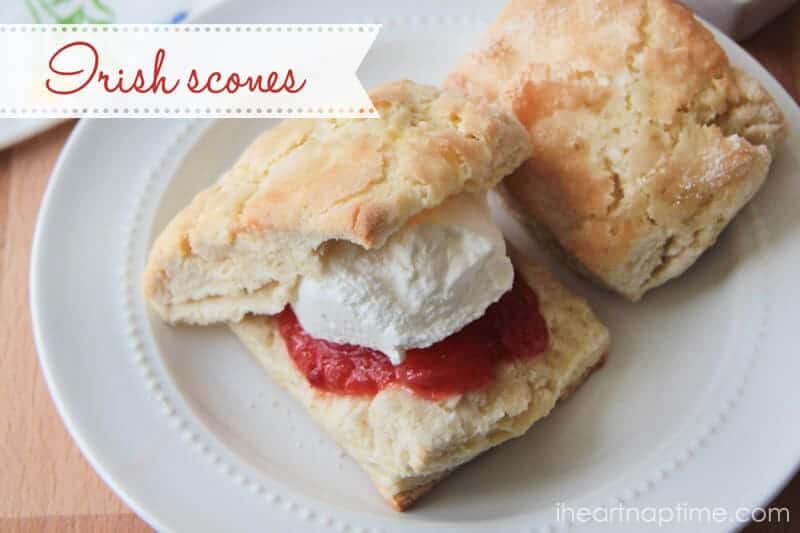 Hello I Heart Nap Time readers! I'm so excited to be a contributor this year! I love how many fun ideas and yummy recipes I find every time I visit I Heart Nap Time, and I'm thrilled for the opportunity to add my recipes to the mix! Just to give you a little background about me, I'm a mom to two adorable girls (ages 6 and 2) and I work full-time as an RN. My husband is a student and works full-time as well, and my favorite way to deal with all the craziness in our life is to bake! I bake something delicious at least a few times a week, and I think my neighbors know when I'm particularly stressed because they find me trying to foist my excess baked goods off on them. Somehow they don't seem to mind too much, though. :)
That's where these delicious Irish scones come in… I made them a week or so ago when I was feeling stressed out, and they turned my mood around quickly!
There's really nothing better than a hot scone, fresh out of the oven, with whipped cream and jam on top. I used a homemade strawberry jam, and the strawberry, whipped cream, and scone combination reminded me of a strawberry shortcake. So delicious!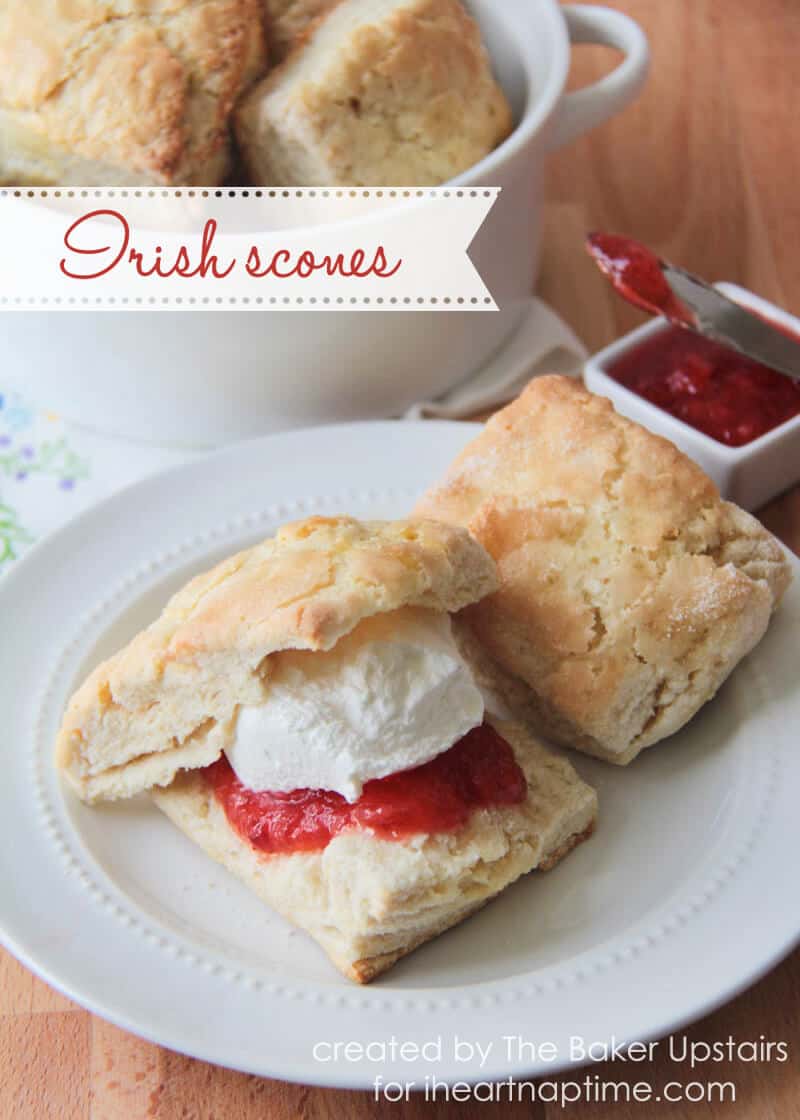 These scones make an elegant addition to breakfast or brunch, or work great as a dessert. I love the crisp sugary top, and the soft and moist inside. I also love that they're so easy and quick to make that I can serve them for an after-school snack or a weekday breakfast. My girls go nuts over these (especially when I let them slather them with jam) and they're a family favorite!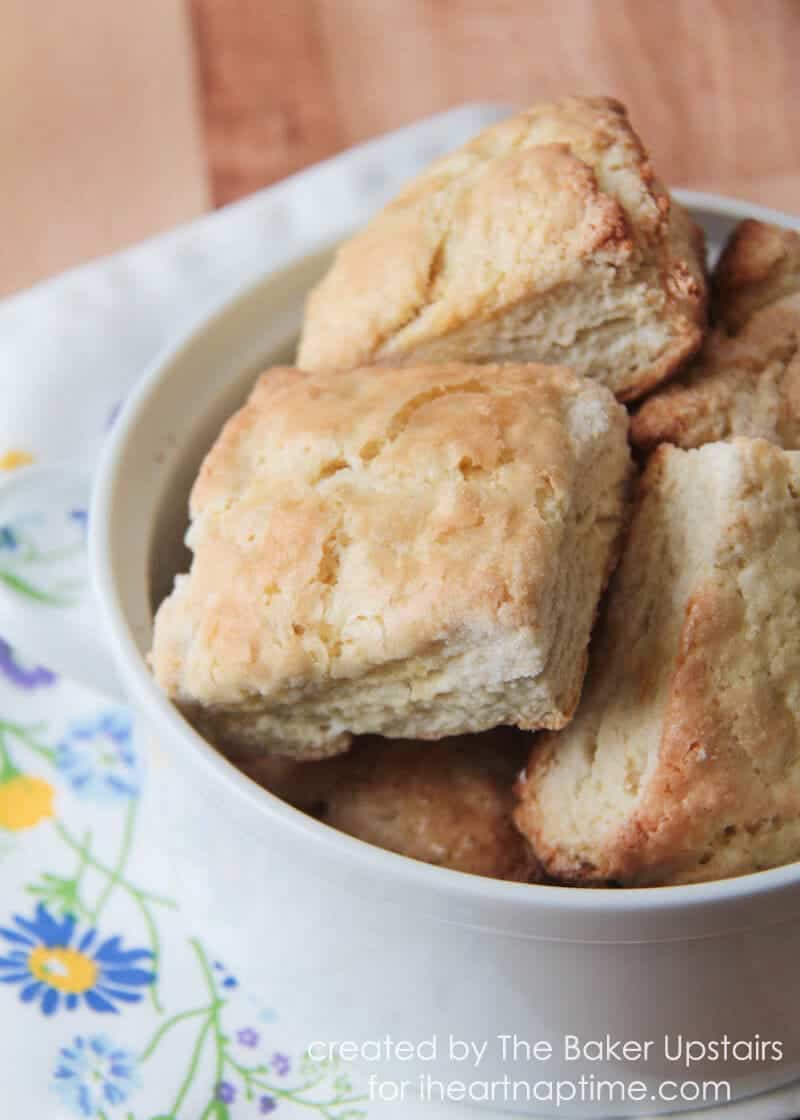 Thanks for having me, Jamielyn! And I'd love to have you all come say hi at my site and check out what I'm baking!
Looking for more breakfast ideas? You'll love these: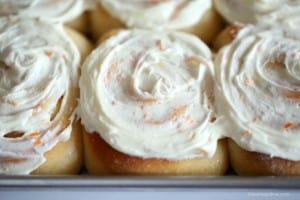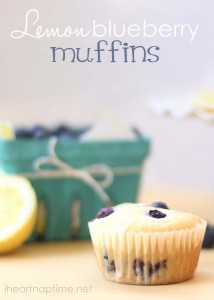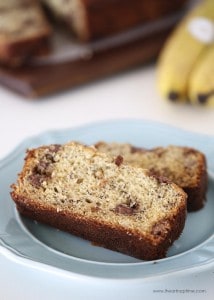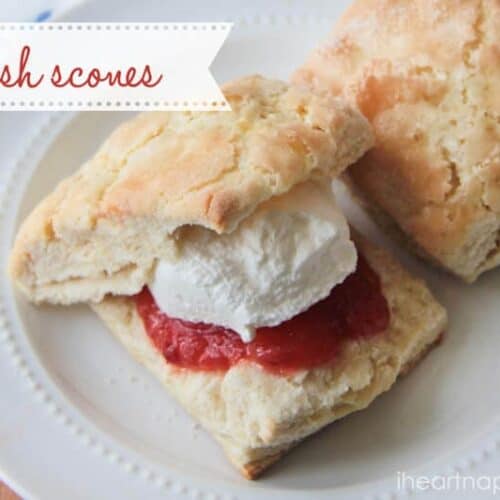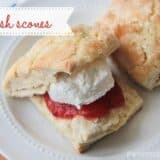 Irish Scones
There's really nothing better than a hot scone, fresh out of the oven, with whipped cream and jam on top.
Ingredients
4 cups all-purpose flour
pinch of salt
6 tablespoons sugar plus more for sprinkling
2 teaspoons baking powder
6 tablespoons butter cut into pieces
3 eggs divided
3/4 cup milk
Instructions
Preheat oven to 475. Line a baking sheet with parchment paper or spray with cooking spray.

In a large bowl, whisk together flour, salt, sugar, and baking powder with a fork. Cut in butter using a pastry blender or two knives, until the mixture resembles coarse crumbs.

In a measuring cup, mix together eggs and milk. Add to dry mixture and mix until just combined. Turn out onto a floured counter or cutting board and knead lightly until it comes together.

Pat into a large rectangle about 1 inch thick (using a rolling pin if needed) and cut into twelve equal sized rectangles.

Beat the remaining egg in a small bowl and brush over each scone rectangle. Sprinkle with sugar and place on baking sheet. Bake 10-12 minutes, or until golden brown on top. Cool and serve with fresh whipped cream and jam.
---
Calories: 250kcal | Carbohydrates: 38g | Protein: 6g | Fat: 7g | Saturated Fat: 4g | Cholesterol: 57mg | Sodium: 73mg | Potassium: 147mg | Fiber: 1g | Sugar: 6g | Vitamin A: 260IU | Calcium: 60mg | Iron: 2.2mg
Hi! I'm Alicia and I blog at The Baker Upstairs. I am in love with all things food! I love to bake bread, cupcakes, cookies… you name it! When I'm not baking, I am running after my two adorable little girls, working as an RN, knitting, reading, and trying to squeeze in time with my husband every day. I'm also into photography and graphic design, and I love learning new things. I'd love for you to stop by The Baker Upstairs and say hi!