Sweet and soft bakery-style orange scones topped with a fresh orange glaze. A copycat Panera recipe that's super easy to make. These are the perfect addition to any breakfast or brunch!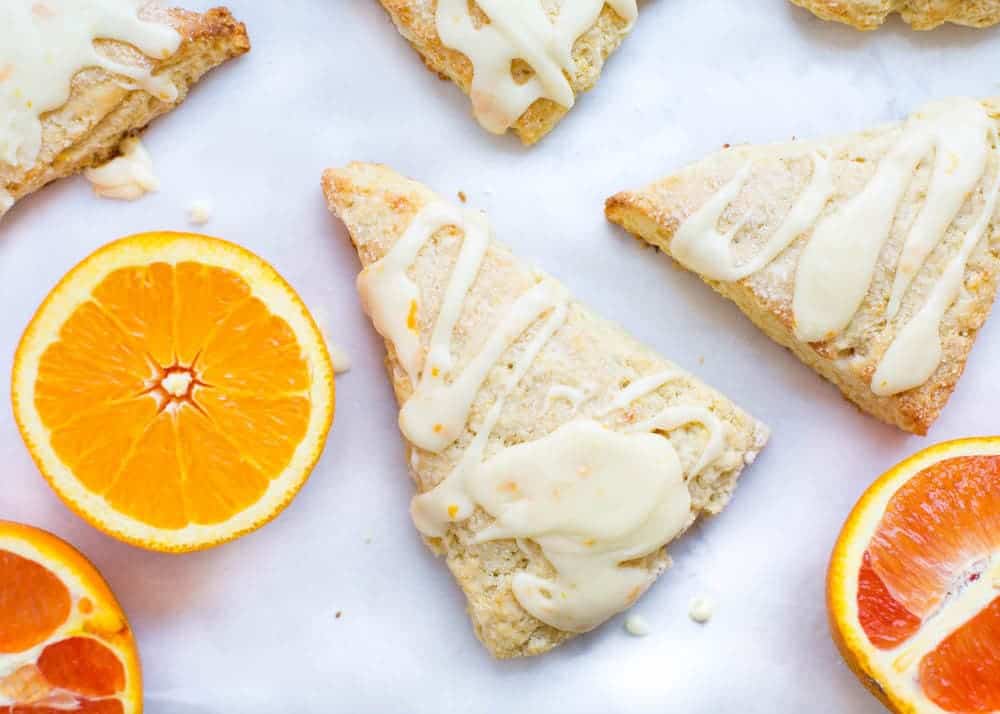 Homemade Scones
These orange scones are a variation of my best scones recipe infused with the citrusy flavor of oranges. Made with a combination of both orange zest and juice they have a refreshing sweet and tangy taste and are the perfect way to brighten the day. During the spring and summer I love to enjoy this breakfast treat with a cup of tea!
Scones have to be one of my family's favorites to pick up when we visit our local bakery. There's just something about these scones or pumpkin scones during the fall that makes me happy. The must have glaze on top though…that's the best part after all! :)
This orange scone recipe has the perfect texture that tastes like a cross between a biscuit and cake. The bright orange flavor gives them a heavenly fresh taste and the orange glaze adds just the right amount of sweetness. They remind me of the famous orange scones from Panera.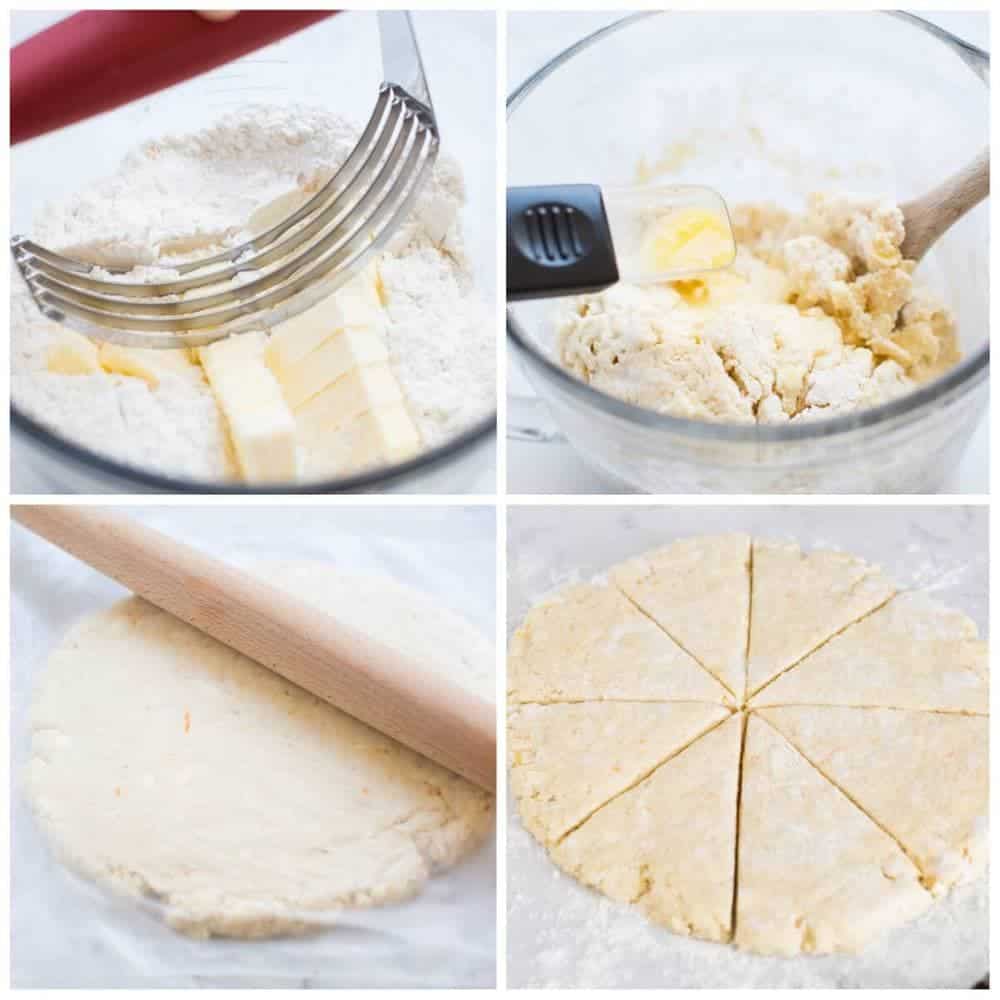 Tips for the Best Orange Scones
Cold butter. Similar to when making homemade biscuits, the butter should be COLD. I usually freeze mine for about 30 minutes before making the dough. It helps give the scones their famous soft, thick and crumbly texture.
Don't overwork the dough. Mix the ingredients until they just barely come together. It should still look a little lumpy (and not completely smooth).
Chill the dough. After mixing together, place the dough in the fridge for about 10 minutes. This makes it easier to work with when rolling it out.
Pizza cutter. This nifty gadget isn't just for slicing my homemade pizza dough. Use it to slice the dough into perfectly shaped triangular wedges. Feel free to dust it with a little flour for an extra clean cut.
Glaze consistency. The glaze should be thick, yet pourable. If it's too thick, add in a little more half and half to thin it out. Or mix in more powdered sugar to give it a thicker texture.
Double the glaze. The recipe makes enough for a small drizzle on top of each scone. You can always double it if you prefer to use more for a sweeter taste.
Zesting an Orange
This recipe uses orange zest in the dough AND the glaze. It adds the perfect boost of fresh orange flavor and gives it a citrusy tang that tastes so delicious. Zesting an orange can sometimes seem intimidating, but it really is super easy! I definitely recommend using a zester because it makes the process super quick and easy. Below is some helpful information to get you started!
How to zest an orange with a zester? If you have zester or are thinking about buying one, check out this helpful tutorial. It applies to zesting all citrus fruits, like lemons and limes as well.
How do you zest an orange without a zester? No zester? No problem! Use a kitchen knife or vegetable peeler instead!
How much is the zest of one orange? When zesting a whole orange, you should end up with somewhere between 2 to 3 Tablespoons of zest. You'll need the zest of one whole orange for this recipe, but remember to set aside 1 teaspoon of zest for the glaze!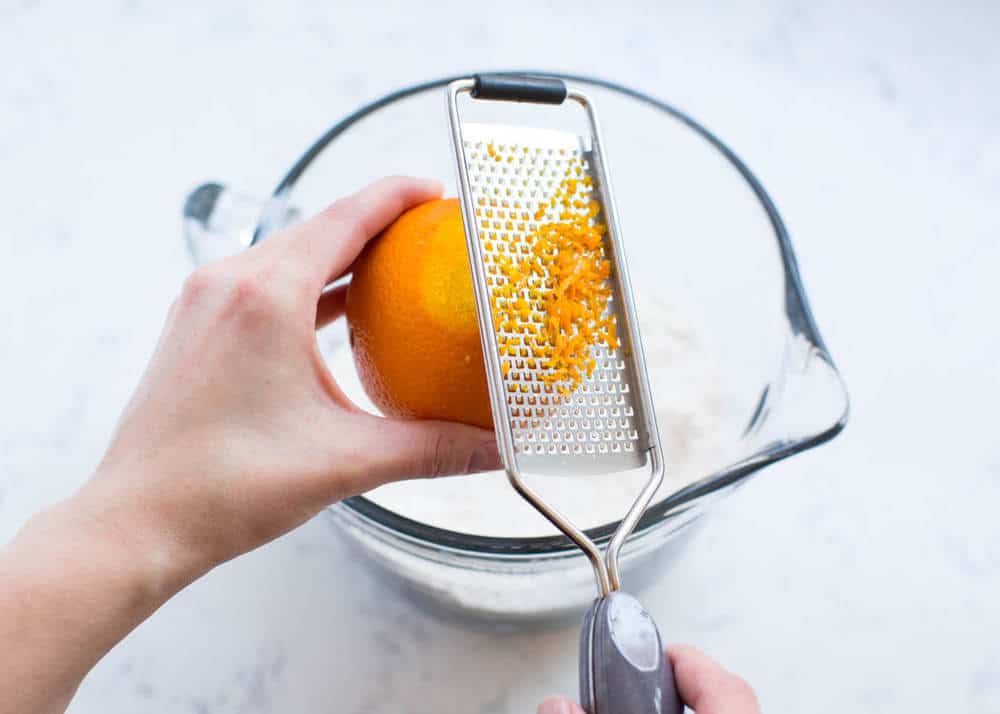 Variations
Smaller scones. For a smaller size, cut the triangular wedges of dough in half again to make 16 mini scones.
Glaze. A cream cheese glaze or a simple powdered sugar icing also tastes delicious and really compliments the fresh orange flavor.
Oranges. Feel free to experiment with different types of oranges! Cara cara, blood oranges or sumo oranges would all taste delicious.
Bold flavor. If you're a big fan of citrus, you can always mix more zest into the dough or glaze for an extra oomph of flavor.
Orange butter. Instead of glaze, serve with a delicious and sweet orange butter to spread on top.
Storing and Freezing
These scones will stay fresh at room temperature in an airtight container or bag for about 1 to 2 days. They also hold up great in the freezer. Simply wrap them individually in plastic wrap and then add to a freezer bag or container. Store in freezer for up to 1 month. Let thaw before enjoying.
FAQs
What do I put on orange scones?
Other than the orange glaze, you could try lemon curd or your favorite preserves like cherry or even strawberry jam!
What is the best way to reheat scones?
Reheat in the oven for 5 minutes at 300°F. They will be warm and delicious!
Do I need a food processor to make these?
While that is a great way to cut in the butter easily, you do not need one. I like to use a simple pastry cutter or just two forks. I would avoid using your hands as that will warm the butter and cold butter is best for scones.
Can I dip my scones rather than glaze them?
Sure! Just dip the edge in the glaze instead of spooning on the glaze and enjoy.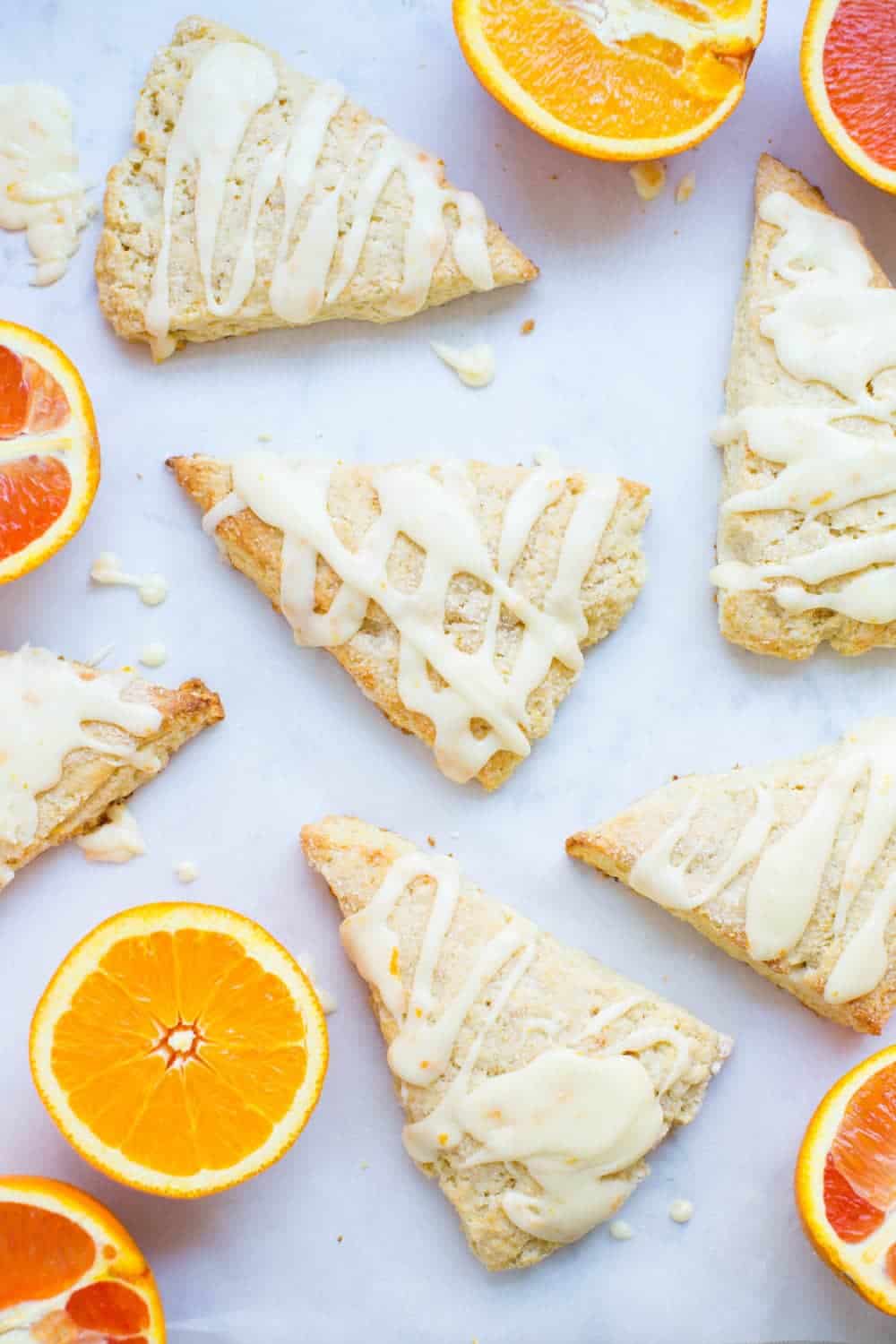 More Breakfast Favorites
HUNGRY FOR MORE? Subscribe to my newsletter and follow on Facebook, Pinterest and Instagram for all the newest recipes!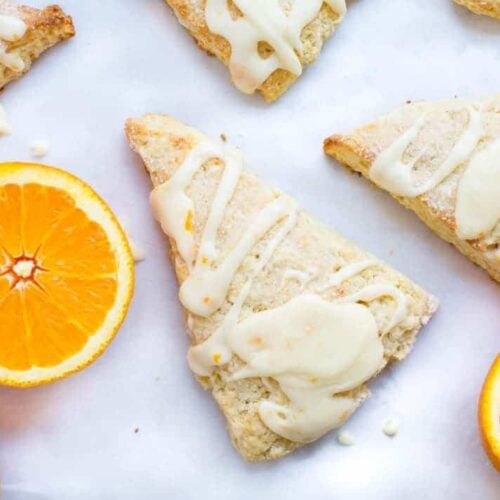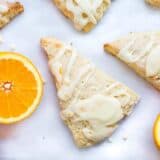 Orange Scones
Sweet and soft bakery-style orange scones topped with a fresh orange glaze. A copycat Panera recipe that's super easy to make. These are the perfect addition to any breakfast or brunch!
Ingredients
Scone:
¾ cup half and half , cold
1 teaspoon vanilla extract
1 egg yolk , whisked
2 cups all-purpose flour
5 Tablespoons granulated sugar , divided
5 teaspoons baking powder
¾ teaspoon Kosher salt
½ cup unsalted butter , cold and cut into 1/4-inch pieces
2 Tablespoons orange juice
Zest from 1 orange , reserve 1 teaspoon for glaze
Glaze:
1 Tablespoon unsalted butter
1 cup powdered sugar
1 teaspoon orange zest
2 Tablespoons orange juice , can use more if needed
1 Tablespoon half and half
Instructions
For the scones:
Preheat oven to 350°F and lightly grease a baking sheet.

In a small bowl, whisk together the half and half, vanilla, egg yolk, orange juice and zest. Set aside.

In a large bowl, whisk together the flour, 1/4 cup sugar, baking powder, salt and orange zest. Using a pastry cutter or 2 forks, cut in the butter until the flour mixture resembles course crumbs. Slowly stir in the half and half mixture and stir just until combined.

Press the dough in between two pieces of saran wrap and then place in the refrigerator for 10 minutes to chill.

Dust the counter with flour and then roll the dough into a 10-inch circle. Sprinkle the top with the remaining 1 Tablespoon sugar. Then cut the circle into 8 wedges using a pizza cutter. If you'd like smaller scones, cut the triangles in half.

Place on the baking sheet and bake for 13 to 15 minutes, or until the edges are golden brown. Then place on a cooling rack to cool.
For the glaze:
Melt the butter in a small bowl. Slowly stir in the powdered sugar, orange juice and half and half. Add another Tablespoon of orange juice if needed. The glaze should be thick, yet pourable.

Drizzle on top of cooled scones.
---
Notes
Zesting an orange: Use a zester to quickly zest your orange. If you don't have a zester, you can use a kitchen knife or vegetable peeler instead. Storing: Keep in an airtight container or bag at room temperature for 1-2 days. Freezing: Wrap scones in plastic wrap and add to a freezer bag or container. Store in freezer for up to 1 month. Let thaw before enjoying.
Nutrition
Calories: 181kcal | Carbohydrates: 25g | Protein: 2g | Fat: 8g | Saturated Fat: 5g | Cholesterol: 34mg | Sodium: 117mg | Potassium: 166mg | Fiber: 1g | Sugar: 12g | Vitamin A: 265IU | Vitamin C: 2.4mg | Calcium: 73mg | Iron: 0.9mg
Nutrition provided is an estimate. It will vary based on specific ingredients used.
Did you make this recipe? Don't forget to give it a star rating below!
ENJOY! :)