Jump to Recipe⌄
Pumpkin Spice Scones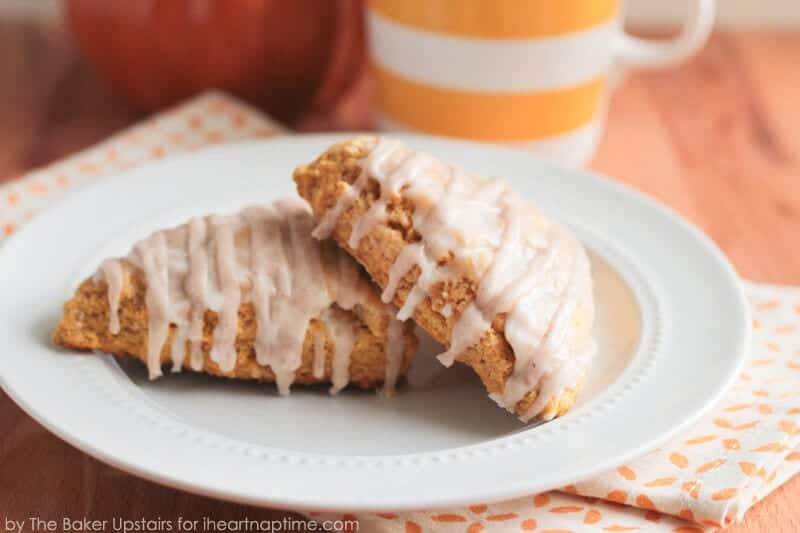 Pumpkin Spice Scones by Alicia of The Baker Upstairs for I Heart Nap Time
Hello again! Can you believe it's already October? This is my very favorite time of year and I am soaking in every minute of fall. We've been crossing things off our fall bucket list right and left… driving up the canyon to see the fall leaves, making caramel apples, sewing Halloween costumes for the kiddos, and making hot chocolate at every opportunity. These pumpkin spice scones are one of my favorite fall foods, and they go wonderfully with a warm mug of hot chocolate. (I may or may not have had that combo for dessert pretty much every day of the last week…)
These scones come together quickly and bake up tender, light, and moist. Pumpkin is one of my favorite ingredients to bake with because it creates such a nice soft texture. I love the mixture of spices with the pumpkin, too! It's like everything nice about fall, packed into a delicious scone. The two differently glazes on top (a plain glaze and a spiced glaze) add a little sweetness and make them even prettier. Having the glaze on the top helps keep the moisture in, too, so they don't dry out as fast. These scones are perfect for an easy breakfast, an afternoon pick-me-up, or a sweet treat at the end of the day. I hope you'll enjoy them as much as I do!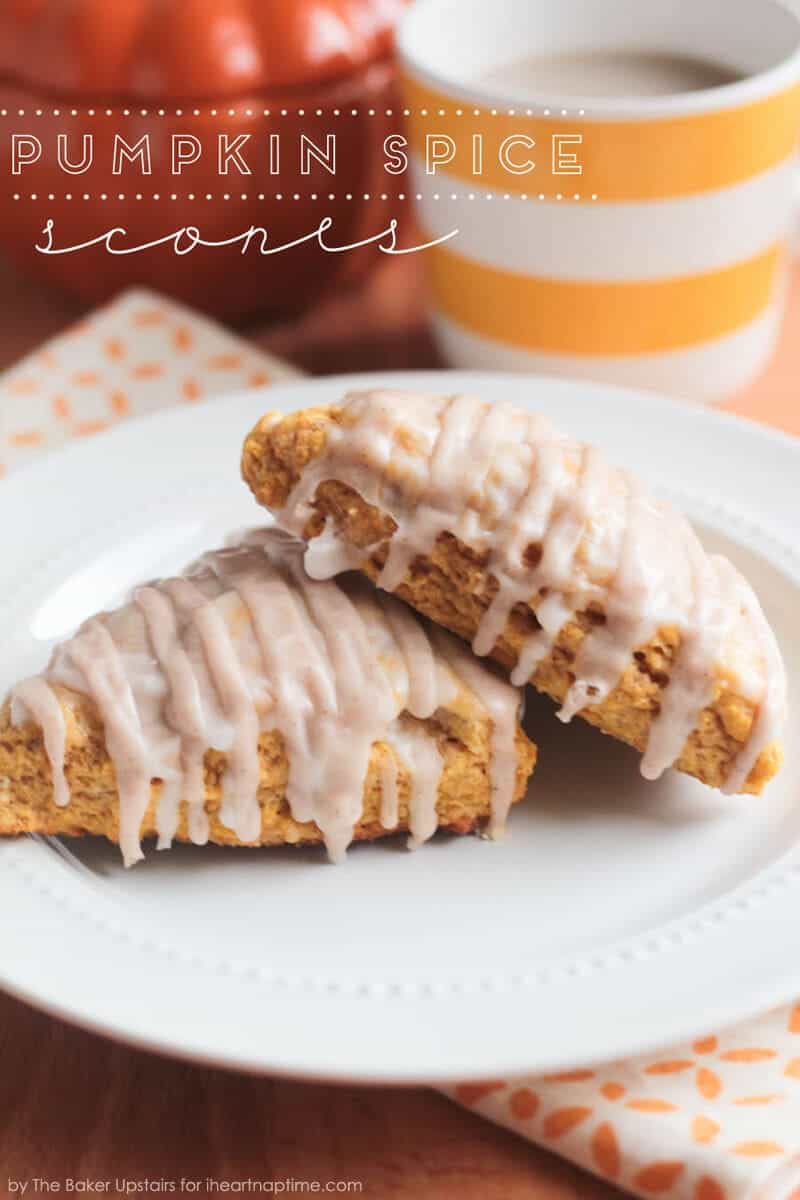 MY OTHER RECIPES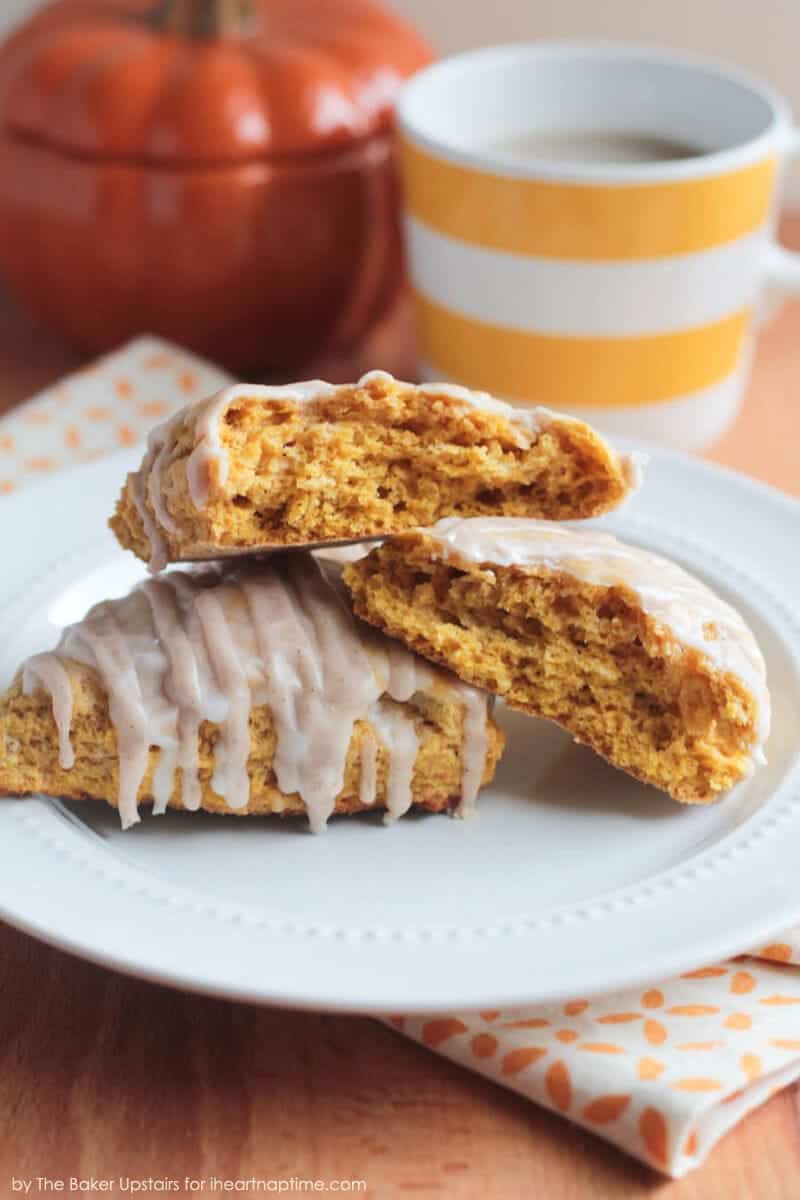 Making this recipe? Don't forget to rate the recipe below and tag #iheartnaptime on Instagram. Thank you! XO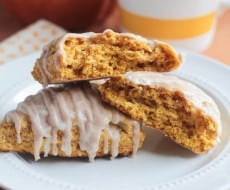 Pumpkin Spice Scones
These pumpkin spice scones are one of my favorite fall foods, and they go wonderfully with a warm mug of hot chocolate.
Print
Ingredients
for the scones:
2 cups flour
1/3 cup sugar
1 tablespoon baking powder
1/2 teaspoon salt
1 teaspoon cinnamon
1/2 teaspoon nutmeg
1/4 teaspoon cloves
1/4 teaspoon ginger
6 tablespoons butter cut into small pieces
1/2 cup pumpkin puree
3 tablespoons milk
1 egg
for the plain glaze:
1 cup plus 1 tablespoon powdered sugar
2 tablespoons milk
1/2 teaspoon vanilla
for the spiced glaze:
1 cup plus 3 tablespoons powdered sugar
2 tablespoons milk
1/4 teaspoon cinnamon
1 pinch each of nutmeg ginger, and cloves
Instructions
Preheat the oven to 425 and prepare a baking sheet by lining with parchment or spraying with cooking spray. To make the scones, whisk together the flour, sugar, baking powder, salt, cinnamon, nutmeg, cloves, and ginger in a medium bowl. Using a pastry blender or two knives, cut in the butter until the mixture resembles coarse crumbs. In a measuring cup, mix together the pumpkin, milk, and egg, and add the pumpkin mixture to the dry ingredients. Mix until just combined. Pat the dough out on a lightly floured surface to form a rectangle that is roughly 4 inches by 12 inches. Cut the dough into thirds to form three 4 inch by 4 inch squares, then cut an X in each of the squares to form 4 triangular scones. Move the scones to the prepared baking sheet and bake 14-16 minutes, or until lightly browned on the bottom. Remove from the oven and let cool.

While the scones are cooling, make the glaze by whisking together the powdered sugar, milk, and vanilla. Brush the glaze over the cooled scones (it's okay if they are still slightly warm) and let cool. To make the spiced glaze, whisk together the powdered sugar, milk, and spices. Drizzle the spiced glaze over the scones. To make this step easier, I added the spiced glaze to a plastic zippered bag and snipped off the corner, then drizzled. Enjoy!
Nutrition Facts
Pumpkin Spice Scones
Amount Per Serving
Calories 242 Calories from Fat 54
% Daily Value*
Total Fat 6g 9%
Saturated Fat 3g 15%
Cholesterol 29mg 10%
Sodium 158mg 7%
Potassium 160mg 5%
Total Carbohydrates 43g 14%
Sugars 25g
Protein 3g 6%
Vitamin A 35.8%
Vitamin C 0.5%
Calcium 6.4%
Iron 7.1%
* Percent Daily Values are based on a 2000 calorie diet.