This 5-ingredient Kung Pao Sauce recipe is fast and delicious! A tasty sauce inspired by Sichuan cuisine that can be poured over your favorite stir fry for an effortless weeknight dinner or store it in the fridge to use during the week.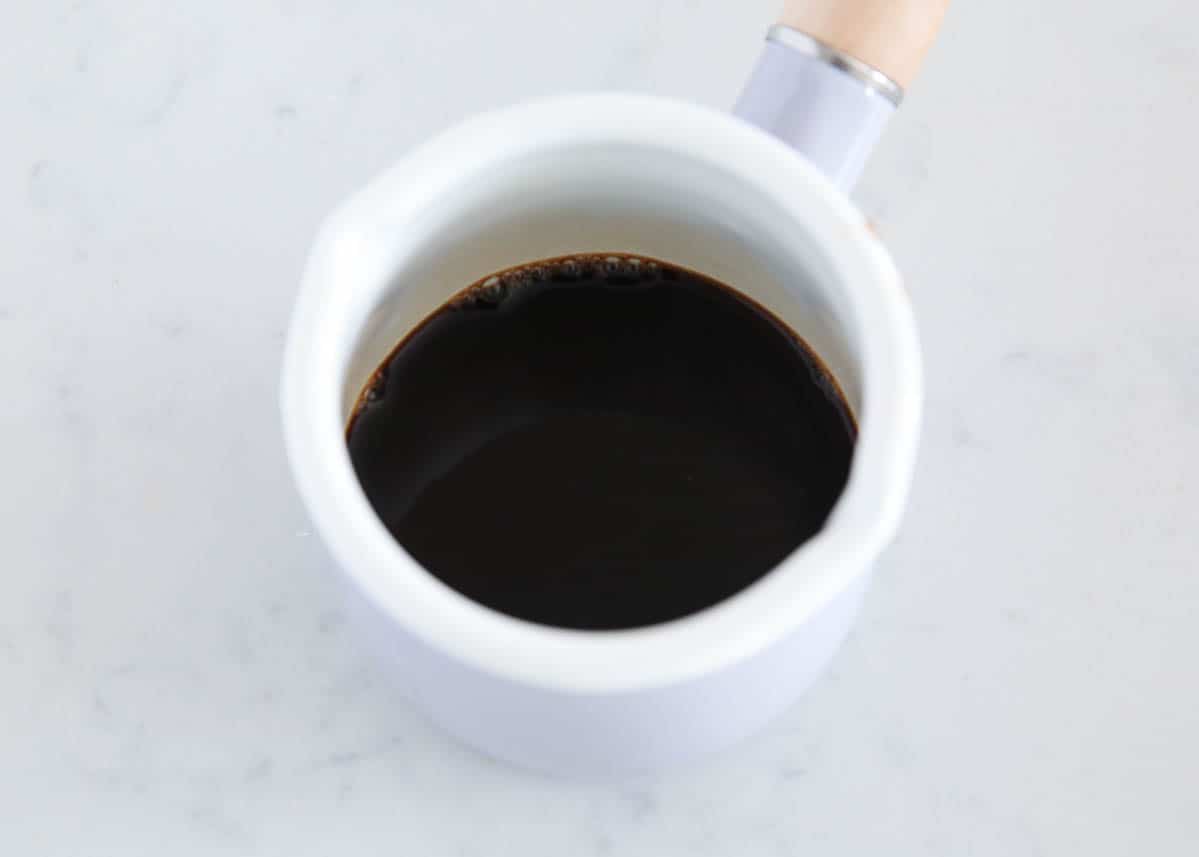 Even Better Than Panda Express
It can't get much easier than a quick stir fry. I make them a lot not just because they're quick, but because they're healthy and they taste amazing! Plus, they're kid-approved!
Chicken and vegetable stir fry is one of the recipes that I turn to again and again. I usually make it with a simple teriyaki sauce which is a family favorite. Sometimes, I'll crave more of a sweet and tangy flavor, and that's when I turn to this homemade Kung Pao sauce recipe.
Recreate your favorite Kung Pao restaurant dish at home with this ultimate sauce. It's made with just 5 ingredients and will take you under 5 minutes to make. It's a little bit sweet, a little bit sour, and loaded with flavor. I've kept this sauce mild, but you can go ahead and crank the heat up if that's what you and your family enjoy!
Why This Recipe Works
It's pantry friendly: You only need 5 common pantry ingredients to make this sauce.
You can make it ahead: Make it in advance and stash it in the fridge for when you're ready to make dinner.
Healthier: While store bought sauce is convenient, the downside is that they are often loaded with sodium, aka MSG, and sugar, and sometimes they even contain artificial colors which really don't enhance the sauce in any way.
It's customizable: My basic recipe leaves out the heat, but if you want it spicier, I share how you can make it happen!
Recipe Ingredients
There are only 5 ingredients in this homemade Kung Pao sauce recipe, and you probably already have them in your pantry right now! Here's what you'll need: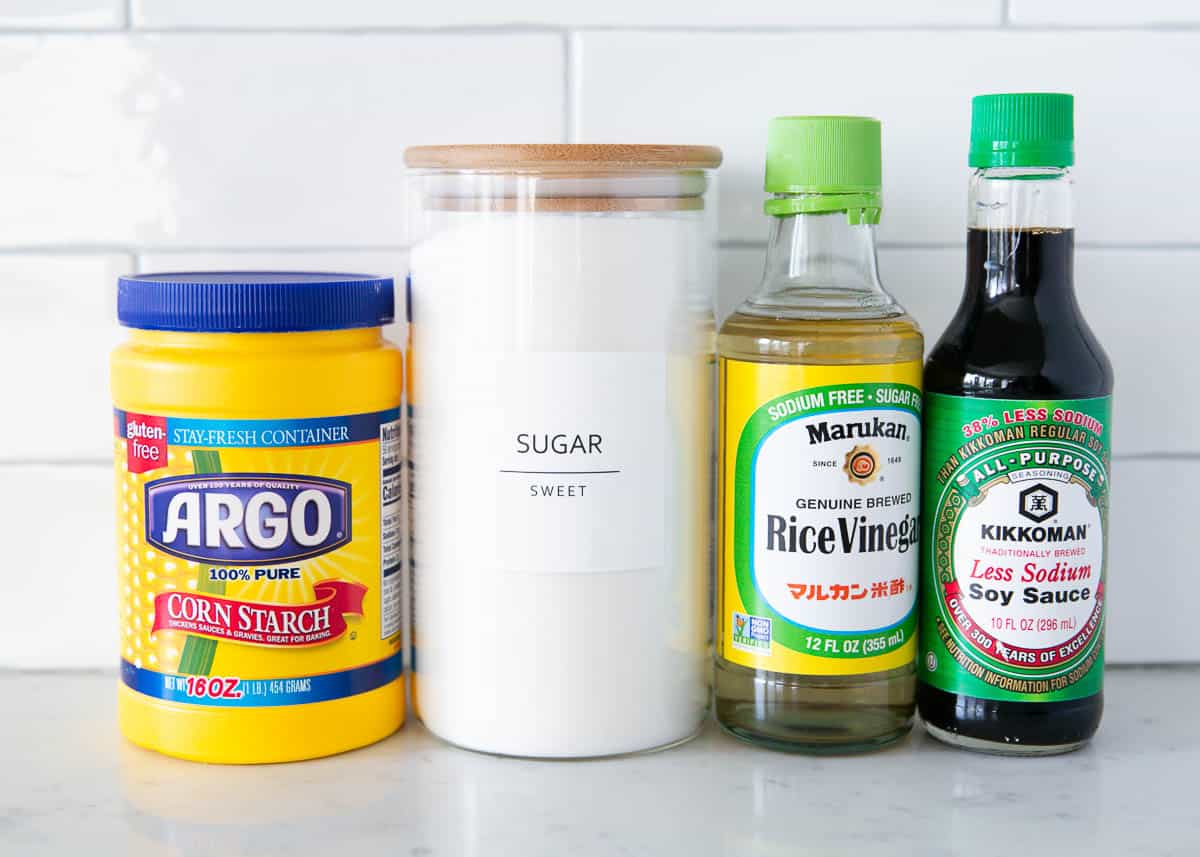 Find the full printable recipe with specific measurements below.
Soy sauce: I use low-sodium soy sauce to help control our salt intake. Use either dark soy sauce or light soy sauce, it's up to you as they can be used interchangeably.
Rice vinegar: This vinegar is made from, you guessed it, fermented rice. It's not as tangy as white vinegar and has a milder flavor. If you can't find rice vinegar, you can substitute sherry vinegar or white wine vinegar.
Sugar: I use granulated sugar, but brown sugar would also work.
Cornstarch: Cornstarch is used to thicken the sauce. Always make a slurry when adding cornstarch to liquid so you don't end up with lumps. To make a slurry, combine 1 part cornstarch with 1 part water and whisk until the cornstarch has dissolved.
Variations
This is a basic recipe using minimal ingredients and it just so happens to be my favorite. Other recipes are circulating that do include things like garlic, ginger, Szechuan peppercorns (sometimes written as Sichuan peppercorns), green onions, scallions, and peanuts. You can customize yours to how you like it!
How to Make Kung Pao Sauce
Once you start making your own sauces at home, you won't think twice about whipping one up instead of running to the store for a premade one or picking up the phone to dial for takeout. In just 5 minutes, this delicious homemade kung pao sauce is ready to use in your favorite stir fry!
Whisk: Grab a small bowl or pot and whisk together the soy sauce, rice vinegar, sugar, water, and cornstarch until smooth. You can also pour everything into a mason jar with a tight-fitting lid and give it a shake until everything is combined.
Cook: There are a couple of ways to cook your sauce. You can simmer it in the pot over medium heat until thickened, or you can pour the homemade kung pao sauce into your stir fry and simmer along with the other ingredients until thickened.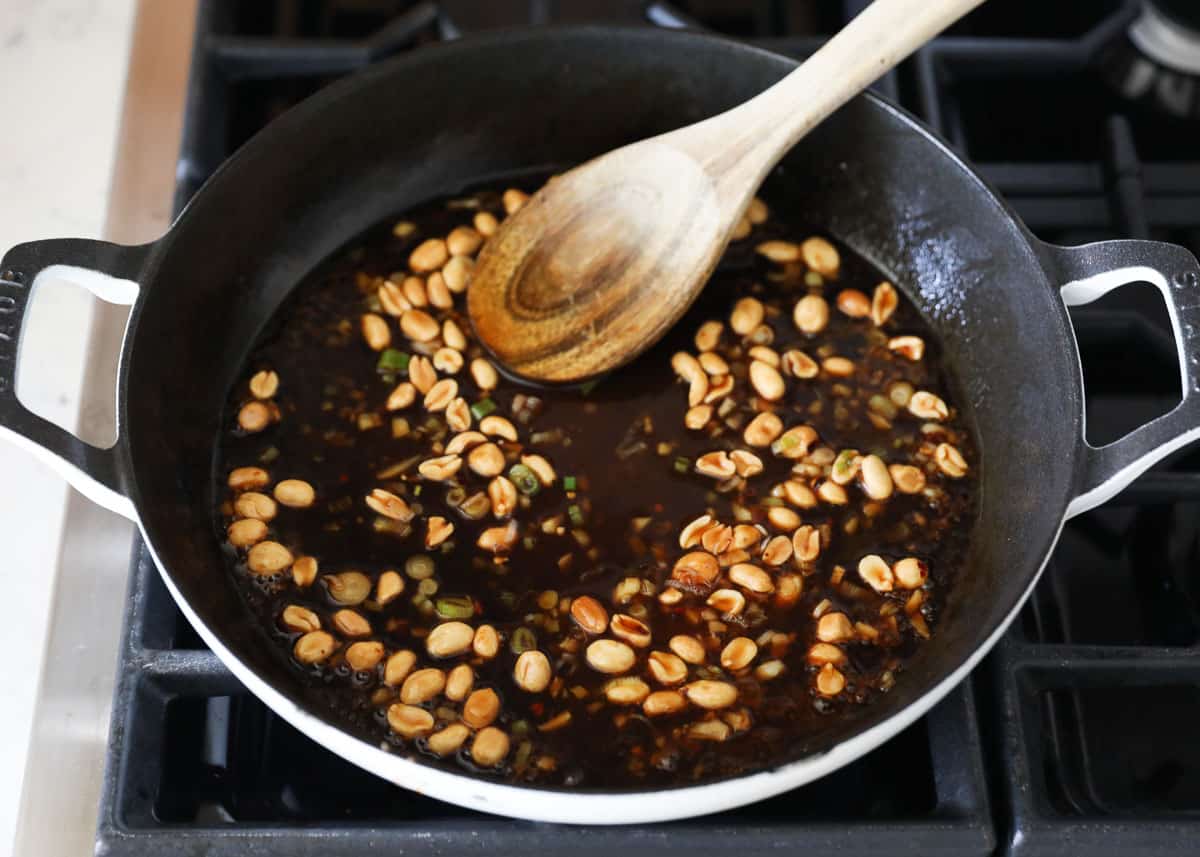 Recipe Tips
Dial up the spice level by adding red pepper flakes.
You can also use it to marinate your protein for 10-15 minutes before adding to your stir fry.
Too runny? Mix a teaspoon of cornstarch with a teaspoon of water and pour it into the sauce and let it simmer until thickened.
Too thick? Add a splash of water as the sauce simmers to help thin it out. Avoid adding more soy sauce as the sauce could become too salty.
What to Make with Kung Pao Sauce
I use this delicious Chinese-inspired condiment in my Kung Pao Chicken and Kung Pao Shrimp recipes. Serve your stir fry alongside some steaming stovetop rice and you have a quick dinner everyone will love. If you want to add some more dishes to create a larger feast, have a look at some of my other Asian recipes for inspiration.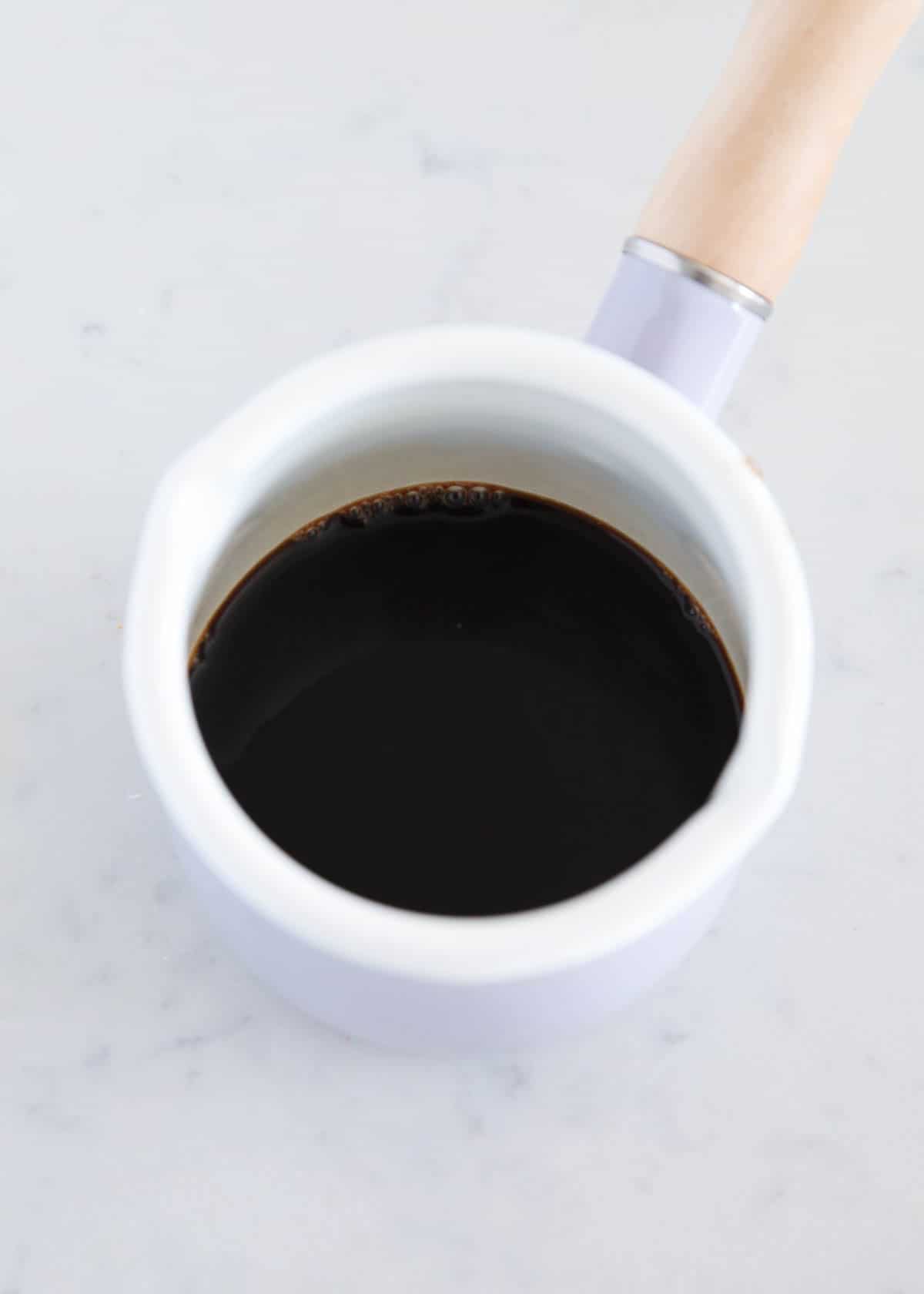 Recipe FAQs
Is homemade Kung Pao sauce spicy?
Usually, it is sweet and tangy with some added heat from Sichuan pepper. I keep it family-friendly with my basic recipe and leave out the pepper, but you can add some red pepper chili flakes if you want more heat.
Can you make homemade Kung Pao sauce ahead?
Yes, you can make it ahead and store it in an airtight container in the fridge until you're ready to use it.
Can I double this recipe?
Absolutely! Double or triple this recipe, it's very easy to scale up so you can make your stir-fries as saucy as you want.
What is the difference between homemade and store-bought stir fry sauce?
I'm all for convenience and when I can find a shortcut in the kitchen, I'll take it! Sometimes it's just easier to buy a prepared sauce but I find making my own recipe at home lets me control exactly what is going into it, plus I can make as much or as little as I want with pantry ingredients I have on hand.

It really takes no time at all, and the result is just as tasty, if not more so than the ones you can find in the grocery store aisles. Not to mention the price of some of the sauces can be a bit expensive and making your own at home can save you some money along the way!
Storage
Refrigerate: After you mix up the homemade kung pao sauce, you can use it straight away or store it in the refrigerator in an airtight container for up to 1 week. Mason jars make great containers for all kinds of condiments.
Freezer: If you want to keep it fresh for longer, store it in a freezer bag for up to 2 months. The freezer bag will lay flat in your freezer, so it won't take up too much room. To use it, thaw it in the refrigerator overnight and use it according to the recipe.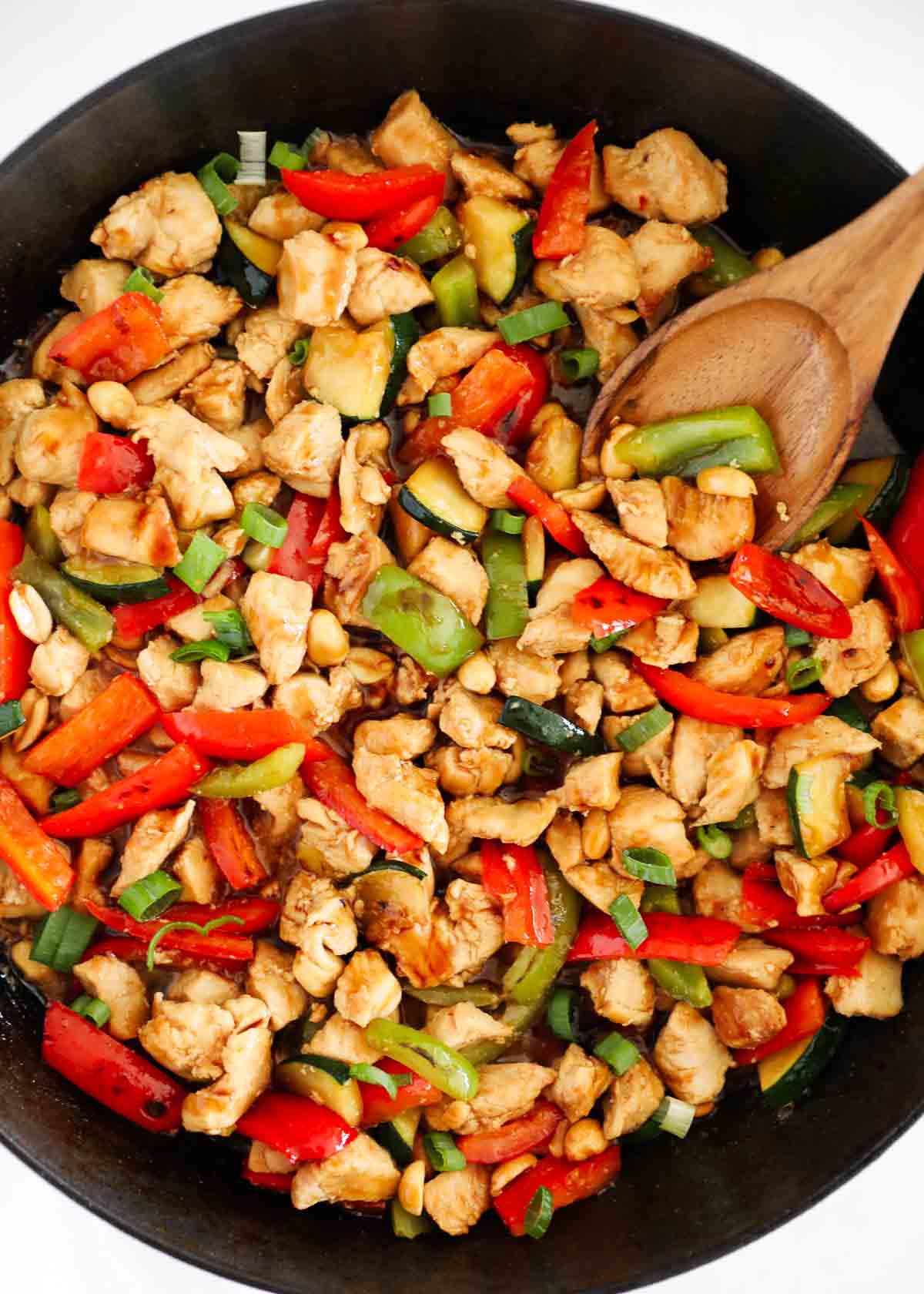 HUNGRY FOR MORE? Subscribe to my newsletter and follow on Facebook, Pinterest and Instagram for all the newest recipes!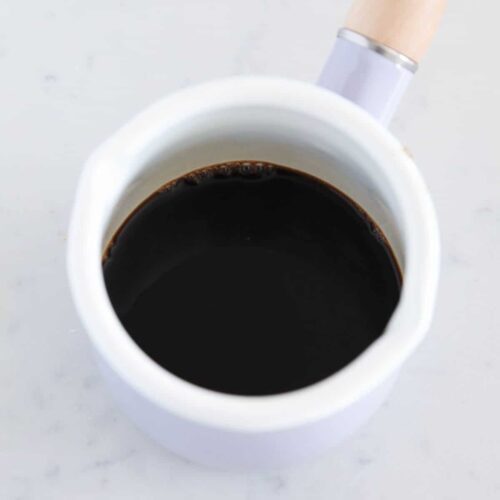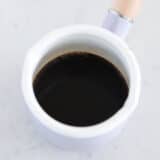 Kung Pao Sauce
This 5-ingredient Kung Pao Sauce recipe is fast and delicious! A tasty sauce inspired by Sichuan cuisine can be poured over your favorite stir fry for an effortless weeknight dinner or store it in the fridge to use during the week.
Ingredients
¼ cup low sodium soy sauce
¼ cup rice vinegar
1 to 2 Tablespoons granulated sugar
2 Tablespoons water
1 teaspoon cornstarch
Instructions
In a small saucepan or wok, whisk the soy sauce, rice vinegar, sugar, water, and cornstarch until smooth.

Place over medium heat and simmer until thickened. Toss with your desired meat and vegetables.
---
Notes
Ways to use the sauce: This sauce makes a great marinade or as a way to finish off a dish. Here are a few of my favorite recipes for it:
Rice: This sauce is so good even just drizzled over Instant Pot rice or stovetop rice.
Nutrition
Calories: 17kcal | Carbohydrates: 3g | Protein: 1g | Fat: 0.04g | Saturated Fat: 0.003g | Polyunsaturated Fat: 0.01g | Monounsaturated Fat: 0.01g | Sodium: 383mg | Potassium: 38mg | Fiber: 0.1g | Sugar: 2g | Calcium: 4mg | Iron: 0.1mg
Nutrition provided is an estimate. It will vary based on specific ingredients used.
Did you make this recipe? Don't forget to give it a star rating below!