Classic bechamel sauce is a staple in any kitchen and is so easy to make! It is easily customizable depending on your tastes and is the perfect recipe to add richness to pasta dishes, casseroles, soups, and stews.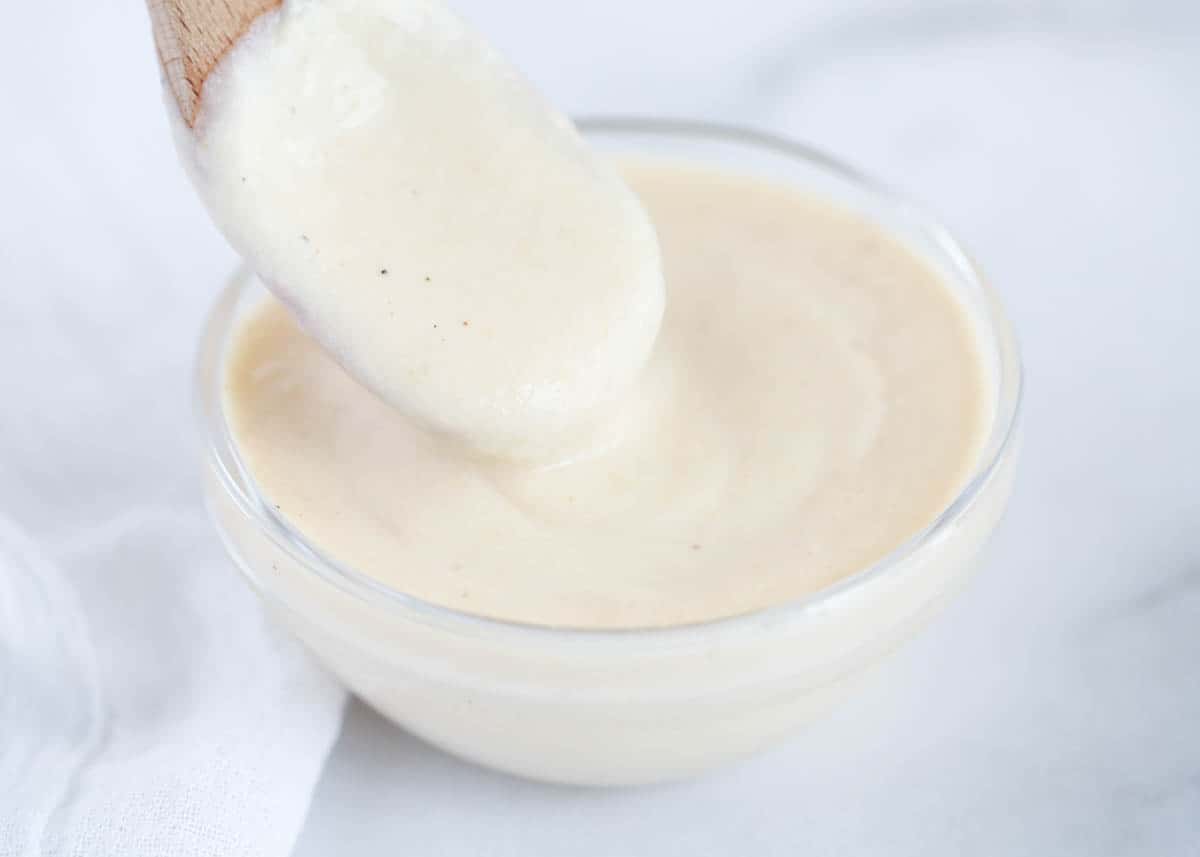 Homemade Bechamel Sauce
Bechamel sauce (or béchamel) is a basic, creamy white sauce that's a great recipe to have in your back pocket! It's considered one of the five mother sauces of French cuisine, and it also has Italian roots.
These simple step-by-step instructions will show you how to make this creamy white sauce and give you plenty of ideas on how to use it. Perfect for casseroles, soups, and pasta sauces, this is one recipe you'll use again and again!
Bechamel is incredibly versatile and I use it in my homemade lasagna and as a filling for my chicken crepes. You could also use it to serve over homemade meatballs or Swedish meatballs. The options are endless!
What is Bechamel Sauce?
Some might call it a white sauce! It is a milk sauce that is thickened with a roux of flour and butter. It has a smooth creamy texture that can be used as a base for a cheese sauce, to add richness to soups and stews, and as a gravy over meat or biscuits.
The sauce begins with a roux (pronounced 'roo') which is made by cooking butter and flour together. Check out my guide on how to make a roux for more tips. Next, you slowly stream in the milk while continuously whisking until you have a smooth and silky sauce. Finally, simple seasonings of nutmeg, salt, and pepper are sprinkled in during the final moments. Easy peasy!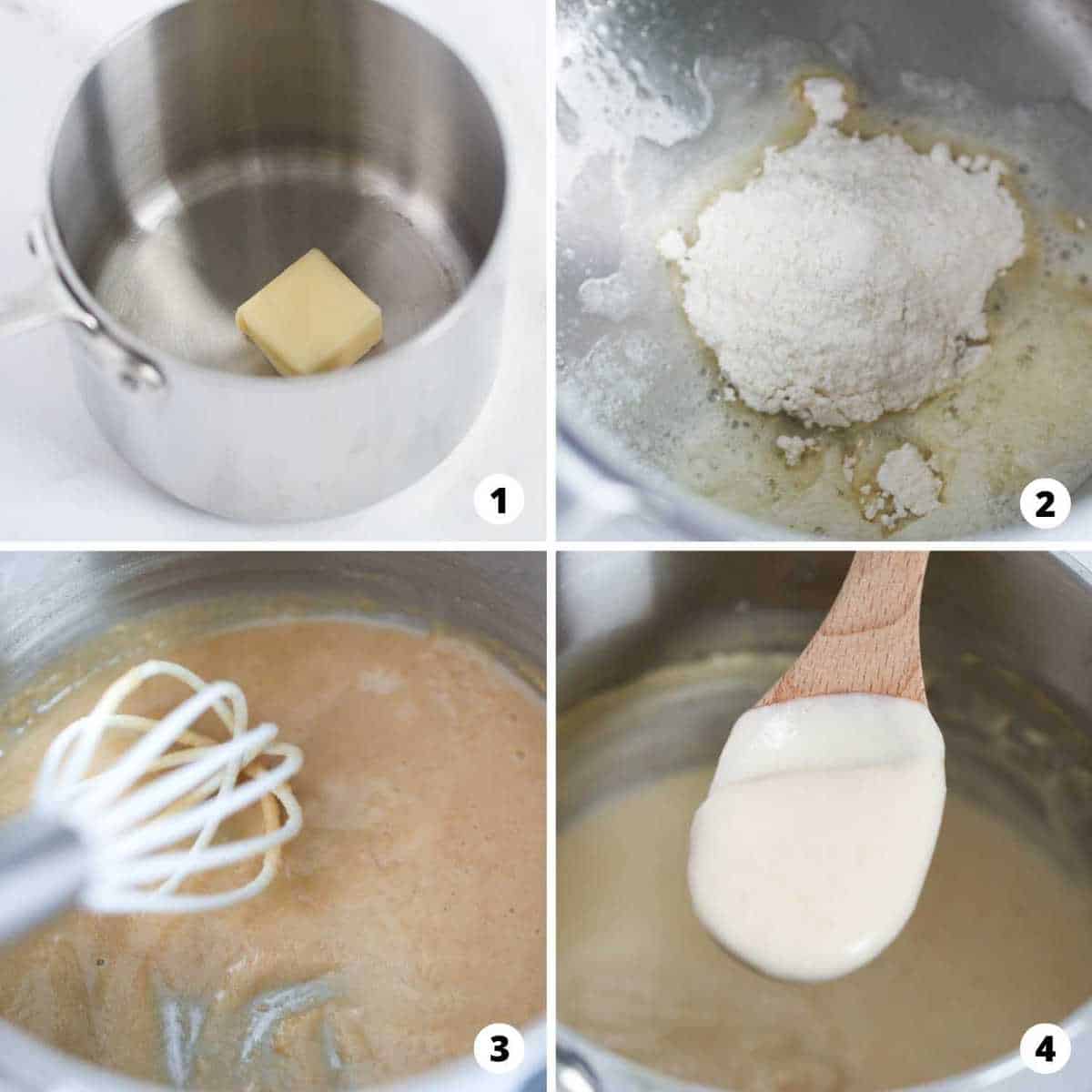 Ingredients
This classic bechamel sauce recipe uses just 5 simple ingredients, and you likely have most of them in your kitchen already!
Unsalted butter: I always use unsalted butter in mine so I can control the level of saltiness. If you only have salted butter, go ahead and use it, just reduce the amount of salt you add at the end.
All-purpose flour: The flour thickens the mixture. It's cooked with butter for a couple of minutes, so the raw floury taste disappears.
Milk: You can use any percentage of milk here. The richer the milk, the richer your sauce will be. Make sure the milk is at room temperature. This helps to reduce the risk of lumps in your final sauce.
Nutmeg: Adds some warmth and spice to the flavor.
Salt and Pepper: This recipe keeps it simple with just salt and pepper for seasoning.
How to Make a Bechamel Sauce
Follow the 3 easy steps below for a rich and delicious bechamel sauce!
Melt butter. Start by melting the butter in a large saucepan over medium-low heat.
Make a roux. Then whisk in the flour until smooth and blended nicely with the melted butter. Cook the roux until it has turned a light golden color. It's important to whisk constantly at this stage to prevent the roux from burning.
Add milk. Slowly pour the warm milk into the pan while continuing to whisk and bring to a light simmer. You don't want it to boil. Let the sauce simmer until it has thickened and is no longer gritty. This usually takes about 10 minutes.
Season. Add salt during the last minute of cooking along with a pinch of nutmeg. Season to taste with pepper and more salt if needed.
Expert Tips
Here are a couple of tips to help you make the perfect béchamel sauce.
Make it creamy. For an extra rich bechamel sauce, substitute half a cup of milk for half and half or even heavy cream.
Milk at room temperature. Make sure your milk is at room temperature before slowly adding it to your roux. Pouring cold milk into a hot roux will usually result in a lumpy sauce.
Keep whisking. The goal is to achieve a smooth and creamy consistency. Keep whisking your roux and then everything together to ensure there are no lumps. The result will be silky and delicious!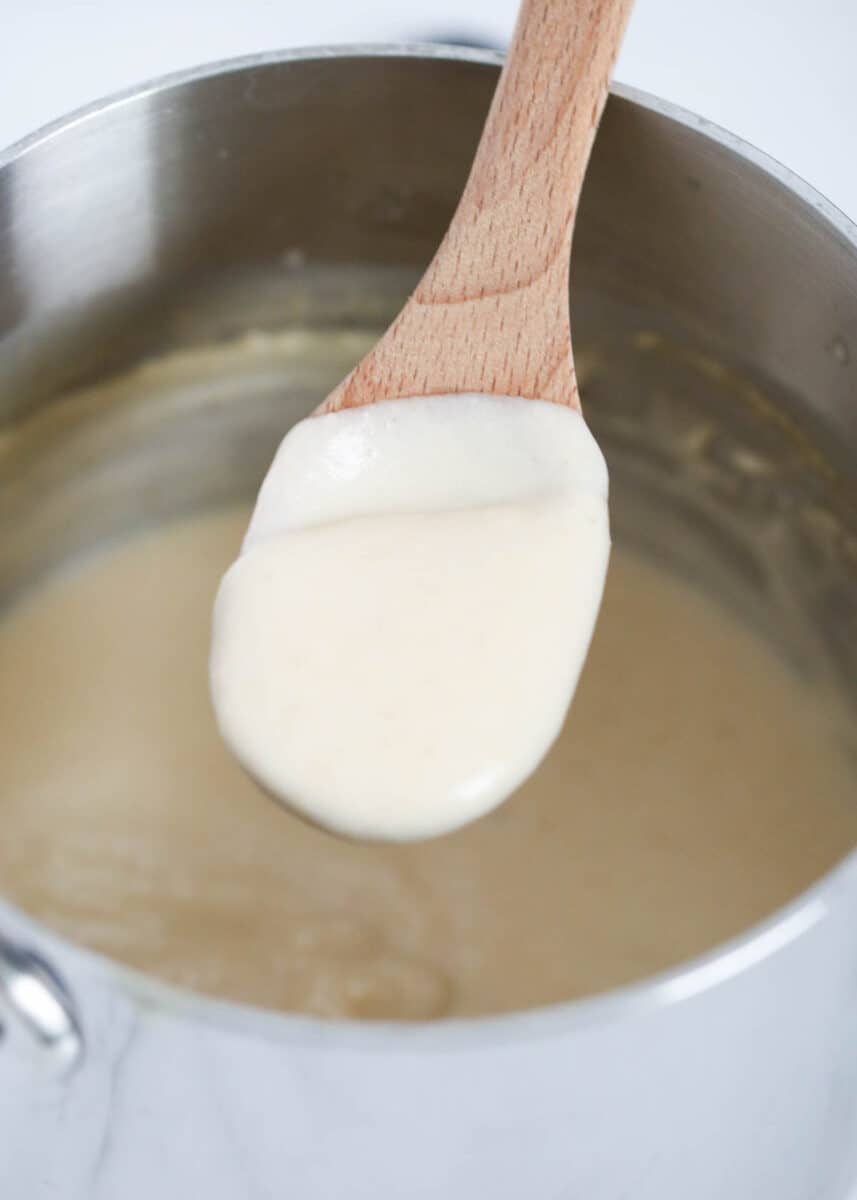 Variations
This simple recipe is very versatile and can be used as a great base to add so many different flavors depending on your preferences!
Add cheese. To turn this into a bechamel cheese sauce, stir in some shredded cheese during the last couple of minutes of cooking and allow it to melt. Gruyere is a great choice because it melts so well. You could also try cheddar or parmesan cheese.
Make it spicy. Elevate your mixture adding in some extra seasoning. Sprinkle in some cayenne pepper, mustard powder, or red pepper flakes. Add the spices at the same time you're melting the butter, so it infuses with their flavors.
Add onion and garlic. Grating in some onion or fresh garlic will make the sauce more aromatic.
Toss in fresh herbs. Add some freshness to your sauce by throwing in some chopped parsley, chives, or basil.
How to Use Bechamel Sauce
One of the best things about it is that you can use it in so many different ways. Here are a few suggestions:
How to Store
In the refrigerator: Allow it to cool completely and then pour it into an airtight container. Press a piece of plastic wrap directly on top of the sauce to help prevent a skin from forming and store in the refrigerator for 4 – 5 days.
In the freezer: For longer storage, pour leftovers into a freezer-safe zip-top bag and store it in the fridge for up to 3 months. Thaw in the refrigerator overnight before using. Freezer bags work great for storing sauces as you can lie them flat in your freezer which helps to save space!
How to Reheat
Reheated slowly in a pot on the stovetop or in the microwave in 30-second bursts at a time.
Frequently Asked Questions
What is the difference between white and bechamel sauce?

There is no difference! The terms white sauce and bechamel sauce are used interchangeably in recipes.
Is bechamel sauce the same as alfredo sauce?

No, these are not the same sauces. While they both appear white in, the ingredients and flavors are different. Bechamel has a milk base that is thickened with a roux made of butter and flour.

Alfredo sauce has a cream base which is thickened by reducing it on the stovetop. Alfredo normally has garlic and cheese added, as well as other seasonings for flavor.
How thick should my bechamel sauce be?

The cooked sauce should coat the back of a wooden spoon. Some recipes call for a thin white sauce and some for a thick white sauce. Using more flour in the roux will make your sauce thicker. Usually, the ratio of flour to butter will be equal.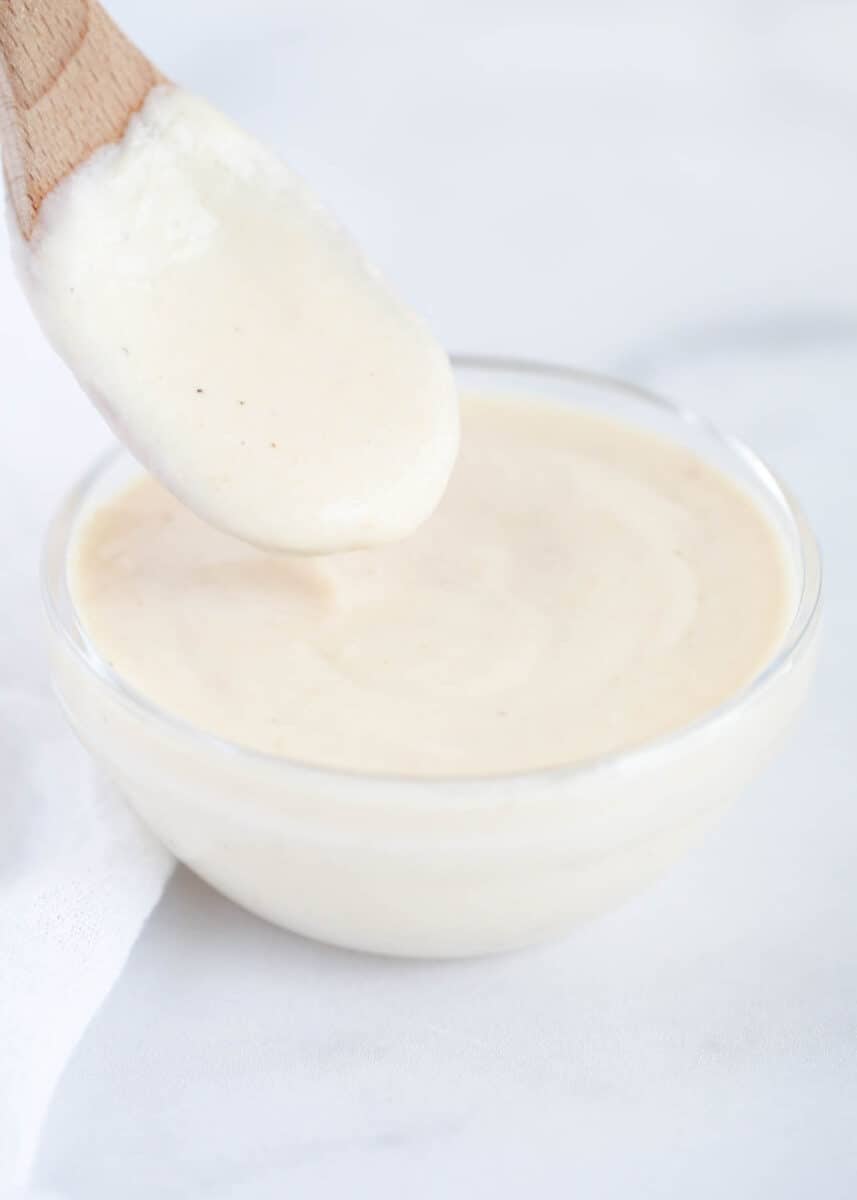 More Ways to Use This Sauce
HUNGRY FOR MORE? Subscribe to my newsletter and follow on Facebook, Pinterest and Instagram for all the newest recipes!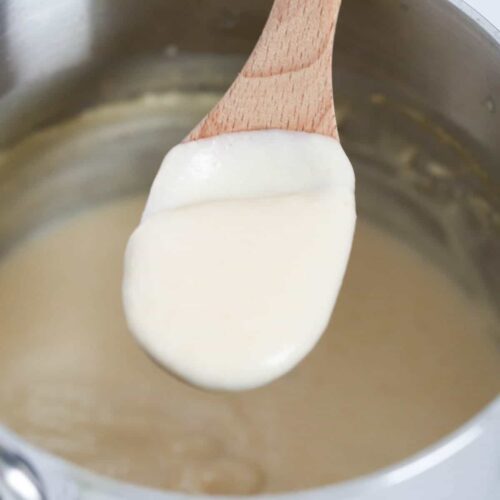 Bechamel Sauce
Classic bechamel sauce is a staple in any kitchen and is so easy to make! It is easily customizable depending on your tastes and is the perfect recipe to add richness to pasta dishes, casseroles, soups, and stews.
Ingredients
5 Tablespoons salted butter
¼ cup all-purpose flour
4 cups milk , at room temperature
1 ½ teaspoons fine sea salt
Pinch ground nutmeg
Instructions
In a large saucepan, melt the butter over medium-low heat. Stir in the flour and whisk until smooth. Cook 3 minutes (whisking constantly), or until it has turned a light golden color.

Slowly whisk in the milk. Turn up the heat to medium and bring to a light simmer. Reduce the heat to medium-low and simmer 10 minutes, or until thickened and is no longer gritty. Add the salt the last minute of cooking with a pinch of nutmeg. Salt and pepper, to taste.
---
Notes
Bechamel Cheese Sauce: To turn this into a cheese sauce, mix in 1/2 cup shredded cheese the last 2 minutes of cooking and let melt. Gruyere is a great addition. Richer Sauce: For a more decadent sauce, substitute 1/2 cup milk with half-and-half or heavy cream. Freezer instructions: Let cool before placing in a zip-top bag for up to 3 months. Thaw in the refrigerator overnight.
Nutrition
Calories: 128kcal | Carbohydrates: 9g | Protein: 4g | Fat: 8g | Saturated Fat: 5g | Polyunsaturated Fat: 1g | Monounsaturated Fat: 2g | Trans Fat: 1g | Cholesterol: 25mg | Sodium: 538mg | Potassium: 194mg | Fiber: 1g | Sugar: 6g | Vitamin A: 450IU | Calcium: 152mg | Iron: 1mg
Nutrition provided is an estimate. It will vary based on specific ingredients used.
Did you make this recipe? Don't forget to give it a star rating below!