Lemon lovers, this one's for you! Lemon icebox pie is a popular warm-weather dessert made with a creamy lemon filling on top of a homemade graham cracker crust. It's prepared in only 15 minutes and chilled for a few hours to make it the perfect summertime treat!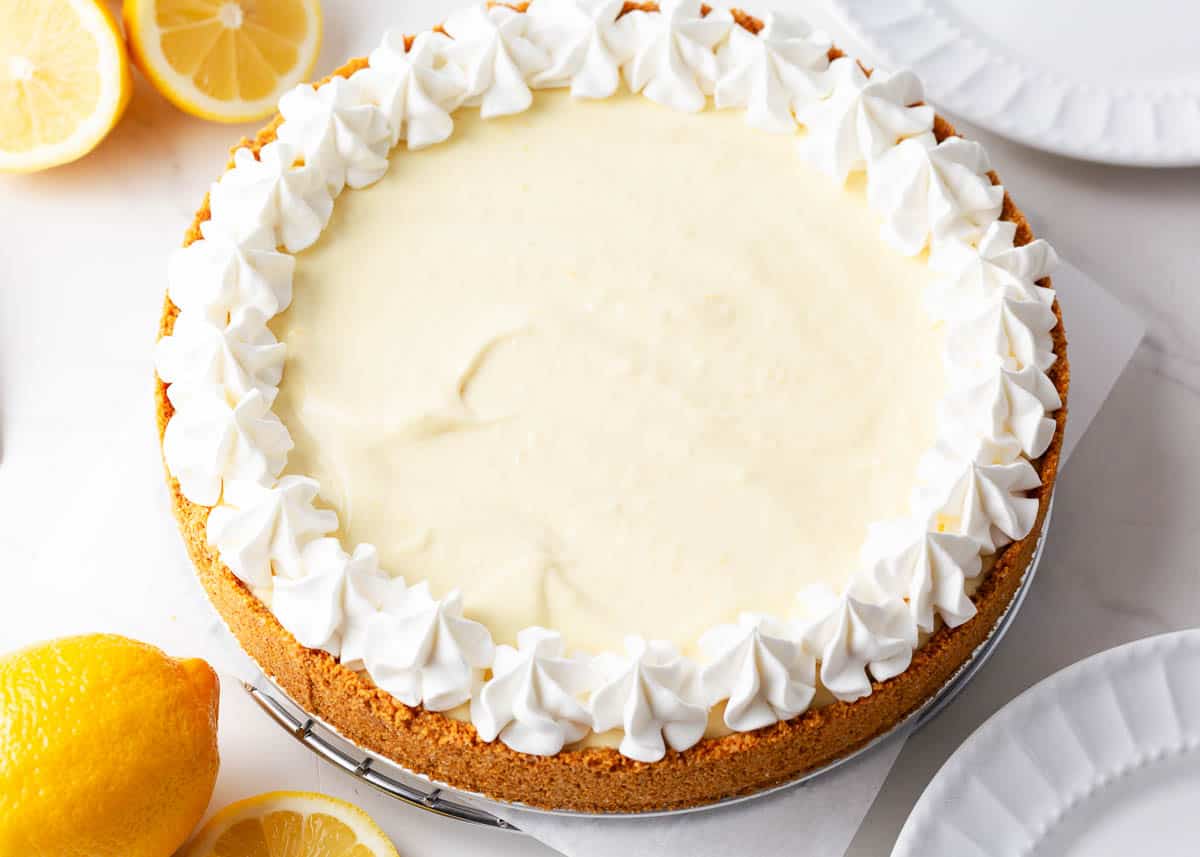 Bright, Zesty, and Refreshing!
Have you tried icebox pie before? If you haven't, you're in for a treat! This dreamy lemon icebox pie is the perfect place to start.
This recipe for lemon icebox pie combines cream cheese, condensed milk, and lemon juice to make the luscious filling without the need for egg yolks like lemon meringue pie. Then we pile everything into a homemade graham cracker crust.
Once it's chilled, it's smooth and creamy with just the right amount of lemon flavor.
Serve this chilled pie plain or topped with a swirl of sweetened whipped cream.
What is an Icebox Pie?
Icebox pies are classic desserts that are usually made with a crumb crust and a creamy filling. An icebox is an old version of a refrigerator, so since these pies have to be chilled, the name 'icebox pie' is a fun nostalgic nod to the past.
Recipe Ingredients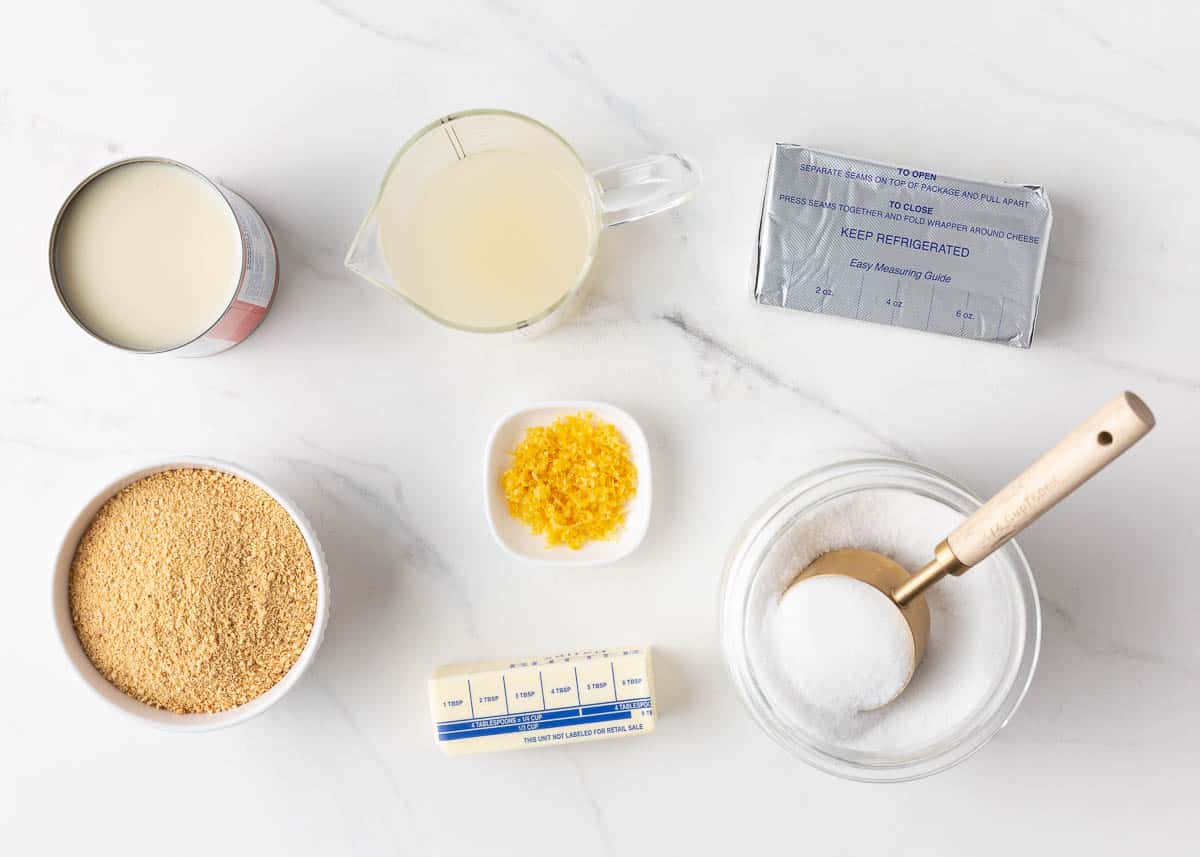 Find the full printable recipe with specific measurements below.
Graham crackers: You can finely crush graham crackers or use boxed graham cracker crumbs. I've also shared alternative flavors for the crust further down in the post.
Cream cheese: Make sure you soften the cream cheese before making the filling.
Sweetened condensed milk: Adds creaminess and sweetness to the filling, plus, when it's mixed with lemon juice, it magically thickens up!
Lemon juice and zest: Fresh lemon juice and zest give the filling the brightest flavor.
How to Juice a Lemon
There are a few ways you can get the juice out of a lemon and the good news is, they're all pretty simple! Also, don't miss my tips for how to zest a lemon.
Roll the lemon back and forth on a countertop while pressing down with the palm of your hand. This will loosen the lemon and make it easier to squeeze.
Cut the lemon in half.
Squeeze the juice! Use a citrus juicer if you have one. If not, use a fork to pierce the juicy part of the lemon and twist it back and forth to get the juice out. This is kind of like using a citrus reamer. Alternatively, just squeeze the lemon halves with your hand.
Important note! Drain the seeds out of the juice before you add it to your filling. No one wants to bite down on one of those!
Variations
If you want to put your spin on this pie, I've got you covered! Here are a few simple ways that you can switch it up:
Make it key lime pie: Use lime juice instead of lemon juice to make another classic icebox pie.
Lemon blueberry: Stir some fresh blueberries into the lemon filling before chilling.
Lemon raspberry: Add fresh raspberries to the filling for more zing.
Lemon coconut: Sprinkle toasted shredded coconut into the crust or filling for a tropical twist.
Switch up the crust: Instead of graham crackers, use crushed Oreos for an Oreo crust (Use Golden Oreos), Nilla wafers, or use crushed pretzels to make a crunchy pretzel crust.
How to Make Lemon Icebox Pie
Make this tasty pie a few hours before you want to serve it because it does need time to chill in the fridge!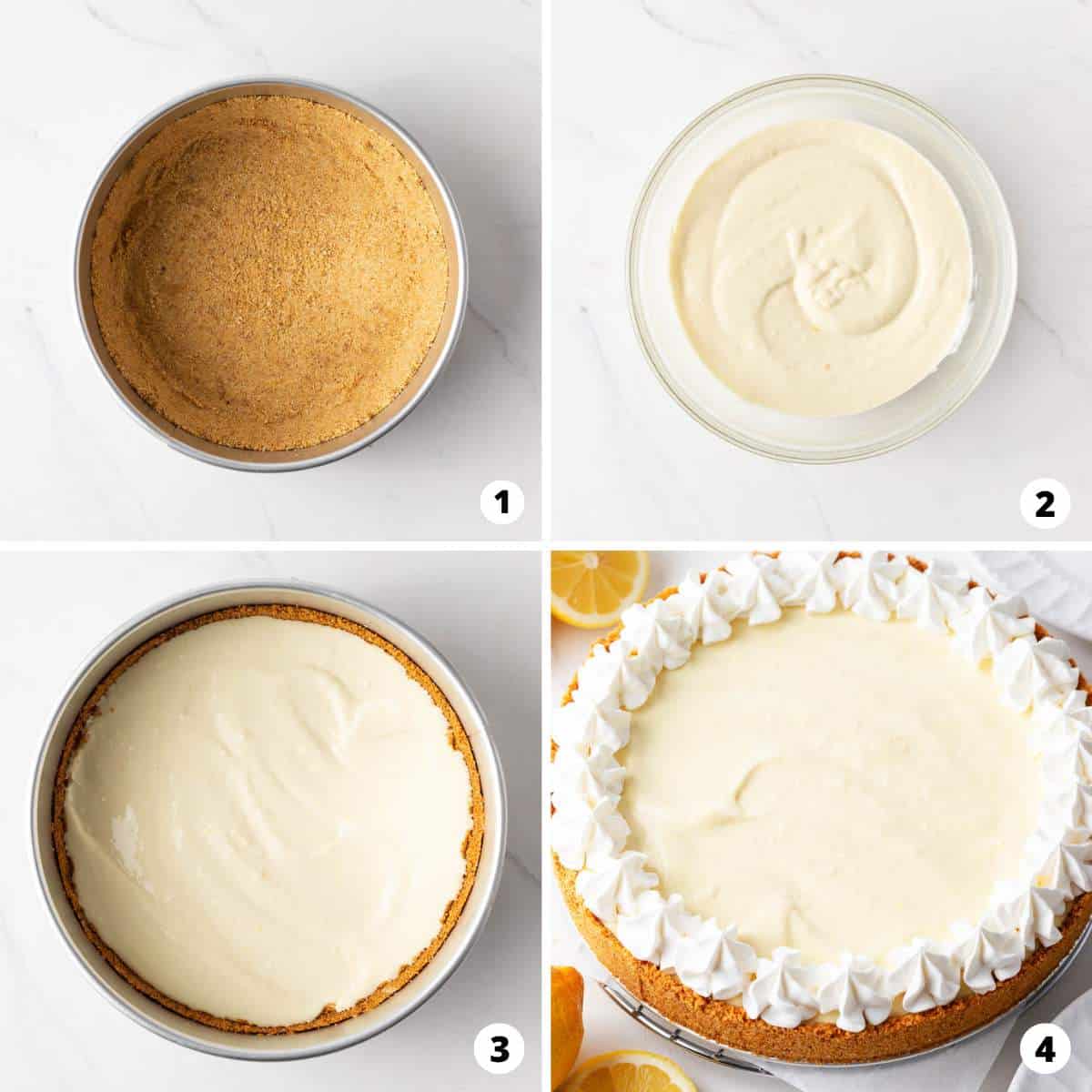 Make the pie crust: In a medium bowl, combine the graham crackers, sugar, and melted butter. Press the crumbs into the bottom and up the sides of a 9-inch pie plate or a springform pan.
Bake. Put the crust in a 375°F oven and bake for 6 – 8 minutes. Let the crust cool completely before you add the filling.
Make the filling. Combine the filling ingredients in a large bowl and mix with an electric mixer until smooth. You can also use a wooden spoon – it will just take you a bit longer!
Chill. Spread the filling evenly onto the crust and chill in the refrigerator for 6 hours or until the filling has set.
Expert Tips
I've included some helpful tips to follow to make sure your lemon icebox pie turns out perfectly every time.
Make sure your cream cheese is at room temperature so it will easily mix into your filling.
For an easy shortcut, use a premade graham cracker crust. You might need to use two of them for the amount of filling in this recipe.
Follow the timings for baking the crust. Overbaking it can result in a hard crust that's difficult to cut.
Try topping your pie with some sweetened whipped cream, grated lemon zest, candied lemon slices, fresh berries, or graham cracker crumbs.
How to Slice Your Pie
Do you ever find that when you're cutting slices of creamy pie, they tend to lose their shape on the plate?
Part of the reason is that you haven't chilled the pie for long enough. Trust me, I get it! It's hard to wait the required chilling time. However, if you want to serve neat slices of lemon icebox pie, I've got a couple of great tips for you!
Remove the chilled pie from the fridge. Warm a sharp knife under hot water and wipe it dry with a kitchen towel or paper towel just before slicing.
Slice slowly through the pie making sure you're cutting the crust.
Wipe the knife blade clean between each cut and run it under hot water again as needed. Voila! You'll have photo-worthy clean slices on your plate!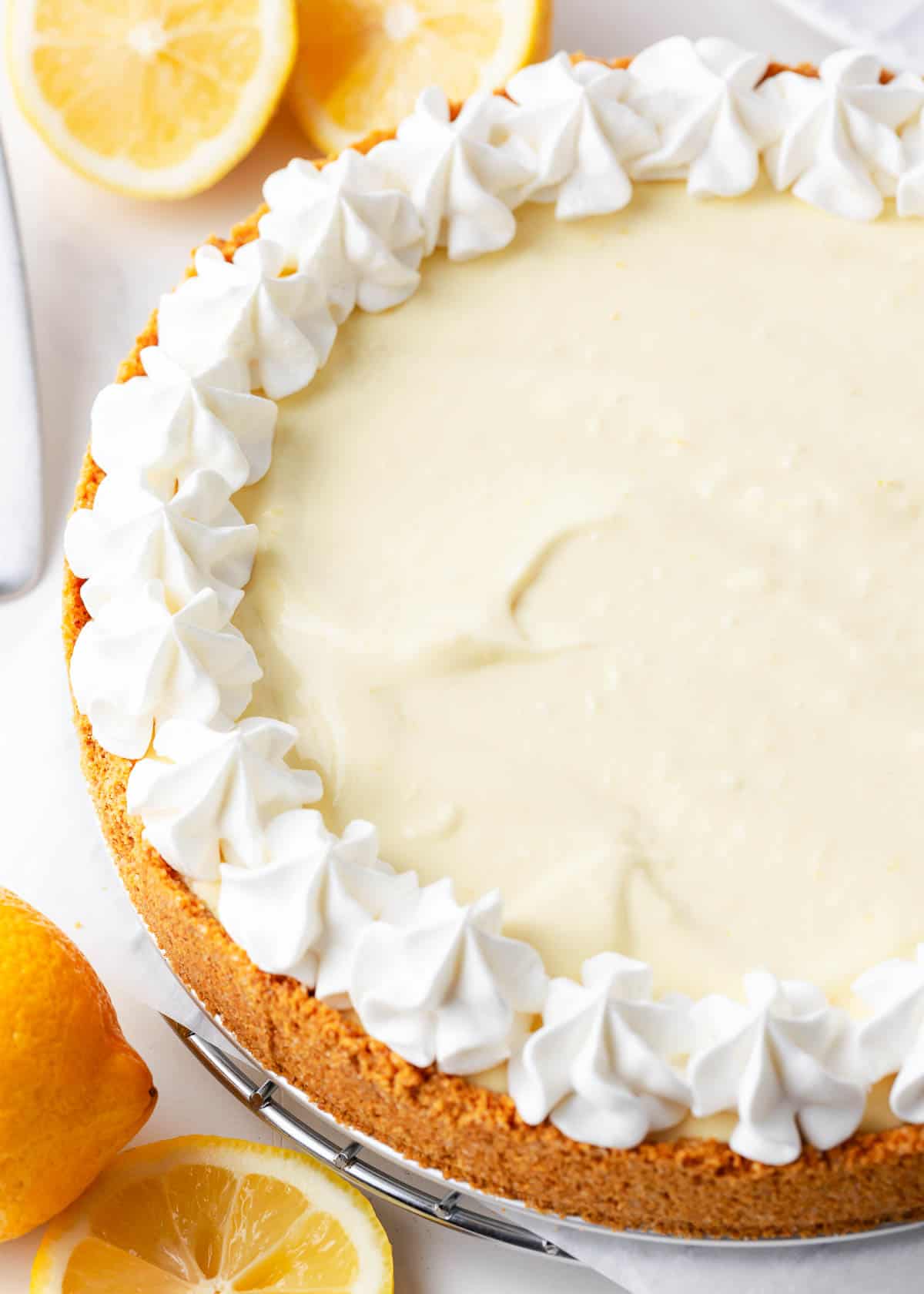 Recipe FAQs
Can I use bottled lemon juice instead of fresh lemon juice?
I recommend using freshly squeezed lemon juice for the best flavor. If you don't have access to fresh lemons, then bottled lemon juice can be used in a pinch.
Why is my crust falling apart?
You might not have pressed it firmly enough into your pie dish. I use a flat-bottomed measuring up and my fingers to make sure the buttery graham crumbs are pressed into the bottom and up the sides of the dish.
Can I make this pie ahead of time?
Yes! You need to make it at least 6 hours ahead of time so the pie can chill before you serve it. You could also make it the day before and store it overnight wrapped in plastic wrap in the fridge.
Is this pie stored in the refrigerator or the freezer?
Typically, you store this pie in the fridge. Even though it has the word 'ice' in it, the word 'icebox' is an old-fashioned term for the refrigerator. You can also store it in the freezer if you're not planning on serving the pie within a couple of days.
How long does lemon ice box pie need to chill?
I suggest chilling the pie for 6 hours, so make sure you plan ahead when making it. This gives the filling time to set nicely.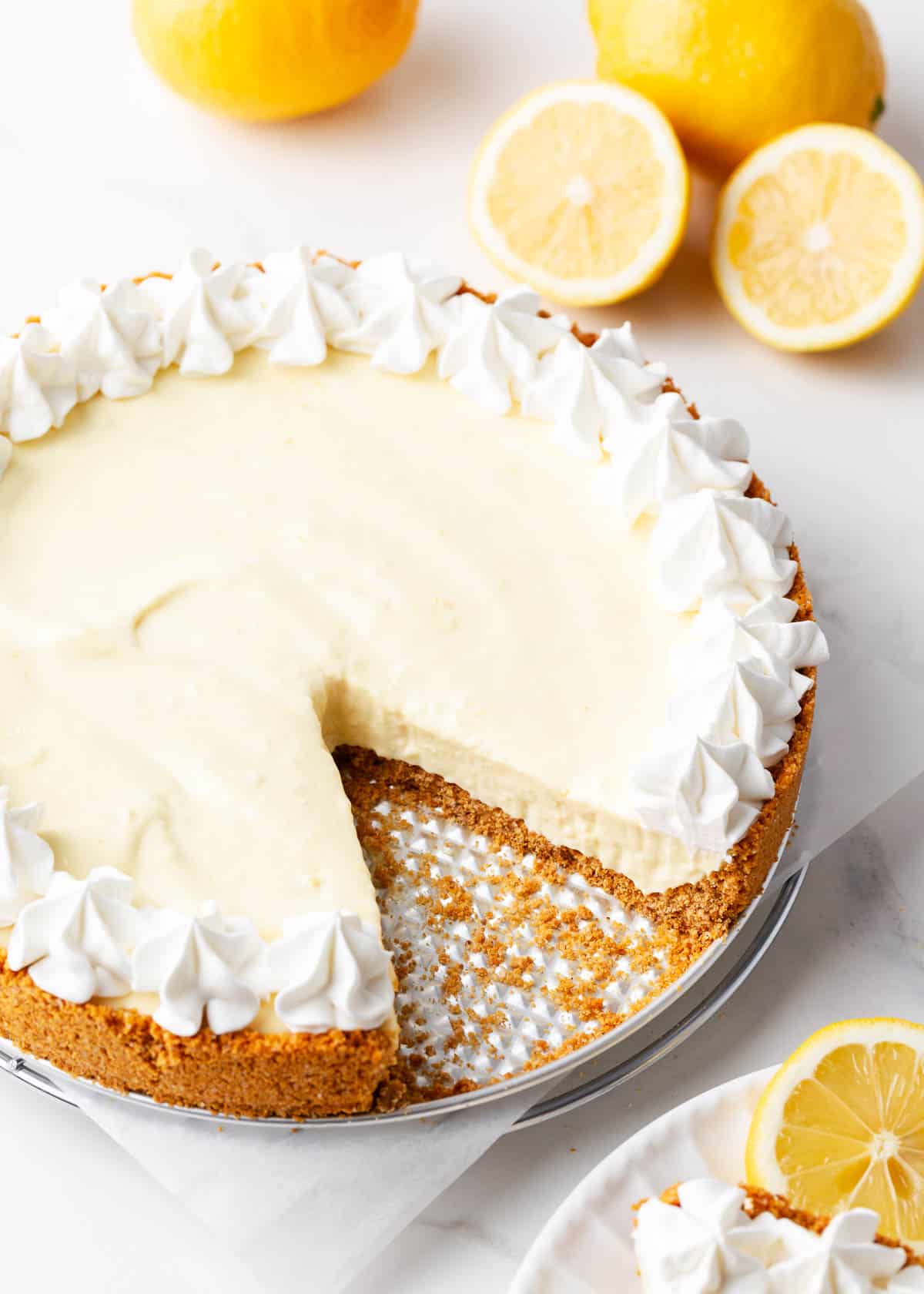 Storage Instructions
Icebox pies taste the best when they're eaten within a few days (this isn't hard to do in my house!). The longer they sit in the fridge, the softer your crust will become and the texture of the lemony filling will start to change.
The best way to store your lemon icebox pie is to cover it in plastic wrap and store it in the fridge for up to 3 days. Wrapping it is important so the pie doesn't absorb any odors from the other food in your fridge.
You can also freeze the pie after it's chilled. Wrap it in plastic wrap first, then in a layer of aluminum foil to prevent freezer burn, and freeze for up to 1 month. Let the lemon icebox pie thaw in the fridge overnight before serving.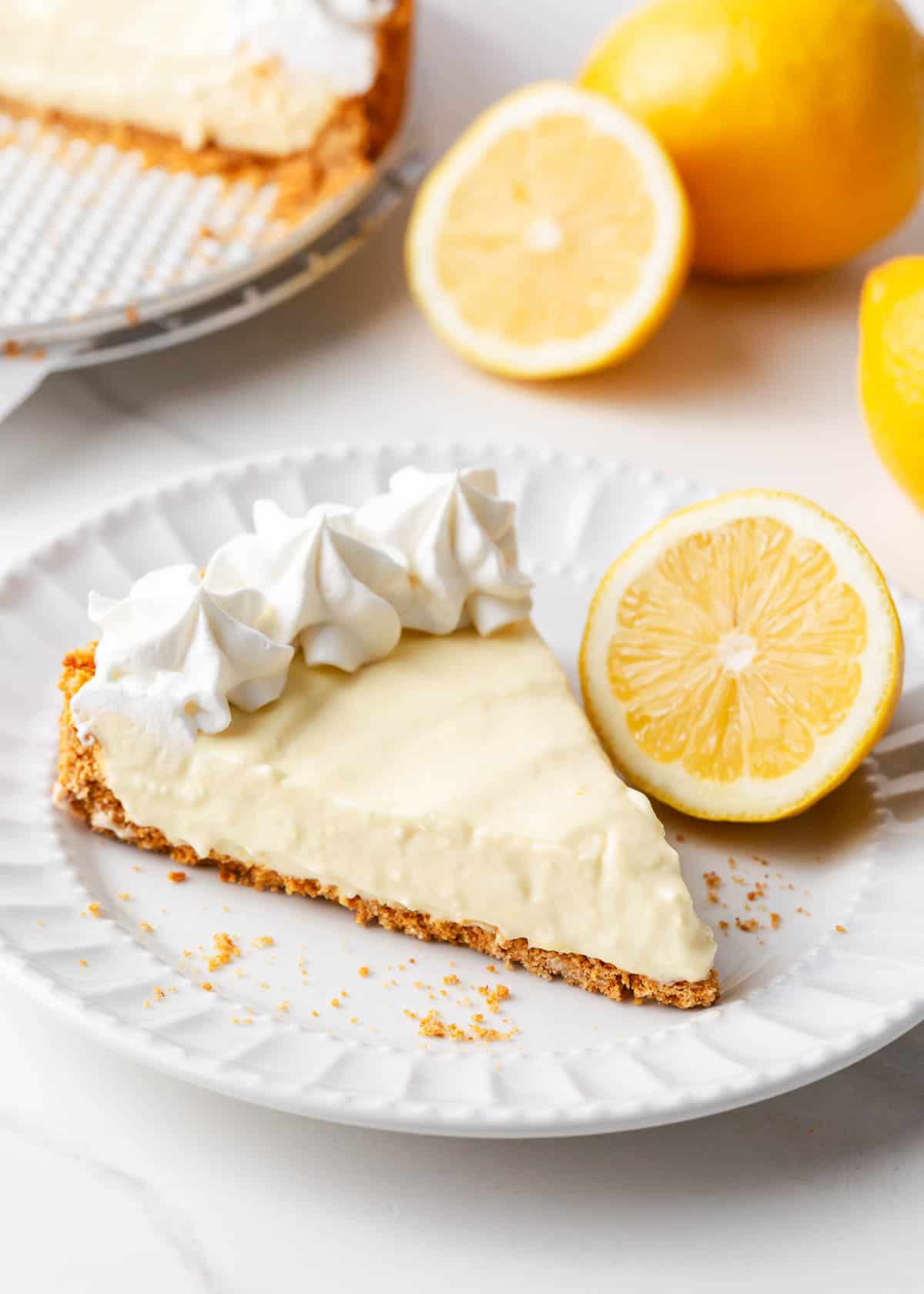 HUNGRY FOR MORE? Subscribe to my newsletter and follow on Facebook, Pinterest and Instagram for all the newest recipes!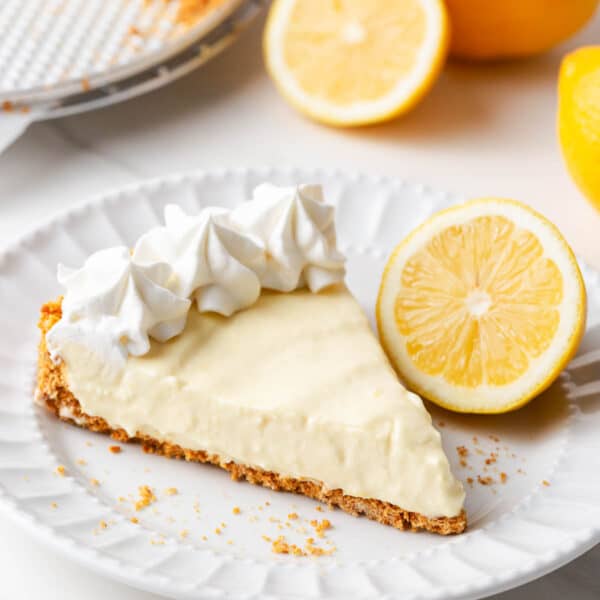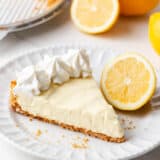 Lemon Icebox Pie
Lemon lovers, this one's for you! Lemon icebox pie is a popular warm-weather dessert made with a creamy lemon filling on top of a homemade graham cracker crust. It's prepared in only 15 minutes and chilled for a few hours to make it the perfect summertime treat!
Ingredients
Graham Cracker Crust
1 ½ cups finely crushed graham crackers (10-12 graham crackers)
¼ cup granulated sugar
6 Tablespoons salted butter , melted
Filling
1 (8-ounce) package cream cheese , softened
1 (14-ounce) can condensed milk
½ cup lemon juice
1 Tablespoon lemon zest
Optional topping: Whipped cream
Instructions
Graham Cracker Crust
Preheat the oven to 375°F.

In a medium bowl, stir together the graham crackers, sugar, and butter until well combined.

In a 9-inch pie plate or springform pan, pour the crumb mixture and firmly press into the bottom using a 1/4 measuring cup. Use your fingers to press the crumb mixture firmly onto the sides. Bake 6 to 8 minutes. Let cool before filling.
Filling
In a large bowl, beat the cream cheese, condensed milk, lemon juice, and lemon zest with an electric mixer until smooth.

Spread evenly in crust. Chill 6 hours or until set.
---
Notes
Storage: Unless you're serving your pie right after you add the whipped cream, keep it stored in the fridge up to 3 days. Do not leave it out at room temperature. Freeze: After the pie has chilled, wrap it in plastic wrap and aluminum foil to prevent freezer burn. Freeze up to 1 month.
Nutrition
Calories: 346kcal | Carbohydrates: 39g | Protein: 6g | Fat: 19g | Saturated Fat: 11g | Polyunsaturated Fat: 1g | Monounsaturated Fat: 5g | Trans Fat: 0.3g | Cholesterol: 54mg | Sodium: 265mg | Potassium: 217mg | Fiber: 1g | Sugar: 31g | Vitamin A: 622IU | Vitamin C: 7mg | Calcium: 149mg | Iron: 1mg
Nutrition provided is an estimate. It will vary based on specific ingredients used.
Did you make this recipe? Don't forget to give it a star rating below!