These lemon coconut bars are the ultimate Spring dessert! With layers of buttery shortbread crust, tangy lemon filling and toasted coconut, each bite is absolute perfection!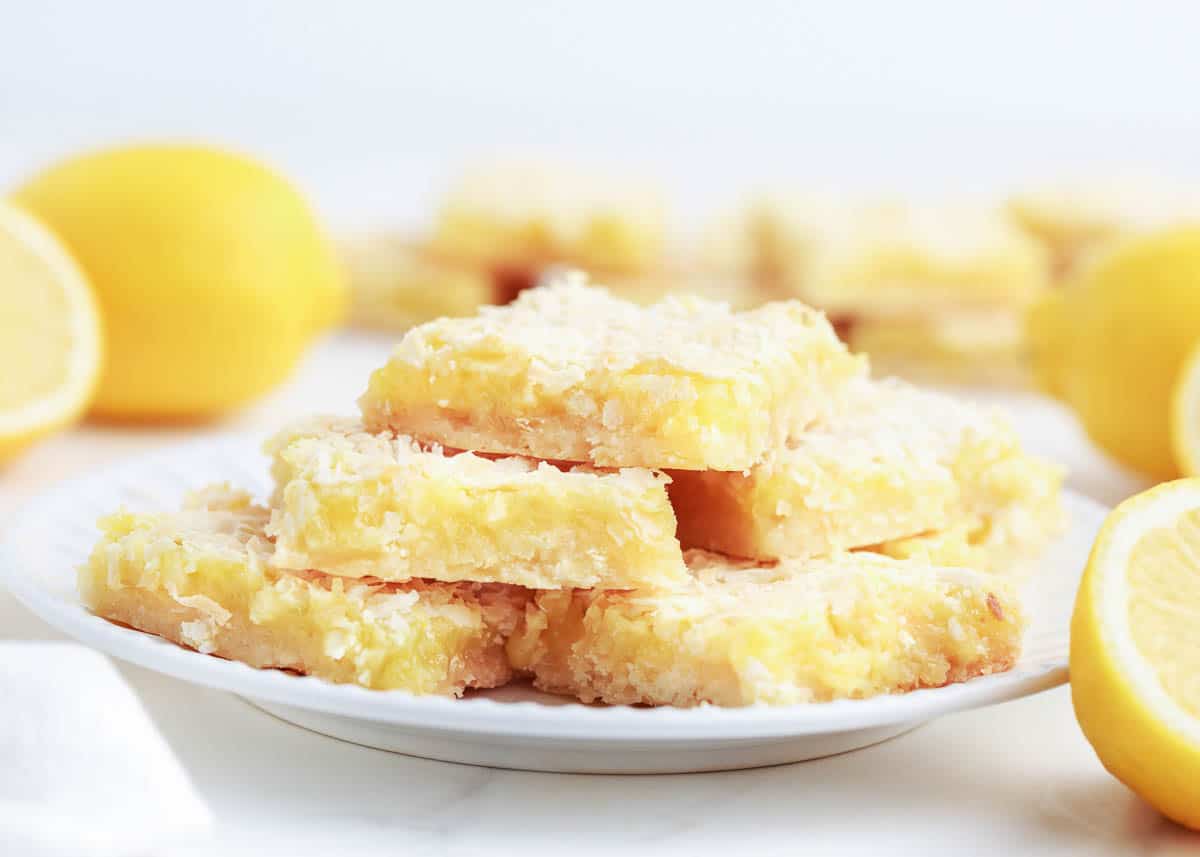 Lemon Bars with Toasted Coconut
Lemon bars are one of those oldie-but-goodie classics that will never go out of food fashion. I've updated them a bit here with some coconut in the shortbread layer and on top, but don't despair, the buttery crust and creamy, tangy filling you love are still there. The coconut adds just the right layer of flavor interest, and will have people saying, "Ooooh, what is that I'm tasting in there?"
The coconut and lemon combination is a long standing favorite of mine, hence why I've created other delicious recipes like my lemon coconut cream dessert lasagna and these healthy lemon coconut energy balls. The bright and citrusy flavor from the lemon paired with the sweet and nutty flavor from the coconut is a match made in heaven. And that's no exception in this lemon coconut bars recipe!
So, do you need another reason to make these? Just in case, besides the fantastic flavor, these coconut lemon bars are also really easy to make. While the crust is baking, you whip up the filling in a food processor, pour it into the hot crust, and a short twenty-five minutes later pull out these perfect little citrusy bites with a soft coconut fragrance and use all of your willpower not to dig in right then with a fork!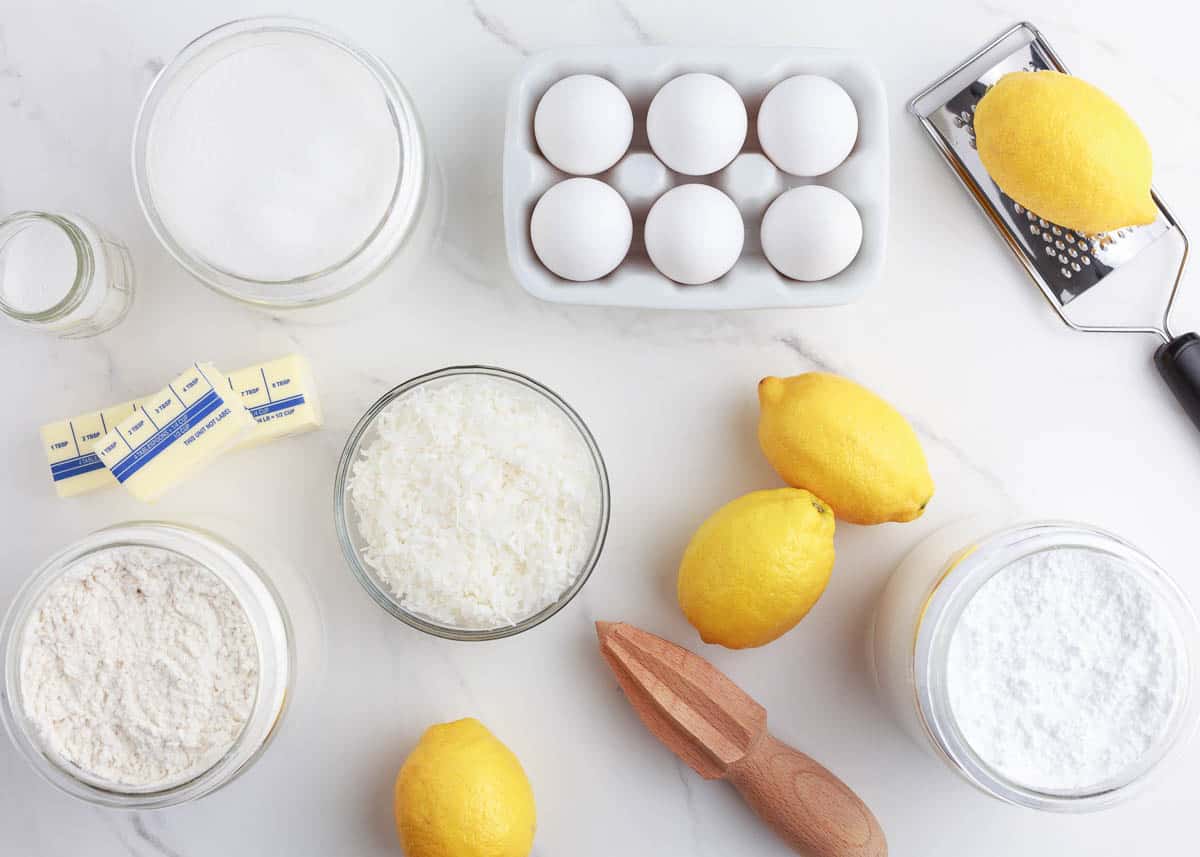 Lemon and Coconut Bar Layers
Shortbread crust: The base of this recipe starts with a buttery shortbread crust made with flour, softened butter, powdered sugar and sweetened shredded coconut. The addition of coconut is an easy way to ramp up the coconut flavor even more in this dessert. The crust bakes in the oven first before adding the filling and is melt-in-your-mouth delicious!
Lemon filling: Next comes the gooey lemon filling. It's the same filling as you would find in traditional lemon bars, made with granulated sugar, lemon zest and juice, eggs, flour, salt and baking powder. All of the ingredients get pulsed together in the food processor until smooth, then poured over the crust to bake.
Toasted coconut: The last layer in this delicious dessert is the sweetened shredded coconut. It gets added evenly on top of the filling and bakes until lightly toasted, similar to when making toasted coconut on the stove. It's the perfect finishing touch and adds a great flavor and texture!
Using Fresh Lemons
Besides the coconut, the fresh lemon juice and zest are the stars of this recipe. They add a tangy and citrusy flavor that brightens up the dessert. Look for heavier lemons that are bright yellow and have a smooth skin with no wrinkles. The thinner the skin, the juicier it will be.
If you're lemons are a little too firm, try giving them a roll on the counter to loosen up the membranes. Press down firmly on the fruit with the palm of your head, then roll back and forth. This helps make them more pliable to juice.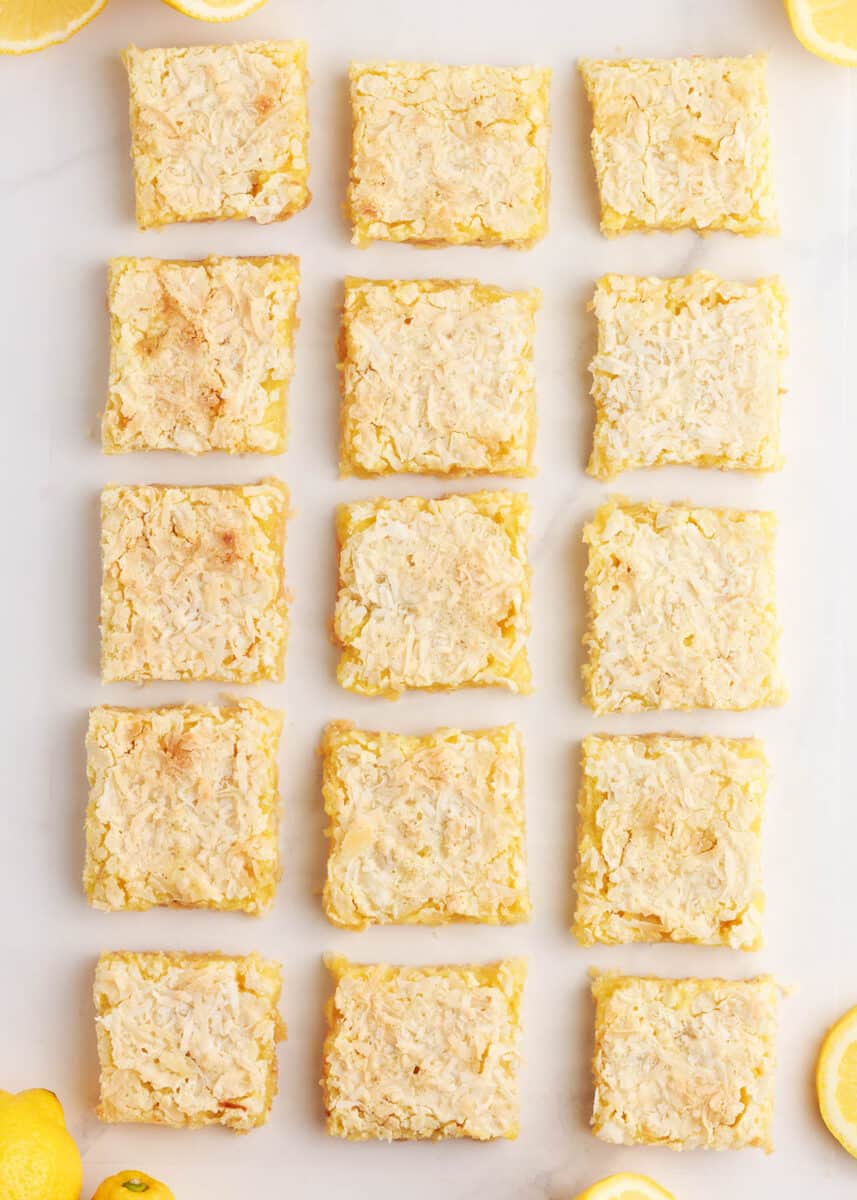 Variations
For a more tart flavor, add a little more lemon zest into the filling. You may also sprinkle the tops with powdered sugar for a sweeter taste. Coconut flakes could also be used in place of shredded coconut.
Baking Tips
Lemon juice – Fresh lemon juice makes all the difference in this recipe. Although store-bought bottles of lemon juice are convenient, you will not get the same fresh flavor. So I definitely do not recommend taking a shortcut in this instance.
Making the crust – Similar to when making pie crust, there should be small pea-sized lumps of butter in the dough. This is key for a more crumbly and tender texture. I like to use a pastry cutter to cut in the butter.
Filling – Over baking the filling can cause the top to crack, so make sure not let it brown. Remove the bars from the oven when the filling no longer jiggles. It will continue to set up as it cools.
Let chill – This dessert must cool completely before serving so that the filling has time to set. Let the bars cool after removing from the oven, then place in the fridge for a few hours to chill.
How to Store Lemon Coconut Bars
Any leftover bars can be stored in the fridge in an airtight container or bag for up to 3 days. If you would like to freeze them, place the bars in a freezer container with a piece of wax paper in between each layer. Then freeze for up to 3 months.
FAQS
What is the best way to cut lemon bars?
Run a sharp knife under warm water, then dry with a towel. Slice the first row, then clean the knife and repeat. This will give your bars the cleanest cut, without creating a gooey mess. The bars must also be fully chilled before slicing.
Why are my lemon bars so gooey?
You most likely under baked the filling, or haven't let it set long enough. If your filling is jiggly when you remove it from the oven, continue baking until firm. Then let set in the fridge for a few hours so that it has time to solidify.
How do I know if they are done?
Remove the pan from the oven and give it a shake from side to side. If the filling is firm and no longer jiggles in the middle, the bars are finished baking.
Can I make them a day ahead?
Definitely! Making this dessert in advance is actually ideal because the bars need time to set in the fridge for at least a few hours. However I'd recommend only making them 1 day in advance, so they taste the most fresh.
More Lemon Desserts
HUNGRY FOR MORE? Subscribe to my newsletter and follow on Facebook, Pinterest and Instagram for all the newest recipes!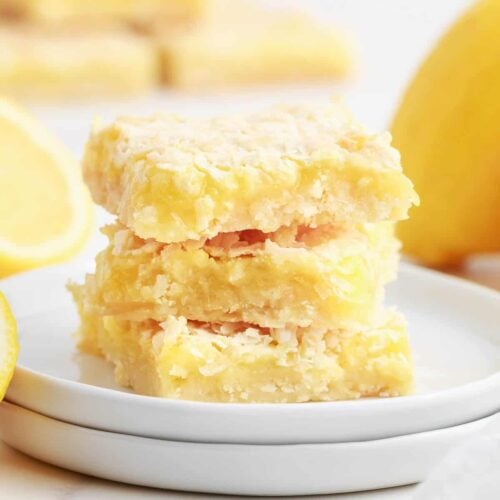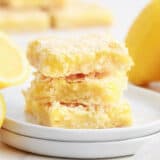 Lemon Coconut Bars
These lemon coconut bars are the ultimate Spring dessert! With layers of buttery shortbread crust, tangy lemon filling and toasted coconut, each bite is absolute perfection!
Ingredients
Crust
1 ½ cup all-purpose flour
½ cup sweetened shredded coconut
½ cup powdered sugar
¾ cup salted butter , at room temp
Filling
1 ¾ cups granulated sugar
Zest of 1 lemon
⅓ cup fresh lemon juice (about 3 lemons)
4 large eggs
¼ cup all-purpose flour
Pinch fine sea salt
½ teaspoon baking powder
½ cup sweetened shredded coconut
Instructions
Crust
Preheat the oven to 350ºF. Grease a 9×13-inch baking pan or line with parchment paper. Gather ingredients.

In a mixer fitted with a paddle attachment, stir flour, coconut, and powdered sugar together on low speed. Add butter and beat until clumps form, about the size of peas. Alternatively, you could use a pastry cutter.

Press dough onto the bottom and slightly up the sides of the baking pan. Bake until the edges are lightly golden, about 20 minutes.
Filling
In a food processor, pulse sugar and lemon zest until zest is finely ground. Blend in lemon juice, eggs, flour, salt, and baking powder. Pulse until mixture is smooth. Then pour mixture over the crust.

Bake 10 minutes. Remove from oven and sprinkle coconut across the top. Return to oven and bake an additional 10 to 15 minutes, or until the filling is firm and no longer jiggles. Remove from oven and allow to cool completely. Place in the refrigerator for at least 1 to 2 hours before serving.

Cut into bars to serve.
---
Notes
Storage: Store the bars in the refrigerator for 3 days or in the freezer for 3 months.
Butter: Learn how to soften butter quickly with these easy methods.
Nutrition
Calories: 218kcal | Carbohydrates: 32g | Protein: 2g | Fat: 8g | Saturated Fat: 5g | Cholesterol: 45mg | Sodium: 100mg | Potassium: 52mg | Sugar: 21g | Vitamin A: 220IU | Vitamin C: 1.8mg | Calcium: 11mg | Iron: 0.9mg
Nutrition provided is an estimate. It will vary based on specific ingredients used.
Did you make this recipe? Don't forget to give it a star rating below!
Recipe contributed by Jennifer from The Chronicles of Home.