Moist and tender lemon cupcakes filled with fresh, juicy blueberries and topped with a bright lemon cream cheese frosting. These lemon blueberry cupcakes will become your new favorite Spring dessert!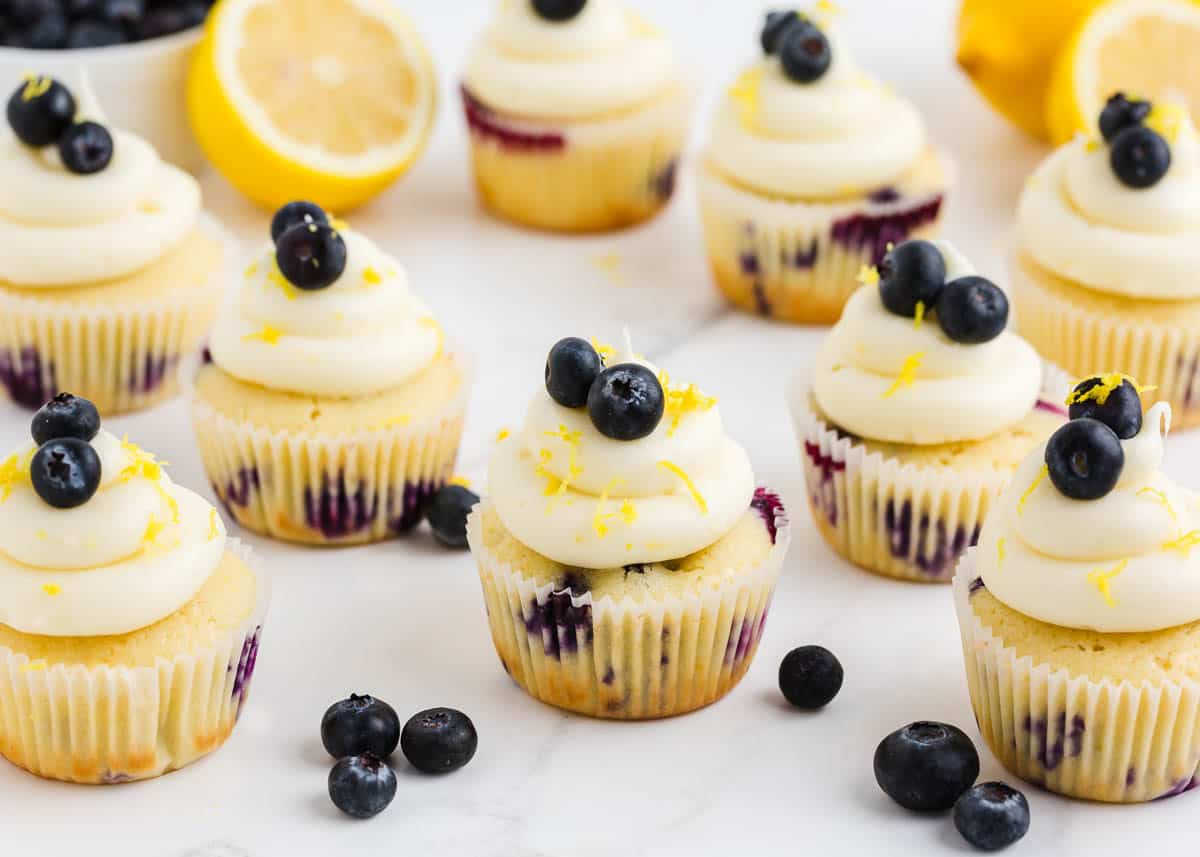 Favorite Lemon Blueberry Cupcakes
These lemon blueberry cupcakes come from a highly modified version of Martha Stewart's lemon meringue cupcake recipe. It is my go-to lemon cake recipe, with some changes I have made over the years.
The blueberries are the perfect tangy addition to these creamy cupcakes! They're nice and juicy and add the perfect flavor to every bite. They're topped with a lemon cream cheese frosting which is based on my own personal favorite recipe. It's smooth, rich, tangy and is the perfect finishing touch.
This lemon blueberry cupcake recipe is perfect for celebrating Spring, Summer, a baby shower, wedding shower or when hosting a brunch or dinner. They are beautiful, delicious and full of fresh lemon flavor. My family loved them!
Why We Love These Cupcakes
They have a bright, fresh flavor and are the perfect Spring dessert.
The texture is super soft and light.
Made from start to finish in less than an hour.
They are beautiful and look like they came from your local bakery.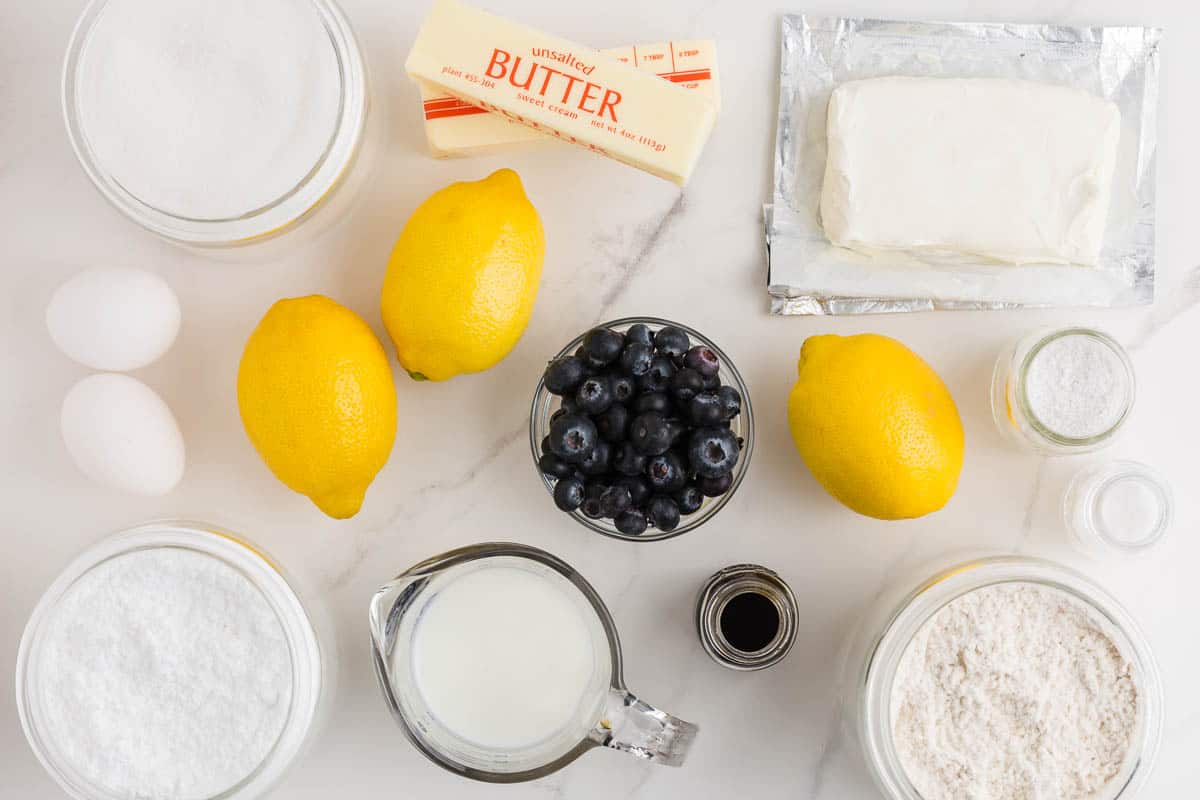 Ingredients Needed
Traditional baking staples: The base of these cupcakes uses all-purpose flour, baking powder, fine sea salt, butter, granulated sugar, eggs and vanilla.
Lemon: Fresh lemon juice and zest are added to pack a punch of citrus that gives these cupcakes a bright and refreshing taste. Learn how to zest a lemon.
Buttermilk: A key ingredient that helps lighten and tenderize the cupcakes. If this is your first time baking with buttermilk, it definitely won't be your last!
Blueberries: Fresh, juicy blueberries are folded into the batter for a sweet, blueberry flavor in each bite.
Easy Homemade Buttermilk
The buttermilk in this recipe helps to create super moist and tender cupcakes. If you don't have any buttermilk on hand, you can easily make your own at home in a matter of 10 minutes. All you need is milk and distilled vinegar (or lemon juice). Check out these tips on how to make buttermilk.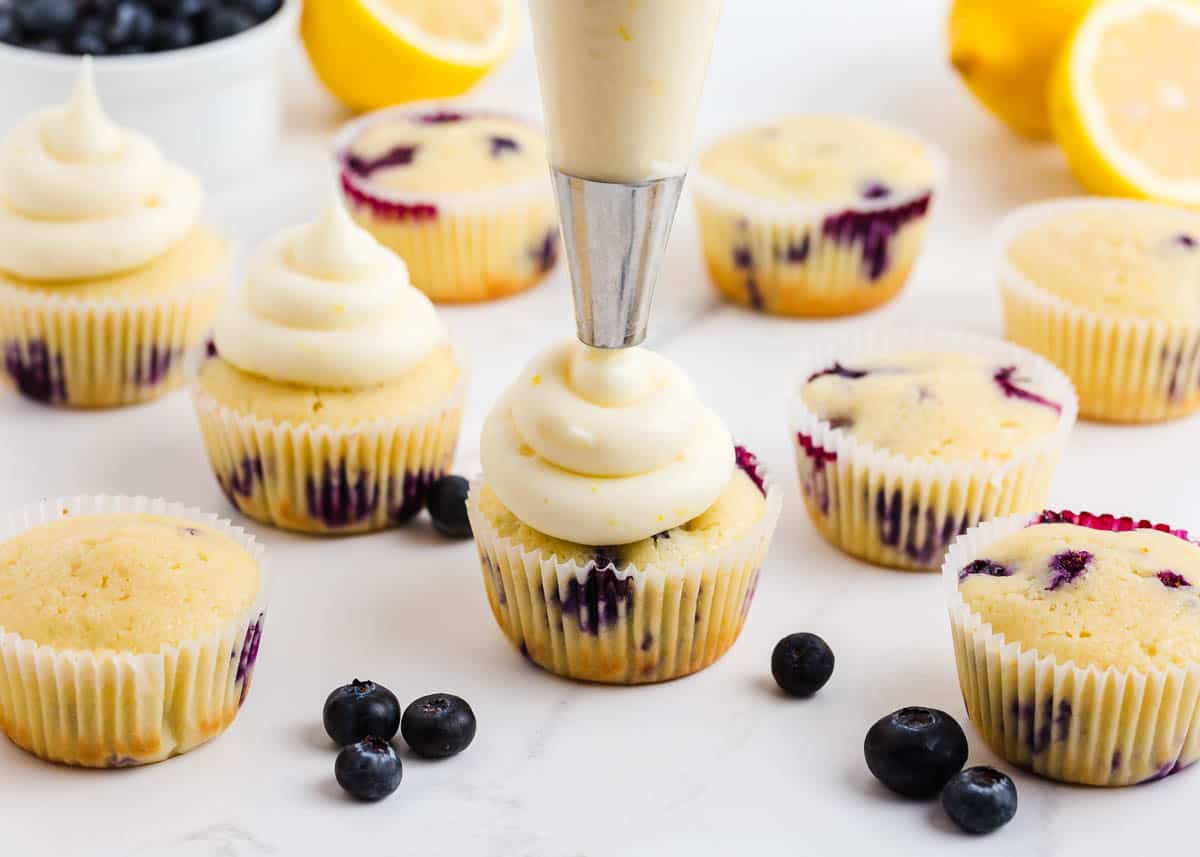 Lemon Cream Cheese Frosting
We're taking the classic cream cheese frosting up a notch by adding some fresh lemon juice and zest. The citrus adds a bright flavor and is the perfect compliment to the lemon blueberry cupcakes.
You want the consistency of the frosting to be thick enough to hold a point so that it will keep it's shape when piping on top. If it is too thin, add a bit more powdered sugar until it thickens to your liking. If you find it's too thick, thin it out with a dash of milk or heavy cream.
Baking Tips for Lemon Blueberry Cupcakes
Measuring flour. It's important to know how to measure flour accurately so that your cupcakes aren't too dry or dense. I find that the spoon and level technique gives the best results.
Room temperature ingredients. Before getting started, make sure the butter, eggs and cream cheese have all come to room temperature. Learn how to soften butter and how to soften cream cheese easily and quickly.
Fresh is best. Using freshly squeezed lemon juice and fresh blueberries makes all the difference in this recipe. Look for lemons that have a glossy yellow skin and a bright citrus fragrance. Your blueberries should also be plump, with a deep blue color.
Don't overfill. Do not fill your paper liners all the way to the top with batter. You want to fill them about 3/4 of the way full, so the tops have room to rise. Using an ice cream scoop or medium cookie scoop will give you the perfect amount in each liner.
Let cool. As with any cupcake recipe, make sure the cupcakes have cooled completely before adding the frosting. If they are still warm, the frosting won't hold it's shape.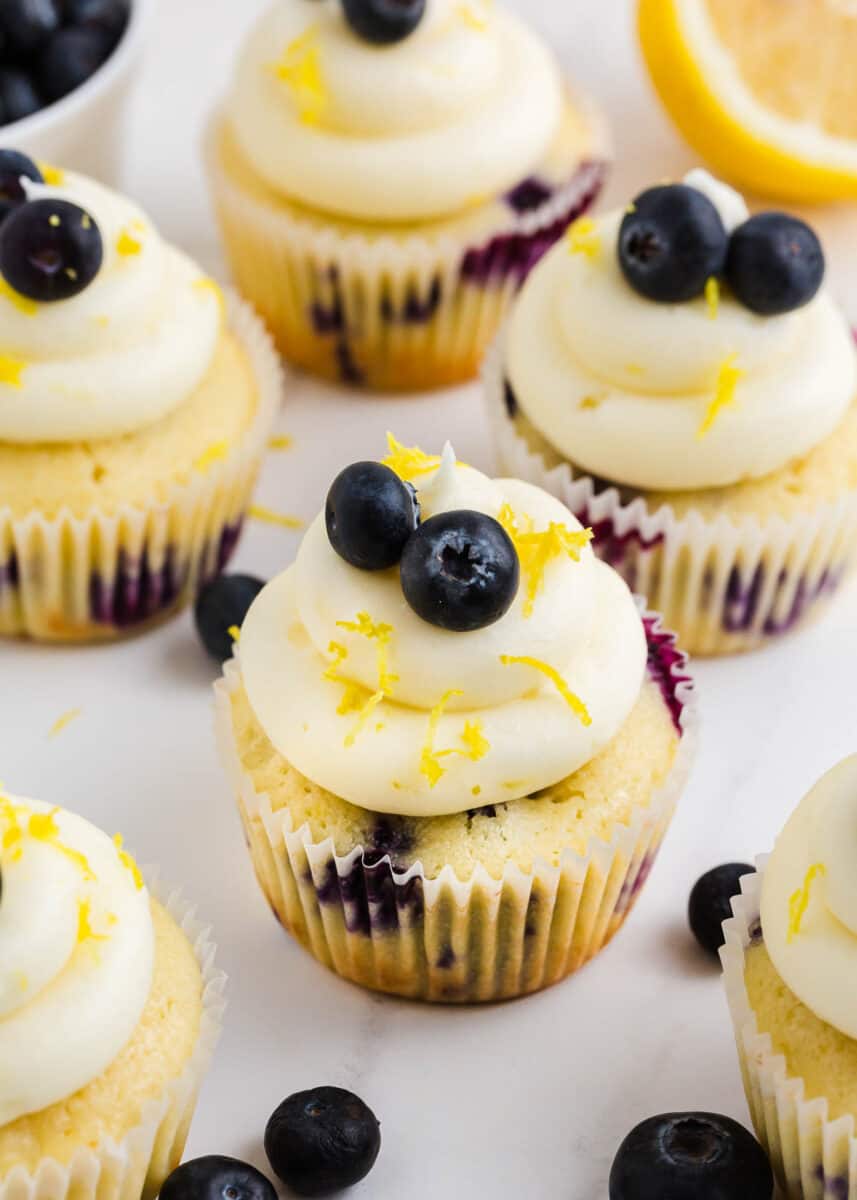 Variations
Frozen blueberries. My preferences is fresh, however frozen blueberries will work if that's all you have on hand. Fold them into the batter while frozen (do not thaw). It helps to mix the frozen blueberries with a teaspoon of flour to keep them from sinking to the bottom.
Lemon curd. For even more citrus flavor, fill the cupcakes with a tangy lemon curd.
Frosting. Feel free to use a classic buttercream frosting, sour cream frosting or even a rich coconut frosting instead.
An easy shortcut. Instead of making the cupcakes from scratch, use a box of lemon cake mix similar to how I did in this lemon raspberry cupcake recipe.
Decorations
Not only are these cupcakes delicious, but they are beautiful too! Take the presentation up a notch by finishing them off with a few fresh blueberries and a sprinkling of fresh lemon zest. Also learn how to frost the perfect cupcakes to give them that bakery-style aesthetic.
How to Store Lemon Blueberry Cupcakes
Store any leftover lemon blueberry cupcakes in an airtight container in the refrigerator. They will stay fresh for about 2 to 3 days. You may also freeze the unfrosted cupcakes for up to 6 months. When ready to enjoy, thaw in the fridge overnight and then frost before serving.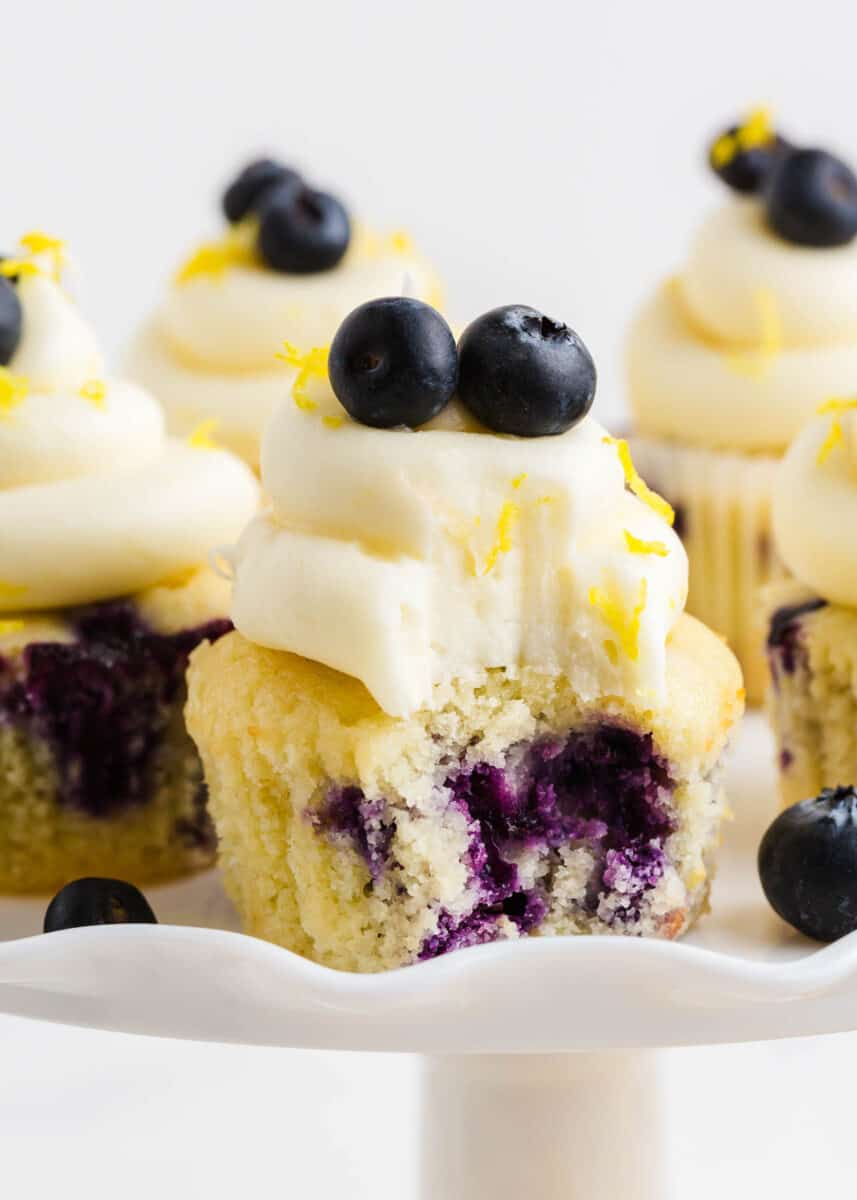 More Spring Desserts
HUNGRY FOR MORE? Subscribe to my newsletter and follow on Facebook, Pinterest and Instagram for all the newest recipes!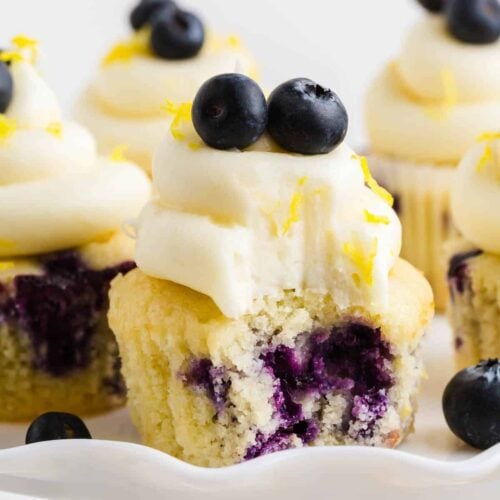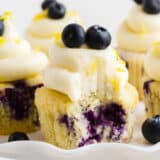 Lemon Blueberry Cupcakes
Moist and tender lemon cupcakes filled with fresh, juicy blueberries and topped with a bright lemon cream cheese frosting. These lemon blueberry cupcakes will become your new favorite Spring dessert!
Ingredients
Lemon Blueberry Cupcakes
1 ½ cups all-purpose flour
1 ½ teaspoons baking powder
½ teaspoon fine sea salt
½ cup unsalted butter , at room temperature
1 cup granulated sugar
2 large eggs , at room temperature
2 lemons , zested and juiced
½ teaspoon vanilla extract
½ cup buttermilk
¾ cup fresh blueberries
Lemon Frosting
½ cup unsalted butter , at room temperature
8 ounces cream cheese , at room temperature
3-4 cups powdered sugar , plus more as needed
1 lemon , zested and juiced
1 teaspoon vanilla extract
Pinch salt
Topping
Lemon zest , optional
Fresh blueberries , optional
Instructions
Lemon Blueberry Cupcakes
Preheat the oven to 350°F. Line a cupcake pan with cupcake liners.

In a large bowl, whisk together the flour, baking powder, and salt.

In a large mixing bowl, cream together the butter and sugar with an electric mixer for 3 minutes, or until fluffy. Add the eggs 1 at a time and mix just until combined. Once mixed, add lemon zest, 3 Tablespoons lemon juice, and vanilla. Mix until incorporated. Use a rubber spatula to scrape sides of the bowl until batter is well combined.

Slowly add the flour mixture, alternating with the buttermilk. Mix just until combined. With a rubber spatula, gently fold in blueberries.

Using a large cookie scoop, add batter to the cupcake pan until the tins are about 3/4 full. Bake 18-22 minutes, or until a toothpick inserted in the center comes clean. Let cool completely.
Lemon Frosting
In a stand mixer fitted with the paddle attachment, cream together the butter and cream cheese. Beat until fluffy.

Add the powdered sugar, 2 tablespoons lemon juice, zest, vanilla, and salt. Mix until creamy. If you need to thin the frosting, add a dash of milk. If you want to thicken it, add a couple Tablespoons powdered sugar.

Once cupcakes are cooled, pipe or spread the frosting on top of each cupcake.

Top frosted cupcakes with blueberries and lemon zest, if desired.
---
Nutrition
Calories: 470kcal | Carbohydrates: 64g | Protein: 5g | Fat: 23g | Saturated Fat: 14g | Polyunsaturated Fat: 1g | Monounsaturated Fat: 6g | Trans Fat: 1g | Cholesterol: 90mg | Sodium: 183mg | Potassium: 168mg | Fiber: 1g | Sugar: 49g | Vitamin A: 794IU | Vitamin C: 15mg | Calcium: 71mg | Iron: 1mg
Nutrition provided is an estimate. It will vary based on specific ingredients used.
Did you make this recipe? Don't forget to give it a star rating below!