These lemon sugar cookies are the ultimate drop cookies! They take almost no time and always turn out perfectly soft and full of lemon flavor.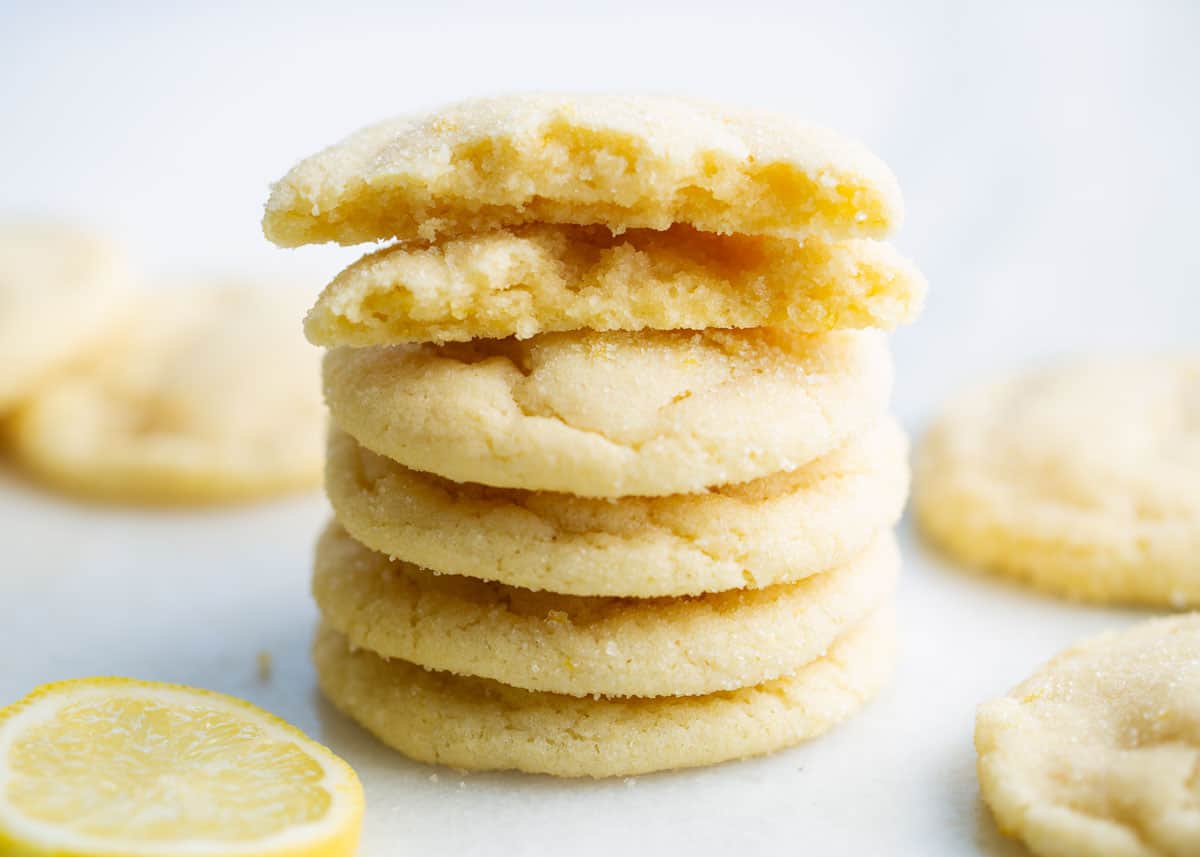 Chewy Lemon Sugar Cookies
Lemon is the perfect ingredient to balance out sweet flavors. It's the ideal thing for shortcut recipes like lemon cake mix cookies and to elevate glazed lemon cookies.
This lemon sugar cookie recipe gives you soft and chewy sugar cookies that melt in your mouth, with the delicate tanginess of lemon in each bite. You can't beat the sweet and tart flavors!
When you don't have a lot of time for a complicated recipe and you want to make easy sugar cookies that stand out, this is the recipe for you!
Why This Recipe Works
Simple recipe. With just nine ingredients, this recipe is really easy to follow.
Easy ingredients. You might already have all of the ingredients that you need.
Freezer-friendly. You can make the cookie dough today, then freeze the shaped balls and bake them when you have more time.
Key Ingredients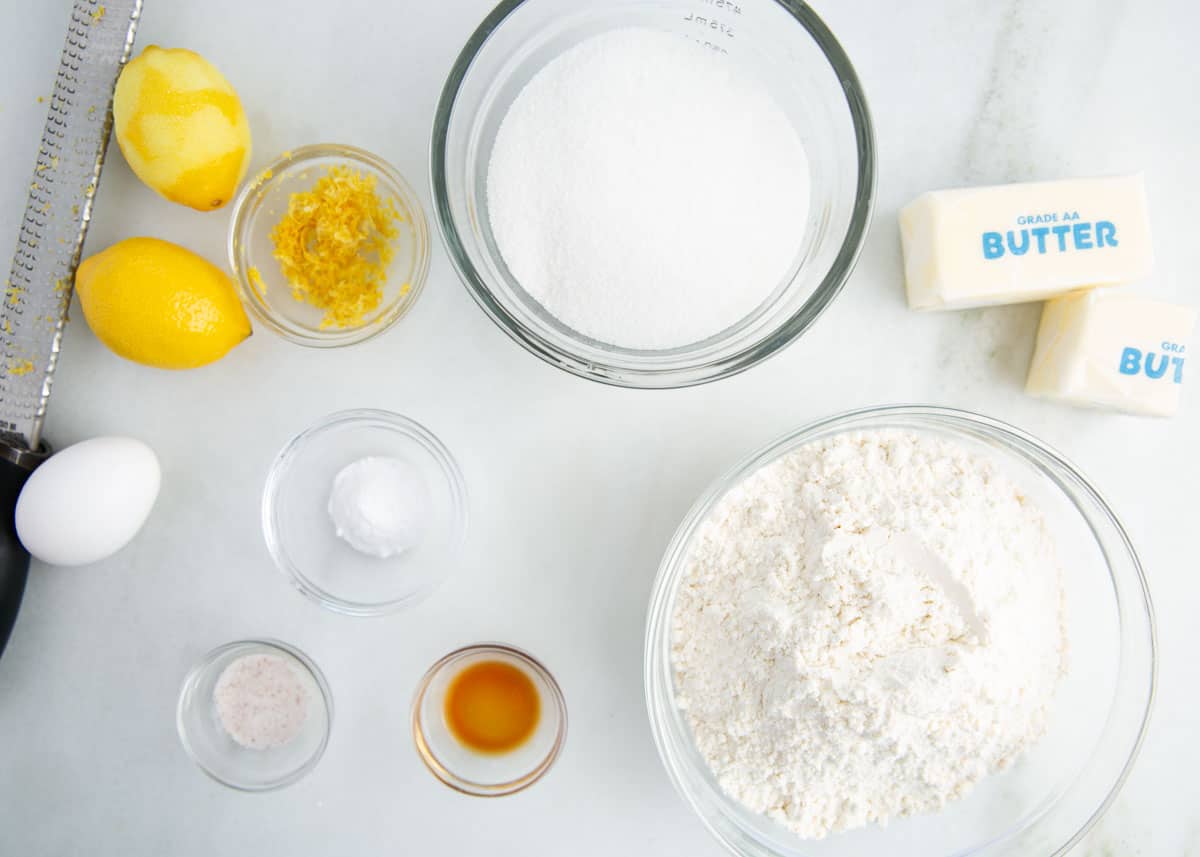 Find the full printable recipe with specific measurements below.
All-purpose flour: It's super important to learn how to measure flour correctly to get the texture of the cookies just right.
Granulated sugar: For sweetness in the cookie and for the coating on the outside.
Unsalted butter: Needs to be brought to room temperature so it's easy to cream.
Grated lemon zest: Using fresh lemon zest provides lemon flavor without it being overly sour or citrusy. It'll be used in the cookies as well as coating the outside (just like the sugar).
Fresh lemon juice: Freshly squeezed from the same lemon you're using for zest! It'll taste so much better than bottled lemon juice.
Variations
Bars. Instead of rolling them into cookies, make sugar cookie bars using a rimmed baking sheet.
Lemon frosting. Top the lemon sugar cookies with light and fluffy lemon cream cheese frosting. A lemon glaze would also be delicious.
A citrus twist. Swap the lemons with oranges or lime to give the cookies a flavor variation.
How to Make Lemon Sugar Cookies
These lemon sugar cookies are so much fun to make with kids and friends, or as a way to destress!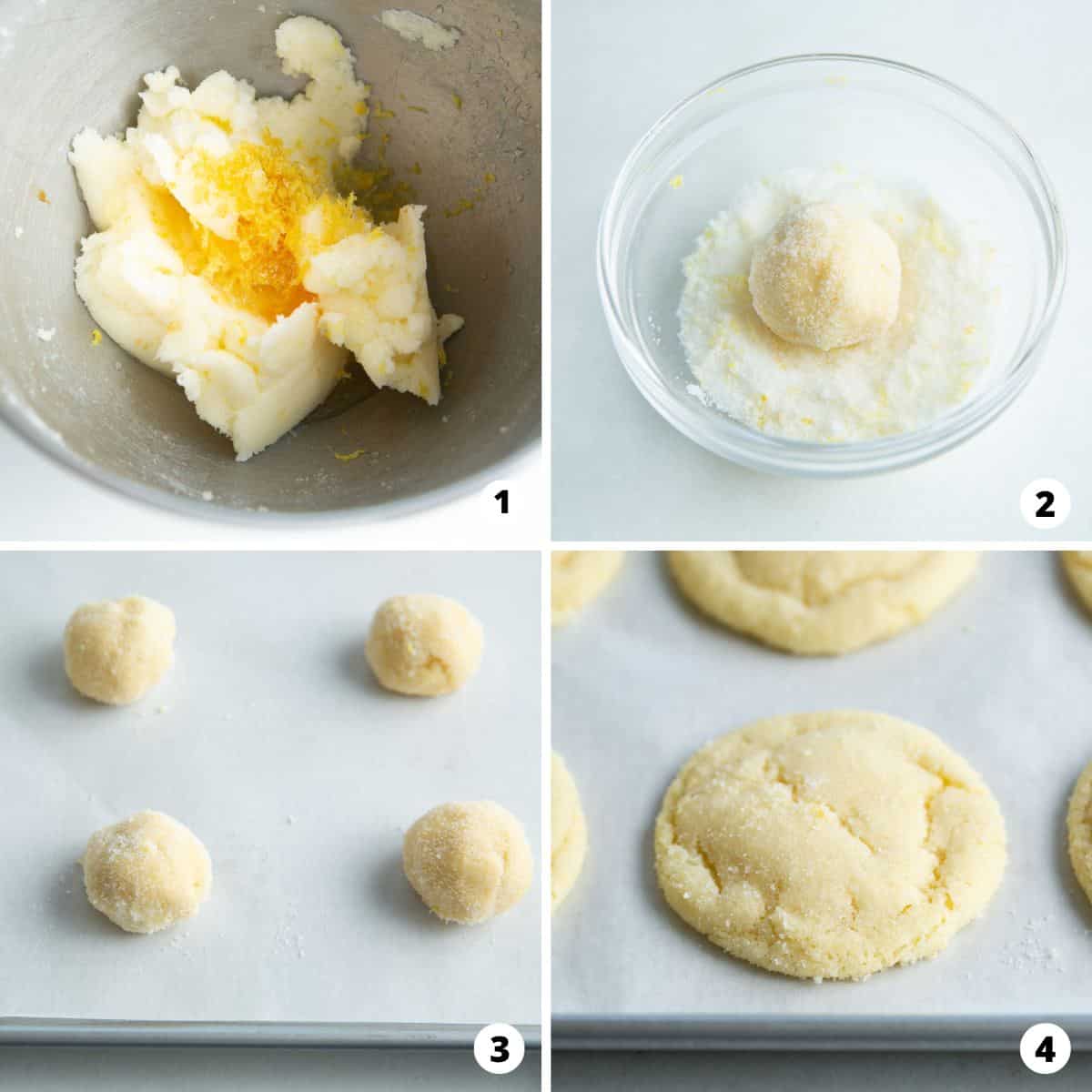 Mix the cookie dough. In the bowl of a stand mixer, use the paddle attachment to cream the butter and sugar first. Then, add the egg, vanilla, lemon zest, and lemon juice. Slowly add the flour, baking soda, and salt. Refrigerate the dough for at least 15 minutes.
Coat the balls in lemon sugar. In a smaller bowl, mix the sugar and lemon zest. Use your hands to rub the mixture between your fingers to bring out the essence of the lemon zest. It should become fragrant. Coat the 1 1/2″ dough balls.
Add dough balls to baking sheets. Preheat the oven to 350°F and add the lemon sugar cookie dough to prepared baking trays, about 2″ apart. Leaving room for a bit of spreading.
Bake the cookies. Bake the cookies until the bottoms are lightly golden. Let them cool on a wire rack.
Expert Tips
As you make these lemon sugar cookies, here are some tips that will help get you perfect results the first time.
Use a cookie scoop. This will help you make sure each cookie is the same size. This will help ensure that all cookies in the batch are evenly baked.
Measure ingredients with a scale. The best way to make sure the cookies come out perfectly is to measure the weight of the flour. Use a kitchen scale, or spoon and level the measuring cup as an alternative.
Do not overbake the cookies. Take the cookies out of the oven before they turn golden brown. Sugar cookies are known for this, so even if they appear to be underdone, they'll be ok!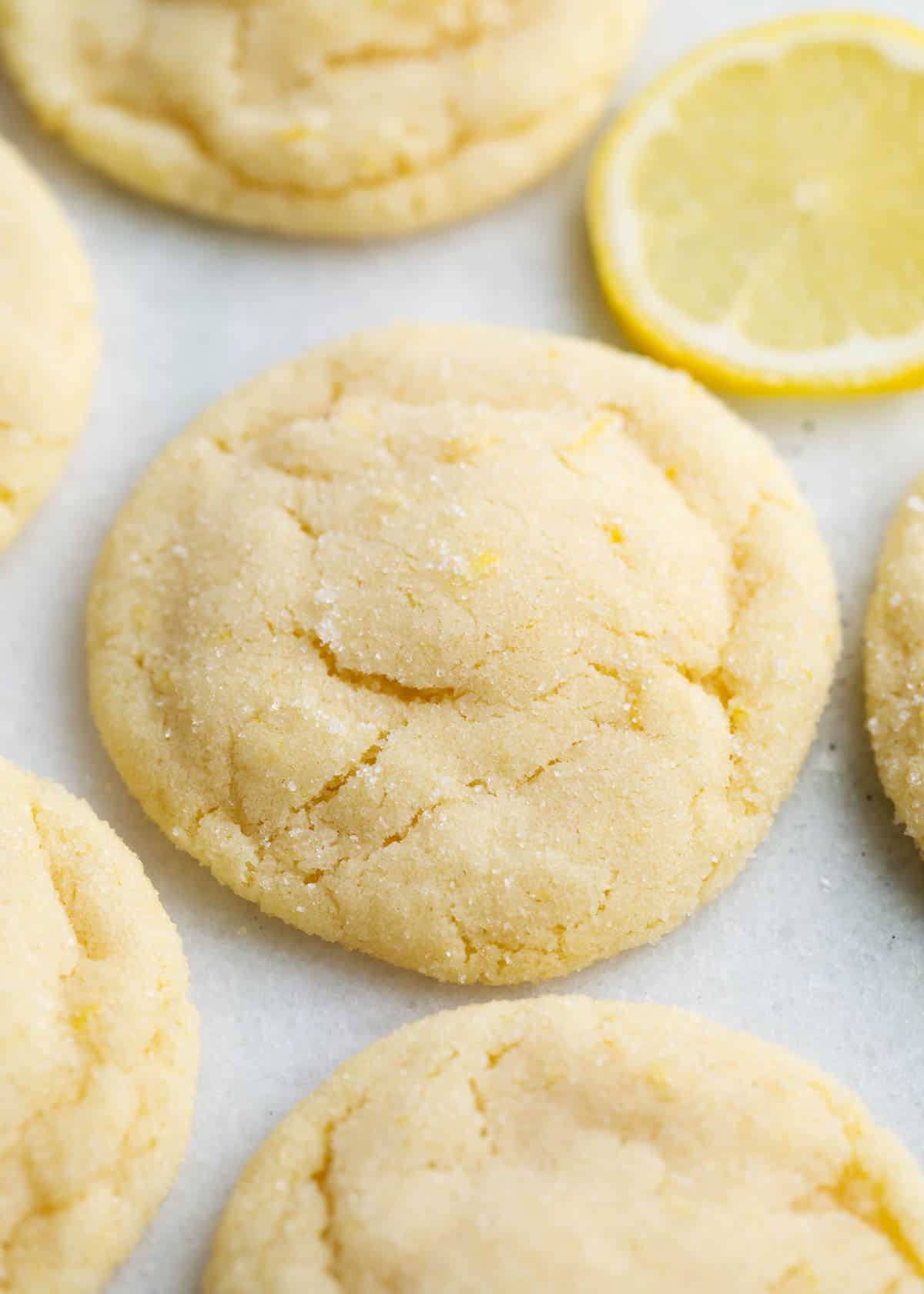 Recipe FAQs
Why did my cookies flatten too much?
If your cookies flatten too much, add a little more flour. If that's not the problem, then increase the temperature in the oven to 375°F.
Which events or parties are appropriate for lemon desserts?
These delicate cookies are perfect for baby showers, bridal showers, or any party that you host. Lemons are perfect in the summer or spring (and can even work in the fall, too!).
What Are Sugar Cookies?
Sugar cookies have basic ingredients without any mix-ins. Usually contains butter, sugar, egg, vanilla, flour, baking soda, and salt.
How do I keep sugar cookies soft?
Place a piece of bread in the airtight container with the sugar cookies. This will keep them soft for their maximum shelf life.
Can I freeze the dough if I'm not ready to bake yet?
You can freeze cookie dough! Roll the dough into dough balls and coat them in sugar and lemon zest. Place them on a cookie sheet and flash freeze them until they're solid. Then, place them in a freezer bag and keep them frozen for up to 3 months.

You can bake them straight from frozen, adding a few minutes to your baking time. You may want to roll them in a bit of extra sugar just before.
Storing and Freezing
Keep cooled sugar cookies in an airtight container and leave it at room temperature for up to four days.
To freeze them, layer them with parchment paper or wax paper so they won't freeze stuck together. That way you can take out a few at a time or as many as you need without having to thaw them all. Keep them frozen for up to 3 months!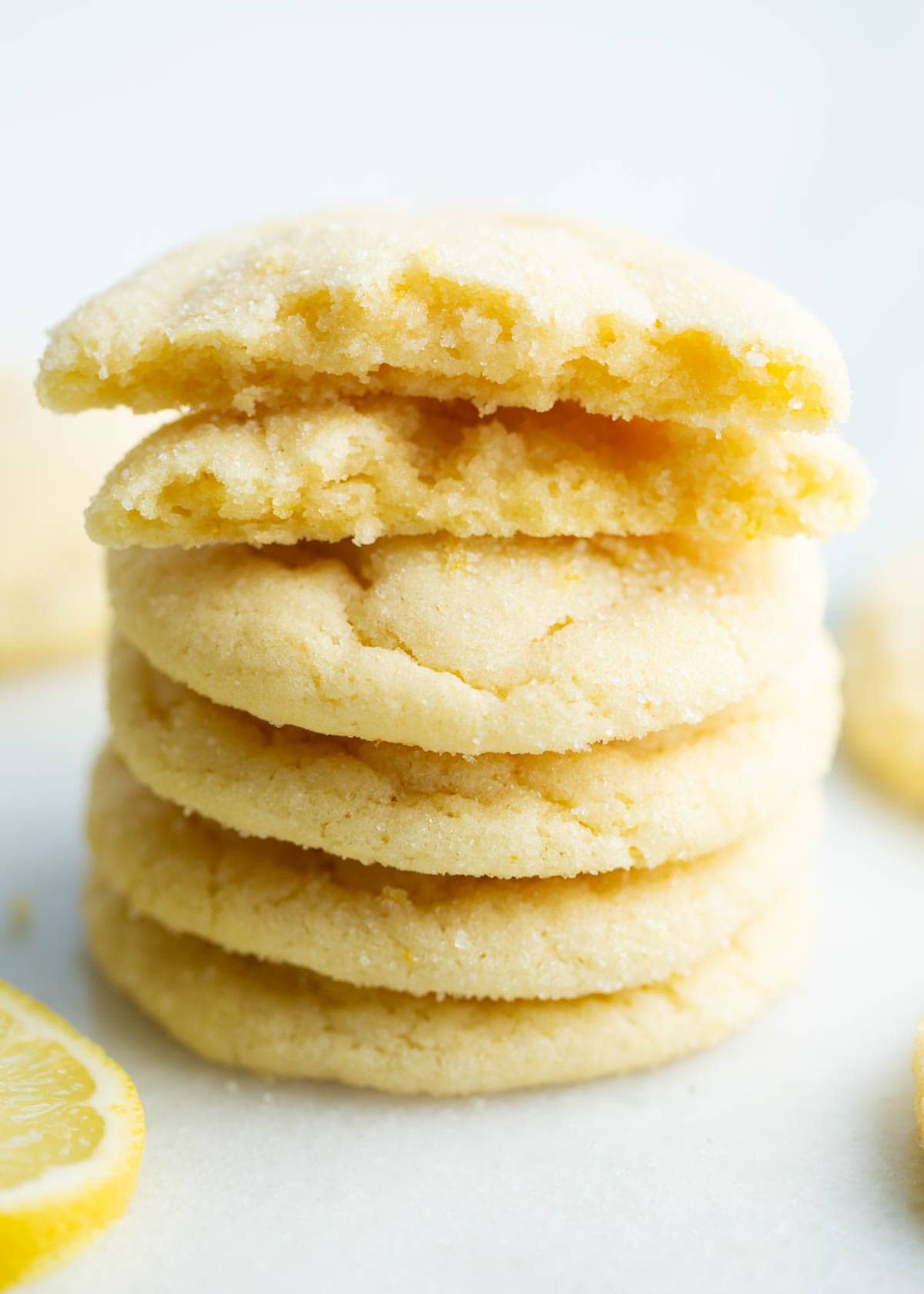 More Lemon Recipes
HUNGRY FOR MORE? Subscribe to my newsletter and follow on Facebook, Pinterest and Instagram for all the newest recipes!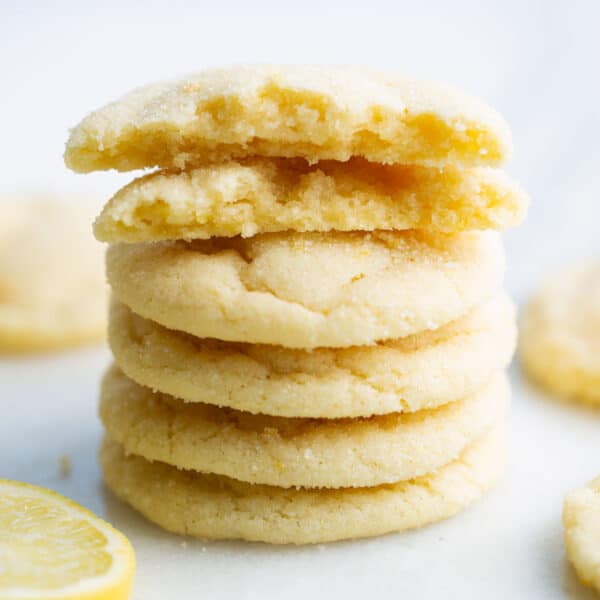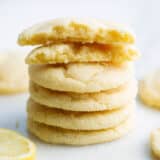 Lemon Sugar Cookies
These lemon sugar cookies are the ultimate drop cookies! They take almost no time and always turn out perfectly soft and full of lemon flavor.
Ingredients
1 cup (2 sticks; 226 grams) unsalted butter , at room temperature
1 ½ cups (300 grams) granulated sugar
1 large egg
½ teaspoon vanilla extract
2-3 Tablespoons grated lemon zest
2-3 Tablespoons lemon juice
3 cups (395 grams) all-purpose flour
1 teaspoon baking soda
½ teaspoon Kosher salt
For Rolling
¼ cup granulated sugar
1-2 tsp grated lemon zest
Instructions
In the bowl of a stand mixer fitted with a paddle attachment, cream the butter and sugar together on medium speed 2 minutes. Add the egg, vanilla, lemon zest, and lemon juice. Mix in 1 cup flour, baking soda, and salt just until combined. Add the remaining 2 cups flour and mix until no flour streaks remain. Chill at least 15 minutes, but up to 1 hour.

In a small bowl, rub the lemon zest into the sugar with your fingers until it becomes fragrant.

Preheat the oven to 350°F. Line a baking sheet with a silicone mat or parchment paper.

Using a medium cookie scoop, scoop the dough and roll into 1 1/2-inch balls. Drop into the sugar mixture and roll until coated. Place on the baking sheet about 2 inches apart.

Bake 9 to 11 minutes, or until the bottoms are lightly golden. Transfer the cookies to a cooling rack to cool completely.
---
Nutrition
Calories: 165kcal | Carbohydrates: 26g | Protein: 2g | Fat: 6g | Saturated Fat: 3g | Polyunsaturated Fat: 0.3g | Monounsaturated Fat: 1g | Trans Fat: 0.2g | Cholesterol: 19mg | Sodium: 66mg | Potassium: 26mg | Fiber: 1g | Sugar: 11g | Vitamin A: 172IU | Vitamin C: 1mg | Calcium: 6mg | Iron: 1mg
Nutrition provided is an estimate. It will vary based on specific ingredients used.
Did you make this recipe? Don't forget to give it a star rating below!