Satisfy your cookie cravings with these homemade Lofthouse cookies! The famous soft sugar cookies topped with buttercream frosting and colorful sprinkles are perfect for any occasion and always a crowd-pleaser!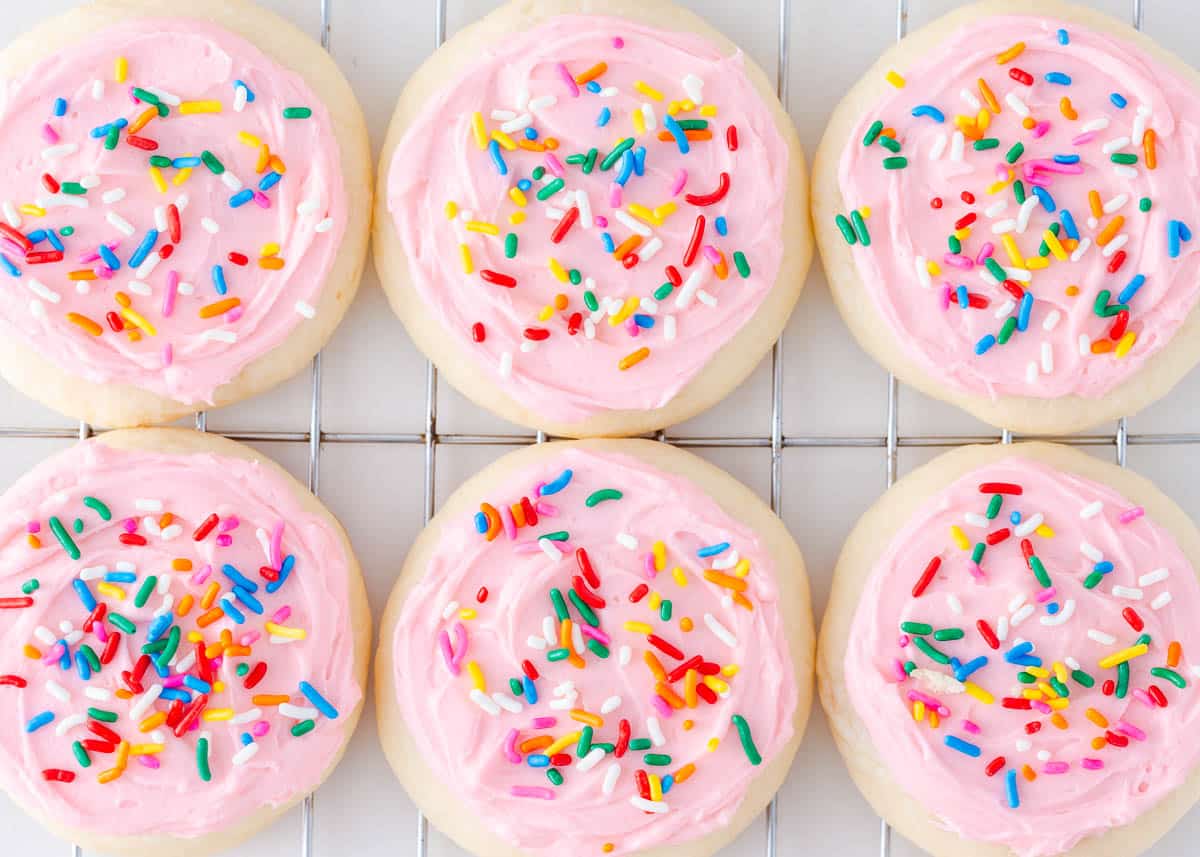 Copycat Lofthouse Sugar Cookies
Ok, you guys know that cookie recipes are close to my heart and today I want to share one of my all-time favorites. This recipe for Lofthouse cookies is one you need in your collection!
These iconic cookies are known for their tender, cake-like texture and generously frosted tops. You've probably seen them in the bakery section of your grocery store, but nothing beats the homemade version!
They're kind of like these soft sugar cookies and you'll always find them topped with sweet buttercream frosting and usually lots of colorful sprinkles!
Why This Recipe Works
No need to chill the dough. Just combine the dough, allow it to sit for a few minutes, then drop the cookie dough balls onto the tray to bake. That's it!
Quick and easy. With just 20 minutes of prep time and 10 minutes in the oven, the rest is waiting for the cookies to cool. Couldn't be easier!
Festive cookie platter: Pair them with some Christmas sugar cookies decorated with my sugar cookie icing or add some easy sugar cookies and everyone will be lining up to taste your treats!
Recipe Ingredients
To make the best copycat Lofthouse cookies, you'll use the following ingredients: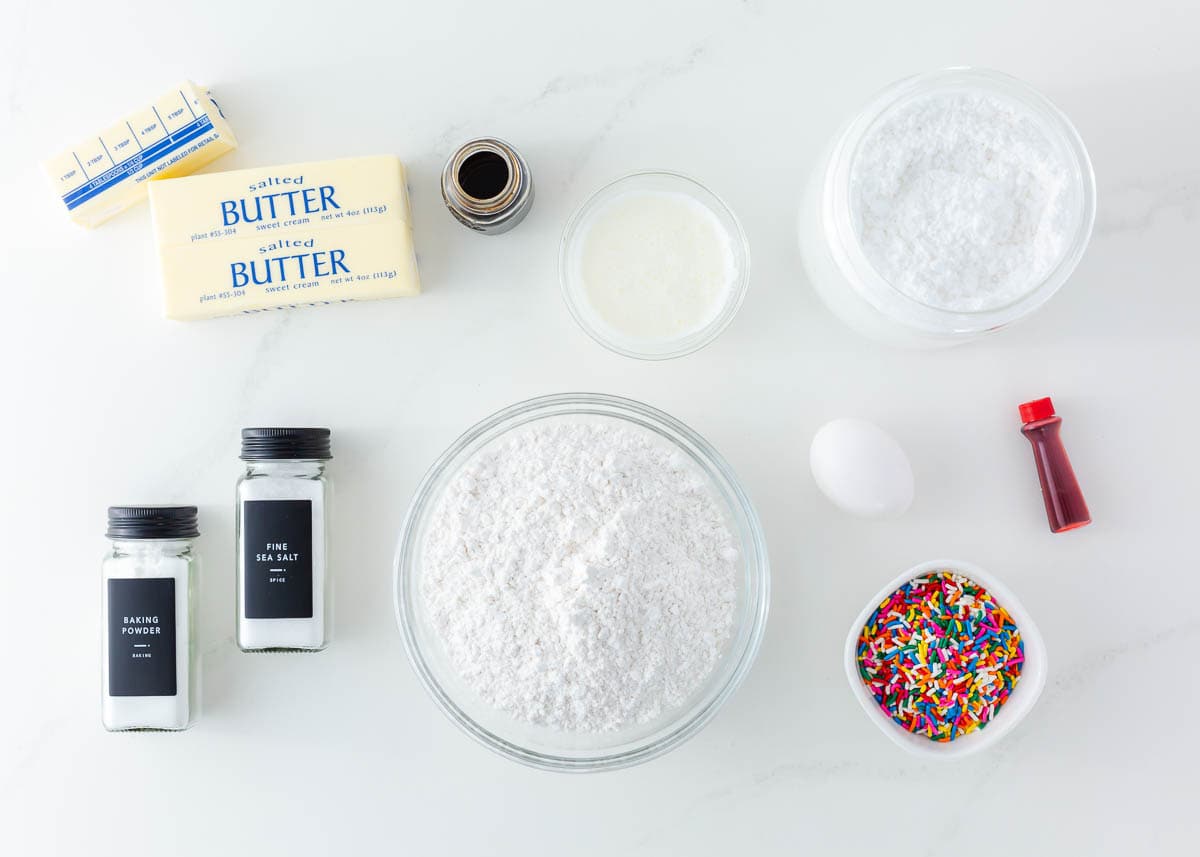 Find the full printable recipe with specific measurements below.
Baking staples: Butter, sugar, flour, baking powder, salt, eggs and vanilla extract.
Powdered sugar: Powdered sugar not only sweetens the cookies but also contributes to their tender texture. It dissolves easily into the dough, creating a smooth and delicate crumb.
Cake flour: Cake flour is a low-protein flour, which is essential for creating the delicate, cake-like texture of Lofthouse Cookies. It results in a tender crumb that sets these cookies apart from traditional sugar cookies.
Half-and-half: Half-and-half, a combination of half cream and half milk, is used to adjust the thickness of the frosting. You can substitute it with whole milk or heavy cream if needed.
Food coloring (optional): Food coloring is entirely optional but adds a fun and vibrant touch to the frosting. You can customize the colors to match the occasion or your personal preference.
Substitutions and Variations
While classic Lofthouse cookies are a fan favorite, there are numerous ways to get creative with this copycat recipe.
Zest: Add lemon or orange zest to the dough and frosting for a zesty, citrusy flavor.
Seasonal themes: Experiment with different food colorings like green, blue, orange and yellow to match any occasion, from birthdays to Christmas!
How to Make Lofthouse Cookies
Follow these simple steps to create your very own batch at home.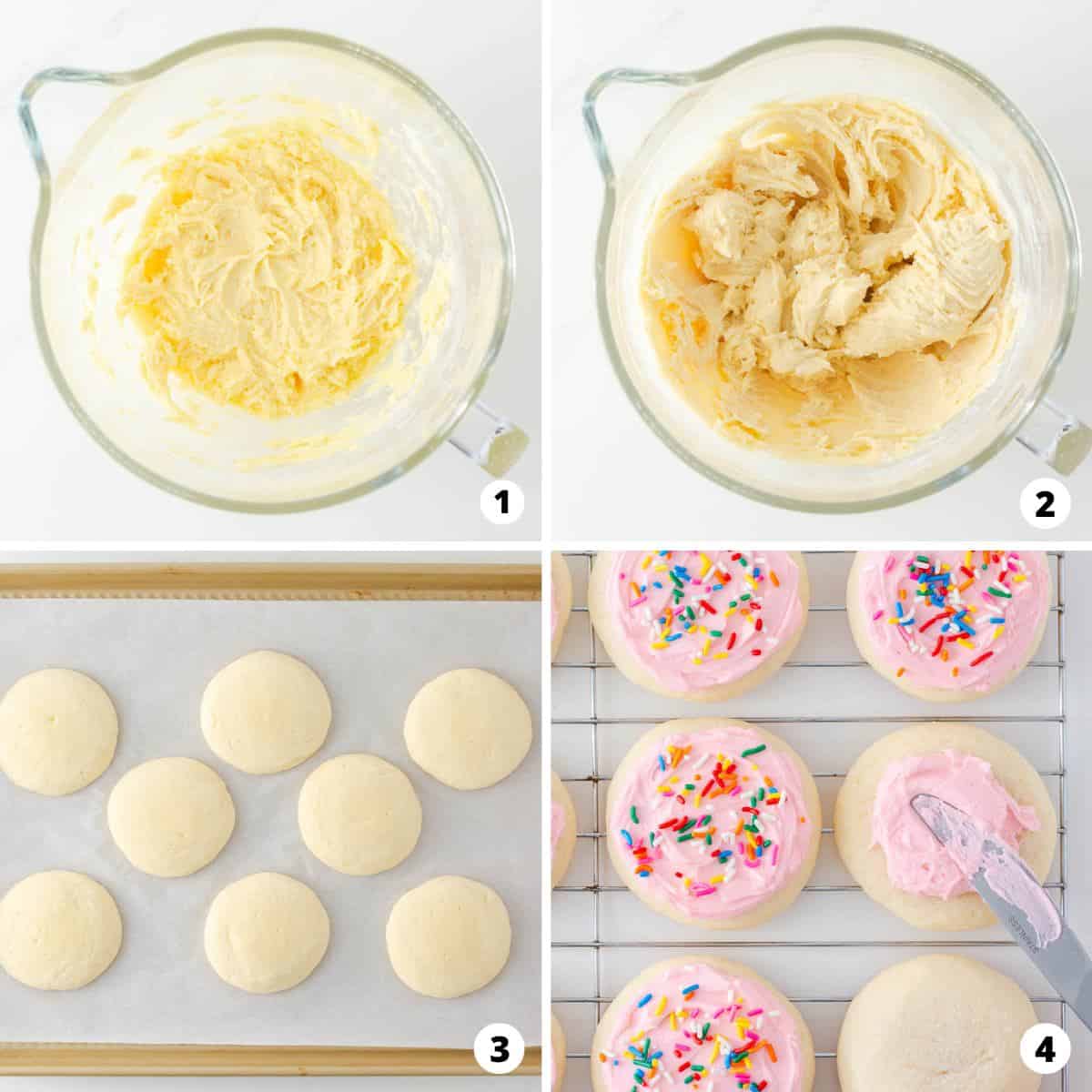 Cream: Cream together the butter and powdered sugar then add the egg and vanilla. You want the mixture to become light and creamy.
Add Dry Ingredients: Slowly add the dry ingredients to the wet mixture and mix until just combined. Allow the dough to rest for about 10 minutes. This gives the flour time to soak up some of the wet ingredients making your dough a little bit firmer and easier to roll.
Portion and Bake: Measure out 3 tablespoons of dough and roll into balls then flatten them gently to about 1-inch thickness. Bake on a baking sheet for 9 to 11 minutes.
Frost: Once your cookies are completely cooled, frost them generously with the buttercream frosting. Make sure to add the sprinkles immediately so they stick to the pink frosting.
Expert Tips
Room temperature ingredients: It's crucial to use room-temperature butter and eggs for the perfect cookie texture. Remember to take them out of the fridge at least an hour before you begin baking.
Cake flour matters: Cake flour is essential for achieving that tender crumb. I don't recommend substituting it with all-purpose flour.
Don't overmix: When combining the wet and dry ingredients, mix just until they come together. Overmixing can lead to tough cookies. These cookies are meant to be so soft that they practically dissolve in your mouth!
Uniform size: Use a cookie scoop to ensure all your Lofthouse cookies are the same size for even baking.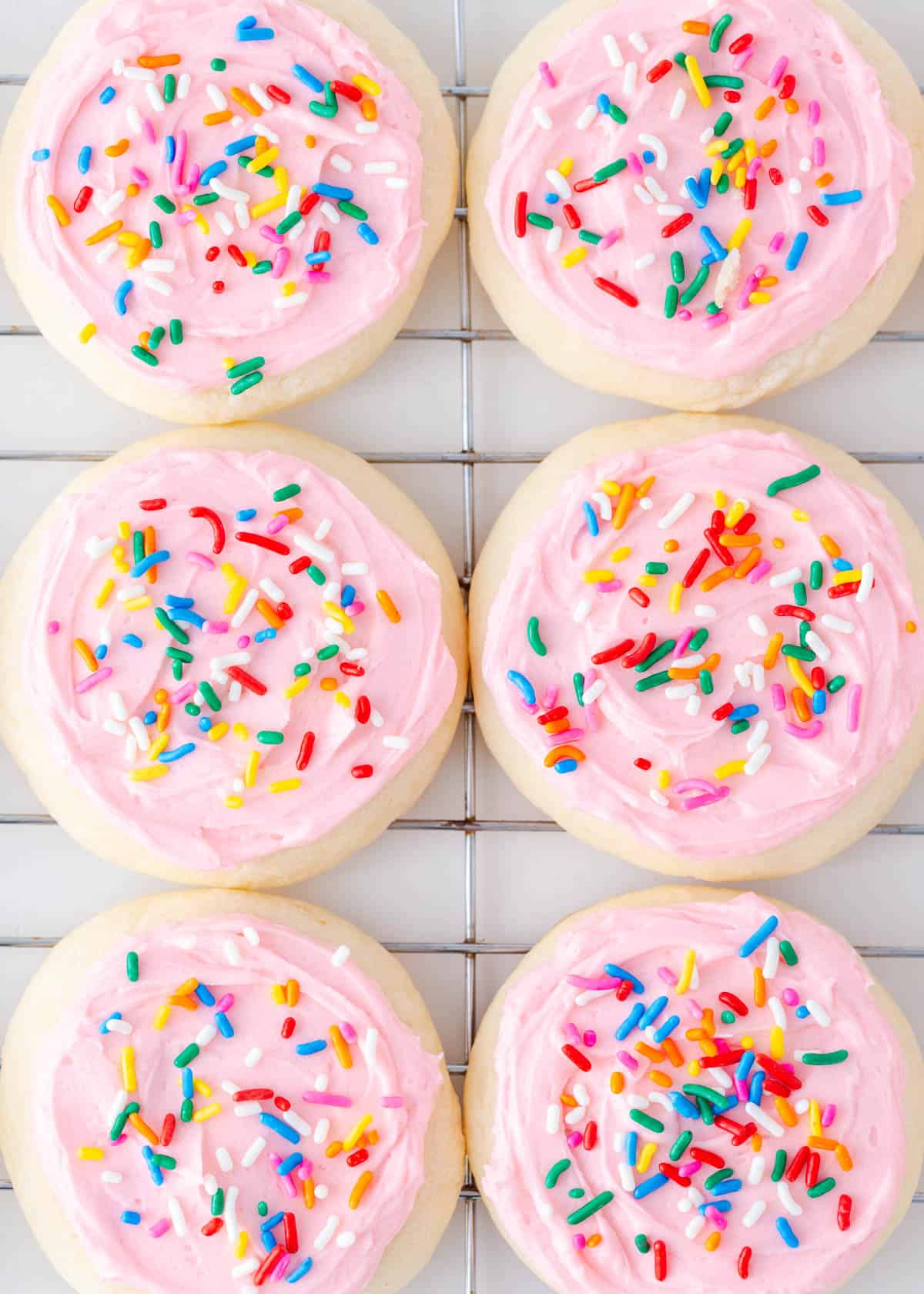 Recipe FAQs
Why are they called Lofthouse cookies?
The original recipe was created by Lofthouse Foods back in 1994 and before long, these cookies were popping up in grocery stores all over the United States.
Why are Lofthouse cookies so soft?
The mix of cake flour, baking powder, and powdered sugar them their signature melt-in-your-mouth texture.
Do I have to use food coloring in the frosting?
No, you don't have to use food coloring. The frosting is delicious and looks good even without it. However, if you want to add a pop of color, feel free to use food coloring to match the occasion or your personal preferences.
Can I make smaller or larger cookies?
Absolutely! You can adjust the size of the Lofthouse cookies by using a smaller or larger cookie scoop. Just keep in mind that the baking time may need to be adjusted accordingly. Smaller Lofthouse cookies will bake faster, while larger ones may take a bit longer.
Can I make the dough ahead of time and refrigerate it?
Absolutely! You can refrigerate the dough for up to 24 hours before baking. Just make sure it's tightly wrapped to prevent it from drying out.
Storing and Freezing
Once you've baked these irresistible Lofthouse Cookies, you'll want to know how to store them properly. Simply place them in an airtight container at room temperature and they'll stay fresh and delicious for up to 4 days. If they last that long, that is!
They'll also keep well in the freezer. Store them in an airtight container in the freezer for up to 3 months and thaw them at room temperature before serving.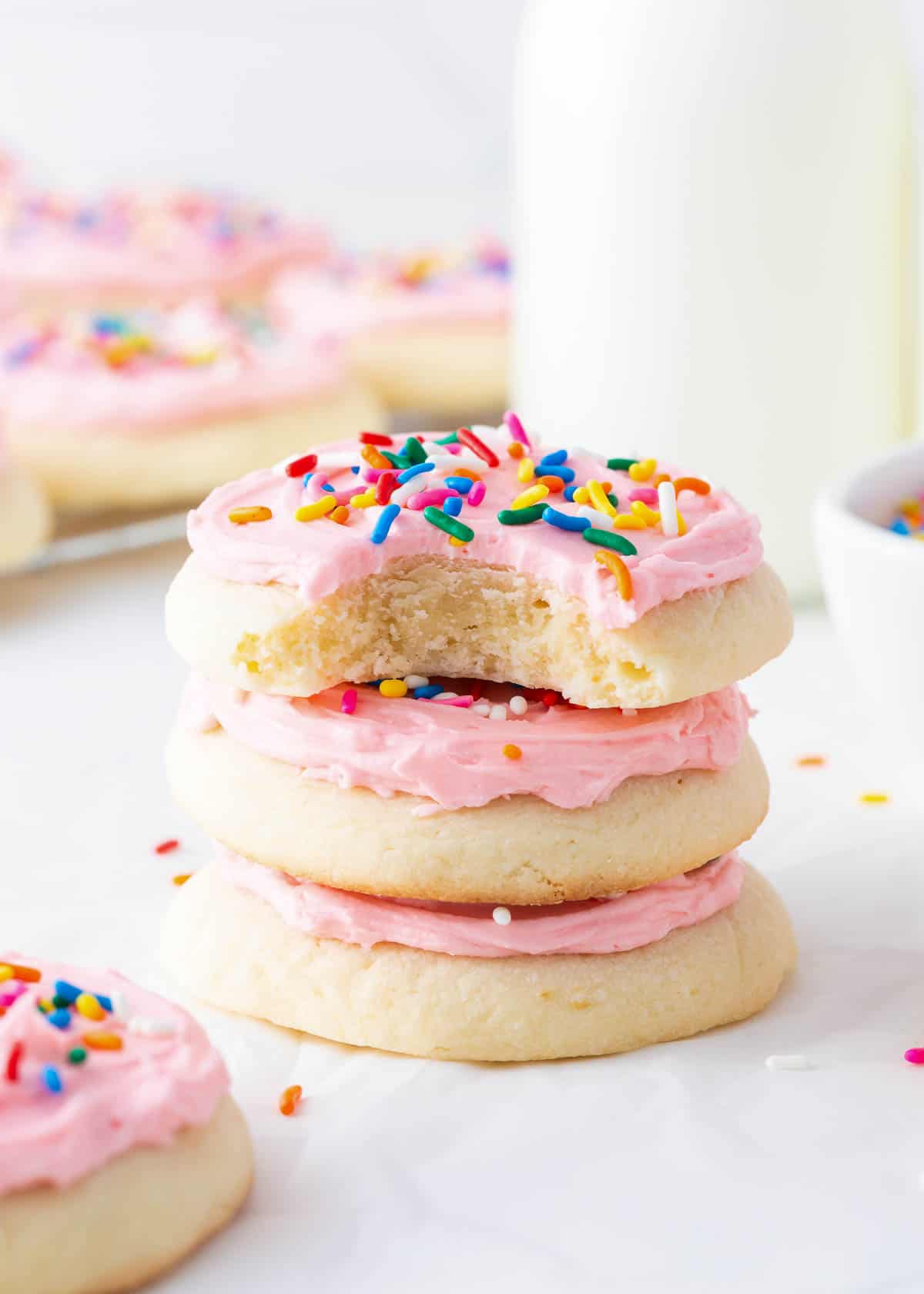 HUNGRY FOR MORE? Subscribe to my newsletter and follow on Facebook, Pinterest and Instagram for all the newest recipes!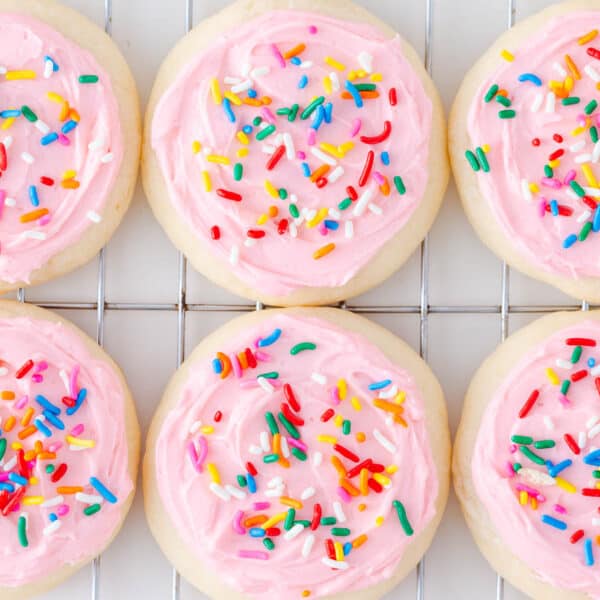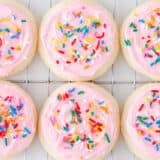 Lofthouse Cookies Recipe
Satisfy your cookie cravings with these homemade Lofthouse cookies! Soft sugar cookies are topped with buttercream frosting and colorful sprinkles are perfect for any occasion.
Ingredients
Cookies
1 cup salted butter , at room temperature
1 ¼ cups powdered sugar
1 large egg , at room temperature
1 teaspoon vanilla extract
2 ½ cups cake flour
1 teaspoon baking powder
½ teaspoon fine sea salt
Instructions
Cookies
Preheat the oven to 350°F. Line a baking sheet with parchment paper or a silicone baking mat.

In the bowl of a stand mixer fitted with a paddle attachment, cream together butter and sugar on medium speed until light and creamy. Mix in egg and vanilla on high speed until combined.

In a separate bowl, mix together flour, baking powder and salt. Slowly add dry ingredients to the wet ingredients. Mix just until combined. Let the dough rest 10 minutes.

Using a 3-Tablespoon cookie scoop, portion the dough onto the baking sheet. Roll each portion into a ball until no cracks remain and then gently flatten into a hockey puck shape.

Bake 9 to 11 minutes, or until the centers appear dry. Let cool on pan 5 minutes before transferring to a cooling rack to cool completely.
Vanilla Frosting
In a medium bowl, mix together the butter, sugar, vanilla, and 2 Tablespoons half-and-half with an electric mixer until smooth and thick but still spreadable. Add 1/2 Tablespoon half-and-half at a time, if too thick. Mix in food coloring, if using.

Frost buttercream on cooled cookies. If using sprinkles, add immediately after frosting or they won't stick to the cookies.
---
Notes
Butter: Many use margarine for lofthouse cookies. I don't typically have that on hand, but you could use it or do half butter and half margarine. Storage: Store in an airtight container at room temperature up to 4 days Freeze: Store in an airtight container in the freezer up to 3 months.
Nutrition
Calories: 371kcal | Carbohydrates: 49g | Protein: 3g | Fat: 19g | Saturated Fat: 11g | Polyunsaturated Fat: 1g | Monounsaturated Fat: 5g | Trans Fat: 1g | Cholesterol: 61mg | Sodium: 230mg | Potassium: 66mg | Fiber: 1g | Sugar: 32g | Vitamin A: 569IU | Vitamin C: 0.02mg | Calcium: 26mg | Iron: 0.3mg
Nutrition provided is an estimate. It will vary based on specific ingredients used.
Did you make this recipe? Don't forget to give it a star rating below!