Lemon curd is a rich, sweet and tangy cream that adds a burst of flavor and texture to all of your favorite baked goods. This is a simple 4 ingredient recipe that every lemon lover NEEDS to have!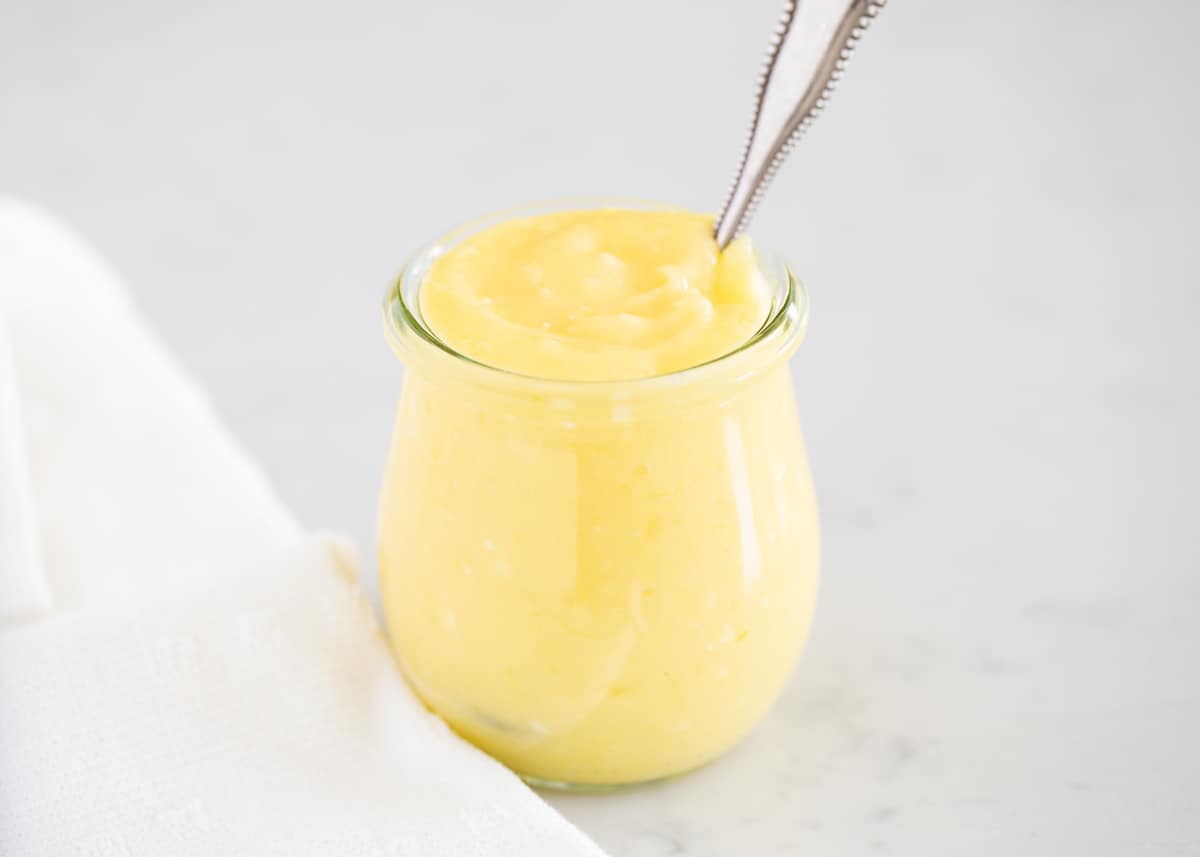 Easy Lemon Curd
Learning how to make the ultimate lemon curd from scratch is great for beginners and yet will definitely impress your guests. This simple recipe uses only 4 ingredients, juice and zest from the lemons, butter, sugar, and eggs. The ingredients are then whisked together on the stovetop until thickened. That's it! It's then ready to be used in any recipes that call for it. Even ones that don't, because believe me, you are going to want to add it to EVERYTHING!
What results from delicious homemade curd is your reminder that having simple recipes for anything homemade always tastes better than store-bought!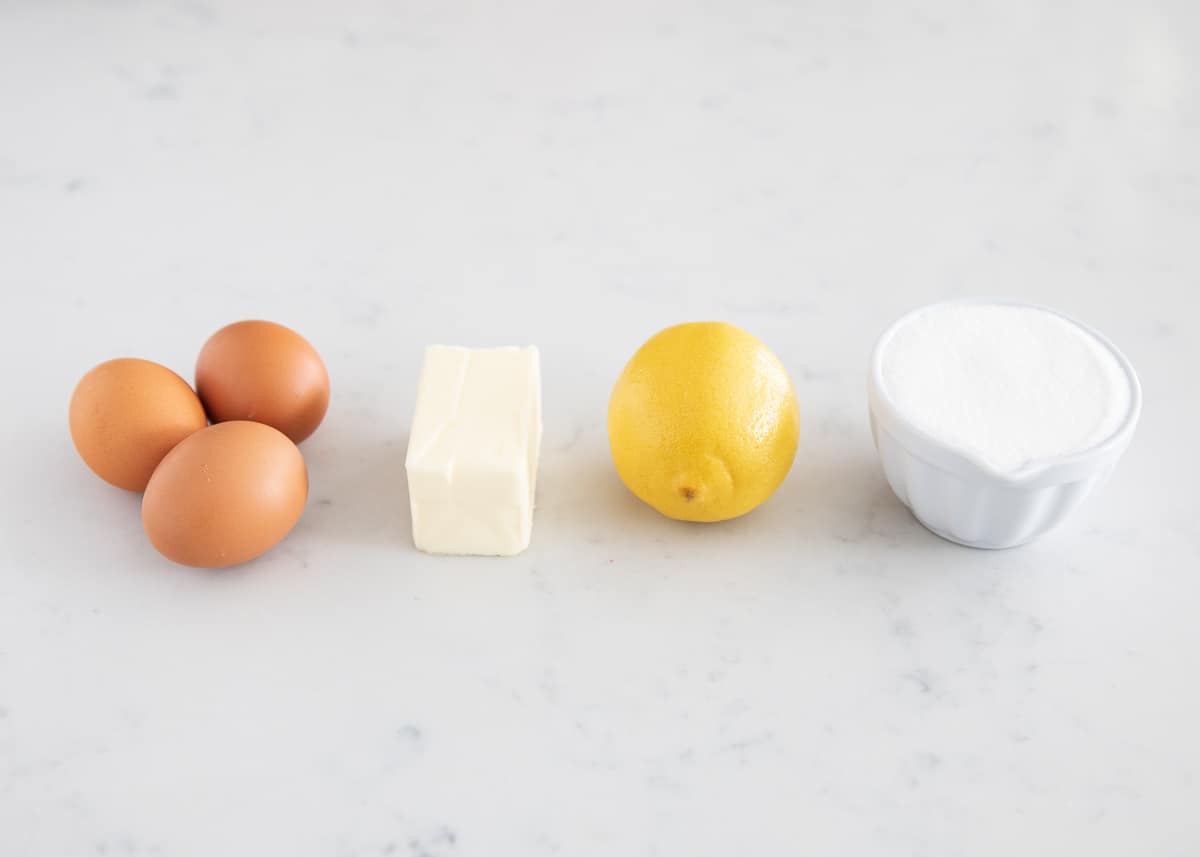 What is Lemon Curd?
This easy lemon curd is a thick, buttery cream with the perfect balance of sweet and tart. It's a rich spread that makes just about any dessert better! Its beautiful bright yellow presentation is only matched by its incredible light and airy citrus flavor. Perfect for cakes, pies, tarts, cookies, cheesecakes, cupcakes, and my new favorite, lemon crepes!
Can I Substitute Bottled Lemon Juice for Freshly Squeezed?
No, please! Bottled lemon juice has way too much acid and will change the taste of your lemon curd. Avoid it if you can. Fresh lemons are definitely best in this recipe.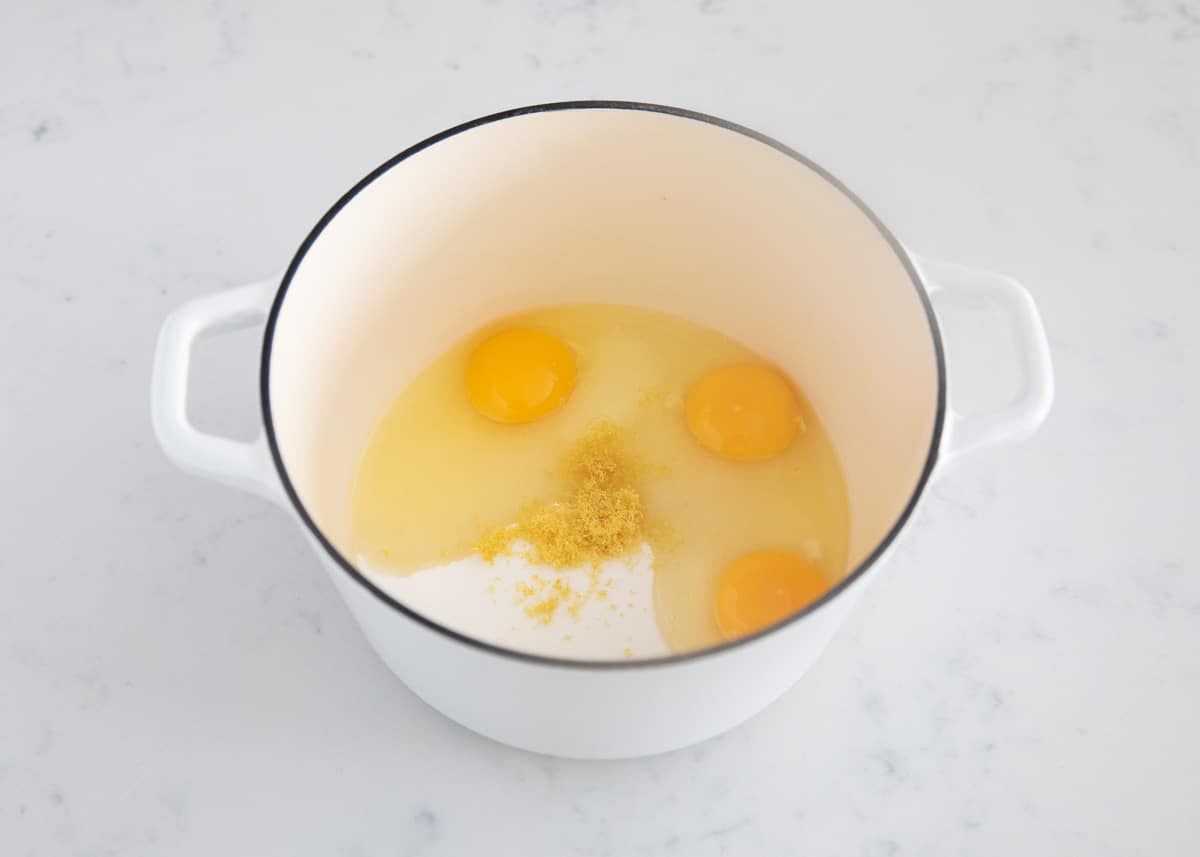 Tips for Making the Best Lemon Curd
Anything with lemon in it is always a hit. When I present a dessert table, I always like to include at least one (probably more) of either the perfect lemon bars, lemon brownies, or glazed lemon cookies. They're ideal for baby showers, garden parties, and summertime desserts. A little added dollop of lemon curd on any of the above-mentioned treats never hurt anyone!
Use a double boiler if you have one. The indirect heat of a double boiler is great for the low heat requirement when making curd. If you don't have one, just make sure to use low heat and resist turning it up.
Test the thickness on the back of a wooden spoon by running your finger through the mixture. If it separates nicely into two distinct parts, it should be done.
Never stop whisking until you've removed the curd from the heat. This way you won't scramble any of the eggs!
It will thicken as it cools and continues to set in the fridge. Remove from heat once desired texture has been reached.
Straining your curd. If you're very particular about the texture, you can go ahead and strain the curd with a fine mesh strainer to remove any remnants of the zest. It's very much an extra bonus step that isn't necessary if you don't want to.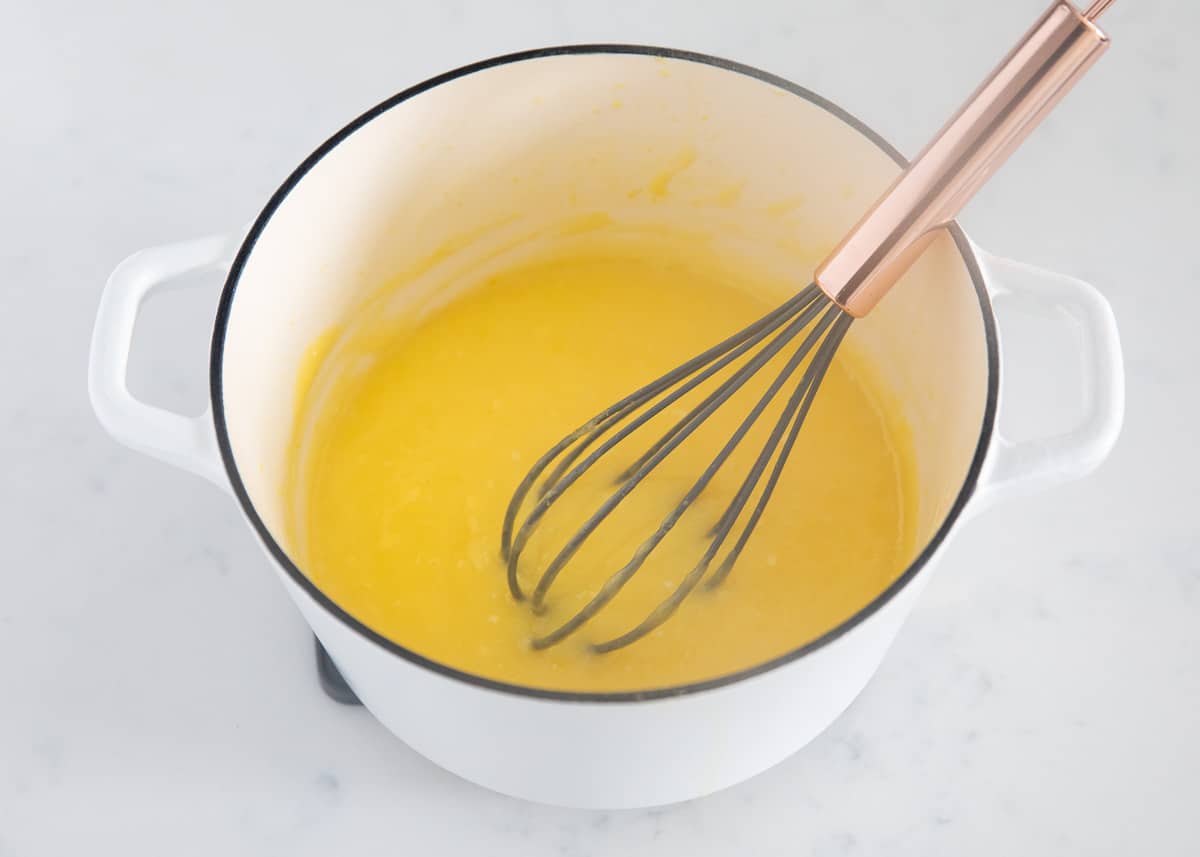 Can you Freeze It?
Lemon curd freezes very well. It can be stored for 3 to 6 months and thawed in the fridge before you're ready to use it again. Some people have had success freezing it for up to a year, but use your judgment once it's thawed to make sure it's safe.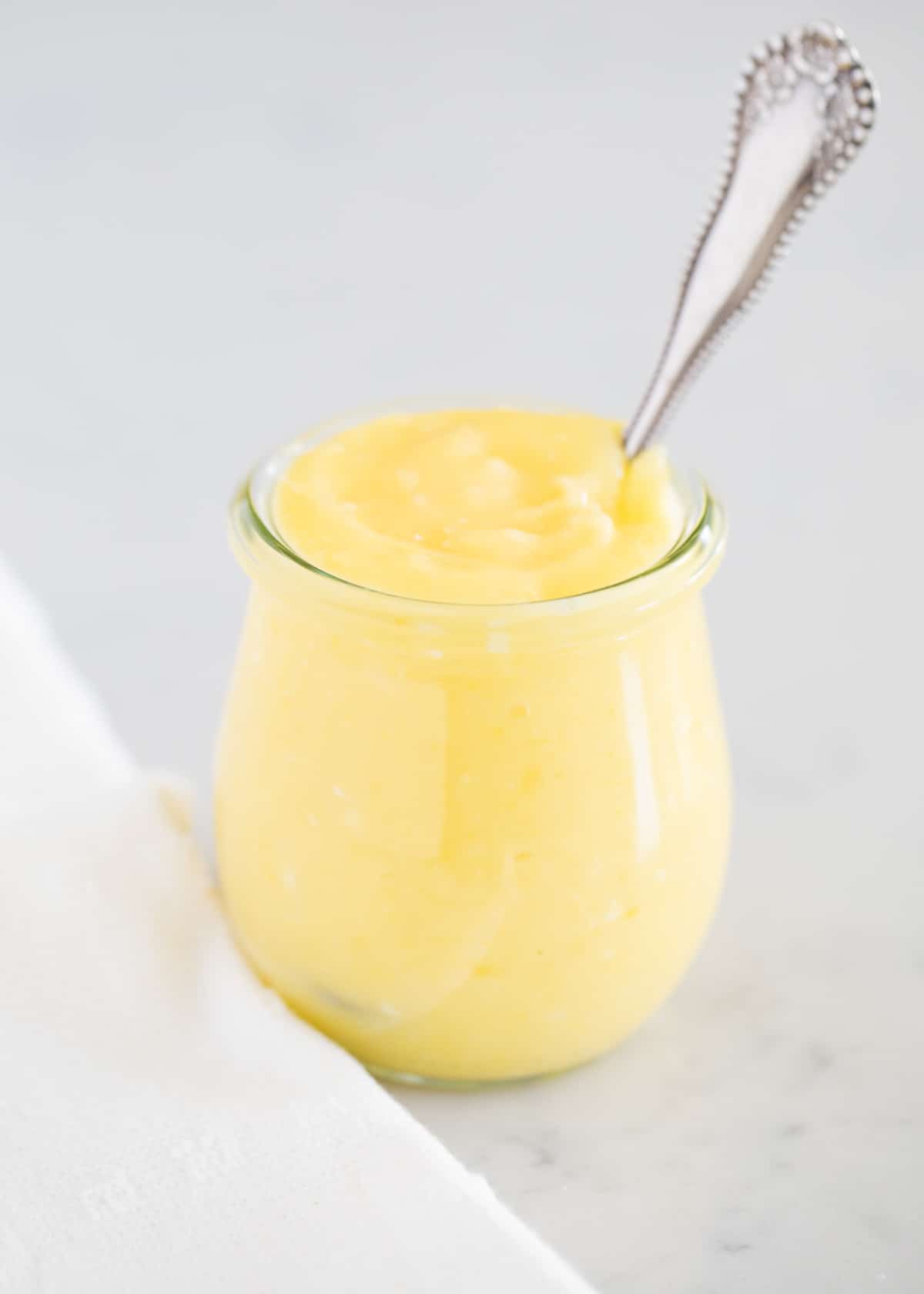 Favorite Ways to Use It:
HUNGRY FOR MORE? Subscribe to my newsletter and follow on Facebook, Pinterest and Instagram for all the newest recipes!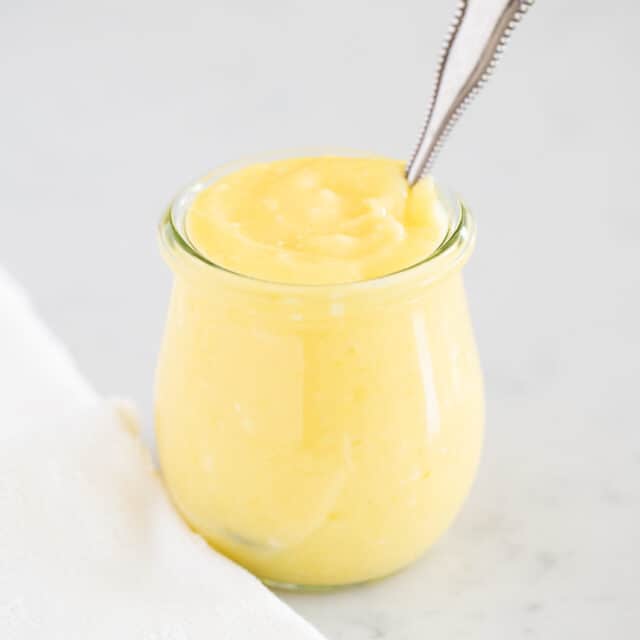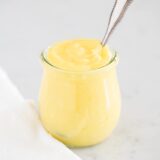 Lemon Curd
Lemon curd is a rich, sweet and tangy cream that adds a burst of flavor and texture to all of your favorite baked goods. This is a simple 4 ingredient recipe that every lemon lover NEEDS to have!
Ingredients
½ cup fresh lemon juice , about 3 lemons
1 Tablespoon lemon zest , about 1 lemon
½ cup granulated sugar
2 large eggs
1 egg yolk
⅛ teaspoon Kosher salt
6 Tablespoons unsalted butter , cut into small pieces
Instructions
Over low heat, whisk together the lemon juice, zest, sugar, eggs and salt in a saucepan (make sure the bottom is heavy so it doesn't burn) or a double broiler.

Stir in the butter and once melted, whisk constantly until the curd has thickened. Once it has thickened and a bubble appears (about 5 minutes), immediately remove from the heat so it does not curdle.

Place into a bowl or jar and cover with plastic wrap (push the wrap down to touch the curd and remove air). Refrigerate for at least 1 hour or until ready to serve. It will thicken slightly as it cools. This lemon curd can be stored in the refrigerator for up to 1 week.
---
Notes
Substitutions: I do not recommend substitutions for this recipe. You need fresh lemon juice. If you want to use salted butter you can omit the salt. Freezing Instructions: If you have leftover lemon curd, you can place in a zip top bag and freeze for up to 3 months. Thaw in the refrigerator overnight. Equipment: If you do not have a heavy bottom sauce pan, you can use a double broiler as well.
Nutrition
Serving: 2Tablespoons | Calories: 122kcal | Carbohydrates: 11g | Protein: 2g | Fat: 8g | Saturated Fat: 5g | Polyunsaturated Fat: 1g | Monounsaturated Fat: 2g | Trans Fat: 0.3g | Cholesterol: 75mg | Sodium: 45mg | Potassium: 32mg | Fiber: 0.1g | Sugar: 10g | Vitamin A: 291IU | Vitamin C: 5mg | Calcium: 12mg | Iron: 0.2mg
Nutrition provided is an estimate. It will vary based on specific ingredients used.
Did you make this recipe? Don't forget to give it a star rating below!