Soft and chewy funfetti cookies made with only 3 ingredients in just 20 minutes! These cookies have the classic cake mix batter flavor that everyone loves.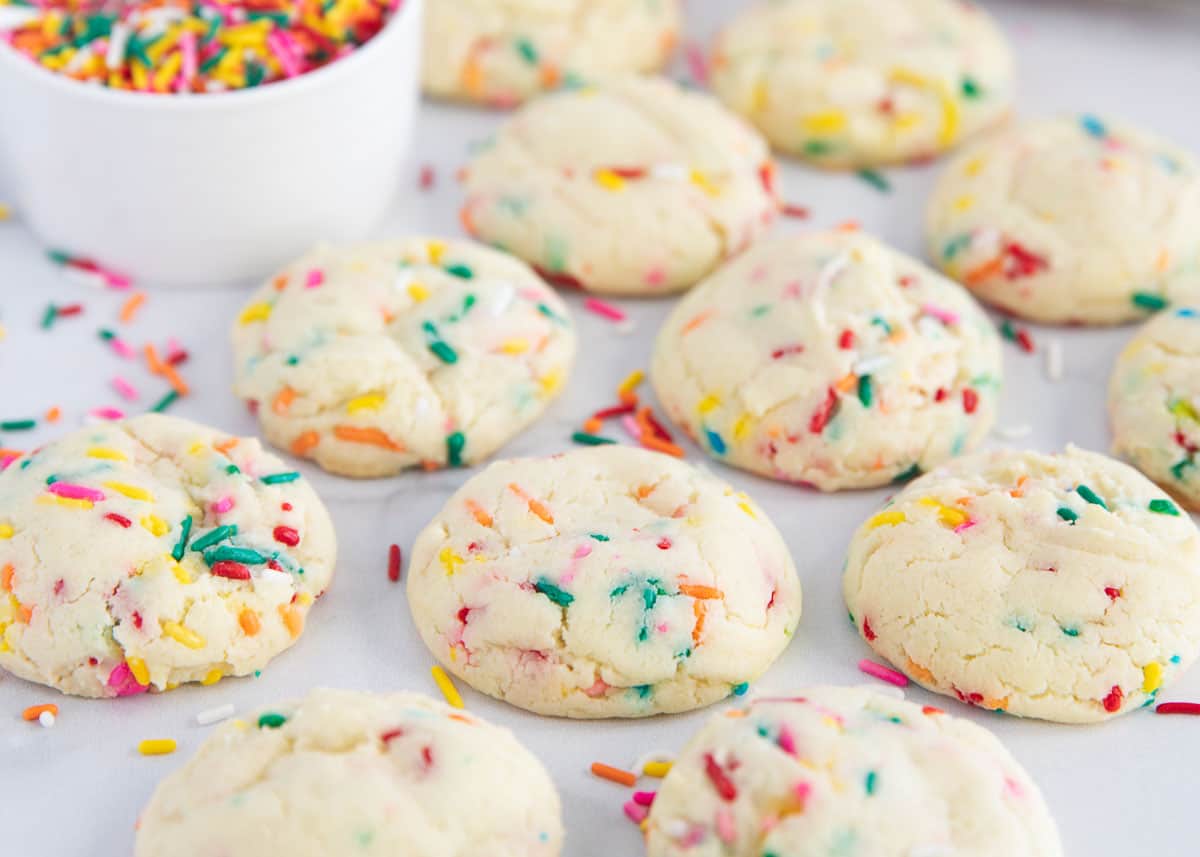 Easiest Funfetti Cookies
We love to make all different kinds of cake mix cookies. They're one of the easiest cookies to make and have an amazing soft texture. This funfetti version was an instant winner in my house and tastes so buttery and delicious.
These funfetti cookies are one of my kid's all time favorite cookies! I prefer homemade sugar cookies, but they would pick these first. Which is fine by me, because they are super easy to make. All you need are 3 simple pantry staples to get started. They are honestly pretty hard to mess up too, which makes them the perfect cookies for your kids to make on their own.
The end result is a soft, chewy, buttery cookie with the classic cake batter flavor. My kids love to add rainbow jimmies in the dough to add a pop of color. They are so simple and perfect for any celebration! We love serving these with cake pops.
3 Simple Ingredients
You only need a box of funfetti cake mix, oil, and eggs to make this recipe. It is simple to make and tastes amazing. Seriously, these are the easiest cookies ever!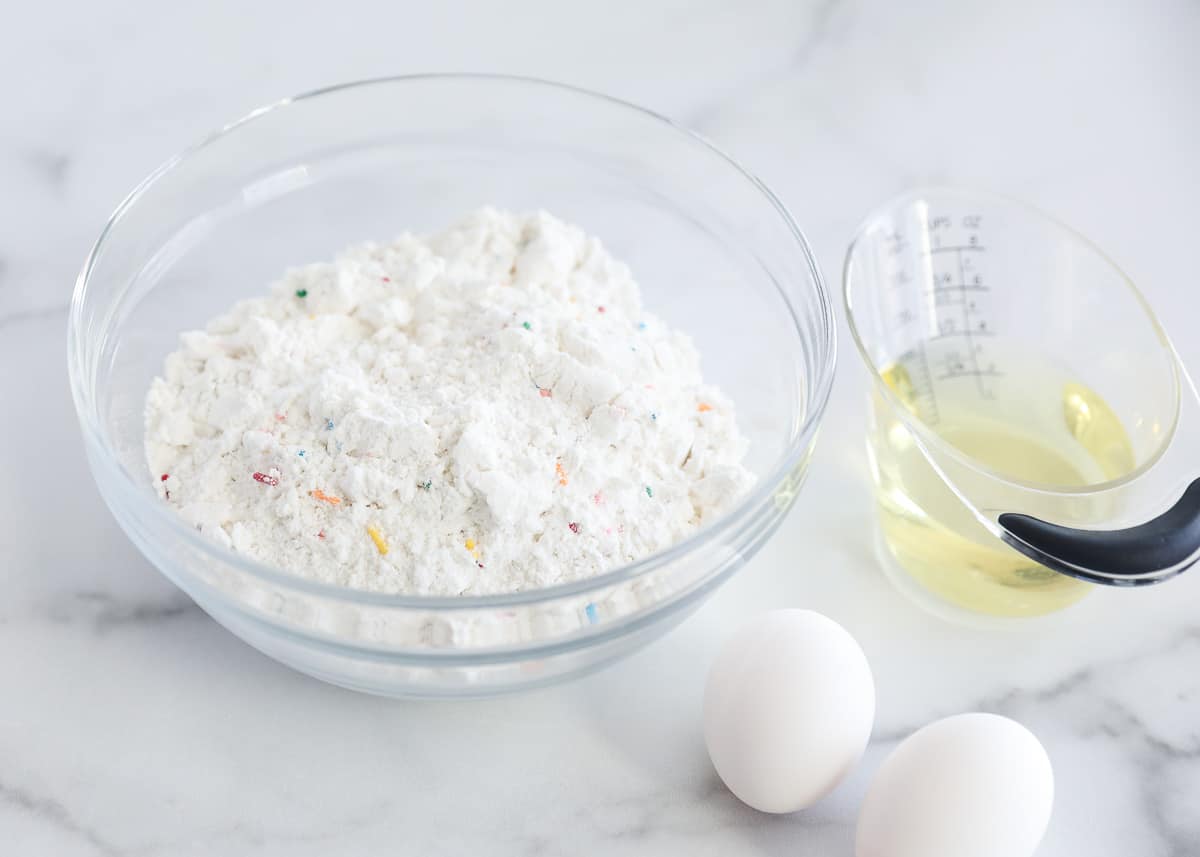 Find the full printable recipe with specific measurements below.
Box of funfetti cake mix: Yes! It is that simple! You only need the box mix to use. It is similar to a flour or dry ingredients that will be used for these cookies.
Vegetable or canola oil: Oil is the fat in the ingredients. When baking you need this keep the cookies moist and soft.
Eggs: This binds the cookies together and helps hold the shape of the cookie dough while being baked.
How to Make Funfetti Cake Mix Cookies
These three-ingredient funfetti cookies are just what you need for a quick treat on a special day or just for fun! These are colorful and full of deliciousness in every bite. From kids to adults, everyone loves these funfetti cookies!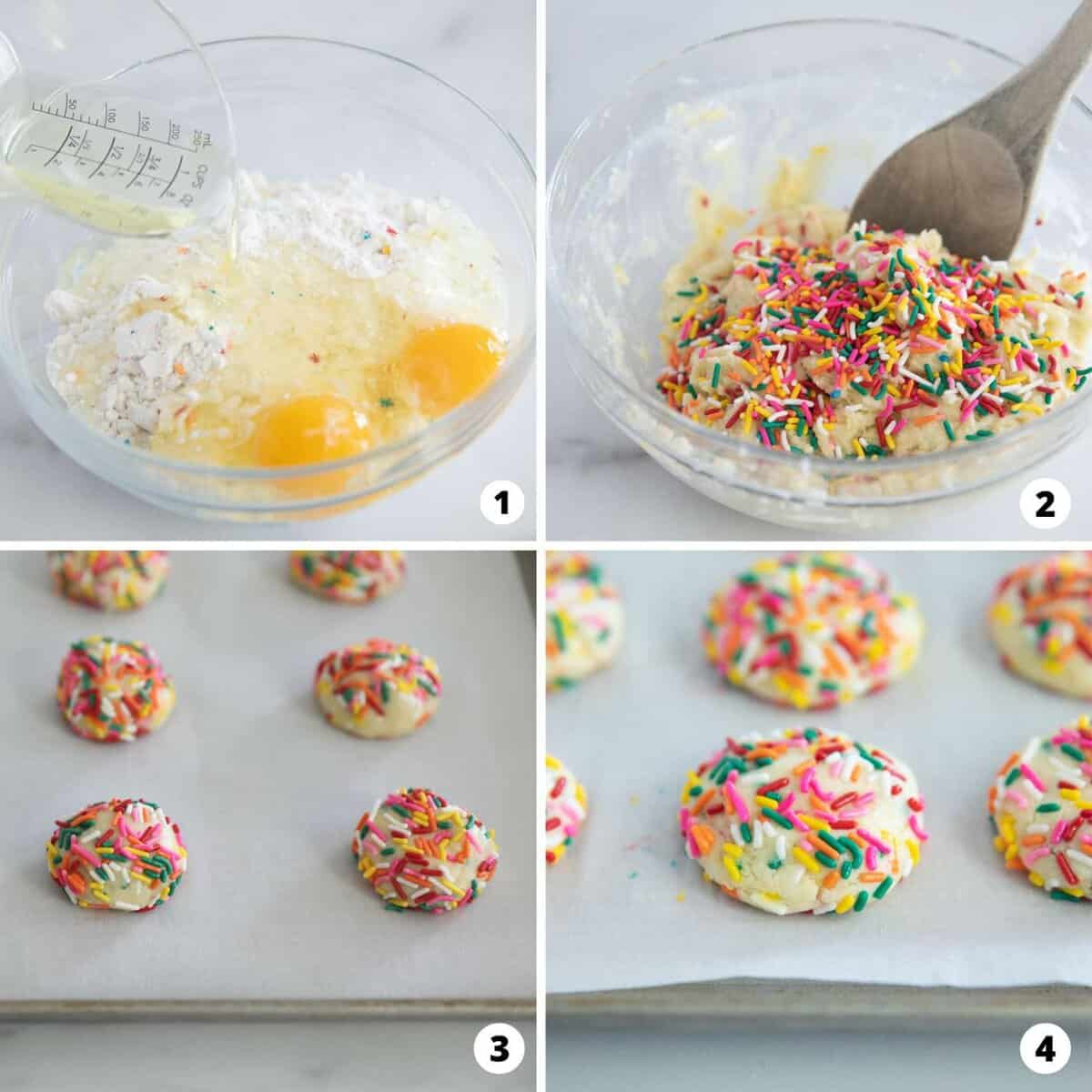 Mix. Mix the ingredients together in a large bowl with an electric mixer.
Chill the dough. Fold in the sprinkles if desired. Then chill the dough in the fridge for 15 to 20 minutes, so that it's easier to work with.
Scoop. Use a medium cookie scoop or spoon to scoop the dough into balls. Roll in extra sprinkles if desired. Then place on a parchment lined baking sheet.
Bake. Bake at 350°F for 8 to 10 minutes in the oven. You want the cookies to be set, but not brown. Let cool on the pan for a few minutes, then move to a cooling rack to cool completely.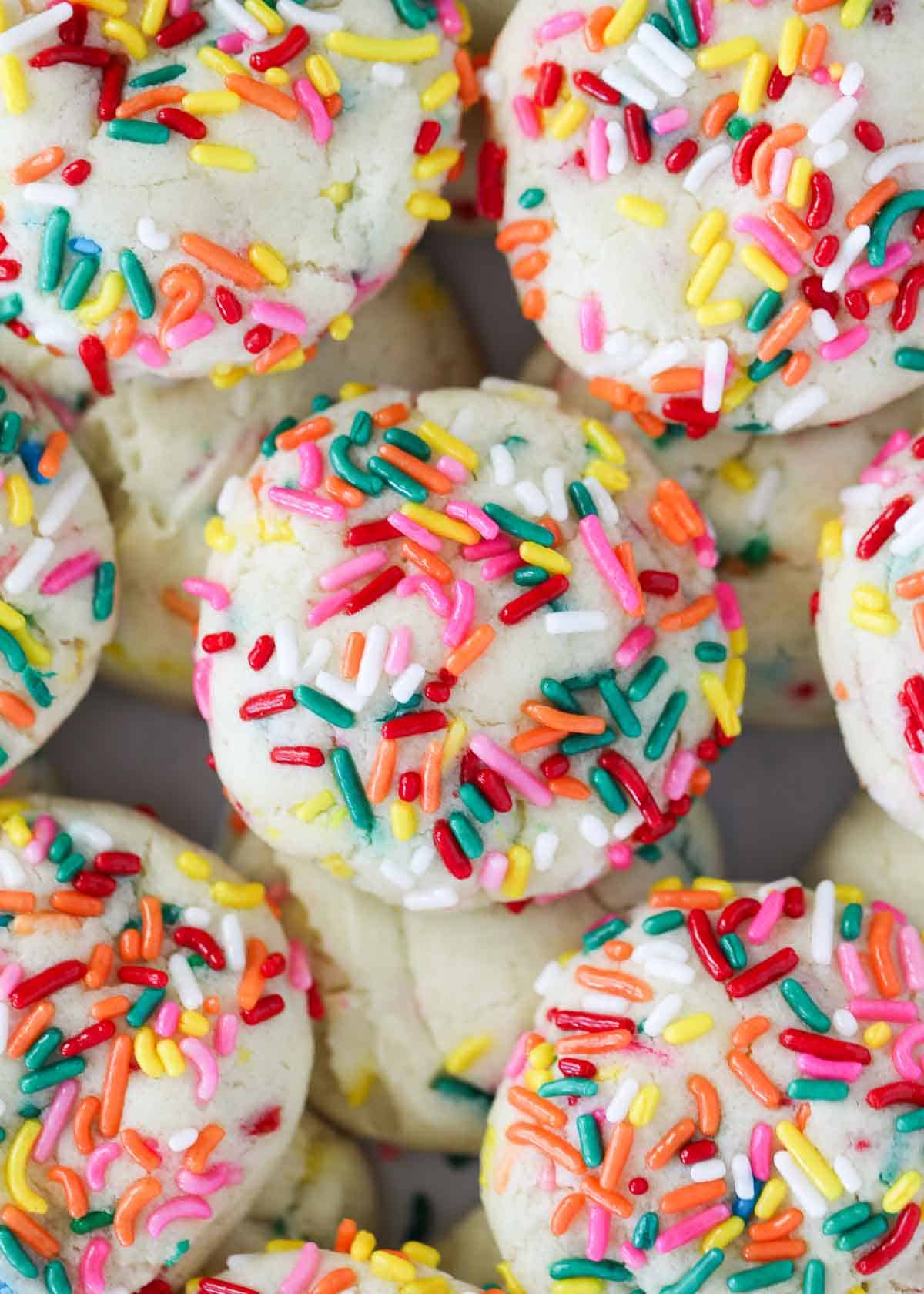 Decorations
You don't need to add sprinkles, but of course, my kids always love to add some extra to the dough. You can also roll the dough in sprinkles like below to add more color. I prefer them plain without the extra sprinkles on top, but the pop of color sure does make them pretty.
If you're making these cookies around the holidays, you can absolutely use holiday sprinkles instead of rainbow jimmies. It would be fun to make a Christmas or Valentine's Day version.
Tips for Making Cake Mix Funfetti Sugar Cookies
Follow these tips to make these cake mix sugar cookies even better! Making sure that the dough is formed perfectly as well as the same shape is important when baking them. Use these helpful tips and ideas when baking homemade cookies!
Vanilla: Add in a teaspoon of vanilla extract for a little extra flavor.
Sprinkles: Change the sprinkles depending on the time of year and celebration you are having. We used rainbow sprinkles for this photoshoot.
Roll dough: Use a cookie scooper to make 1-inch balls of cookie dough for baking. You will want your cookie dough in even amounts when baking to cook them all at once.
Baking: Don't over bake your sugar cookies! Slightly underbake the cookies in the oven and take them out of the oven as they are light golden color. They will finish baking on the baking sheet for 1 to 2 minutes. Use a metal spatula to remove and place on a wire rack.
Frosting: If you love to frost your cookies, you are in luck! These sprinkle cookies frost great too. Try using this classic cream cheese frosting or marshmallow frosting.
5 star review
"My kids love these cookies and so fun and easy!!"

-Lisa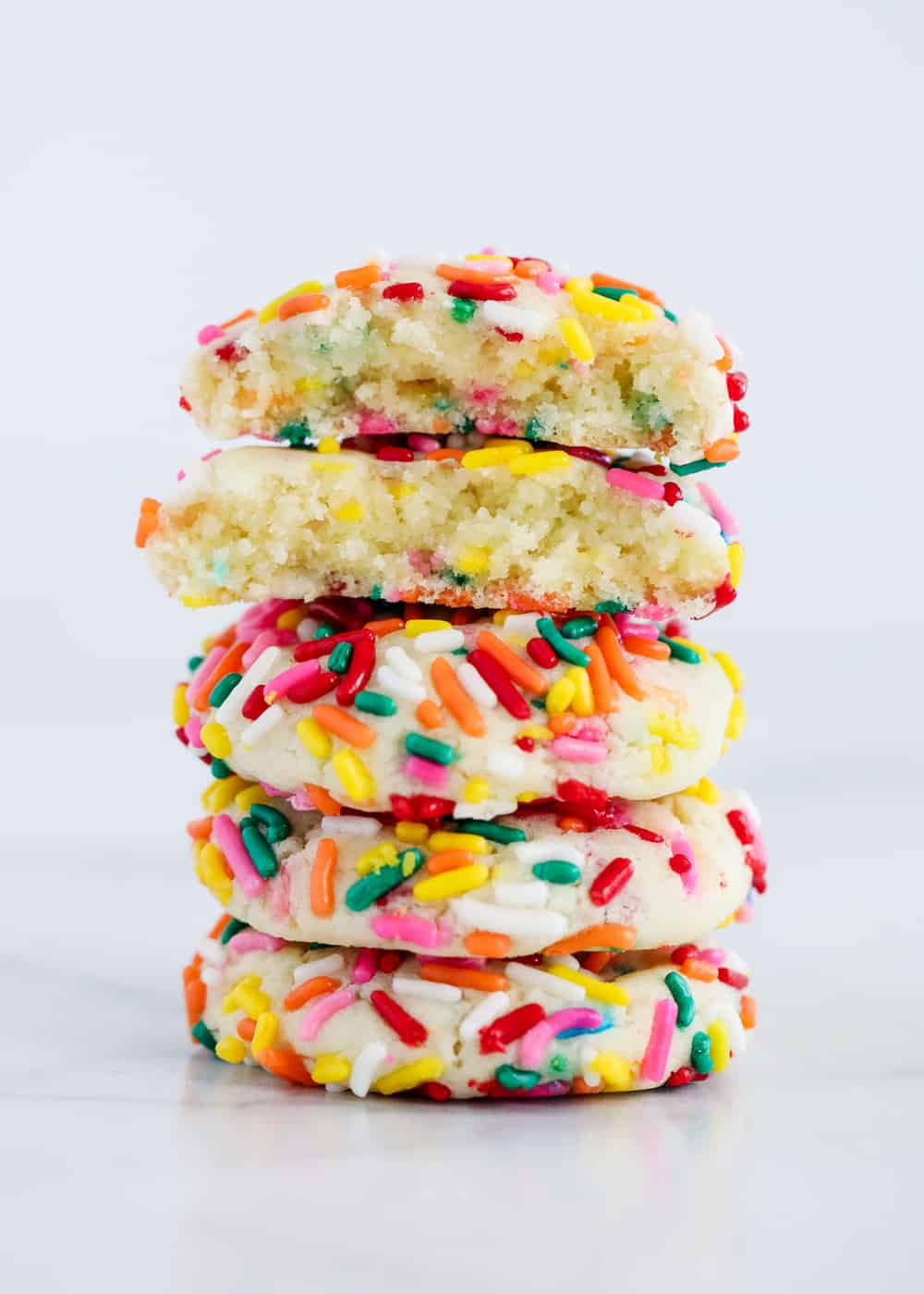 Recipe FAQs
What are funfetti cookies?
Funfetti is a specialized cake mix that is loved by most kids! It is a boxed vanilla cake base with long, colorful sprinkles in the flour mixture. When using the cake box you will use the dry flour mixture for the cookies but not the ingredients on the box.
Do you put sprinkles on before or after you bake cookies?
The sprinkles are already in the cake mix box. I like to add more sprinkles after I have made the cookie dough and roll them into sprinkles for them to be on the inside of the cookie and out.
Will cookie sprinkles melt in the oven?
They will slightly melt in the oven but not too much that they will bleed or change color of the cookies. Once the cookies cool the sprinkles will firm back up in and on the cookies.
Freezing Tips
This is the perfect way to always have cookie dough on hand. It is easy to do and always great to have ready for birthdays and celebrations.
Frozen cookies: These cookies can easily be frozen if you have extras. Let them cool completely, then freeze them on a baking sheet for about 30 minutes. Once they are hard to touch, add them to a freezer container or bag and store them in the freezer for up to 3 months.
Thawing cookies: To thaw, remove from freezer and let sit at room temperature for 2 hours before serving.
Frozen cookie dough: Simply place the cookie dough balls on a baking sheet and freeze in the freezer. Once frozen, place in an airtight container or freezer bag.
Baking frozen dough: When ready to bake, place frozen cookie dough in the over at 375 degrees Fahrenheit for 12 to 15 minutes or until they are a light golden brown on the bottom and edges.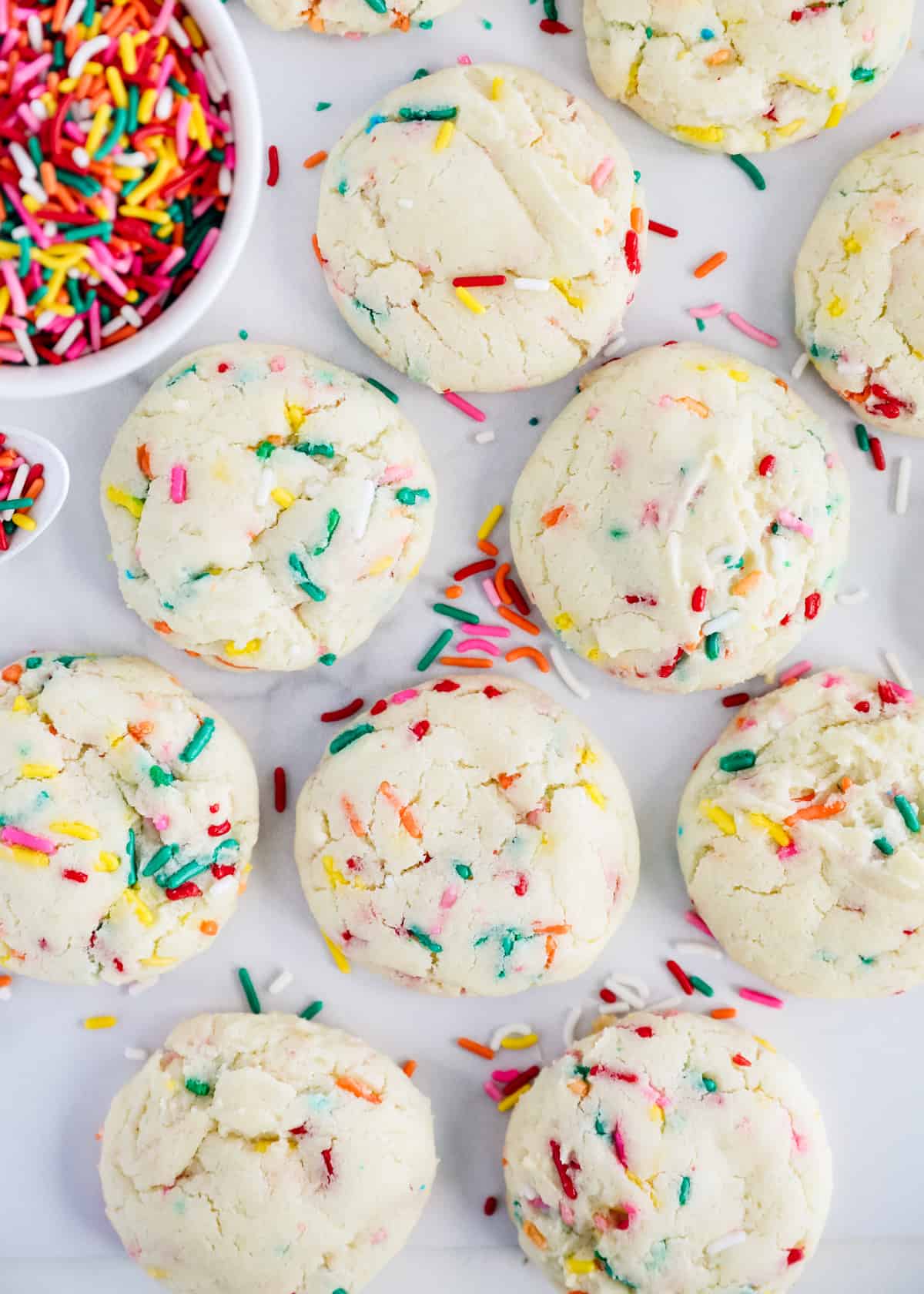 More Treats Made with Cake Mix
HUNGRY FOR MORE? Subscribe to my newsletter and follow on Facebook, Pinterest and Instagram for all the newest recipes!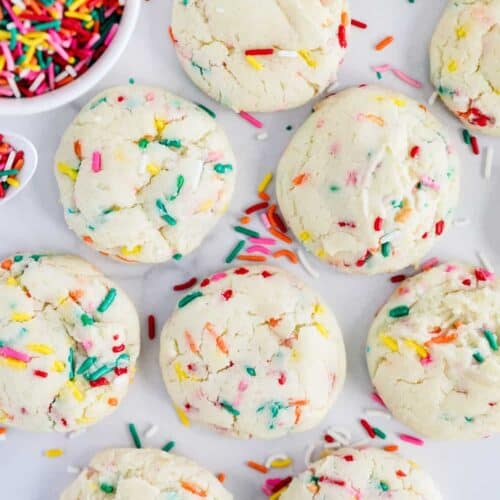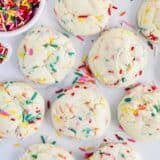 Funfetti Cookie Recipe
Soft and chewy funfetti cookies made with only 3 ingredients in just 20 minutes! These cookies have the classic cake mix batter flavor that everyone loves.
Ingredients
15.25 ounce box funfetti cake mix
½ cup vegetable or canola oil
2 large eggs
Optional: 1/4 cup Jimmies sprinkles
Instructions
Preheat oven to 350°F. Line a baking sheet with a silicone mat or parchment paper and set aside.

Mix the funfetti cake mix, oil and eggs in a large bowl with electric beaters. Then stir in the extra sprinkles if desired and mix until combined. Refrigerate the dough for 15-20 minutes.

Using a medium scoop or spoon, scoop the dough onto the prepared baking mat. Roll in extra sprinkles if desired. Bake for 8-10 minutes, or until the cookies are set. You don't want them to brown. Allow to cool on the pan for a couple minutes and then transfer to a cooling rack.
---
Notes
To frost:
You can also frost these cookies. I love using this cream cheese frosting.
Freezer instructions:
Allow cookies to cool. Then freeze on a cookie sheet for 30 minutes. Once hard, stack in a freezer container or zip top bag for up to 3 months. Remove from the freezer 2 hours before serving.
Nutrition
Calories: 110kcal | Carbohydrates: 14g | Protein: 1g | Fat: 5g | Saturated Fat: 4g | Cholesterol: 13mg | Sodium: 136mg | Potassium: 13mg | Sugar: 7g | Vitamin A: 20IU | Calcium: 40mg | Iron: 0.4mg
Nutrition provided is an estimate. It will vary based on specific ingredients used.
Did you make this recipe? Don't forget to give it a star rating below!