Jump to Recipe⌄
Amazing sugar cookie bars
Thanks for stopping by! To get the newest recipes subscribe or join us on facebook. Also check out our recipe box for more yummy recipes.
One of my all time favorite desserts is sugar cookies. Topped with spoonfuls of frosting, of course. I could eat frosting straight out of the bowl. Okay, let's be honest…. I DO eat frosting straight from the bowl. ;) Mmm…
Okay back to sugar cookies. I believe there are two ingredients that make a good sugar cookie: sour cream and powdered sugar. Two things you would never think about… but trust me, those ingredients make all the difference. The sour cream keeps the dough moist and the powdered sugar makes the dough fluffy. These sugar cookie bars I'm sharing today turned out so good! Seriously! I had to give them away FAST, or else I would have devoured the whole pan. The nice thing about these sugar cookie bars is they are half the work and taste just as good. The frosting is also one of my favorites! Did I mention that part? ;) These really are perfect for any holiday treat.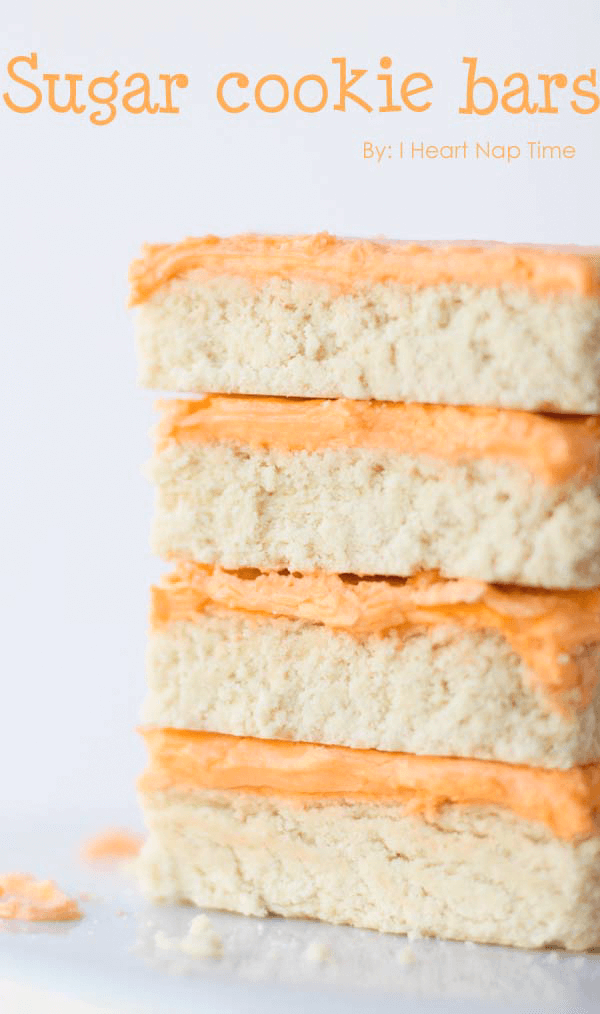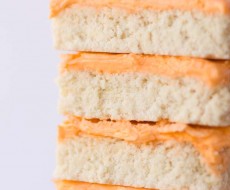 Amazing sugar cookie bars
Ingredients:
2 1/2 cup baking flour
1/2 tsp salt
1 tsp baking powder
3/4 cup sugar
1/4 cup powdered sugar
1/2 cup salted butter softened
1/4 cup sour cream
1 tsp vanilla
1 egg white
1 egg
Butter cream frosting:
1/2 cup unsalted butter -softened
3 cups powdered sugar
3 TB half and half
1/2 t vanilla
1/4 tsp orange extract
Orange food coloring (optional)
Directions:
1. Pre-heat oven to 350. Combine flour, salt and baking powder in a medium. sized bowl. Set aside.
2. With a mixer combine butter, sugar and powder sugar until fluffy (about 3 minutes). Pour in vanilla,eggs and sour cream and mix until combined. Then pour dry ingredients in this bowl and mix until combined.
3. Place mixture in a buttered 9×13 glass pan. Bake for 20 minutes or until lightly browned. Do not over cook.
4. For frosting, combine ingredients in large bowl and beat with a mixer for 2 minutes, or until fluffy. :)

All images and text ©

 
Enjoy!!
If you liked this recipe, check out these: