Jump to Recipe⌄
Reese's peanut butter brownies
Thanks for stopping by! To get the newest recipes subscribe or join us on facebook. Check our recipe box for many more yummy recipes!
Ok, these brownies I'm sharing today are the REAL deal friends! Holy cow! If you follow me on facebook you got a little sneak peak yesterday. So here's how it all went down. Sunday I whipped up a batch of brownies and I decided to add some reese's peanut butter cups in the batter to sweeten things up. Well one thing led to the next and I had this crazy idea to make a cheesecake frosting. It was so simple, yet made all the difference. These reese's peanut butter brownies are dangerously delicious! WOW! You must try them!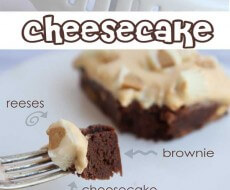 Reese's peanut butter brownies
Ingredients:
2 cups white sugar
1 cup salted butter softened
1/2 cup unsweetened cocoa powder
1 tsp vanilla
3 eggs
11/2 cups flour
1/2 tsp baking powder
1 cube cream cheese softened
1/2 cup Eaglebrand sweet condensed milk
1 tsp vanilla
1 12 oz pkg mini white chocolate reese's peanut butter cups milk chocolate is yummy too!!
Directions:
1. Cream butter, sugar and vanilla. Add one egg in at a time. Mix in cocoa, flour and baking powder. Beat until smooth. Split the bag of reeses in half. You will use half the bag in the brownie batter and half the bag for the frosting. Cut the reeses into four pieces and mix into the batter.
2. Bake at 350 degrees for 20 to 30 minutes in a 9 x 13 inch greased pan. Do NOT over bake.
3. Allow brownies to cool for one hour.
4. For the frosting beat together the cream cheese, sweet condensed milk and vanilla. Beat for 2 minutes. Spread on top of the brownies. Sprinkle the remaining reese's on top and refrigerate for 2-3 hours before serving.
All images and text ©
Enjoy!
If you like these, you will love:

thin mint brownies, german chocolate brownies and best chocolate chip cookies.