Rich and decadent marshmallow brownies topped with gooey marshmallows and a chocolate frosting. This tasty treat is nothing short of delicious!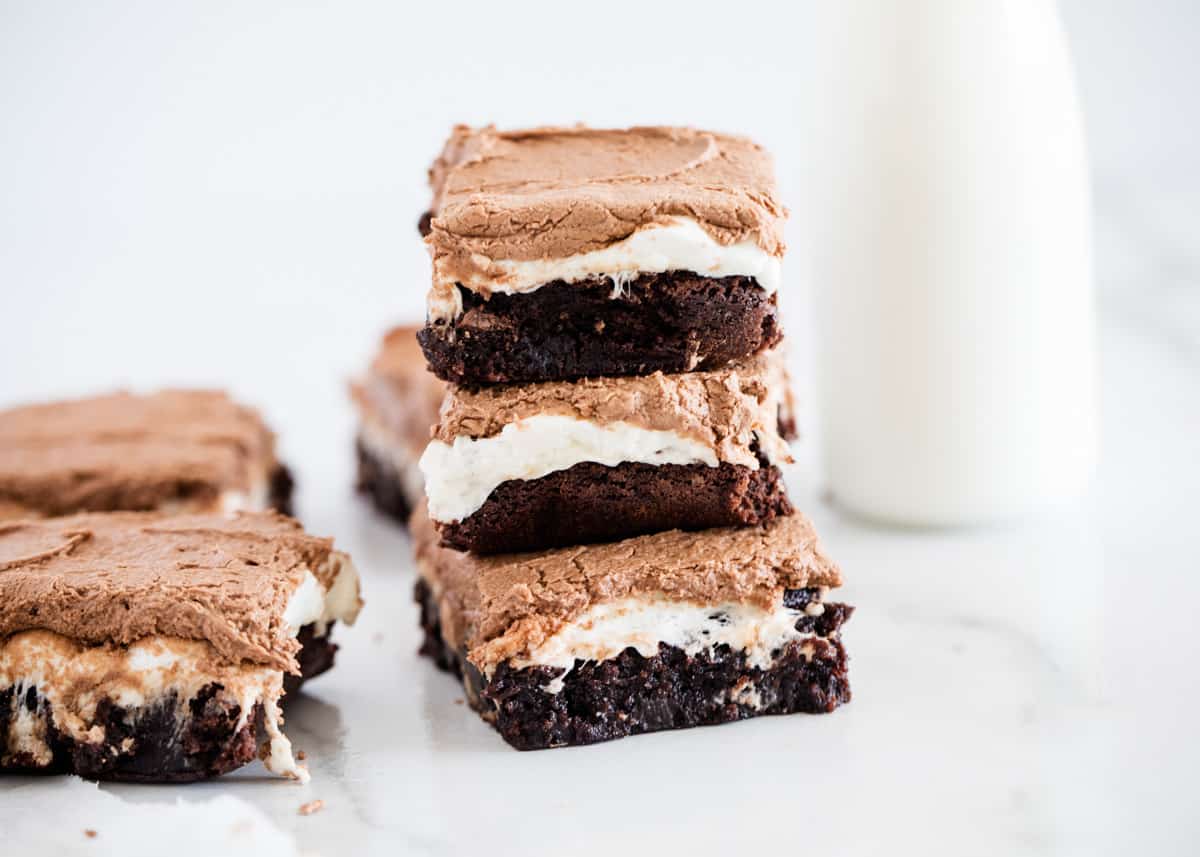 Marshmallow Swirl Brownies
If you are a fan of my s'mores bars, then this dessert is for you! It's the ultimate indulgence and is made with double chocolate and fluffy marshmallows. Once you have a bite, you will be quickly converted!
I remember having these marshmallow brownies (also known as Mississippi mud brownies) at a friend's house growing up. I immediately fell in love after my first bite. I've thought about them ever since and couldn't wait to make them myself. Love finding older recipes!
These brownies are so yummy and pretty much any kids (or adults) dream. They start with a fudge brownie base like these chocolate mint brownies. Top with gooey marshmallows and a chocolate buttercream frosting. Seriously amazing. They're very rich and decadent just like my Oreo brownie, so I prefer to cut them into smaller size squares for serving.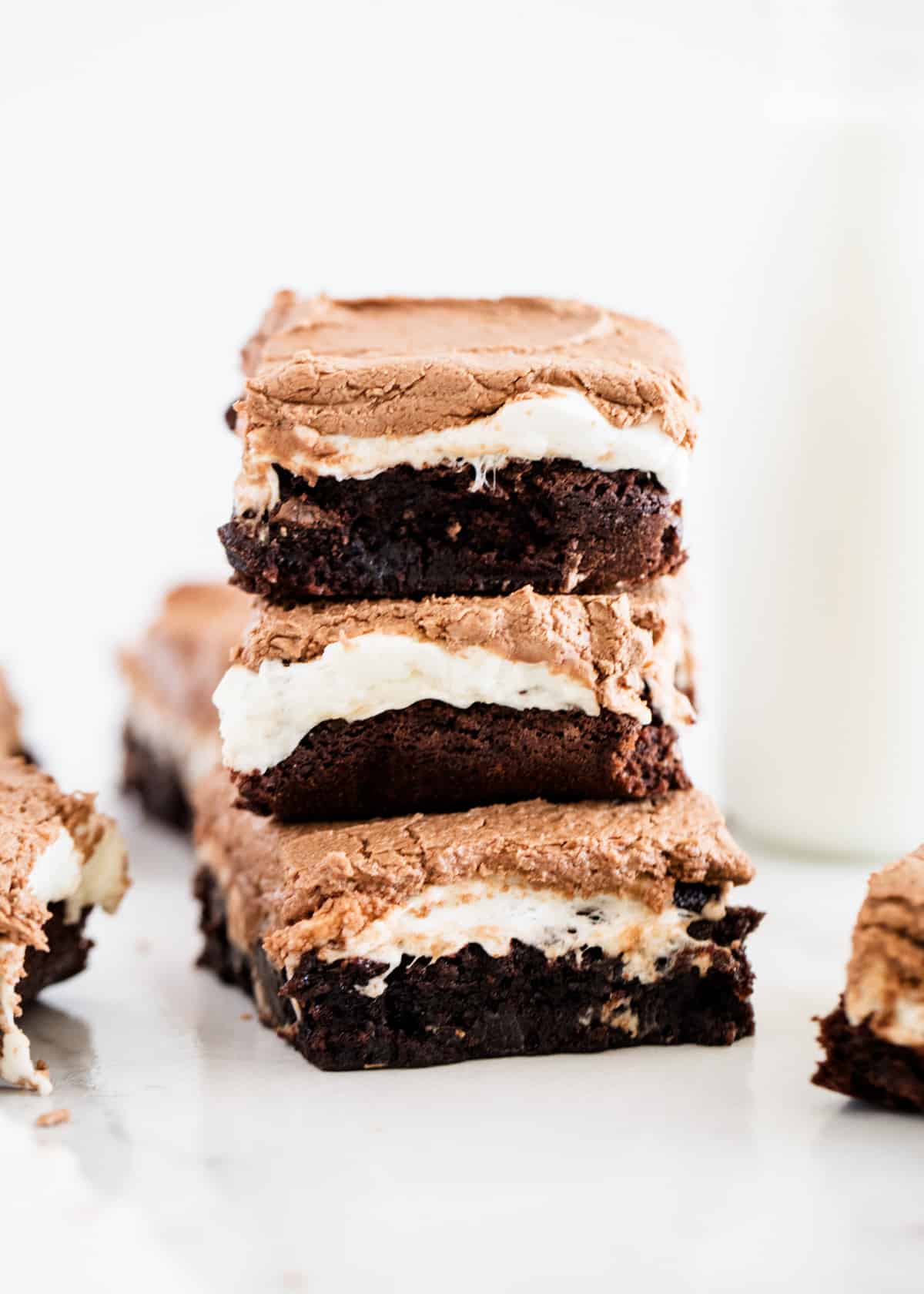 3 Delicious Layers!
These layers are the perfect balance to this delicious dessert! Sink your teeth into the chocolaty frosting that is so creamy! The marshmallow layer is filled with that ooey gooey texture we all love. The brownie layer is a crust or base that holds it all together.
Brownie layer: The base of this delicious dessert is the brownie layer. I use a box of brownie mix to keep it simple. You could always make your own homemade recipe, but I like to save time by using the box mix. You honestly can't tell the difference!
Marshmallow layer: The brownies are then topped with a layer of mini marshmallows. They cook in the oven for just a few minutes until they're puffed up and gooey.
Chocolate frosting layer: The last layer is the chocolate buttercream. It's a simple chocolate frosting that's easy to make and tastes amazing. Spread it on top of the marshmallow layer for the final touch.
How to Make Homemade Marshmallow Brownies
Easily make the three layers separately and layer each one on top of the other! It is a simple dessert that can be made quickly and easily. Each layer brings its own flavor and texture. Combine it all and you have layers of deliciousness!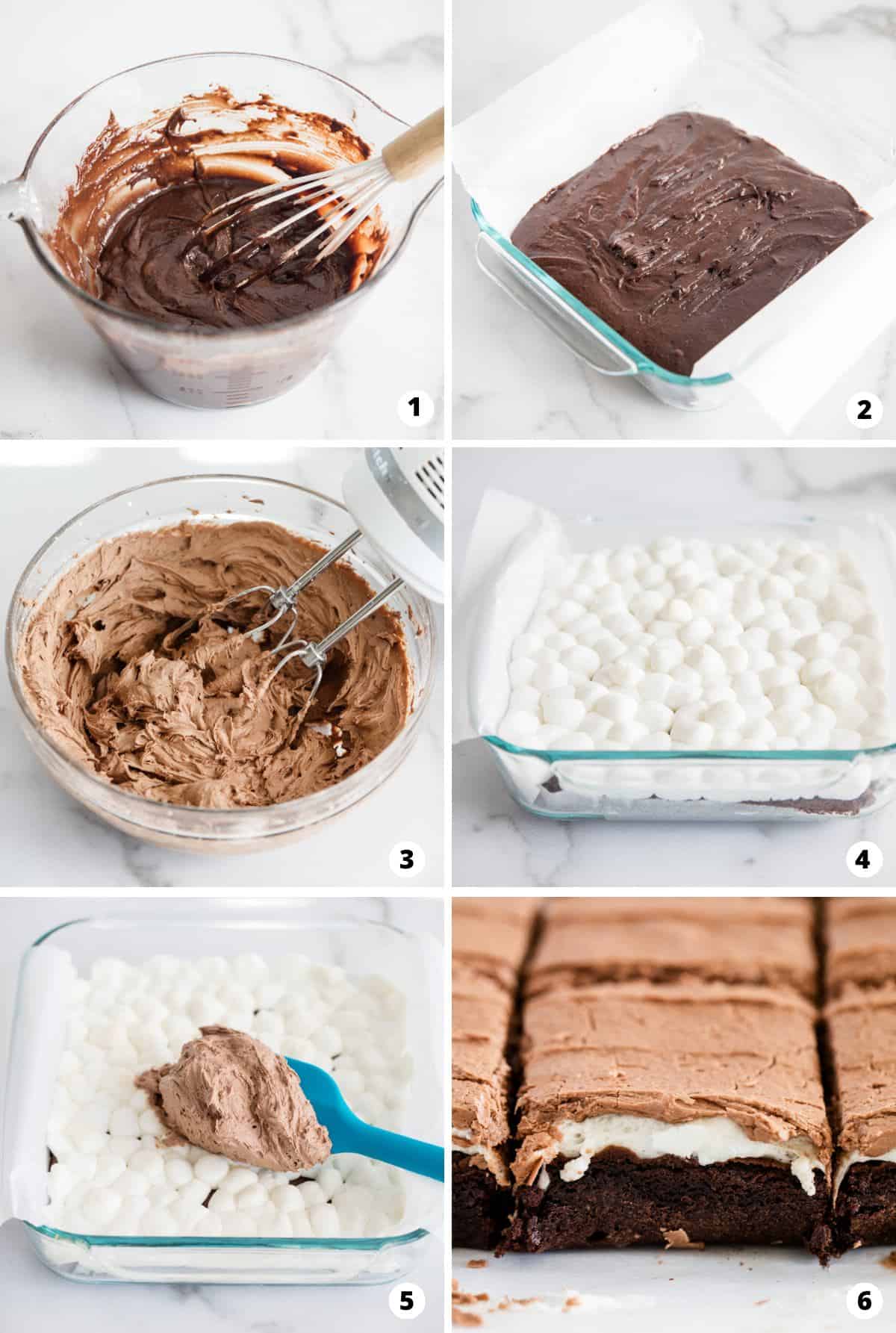 Find the full printable recipe with specific measurements below.
Brownies. Prepare the brownie mix according to the package directions. These are going to be fudgy chocolate brownies that are soft and moist. Mix the brownies with water, oil, and large eggs according to the box package.
Bake. Pour the brownie batter mixture into a greased 9×9 inch pan and bake for 30 minutes, or until almost done.
Mix. Beat the frosting ingredients in a large bowl with an electric mixer until smooth and creamy. You can use a whisk too.
Marshmallows. Remove the brownies from the stove, then evenly sprinkle the mini marshmallows on top. Bake for about 3 minutes, or until the marshmallows have puffed up. Remove from oven and let cool.
Spread. Place a few spoonfuls of the frosting on top of the marshmallow layer and spread with a spatula.
Slice and serve. I like to cut the brownies in 5×4 rows with a plastic knife. Make them as big or as little as you need.
Baking Tips
Follow these helpful baking tips to make the best marshmallow brownies! Make them thick or thin, add extra chocolate, and make sure not to overbake are a few tips that help perfect these brownies. Homemade marshmallow brownies are amazingly delicious!
Line pan. I like to line my pan with parchment paper and lightly grease it to prevent the marshmallows from getting stuck to the pan.
Thick or thin. Use a 9×9″ baking dish for thicker brownies and a 9×13 inch baking dish for thinner brownies.
Extra marshmallows. If using a 9×13″ pan, I'd recommend adding an extra cup of marshmallows and doubling the frosting.
Chocolate lovers. Next, add 1/2 cup dark or milk chocolate chips to the brownie batter for even more chocolate flavor.
Slicing. Use a plastic knife to easily cut the brownies and wipe them clean after each cut. Make sure they've cooled for about 30 minutes before cutting.
Don't overbake! The brownies should be gooey and fudgy. I use the toothpick method to check if they're done. Stick a toothpick in the center of the brownies and it should come out clean.
Recipe FAQs
Can you freeze marshmallow brownies?
Yes! You can freeze marshmallow brownies in an airtight container for up to two months in the freezer.
What happens if you put marshmallows in brownies?
Marshmallows will soften and become gooey in the brownies. You do not want to overbake or the marshmallows will caramelize and harden.
How to cut marshmallow brownies?
Make it fun and slice these brownies with marshmallows into squares or triangles. With your knife slice from corner to corner for triangles or straight from side to side for squares. No matter how they are cut, they will be delicious!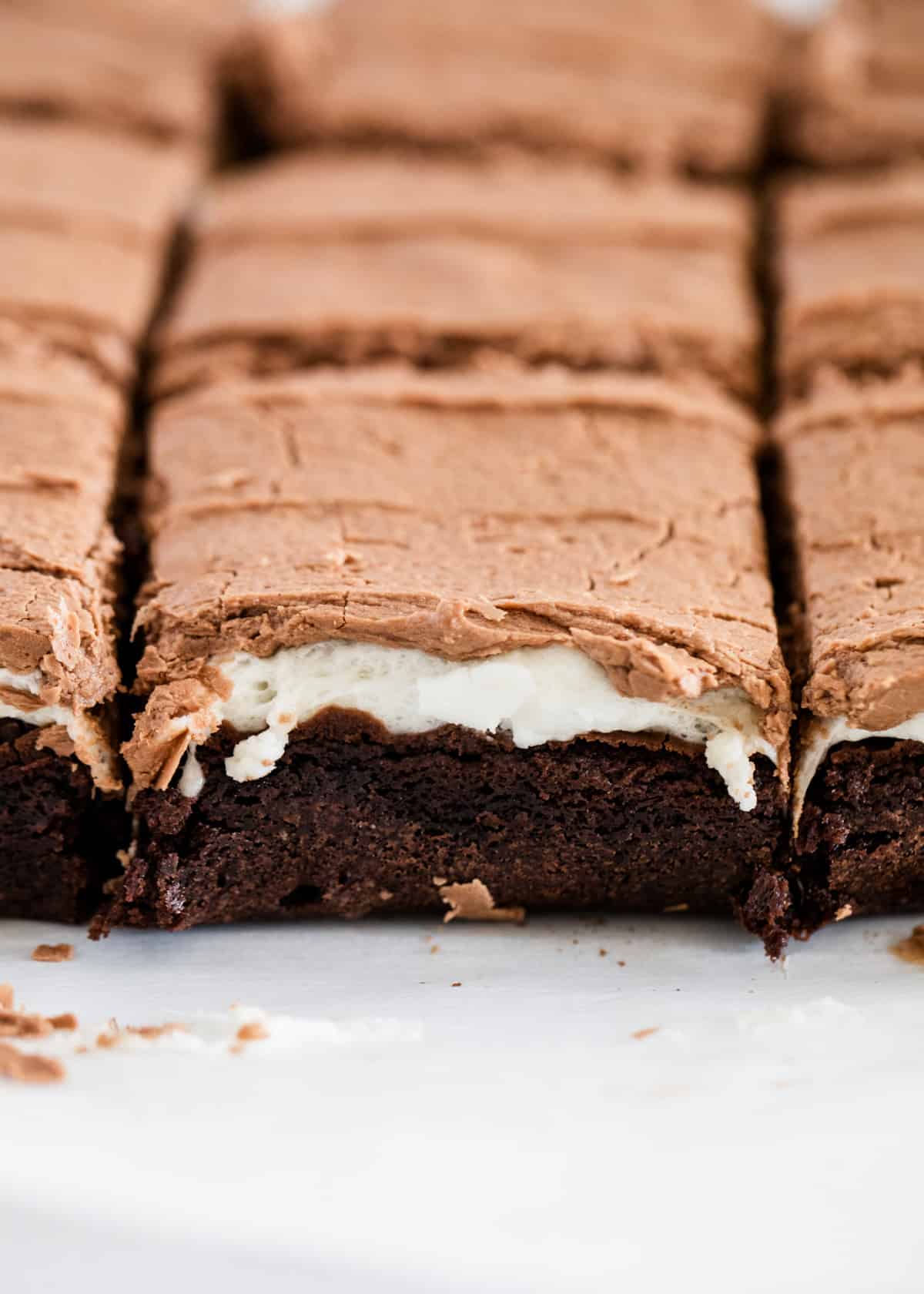 5 star review
"This recipe is so easy and taste amazing! Definitely recommend for a fun family dessert!!!"

-Lyddian
Storing Chocolate Marshmallow Brownies
These marshmallow brownies are simple to store. Place in an airtight container and store at room temperature or in the refrigerator. Enjoy within the week!
More Brownie Recipes
HUNGRY FOR MORE? Subscribe to my newsletter and follow on Facebook, Pinterest and Instagram for all the newest recipes!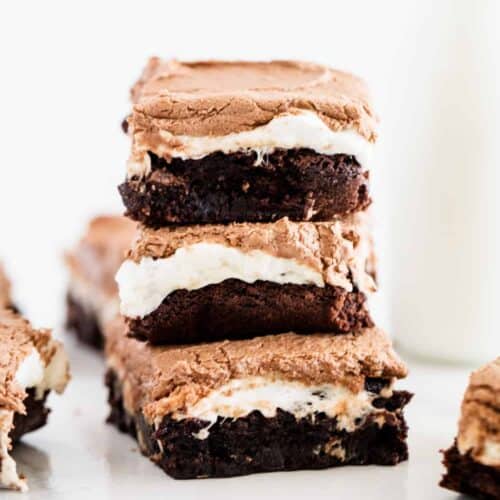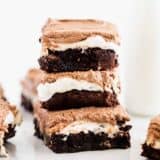 Marshmallow Brownie Recipe
Rich and decadent marshmallow brownies topped with gooey marshmallows and a chocolate frosting. This tasty treat is nothing short of delicious!
Ingredients
18 ounce box brownie mix , plus ingredients on box
2 cups mini marshmallows , more if needed
Instructions
Make the brownies:
Preheat the oven to 350ºF. For thick brownies, spray a 9×9" pan with non-stick spray or line with parchment paper. If you'd like to make thinner brownies, use a 9×13" pan.

Prepare the brownie mix according to the package directions. Then pour batter into the prepared pan. Bake for 30 minutes, or until almost done. Do not overcook. Remove from oven and then sprinkle marshmallows over the top so that they are covering the brownies in an even layer. Bake an additional 3 minutes, or until the marshmallows have puffed up. Remove from oven and allow to cool.
Make the frosting:
Combine the butter, powdered sugar, cocoa powder, milk and vanilla in a large bowl. Beat with electric beaters until smooth. Add more milk or powdered sugar if needed to reach a smooth and creamy frosting. Then place spoonfuls on top of the marshmallows once cooled. Gently spread evenly.

I like to cut the brownies in 5×4 rows with a plastic knife.
---
Notes
If you make in a 9×13″ pan, you may want to double the frosting and use an extra cup of mini marshmallows. Make sure to use fresh marshmallows for optimal flavor. If you want to make these brownies even richer, add 1/2 cup chocolate chips in the brownie batter before baking.
Nutrition
Calories: 185kcal | Carbohydrates: 33g | Protein: 1g | Fat: 5g | Saturated Fat: 2g | Cholesterol: 6mg | Sodium: 99mg | Potassium: 6mg | Fiber: 1g | Sugar: 24g | Vitamin A: 71IU | Calcium: 2mg | Iron: 1mg
Nutrition provided is an estimate. It will vary based on specific ingredients used.
Did you make this recipe? Don't forget to give it a star rating below!