These morning glory muffins are hearty, healthy and delicious! They are jam packed full of fresh veggies and perfect for freezing for later.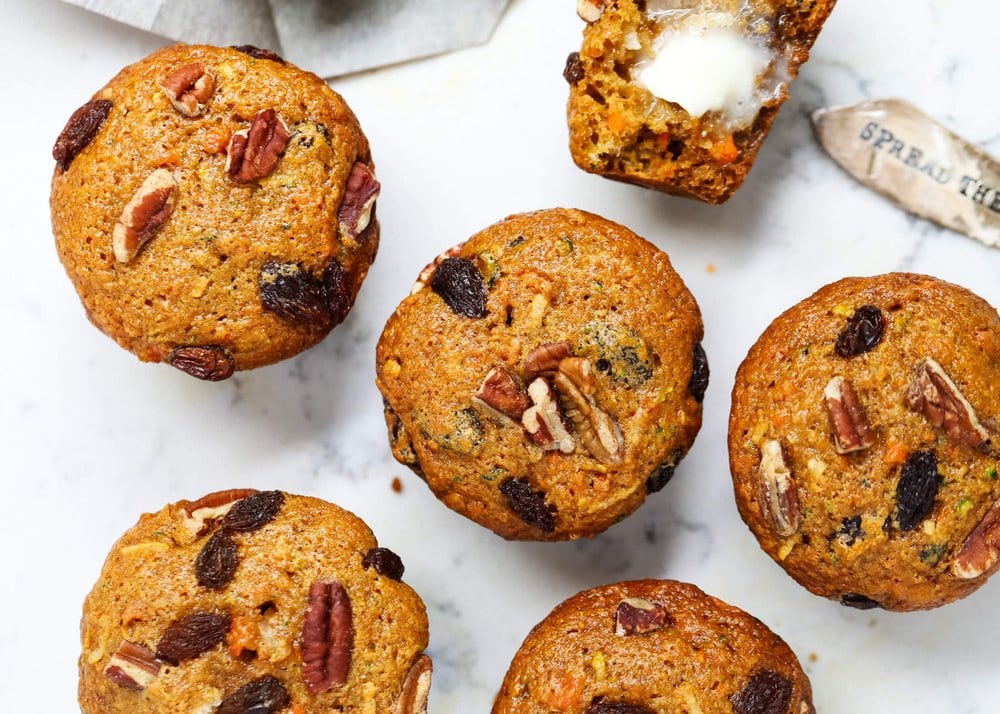 My Favorite Morning Glory Muffins
If you're looking for a healthy snack idea to enjoy throughout the week, these muffins are perfect for you. I made a big batch over the weekend and my family already devoured them. I love to double the recipe and keep half in the freezer for easy breakfasts or after school snacks.
These morning glory muffins are pretty customizable and you can add in your favorites or leave out things you don't like. I usually make half the batch without raisins and walnuts for my kids. They like them plain (yet little do they know, they're still getting veggies)! My 2 year old gobbles these right up! She absolutely loves them. My oldest knows there's vegetables in there, but he'll still eat them with a little bit of butter or apple butter.
I love everything in mine, though! Plus with a little butter on top (sometimes even a little extra drizzle of honey). YUM! Now don't get me wrong…they aren't super sweet like banana bread muffins or lemon blueberry muffins, but they have just the right amount added in. Plus they are much healthier like my applesauce muffins!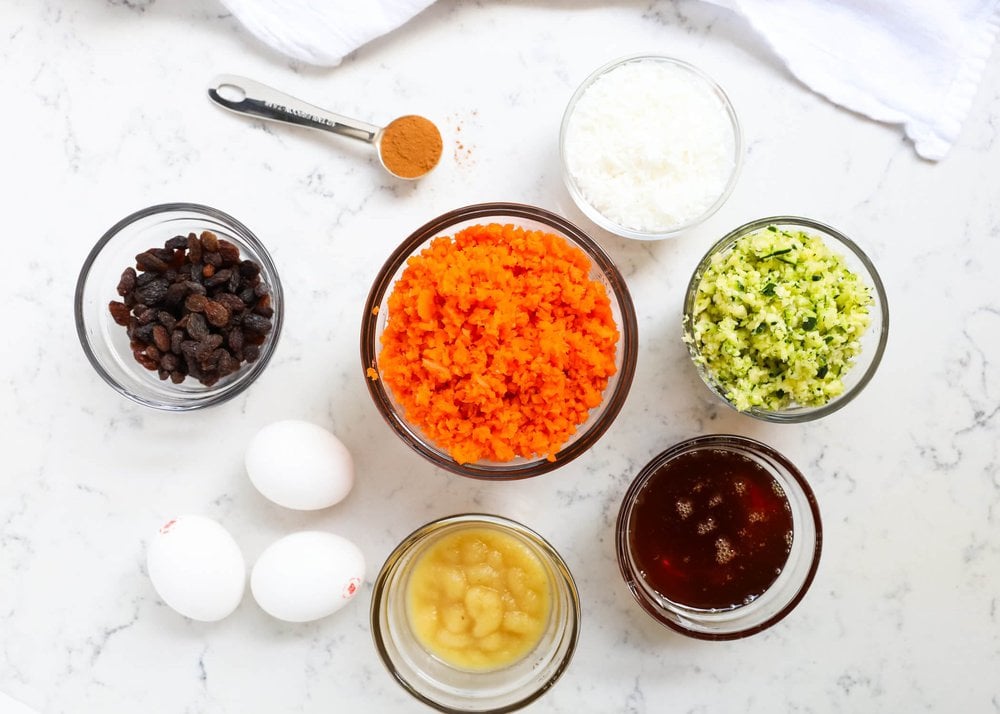 What is a Morning Glory Muffin?
If you've never heard of morning glory muffins before, they are hearty muffins that are packed with fruits and veggies. Some common ingredients used when making them are carrots, raisins, coconut, walnuts and cinnamon. Many recipes call for grated apples, however I used shredded zucchini because I had some extra on hand. Either work just fine! They are hearty and healthy, while containing the perfect touch of sweetness.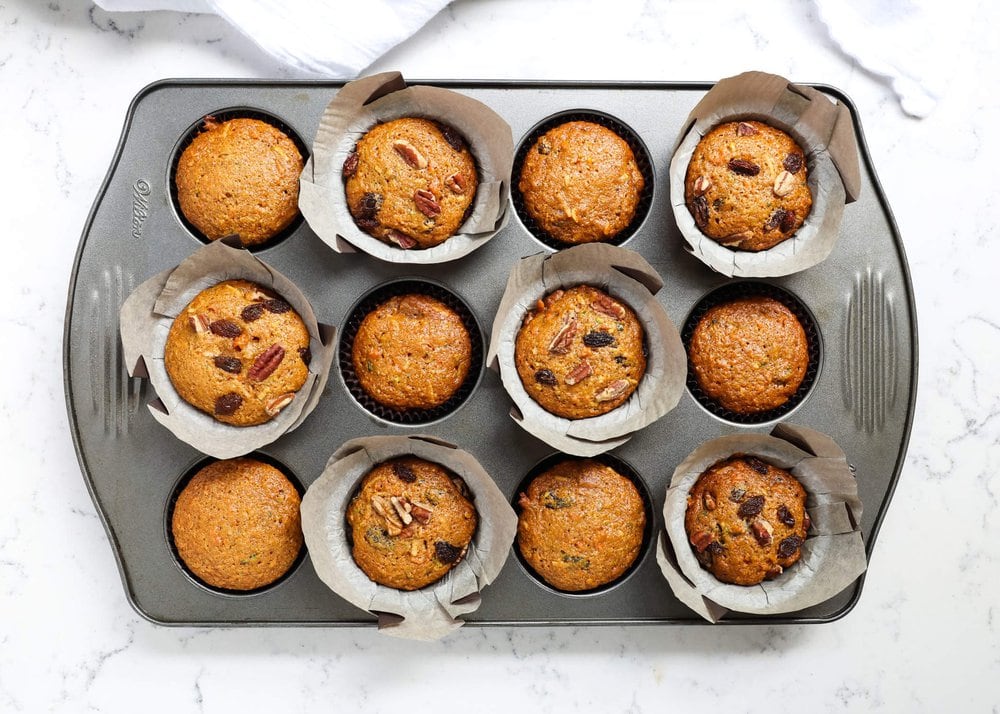 How to Make Morning Glory Muffins
MIX. Whisk together the dry ingredients in a large bowl (flour, sugar, cinnamon, baking soda and salt). Then mix in the shredded carrots, zucchini, eggs, applesauce, honey and vanilla until just combined. Then gently fold in any extras like shredded coconut, chopped nuts or raisins.
FILL. Fill each muffin cup with batter using a large baking scoop or 3 Tablespoons (a little less than 1/4 cup). Each cup should be filled about 2/3 of the way full. It helps to line your muffin pan with liners so that the muffins don't stick. If you aren't using liners, make sure to generously spray your pan with nonstick spray.
BAKE. Bake in the oven at 350°F for about 20 to 22 minutes, until the tops are lightly golden. To double check if they're ready, poke a toothpick in the center. The toothpick should come out clean. If it's not, let them bake for a few more minutes and try again. Remove from the oven and let cool in the pan for a few minutes. Then move to a cooling rack to cool completely.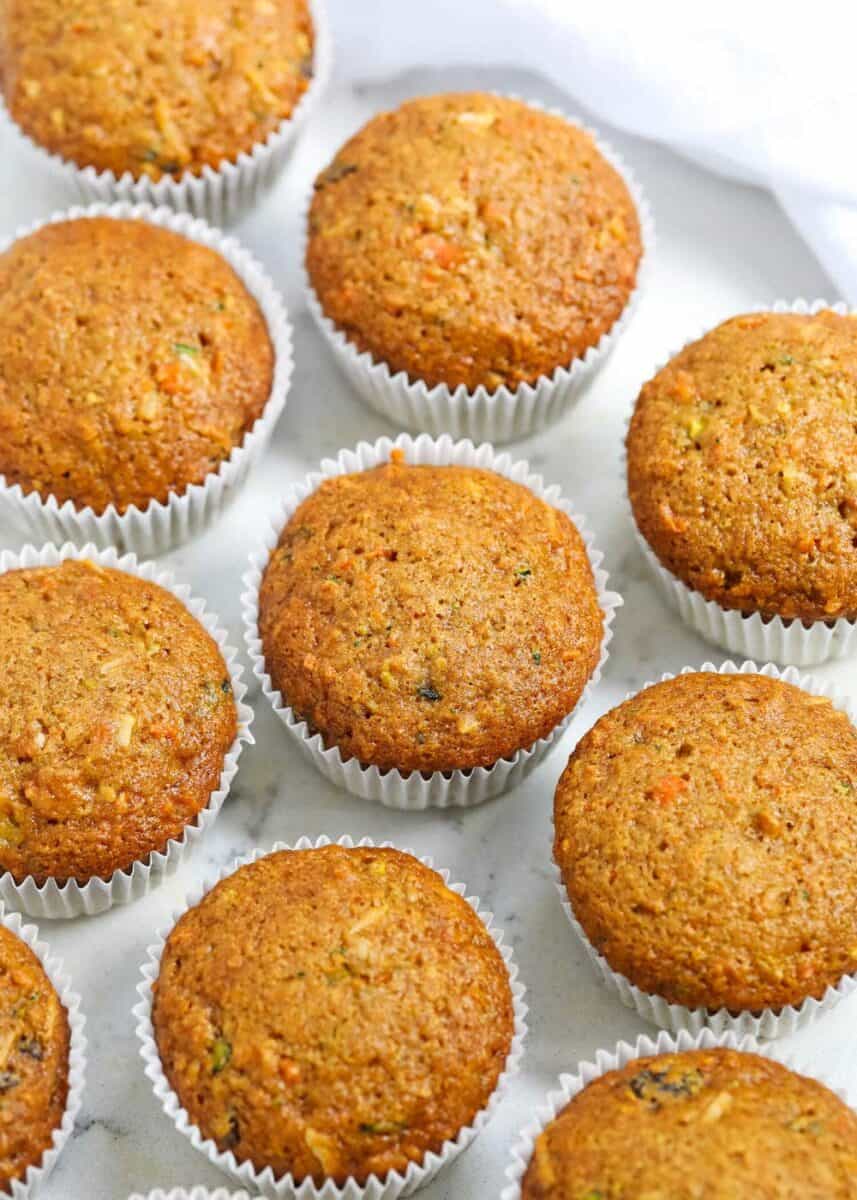 Baking Tips + Variations
Grating the veggies. I use a food processor to quickly grate the carrots and zucchini.
Zucchini. Make sure all of the water is removed from the grated zucchini before mixing it in so that the muffins aren't soggy. I like to put the zucchini in a paper towel or cheesecloth and ring it out over the sink.
Grated Apple. You can substitute grated apple for zucchini if preferred. Both taste delicious.
Applesauce. I used applesauce in place of oil to cut back on calories and make them a little healthier. It's a great substitution and still adds the perfect amount of moisture to the muffins.
Orange zest. For even more flavor, add in 1 teaspoon of orange zest to the batter.
Extras. I like to sprinkle a few extra nuts and raisins in each muffin cup right before baking.
Don't overmix. Make sure to mix just until combined. Over mixing causes the muffins to dry out and lose their moisture.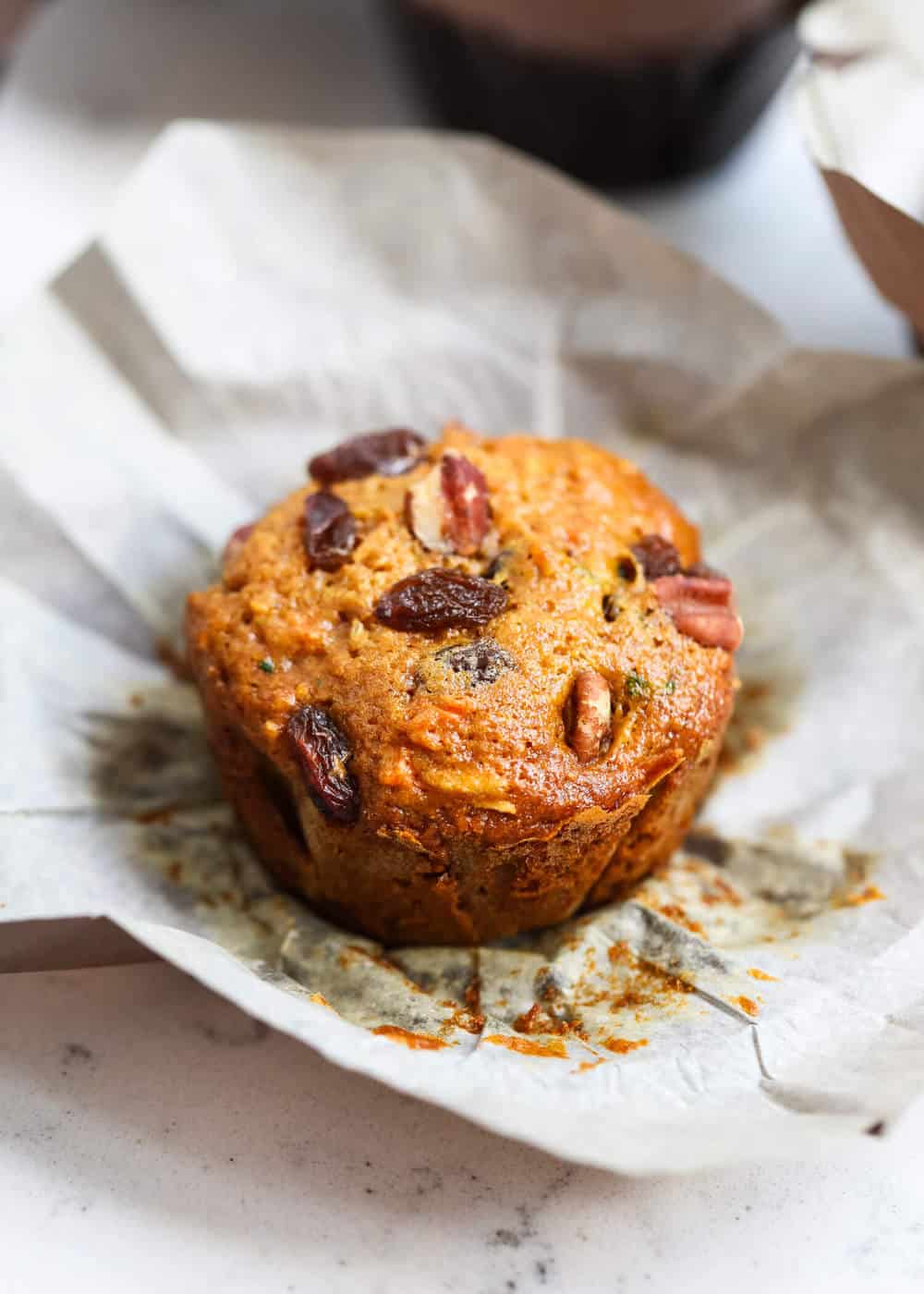 Storing + Freezing
To store: Place muffins in an airtight container or zip top bag. The muffins will keep for about 3 days at room temperature, or about a week in the fridge.
To freeze: Let them cool completely, then place in an airtight container or freezer bag. They will keep for a couple of months in the freezer. To reheat, place in the microwave or toaster oven and heat until warm.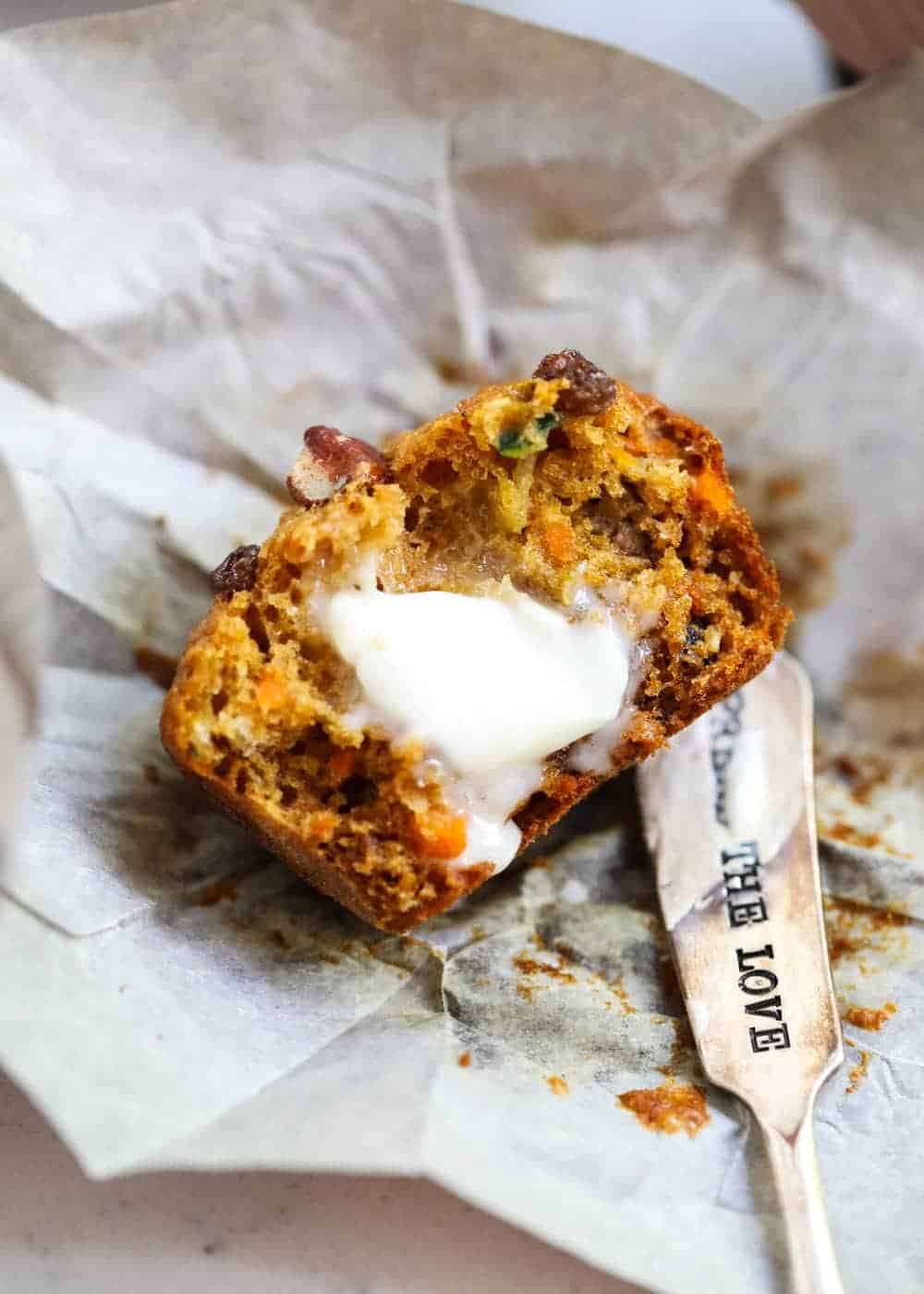 More Healthy Snack Ideas
HUNGRY FOR MORE? Subscribe to my newsletter and follow on Facebook, Pinterest and Instagram for all the newest recipes!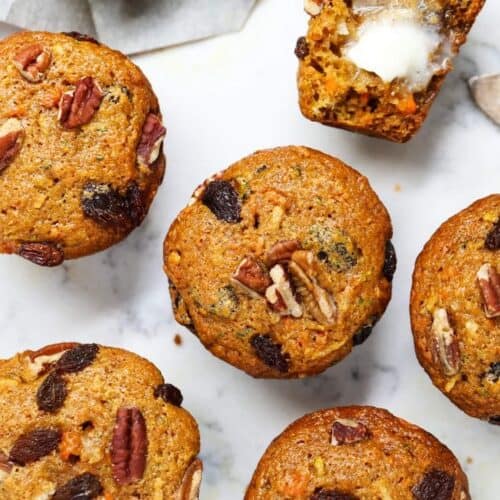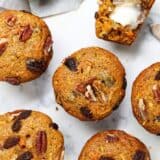 Morning Glory Muffins
These morning glory muffins are hearty, healthy and delicious! They are jam packed full of fresh veggies and perfect for freezing for later.
Ingredients
1 ¼ cups all-purpose flour
1 cup whole wheat flour , can sub for all-purpose
¾ cup granulated sugar
½ Tablespoon ground cinnamon
2 teaspoons baking soda
½ teaspoon Kosher salt
2 cups grated carrots
1 cup grated zucchini , water removed (can substitute for grated apples)
3 large eggs
2/3 cup applesauce
½ cup honey
2 teaspoons vanilla extract
½ cup shredded sweetened coconut , optional
½ cup chopped walnuts or pecans , optional
¾ cup raisins or dried cranberries , optional
Instructions
Preheat oven to 350°F. Line a muffin pan with muffin liners or use a silicone muffin pan.

Whisk together the flour, sugar, cinnamon, baking soda and salt in a large bowl. Stir in the carrots, zucchini (or apple), eggs, applesauce, honey and vanilla. Mix just until combined. Add the coconut, nuts and raisins (or cranberries) if desired.

Using a large baking scoop or 3 Tablespoons (a little less than 1/4 cup), fill each muffin cup.

Bake for 20-22 minutes, or until a toothpick comes cleans. Remove from oven and let cool for 2 minutes in the pan. Then remove to a cooling rack.
---
Notes
Tip: To grate the carrots and zucchini quickly I used a food processor.
Nutrition
Calories: 145kcal | Carbohydrates: 27g | Protein: 2g | Fat: 3g | Saturated Fat: 1g | Cholesterol: 20mg | Sodium: 158mg | Potassium: 147mg | Fiber: 2g | Sugar: 13g | Vitamin A: 1820IU | Vitamin C: 1.9mg | Calcium: 16mg | Iron: 0.9mg
Nutrition provided is an estimate. It will vary based on specific ingredients used.
Did you make this recipe? Don't forget to give it a star rating below!