Learn to make the best peach pie with the option of a double crust or single with a crumble topping. A homemade (or store-bought) buttery flaky golden crust filled with a fresh peach filling, makes this showstopper dessert amazing! Make-ahead and storage tips included.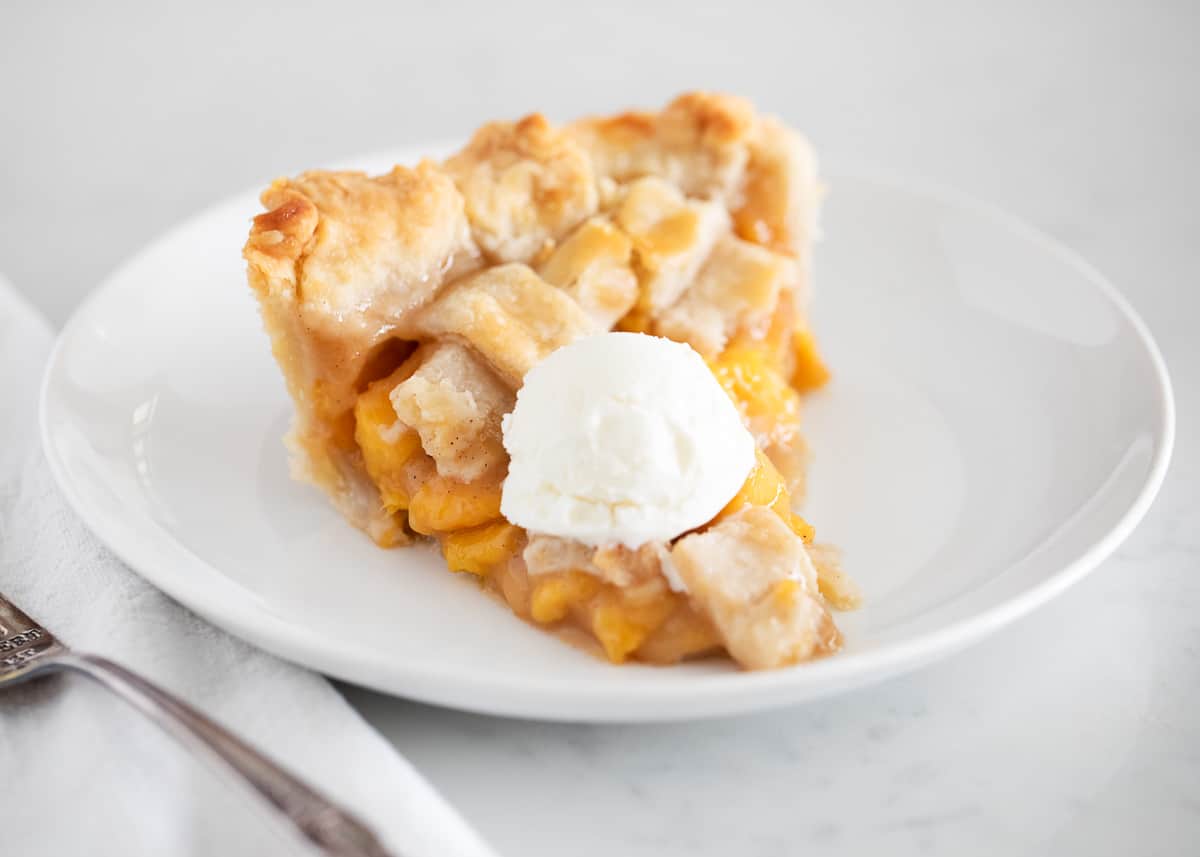 Favorite Summer Pie
This peach pie is one of my favorites to make for the 4th of July. It is so delicious! You'll love not only the flavors of the delicious peach pie filling but also the texture of a buttery, flaky crust that comes from this easy pie crust recipe. It's an easy-to-follow recipe that will guide even the newest bakers to presenting your guests with a freshly baked peach pie you can be proud of! It's the perfect crust to filling ratio which will give everyone the ultimate taste experience.
When I feel like getting fancy, I use a lattice pie crust. On the days when I'm serving a casual dessert for a family BBQ or weekend dinner, I sometimes opt to use just a single crust and add a streusel topping or crumble topping instead. This recipe gives you both options. Either way, it's a beautiful crowd-pleaser of a dessert that is just as delicious when served room temperature with whipped cream as it is served warm with a scoop of vanilla ice cream.
Although fresh peaches are amazing and should be used whenever possible, this recipe works with canned peaches and frozen peaches too. This means, peach pie all year round! Peach pie for Christmas? Uh, I think I'll stick to my apple cranberry pie, but you get the idea!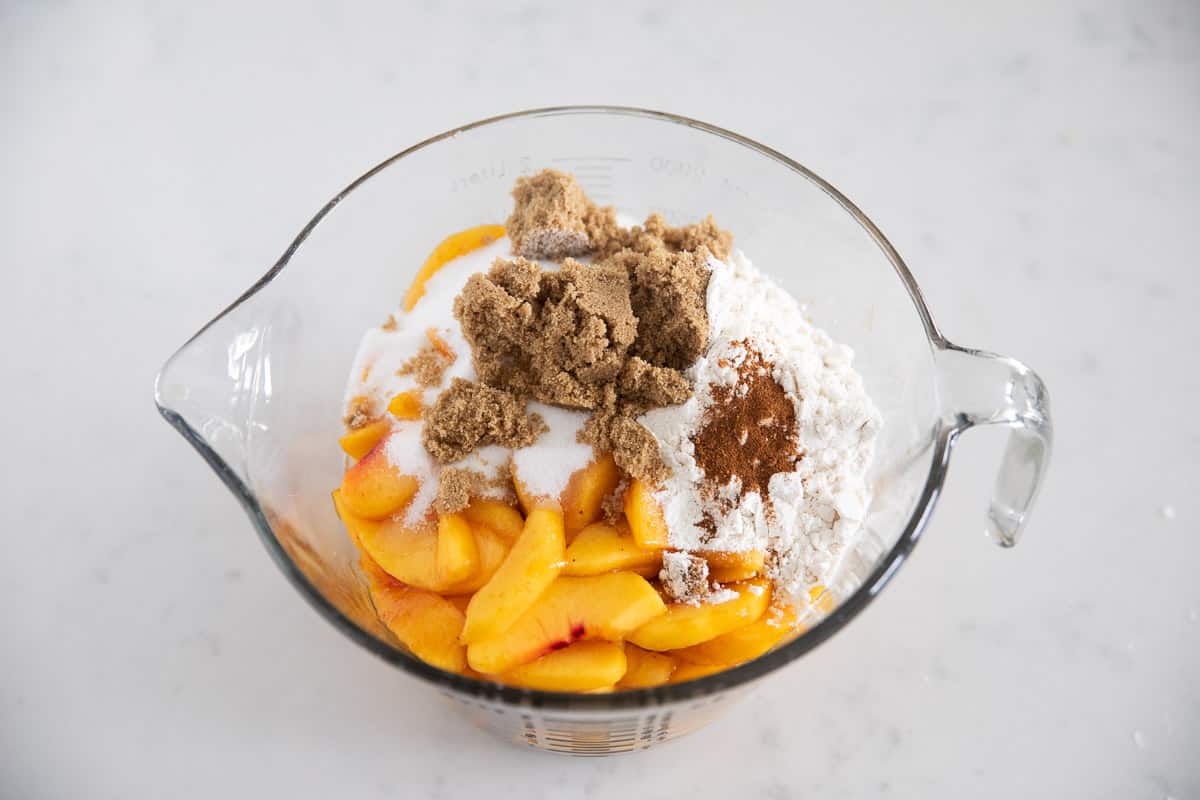 Best Type of Peaches to Use
Ripe peaches are great. They're sweet, juicy, and have the perfect texture. You want to be careful not to pick peaches that are overripe because then you run the risk of mushy peach filling that doesn't hold its peach shape. If you had to decide on whether to use an overripe or an underripe peach, go with a slightly underripe one. The baking will bring out their natural sugars and soften them up anyway.
Can I use Frozen Peaches?
Absolutely you can. Allow them to thaw slightly and drain any excess liquid. You can also use canned peaches, as long as you drain all of the liquid and juice it comes in. You want to avoid creating too much liquid as best as you can.
How to Lattice your Pie Crust
Making a lattice pie crust is a nice way of presenting a very pretty pie. It's not at all complicated, it just takes a bit of extra effort, and it's totally worth it!
While the bottom crust is blind baking in the oven, roll out the top crust onto a floured flat surface.
Using a pizza cutter, cut the dough into 1″ strips.
Follow recipe directions up until you've filled the pie crust with the filling.
Starting with the longest strip, place it vertically across the middle of the pie on top of the filling.
Continuing placing strips vertically across on either side of that center strip, leaving room in between each strip.
Start placing strips horizontally, one by one, beginning at the center.
Weave over and under as you would imagine a basket weave, lifting up strips as needed as you move along.
Continue until all the strips are used. Cut any really long excess strips, and pinch any bit of excess to the bottom crust. Seal it before brushing with the egg white.
Baking Pie with a Crumb Topping
Sometimes it's nice just to have a peach crumble pie with a simple and delicious crumble topping. A blend of buttery, crispy cinnamon sugar to top everything off. Combine 6 Tablespoons old-fashioned oats, 1/3 cup brown sugar, 1/4 cup all-purpose flour, 1/4 tsp ground cinnamon, 4 Tablespoon of butter in a bowl until coarse crumbs are formed. Sprinkle over the peach filling before baking. Easy peasy!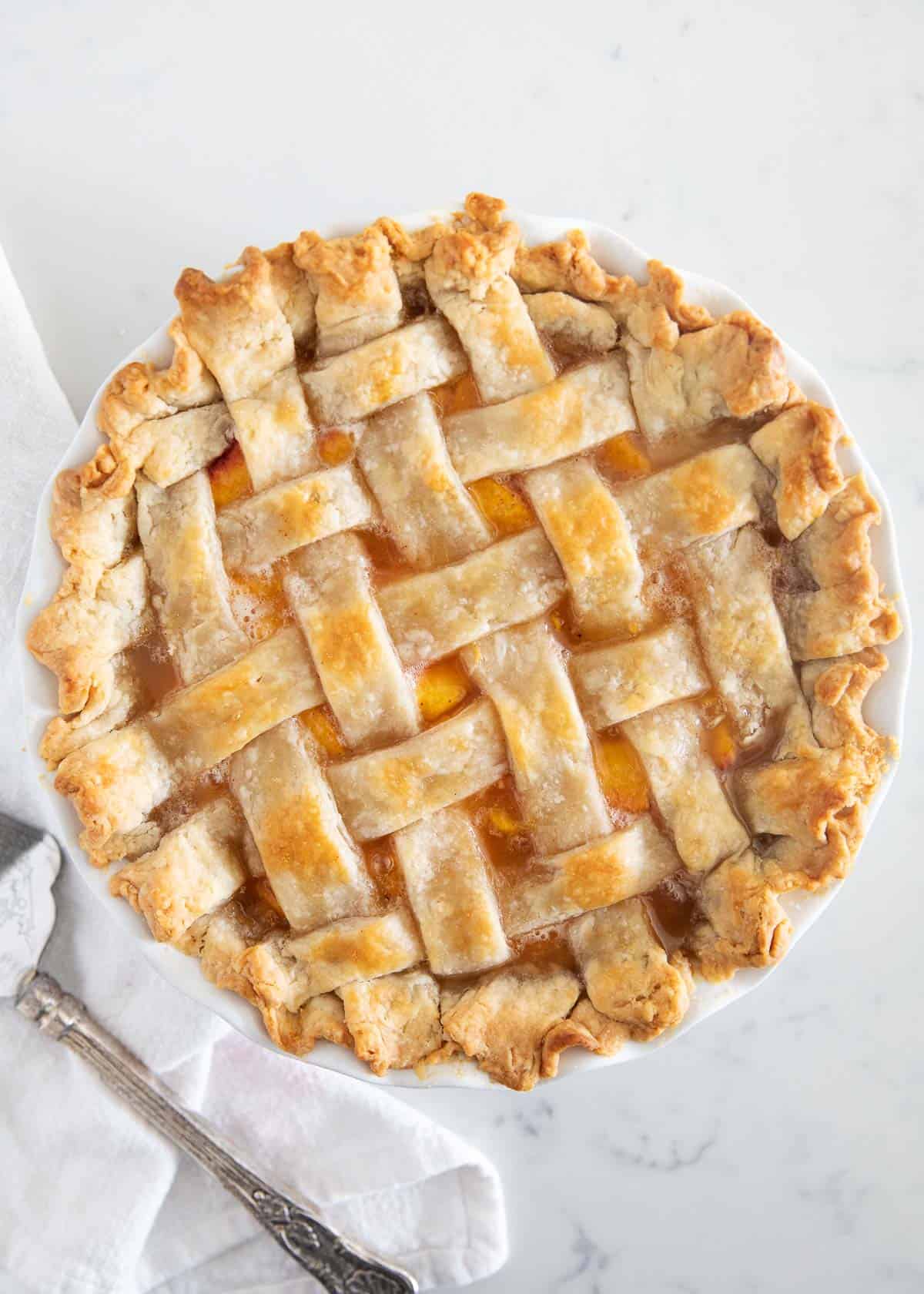 Baking Tips & Variations
The crust can be made a few days ahead of time. If you have a frozen pie crust thawed already, you're ahead of the game. It's always nice to have frozen crust at the ready.
Make the filling ahead of time as well. It will keep for about 3-5 days in the fridge, but also frozen for months if you happen to have some you made previously.
Blind bake your crust before adding the filling. This will ensure a nice crusty bottom that doesn't get soggy.
Use a store-bought crust if you prefer.
Brush the egg wash onto the crust before baking to give it a nice golden silky appearance.
Allow to cool before serving. Allowing it to set will help contain the structure of the pie, and not fall apart on you.
This recipe works with other fruits, including strawberry, apricot, and apple!
Storing, Freezing, Thawing, & Reheating
To Store: Pie will keep in the fridge for up to 5 days (no way you'll have leftovers by then!). Wrap it in plastic wrap or transfer it to an airtight container to keep fresh.
To Freeze: Once completely cooled, you can freeze this pie for up to 3 months. Make it in the summer and enjoy it again in the fall!
To Thaw & Reheat: Take it out of the freezer and thaw overnight in the fridge. If you enjoy pie at room temperature eat it as is. If you want to reheat, stick it in the oven to heat through. You can also reheat a pie from frozen, it will just take you longer.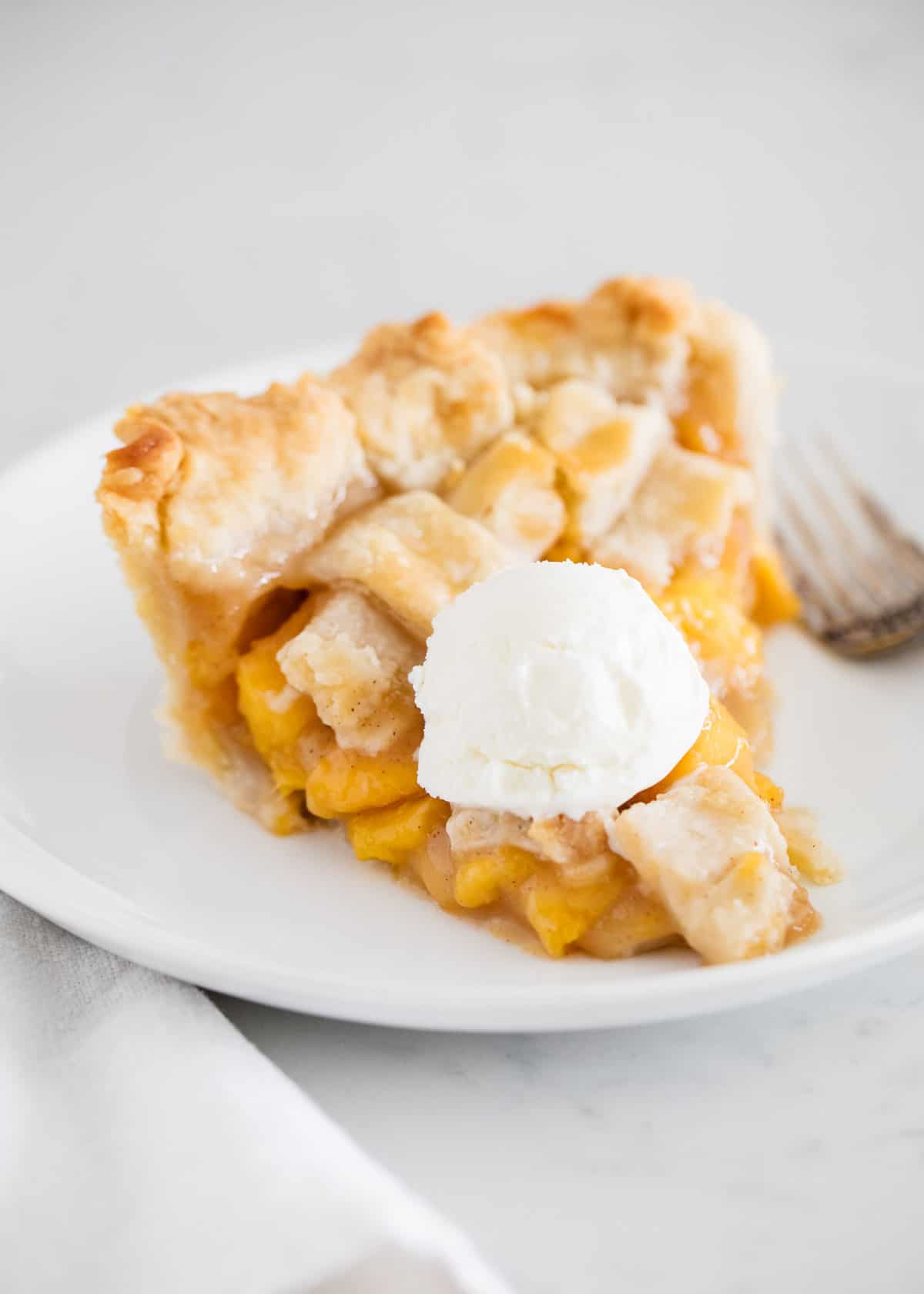 More Summer Desserts
HUNGRY FOR MORE? Subscribe to my newsletter and follow on Facebook, Pinterest and Instagram for all the newest recipes!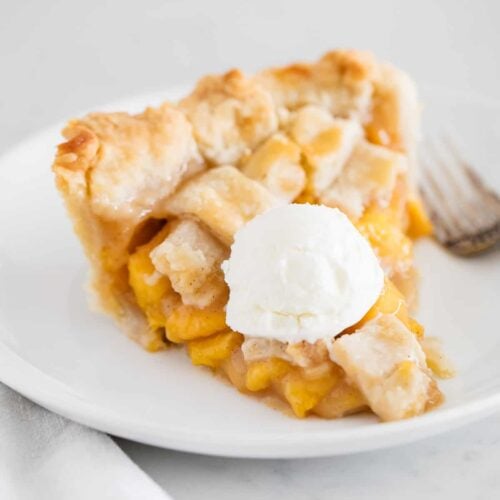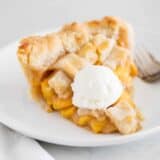 Peach Pie
Learn to make the best peach pie with the option of a double crust or single with a crumble topping. A homemade (or store-bought) buttery flaky golden crust filled with a fresh peach filling, makes this showstopper dessert amazing! Make-ahead and storage tips included.
Ingredients
2 pie crusts , unbaked
5 cups sliced peaches , 7 peaches peeled
¾ cup granulated sugar
¼ cup light brown sugar , packed
⅓ cup corn starch , can substitute for flour
¼ teaspoon ground cinnamon
1 egg white , whisked
1-2 Tablespoons granulated sugar , for topping the crust
Instructions
Preheat oven to 400°F. Place baking sheet in the oven. While the oven is heating up, combine peaches in a bowl. In a separate bowl, mix together the the sugar, brown sugar, corn starch and cinnamon. Then combine with the peaches and stir together.

Roll out pie crust and then place in a 9-10" pie dish. Tuck under the edges and then place foil over the crust and put pie beads or dry beans in the center of the foil. Bake on top of baking sheet for 10 minutes or until lightly golden brown.

Remove pie crust from oven and add the peach mixture on top (leaving any excess juices in the bowl). Then place top crust on top of the peaches (alternatively add the crumb topping below). Brush the egg white on top of the pie crust using a pastry brush and then sprinkle with sugar.

Bake pie for 20 minutes and then reduce heat to 350°F and bake for 40 minutes, or until crust is golden brown. Add foil to cover the crust if it is browning too fast. Remove from oven and allow to cool (1-2 hours) to thicken before slicing.

Serve with fresh whip cream or vanilla ice cream.
---
Notes
Frozen peaches: You can use frozen peaches for this pie. Allow to thaw slightly. Drain any excess juices before adding to crust.
Crumb topping: Alternatively you can add a crumble topping instead of a second layer of pie crust. Here is my recipe below:
6 Tablespoons old fashioned oats
1/3 cup brown sugar
1/4 cup all-purpose flour
1/4 teaspoon ground cinnamon
4 Tablespoon butter
Combine and sprinkle over top of the peaches (instead of adding the top crust) before baking.
Nutrition
Calories: 359kcal | Carbohydrates: 61g | Protein: 3g | Fat: 12g | Saturated Fat: 4g | Sodium: 327mg | Potassium: 89mg | Fiber: 3g | Sugar: 33g | Vitamin A: 36IU | Vitamin C: 2mg | Calcium: 14mg | Iron: 1mg
Nutrition provided is an estimate. It will vary based on specific ingredients used.
Did you make this recipe? Don't forget to give it a star rating below!