This strawberry pie recipe is bursting with flavor from the sweet juice of fresh strawberries! It comes together so easily with little time and effort which makes it the perfect summer dessert!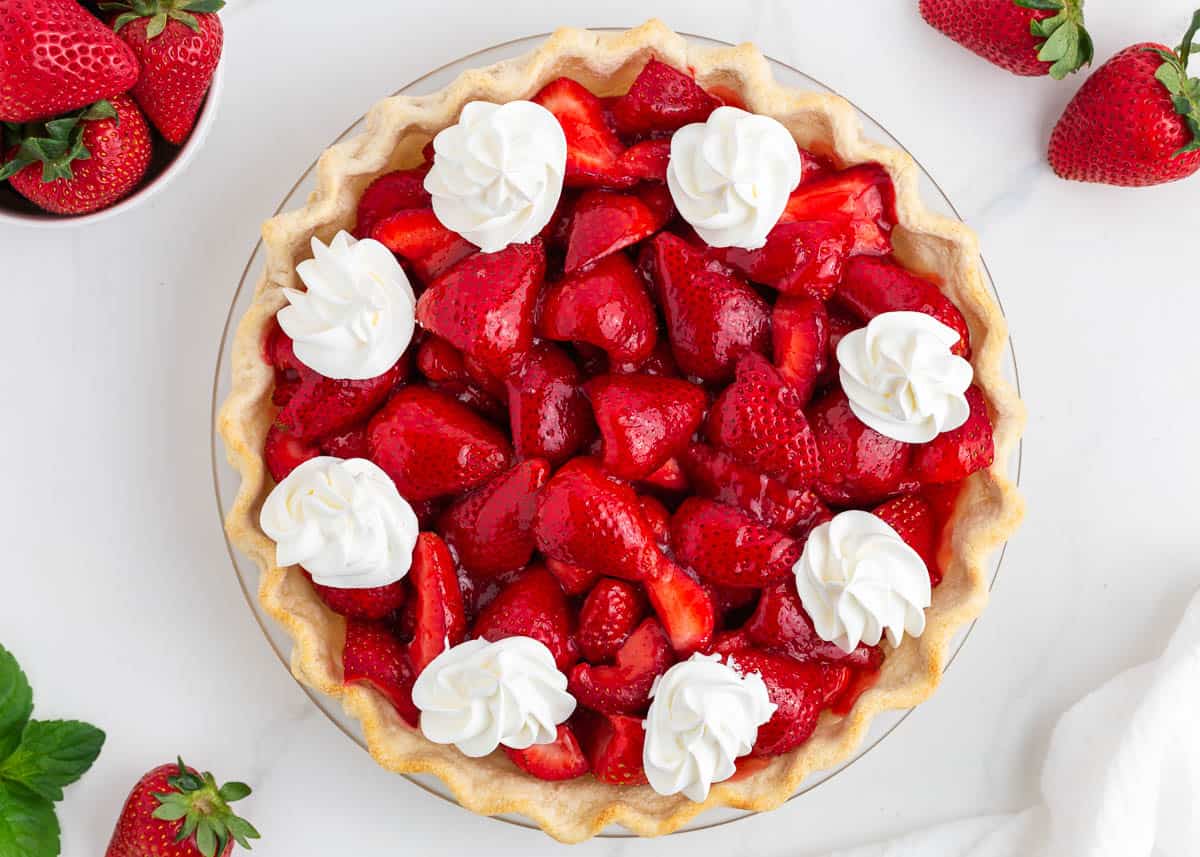 Fresh and Easy Strawberry Pie
A fresh strawberry pie topped with homemade whipped cream is one of the season's best summer berry desserts. It's loaded with fresh juicy strawberries, coated in a sweet strawberry glaze that solidifies and resembles a delicious strawberry jam!
This classic strawberry pie recipe is an easy summer dessert similar to strawberry cream pie but without a layer of cream which makes this one even easier. It comes together in a pinch, using an already-baked pie crust, so it's a quick one to whip up last minute.
A slice of sweet strawberry pie with jello is a great way to top off any meal! It's an impressive dessert perfect for last-minute company, bringing to potlucks and BBQs, and enjoying a piece by the pool!
Why We Love This Strawberry Pie Recipe
Homemade strawberry pie is an easy dessert to put together and serve for any gathering. It is a fresh and delicious dessert that is homemade and from scratch. Kids to adults love this strawberry dessert!
Quick and easy. There are just some days when you need a delicious dessert but don't have the time (or energy) to make anything elaborate.
Kid-friendly. I don't even mean just because they love to eat it, I mean they can help make it too!
An anytime dessert. There's never a wrong time to eat pie!
From scratch. There's something so much more wholesome and heartwarming than eating something store-bought!
What's in This Strawberry Pie Recipe?
The ingredients are simple to have on hand in your pantry and ready to go to make this sweet strawberry pie from scratch. It is simple to prepare the strawberry filling and add it to the homemade crust. This pie is the perfect amount of sweetness!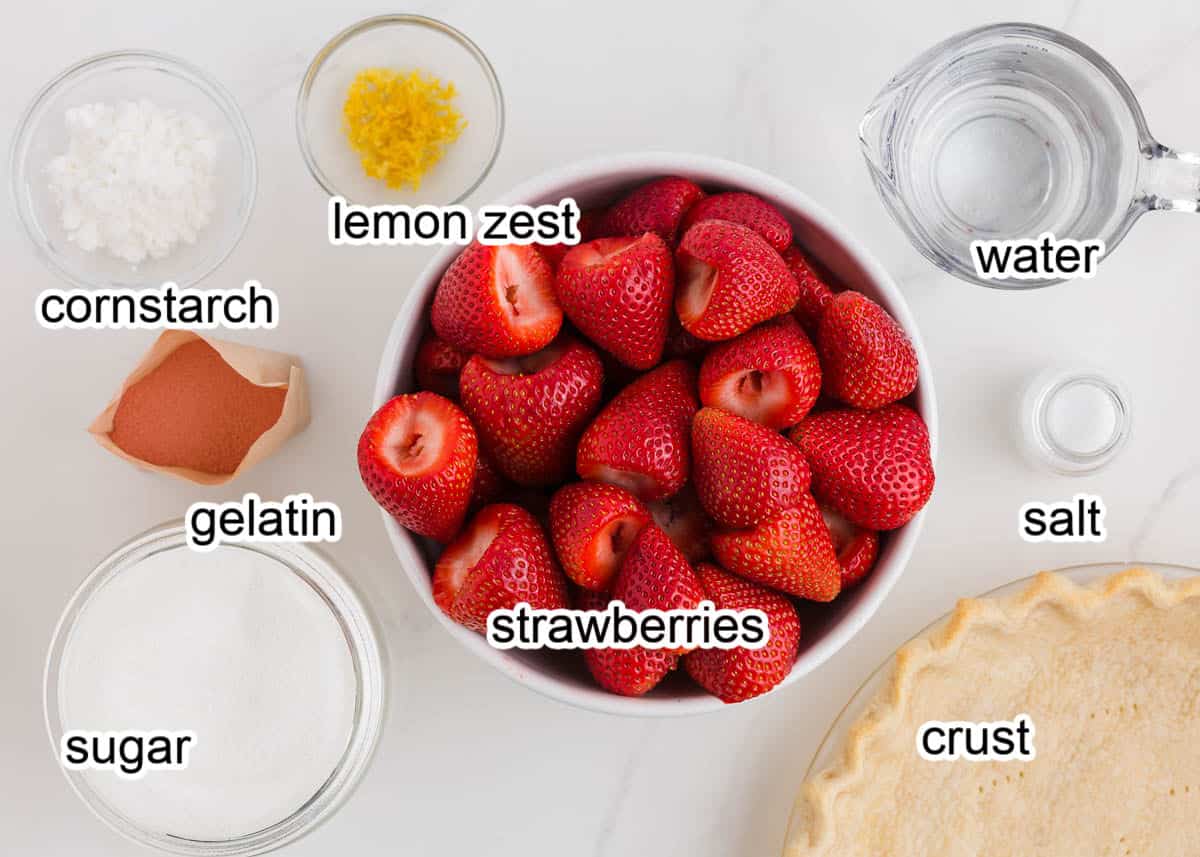 Find the full printable recipe with specific measurements below.
Strawberries: Look for strawberries that are red, plump, and ripe. They should smell sweet. If you grow your own or you've taken a recent trip to the farmer's market, use them up!
Water, granulated sugar, and cornstarch: Used for the base of the mixture for the filling.
Strawberry gelatin: This gets added to the sugar mixture to thicken it even more once it has had a chance to set. Just like Jello!
Salt: A pinch of salt to balance out the sweetness.
Lemon zest: Optional, but it's recipes like this that make knowing how to zest a lemon so handy! It really does add another layer of flavor.
Pie crust: I use my easy pie crust recipe and just used half. I froze the other half for later. You can also make an all-butter pie crust or even use store-bought crust if you prefer.
Whipped cream, for serving: There's nothing like running a juicy strawberry through a dollop of light and airy whipped cream! Homemade or store-bought, it's up to you.
How to Make Strawberry Pie
Make your pie crust, mix together a sweet Jello mixture, slice the strawberries, and combine and set in the refrigerator. It is a simple pie that is filled with fresh strawberries with a delicious Jello sauce over top. It comes together quickly and easily!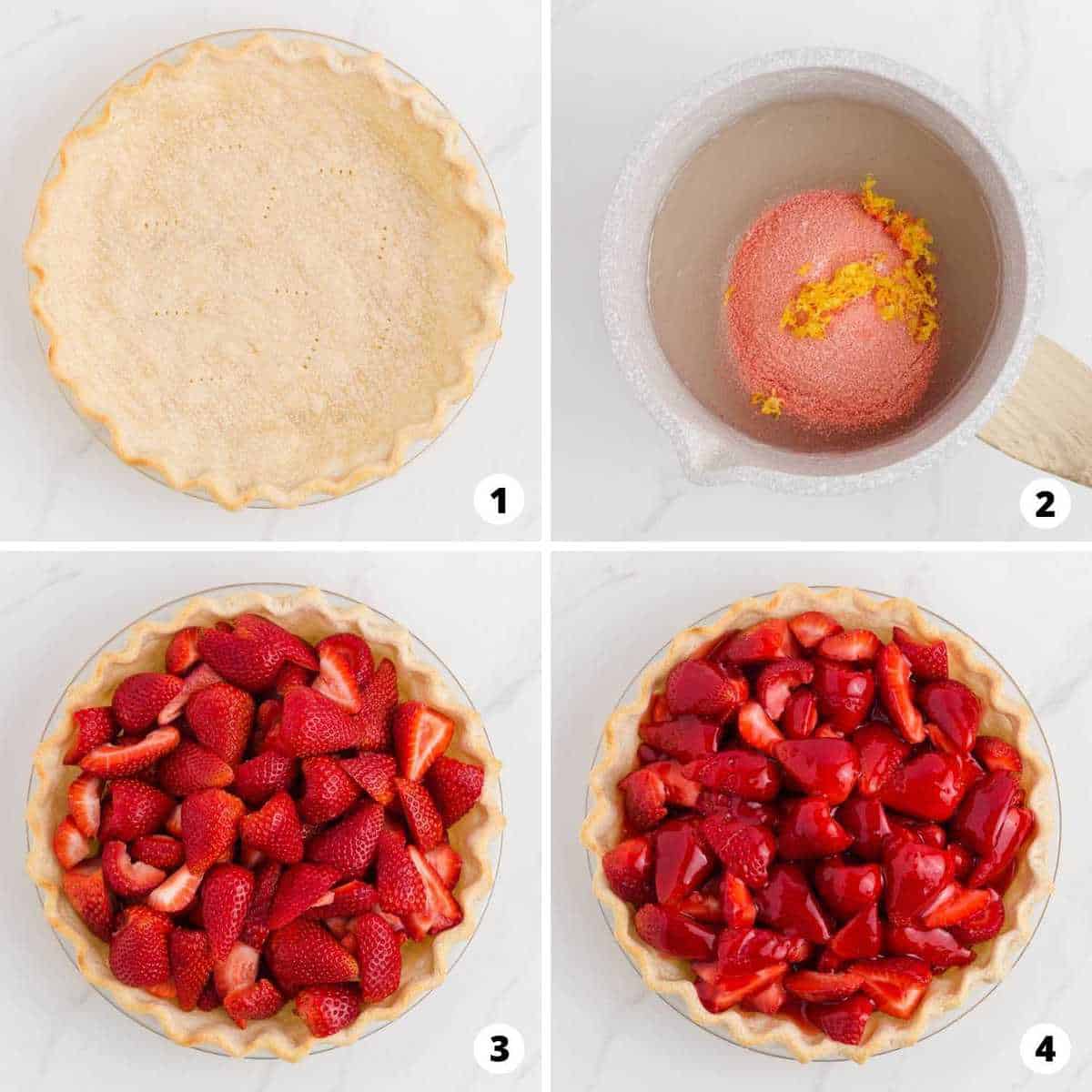 Bake the crust. Whether you're using homemade dough or store-bought dough, poke a few holes in the bottom of the crust using a fork. Do this once the pie dough is in the pie dish.
Boil sauce mixture. Combine water, sugar, and cornstarch in a saucepan over medium heat and bring to a boil, stirring constantly. Once thickened and clear, remove the heat and stir in the gelatin, a sprinkle of salt, and lemon zest. Once the gelatin has dissolved, allow it to cool for about 10 minutes.
Make the strawberry pie filling. Layer sliced strawberries on top of the cooled crust. Pour the gelatin mixture over the strawberries, filling in the spaces, and making sure all the berries are coated.
Chill and set. Place it in the refrigerator until it has set. Continue to keep it in the fridge until you're ready to serve it. This strawberry pie recipe makes 8 generous slices! Top with whipped cream and enjoy!
Success Tips
Follow these super simple tips to make this homemade strawberry pie even more desirable. Make sure your strawberries are dry, fresh, and sliced equally as best as possible. These helpful tips will ensure your strawberry pie is a delicious dessert!
Pat-dry strawberries. Ensure the strawberries are dry before adding them to the crust. Too much moisture will cause it to get soggy.
Fresh, not frozen berries. Speaking of too much liquid, use fresh if you can. Frozen strawberries come with much more water. You can try to thaw them first, but they may become mushy. Generally, they also just don't taste as sweet or ripe!
Hull strawberries. Before slicing them, use a strawberry huller or 1/2 teaspoon measuring spoon to remove the green stem on top.
Dock the pie dough. The holes allow any steam to escape so the pastry doesn't puff up as it bakes. People use this trick in place of using pie weights, disks, or beans on parchment paper.
Cool the crust. Make sure the crust is completely cooled before adding any filling. Helps to achieve the perfect pie crust and avoid a soggy outcome.
Less sweet, more tart. If you like a little more tang to your filling, use a bit of lemon juice rather than just the zest.
Ways to Serve Strawberry Pie
I'm sure it's obvious by now that our favorite topping is whipped cream. However, I'm not opposed to some cool whip now and again! A scoop of vanilla ice cream is always a welcome treat and a great pairing for all kinds of pies.
Then again, serving it on its own is enough. This pie does speak for itself after all!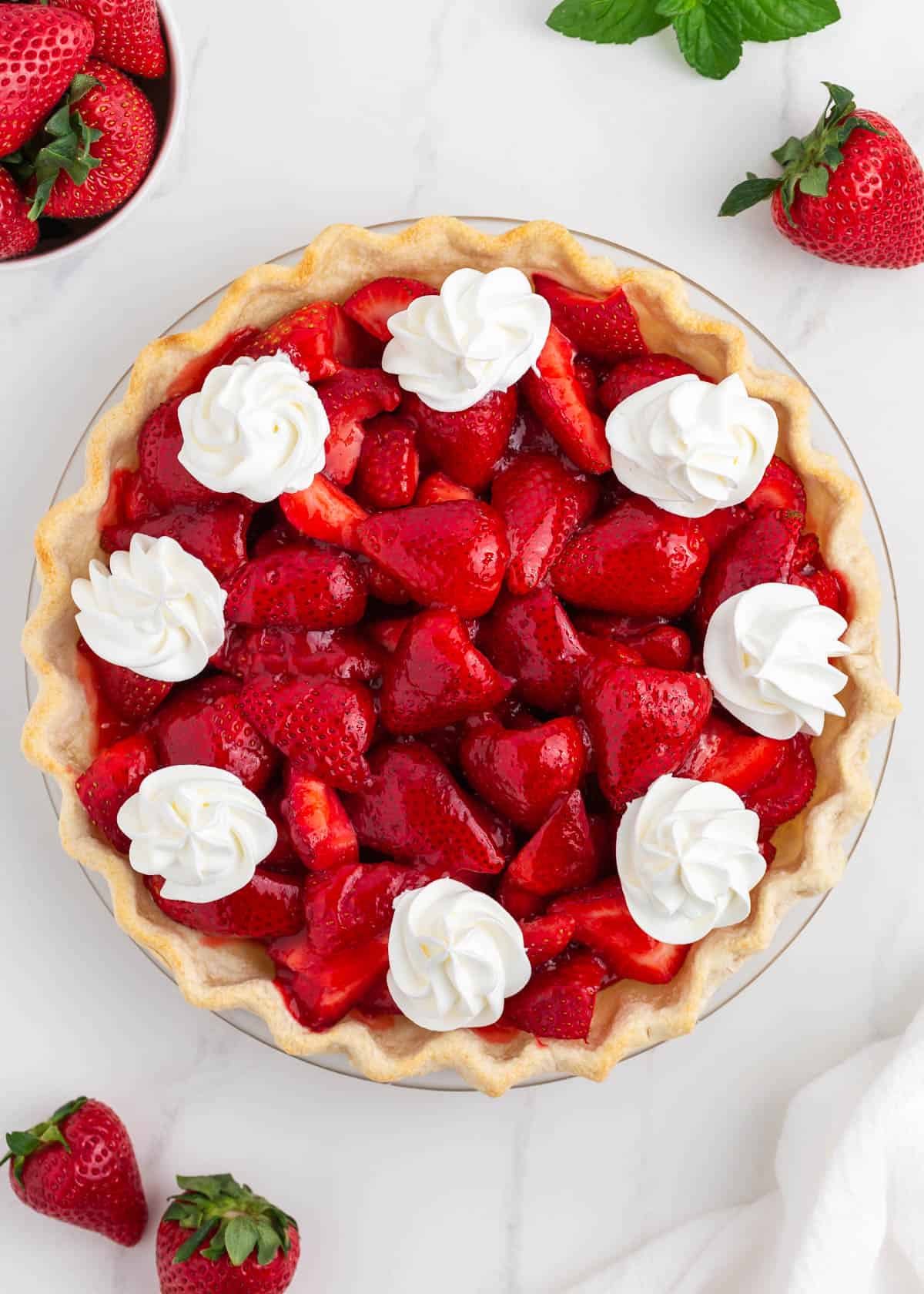 Recipe FAQs
What is the best crust to use for this strawberry pie recipe?
Are you a simple pie crust kind of person? A flaky, buttery, crust that holds its shape is always a good choice. If you love a nice cookie crumble base, then making a graham cracker crust may be more your style.
Are there flavor variations I can use?
Absolutely! Using strawberry jello with strawberries is just one option that can easily be replaced with almost any berry! Raspberries, cherries, blueberries, even oranges!

Don't you just love easy recipes that are so flexible?!
Can I use a top crust in this strawberry pie recipe?
I know sometimes it's tempting to make an elegant presentation using lattice pie crust strips brushed with egg wash! However, this is not the recipe for that! Once the bottom crust has been baked and cooled, there is no more time spent in the oven!
Is this strawberry pie recipe healthy?
Mmm nope! I mean, if you count the vitamin C, fiber, and potassium provided by the berries…still no. It's dessert, and it's meant to be a treat!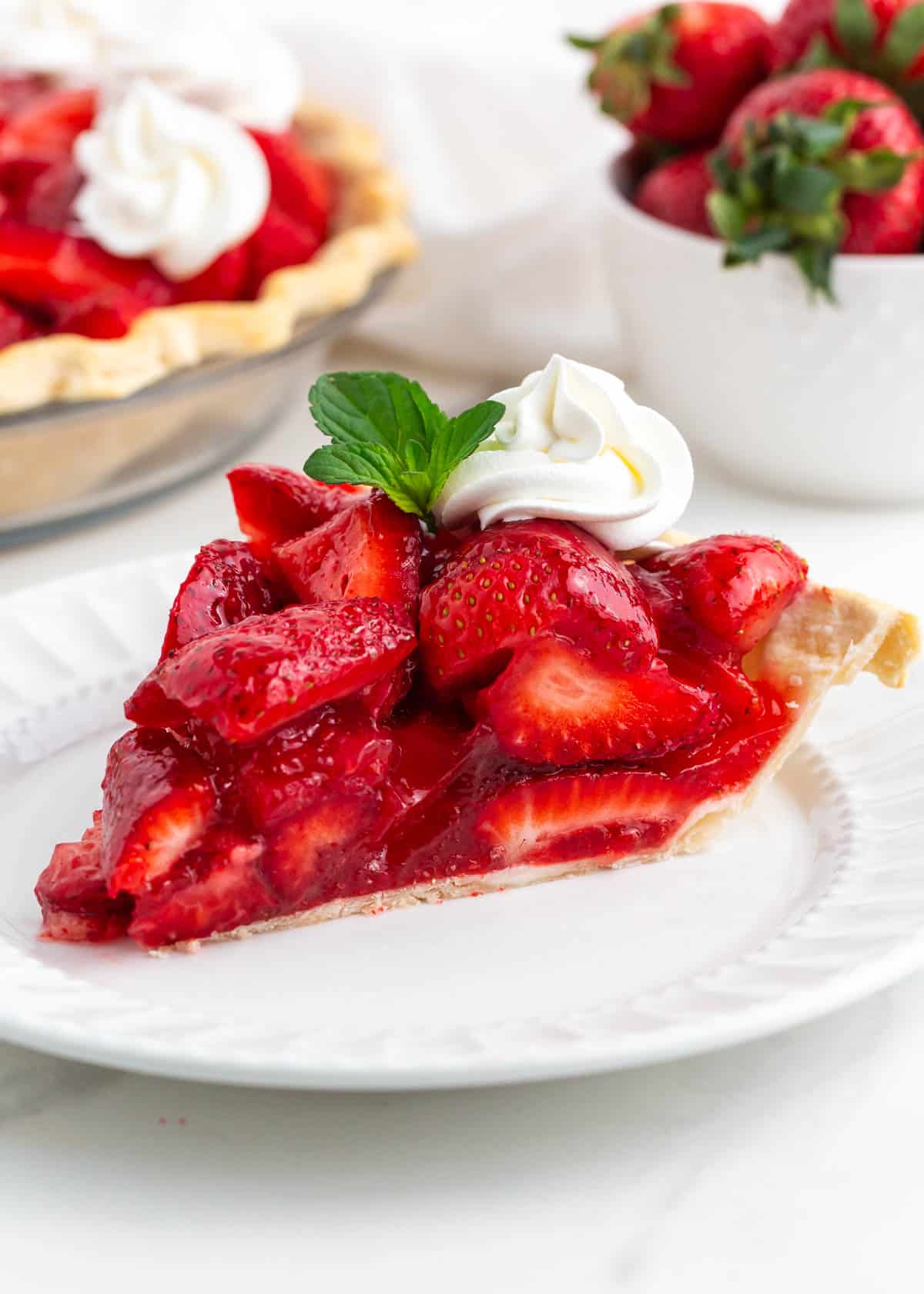 5 star review
"I am in love with this recipe. This was amazing! I will be making it again next weekend. I know everyone is going to eat it up!"

-Gina
More Pie Recipes for Summer
HUNGRY FOR MORE? Subscribe to my newsletter and follow on Facebook, Pinterest and Instagram for all the newest recipes!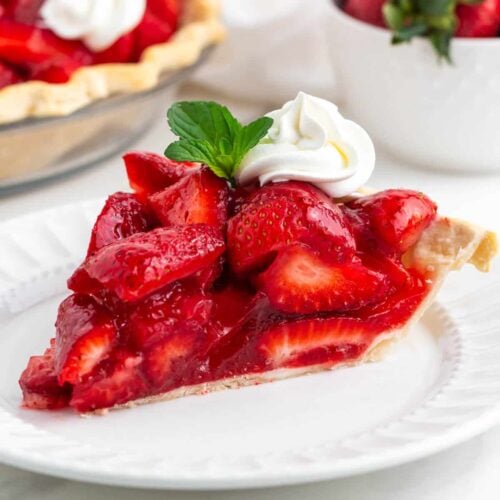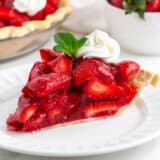 Strawberry Pie Recipe
This strawberry pie recipe is bursting with flavor from the sweet juice of fresh strawberries! It comes together so easily with little time and effort which makes it the perfect summer dessert!
Ingredients
3 pounds (about 5 cups) strawberries , washed, hulled, and dried
1 ½ cups water
1 ¼ cups granulated sugar
3 Tablespoons cornstarch
1 ½ (3-ounces) packages strawberry gelatin
Pinch salt
Zest from 1/2 lemon , optional
1 pie crust , baked and completely cooled (see notes)
Whipped cream , for serving
Instructions
Slice strawberries in half or quarters. Place on paper towels and let dry.

In a small sauce pan, combine the water, sugar, and cornstarch over medium heat. Once it reaches a boil, stirring constantly, cook an additional 1 to 2 minutes, or until clear and thickened. Remove from heat and stir in gelatin, pinch of salt, and lemon zest, if desired. Stir 1 minute, or until gelatin has dissolved. Allow to cool slightly, about 10 minutes.

Layer the strawberries on top of the pie crust.

Pour the glaze evenly over the top of the strawberries until well coated. Refrigerate 2 to 4 hours, or until the pie has set. Store in the refrigerator until ready to serve.

Slice into 8 slices and top with whipped cream to serve.
---
Notes
Crust: Feel free to use a store-bought or homemade pie crust. I halved my easy pie crust recipe. Make sure you allow it to cool before filling.
Whipped cream: I like to use homemade whipped cream, however you can also buy a store-bought can, if you prefer.
Strawberries: When slicing the strawberries, make sure to remove the stems first using a strawberry huller or 1/2 teaspoon measuring spoon.
Nutrition
Calories: 344kcal | Carbohydrates: 72g | Protein: 4g | Fat: 6g | Saturated Fat: 2g | Polyunsaturated Fat: 1g | Monounsaturated Fat: 3g | Sodium: 166mg | Potassium: 283mg | Fiber: 4g | Sugar: 53g | Vitamin A: 21IU | Vitamin C: 100mg | Calcium: 33mg | Iron: 1mg
Nutrition provided is an estimate. It will vary based on specific ingredients used.
Did you make this recipe? Don't forget to give it a star rating below!