The warm peach filling paired with the sugary crust in this peach cobbler recipe is seriously to die for! Serve warm with vanilla ice cream on top. Makes the most perfect summer dessert!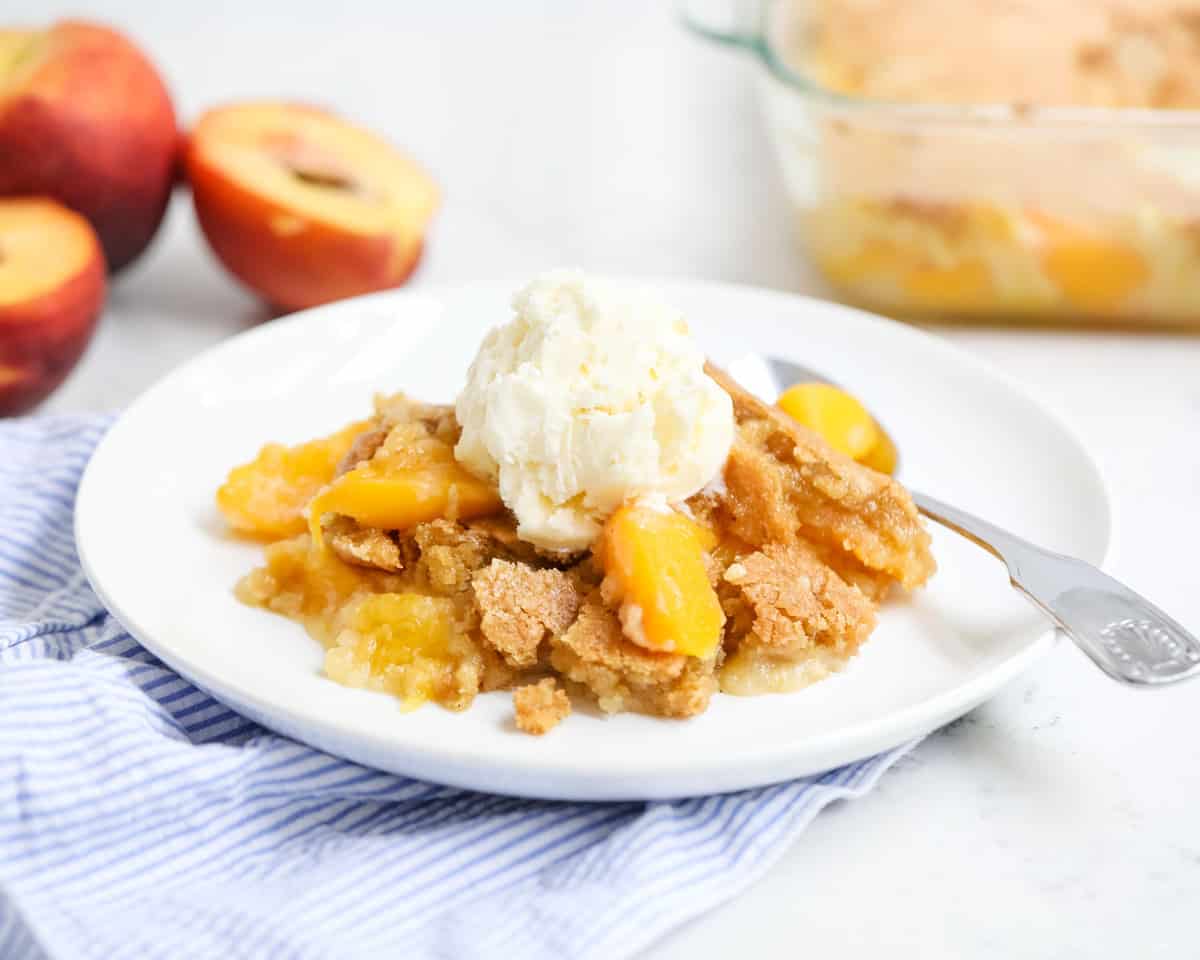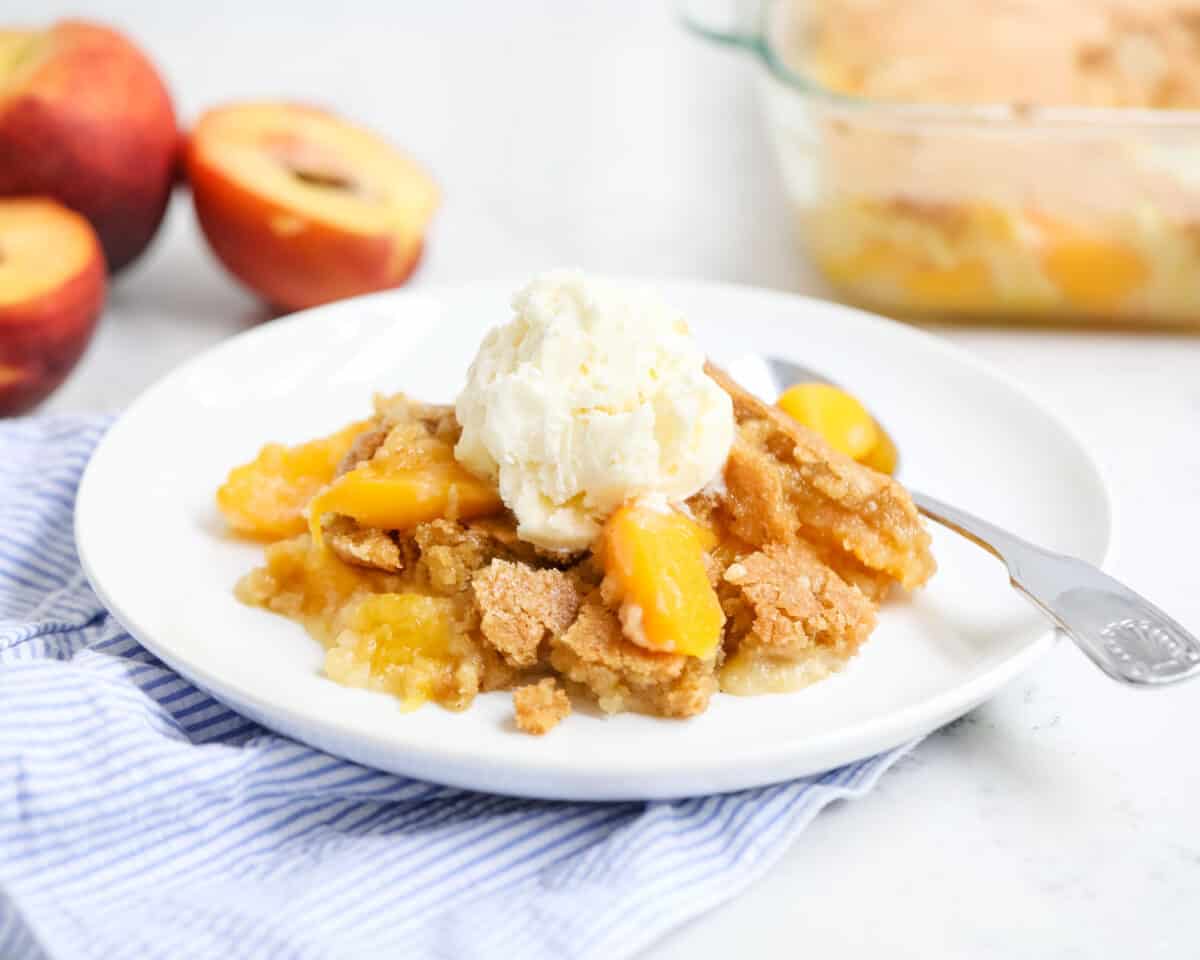 Easy homemade peach cobbler
Peach desserts are my absolute favorite to enjoy in the summer time. I especially look forward to a homemade peach cobbler every year. Sometimes I use cake mix to make a peach dump cake instead, but nothing compares to a true cobbler from scratch.
The warm and caramelized peach pie filling paired with the sugary golden crust is seriously to die for! I love to serve mine warm with vanilla ice cream on top. Whipped cream would also be yummy too. :) This is the most perfect fruit dessert for summer and is simple and quick to make.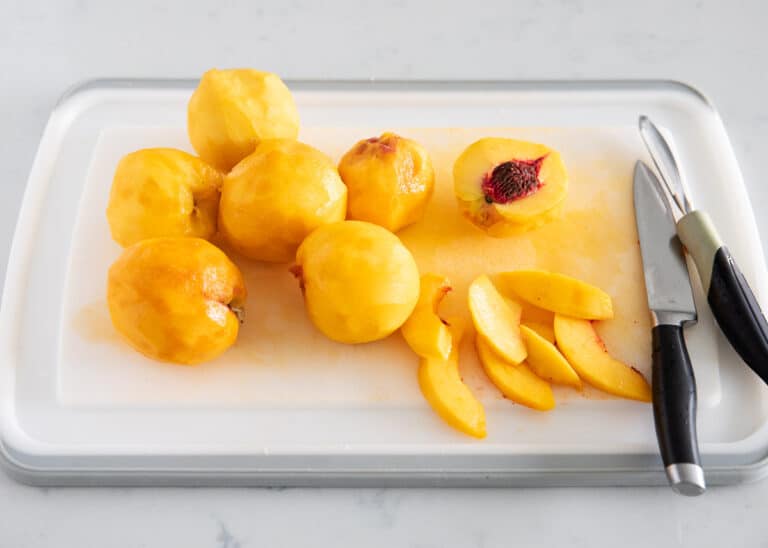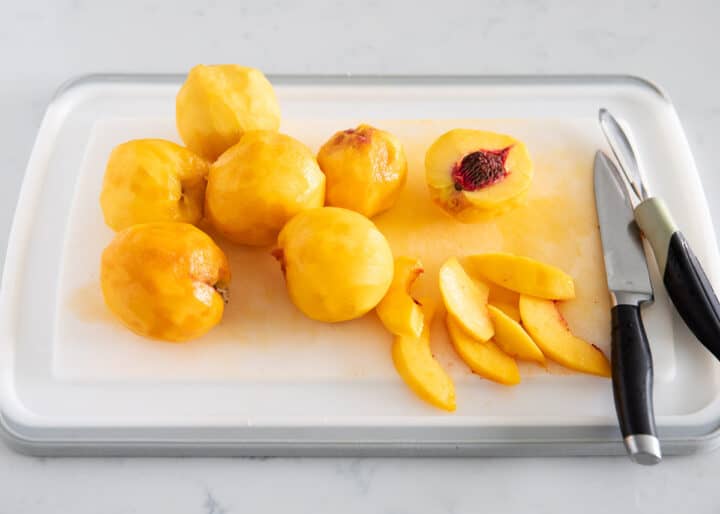 Peaches for cobbler
I like to use fresh yellow peaches for this cobbler, especially when they're in season in the summer time and are super ripe and juicy. However, you can use frozen or canned peaches for this recipe as well. Each tastes delicious, so it's all about preference and what's most convenient for you.
Fresh: In my opinion, fresh is best! Frozen or canned peaches still taste delicious, but nothing beats the real thing. Look for about 4 to 5 fresh, yellow peaches that are soft when you press on them and have a fragrant aroma. I usually like to peel my peaches before slicing them, but you could leave the skin on if you'd like.
Canned: With canned peaches, they may be a little mushier because of the extra syrup, but they'll still taste great. I usually try to drain any extra juices very well beforehand. And because they have been sitting in heavy syrup, you may also want to mix in a little less sugar so that it's not overly sweet.
Frozen: These work great and still taste fresh and delicious. Remove them from the freezer and let them thaw slightly. Then drain any extra juices before adding them to the pan. Your filling may be a tad juicier with frozen peaches since they release more liquid as they cook, but that's nothing to complain about! ;)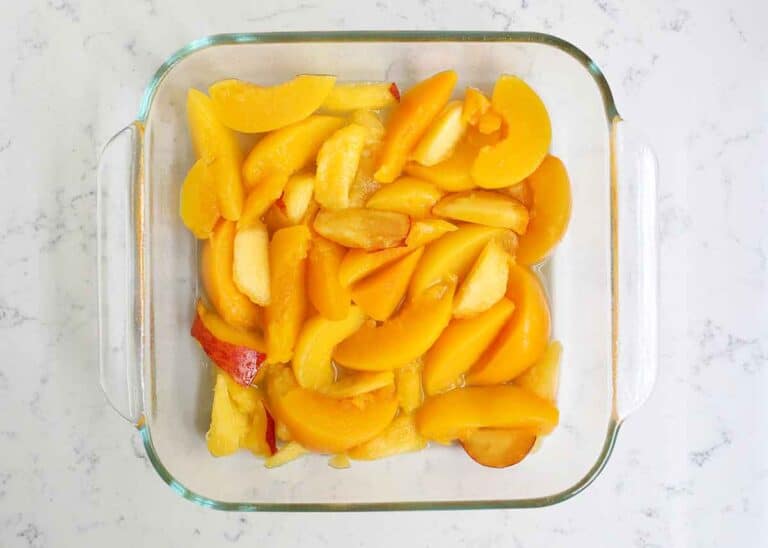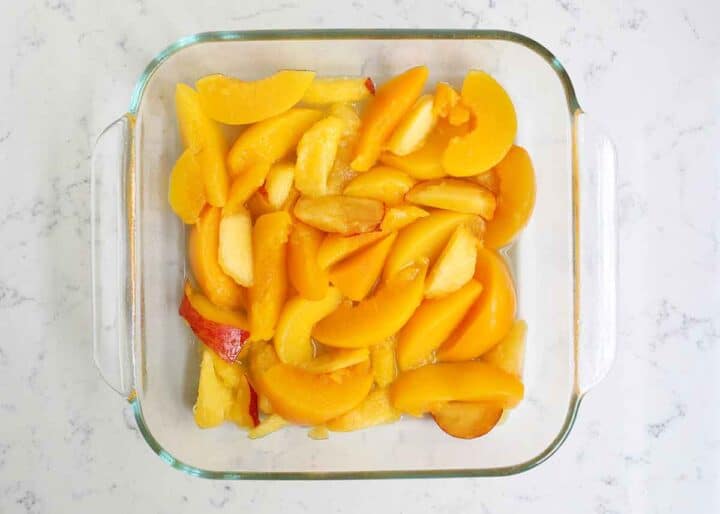 Tips + variations
Thicker crust. If you prefer a crust that's thicker, I'd recommend using a 9×9″ baking dish instead of a larger 9×13″ baking dish.
Topping. For an even easier topping, sprinkle on this simple 3-ingredient crumble topping instead. You can even use a box of cake mix, like I did when making this easy peach dump cake.
Scoop. I've found it helpful to use a large cookie scoop (or spoon) to scoop the topping equally over the peaches. There is usually enough room for about 9 large scoops (see picture below). Then gently press down on the dough with your hands, spreading it out to cover most of the peaches.
Extra fruit. Peaches also taste delicious when mixed with other fruit, so feel free to add in some fresh blueberries or strawberries to give it extra flavor.
Let rest. Before serving, let the cobbler rest in the pan for about 10-20 minutes. This allows the juices to set and the crust to harden a bit. As tempting as it is, waiting a few minutes before serving really does make a difference.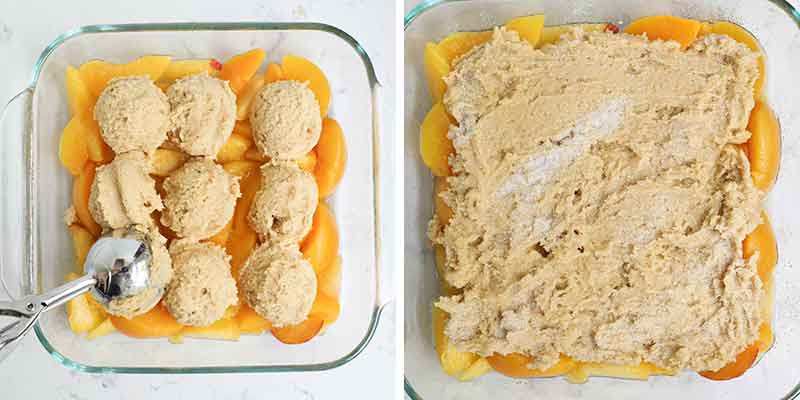 Storing and reheating
This dessert tastes best if served on the first day. The topping tends to soften the longer it sits, so it's best to enjoy warm, right after it's baked (but don't forget to let it rest for about 10 minutes first though). Any leftovers can be stored in an airtight container in the fridge for about 2-3 days. Then reheat in the microwave or oven until warm. If using the oven, you may need to cover the crust with foil so that it doesn't burn.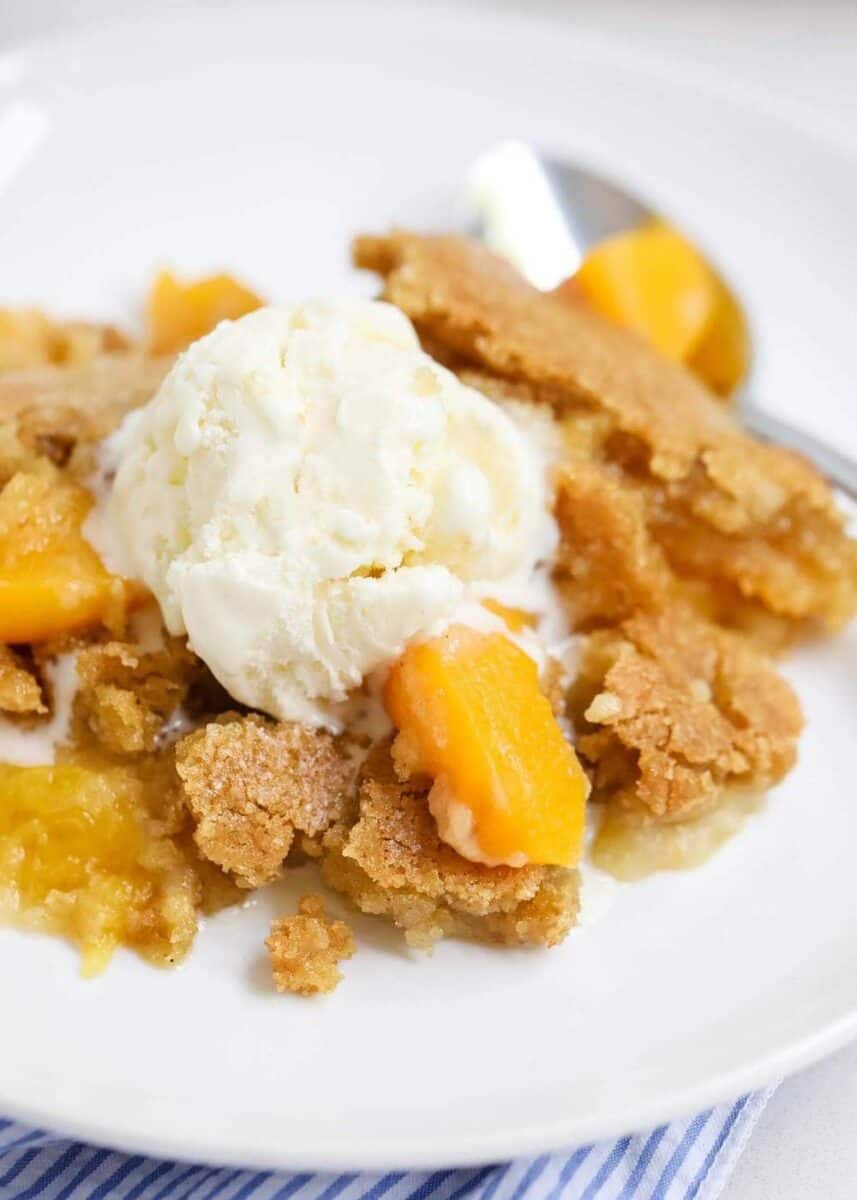 More delicious summer desserts: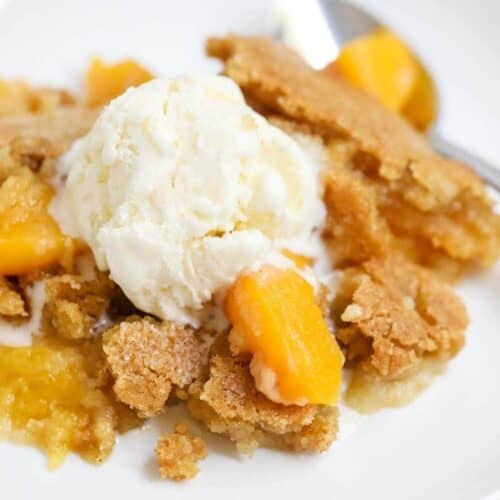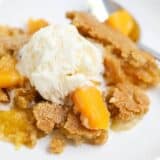 Peach Cobbler
The warm peach filling paired with the sugary crust in this peach cobbler recipe is seriously to die for! Serve warm with vanilla ice cream on top. Makes the most perfect summer dessert!
Ingredients
Peach filling:
3 cups sliced yellow peaches , fresh, frozen or canned
2 Tablespoons light brown sugar
Crumble topping:
1/2 cup salted butter , slightly melted
3/4 cup granulated sugar , reserve 1 Tablespoon for the top
1 teaspoon vanilla extract
1 cup all-purpose flour
1 teaspoon baking powder
1/4 teaspoon ground cinnamon , optional
For serving (optional): vanilla ice cream or whipped cream
Instructions
Preheat oven to 350°F. Butter a 9x13" or 9x9" (for a thicker crust) baking dish. Line with fresh peaches and sprinkle brown sugar on top. Set aside.

Mix the butter, sugar (reserve 1 Tablespoon) and vanilla in a medium size bowl. Once it's creamy, add in the flour and baking powder. Add cinnamon if desired. Mix just until combined.

Flatten the dough to place on top or use a large cookie scoop to place spoonfuls of cookie dough over the top. Gently press down with your hands. Sprinkle the remaining sugar over top.

Bake for 35-45 minutes, or until lightly browned. Remove from the oven and let rest 10 minutes before serving. Then serve while warm with vanilla ice cream or whipped cream.
---
Notes
For fresh peaches: I usually use about 4-5 peaches. You can add extra peaches if you're adding to a 9x13" pan. Feel free to leave the skin on or peel it off. If using canned peaches: Make sure to drain the peaches very well before adding to pan. Recipe change: I took the egg out of the filling as I felt it made the crust too thick.
Calories: 237kcal | Carbohydrates: 35g | Protein: 2g | Fat: 10g | Saturated Fat: 7g | Polyunsaturated Fat: 1g | Monounsaturated Fat: 3g | Trans Fat: 1g | Cholesterol: 27mg | Sodium: 92mg | Potassium: 165mg | Fiber: 1g | Sugar: 24g | Vitamin A: 483IU | Vitamin C: 3mg | Calcium: 30mg | Iron: 1mg
Nutrition provided is an estimate. It will vary based on specific ingredients used.
Did you make this recipe? Don't forget to give it a star rating below!