Peach crumble pie is an easy breezy summer dessert recipe made with fresh peaches and buttery sugar cinnamon filling, a flaky pie crust, and a sweet streusel crumb topping. The perfect summer treat!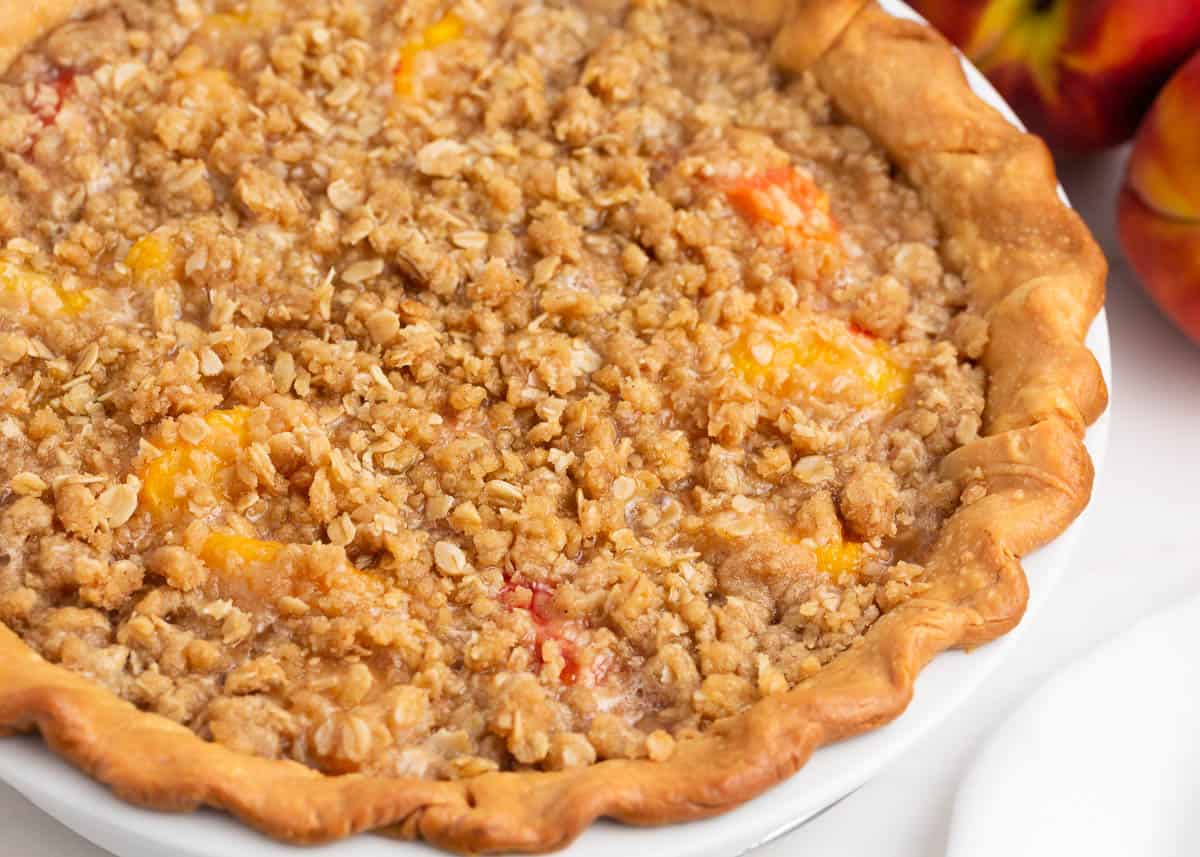 Peach Crumble Pie Recipe
I love a good pie for dessert year-round, but there's something so summery about a slice of peach pie made with fresh peaches!
We spend a lot of time outdoors when the weather is nice, whether it be swimming, hiking, traveling, or grilling, so I don't spend a ton of time baking in the summer. When I do, you can be sure I try to take as many shortcuts as I can.
So, instead of making peach pie with a lattice pie crust, I turn to this peach crumble pie. It's made with one-half of my easy pie crust recipe for a flaky buttery crust, but you can also use a store-bought crust from the freezer section. The filling is my homemade peach pie filling and then it's topped with a crumble topping made of cinnamon sugar, butter, and flour. The only thing easier would be to make my peach crisp recipe with no crust at all!
There's no need to fiddle with a top crust, and that buttery, brown sugar, crispy topping is just mouthwatering. Serve with a scoop of whipped cream or vanilla ice cream and it's the perfect dessert for the peach lovers in your life!
Why We Love A Crumble Top Peach Pie
There are so many reasons to love peach pie but add the crumble and it is the best dessert this summer! Take your peach pie to the next level with this simple crumble topping that is quick and easy to add. Everyone will be craving this homemade peach pie!
A dessert for all occasions. Bring it to a potluck, have it for dessert after dinner, or celebrate all your family gatherings with a peach crumble pie!
Everyone loves it. Filled with a sweet syrupy filling, every bite of this pie is heavenly and both kids and adults will be asking for more.
Easy to make. It's even easier when you're using ready-made pie dough! It is ready in just over an hour, most of which is baking time!
Customizable. I'm going to let you in on a little secret. This peach crumble pie can be made with your choice of fruit. Who wouldn't want an easy apple pie recipe?!
Ingredients Needed
Grab your pantry staple ingredients and get ready to make the best peach pie! It is best to have firm peaches that are cut thicker to help eliminate too much liquid in the pie pan. It is a simple recipe that will be made over and over again throughout the summer!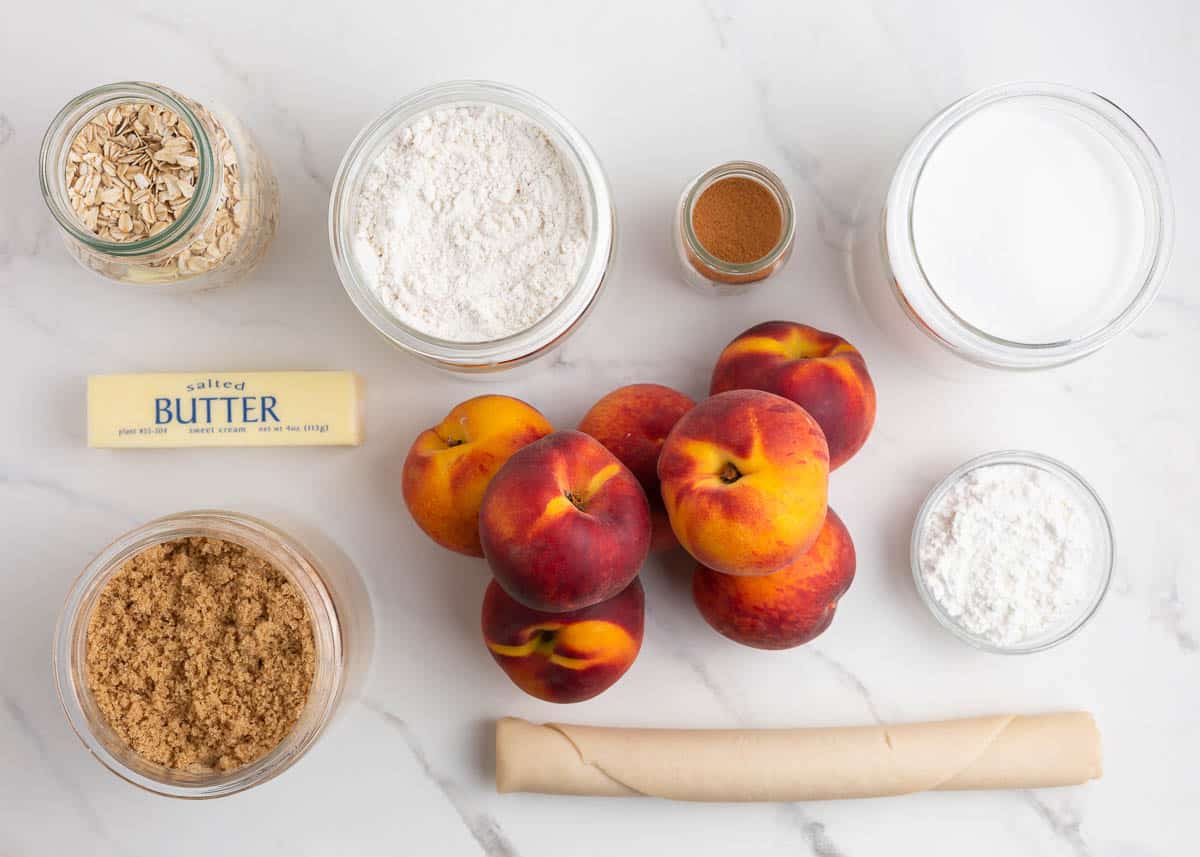 Find the full printable recipe with specific measurements below.
Rolled oats: Adding oats makes this more of a streusel topping which I like because it adds a bit more texture.
Light brown sugar, packed: Packing down the sugar ensures you're using enough. It's the sweetness that caramelizes into hard sugary crunchy bits of deliciousness for the topping and adds sweetness to the peach filling.
Granulated sugar: Additional sweetness for the filling that doesn't have the same molasses flavor or dark color that brown sugar has.
All-purpose flour: Helps to add structure to the crumble and thickens the filling.
Cinnamon: Adds a delicious warm flavor that pairs well with brown sugar, oats, and peaches!
Salted butter: Once melted in the oven, the butter provides moisture to the topping, bringing it together to form a cohesive crumble. It also helps give the filling a rich buttery silky consistency.
Peaches: You want to use peeled and pitted ripe peaches that are still firm. If they're too ripe and soft, they'll become mushy once baked.
Pie crust: You can buy a pre-made crust found in the freezer section or make half a batch of my favorite pie dough. If you're like me you probably already have one handy in the freezer!
How To Make Easy Peach Pie
Follow these step-by-step instructions to make this easy peach crumble pie. Slice this fruit pie for your family and friends to enjoy. Serve it on its own or with a scoop of vanilla ice cream!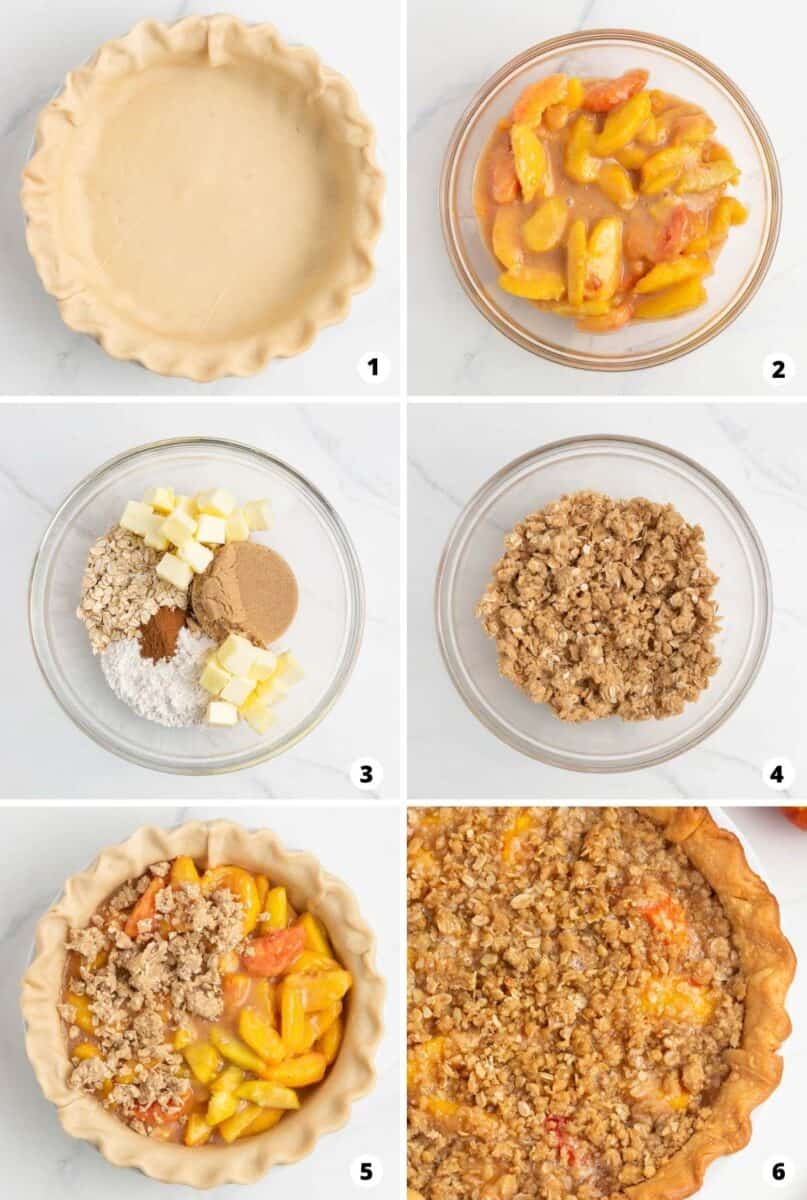 Prepare the crust. Use a rolling pin to roll out the pie crust and place it on a deep 9-10″ pie plate. Tuck the edges under and trim excess dough. It doesn't have to be pretty, but if you're an expert at pinching the edges, go right ahead!
Make the pie filling. Whisk the sugar, brown sugar, flour, and cinnamon together in a large mixing bowl, add the peaches, and toss to coat.
Combine streusel ingredients. Add them to a bowl and use a fork, pastry blender, or your fingers to rub everything together until clumpy and well combined.
Keep on crumbling. Even if you start off using a fork you may find switching to your hands at the end just to get those loose bits of sugar and oats to incorporate.
Add filling to the crust. Transfer the peaches to the prepared crust and sprinkle the crumble mixture evenly overtop the peaches. It's fine if it doesn't completely cover every inch, as you might want to see some of the caramelized peaches peeking through and the juices bubbling up to the top.
Bake the pie. Place peach crumble pie on a preheated baking sheet and bake for 40-50 minutes until the top is golden brown. Let it cool for a few hours on a wire rack to thicken before slicing then dig in!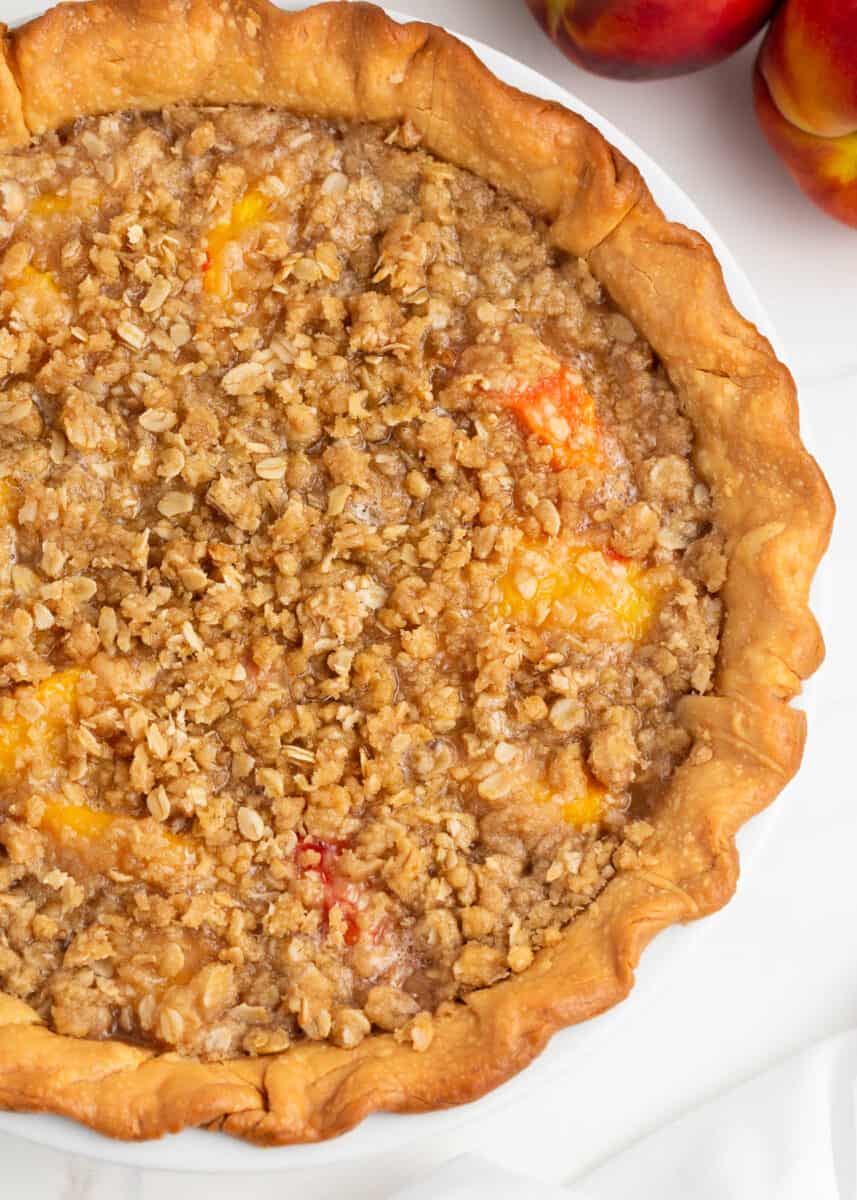 5 star review
"I love this dessert! So easy to make and tastes super fresh, perfect summer dessert!"

-April
Recipe Tips
These tips are helpful when making this peach crumble pie. You can't go wrong with a few extra steps or ideas to make your summertime dessert even better! Follow these helpful ideas to make your peach pie with a crumble topping even better!
Frozen peaches. Make this recipe any time of the year by using frozen peaches. Thaw them just slightly and drain any excess juices so that it doesn't make your pie filling too runny.
Buy more than you need. Since you want firm peaches that aren't bruised or overripe, having a few extra on hand will be useful if you find there are a couple in the batch that aren't up to the job.
Unsalted butter. Use it if that's what you have but be sure to add a tiny pinch of salt.
Extra flavor. Squirting a little lemon juice into the pie filling can add a little burst of flavor. The tartness brings a nice balance to the sweetness and can brighten up the taste even more. Vanilla and nutmeg are more flavor enhancers that can be added if you like.
Added crunch. Toss in some chopped almonds, walnuts, or pecans to the crumb topping for extra texture.
Baking tip. Use aluminum foil to cover the rim of the crust if you are worried about it burning in the oven.
Baking sheet. Sometimes the juices from the frozen peaches will overflow. It is a good idea to use a rimmed baking sheet with aluminum foil to place underneath the pie plate. This will catch anything that bakes over without leaving a mess in your oven.
Recipe FAQs
Do I need to peel the peaches first?
That's a personal choice. I usually do as my kids don't like to bite into the coarse skin, but if you like to leave yours on, go right ahead!
Can I make this a gluten-free pie?
If you're using a gluten-free crust and replacing the flour with a bit of cornstarch or tapioca then you can definitely have yourself a slice of gluten-free pie!
How do you keep it from getting watery?
First, make sure your peaches aren't overly ripe. You want them firm enough to hold their shape and not release too much juice too quickly. As for frozen peaches, do not thaw them completely, but be sure to drain excess juice first.

Use a thickening agent (we're using flour in this recipe) and allow the dessert to cool completely to give it time to set. Also, follow the bake time instructions as this will make sure you're baking it for long enough.
Can I make peach crumble pie ahead of time?
You can! You can make the crust and keep it in the pie pan for up to 5 days. If you've already got a pie crust frozen you're already ahead of the game. Thaw it overnight before using it.

Make the filling and keep that in a separate container in the fridge for up to 3 days ahead.

When you're ready to bake the pie, assemble it and throw it in the oven to bake!
Storage
Keep any leftover peach crumble pie in an airtight container for up to 3 days. However, I do find this pie tastes best on the first day. On the 2nd day, I love to warm it up and add a scoop of ice cream.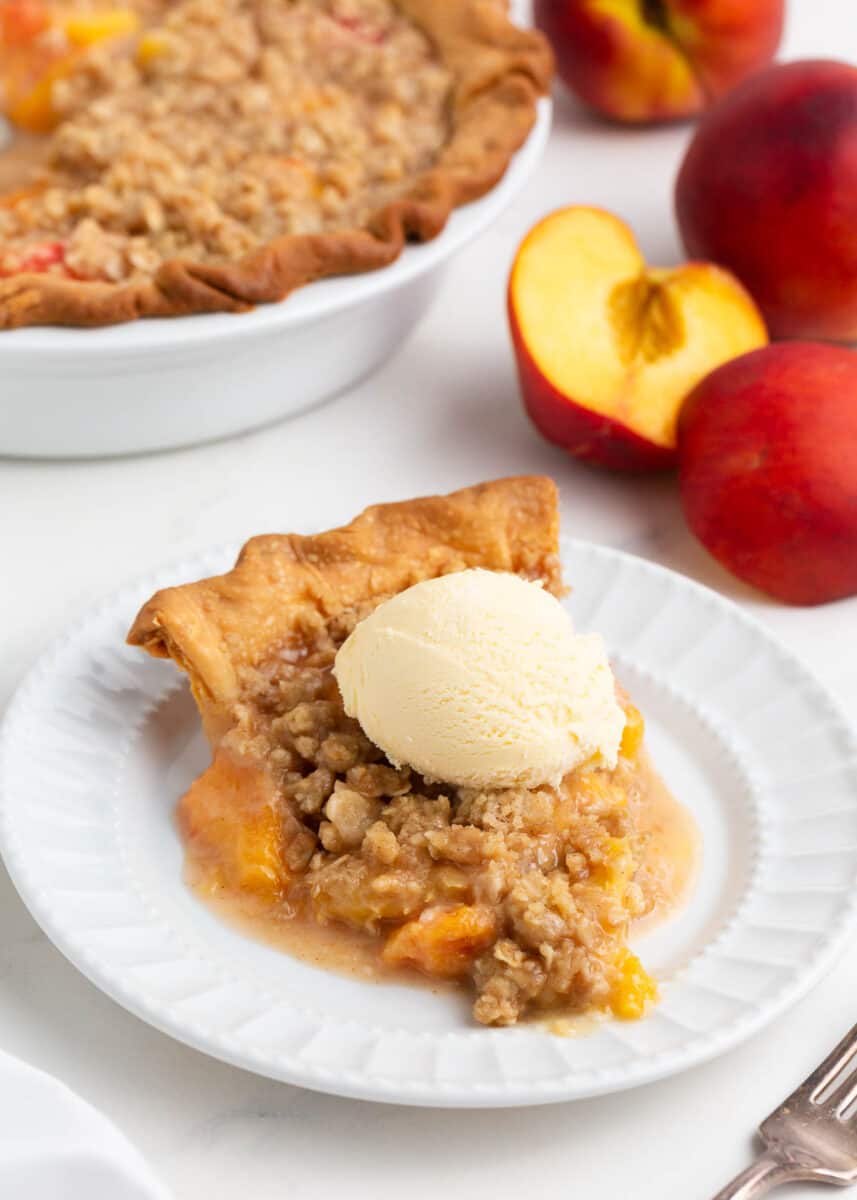 HUNGRY FOR MORE? Subscribe to my newsletter and follow on Facebook, Pinterest and Instagram for all the newest recipes!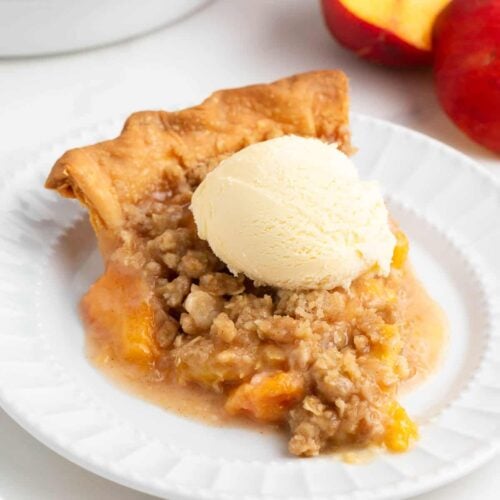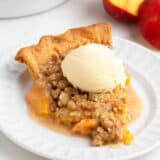 Peach Crumble Pie
Peach crumble pie is an easy breezy summer dessert recipe made with fresh peaches and buttery sugar cinnamon filling, a flaky pie crust, and a sweet streusel crumb topping. The perfect summer treat!
Ingredients
Crumble Topping
3 Tablespoons rolled oats
3 Tablespoons light brown sugar , packed
3 Tablespoons all-purpose flour
½ teaspoon ground cinnamon
3 Tablespoons salted butter , cut into 1-inch cubes
Peach Pie
½ cup (100 grams) granulated sugar
¼ cup (55 grams) light brown sugar , packed
½ cup (65 grams) all-purpose flour
¼ teaspoon ground cinnamon
5 cups (785 grams) sliced firm peaches (about 7 peaches peeled and pitted)
1 store-bought or homemade pie crust , unbaked
Serve with: Vanilla ice cream or Whipped cream
Instructions
Crumble Topping
In a medium bowl, using your hands or a fork, rub together the oats, sugar, flour, cinnamon, and butter until clumpy and well combined.
Peach Pie
Preheat the oven to 375°F. Place a baking sheet in the oven.

In a large bowl, whisk together the the sugar, brown sugar, flour, and cinnamon. Add peaches and toss to combine.

Roll out pie crust and transfer to a deep, 9- to 10-inch pie dish. Tuck under the edges and trim any excess dough.

Scoop the peaches into the crust. Sprinkle the crumble topping evenly over the peaches.

Place pie on top of baking sheet in oven. Bake 40 to 50 minutes, or until top is golden brown. Cover the crust with foil if it is browning too quickly. Remove from oven.

Let cool 3 hours to thicken before slicing. Serve with fresh whipped cream or vanilla ice cream.
---
Notes
Frozen peaches: You can use frozen peaches for this pie. Allow to thaw slightly. Drain any excess juices before adding to crust.
Pie crust: You can buy a pre-made pie crust (I prefer the one in the freezer section) or make half a batch of my favorite pie dough.
Storage: Once the pie is completely cooled, store it in an airtight container for up to 3 days in the fridge. This crumble tastes just as good at room temperature as it does warm, so the choice is yours.
Variations:
Add a little bit of lemon juice, nutmeg, or vanilla for added flavor.
Toss in some of your favorite nuts to the crumble for added crunch.
Nutrition
Calories: 357kcal | Carbohydrates: 62g | Protein: 3g | Fat: 12g | Saturated Fat: 5g | Polyunsaturated Fat: 1g | Monounsaturated Fat: 4g | Trans Fat: 1g | Cholesterol: 15mg | Sodium: 149mg | Potassium: 172mg | Fiber: 2g | Sugar: 40g | Vitamin A: 489IU | Vitamin C: 4mg | Calcium: 24mg | Iron: 1mg
Nutrition provided is an estimate. It will vary based on specific ingredients used.
Did you make this recipe? Don't forget to give it a star rating below!